Nearly all companies have websites. Additionally, nearly every digital (and even print) campaign that increases awareness or motivates action directs users to that website. Getting traffic is a success, but retaining visitors on the page and getting them to convert is a whole other ballgame.
In the current digital era, your website is frequently the first point of contact a potential client or business partner will have with your company. No one wants to invest in something that feels dated or out of date, therefore this is where they will determine whether it is worth their time or money to do so. Because of this, it's more crucial than ever to keep your website unique and up-to-date and to ensure that you're leaving the appropriate image. If your website's
bounce rate is high, your engagement rate is low, and visitors are not converting, you must consider redesigning your website.
If you're considering redesigning your website, there are a few key benefits that you should keep in mind. A well-designed website can help improve your brand image, increase leads and sales, and boost customer engagement. If you want to grow your website through redesign then you need to work with a professional website redesign company that can provide you with a fresh, modern design that will give your business an instant boost and help you stand out from your competitors.
Investing in a high-quality website design will pay off in the long run – so if you're ready to take your business to the next level, now is the time to start planning your redesign.
In this post, we'll be talking about the top benefits of redesigning a website.
Benefits of redesigning a website
When it comes to website design, one size does not fit all. Every business has different goals, customers, and products or services. A cookie-cutter design might work for some, but it won't help you stand out from the competition or attract the right kind of attention. A custom website design will reflect your unique brand and give you the flexibility to change as your business grows.
There are many benefits to redesigning your website, but here are a few of the most important ones:
1. More cost-effective in the long run
If you're investing your money in small changes to enhance user experience then I would recommend redesigning your website pages completely. Rather than a change in a small section on a landing page you need to think about your entire page. You can see your competitors landing pages by searching your targeting keywords on Google. You can also check out some SEO tools to find your competitors.
After analyzing your competitor's landing pages you can find what you need to improve to compete with them. If you think like this and design a landing page that delights your users then you can get benefits for a long time.
The full redesign allows you to start from scratch, but it'll be cost-effective in the long run.
2. Cohesive brand identity
The dissemination of your brand messaging and identity is one of the most crucial tasks performed by your website. Building trust with your audience will be easier if you maintain brand consistency across your entire website.
Your current website may not retain the necessary consistency in brand messaging for a number of reasons:
Your website might not accurately reflect your current branding because your brand's messaging and identity may change over time.
Inconsistent messaging that isn't fully in line with your overall brand strategy may emerge from one-time modifications made by several employees over a period of years.
Redesigning your website gives you a chance to review your brand messaging. In the course of the makeover, you will be able to:
Refresh your brand strategy to make sure it reflects the objectives and vision of your company as it is now.
Ensure that your color scheme has been updated to match the established brand colors.
Create a brand story that is more unified, making sure that every page of your website expresses the same idea.
Any website images should be updated to better reflect your brand and appeal to your target audience.
A stronger brand will ultimately be communicated to your audience through your website. This will greatly increase your capacity to develop brand recognition, earn trust, and convert leads.
3. Improves SEO and site performance
Your website may experience technical problems due to an outdated CMS. Your website's speed may be slowed down by bloated, outdated code. You can have broken links that direct users to error pages rather than active ones. The website may not meet the expectations of your visitors due to obsolete functionality or a confusing navigation structure. Your website's performance could be severely harmed by any of these potential problems.
By redesigning your website, you can fix all of these issues and boost its functionality:
You can utilize a contemporary CMS and the most recent code to design the new website.
On your website, you may find and fix any broken links.
You can review your website's functioning to make sure it satisfies the particular requirements of your target audience.
You can update your navigation system and content strategy to give your audience the information they require in a way that is well-organized and makes each page simple to discover.
This will enhance user experience and increase the performance of your website. You'll greatly enhance your website's capacity to expand your company by doing this.
As a website design company, we often get asked about the best SEO strategies to use during a redesign. While there are many factors to consider when it comes to SEO, there are a few key things you can do to make sure your redesign doesn't hurt your search engine ranking.
– Keep your URL structure the same
If your website is currently ranking well in search engines, chances are it's because you have a good URL structure. When you redesign your website, make sure to keep the same URL structure so you don't lose any of that hard-earned search engine love.
– Use 301 redirects
If you do need to change your URL structure, be sure to use 301 redirects to tell search engines where your content has moved. This way, they'll be able to update their records and maintain your rankings.
– Don't forget about title tags and meta descriptions
Your title tags and meta descriptions are important for helping people find your website in the first place. Make sure they're still relevant after your redesign and that they accurately reflect the new content on your site.
– Watch out for broken links
Broken links can hurt your SEO in two ways: first, they provide a bad user experience, and second, they tell search engines that your site is full of outdated content. Be sure to fix any broken links before launching your new website design.
– Keep an eye on your traffic levels during and after the redesign process
If you see a significant drop in traffic after launching your new site, it could be an indication that something went wrong with the design or implementation of the project. Reviewing your analytics will help you determine whether this is a temporary dip or a more serious issue. Address any problems as soon as possible to avoid losing too much ground in the search engine rankings.
The website redesign process is a crucial time for any business. It's an opportunity to make a fresh start and ensure that your website is optimized for search engines.
But with so much to think about, it's easy to overlook the importance of technical SEO. This can be a costly mistake, as your website may not be properly indexing or ranking after the redesign is complete. There are several technical SEO factors that you can consider during redesigning your website.
4. Refreshed content strategy
You're increasing content, user flows, and experience quality. How about your content strategy, though? To build a united, cohesive, and contemporary digital powerhouse, you need a content strategy that's just as strong. If you think you need to enhance your content then you have to write content that ranks in Google.
Your content strategy should be designed to support your business goals and objectives. It should be united and cohesive, making sure all your content works together to support your brand and message. And it should be contemporary, using the latest techniques and technologies to reach your audience. Make sure your SEO content marketing strategy follows the latest Google SEO trends or you're not participating in the group of people who're still doing content marketing mistakes.
If you want to build a strong digital presence, make sure your content strategy is up to the task because SEO and content marketing benefits your online business.
5. Optimized site experience
By redesigning your website you can enhance the site experience whether we talk about backend or frontend. As a website owner, it's important to always be thinking about ways to improve your site's technical integrity. This means making sure that your site is always up-to-date, running smoothly, and free of any technical errors.
One of the best ways to ensure your website's technical integrity is to regularly run tests and audits. This way, you can identify and fix any potential issues before they cause any major problems. Additionally, it's a good idea to keep an eye on your website's traffic and performance metrics.
If you're using an older, out-of-date content management system (CMS), you might experience administrative challenges and technical difficulties that could impact your conversion rate, user experience (UX), and search engine optimization (SEO). Out-of-date CMS platforms can be difficult to use and manage and can cause problems with website performance, security, and compliance
Updating your CMS can help with website performance, security flaws, and functionality. Additionally, it offers a chance to reconsider browser compatibility and responsive designs.
During the redesign process, you can try to fix all these gaps to provide your website visitors with an exceptional experience. There are several UX/UI design tools that can help you optimize your website experience.
6. Increased flexibility
Website redesign provide you with opportunities for implementing new changes. For example, changing your content management system during redesigning can offer you a number of benefits. First, it gives you total control over the material you publish on your website. This is important for companies that have specific needs, like a business that relies heavily on multimedia content or one with global audiences. Changing to a custom CMS also gives you access to new technologies and custom features.
You may not be able to take advantage of these technologies or such features if your CMS isn't compatible with them. If you are looking for an easier process for managing your website's content, changing your CMS may be the answer.
You can also shift your website to different website builders.
7. Responsive for all screens
As mobile usage becomes more and more prevalent, marketers must consider all screen sizes when redesigning their websites. This adaptability is essential in order to maintain a high level of engagement with potential and current customers.
A responsive design is a key to achieving this goal, as it allows for a seamless experience regardless of the device being used. In a world where consumers are constantly inundated with choices, it is more important than ever to make sure your website is easily accessible and user-friendly.
Looking for a responsive website that can work on all-size screens? Each website is unique and must be designed with the user in mind. That's where our responsive web design services come in.
8. Reduces site speeds
A website's interface is as important, if not more important, than the underlying programming frameworks it uses. As a result, websites that are outdated and using older programming frameworks will always operate more slowly than a website that is using newer technologies—and suffers as a result in search engine results. Hence it is important to redesign your website with new technology eventually.
During the website redesign process, you must check out the site's speed. To ensure that visitors will still have a positive experience, you should take steps to increase the speed of the site. By compressing images, minifying code, and using a content delivery network, you can able to keep the site running smoothly during the redesign.
9. Improves security
There's no question that cybersecurity is a major concern for businesses today. With the number of cyber threats and hidden risks that can be found throughout the internet, it's critical for brands to protect the security of their users and their own private data.
By taking steps to secure their data, businesses can help to ensure that their customers' information is safe from hackers and other malicious actors. In addition, by ensuring their own data is secure, businesses can help to protect themselves from potential liability in the event of a data breach.
A website redesign can improve security by making it more difficult for hackers to access sensitive information. By improving the design of the website, you can make it more difficult for hackers to find vulnerabilities. Additionally, you can add security features such as two-factor authentication and encryption to further protect your website from being hacked.
If you're managing your website of WordPress then you can see how to secure your WordPress website from hackers.
10. Modernize the outdated website
If you're using the same website for years, the design is outdated, the navigation is confusing, and the content is not engaging. It was time for a change.
By redesigning your website you can help modernize your website. You need to work closely with the company to understand your goals and objectives. You need to keep the website clean, concise, and easy to use. The site must look for clear calls to action, fresh content, and easy navigation.
A modernized website can help your business reach its goals by providing a better user experience for visitors. It also can help improve their search engine rankings and drive more traffic to their site.
11. Improve the user experience
When you redesign your website, you have the chance to reevaluate the experience you offer to your audience. With careful planning, your new website can be more successful in engaging and connecting with your visitors. By taking the time to assess your goals and objectives, you can create a website that better meets the needs of your audience. Additionally, by incorporating new and innovative design elements, you can create a more visually appealing and user-friendly website. By redesigning your website, you can improve your online presence and better connect with your target audience.
The enhanced user experience can come in many different forms:
A simplified navigation structure that facilitates consumers' access to the information they require
A revision of your content to make sure it accurately communicates your brand's messaging and gives your audience the comprehensive information they want
Improved functionality that makes it simpler for users to take the activities they want
A more user-friendly website design that highlights key elements right away
Faster site performance and page load times
12. Increase sales and conversions
Every website's main purpose is to convert visitors into either qualified leads or actual sales. With a redesign, you can check that your website is designed to generate as many leads and/or purchases as possible by guiding users through the sales funnel.
These transformations can occur in a variety of ways, such as
Request a consultation now
Share a phone number or email address
Register for the event
Display a product
Obtain an eBook
Subscribe to a series of email newsletters
By including e-commerce features on your website, you can increase sales without having to ask people to leave if you're trying to sell your goods online. Sales can increase as a result.
By strategically placing CTA buttons, online forms, and other enticing calls to action throughout your website, you may redesign it. You may greatly improve leads and sales by making the best possible use of these calls to action.
13. Improve functionality and content management
A content management system is a software application that allows users to create, modify, collaborate on, publish, and save digital material. A CMS can be part of a website or used as an external application.
Enterprise content management (ECM) systems are CMS systems that are designed for use in businesses and other large organizations. ECM systems typically have more features and functionality than regular CMS systems, and they are often more complex and expensive
Conclusion
Your website serves as the cornerstone for all of your marketing initiatives, therefore it's critical that your newly created site positions your company for long-term success and growth. The best method to make sure your new website meets the unique objectives of your company while delivering the outstanding user experience your audience demands is to work with an expert digital marketing agency.
If you're looking for redesigning your website contact us now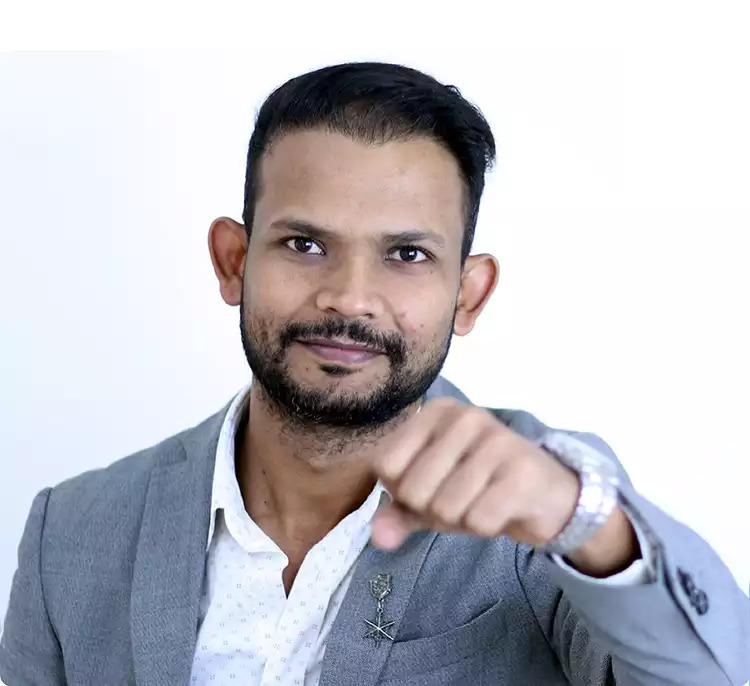 About Deepak Chauhan Hi, I am Deepak Chauhan, a Digital Marketing Strategist. I'm the CEO & Co-Founder of VOCSO Digital Agency, a creative web design, development, and marketing agency based in India & USA.