The process of creating websites for hosting on the internet is referred to as Web development. The creation and maintenance of these websites are done in the web development process, and web developers do this by utilizing a number of computer languages. It is the work done in the background to create a website that looks attractive, operates quickly, and provides a seamless user experience. Web design, web content creation, network security settings, and client-side/server-side scripting are just a few of the responsibilities involved in the web development process.
The web design industry is one where things may change quickly. Not only do styles in design appear to shift overnight, but so does the software we utilize. The majority of us find it intimidating to even think of creating a website, let alone taking on any other web development-related tasks. By utilizing the necessary website builders, we may, nevertheless, employ technology to create a fully functional and appealing website, so there is no reason to be anxious.
You may simply create, alter, and maintain websites with the best website construction tools that we've listed below in this article, both free and paid/premium website builders.
1. WordPress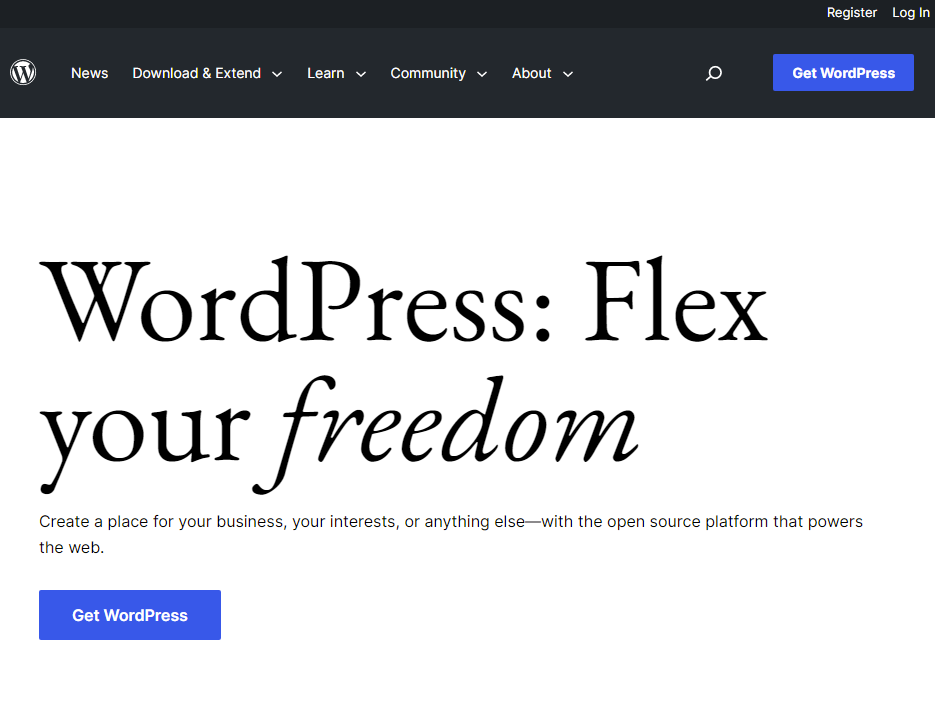 To build and personalize your website with new features and capabilities, WordPress is free and one of the greatest web-development platforms. It enables anyone to create a website from scratch without having to have extensive web programming skills. With the help of a PHP/MySQL database and a blogging platform developed in PHP, you may create your own website with your preferred server.
Features of WordPress:
It's easy to install and get going because of the availability of many site-building tools.
Third-party plugins that are powerful, adaptable, and rich and can be used with more functionality.
It's simple to use, allowing you to uncover keywords and terms that may help your website rank higher on Google.
There are many free website layouts and themes to choose from.
The community is dynamic and active owing to the contributions and evaluations of a large number of developers on WP.
Optimized for SEO and good for high SERP.
Get a Fully loaded

professional

website
in 3 days.

Don't miss out on this limited time offer! Get upto 50% off on our website design packages now.

Check details
2. Weebly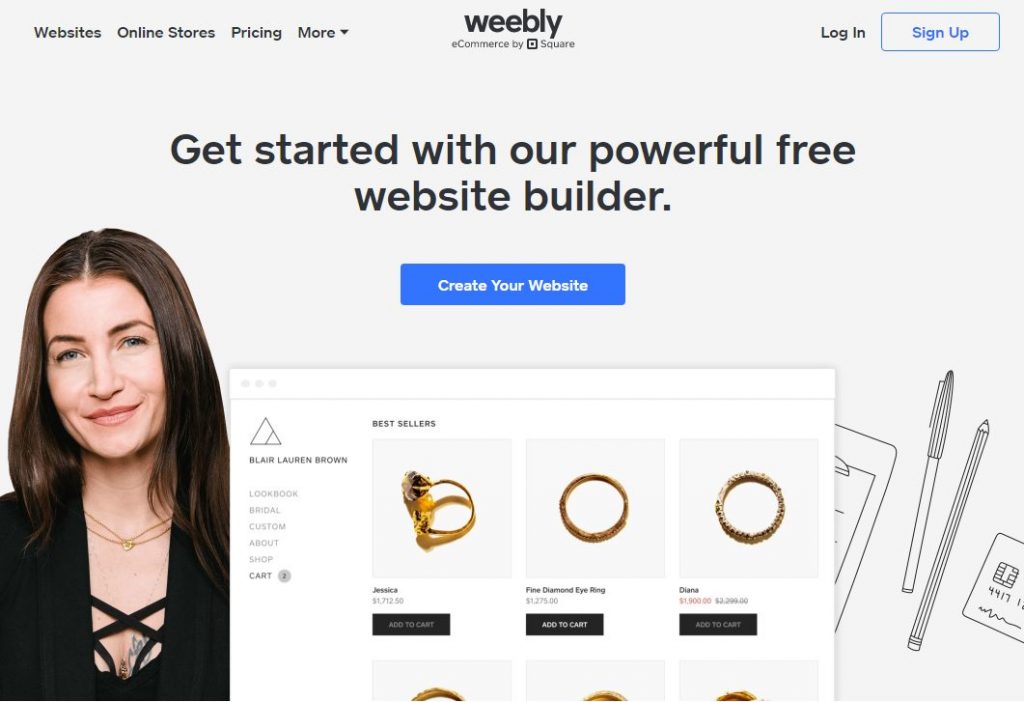 The most widely used web construction tool for those wishing to launch their own website is Weebly. This is effortless to operate and suited for websites for businesses, individuals, and organizations. Weebly is a dependable CMS alternative because of its big user base and numerous customization possibilities. Weebly may be tailored to suit your needs and you'll discover a range of alternatives to select from, whether you want to put up an instructional site, establish a blog, or display your portfolio.
Features of Weebly:
The program allows you to easily switch between responsive and contemporary templates/themes.
Your website will be functional and load quickly thanks to pre-made Weebly templates.
Your workflow will be well-cared for by a variety of checklists, pop-ups, email sequences, and information buttons.
To get you started in online design and development, there are more than 40 layout options, including website maps and portfolios.
You can quickly convert your website using Weebly into an e-commerce CMS with features for tracking sales, analytics, and metrics, as well as marketing.
3. Wix
An economical and user-friendly alternative to WordPress is Wix. Wix makes it simple to set up and launch your website in just a few minutes with its drag-and-drop editor. Wix may be used to develop a wide range of websites, including blogs and online storefronts. There are hundreds of templates and customization choices available under Wix's free, advertisement-supported plan. Their genuine beginner-friendliness and availability for free smaller projects are two major contributors to their popularity. In other words, you may get started right away and swiftly create the website of your dreams.
Features of Wix:
A Drag & Drop editor that functions smoothly and enables you to truly take pleasure in designing your website in the manner you have always imagined.
Over 500 templates that may be customized to meet the needs of everyone.
Wix will assist you in developing your own SEO strategy and will walk you through the fundamentals of optimizing your website for search engines.
Wix provides three alternative ways to design a website, so it has something for everyone — even people with no technical or coding experience.
4. Squarespace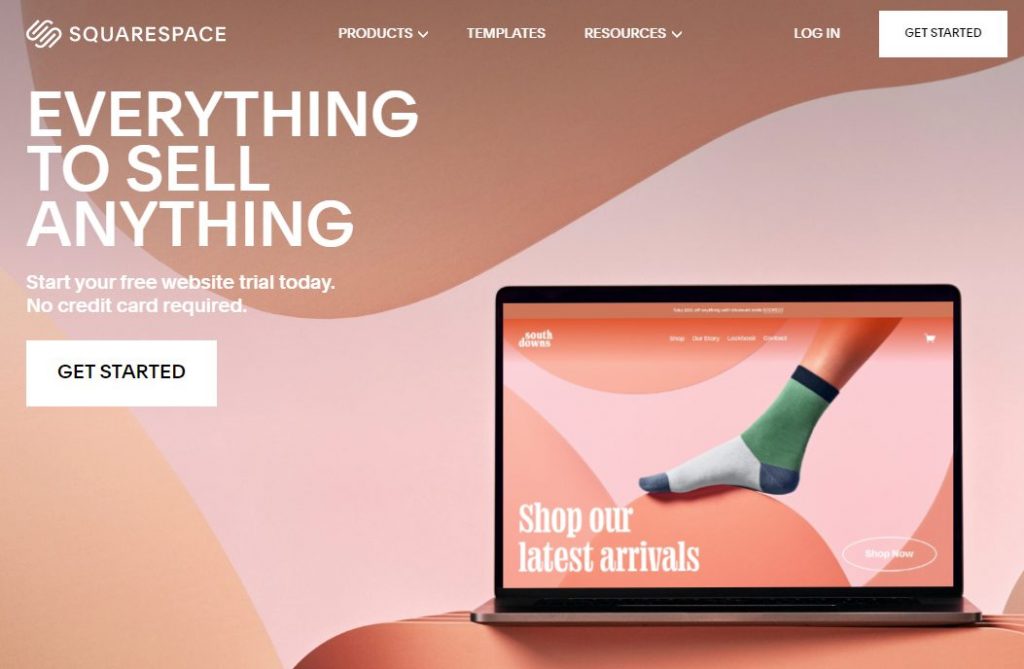 Squarespace is a widely used website creation platform that caters to the specific needs of novices and acts as a third reasonable alternative to WordPress and Wix. Many of the features you'd imagine, including SSL encryption and the option to create an online store, are available with Squarespace, along with a vast selection of various themes and color modifications. This software enables you to build not only blogs but also whole websites for your company, including fully integrated online storefronts. Squarespace enables non-technical people to build websites that appear professional without needing to learn how to code or employ professionals to do the job for them.
Features of Squarespace
Hundreds of sleek and minimalistic layouts that can be easily customized and matched to your needs
Manage subscriptions, sell your goods with the help of an online store or Point of Sale, and take care of other business requirements.
comprehensive analytics that allows you to measure traffic, favorite content, revenue, and other metrics.
Using the drag-and-drop builder, you may add and arrange photographs. With ease, edit photos.
There are no plugins required. Everything you need to build a site that is ready for SEO is provided by Squarespace.
5. GoDaddy Website Builder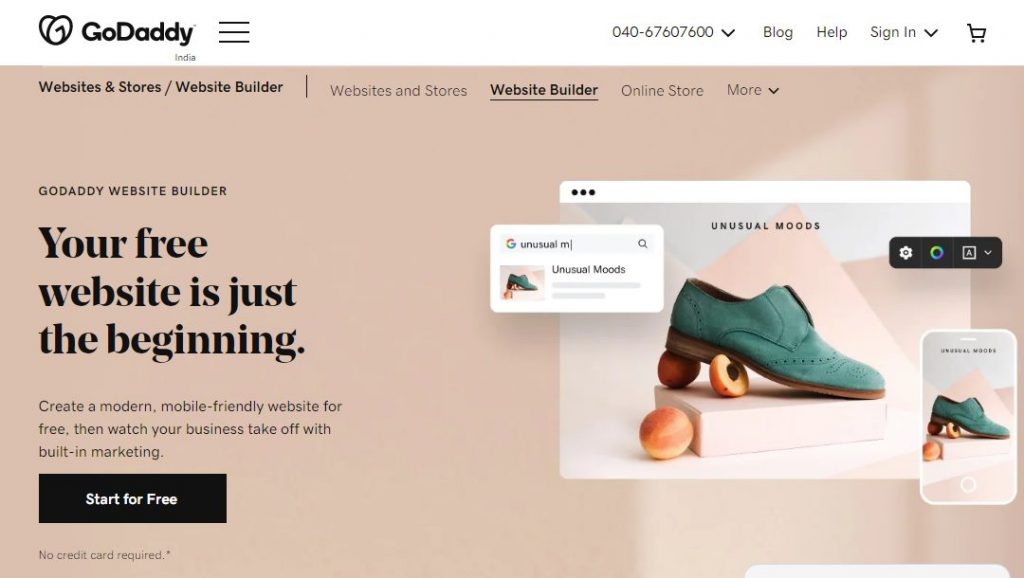 GoDaddy is a well-liked all-in-one solution for website builders who wish to do it themselves. You may quickly and effortlessly create a blog, an educational website, or even an online business. Regardless of your skills or experience, GoDaddy makes constructing and optimizing a site simple with built-in marketing tools.
Features of GoDaddy:
GoDaddy will allow you to integrate strong third-party connectors to your website. In fact, you may install over 125 of the most popular Internet applications.
Within the website builder, GoDaddy now provides 22 mobile responsive templates.
The GoDaddy editor is simple to use, with hundreds of pre-made, organized sections that content blocks that you may add to your websites and reorganize using drag and drop.
GoDaddy's eCommerce services include digital goods, a range of shipping and payment options, abandoned cart recovery, and product variants.
6. Site123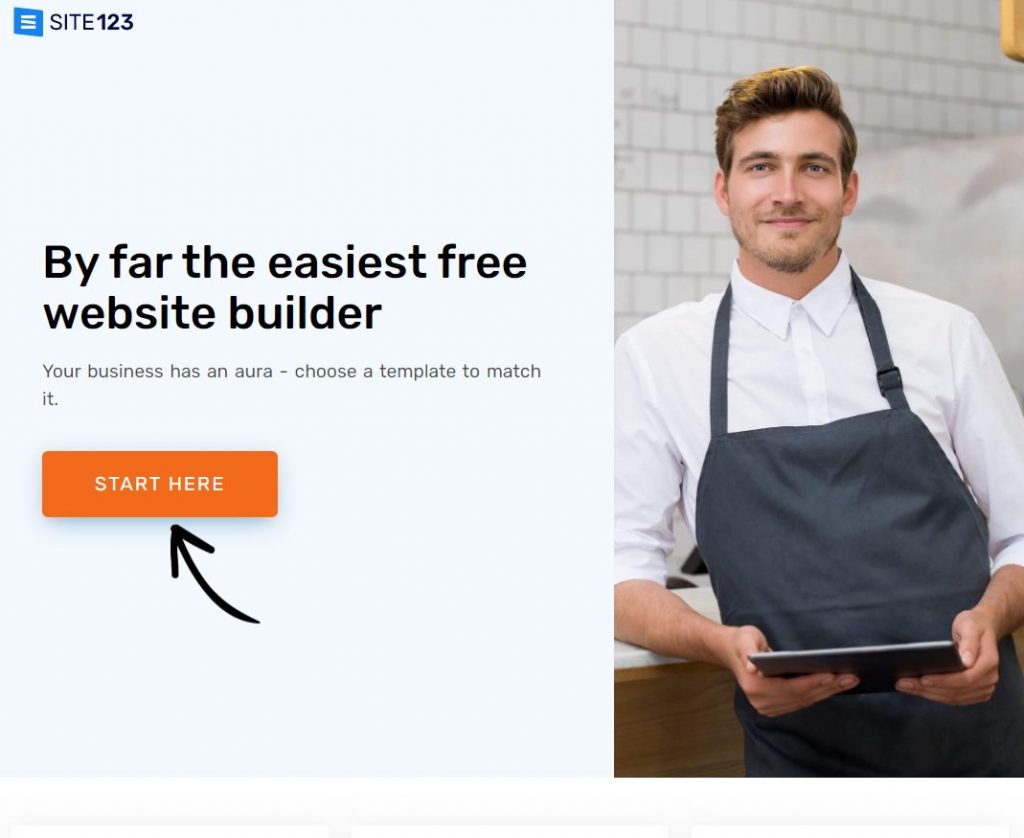 SITE123 is the most intuitive and easy-to-use website builder on the market! They handle everything from website structures to design so that you can focus only on your content. SITE123's editor is much more efficient than traditional drag and drop website builders, making it the perfect platform for creating a free website. With the SITE123 content management system, you can establish your online presence quickly and easily.
SITE123 is the best website builder for a number of reasons.
First, our editor is much more efficient than traditional drag and drop builders. This means that you can focus on your content, without worrying about the structure or design of your site.
Second, we handle everything from website structures to design. This means that you don't have to worry about a thing – we'll take care of it all for you.
Third, we're the only website builder that offers a free plan. This means that you can get started right away, without having to spend any money.
The fourth and final reason why we're the best website builder is that they have the best customer support in the business. If you ever have any questions or problems, our team is always here to help.
Site123 Fantastic Features:
You get an intuitive website editor – No coding required
You can build and enjoy a responsive web design & mobile friendly website
You get free web hosting to stay safe and secure
You get a set of best SEO tools that give you a perfectly optimized website
You get a free domain registration to establish your brand
Able to create an online store and sell globally today
So why wait? Get started today!
7. Mobirise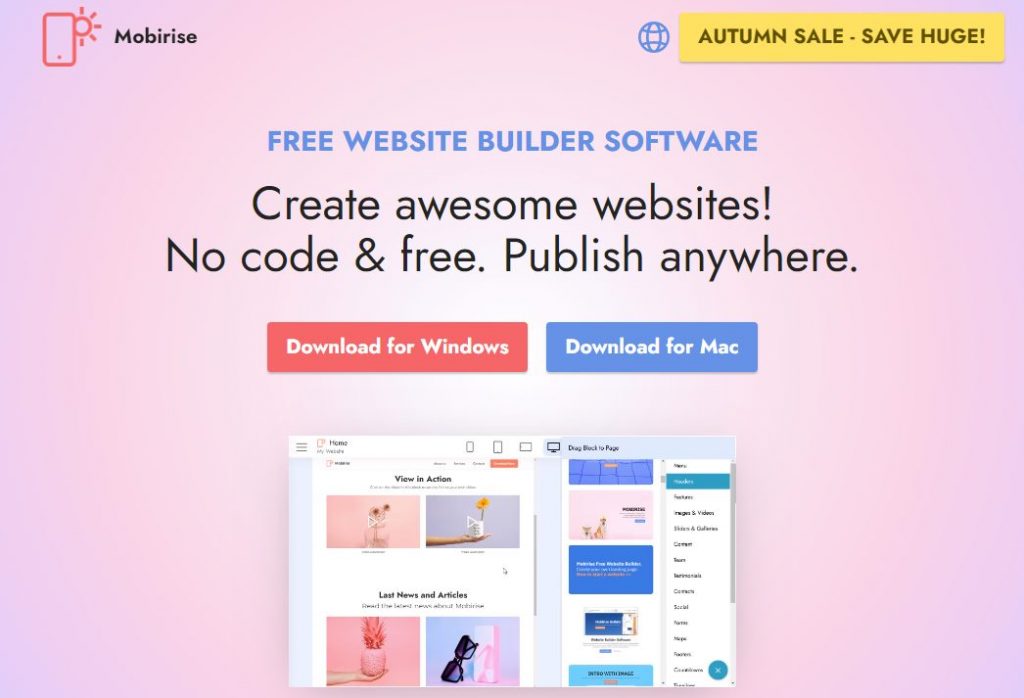 Mobirise, the best free website builder software, is now available for download on Windows, Mac, and Linux platforms. With Mobirise, you can easily create small to medium websites, landing pages, and simple web stores. Mobirise is a free offline downloadable app that makes website creation easy and fun. With its drag-and-drop interface, you can simply add text, images, and other elements to your web pages without having to write any code. Plus, Mobirise is available in multiple languages, so you can create websites in your native language. So if you're looking for an easy and fun way to create websites, try Mobirise today!
Features:
Mobirise Free Website Builder app offers 6500+ website blocks in 5 free
140+ premium HTML themes and 400+ home page templates that include sliders
Image/video galleries, articles
Blog posts, counters, chat buttons
Online shops, countdowns
Full-screen intros, shopping cart features
Data tables & pricing tables
Progress bar & cycles
Timelines
Tabs & accordions
Call-to-action
Forms
Google maps
Social feeds
Testimonials
Footers
Free icons and more
8. Mailchimp Website Builder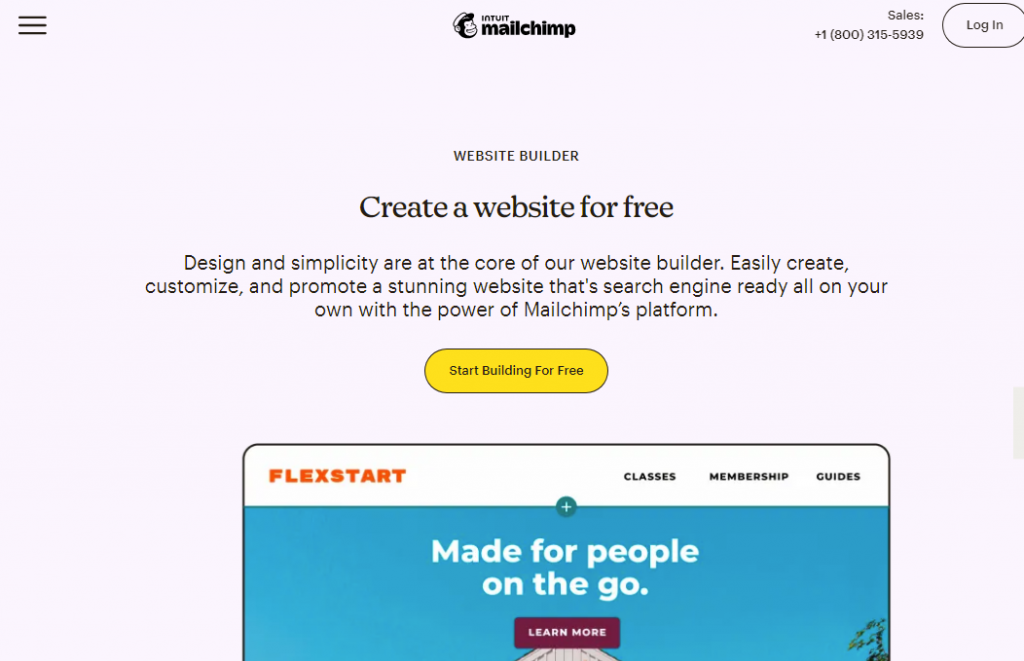 Starting today, small businesses and entrepreneurs can create a website for free with Mailchimp's new website builder. The builder is designed to be simple and easy to use, so anyone can create a beautiful, search engine-optimized website without any prior experience. With Mailchimp's website builder, you can choose from a variety of templates or start from scratch to create a custom design. You can also add features like an online store, blog, email signup form, and more. And because it's all powered by Mailchimp, you can easily manage your website and connect it to your existing Mailchimp account. Get started building your dream website today at mailchimp.com/website-builder.
Features:
Create a website for free
Brilliant web design, simplified
Curate your look and feel
Customize your new website layout
See your edits in real-time
Use beautiful imagery for free
Sell products and accept appointments from your site
Sell online and manage orders
Offer appointments online
Purchase a domain or connect an existing one to your website.
Custom social posts,
SSL certificates,
Rapid speed,
Responsive design
Google Workspace
9. Webflow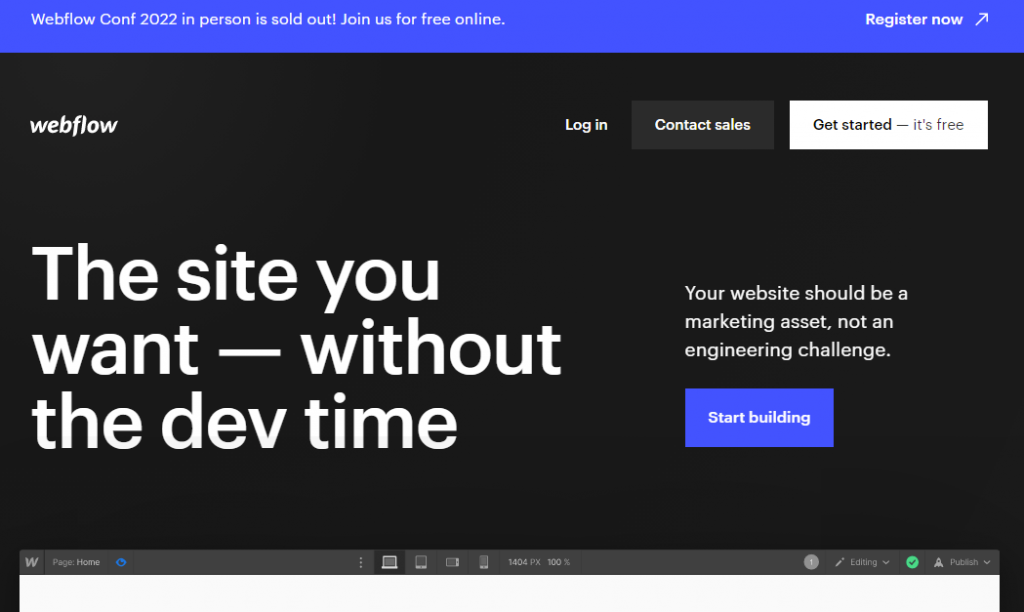 Looking to create a custom website without any coding? Webflow is the perfect solution! With Webflow, you can create professional, custom websites in a completely visual canvas – no code required! Plus, you can learn how to create a website by trying Webflow for free!
With Webflow, users can create professional, custom websites in a completely visual canvas with no code. By making our platform free, they're empowering more people than ever before to bring their vision to life online." To get started with Webflow, simply sign up for an account at webflow.com. No credit card is required. Once you're logged in, you can begin creating your custom website right away.
So why wait? Get started today and see what you can create!
Features:
Custom domain
10,000+ CMS items
Custom monthly form submissions
Custom bandwidth
Custom Guest editors
Uptime SLAs
Form file upload
Site search
Memberships
Logic flows
WebP support
Automatic responsive image generation
Asset upload and management panel
Site password protection
Page password protection
Backups
Custom code
CMS Items
CMS Collections
Fields per Collection
References per Collection
API requests /minute
Scheduled publishing
Dynamic embeds
RSS feed
Pre-built interactions
After Effects Lottie integration
Two-factor authentication
DDoS protection
Custom security headers
Custom SSL certificates
Customer support
Training
10. Google Website Builder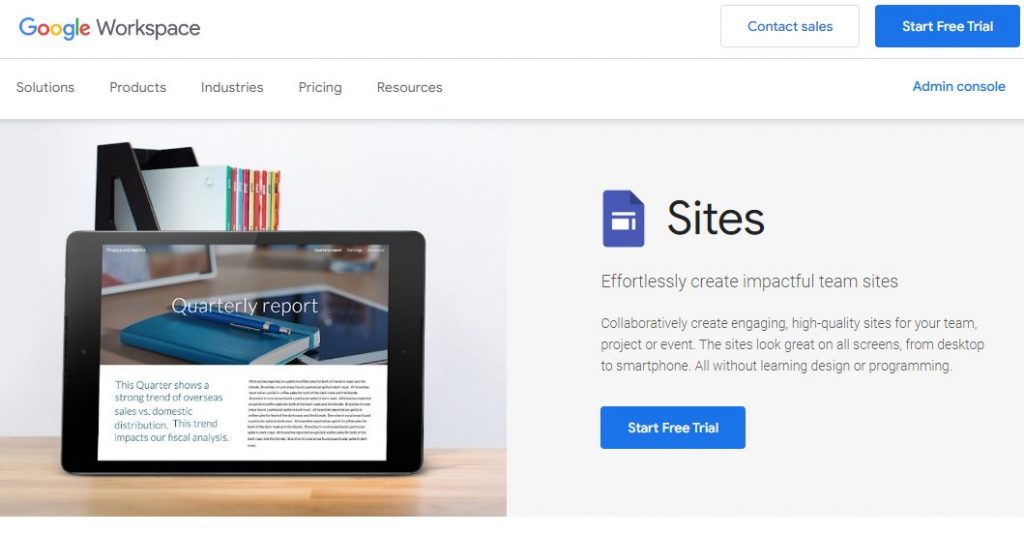 Google has announced a new website builder that requires no programming or design skills. The new builder, called Google Website Builder, is a free tool that allows users to create a website in minutes. With Google Website Builder, users can select from a variety of templates and designs, or start from scratch to create a completely custom site. The builder includes everything needed to create a website, including hosting, domain, and email.
Google Website Builder makes it easy for anyone to create beautiful, responsive websites without any design or coding knowledge. With just a few clicks, you can create a site that looks great on all devices, from desktops to smartphones. Plus, there's no need to learn any complicated programming languages – Google Website Builder is easy to use and perfect for teams, projects, and events.
Key Features:
Move, drag and drop, edit, done
Designed for collaboration
Secure your site, without requiring IT
Your content automatically looks its best across devices
Effortlessly create impactful team sites
Conclusion
And you've made it to the end of the list. All of the software described above can help you be more productive and creative. However, it is still necessary to review the software's capabilities to ensure that it meets the needs of your web design project.
When choosing which web design or website builder software to install and use, take into account your actual demands first.
You can use these free and premium website builders without any technical skills. As a small business owner, you can build your website in a few hours.
If you're completely new and want to grow your online business then you have to learn some basics before using these website builders or creating your own custom website. While there are many ways to learn web development, taking an online course is one of the most popular and convenient options. These courses can give you the skills and knowledge you need to start creating your website.
There are many factors to consider when selecting an online course, such as the topics covered, the length of the course, and the cost. To help you choose the best web development course for your needs, we've compiled a list of top web development courses. With these courses, you will learn the various techniques and become well-versed with the website development software.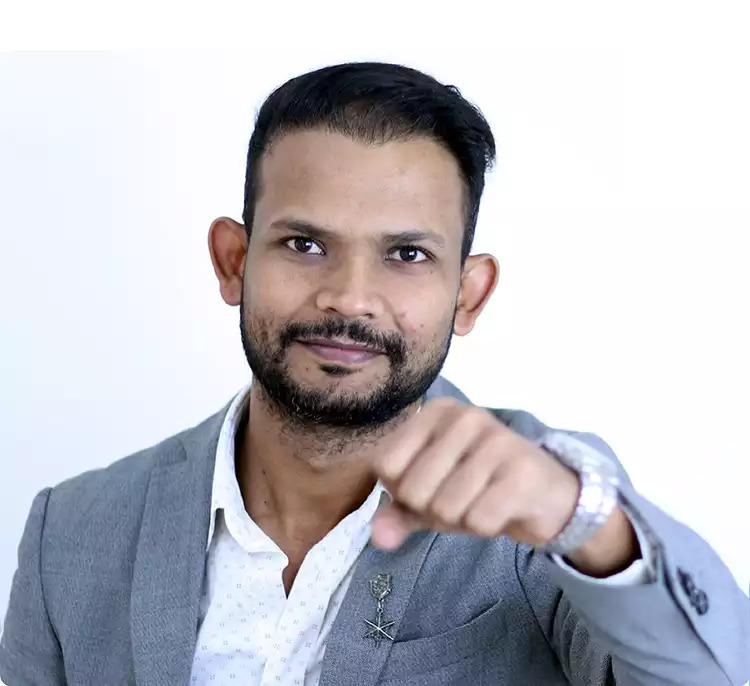 About Deepak Chauhan Hi, I am Deepak Chauhan, a Digital Marketing Strategist. I'm the CEO & Co-Founder of VOCSO Digital Agency, a creative web design, development, and marketing agency based in India & USA.