It seems like everyone is selling something these days, but having a different product or service to offer can make all the difference. If you're an entrepreneur interested in growing your business, it's time to grab the bull by its horn and get started. This is where lead generation software comes into play. It offers businesses a customizable platform for capturing leads and generating new revenue. The best part about this software is that you don't have to be tech-savvy in order to use it – just go ahead and sign up and start creating campaigns!
Lead Generation has quickly moved from being a necessity for only small businesses to being one of the top priorities for large, well-established ones as well. Finding the right lead generation software can be a complex task. It's important to choose one that fits your business needs and is scalable. To find the best lead generation software for your needs, start by asking yourself.
Luckily, this article gives a step-by-step guide to finding your perfect lead generation software!
What is lead generation Software?
Lead generation software is a platform that will help you automatically generate and collect leads from specific channels and route the collected leads to sales or marketing teams for conversion.
Lead generation software can be used to generate leads from a variety of sources, including social media, webinars, and email campaigns. Once the leads are collected, the software will route them to the appropriate sales or marketing team for follow-up and conversion.
This can help streamline your lead generation and conversion process and help you close more deals.
Who uses lead generation software?
Lead generation software is beneficial to both B2B and B2C businesses and it can be one of the best lead generation strategies to generate leads. Your competitors are probably already using it. In a survey of both B2B and B2C companies, more than half (57%) of respondents said they use lead generation software.
Lead generation software can help you find and nurture potential customers, and then convert them into paying customers. It can automate many of the tasks involved in the sales process, from initial contact to follow-up.
And it can help you track and measure your results, so you can constantly improve your performance.
If you're not using lead generation software, you're at a competitive disadvantage. So if you're serious about growing your business, it's time to get started.
Why Is Lead Generation Software so Important?
The most important aspect of the sales funnel is generating enough effective leads. This is because the more leads that enter the top of your funnel, the more revenue you will earn at the end.
Lead generation software is essential for this reason alone. However, some additional advantages could transform your sales team. You can, for example, use lead generation software to segment your leads based on certain criteria.
This way, you can focus your sales team's efforts on the leads that are most likely to convert into customers.
Additionally, lead generation software can help you track the progress of your sales team's efforts, so you can see which methods are working and which need to be tweaked.
Lead Generation Software Key Features
1. Identifying new prospects
B2B intent data provides valuable insights that can help you generate leads and convert customers into prospects. By identifying web visitors who are actively researching topics related to your business, you can focus your efforts on converting those customers into prospects.
The lead generation software assists teams in identifying high intent on what visitors are actively researching and includes a contacts database with millions of accurate business record details. This allows you to focus your efforts on converting those customers into prospects.
2. Generate qualified leads
There are several inbound lead generation tools available to help businesses generate leads from interested buyers. These tools can be used to generate leads from buyers who have visited your site because they are interested in your expertise in a specific domain or industry, or because they are interested in your products or services.
Inbound lead generation tools can also be used to generate leads from buyers who are willing to provide their contact information in exchange for the value offer you are providing on your website.
3. Improve sales productivity
One of the most significant advantages of using lead generation tools is that they automate many manual repetitive tasks in the lead capturing process, allowing salespeople to focus on more value-added activities such as engaging with leads, closing deals, and revenue generation.
Manual tasks such as copying and pasting data are eliminated, improving lead data accuracy. The use of tools allows for the generation of leads on a scale that would not be possible with the manual approach.
Lead generation tools can help you target your ideal customer, automate the lead capture process, and improve data accuracy. By using a lead generation tool, you can scale your lead generation efforts and free up your sales team to focus on more value-added activities.
4. Avoid poor quality leads
When it comes to sales, generating leads is always a top priority. However, it's important to remember that not all leads are created equal.
Low-quality leads can often be more detrimental than no leads at all. This is because your sales force will have to work harder to convert them, and the failure rate will be higher.
That's where LG software comes in. By leveraging big data and analytics, LG can help you identify prospective customers who are more likely to be interested in your goods or services.
This way, you can focus your efforts on the leads that are most likely to convert, enhancing your overall sales.
5. Reveal countless opportunities
LG software can do a lot of things that the human mind could never do independently, at least not in a matter of seconds.
For example, it can quickly and accurately analyze data, identify patterns, and make predictions. It can also rapidly carry out complex calculations, simulate different scenarios, and make decisions based on those simulations.
In other words, it can do things that would take the human mind a long time to do, if it could do them at all. So if you're still not convinced of the worth of LG software, just consider all the things it can do that the human mind could never independently accomplish.
6. Spend more time selling
As a business owner, you know that finding new customers is essential to your success. However, it can be a time-consuming and difficult process. Fortunately, there are lead generation tools available that can help you locate potential customers more quickly and effectively.
LG software is one such tool. It enables your sales team to focus on their strengths – selling your products and services – by freeing up time that would otherwise be spent finding leads. As a result, your pipeline is more effective and your sales team is happier and more likely to reach their goals.
Don't let finding new customers be a bottleneck for your business. Invest in lead generation tools like LG software and watch your business grow.
What to look for in a lead generation tool?
You'll have a much clearer idea of what your software will need once you've developed an LG plan and described your approach.
This is because your plan and approach will help you to identify the specific features and functionality that your software will require.
Without this information, it will be difficult to determine what your software will need to be successful.
Some key features to look for are:
1. Scalability
As your company grows, it is critical to carefully consider your exact requirements at each stage. Many LG tools charge per user, so your monthly bill could rise significantly as your sales team expands.
It is important to determine whether your LG software will scale with you or if you will need to switch providers at some point. Choosing the right software solution from the beginning can save you a lot of time and money in the long run.
For example, if you're a small startup, you might not need all the bells and whistles that a larger enterprise would require. In that case, it might make sense to choose a less feature-rich but more affordable LG solution.
On the other hand, if you're a rapidly growing company, you'll need to make sure your LG software can keep pace with your growth. Otherwise, you'll end up having to switch providers down the line, which can be costly and disruptive.
No matter what stage your company is at, it's important to do your research and choose an LG software solution that will fit your needs both now and in the future.
2. User Friendly
The LG software is designed to be user-friendly and accessible to anyone in your organization. It eliminates the need for costly training sessions by making the solution available to anyone whose work would benefit from it.
Users can quickly filter their database using an intuitive drop-down menu, making it easy to find the information they need. By having the LG software readily available to all employees, your organization can save on training costs while still ensuring that everyone can use the solution effectively.
3. Flexibility
LG software is renowned for its adaptability, and this is evident in the various features and tools that are available to users. Your entire team can access LG software while on the go, via mobile devices, which is ideal for sales representatives who need to be able to work flexibly.
When choosing software for your business, it is important to prioritize finding solutions that provide your employees with the flexibility they require.
LG software provides employees with the ability to access the tools and features they need from any location, which gives them the freedom to work from anywhere.
4. Third-party integration
LG solutions are designed to work seamlessly with the rest of your marketing technology stack. This is critical for the success of your marketing and sales operations.
By integrating with your other marketing technologies, LG solutions can help you automate processes, improve efficiency, and make better decisions. Additionally, LG solutions can provide you with valuable data that can be used to improve your marketing and sales strategies.
5. CRM
Effective CRM software can make a big difference for a business, and it's important to choose a system that will meet your specific needs.
If you're already using a CRM system, it's important to choose an LG software that can integrate seamlessly with your existing system. Some LG software options are more focused on lead generation, while others provide more comprehensive CRM features.
Consider which aspects of a CRM system are most important to you before making a decision. In some cases, it may be preferable to use separate, dedicated systems for lead generation and CRM rather than purchasing an all-in-one system that falls short in one area.
6. Reporting and analytics
LG places a premium on data access and analytics for two reasons. First, your LG system must allow you to see and analyze the data it collects so that you can assess your company's marketing and sales performance, identify challenges, and develop future strategies based on this information.
Second, data reporting and analytics from your LG process are critical to understanding your target market and what motivates them to purchase your product.LG understands that to make data-driven decisions, you need to have easy access to data and robust analytics capabilities.
That's why we've made it a priority to provide our customers with the tools they need to get the most out of their data.
With LG, you'll be able to track your progress, identify areas of opportunity, and make decisions that will help your business grow.
7. Geo-tagging
LG software should be able to not only capture information from various sources but also visualize it using field maps to generate insights. This would allow you to see patterns and trends that would otherwise be hidden, and make better decisions about where to allocate resources. Additionally, this would help you to communicate your findings to others more effectively.
Geo Tagging allows you to see the types of businesses that operate in a specific area or even the number of financially healthy businesses in a specific city.
This would be an invaluable tool for LG, as it would allow them to make more informed decisions about where to allocate resources and how to best communicate their findings to others.
8. Marketing tools
There are many digital marketing tools marketers use. An LG solution should either seamlessly integrate with your existing marketing automation tools, such as your email marketing solution, or provide its toolkit for marketing automation.
This way, you can easily and efficiently manage your marketing campaigns, and track and analyze your results. Additionally, a good LG solution will provide you with powerful and actionable insights, so you can fine-tune your marketing strategy and optimize your campaigns for maximum impact.
9. Landing page tools
Some LG solutions include tools that can assist businesses in improving how visitors respond to their landing pages. A landing page builder, for example, can help you create pages that drive conversions with a simple drag-and-drop interface.
The right analytics can help you continuously refine your website and make sure that your landing pages are effective. With these tools, you can make sure that your business is making the most of its online presence and reaching its potential customers.
10. ROI calculation
To accurately calculate ROI and demonstrate a positive return on investment for your company, your LG solution must be capable of effectively measuring and tracking the relevant data points.
This data must then be analyzed and interpreted to calculate ROI and demonstrate a positive return on investment.
Without accurate data, it will be difficult to accurately calculate ROI and demonstrate a positive return on investment.
11. Lead capture
Lead capture is an important step in the lead generation process. It entails gathering lead information from all possible sources where the leads may originate.
The sources could be via email, a website landing page, or social media.
There is various lead capture software available in the market that can be used to capture leads from different sources.
The software can be used to track and capture lead information from email, website landing pages, and social media. The captured information can then be used to generate leads.
The lead capture process is important as it helps in gathering information from various sources. This information can then be used to generate leads.
12. Lead mining
Businesses must find new ways to collect leads to broaden their funnel and find new customers. It could be through the discovery of new market segments or the expansion of upsell/cross-sell opportunities with current customers. This process is aided by lead mining software in a variety of ways.
Lead mining technology assists in scraping data from websites, emails, and social media channels where potential buyer activity may be occurring.
Lead mining software can be used to extract potential customer information from customer databases, historical sales data, account information, purchased market lists, and other sources.
Another use case addressed by Lead Mining software is the ability to handle large amounts of data gathered from both structured and unstructured sources via outbound lead generation and in-house data mining.
13. Data enrichment
Lead data can quickly become stale or irrelevant for several reasons. It might be incorrect, duplicate, or out-of-date due to the company shifting offices, phone numbers changing, or people changing jobs. As a result, maintaining lead data can be difficult for the marketing and sales teams and require a lot of manual effort if not handled by technology.
Data enrichment tools solve the problem of bad email addresses by correcting them, tracking people's changes, and performing other data cleansing tasks such as duplicate removal and contact validity checks.
With these tools, businesses can make sure that their contact lists are accurate and up-to-date, which is essential for maintaining good customer relationships.
14. Build target account lists
Lead generation software provides a powerful tool for creating targeted marketing lists. This allows businesses to focus their marketing efforts on specific segments of the customer base, increasing the chances of conversion. For example, a business selling software to small businesses might create a list of customers who have shown an interest in competitor products, or who regularly read industry news. This targeted approach can be very effective in driving sales and increasing customer loyalty.
Conclusion
When it comes to lead generation for your business, there are a lot of options available. This can be a confusing process, which is why I've put together this guide to help you choose the best lead generation software for your business. In this article, we have discussed what factors to consider when choosing a lead generation tool, as well as provided some tips on how to get started using the right software. So whether you're just starting out or you're looking to expand your current business sales, make sure to check out our guide and pick the perfect lead generation software for your business!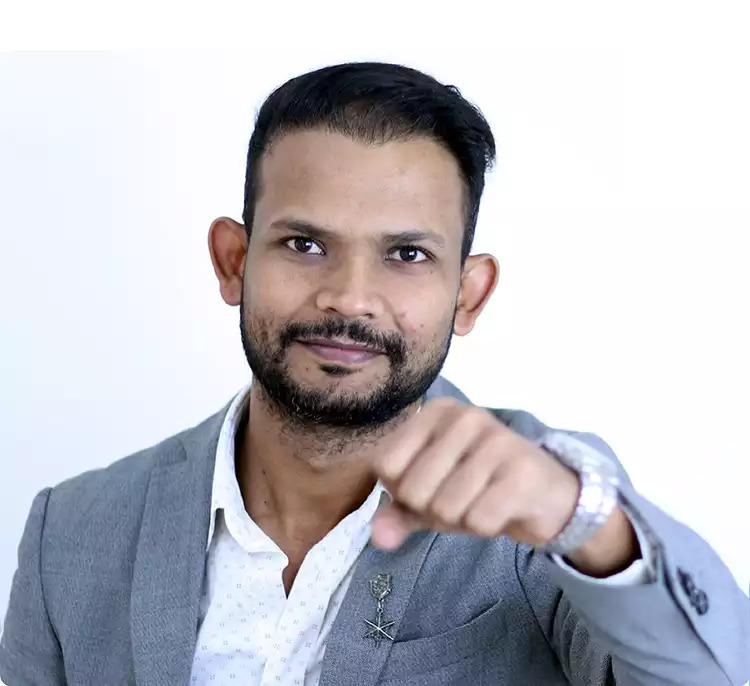 About Deepak Chauhan Hi, I am Deepak Chauhan, a Digital Marketing Strategist. I'm the CEO & Co-Founder of VOCSO Digital Agency, a creative web design, development, and marketing agency based in India & USA.