Search engine ranking is vitally important for every business owner who wants to be seen by their target audiences when they are searching for something similar to their products or services. To rank, your website pages it's important to do Onsite SEO perfectly. There are 200+ SEO ranking factors and On-page SEO factors play a very crucial role to make your website rank higher in search engines. There are many on-page and technical SEO factors that you can't optimize effectively for your website pages without on-page SEO tools. You can manage On-Page SEO activities easily and timely with these tools. These tools will help you find all onsite SEO factors and how these factors match your pages. You can optimize your on-page SEO missing factors to boost rankings. There are thousands of free and paid SEO tools that marketing professionals are using to manage their daily SEO tasks easily.
In this article, we're going to explore on-page SEO optimization tools so you can use these tools to effectively get optimized your on-page SEO. Look at the top on-page SEO tools which can help you to get optimized your website.
As a result, we've compiled a list of the finest On-page SEO tools to help you improve your website's performance and boost your Google search ranks. Before talking in more detail about these tools, let's find out a little bit more about On-Page SEO:
Why Is On-Page SEO So Important?
The importance of on-page SEO in your overall SEO strategy cannot be overstated. It has the potential to make or break your website, especially if you are a beginner. You can attract more visits and make more purchases by optimizing your page for search engines.
It's all about making sure your content is search engine friendly and can be properly interpreted by Google and other search engines.
The goal is to make the material as user-friendly as possible while ensuring that it fulfills the search intent. The focus should be on providing content that is beneficial to your viewers rather than ranking.
If you're struggling to get

more visitors

to your website?

This is because your site could perform better with Google ranking. Get a detailed execution plan for how we can achieve your SOE goals.

Grow Traffic Now
Best On-Page SEO Tools
Now we will review some of the best on-page SEO tools on the market and give you a rundown of their features.
1. Google Search Console (Web-Based from Google)
Google Search Console is a search engine optimization (SEO) tool that is designed to help improve your websites and blog performance and resolve any issues. It provides you with reports on your website's traffic resources, performance, and other statistics.
Search Console also helps you identify and fix essential issues on your website that affect search results.
You can find Search Console in the Google Suite of products. It is free to use and offers a range of information to help you improve your site's visibility in Google searches.
Why use Search Console?
Google Search Console provides detailed insights into how well your website is performing in the search results, especially when it comes to technical SEO and on-page SEO elements. You can get information on:
Your website's overall performance in Google search results.
Which keywords are most likely to bring visitors to your site via Google searches, based on their performance over time and their current rankings
How many times your website has been listed in Google's search engine results pages (SERPs), along with which pages were shown for which keywords, how many people clicked through from those listings, and what happened after they did so (for example, did they bounce straight back out again?).
If you have a site that serves content primarily in one language or locale, you can add an international targeting setting to help users find your pages. This international targeting helps control where your site appears in Google search results.
What you can do with Google Search Console?
Performance report (Search)
Performance report (Discover)
Performance report (Discover)
Manage your sitemaps using the Sitemaps report
Manage your sitemaps using the Sitemaps report
Page Experience report
Core Web Vitals report
Mobile Usability report
Rich result status reports
Manual Actions report
Links report
Crawl Stats report

and much more…
2. Bing Webmaster Tools (Web-Based from Bing)
Bing Webmaster Tools are a free suite of tools that can help you monitor the performance of your site on Bing's search engine. You will be able to see your site's performance data and see how well it is doing in the Bing search engine. The free SEO tools include backlinks analysis, keyword research, and website traffic analytics. These are all great features that can help you improve your page rankings on the results of Bing searches.
The Bing Webmaster Tool generates an SEO Report for your site that details its overall health. Some of the most popular page-level tips to boost your site's rating may be found in the SEO Reports. These suggestions are based on a collection of roughly SEO Best Practices to assist you in getting started. SEO best practices are a set of chores aimed at improving the search engine rankings of a website.
The SEO Reports will be generated automatically every other week and will be accessible via your webmaster account. We generate bulk reports for all sites listed in your Webmaster account using the same set of SEO Best Practices as the on-demand SEO Analyzer tool.
There is nothing to do except review the reports for anything that needs to be looked at or worked on, as our system scans and reports on all pages (that appear in our index) automatically.
Top features in the current Bing Webmaster Tools
Search Performance
URL Inspection
Site Explorer
Sitemaps
URL Submission
Backlinks
Keyword Research
SEO Reports
Site Scan
Crawl Control
Block URLs
Robots.txt tester
Verify Bingbot
User management
Microsoft Clarity Tool
and much more…
3. Screaming Frog SEO Spider
Screaming frog SEO Spider is a real-time website crawling application that assists organizations in extracting onsite data, auditing SEO concerns, and analyzing results. Duplicate page identification, site visualization, crawl scheduling, forms-based authentication, XML sitemap production, and reporting are just a few of the features.
SEO professionals can use the application to crawl small and large websites, track broken links and server issues, and export source URLs to developers for rectification. Tag directives allow digital marketers to examine page titles and meta descriptions, uncover temporary and permanent redirects, and identify restricted URLs. Users can also scrape data from web pages' HTML using CSS Path, XPath, or regular expressions (regex).
Screaming Frog SEO Spider comes with various third-party platforms such as Google Analytics, Google Seach Console, PageSpeed ​​, and Link Metrics. It is available free of charge and on an annual subscription and offers support via telephone, email and documentation.
4. Greenflare: The Open Source SEO Crawler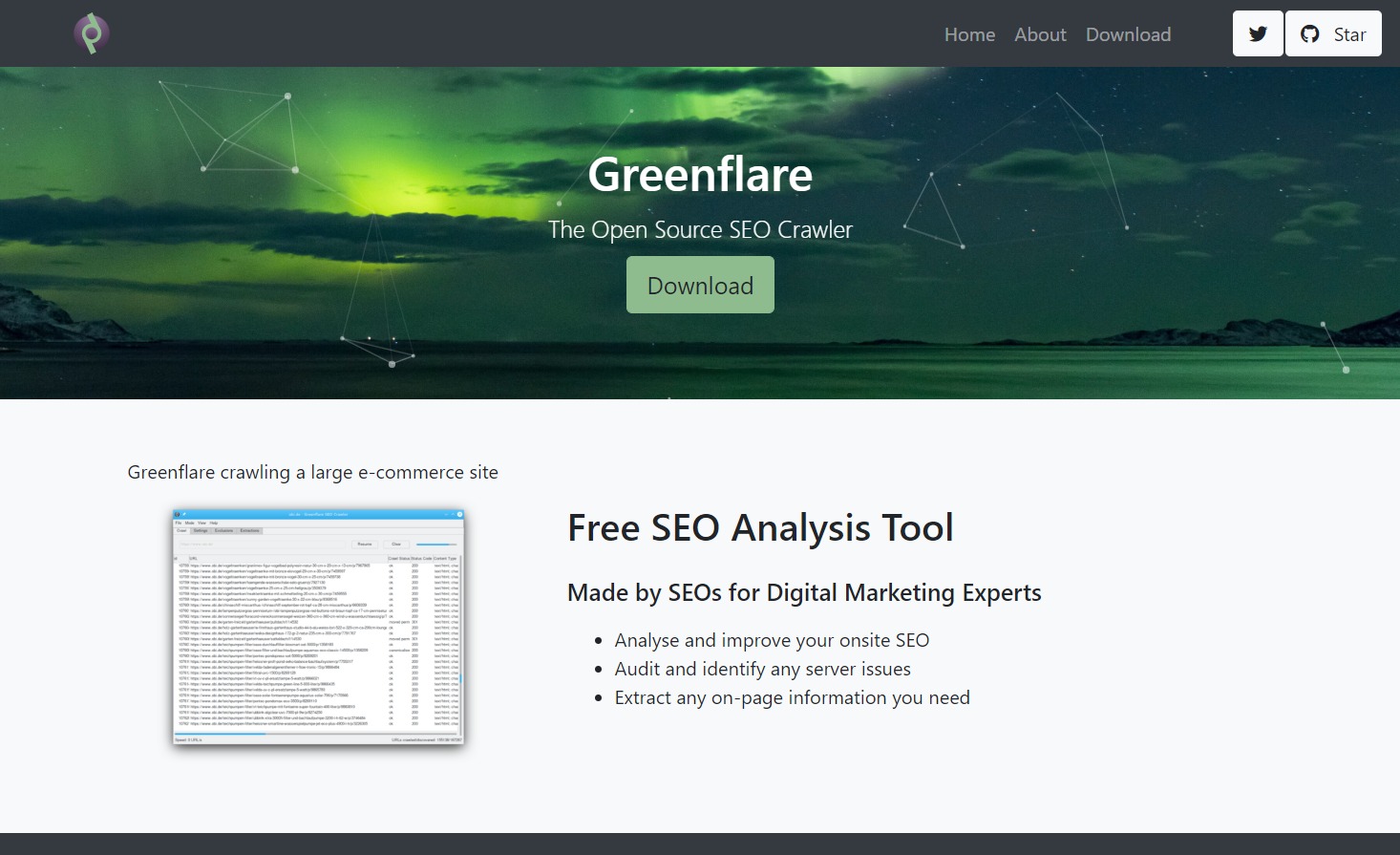 In reality, SEO is such a large and intricate topic that finding a really all-in-one solution is difficult. That implies that if you want to cover all of your bases, you'll probably have to invest in more than one product – and Greenflare may be one of them, especially if you can't afford a few memberships. With that stated, there are lots of paid products that accomplish exactly what Greenflare does as a service, which is why you should assess your requirements.
Green flare bills itself as a free SEO tool that claims to examine your on-site SEO, provide advice for improving it, audit server issues, and extract all the on-page data you need for your SEO study and upgrades.
There are no crawl limits because it is open-source. In terms of hardware, it's also quite simple to set up – Greenflare claims that the program can work on PCs with as little as 1GB of memory. Pre-defined criteria help you uncover common SEO issues, while custom filters help you get to the heart of the matter. You can export all of your data as a CSV file and import it into a third-party program. Best of all, this software is compatible with Linux, Microsoft, and Mac systems, allowing you to easily set it up in any setting.
Top features of Features Greenflare
Crawl Status
Status Codes
Broken Links
Headings
Meta Data
Robots
Extractions
Exclusions
Export
5. SEOlyzer SEOlyzer: Crawler & Log Aanalysis for All SEO
SEOlyzer is a crawler and log analyzer that helps you figure out how Google and other search engines see your website. The program finds and fixes mistakes, double-checks that redirects are set up correctly, tracks page speed, and guides search engines to crawl the most important pages first.
It can be tricky to get a handle on how your site is seen by Google. This can make it hard to optimize your site for SEO (search engine optimization). To help you understand what Google sees when it crawls your site, we built SEOlyzer. It combines a crawler with log analysis to give you an accurate picture of how Google sees your website.
Features of SEOlyzer
Log Analysis – While you access your website, some crawling bots, such as Googlebot, leave information in your server log file. SEOlyzer's methodical and well-organized Key Performance Indicators (KPIs) accumulate all the unneeded data as a result of log analysis. It looks at the density of keywords in the text on your website. It also does tasks like speeding up web pages, looking for redirections, and more to increase traffic to your website.
Creating content – It allows you to investigate, generate, and optimize your website's content thanks to their in-depth examination and analysis. They keep an eye on your keywords as well as your competitors with their updated monitoring, which includes a direct comparison of all available analyses.
People are using SEOlyzer in increasing numbers. The majority of firms have adopted the practice of improving and correcting their websites. Your business and companies will benefit from a real-time tool.
6. SEO Server Header Checker Tool
Web Based from Ryan Jones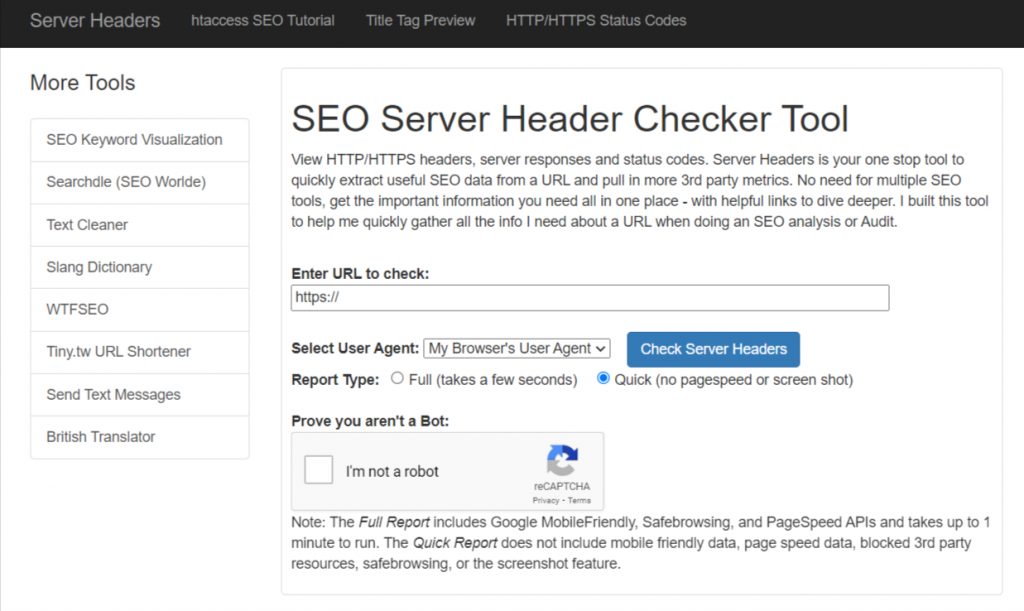 SEO Server Header Checker Tool provides a lot of useful information that can help you with SEO, but it also provides powerful data that you can use to make smart decisions.
SEO Server Header Checker Tool is a useful tool for SEOs and developers, as it provides access to data from multiple sources that can help you understand your competition and make informed decisions. Server Headers is a one-stop-solution for extracting important SEO data from URLs. You can easily extract keywords, ranking data, and so on without having to use numerous different tools on the market. With Server Headers, you gain access to invaluable third-party metrics like Google's PageRank and Alexa Rank so that you can keep up with your competition and make strategic decisions based on real-time data.
If you are serious about SEO, this tool is an absolute must as it strengthens your website's ranking. The user-friendly interface makes it easy to find the information you want and understand how to improve on it.
7. Ahrefs Webmaster Tools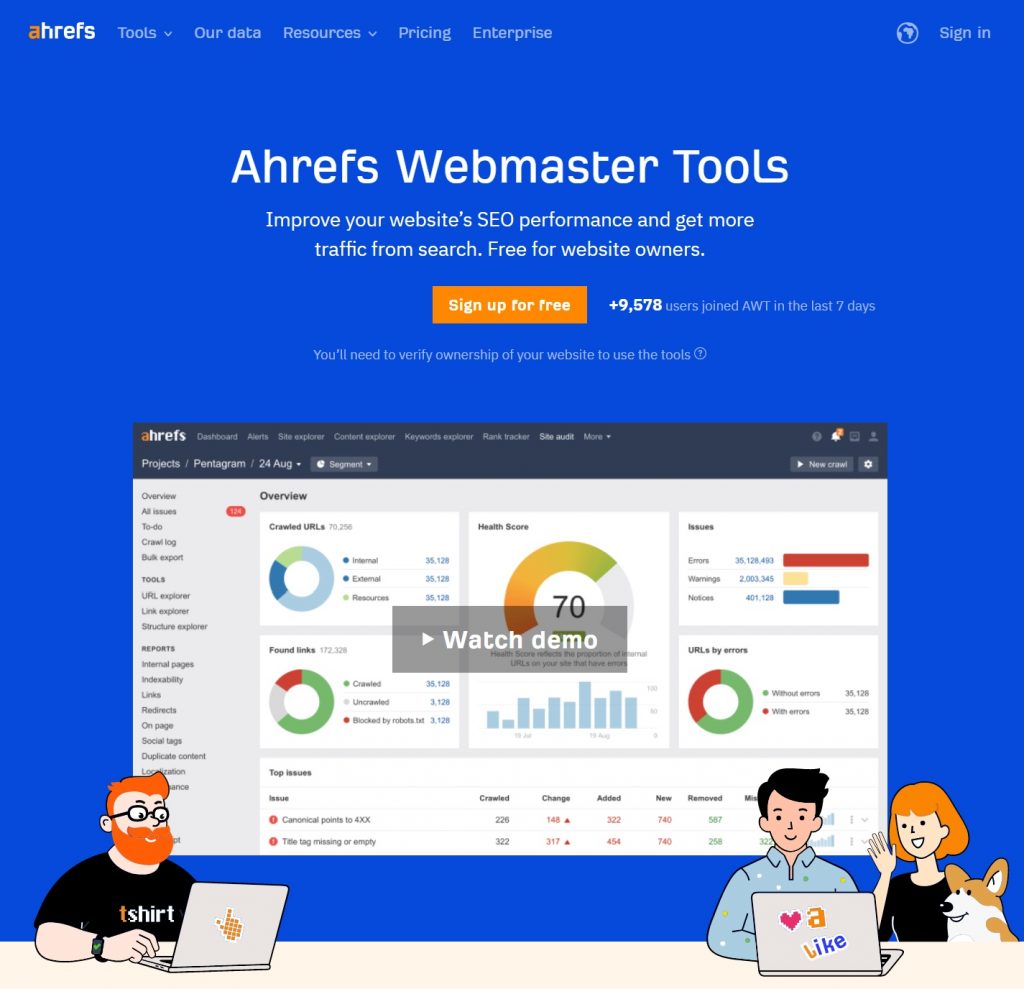 The Web is indeed all about the search engines, but it's also true that your website needs to be up to snuff. SEO, on the other hand, think of their sites as marketing tools.
Ahrefs Webmaster Tool can be a great resource for both types of users. The best part is that it provides so many features and analysis reports that it's possible to dig into your competitor's link profile and see what they're doing right or wrong. You can even use Ahrefs' Site Explorer tool to find out exactly which keywords are driving traffic back to your competitors' websites, along with those keywords' domain authority and page authority numbers, which are two excellent ways of understanding how strong a site is in terms of its ranking potential.
In Ahrefs Webmaster Tool you can see the following reports:
Backlinks
Broken backlinks
Referring domains
Referring IPs
Internal backlinks
Link intersect
Organic search
Organic keywords
Top pages
Top subfolders
Top subdomains
Competing domains
Competing pages
Content gap
Pages Best by links
Best by links' growth
Top content
Outgoing links
Linked domains
Broken links
Paid search
Paid keywords New
Ads
Paid pages
CSV & PDF Export
8. Siteliner: Explore your website, revealing key issues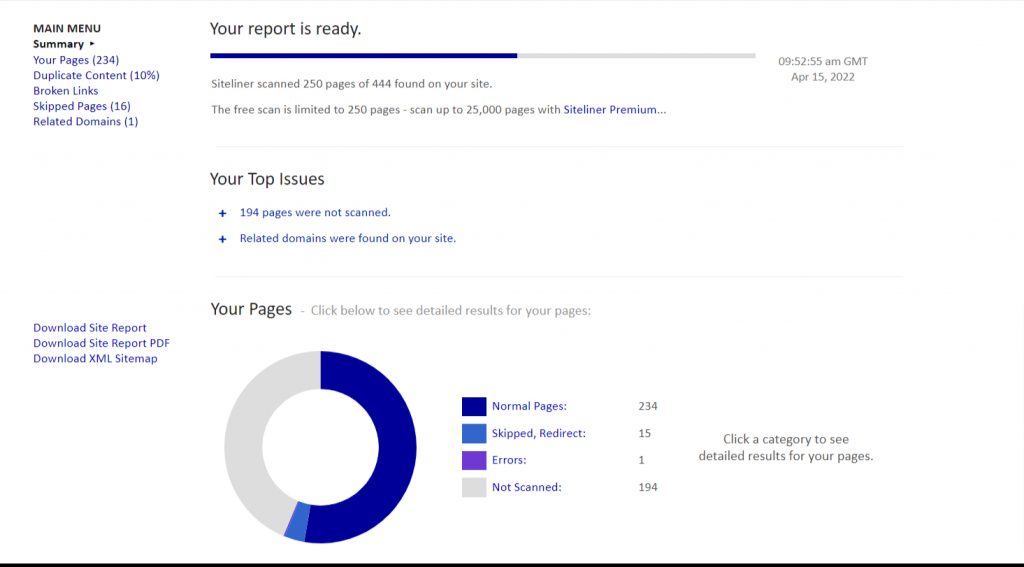 Siteliner is a website analysis tool that lets you scan and discover issues such as duplicate content, broken links, and page size that impair the quality of your site. This tool, developed by Indigo Steam Technologies (the same people who brought you Copyscape), reveals the main changes you need to make to your site to outperform your competitors.
One of Siteliner's main advantages is its unrivaled speed and ability to deliver results in real-time. Siteliner crawls all of your web pages in a moment when you type your URL into the search field and provides site and page results in a well-organized manner.
However, the tool is solely useful for on-page site analysis.
Duplicate content – You can use this service to check for duplicate material inside your domain. Siteliner scans up to 500 pages at once, rather than analyzing one at a time.
By clicking on your pages, you may view the duplicate material from the results and identify where you have duplicate content.
Page Power is an internal linking analysis tool that determines a page's power by counting the number of links it receives from other sites. The importance of each page that links to the studied page are used to do the study.
Siteliner checks your site's link patterns for broken links to guarantee that each link is functioning properly. It generates a printable table that lists all broken links.
You can check out the following SEO on-page factors with Siteliner

Your Pages
Duplicate Content
Broken Links
Skipped Pages
Related Domains
9. Checkbot: SEO, Web Speed & Security Tester
Browser Extension from Checkbot
Checkbot is a robust website testing tool that can help you enhance your website's SEO, page performance, and security. Checkbot searches hundreds of pages at once, looking for 50+ common website issues based on Google and Mozilla's web best practices. These checks include the following
SEO TESTS: Broken link checker, missing or long page titles/descriptions/headings, duplicate page content, HTML/CSS/JavaScript validator, canonical URLs, image ALT tags, robots.txt, URL naming, mobile-friendly pages, deprecated web features, 404 pages, meta tags, temporary/meta redirects, thin pages, and sitemap setup are all examples of SEO tests.
PAGE SPEED TESTS: minification, network compression, resource caching, render blocking or duplicate CSS/JavaScript, excessive inlining of CSS/JavaScript, redirecting URLs & redirect chains.
WEB SECURITY TESTS: HTTPS and mixed content checker, HSTS with preloading, content sniffing iframe restrictions & password forms security.
You can test the following SEO terms with the Checkbot tool
Set page titles
Use optimal length titles
Use unique titles
Set H1 headings
Use one H1 heading per page
Use optimal length H1 headings
Use unique H1 headings
Set page descriptions
Use optimal length descriptions
Use unique descriptions
Set canonical URLs
Avoid duplicate page content
Avoid thin content pages
Set image ALT text
Set mobile scaling
Avoid plugins
Use short URLs
Avoid URL extensions
Avoid URL parameters
Avoid symbols in URLs
Use lowercase URLs
Avoid underscores in URLs
Avoid deeply nested URLs
Use valid HTML
Use valid CSS
Use valid JavaScript
Use 404 code for broken URLs
Avoid broken internal links
Avoid broken external links
Avoid broken page resources
Use robots.txt files
Set sitemap locations
Avoid meta redirects
Avoid temporary redirects
Speed
Security
10. SEOInfo (Browser Extension from Weebly)
"SEOInfo" is a Chrome and Firefox SEO plugin that helps you identify technical issues by showing you where the problems are on a webpage. It also tells you what to do about these issues. Some of the information it displays is The page's content, meta description, title tags, and more. These details help you determine if the page is optimized for search engines.
It gives you details on all the links and images on the page. You can see how many times the image appears, whether or not the image has an alt tag, and if there are any missing images. This gives you invaluable insight into internal linking and whether or not there are any issues with broken images or links.
SEOInfo also provides the following information about your website:
Web Vitals
Content
Language
Title Length
Canonical
Robots
Description
Crawl
Accelerated Mobile Pages
Speed
Sizes
Ip Address
Http Version
Opengraph Tags
Twitter Cards
Hreflang
Response Headers
Other Meta
Links Elements
11. Spark Content Optimizer (Browser Extension from SEOClarity)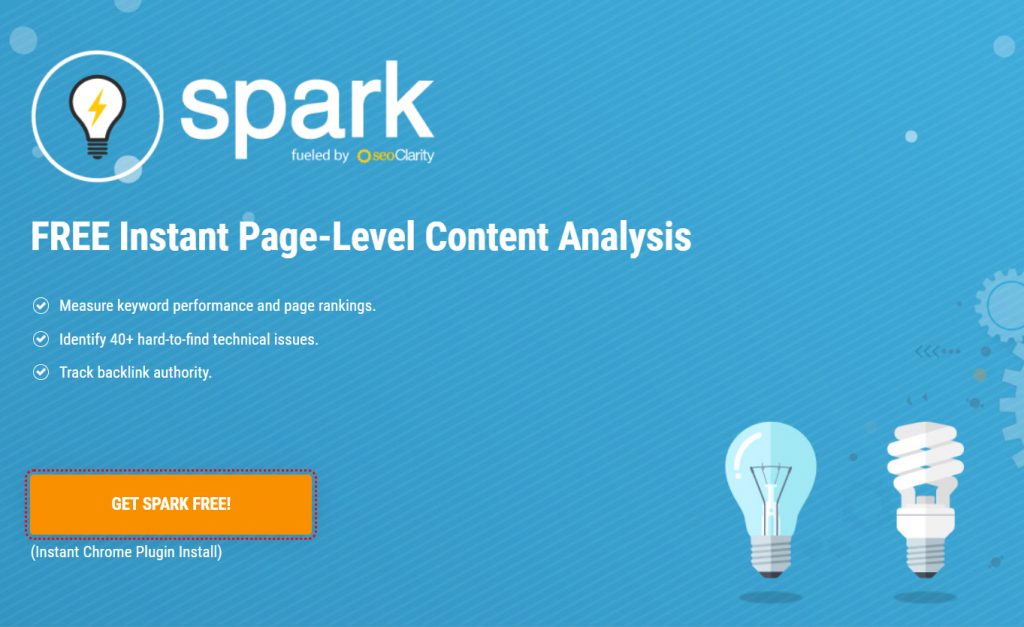 Spark's Content Optimizer Plugin is designed to give every user in your company – from content writers to merchandisers, and from IT teams to designers – the ability to optimize the search experience on your site. This plugin integrates seamlessly with your CMS, so there is no need for a dedicated SEO team to continually optimize search results.
The Plugin provides real-time feedback on how well your web page will perform in Google's SERP (search engine results page). By allowing you to optimize content as you write it, this plugin improves time-to-market by reducing the number of steps required to get a page online.
The Spark Content Optimizer Plugin provides real-time feedback on how well your web page will perform in Google's SERP (search engine results page). By allowing you to optimize content as you write it, this plugin improves time-to-market by reducing the number of steps required to get a page online.
12. Link Redirect Trace (Browser Extension from LinkResearchTools)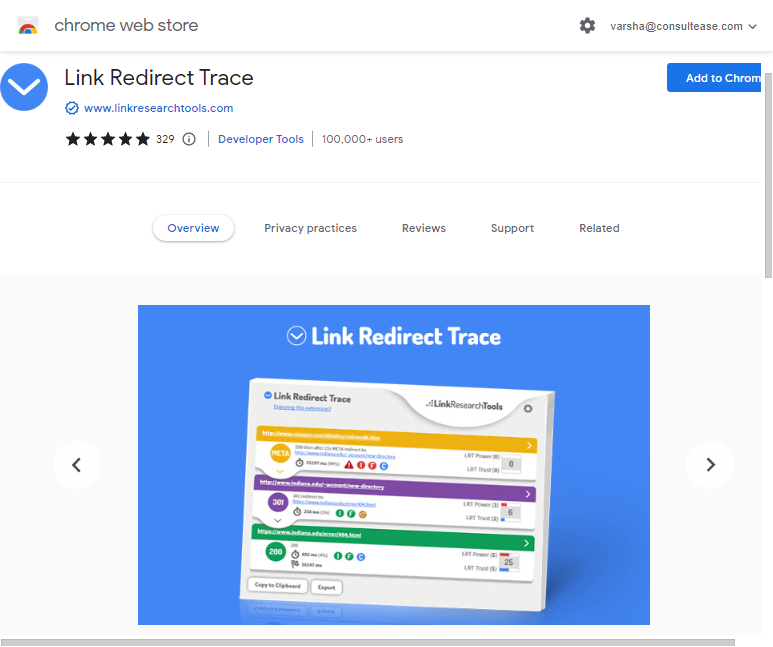 The Link Redirect Trace makes use of the Chrome extension framework to build a powerful tool that displays information on redirects, nofollow and canonical tags, and more. The extension provides an easy-to-read list of all URLs that are redirected, along with the type of redirect used in each case. In addition, the extension shows whether each link is using a rel=nofollow or rel=canonical tag.
The Link Redirect Trace extension can help you identify any redirects that are happening on your website. It not only lets you see the links and redirects but also provides a list of other SEO parameters that are affected by the links and redirects. This extension helps you with your SEO analysis by providing the most in-depth data available on links, redirects, and Rel-Canonicals.
13. Yoast SEO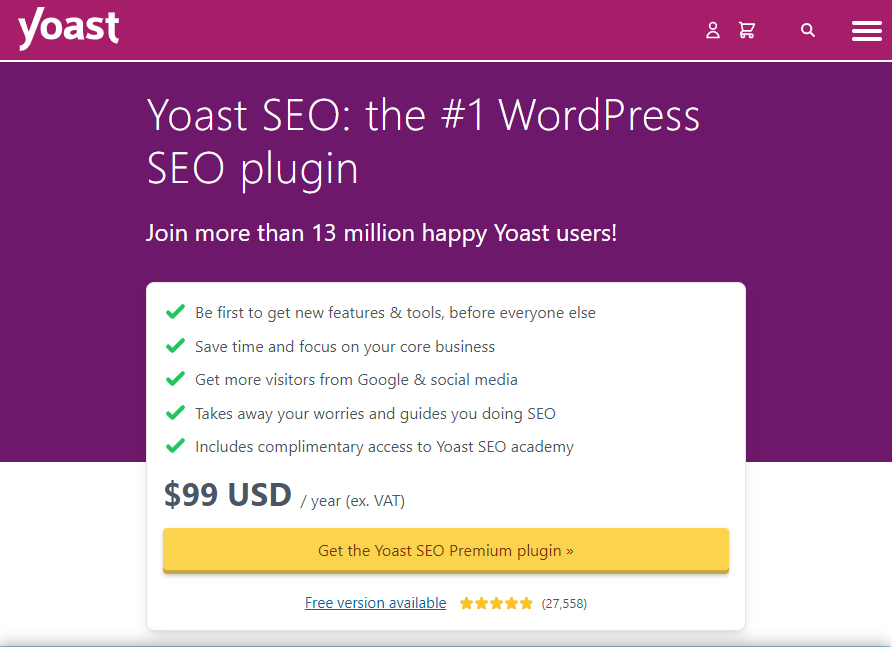 Yoast SEO is a WordPress search engine optimization plugin. It's the most popular SEO plugin at the moment, with a near-perfect rating in the WordPress Plugins database.
For practically anybody who focuses on optimized content for search engines, from beginners to specialists, the tool includes various useful features in both its free and premium versions. Yoast SEO may be used to optimize the content you've produced in WordPress, but it can also be used to get your pages recognized in Google and Bing thanks to its simple sitemap setups, URL cleaning suggestions, and more.
Even for specialists, working with the technical components of SEO can be challenging. For your pages to rank in search engines, sitemaps, robots.txt, and other SEO variables are critical. However, you don't want to spend a lot of time figuring them out and putting them into practice on your own.
Yoast SEO can generate an XML sitemap for you, which instructs search engines on how to explore your website's various pages. The robots.txt file, which tells web spiders how to crawl your site, will also be handled by the plugin. Yoast will let you choose whether or not you want search engines to be able to crawl each piece of content that you generate.
14. Rank Math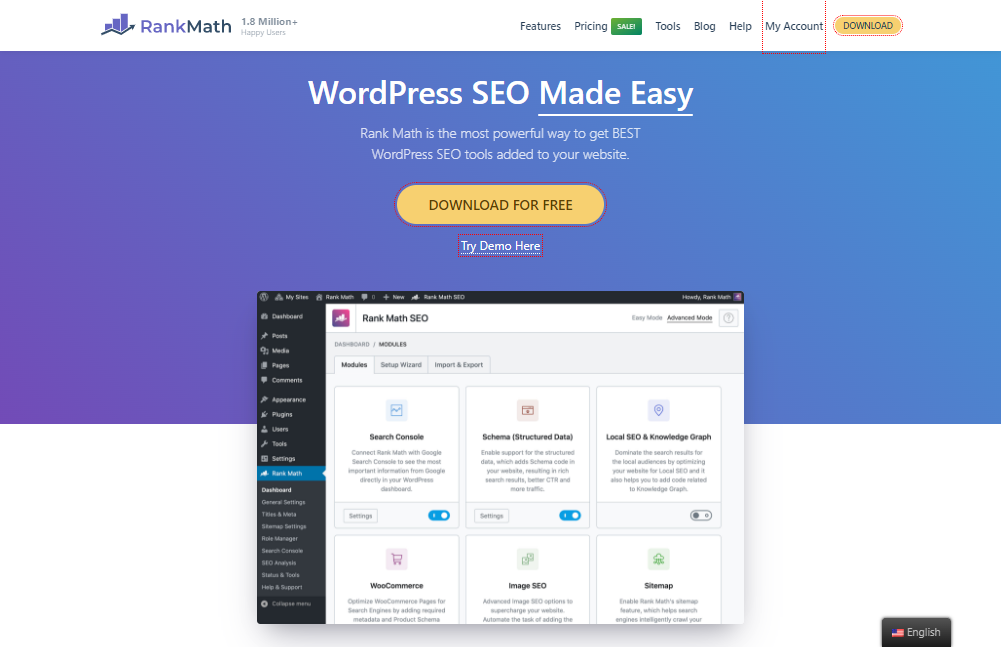 Rank Math is a WordPress content management system plugin. It's intended for simple WordPress-based websites, but it's capable of scaling to hundreds of more complex ones. Rank Math is appropriate for personal websites as well as agency assignments.
The SEO plugin Yoast's settings can be loaded into Rank Math. The goal is to make the transition to the Rank Math SEO tool as painless as possible. All parameters from Yoast are copied and integrated into the Rank Math choices when importing. Additionally, the program supports the Divi and Elementor theme builders, as well as the WordPress Gutenberg editor. The focus keywords are automatically assessed. The tool provides inline content optimization tips.
A schema generator is built into Rank Math. To show rich snippets on Bing and Google, this generates schema markups and ties these markups to product properties, recipes, blog entries, and other SEO-relevant information. Rank Math also includes schema markups that may be read by voice assistants like Alexa and Google Assistant, in addition to the textual schema generator. Rank Math is compatible with Google News and Video.
The SEO program installs sitemaps automatically so that news may be indexed rapidly by the Google Newsbot. A sitemap for videos exists, which is designed to aid in the speedy indexing of videos in Google SERPs.
15. Lighthouse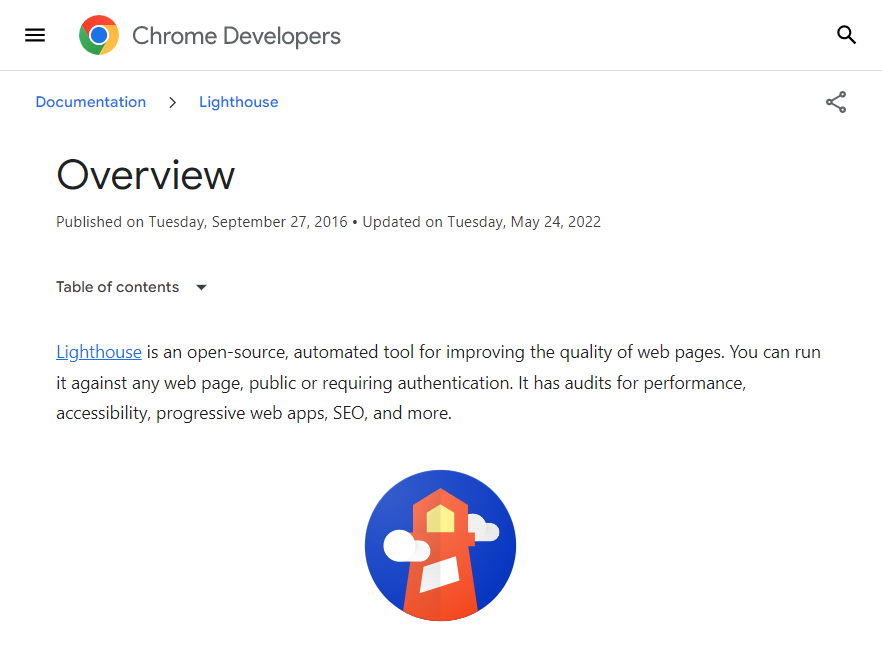 Google Lighthouse is an open-source, automated program that aims to improve the quality of online pages. It can be used on any page, public or private. It examines, among other things, performance, accessibility, best practices, progressive web apps, and SEO.
Lighthouse generates a report after running a set of automated tests and audits against the page. The scores can be used as a guide on how to enhance the page. What's more, the study includes a reference document with explanations and recommendations. This is an important feature for determining what needs to be fixed.
What is the significance of this? The majority of users have a very high bounce rate when it comes to website loading speed and responsiveness. Even for a few seconds, that white screen won't suffice, let alone considering the situation.
Overall Lighthouse gives you a glimpse into how Google evaluates your web pages. Not only is this critical for ranking well in search engines, but it also provides you with valuable information about how users interact with your website, regardless of how they arrived there.
16. Web Vitals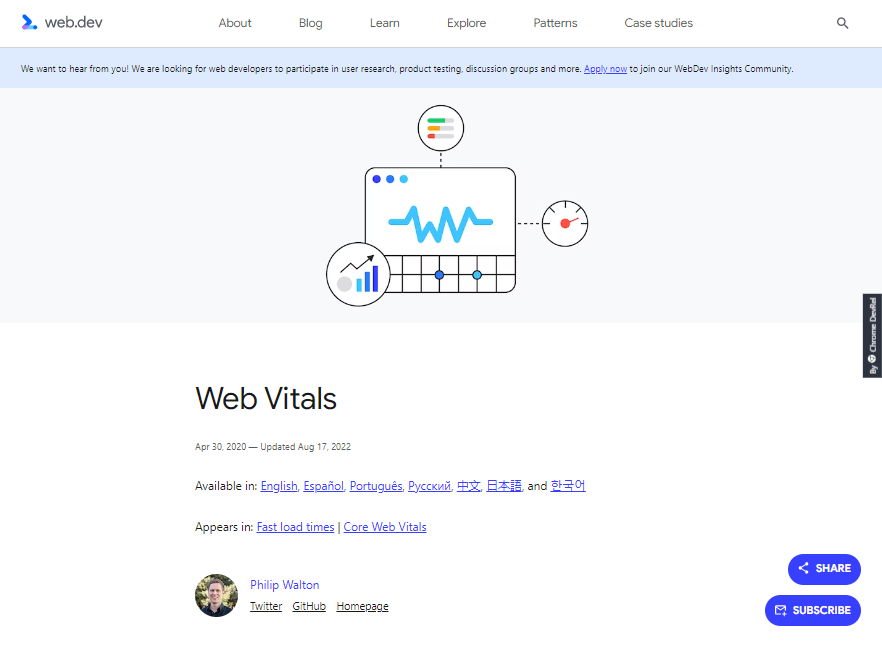 The Web Vitals Extension is an open-source browser extension for Chrome. The extension will give you the information in real-time on Core Web Vitals such as loading, interactivity, and layout shift metrics. This extension is consistent with how Chrome measures them and reports to Google's other systems.
Web Vitals are a set of metrics that measure some of the most important aspects of web experiences: speed, responsiveness, and visual stability. The metrics are part of the Lighthouse performance score and are used in PageSpeed Insights to provide recommendations on improving the user experience. You can use this extension to assess your site's performance or run a quick audit while developing a new page or feature.
17. Copyscape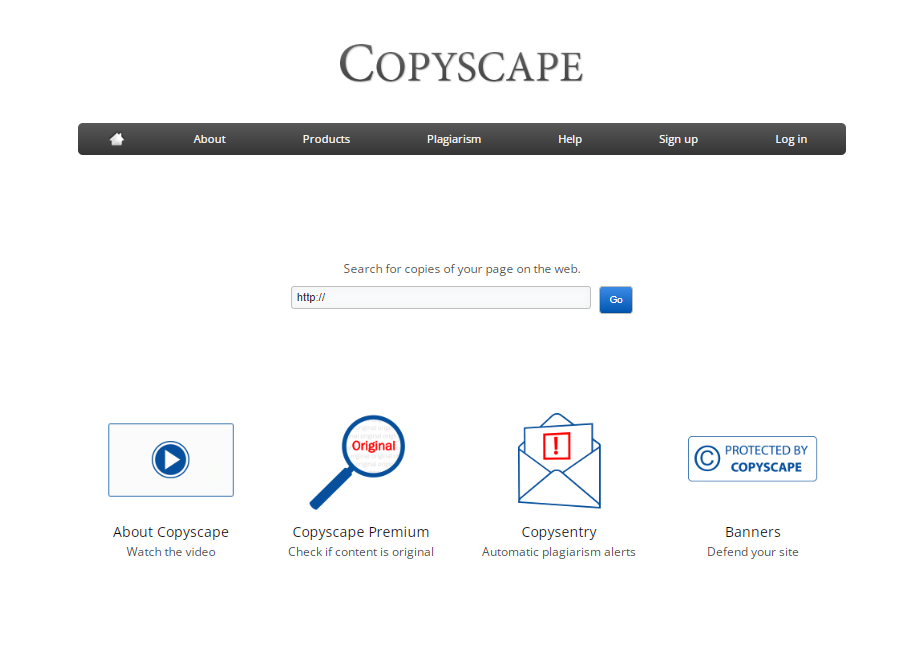 Copyscape is a real-time online plagiarism detection application that allows users to monitor the web for information stolen from their websites and verify the authenticity of content uploaded to their systems. To fully automate plagiarism detection, Copyscape provides a free checking tool, Premium service and API, and the Copysentry protection system.
Users can compare material between two sites using Copyscape's free comparison tools by entering the site URLs or pasting content. The statistics show how many words and what percentage of material is the same on both sites. Copyscape Premium includes batch search, which allows users to search up to 10,000 pages at once, as well as the ability to create a private offline content index to check for duplication in their content.
As part of their content workflow, the Copyscape Premium API enables the automated identification of duplicated content added to users' content. The Copysentry protection service, which is optional, automatically scans the web for plagiarized content and warns users of any new copies, even if the content has been modified.
18. Moz On-Page Grader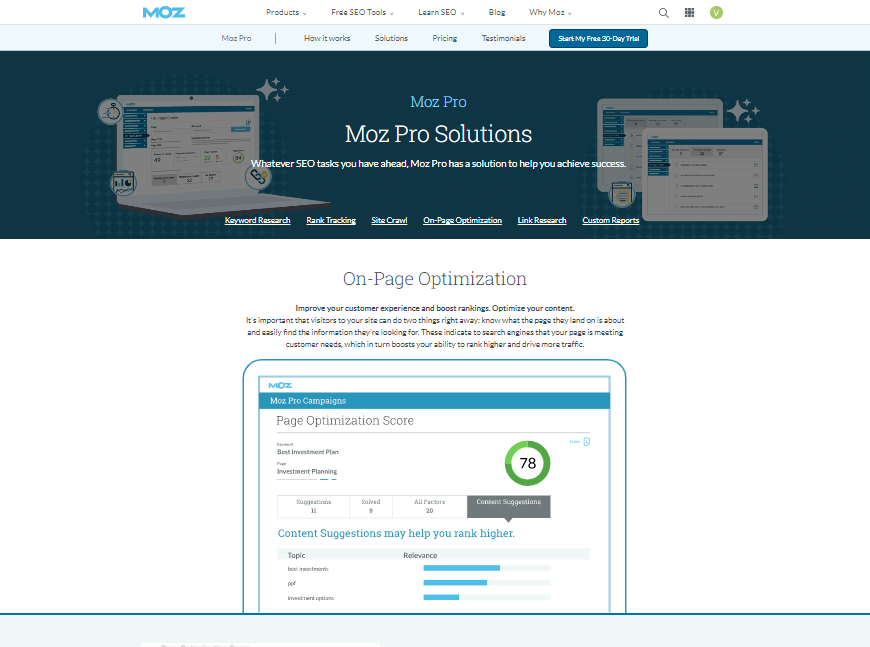 Moz Pro is an all-in-one SEO suite of tools that helps businesses improve their ranking, increase web traffic and gain more visibility in search results. With its keyword research tool, Moz Pro helps you out by providing valuable insights on how to improve your content and strategies. It also offers competitive analysis to help you find out what your competitive advantages are.
Moz Pro's keyword research tool takes the guesswork out by providing valuable insights that can help you with your site's content creation and strategy. If you have a website, Moz Pro can provide recommendations on how to improve it, which strategies to use in your marketing campaigns, and which keywords to target in your content creation.
Moz Pro also features competitive analysis to help you find out what your competitive advantages are. It allows you to see the number of times a particular keyword was searched for in a month, as well as how many people clicked through to see the results for that keyword. It also enables you to see the average number of clicks per day for each keyword, how many pages were indexed for each keyword, and how many backlinks were earned for each keyword.
19. Woorank (Web Based from Woorank)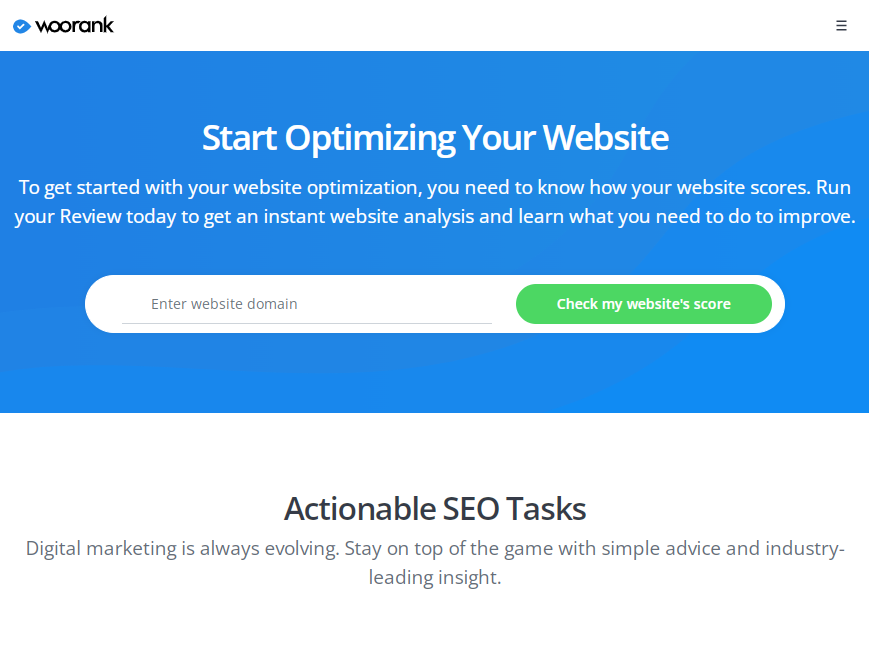 WooRank is yet another website analysis tool that includes extensive SEO auditing and monitoring, keyword tracking, competitive analysis, and a robust site crawl. You can quickly monitor your SEO health with WooRank and receive practical tips and insights to help you optimize your website. WooRank also offers white-label PDF reports and a one-of-a-kind Lead Generation solution to digital marketers.
WooRank is a leading marketing tool that helps businesses of all sizes grow their online presence through effective search engine optimization (SEO). Whether you're a small business owner or part of a large enterprise, our SEO software will help you generate more traffic, leads, and sales from organic search. The powerful tools provide you with everything you need to increase your rankings and improve your website's performance on Google, Bing, Yahoo! and more.
It is available in three different versions: the Basic plan for small businesses; the Professional plan for growing agencies; and the Enterprise plan for large companies. Each version offers unique features including advanced reports, branded PDF reports, and white-label options.
20. Crazy Egg (Web-Based from Crazy Egg)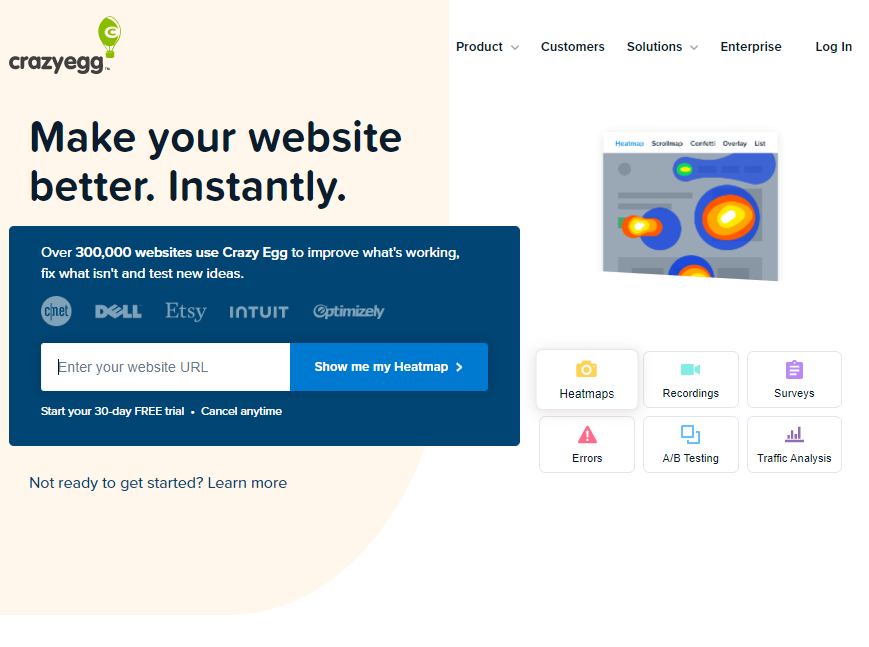 Crazy Egg is a user testing platform that assists companies in education, eCommerce, retail, and other industries with A/B testing and marketing campaigns. Through heatmaps, scroll maps, and visual reports, marketing teams may study customers' responses to various aspects of a website.
Project management, marketing analytics, a centralized dashboard, website optimization, data import/export, and other features are included in Crazy Egg. It enables employees to track visitor activity across email and ad campaigns, manage content according to audience preferences and provide customized analytics. It also allows businesses to capture and analyze the buyer's journey by recording the complete user session of a website search.
21. Paraphrasing.io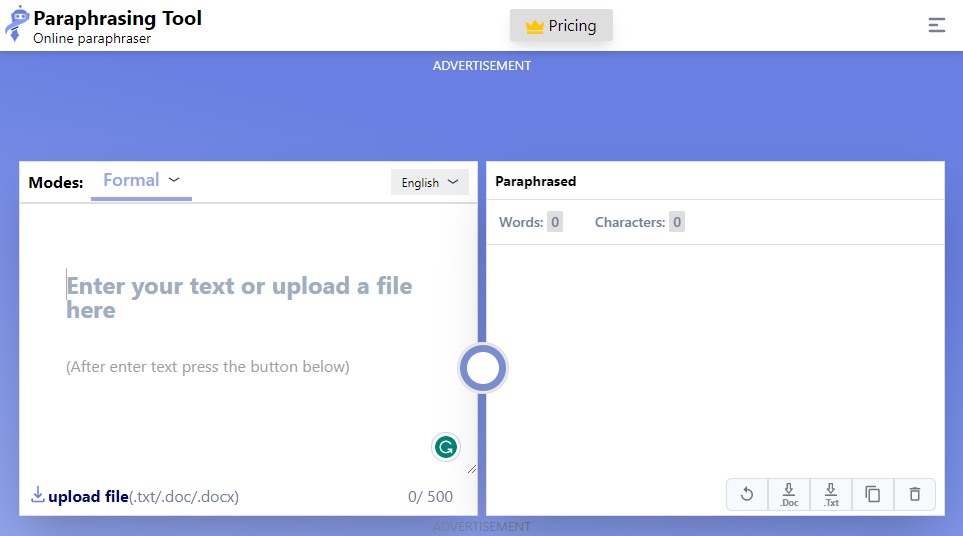 Your material will be rewritten by this paraphrase tool in a distinctive language that stands out from the competition. By varying the words chosen and the ways in which they are joined to form sentences, writers can express creativity.
To make sure there are no potential writing errors, rewrite your article. Use paraphrasing.io to remove redundant sentences and make the content unique. The information is rewritten as a result of the effectiveness and efficiency of this paraphrase technology.
The information has been paraphrased with perfect accuracy. It keeps the content's readability, originality, and inventiveness while yet being search engine friendly.
22. On-Page SEO Checker
On-Page SEO Checker provides a thorough and organised list of items. to raise the page rankings on your website. You'll get suggestions for on-page SEO and words to use on your pages that are semantically related. Its precise optimization ideas are built on the top 10 real-time competitors for each of your target keywords.
It is simple to enhance a website's SEO with On-Page SEO Checker. by offering a well-organized list of steps to do in order to enhance a website's landing pages. The tool expands these ideas by examining the strategies used by your competitors and Semrush data.
This means that each and every suggestion you get from this site will be backed up by relevant research. Ideas will be categorised in order to aid with workflow organisation. Such as user experience, SERP features, backlinks, strategy, content semantics, and technical SEO.
Its interface and process are user-friendly for beginners.
Simple to discover low-hanging fruit when importing data from other sources
Idea Tasks report tracking the evolution of your ideas
23. BrightEdge
BrightEdge's strong artificial intelligence (AI) feature will increase your online visibility. A robust reporting system is another feature of the enterprise solution. It will allow you to evaluate the effectiveness of your most recent marketing activities rapidly.
It is used by SEO experts to track rank and find optimization suggestions.
It is utilised by online marketers to create very profitable websites and raise brand recognition.
It helps content marketers produce material that their target audience will find and enjoy.
It is used by executives to discover more about the results of their SEO efforts. They use BrightEdge to monitor how well their own marketing initiatives are compared to those of their rivals.
It appears that BrightEdge is appropriate for almost anyone interested in making money online. BrightEdge is a collection of tools rather than just one. You'll find some to be more valuable than others, depending on the type of your firm.
24. Serpstat
An assortment of expert SEO tools is available through Serpstat, an all-in-one SEO platform. It will carry out SEO-related duties like keyword research, domain and URL analysis, SEO and PPC research, and more.
A number of the new tools in Serpstat are still in testing. an individual report, a database storm, or keyword clustering, for instance.
Listed below are some Serpstat facts you might find interesting:
Since 2013, Serpstat has been in existence. Prior to becoming an all-in-one SEO platform, it was introduced as a keyword research tool.
Serpstat databases are regularly updated, and new tools and features are released on a regular basis.
25. Lumar Analyze
A website's on-page optimization aspects are thoroughly analysed by the on-page SEO tool Lumar Analyze. It aids in discovering problems affecting a website's search engine rankings. It offers practical suggestions for enhancing them.
Lumar Analyze offers a thorough analysis of the on-page optimization of a website. It was developed by Lumar Media, a digital marketing company with a focus on social media, PPC, and SEO.
Combining people, data, and insights enables you to scale your digital operations. Lumar, which is powered by our top-notch web crawler, highlights structural and technical problems.
In order to prioritise existing problems, address them, and stop new errors from being published to the live website. Use Lumar to manage the health of your website and tap into all of its potential for profit.
26. Website Auditor by Raven Tools
The bulk of essential SEO features, such as a keyword research database, backlink explorer, and site auditor, are present in Raven Tools. Also, it includes beneficial connectors for analysing data from other accounts. Such as advertisements, email addresses, and social networking accounts.
A technique for evaluating a site's SEO performance is site audits. This is a crucial tool that will assist you in identifying and fixing SEO problems. There are two site auditing areas in Raven Tools. which are efficient and offer a list of the problems with the site that is simple to visualise.
Raven Tools is a reliable program that comes with basic marketing and SEO analytics capabilities. For clients looking for a cheap solution, Raven Tools is the finest option. And for those who want to centrally organise several web marketing platforms.
27. On-Page SEO Checker by SE Ranking
With the On-Page SEO Checker tool by SE Ranking, each web page is assessed against 94 parameters that influence search engine rankings. Usability, keyword density, meta title and description, and backlink profile are some of these factors.
if even one of the parameters on the page under analysis is outside the acceptable range. It is classified by the tool as either an error, a warning, or a notice. The degree to which each parameter affects the page's overall capacity to rank highly in search determines how it is classified.
In order to show you exactly how your pages might be enhanced, it examines the top and direct SERP competitors for your page. Professionals may improve any type of web page's ranking by using the On-Page Checker tool.
28. Seobility
Seobility audits your entire website by crawling every page that is linked. In each check step, all pages with flaws or issues with on-page optimization are gathered. On the page browser, you may also investigate every issue on a single page.
For a long-term and ongoing evaluation of your website. Crawlers continuously scan each project to monitor the advancement of your optimization. The monitoring service will also send you an email to let you know how your website is doing.
Seobility SEO Checker finds mistakes and SEO problems in your metadata, including:
Too-short or too-long meta titles and descriptions for the search result snippet
Search engines won't index your website because of meta tags
Canonical links are absent
Language declarations that are inconsistent
URLs or domain names that are problematic
29. SEO Site Checkup
Unlimited analysis is conducted by SEO site checkups on the most powerful servers. It is simple to view progress and previous work thanks to stored reports. It automatically monitors changes in more than 30 SEO variables on a weekly basis.
It performs SEO side-by-side comparisons of up to 5 rival websites. Analyze how you stack up against the competition in terms of SEO. It offers a selection of SEO tools to assist you in comprehending your website from a search engine's point of view.
You may check the performance of your site with only one fast click. Instant access to reports, monitors, and analytical tools is provided through the dashboard. Get important facts regarding the number and calibre of links pointing to your website.
Keep your lists of backlinks, export them in multiple file types, and keep tabs on how your backlinks are doing over time.
30. Wincher
This SEO checker tool was created to assist those involved in SEO. Wincher pinpoints typical on-page SEO errors with lightning speed. The program does not evaluate off-page elements like links and content quality.
The page content for the given URL is downloaded by this utility. The absence of common SEO elements is then found using the source code. In Google and other search engines, it will be simpler to rank higher.
Regardless of the size of your organisation, Wincher was created with a single goal in mind. You'll be able to:
Make your content search engine friendly.
Reduce costs by using more clever marketing
Discover competitive, high-volume keywords.
31. Sitechecker
Verify the website's health to receive a score reflecting how perfect it is technically. Based on the errors' classification into Critical and Warnings blocks, the Sitechecker Page Score is calculated. Your performance score will drop the more serious faults you make.
Content optimization check
The following elements must be examined in order to judge the effectiveness of internal optimization. The HTTP status code, HTML size, text length, and text-to-code ratio. These are all the key duties of on-page SEO analysis.
Social media cards analysis
To boost the conversion of snippets on social media, optimize your Open Graph and Twitter Card. Combined efforts will help you get traffic from a variety of sources.
Errors with images
Verify that the website has large graphics and properly implemented favicons. Pay close attention to adding the title and alt attributes that are lacking.
32. SEO Analyzer
If you're having trouble attracting more visitors to your website. The solution might well lie in this Complimentary report supplied by SEO Analyzer
SEO Analysis
To increase search traffic, simply follow the recommendations in the website analysis report. It will highlight every SEO mistake you need to correct in order to improve your rankings.
SEO Checker
Find out all the mistakes that are preventing your website from ranking first on Google. Based on possible traffic impact this SEO audit ranks each repair in order of importance.
Site Speed
Site speed no longer just influences conversion rates; it now also has an impact on how well your website performs in search results. You need to analyse your website thoroughly and not only focus on typical SEO elements if you want to rank effectively.
SEO Audit Report
In addition to pointing up mistakes, SEO Analysis also provides detailed guidance on how to correct each one. Each SEO report includes step-by-step instructions and video lessons.
33. Seo Tester Online
Using an on-page SEO Tester, you can evaluate the SEO of your website and create a personalised audit.
Check your on-page SEO
Find out how to optimise a web page by thoroughly examining its SEO. Verify the presence of the Robots.txt file, the Sitemap, heading tags, and snippets.
Resolve your technical SEO problems
Find out why your page is not ranking as you would like. Learn simple fixes for the SEO issues with your website. Take action today to start seeing benefits.
Increased Performance and Speed
Speed is becoming a more important SEO factor as search engines prioritise mobile users. Examine the important components of your web sites' code, text, and graphics.
34. Website SEO Checker
By using a website SEO checker, webmasters may determine a web page's quality by checking common SEO metrics.
Through SEO analysis, Webmasters can ascertain numerous metrics in one go.
Click the start button after pasting all of your URLs and URLs into the mass page rank checker box.
The outcomes of the queries made to various services, including Moz and the URL servers, will be displayed in a table of data. It depends on how many pages are submitted.
With the website SEO checker, you can find out several metrics while buying in bulk. For a complete SEO report, use this SEO tool. It provides you with useful information about the traffic that your website generates. You can get the best experience ever with a website checker.
35. Spotibo
Get a complete overview of the entire site to ensure a thorough SEO study. A free SEO audit of up to 500 site pages is available from Spotibo.
It has an extremely accurate on-page SEO analysis tool. Instead of counting characters, it looks at the size of the title and meta description in pixels. Spotibo disregards unimportant issues like missing CSS styles or meta keywords in the source code.
Advanced analysis for websites with millions of URLs can be handled with ease. Any specific SEO issues that may affect rankings can be found by Spotibo.
You only need to employ two essential functions to discover them.
Filter Also, you can separate data based on your needs and combine other filters.
You can group web pages with similar attributes with this technique.
36. Cocolyze
Checking your on-page SEO with Cocolyze is simpler and free. Obtain a free SEO audit report for the page. Using the On-Page SEO Checker Tool to do an on-page review of your website. Get personalised advice to fix the issues on your pages and enhance every element of your SEO.
Examine the quality and organisation of your material, as well as how well your keywords are used. Learn helpful tips on how to create consistent, SEO-friendly content.
Cocolyze robot navigates your pages in the persona of a virtual user. It returns any element that can make your page load slowly or pose a security risk.
37. EasyRetro
Use EasyRetro's free On-Page SEO Checker to enhance your website. One of the most crucial elements of search engine optimization is on-page SEO. Before establishing your website, make sure it is search engine optimised.
It's not about appearing in search results. Gaining more Google and other search engine traffic is the goal. This tool supports webmasters, content marketers, SEO experts, and anyone else who needs to check the on-page SEO. We think that the correct equipment can help your team succeed.
You will receive helpful information from EasyRetro. It includes advice, instructions, and recommendations for conducting retrospectives.
38. Google Analytics
Google Analytics is a program that analyze websites. It provides statistics and basic analytical tools for marketing and SEO objectives. Users of the service, which is a component of the Google Marketing Platform, are not required to pay anything to use it.
Google Analytics is used to keep track of website activity and compile visitor information. The top user traffic sources can be found with the help of organisations. The success of their marketing strategies and campaigns is assessed as well as goal fulfillment rates. It can also track user engagement patterns and trends and compile more information about visitors, such as demographics.
Small and medium-sized retail websites typically utilise Google Analytics to collect and analyse different client activity indicators. It may be used to strengthen marketing campaigns, boost website traffic, and increase visitation
The service is free, simple to use, and suitable for beginners.
There are several metrics and adjustable dimensions available in Google Analytics. With this platform, a variety of important insights can be gathered.
There are other additional capabilities in Google Analytics. Such as data visualisation, tracking, reporting, predictive analysis, etc.
39. PageOptimizer Pro
A powerful free tool is the POP On-Page SEO Checker. It evaluates how effectively your page is optimised by contrasting it with those of top-ranking rivals. You can learn how to outrank them in the search results by using SEO Checker.
The analyzer will compare the top ten competitor pages to the page on your website before awarding you an on-page optimization score. You find your page is optimised for the long-tail keywords and ranks in Google with the POP On-Page SEO Checker.
Get a comprehensive on-page analysis by starting a free PageOptimizer Pro trial if you'd like. PageOptimzer Pro will outline the precise methods required to raise the ranking of your website.
40. Ninja Reports
Ninja Reports analyse a site's technical health, backlink profile, keyword rankings, SEO and PPC performance, and more.
Do a thorough on-page SEO assessment of the entire website. To maintain a good position in search engines, find errors. Using our 100-point on-page scan, this SEO audit tool will crawl every one of your pages and look for SEO mistakes. You can rule the search engines since the health of your website is always at 100%.
Ninja Reports is available for agencies as well as webmasters and marketers. With its advanced SEO audits, analyses, and reports, this product is ideal for attracting clients.
How VOCSO Can Help with This?
We at VOCSO Digital Agency are a team of highly experienced digital marketing professionals who provide you with result-driven SEO services to help you make your business findable in the competitive environment. Our team always starts off with the basics and then moves on to advanced techniques, which are sure to make your business rank higher when searched for. So don't forget to contact us for an initial free digital strategy consulting service.
Other marketing services we provide:
If you're struggling to get

more visitors

to your website?

This is because your site could perform better with Google ranking. Get a detailed execution plan for how we can achieve your SOE goals.

Grow Traffic Now
Conclusion
You can use a variety of on-page SEO tools to assist you to optimize your content for search engines.
On-page SEO tools, on the other hand, are not all made equal. The best on-page SEO tools will give you the data you need to improve your content for search engines, but they should also be simple to use.
On-page SEO tools can assist you to figure out what's working and what's not on your website. It becomes easier to make modifications to boost your site's SEO performance once you have a thorough understanding of its content.
The free On-page SEO tools listed above can assist in attracting targeted visitors and improving ranks.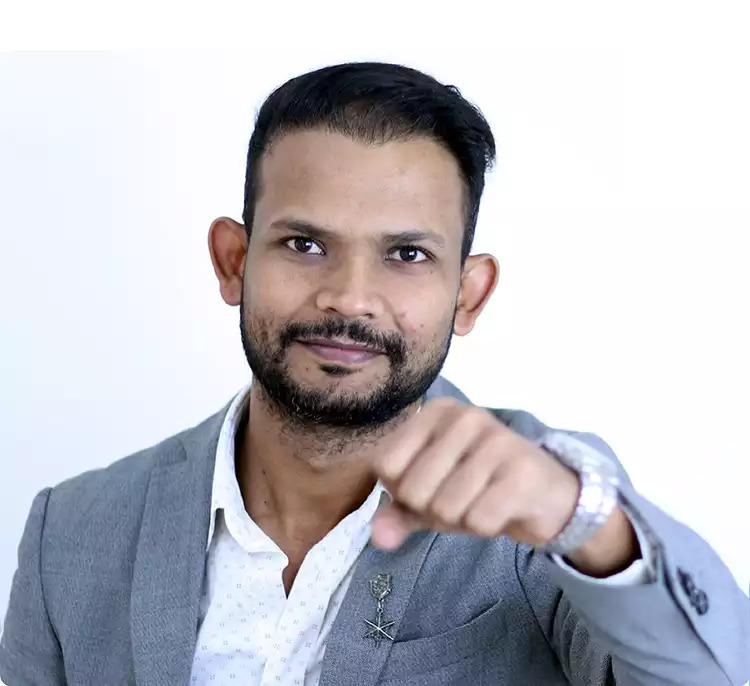 About Deepak Chauhan Hi, I am Deepak Chauhan, a Digital Marketing Strategist. I'm the CEO & Co-Founder of VOCSO Digital Agency, a creative web design, development, and marketing agency based in India & USA.