The world is constantly changing and so are digital marketing trends. In order for your business to stay on top of the changes, you need to be aware of what digital marketers predict will be popular in 2023. These predictions were made by industry experts so we also need to know what digital marketing strategies and tools they're using to grow their businesses.
It is important to keep up with trends, but it's also necessary for businesses to understand what their customers want and need. In order to stay ahead of the curve, it's important not just to use current technology or services; rather, companies should invest time into understanding how people think about buying products online so they can provide a better customer experience. With this knowledge at hand, building a successful business becomes much easier – after all, knowing who your audience is means being able to meet them where they are most comfortable!
Digital marketing is a fast-paced industry, and the tools that work well today may not be relevant tomorrow. In order to stay competitive, you need to constantly evaluate what your competitors are doing and find ways to do it better. If you're working with a professional digital marketing agency then you not need to take any stress because they already know about these tools. But if you're a marketing professional or a small business owner managing your marketing campaign then you must aware of these top digital marketing tools in 2023. Let's explore what tools are our industry experts using in this crowdsourced article.


Top Digital Marketing Tools Using by Marketing Experts
1. Owen Fay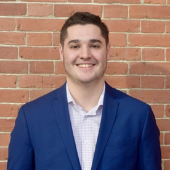 Owen Fay
With 5+ years of experience in digital marketing and various marketing fields, Owen is an avid digital marketer, content creator, and leads marketing at Poll the People – an emerging user-testing platform that lets marketers and designers test their assets with real people.
One of the most exciting parts of digital marketing is how it can level the playing field between large companies and small businesses or start-ups.
If you have a great product, service, or concept, there are a number of affordable user-friendly marketing tools that help you reach new users, optimize your business, and market your brand.
Marketing isn't only for the biggest companies, you don't need a million-dollar budget or unlimited resources to get ahead of the competition. Digital marketing allows any organization to increase traffic, awareness, and ROI, whether you are investing in a third-party marketing resource or doing it yourself.
Other than the great potential return for small businesses with limited budgets, there are countless digital marketing tools that can help mitigate the workload and create better marketing resources. These tools are especially useful for small organizations that don't have the resources to dedicate a team to digital marketing, or the budget to outsource the work to an agency.
Here, I will cover the top 10 digital marketing tools to help optimize your campaigns, resources, and efforts.
1. Canva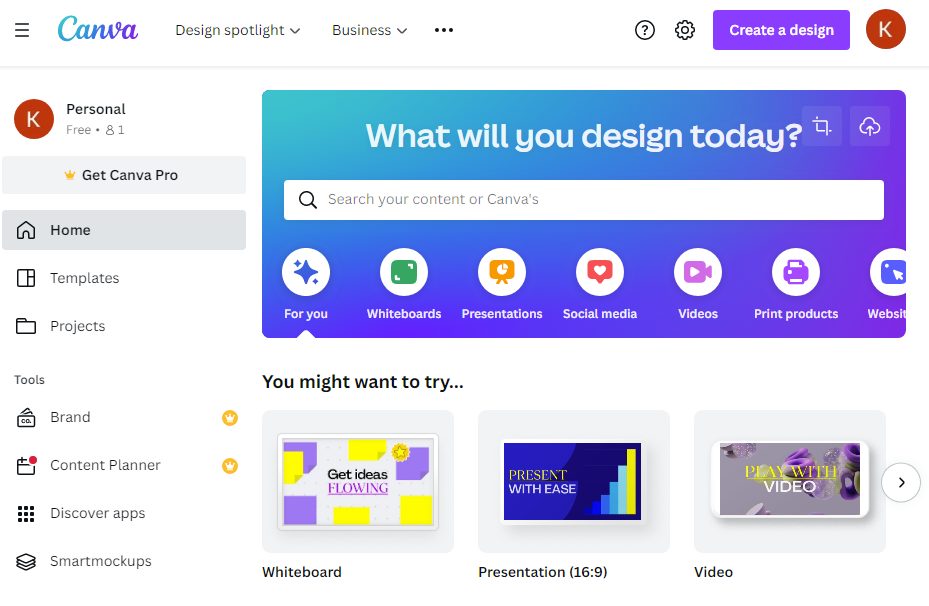 In digital marketing, your visuals are one of the most important parts of keeping your audience engaged. There are many tools out there that are great for experienced designers and in-depth marketing strategies. But, not every small business has design experience or the budget to commit to the Adobe creative cloud.
What if I told you there is a great tool for experienced designers and those with no design experience? Canva helps you create original, visually appealing content with templates, graphics, and other amazing features, in just minutes.
Canva is always growing and evolving, offering more tools, templates, and features. You can quickly create visuals for social media, infographics, marketing posters, ads, business cards, and anything else you could need.
Canva offers FREE templates that are very useful and a freemium version that gives you even more tools and design options gives you the power of a graphic designer on a user-friendly platform.
You don't need any design experience to create great visuals. With easy-to-use drag-and-drop features, Canva gives you a wide range of editing options, color pallets, fonts, effects, and custom sizing options.
2. HubSpot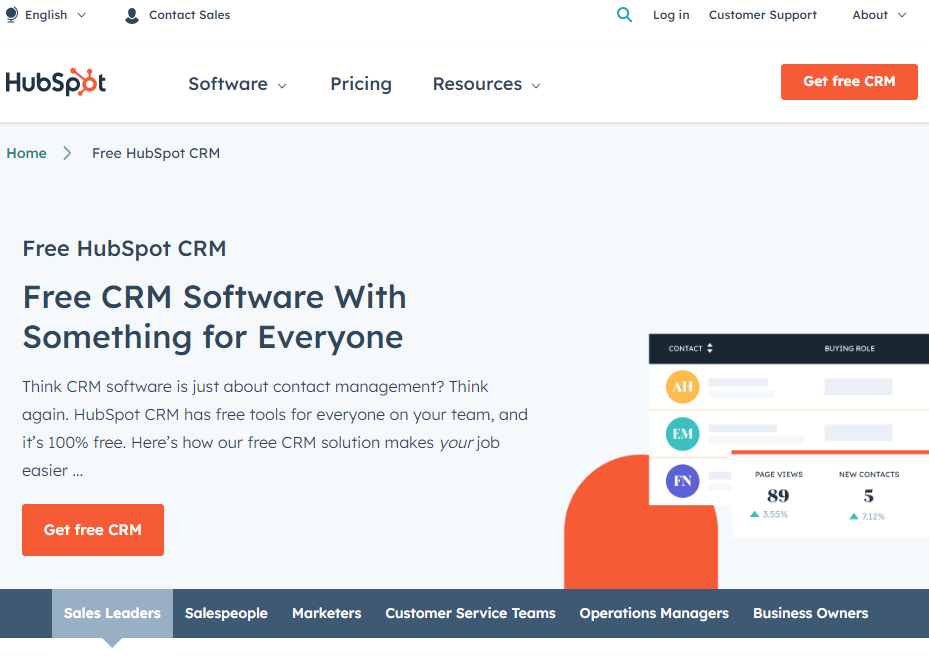 If you are running multiple campaigns across different platforms it can be challenging to keep track of them all and figure out what's working and where you need to improve.
HubSpot is an all-in-one marketing platform that allows you to bring all of your marketing channels together and optimize for more traffic, conversions, and better ROI.
The platform includes optimized templates for emails and landing pages, ad tracking across platforms, contact analysis options, live chat features, and other features to help you convert more users.
Other features include:
Content optimization tools
Landing page optimization
Email templates
Marketing automation
Lead management
Analytics
Social media management
The full version of HubSpot has a big price tag, but they have less expensive plans for small businesses to get started with a free or basic package.
3. Poll the People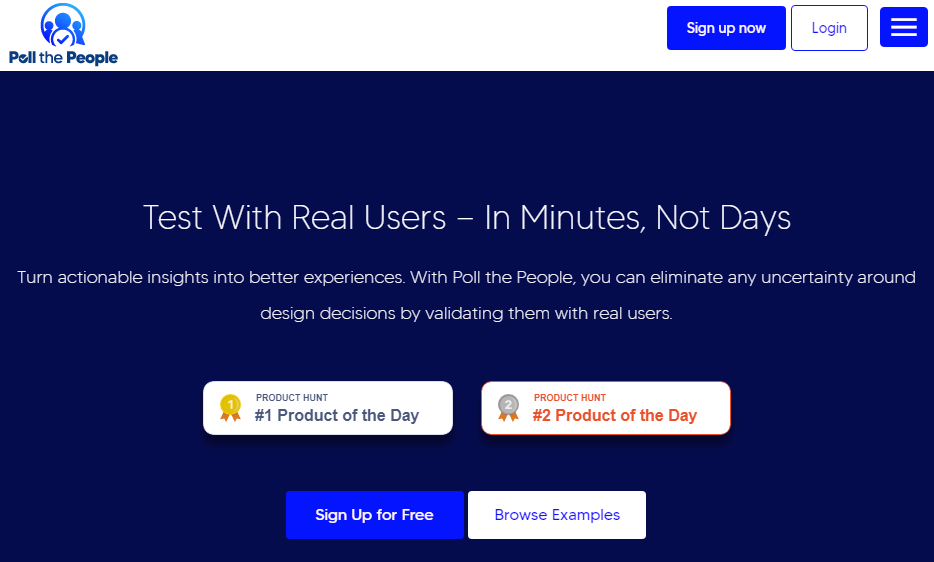 If you are launching ad campaigns, working on new concepts, or implementing new designs you need a way to test your resources before you launch them, in order to make sure they work for your audience and campaign goals.
Poll the People is one of the best tools for rapid user testing, the platform is built for marketers, designers, and product managers that need a way to optimize all of their resources before going live.
You can test with real users, in minutes, not days or weeks like traditional user research. They empower teams to turn actionable insights into better experiences. YOu can eliminate any uncertainty around design decisions by validating them with real users.
With expert-built templates, a user panel of over 500,000 users, tests completed in about an hour, and an easy-to-understand results dashboard you can understand your users and optimize digital assets quickly and easily.
With Poll the People, you can test:
Digital ads
Brand names and logos
Websites and landing pages
Content
Prototypes
And more
Poll the People is the most cost-effective testing tool on the market, they offer responses starting at about $1.00. They also offer subscription plans with more features and options for businesses of all sizes.
4. Google Analytics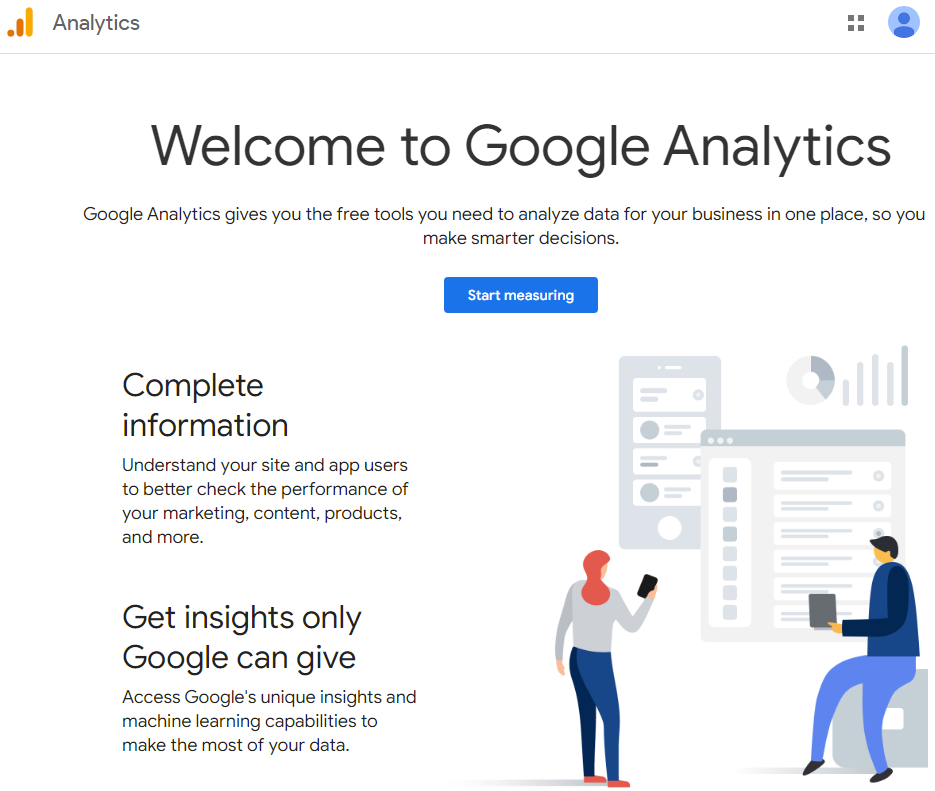 Google Analytics is a free tool that gives businesses valuable insights into who is visiting your website and the content they are engaging with. It's best to pair analytics with Google Search Console, another free tool that helps you identify any issues with your website and optimize it for traffic.
Google Analytics makes multiple data points available, including:
Number of visitors coming to your website by day, week, month, or any period you choose
Where users are coming from
Keywords people are searching for on Google to find your business
The demographics and interests of the users
How much time each user spends on the site
All of this information can help optimize your website and digital marketing campaigns while keeping your SEO efforts at a low cost. Analytics gives you the real-time insights you need to improve your efforts.
5. Google Ads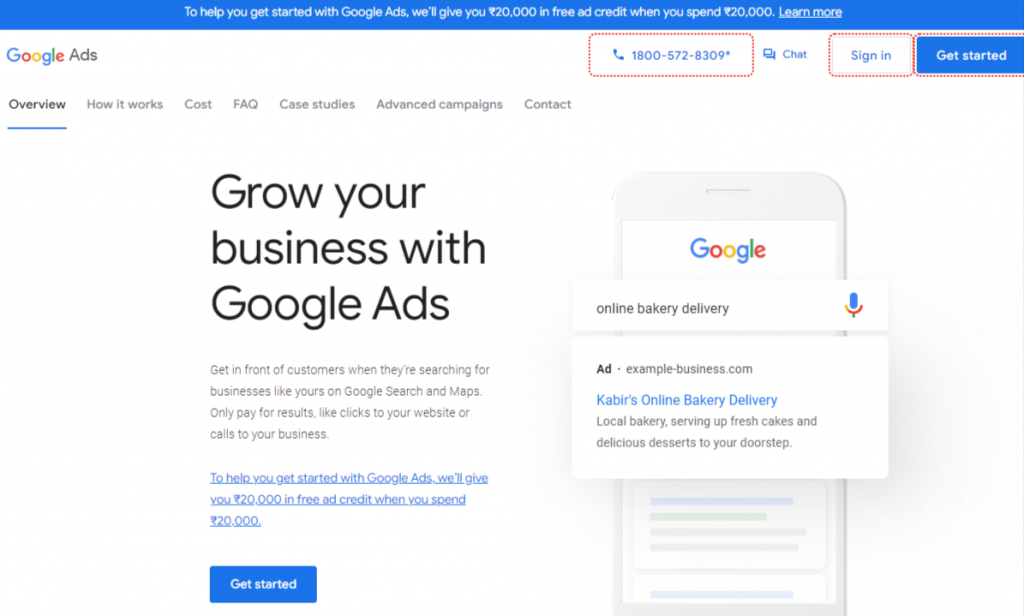 The most successful digital marketing campaigns include paid ads and Google ads can be one of the best ad platforms you can use. Payment on Google ads is based on either a pay-per-click or pay-per-call structure that works with a bidding system.
Google ads host the keyword planner tool where you can research which keywords you want to include in your ads or content. You can set budgets, organize campaigns, and optimize your funnel for more conversions to your website.
Ads are an excellent way to show new users and your target audience your product or services in search results. It is a great way to instantly boost traffic and get the word out about what you have to offer.
6. Ahrefs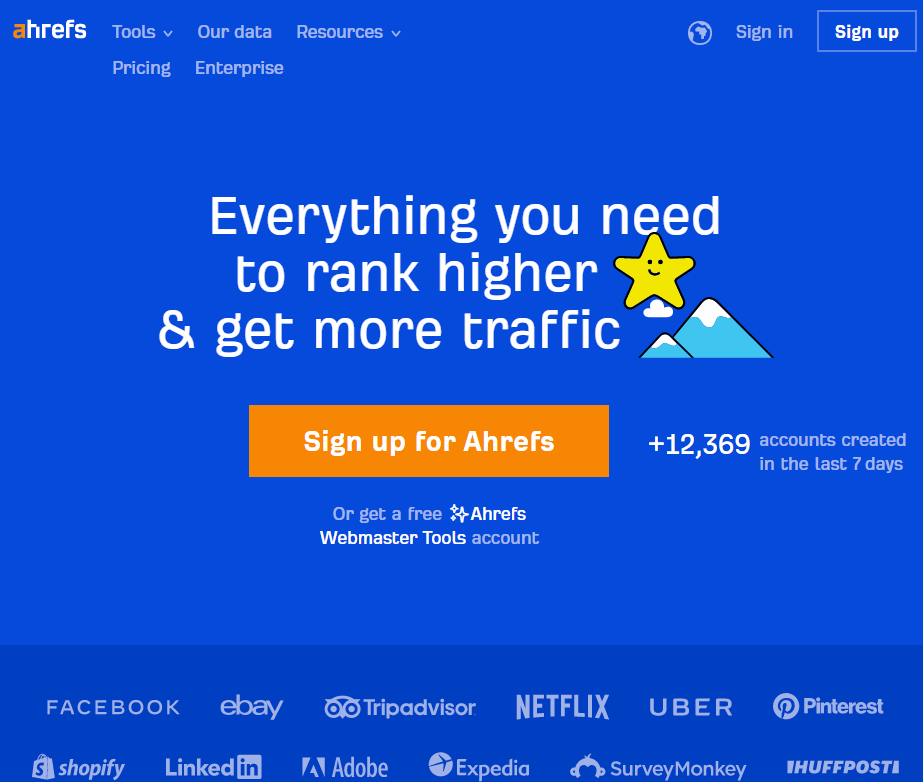 Old school SEO was all about backlinks but modern SEO is focused on understanding search intent, the keywords you can rank for, and building relevant and organic backlinks from high-quality websites.
There are a number of effective SEO tools but Ahrefs is the only one for most digital marketers. The tool allows you to do competitive analysis, see the keywords your competitors rank for, find the keywords you have a chance for, keep track of your rankings and get great stats on your website.
The platform now offers:
Website analysis and backlink profiles
Keyword research
Website auditing for keyword gaps and performance
Rank tracking
Content explorer
And more to stay on top of the competition
7. Slack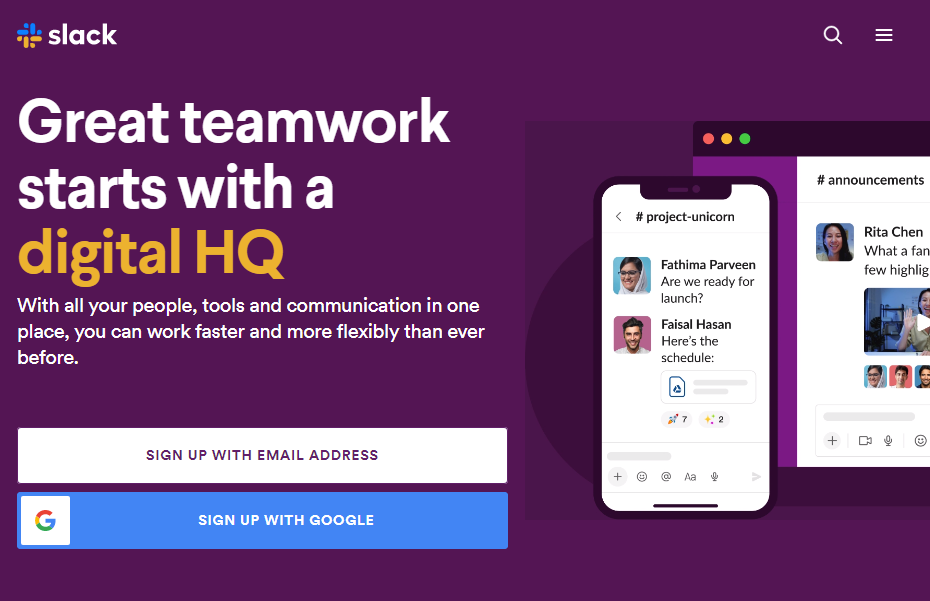 You and your teams need to stay connected, communication is vital to the success of any digital marketing project. That's why you need to invest in a user-friendly tool that gives your team uninterrupted interactions and data sharing.
Slack is one of the most popular collaboration softwares used by businesses and digital marketers everywhere. The tool has won over millions of teams and organizations thanks to its simple data sharing and messaging options.
Slack can integrate with a number of other softwares, project management, office management, productivity, design, and developer tools, making it easy to stay updated on what's important.
8. Yoast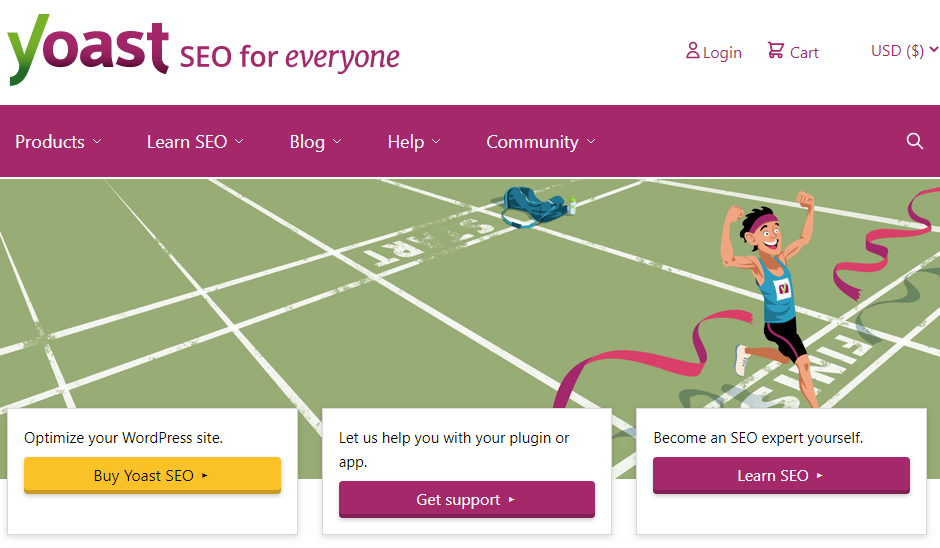 SEO, keywords, and topics are important to your digital marketing campaigns and content. If you don't optimize the content all of your time will go to waste.
Yoast is one of the best digital marketing tools for optimizing content for SEO, plus they have a great free version. The tool will tell you where to put keywords, how to improve readability and tell you what you are doing wrong so you can optimize content.
With the paid version you can add related keywords, and search for semantic keywords all within the plugin that works with your website. You can get instant link suggestions, insights, and more.
9. Trello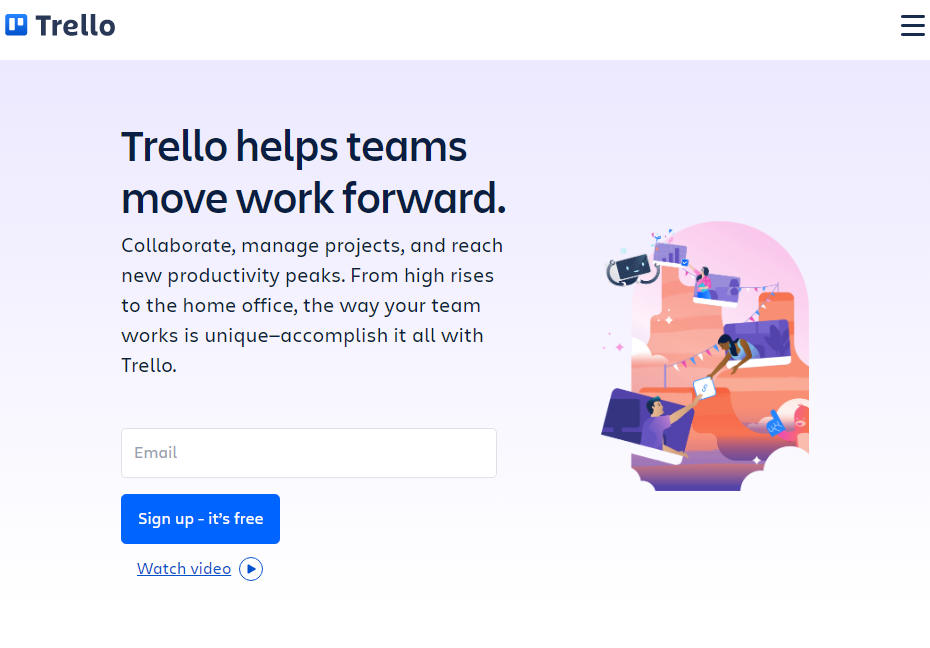 Trello is a content management tool that many organizations use for brainstorming and strategizing content, along with tracking the progress of projects. Trello is appealing because it's free for small teams and organizations, and it gives you a visual way of tracking and brainstorming content online. It is easy to assign multiple employees to a project so you know who's in charge, who is working on what, and how the project is moving along.
Users can create new projects called "cards" and create deadlines, assign topics, and communicate. Trello facilitates collaboration and provides clarity on the project pipeline.
10. Unbounce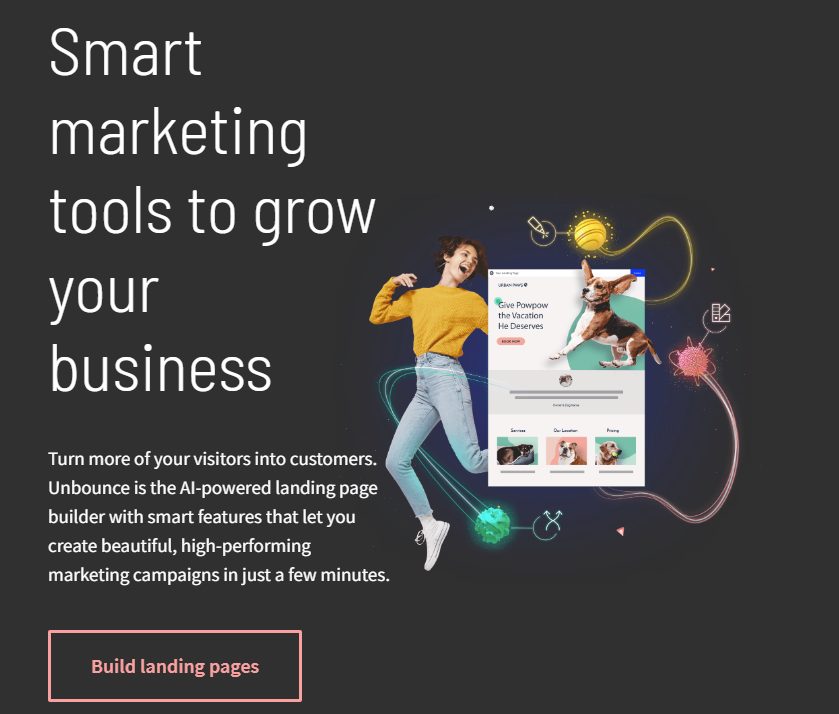 Landing pages can make or break the number of users that convert to your site. Unbounce gives you a cost-effective and easy way to build landing pages that work. They will be optimized for mobile and desktop traffic that happens to be visually appealing and functional.
You don't need experience with coding or creating landing pages, the drag-and-drop editor gives you everything you need to make great pages.
If you want to add advanced features you can also add custom HTML or Javascript. AI tech dynamically shifts your traffic to the best possible landing pages, increasing conversion rates.
Whatever area of digital marketing you specialize in, automating and optimizing your marketing efforts will lead to more successful campaigns.
These ten tools can make your life easier by automating tasks, saving you time, and eventually increasing revenue for your company. More than ever, marketers need tools to easily reach the right audience, automate tedious processes, improve our content, and cooperate more effectively. Consider including these tools in your tech stack if you are a startup entrepreneur, owner of a small business, or even a large and growing organization.
2. Whitney Blankenship
I've used quite a few marketing tools in my day, for everything from social media automation, to visual creation, to content management, to email marketing. If there are three tools I absolutely have to use every day, they're Omnisend, Buffer, and Canva.


1. Omnisend
I might be biased when talking about Omnisend– but it's definitely been a game-changer for email marketing for me. Being able to engage with our own customers using our native platform not only helps us reap the same advantages we sell to our customers, but it helps us create the best user experience possible. We eat, breathe, and live omnichannel marketing- so it's only natural to use our own tool for this.


Creating messages is insanely easy: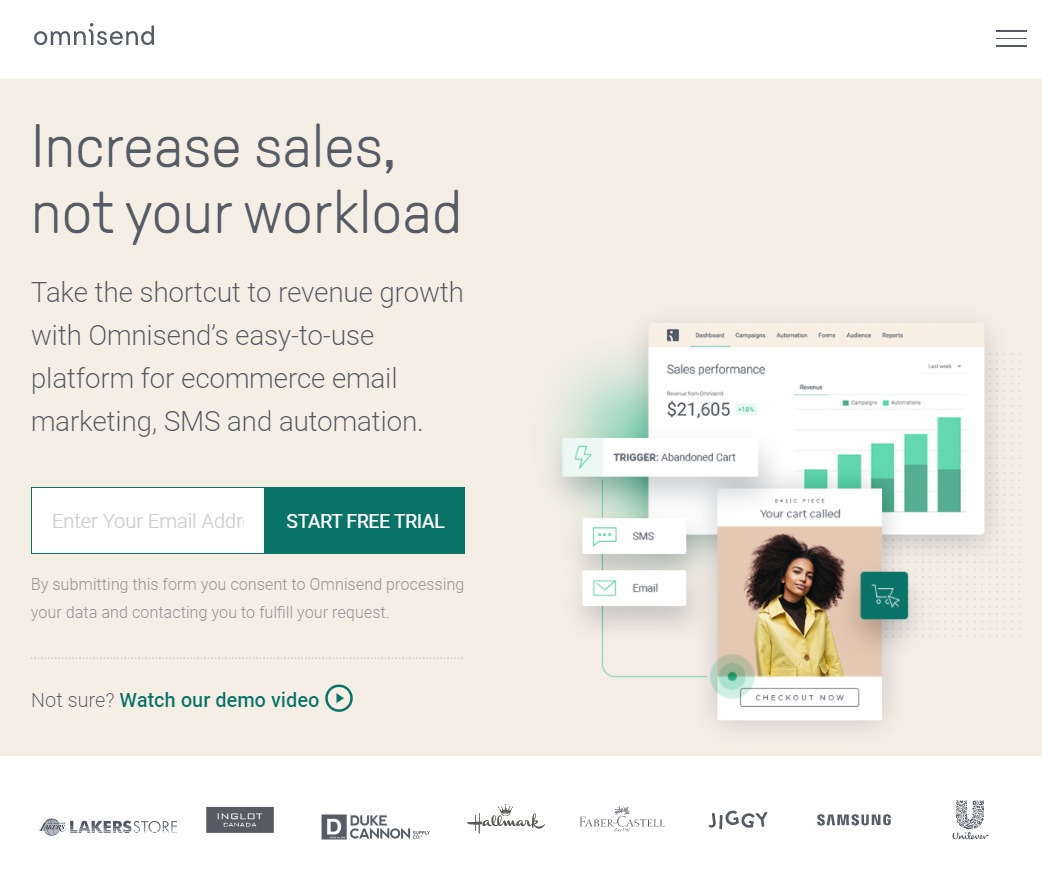 I never have to code my messages, I can just drag and drop the content to where I need it. All of those staple things you need to do as a marketer, like sending emails, building a subscriber list, creating landing pages for promotions, and retargeting customers, we can do it all from Omnisend- so why go anywhere else for it?
The automation workflows are nice and visual so I can see exactly where each of our customers is in our workflow and what message they'll be getting next. And I'm not going to lie, being able to add all the channels we use into our automation workflows makes building and maintaining relationships with our customers that much easier. Omnisend is definitely a must-try for anyone who needs an upgrade to their simple email marketing tool.


2. Buffer
I could not live without Buffer. I happily give them $10 per month because being able to share content to any account from any page saves me so much time and effort. Buffer is also amazing at constantly improving their tool, which is likely why I've stuck with them for so long.


I plan weeks of Twitter posts in advance, so our queue has always got great content in it. I also love the content inbox, where I can add an RSS feed of great sites for external content sharing. This improves our social engagement by sharing content that our audience will find relevant.
Don't get me wrong, there are a lot of social tools out there that have more powerful automation than Buffer and can do more. But for the price to quality ratio, Buffer is a social staple.


3. Canva
Sometimes, I don't want to open up Photoshop or Illustrator to create a great visual. Sometimes, I just need a beautiful quick image in the next few minutes. My go-to is Canva.


I have Canva for business too, so I just load in our brand fonts and palettes and go to town on a new image. It's such a timesaver for when you just need to get something gorgeous together quickly. It's so easy and intuitive that just about anyone can use it and create professional-looking visuals in minutes.
3. Nate Masterson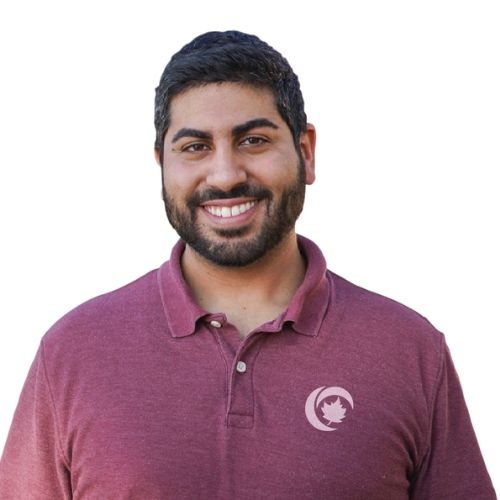 Nate Masterson
The CMO and a certified health expert for Maple Holistics
1. MailChimp
Keeping up with interested parties is an essential part of business growth. In practice, targeted email marketing is an affordable and effective way to communicate with your consumer base, encourage purchases, and earn brand loyalty. Because consumer retention is the only practical way to succeed long-term, it's crucial for retailers to find effective ways to reach out to their loyal clients.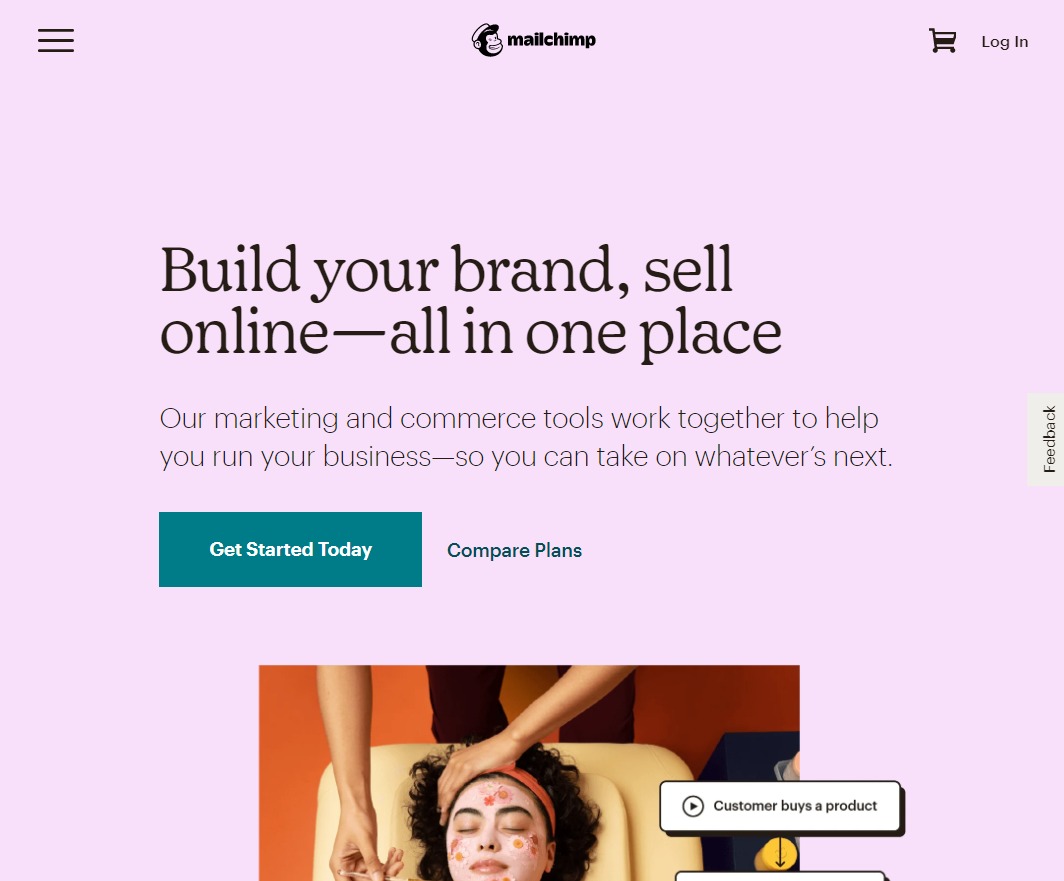 Although email marketing has existed for many years, the rise of automation has enabled businesses to craft attractive and high-quality email campaigns with ease. These software services are incredibly effective and usually offer an extensive list of capabilities that any business can use to their advantage.
For instance, MailChimp may be known as a newsletter service, but the marketing automation powerhouse can do much more. In fact, many companies rely on this software to send postcards, create landing pages, and form targeted ads, all of which are crucial for customer retention.


2. Ahrefs
A go-to for digital marketers, Ahrefs makes it easy to assess whether or not content marketing efforts are actually working. By providing comprehensive breakdowns of links to your website, mentions of your business, as well as keywords that your content may rank for, Ahrefs is necessary for companies that are looking to monitor and assess the success of their content marketing efforts and their hopefully growing digital reach.


Ahrefs is one of the most powerful marketing digital marketing tools in the industry, especially for link-building campaigns. Ahrefs makes it easy to assess your content marketing strategy and track links and mentions of your company. Likewise, the software service also offers users a user-friendly breakdown of your competitors' links. This enables marketing teams to piggyback off the high ranking are relevant sites to boost their SEO.
Link-building is a crucial component of a site's page rank, but it's more about quality than quantity. Specifically, one link from an authoritative source is more valuable than several links from low-ranking sites. On the other hand, the quantity still has its place, though the number of referring domains is arguably more important than the total number of backlinks.
4. Winnie
1. LSIGraph

Why do I recommend this?
Mainly because it is a saving grace for those of you who are involved in content marketing. LSIGraph is an easy-to-use tool that gives you hundreds of LSI keywords within a second that you can sprinkle into your content. It is designed to help you solve your keyword research problems that results in this tool being the best choice.
We understand the need to create content that stands out, overshoots user expectations, and is attractive to search engines. Hence, we came up with LSIGraph to answer these circumstances.
Currently, we have a database of 30 million keywords for you to benefit from. From the list of LSI keywords returned to you, choose those keywords that are relevant to your content and apply them. You can easily identify the most profitable LSI keywords to help you in your SEO strategy.



To get started, simply enter a word or phrase, select your preferred location and language into the search bar and you will receive a responsive table with related search terms broken down into specific tabs.
Once you have filled in the required information, a long list of keywords will be returned to you.



You will also be presented with metrics that you can benefit from for your LSI keywords research namely; trend, search, CPC, Competition, and LSV (Latent Semantic Value), an algorithm created by is to tell you precisely how valuable an LSI Keyword is. Use the keyword that speaks to you most and insert them in your content today!
As a digital marketer, having a tool like this gives me access to the secret vault of valuable keywords that pleases my audience and search engines. It is also a great tool to rank and rank high when done right.


2. GDoc SEO Assistant
Once you've gotten your LSI keywords, you need to check how optimized your content is for a specific keyword you put in and how easy it is to rank. Now, GDoc SEO Assistant provides the fastest and easiest way to achieve that.
Frequently, we encounter difficulties in guaranteeing that our written material adheres to SEO best practices. Fortunately, with the help of writing assistants, such as this add-on, we can effortlessly generate SEO suggestions and related keywords for content optimization. This tool is specifically designed to aid content writers, bloggers, and online marketing experts, like you, in analyzing and enhancing your content according to valid SEO standards.
I also mainly use the GDoc SEO Assistant to check on my content while I write as it gives me instant feedback. This allows me to optimize right on the spot and everything is done in a single click!
Having this free extension in your marketing strategy will simplify your work and you'll happily see improvements to your website and SEO in due time!

5. Aljaž Fajmut
1. Nightwatch.io
Out tool is irreplaceable in the daily work of our team. Apart from rank tracking and keyword research, it allows us to have a very clear picture of our SEO performance and progress, thanks to its unique graph visualizations feature. Nightwatch is an all-in-one SEO solution designed for businesses aimed at scaling up.


The rank tracking accuracy of Nightwatch in comparison to other rank trackers (10 results per page vs 100 results per page) allows the users to get more precise data that they can use to improve their SEO strategy. The tool is also great for analyzing the website's performance thanks to the advanced site audit feature, and customizable reports make it easy to share the gathered data with the rest of the marketing team or clients.


2. Brand24
This tool has become one of our favourite solutions in recent months. It's a social media monitoring tool that can be used for various marketing activities. Here, at Nightwatch, we use it not only to find mentions of our product on blogs and social media platforms but also to find new link-building opportunities to improve our SEO.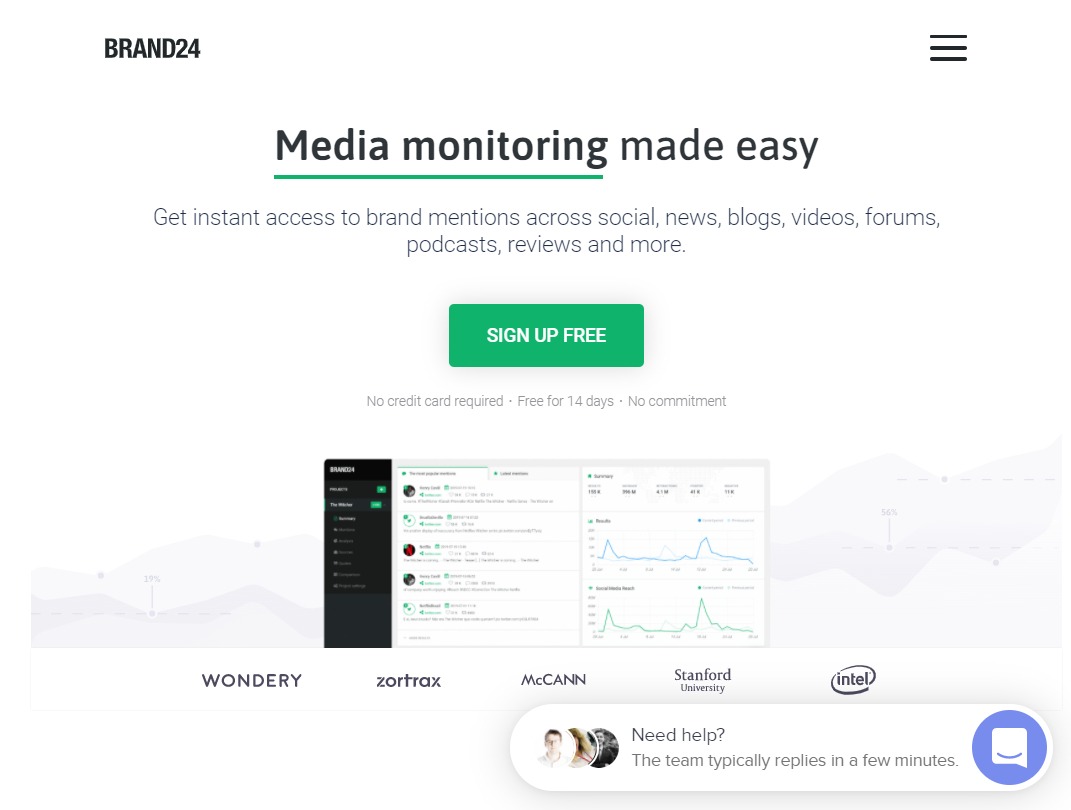 Brand24 can also be used to spy on your competitors, as well as follow the latest industry news and spot new trends. This tool should become a part of the toolkit for every marketer who wants to stay ahead of the competition and stay connected with their audience.


6. Janko Januska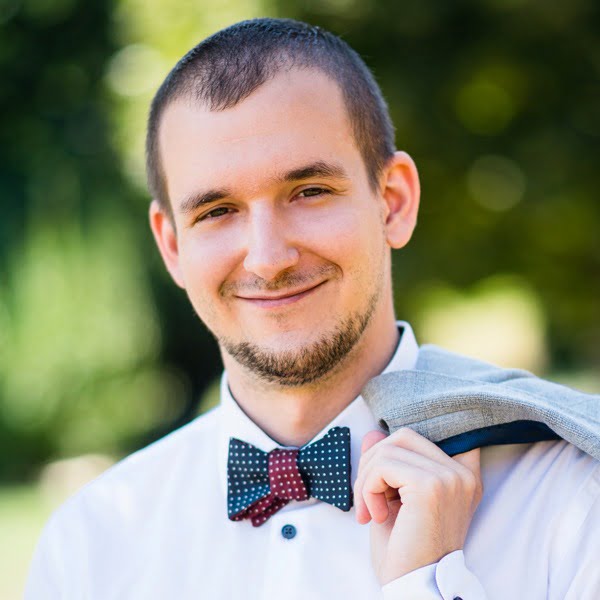 Janko Januska
CEO & Founder of Spotibo.com
As an SEO specialist, I need tools that can help me to dig deep into technical SEO, keyword data and do backlink research. Besides one of the most important SEO tools – Search Console, I can't imagine my work to be done without these three:


1. Spotibo SEO Checker
Spotibo is a tool developed by a team where I am working. I have used this tool from the very beginning and I can't imagine doing serious technical SEO without it. I can say it's a great cloud alternative to Screaming Frog – a very well-known and used tool in the SEO community.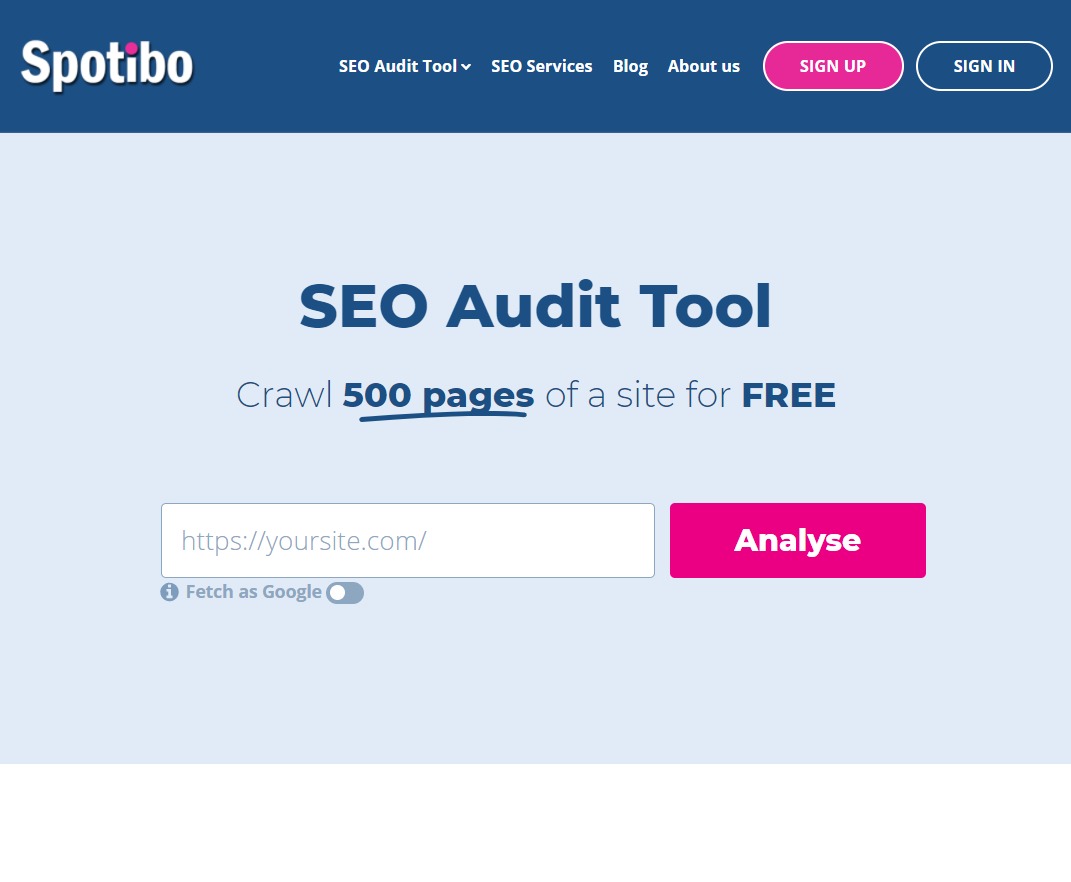 It's very easy to do any kind of technical or on-page audit and it's even faster to find an SEO issue because I filter the data inside the platform without using spreadsheets. And that saves my time a lot. The tool can fulfil the needs of non-tech marketers as well as geeks. 🙂


2. Ahrefs
I love Ahrefs since the first time I tried it. It was super easy for me to understand all the features at the beginning. After some time I took a course from Ahrefs which opened my eyes and understood what magic you can do with it! I see it as a very powerful tool to perform competition analysis, backlink analysis and content creating. I can see all keywords competition is ranking for, their backlink history, best pages.
With Ahrefs, it's super fast and easy to do a content gap analysis or explore new keywords and topics to focus on when creating content. You add any word in the keyword explorer, and in return, you can see straight away how difficult it is to rank with that keyword, what suggested keywords you should add or use instead, what is the biggest competition and how to beat it.


3. Marketing Miner
For more deep keyword ideas and search data, I use Marketing Miner. To me, that is the best alternative tool to Google Keyword Planner. It provides keyword suggestions from various search engines, such as Adwords, Bing, Google or Youtube. It can be used also for link prospecting or search position check. Basically, it's a tool without which I couldn't finish any keyword analysis.



7. Grayson Kemper
1. Google Keyword Planner
Google Keyword Planner (GKP) is absolutely critical for determining your digital marketing landscape.
Increasingly, interactions between businesses and prospective customers happen over search.
Google Keyword Planner allows your company to find the keywords that help you achieve brand visibility on the search for your target audiences.


Specifically, Keyword Planner provides insights about:
>Terms people use online to find information relevant to your company
Reference the average monthly searches to find how many people are searching specific terms associated with or relevant to your company.


The competitive landscape around relevant search terms
The "competition" column on Keyword Planner provides a relative measure of the value of a search engines results page (SERP). This helps you learn how much effort a top-ranking will involve.
Use Google Keyword Planner to identify your target keywords and the terms that you should include in your website content that will help your chances to rank for those terms, and as a result, earn engagement from those search audiences.


2. HubSpot
HubSpot allows digital marketers to organize, execute, and measure their efforts in an intuitive manner and according to their business objectives.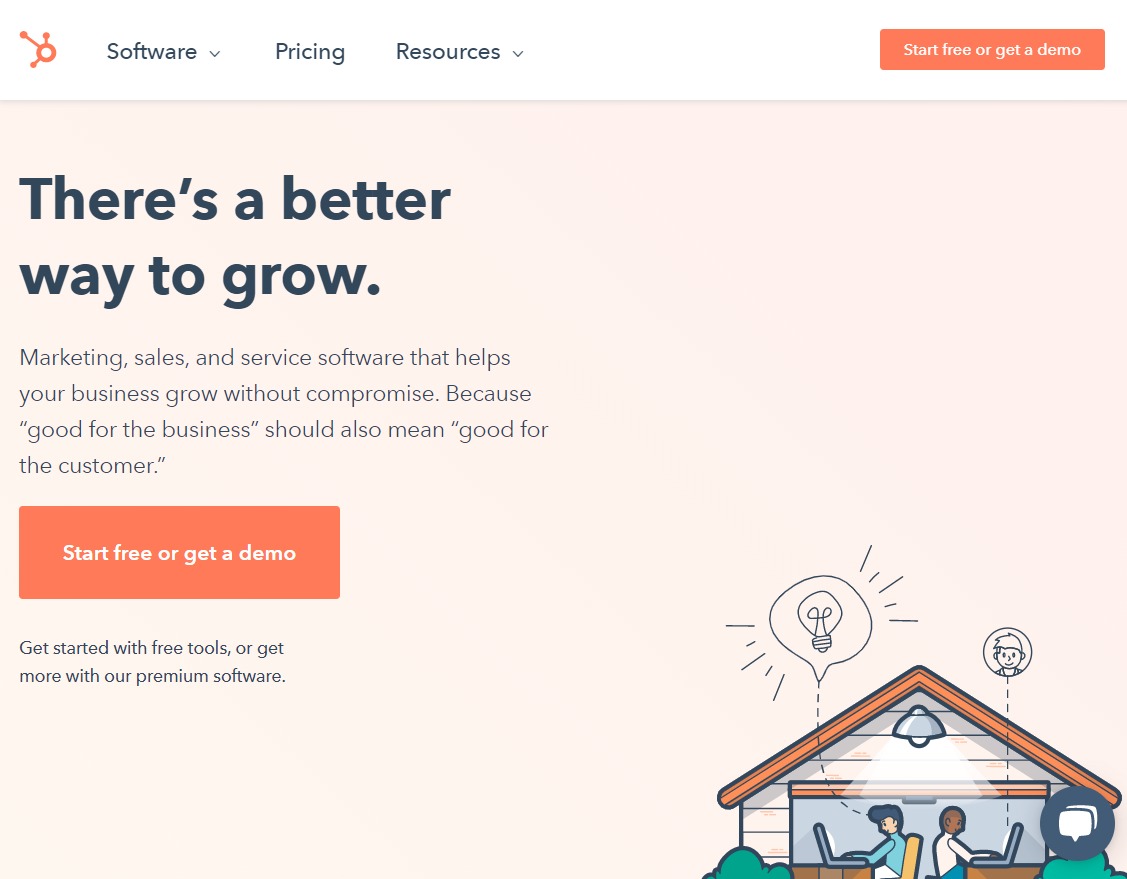 A few of the most valuable elements of HubSpot for marketers include:


Storing and organizing contact lists
Collecting and leveraging high-quality contacts can define the difference between effective and underperforming marketing.


Pipelines
Dividing your core business processes based in organized pipelines allows you to easily access information according to their project and business objectives.


Deals
Deals allow you to create and track efforts from their start through their completion. Deals are helpful for tracking the progress of individual marketing opportunities and determining your strengths and opportunities.


Dashboards
Dashboards give you an overview of the overall progress of your projects, which is helpful for determining how well you are meeting monthly, quarterly, and annual goals.


8. Upendra Goswami
Crafting a digital marketing strategy in 2019 is really different from the days we were doing five years back, the market is evolving, consumers are trusting fewer brands and Content marketing is witnessing the greatest phase of it's very existence. So as a digital marketer, today I will provide more light to the tools which can be used to boost the content marketing efforts every digital marketer is making.


1. UberSuggest
UberSuggest is the greatest ever free digital marketing tool, if you are looking for free and relevant organic traffic to your Website, then you must get familiar with uber suggest. This tool by digital marketing pioneer Neil Patel is the best free keyword and competitor research tool that every digital marketer should leverage. This tool comes with features that many tools are charging for.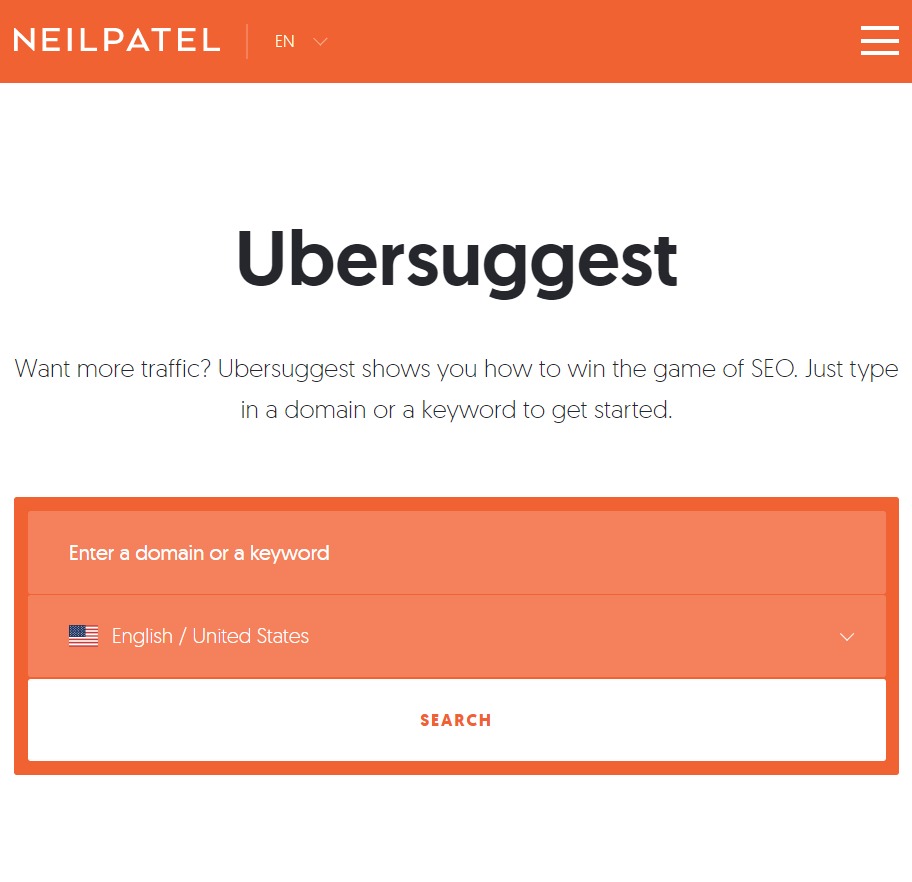 USPs
Free
Keyword research with CPC and CTR
Traffic Analysis
Backlink Analysis
Content Ideas
2. Taggbox
Have you ever heard about user-generated content marketing? It is the latest and the most trusted digital marketing activity which every business is trying to leverage to increase brand trust and loyalty among its audience. Taggbox is a powerful UGC platform that lets you collect, curate, and display user-generated social content on your website, E-mails or any digital screen. This social media aggregator tool also comes with a plethora of beautiful themes and moderation options which allows you to customize your social media wall accordingly, effectively and easily!


USPs
Cost-Effective
Moderation and Profanity Filter
Amazing Customization options for websites and displays
24*7 Robust & Quick Customer Support
API availability
9. Teerath Rajput
1. Google Trends
Whenever I think about writing a blog or running a search campaign, I use Google trends for keyword researching. Google trends give me a glimpse of how keywords perform over time. This tool also provides us with geographical and related terms. I suggest this tool to everyone because you can perform deep keyword research and you can also compare two search queries with each other.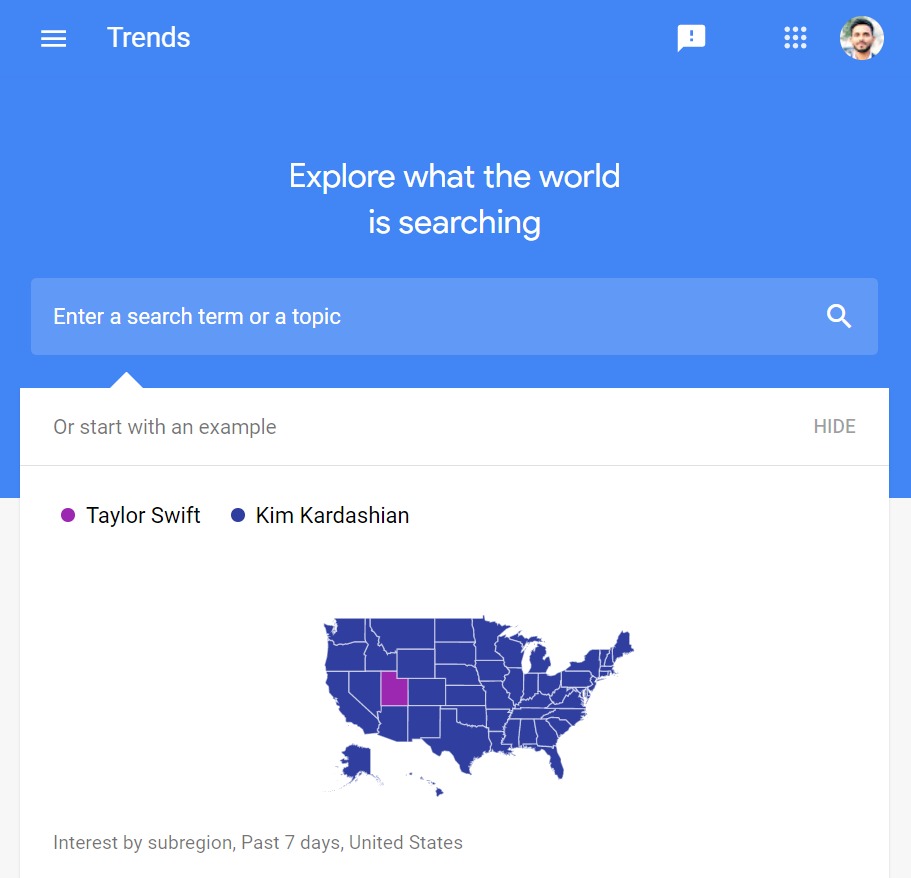 Key Points
Show the trend for a keyword that helps you in finding the content idea
Show you sessional spikes and geographical based difference for a keyword at a glimpse
2. MOZBar
Moz provides a bunch of free as well as paid services and Mozbar is one of them. I am using this tool since I started blogging. This tool helps me with on-page elements, link metrics, HTTP status, markup and also helps in identifying the types of links on a page are dofollow, nofollow, internal or external.
I suggest this tool to others because it shows the DA & PA (which are an important factors from the SEO point of view) on a single bar along with link matrics and a number of backlinks.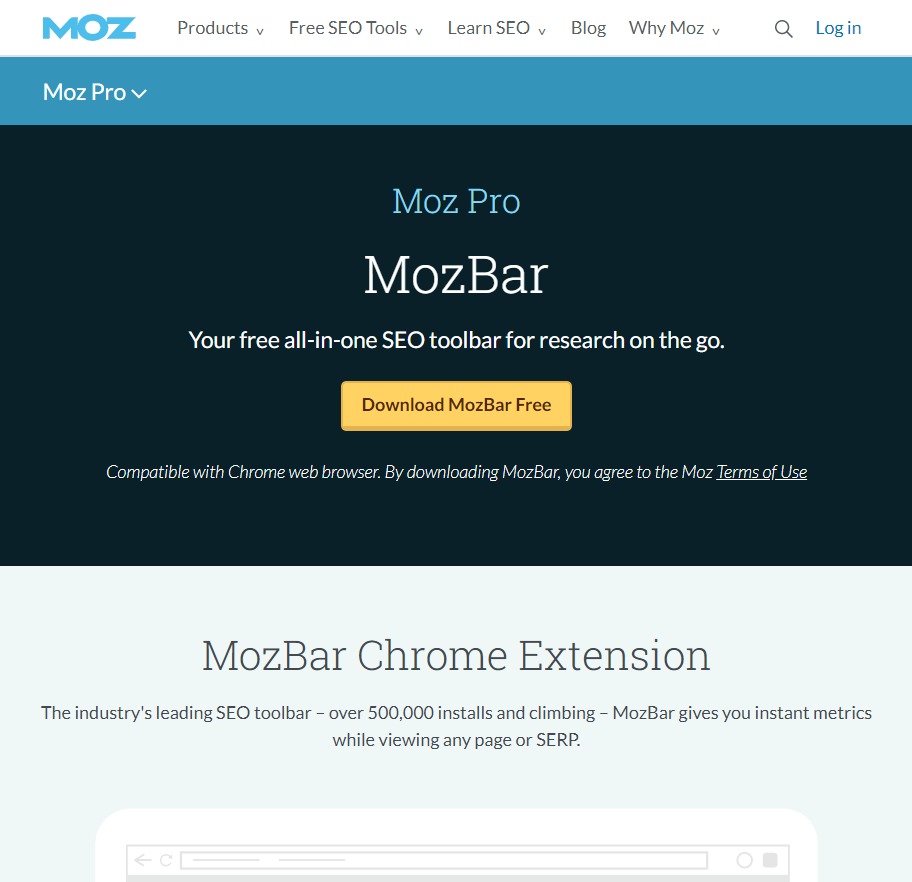 Key points
Shows domain authority (DA) & page authority (PA)
Provides link profile ( like dofollow, nofollow, internal or external)
Gives on-page elements, general attributes, link metrics, markup, and HTTP status all in one place for free
3. Google PageSpeed Insights
The success of a website is defined by user satisfaction and the website's page loading speed is a necessary factor for user satisfaction.
I personally use this tool for getting the speed insights of my website pages, so that I can improve the website's performance. This tool shows me loading time for mobile as well as for desktop along with the possible ways to improve site speed. Google PageSpeed tool can help you in improving your website speed and making your website SEO friendly.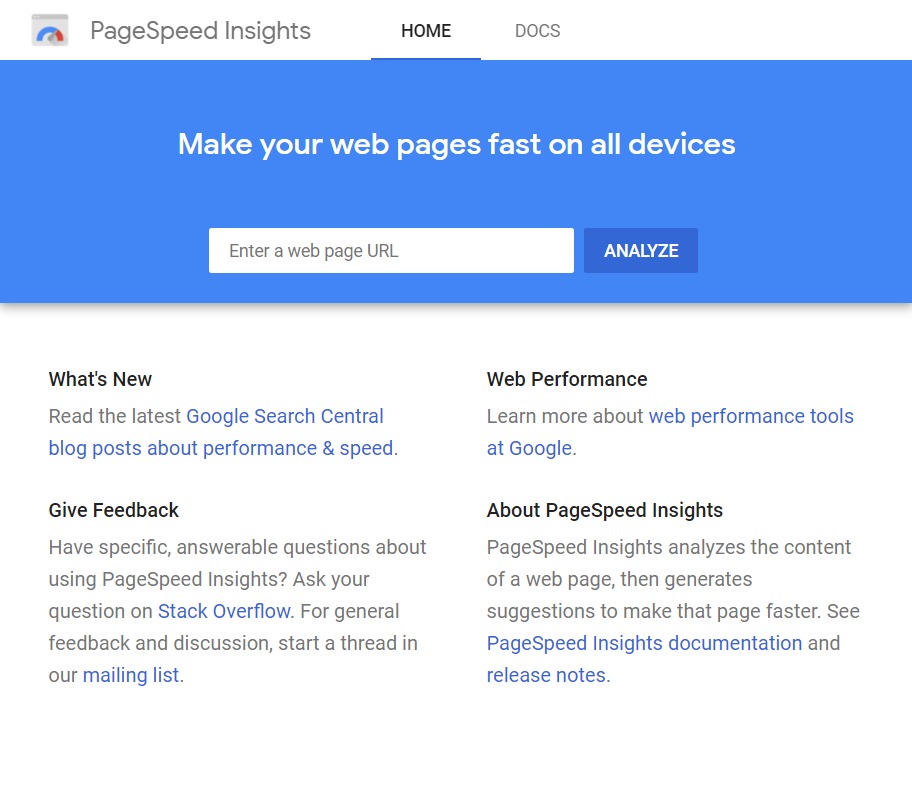 Key Points
Shows web page speed insights for mobile as well as for desktop
Provides the possible ways to optimize the website speed
10. Martin Ochwat
Martin Ochwat
A growth marketing expert at MARTIN OCHWAT
1: Google Optimize
When driving traffic to your website, one of the most important things is to ensure your pages are high-converting. An optimized landing page will result in more conversions and drive more revenue for your business.
Google Optimize is my recommended tool for optimizing your website and landing pages. It lets you set up A/B and multivariate tests in less than 5 minutes. (It's also free to use!)


With Google Optimize, can test various elements including:
Call to Actions (CTAs)
Titles and subtitles
Images and videos
Product descriptions
Page templates & layouts
To get started with Google Optimize simply go to their website, create a profile, and add your website.
You can start by creating an Experience (e.g. A/B test or multivariate test). Then selecting which variants you want to change.


Google Optimize has a simple drag & drop functionality that lets you select any element on your webpage and instantly edit it.


Once you're done, save your variants and start running traffic to your new page. Optimize will let you know which of your variants outperform. You can then use this data to continue testing and optimizing pages using your newfound insights.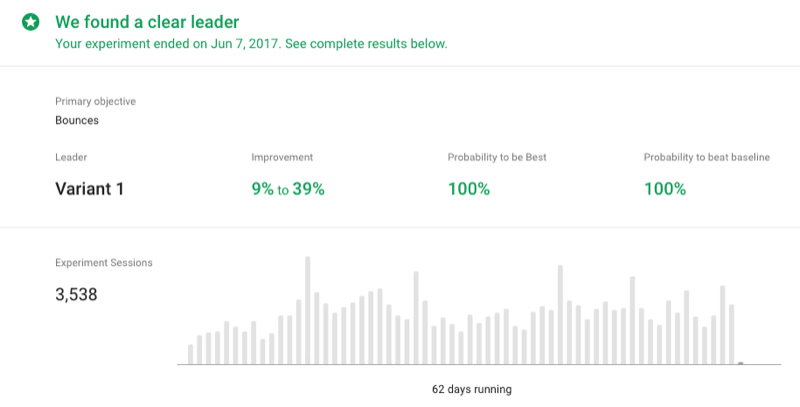 2: Google Analytics
In addition to A/B testing, analyzing your website traffic is also important for online businesses. To get a full picture of your website's metrics, you'll want to use Google Analytics.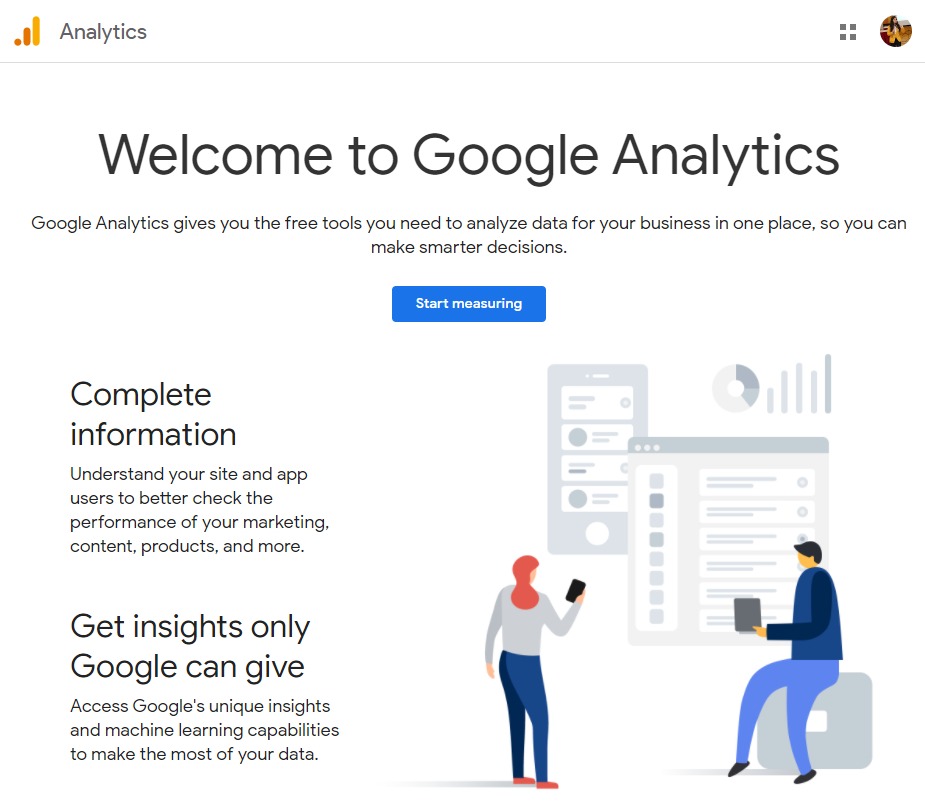 Google Analytics can help you collect and track metrics like:
Daily website visitors
Audience demographics (age, country, gender, etc.)
Traffic sources (social, email, organic search)
Website behavior (bounce rate, conversion rate, site speed)
Conversion rate (e.g. add to cart, purchase rate, repeat purchase rate)
By looking at historical data you can also answer the following questions (and more):
When did traffic increase last year and why?
How is revenue growing over time? Which pages and traffic sources are contributing to revenue?
Who is our core audience and how do they interact on our website?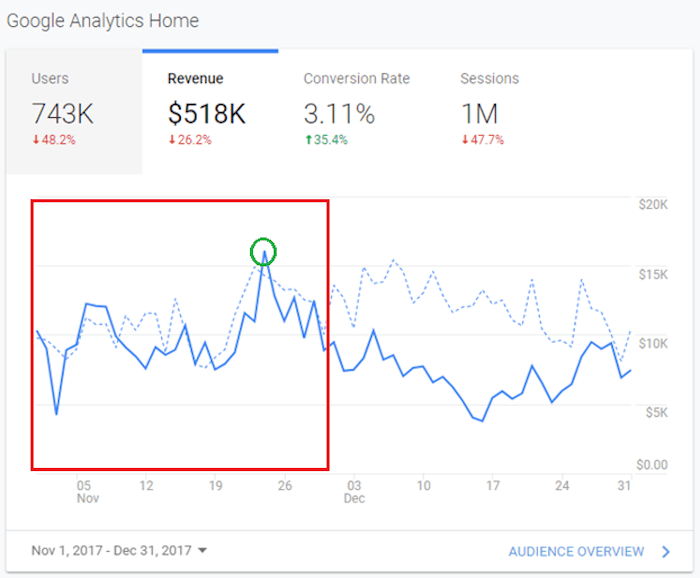 If you're not using it already, Google Analytics is also free and easy to install. It integrates seamlessly with Google Optimize to help manage and track your A/B testing campaigns.
While your website and product offerings may always be changing, Google Analytics offers insights into where to focus your marketing resources to maximize business impact.


11. Stuart Goulden
I use dozens of marketing tools, running my marketing agency Like No Other and growing my side-projects such as Surges. Here's a few I rely on daily to punch above my weight.


1. SEMrush
If you use only one tool for SEO, this is it! SEMrush has everything you need to uncover untapped keywords and size up the competition, create rank-worthy content, and boost your backlinks. All in the name of better visibility.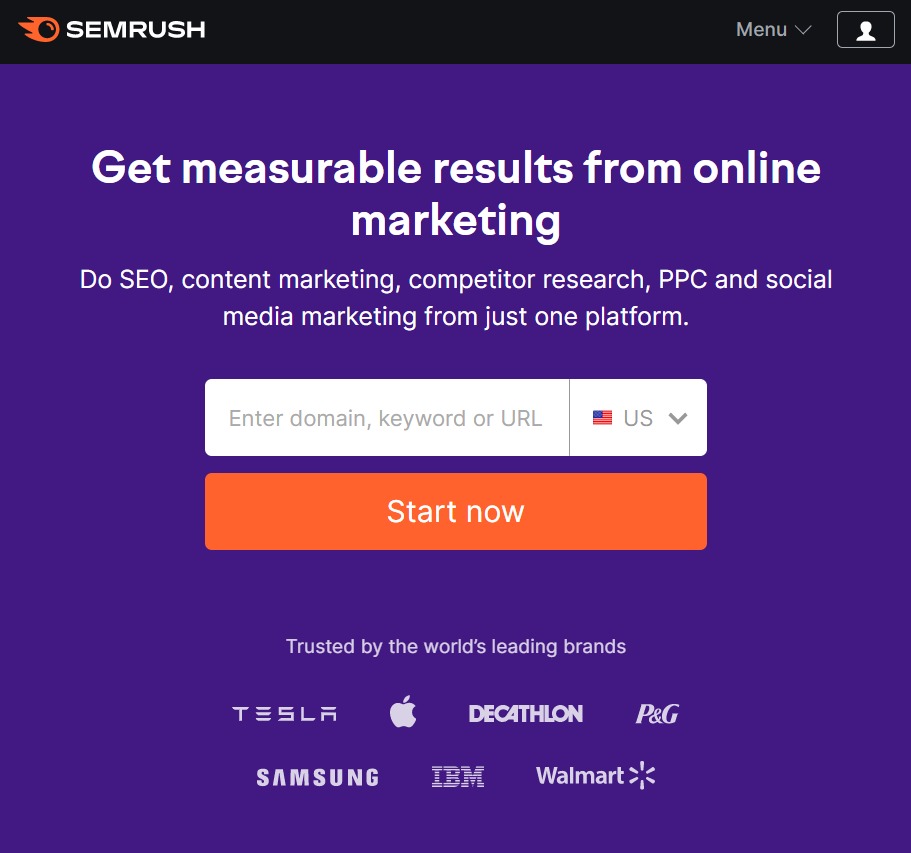 It does so while coaching you with handy tips, writing assistants, and advanced SEO techniques, so you can keep improving your craft and get the most out of its toolkit. SEMrush even makes SEO fun!
There's a handful of great free tools you can get started with before you commit to a monthly plan, so there's no excuse not to get started today.


2. Fomo
Fomo turns buyer behaviour into little slide-out notifications on your website. This simple concept is an incredibly effective way to boost your conversion. So every visitor page view, purchase, or review can act as a personal recommendation paid forward for the next person. Best of all, it does this with a good selection of integrations and a single line of code.
Ryan & Co have built a movement around honest marketing and using social proof to make more sales.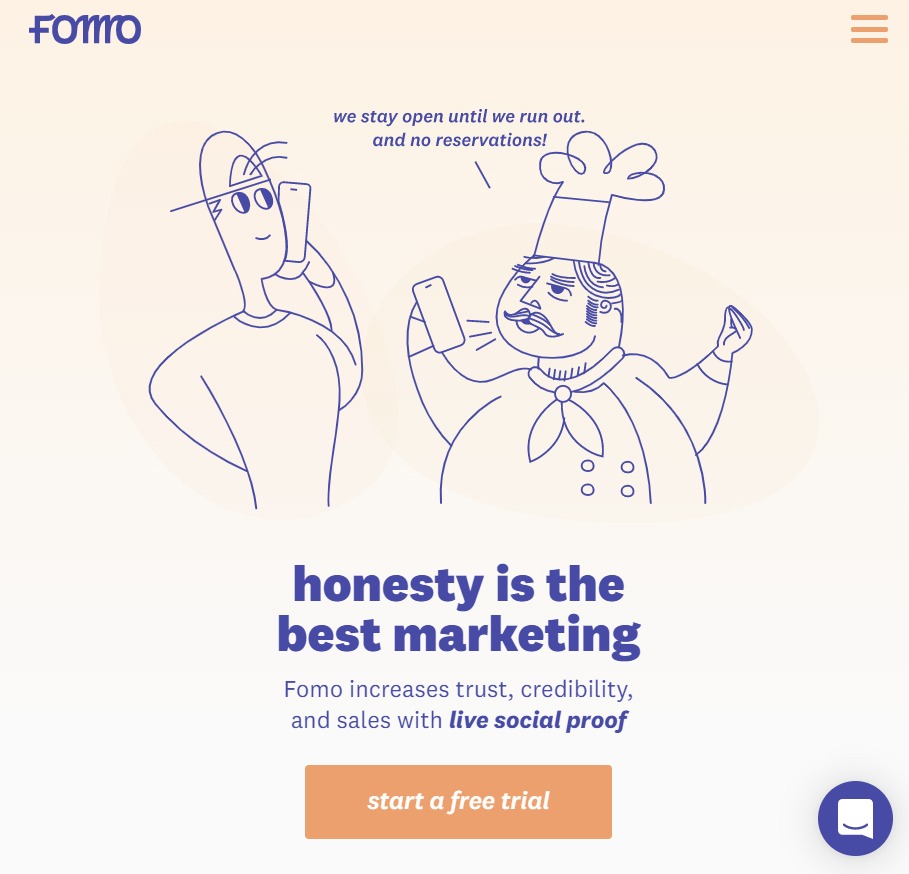 3. MeetEdgar
Another one of my secret superpowers. If you've put lots of time and effort into creating great content you're going to want to keep promoting it across all the main platforms, including Twitter, Facebook, Instagram, LinkedIn, and Pinterest. MeetEdgar puts your social media on autopilot by replaying your evergreen content again and again.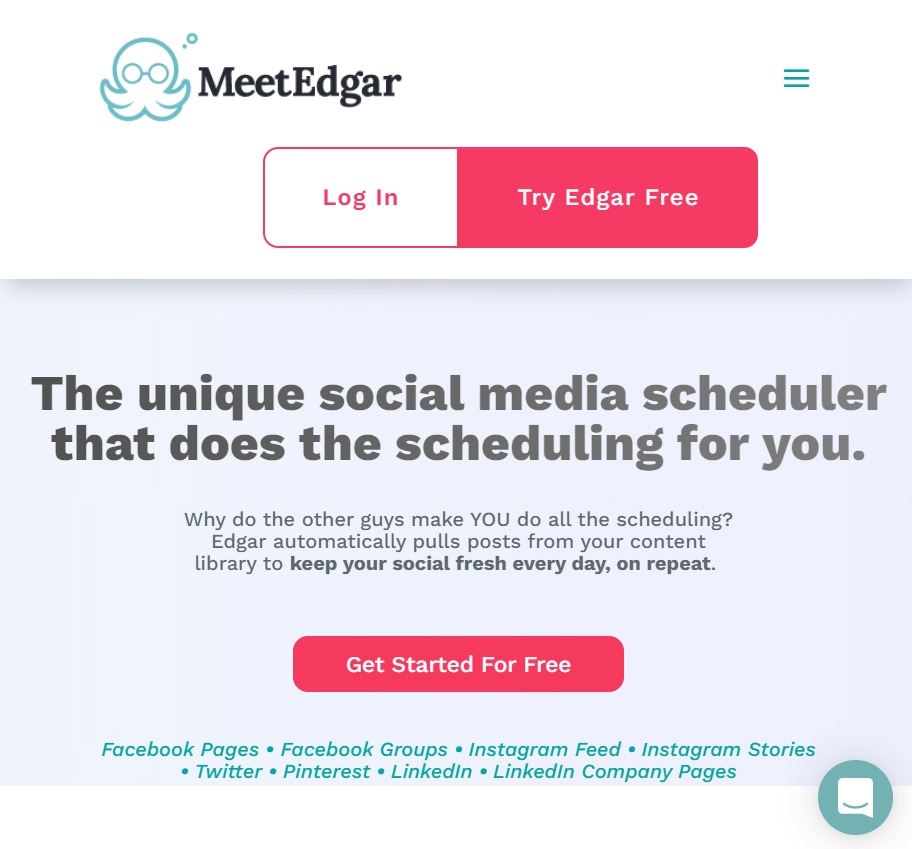 Perhaps the most underrated feature is auto-variations. Paste in any web URL and MeetEdgar will generate tons of possible posts in an instant, keeping your feed fresh for a very long time.


12. Davide De Guz
1. Rebrandly
Rebrandly is a link management tool that allows marketers to brand, track, and share short URLs using a custom domain name. Branded links can actually drive a 39% higher click-through rate, compared to generic links and they also increase click trust and brand awareness online. This tool also provides handy analytics so you can learn more about your audience that clicks on your links — such as the most popular times and days, country, and click originating social media platform.


2. Loom
A loom is a tool that we use at Rebrandly often, it has become even more useful now when the whole organization is working remotely. Loom allows you to record your screen, voice, and face to create a shareable video in less time than it would take to type an email or jump on a call to explain something. Whether it's to onboard new employees, troubleshoot customer issues, or review teammates' work, this is a very effective way to get your message across, no matter where you work.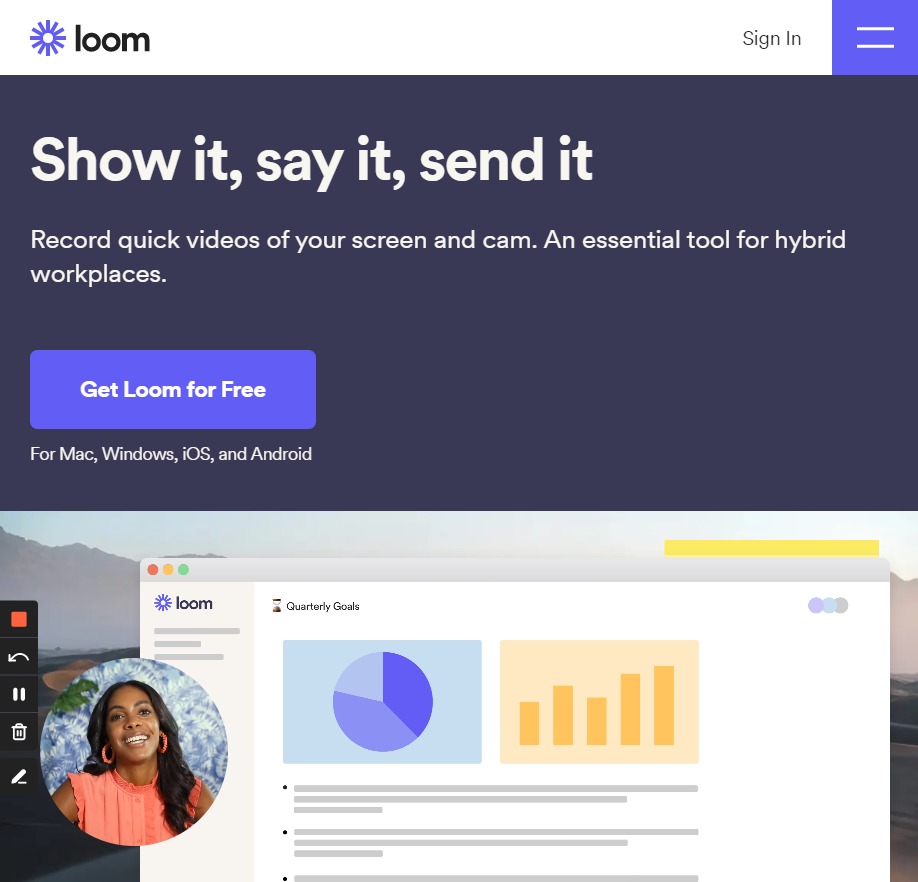 13. Vlad Orlov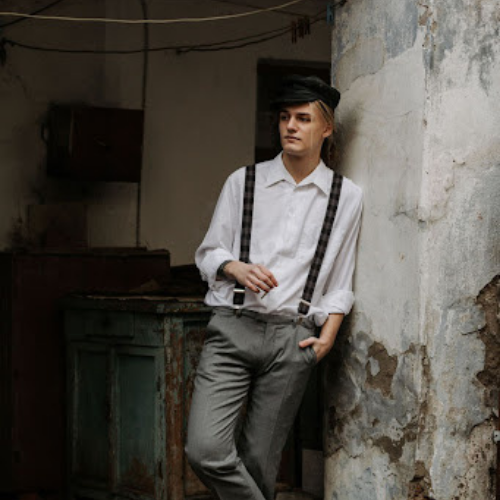 Vlad Orlov
Brand Partnerships at Respona
Respona
Respona is an all-in-one blogger outreach platform outfitted with all of the necessary tools to set up and launch an email campaign of any kind, be it for link building, digital PR, marketing, or
even sales.
An easy-to-use email finder is also included, making it extremely easy to find the right person's contact information without having to rely on any other tools.
Respona's intuitive interface guides you through every step of creating and launching your outreach campaigns, keeps track of your performance, and also the status of your conversations with each prospect.
Automated email outreach
Great for prospecting and finding contact information
Deep personalization
Built-in analytics and reporting
Other Digital Marketing Tools to Leverage in 2023
1. Sprout Social
Sprout Social is a one-stop shop for any business looking to take its social presence beyond just an appearance. The platform allows you to manage your content, publish and schedule it across multiple platforms so that the timing of publication coincides with when followers are most active on each network.
Sprout Social is the ultimate control centre for any business looking to translate its social presence into actual results. As a complete solution, Sprout provides an intuitive interface that allows you to post content on multiple platforms at once and organize it in one place with ease. With over 200 million followers across Facebook, Twitter, Instagram (and more!) this platform will help grow your audience exponentially!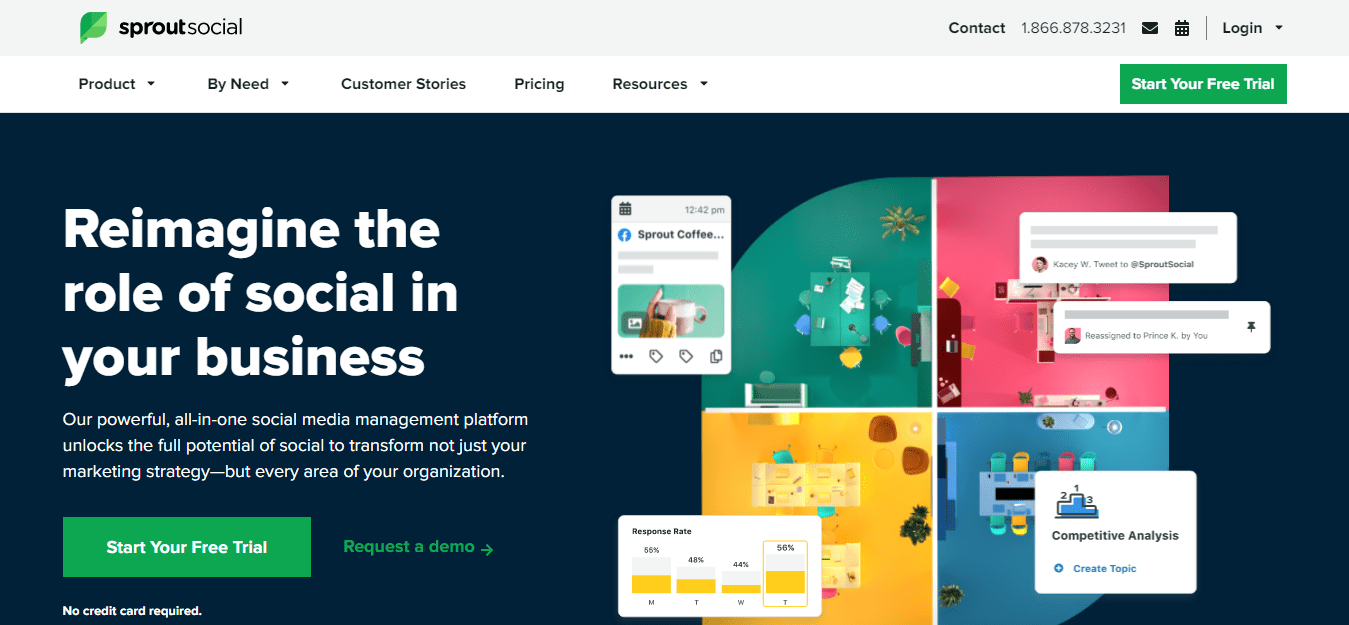 Sprout Social specializes in helping companies boost their sales, increase user engagement and generate more leads with the help of social media. With a team that completely understands how to optimize your strategy for success as well as keep it running smoothly, Sprout is an invaluable asset when it comes to creating connections online.
Sprout Social gives businesses all they need from analytics reports on where their content is shared across networks like Facebook or Twitter, generating new followers through targeting specific interests segments by location or language – even boosting conversions with retargeting campaigns tailored specifically towards past visitors who have not yet made a purchase!


2. Loomly
Meet loomly.com, the best online tool for managing social media marketing campaigns and analytics in one place!
Loomly is an all-inclusive management platform that simplifies your entire process from start to finish. You can manage multiple accounts at once while tracking stats on how each campaign performs individually with Loomy's dedicated analytic tools such as engagement rates, content performance analysis based on individual posts' likes and shares, or a detailed view into which hashtags are trending within those networks you're using most often.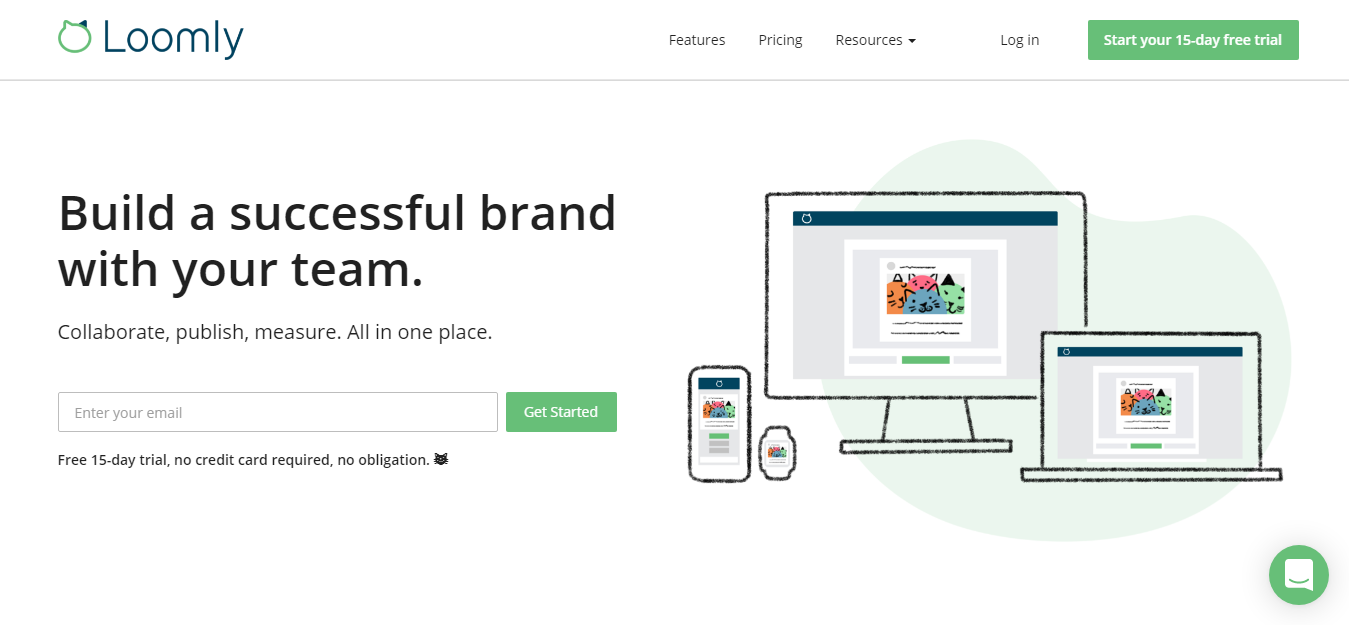 Loomly is a powerful social media tool that helps people manage their brand's content effectively. Loomly allows users to easily plan and organize when they publish photos, videos, articles, or blog posts with built-in calendars, deadlines, and workflows. Not only does this software help you schedule your updates ahead of time but it also curates fresh content ideas for the user in real-time based on trending topics from Twitter conversations as well!


3. Lemlist
Lemlist.com will help you reach out to potential customers and leads with the click of a button by personalizing your emails, automatically following up on any responses, and engaging across all channels – Lemlist is your sales automation partner in one!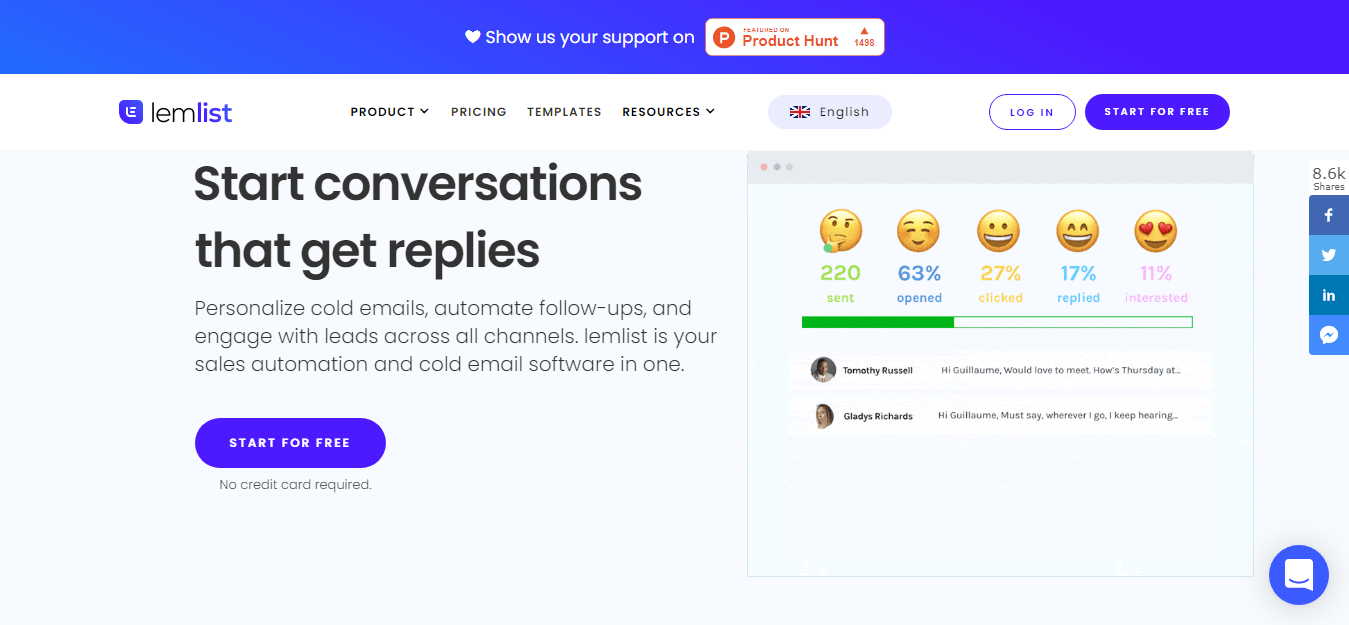 Lemlist's email marketing tools are great for optimizing campaigns, especially when it comes to deliverability. The platform is primarily focused on opens and clicks with emphasis on the best times of day (and how often) you should be sending your messages in order to get more responses from current subscribers as well as prospects who have not yet opened an account with Lemlist. Lemlists features include personalization options that help make outreach emails sound less spammy while its follow-up sequences can encourage replies by cold prospect leads via email addresses they provided during sign-up or through their first contact form submission (depending on if these were opt-in forms).


4. Ahrefs
Ahrefs is a powerful tool for SEO professionals. Ahrefs lets you find the URLs of all sites linking to your competitors and how many links they have from each site so that you can see which backlinks are not working anymore or need more attention.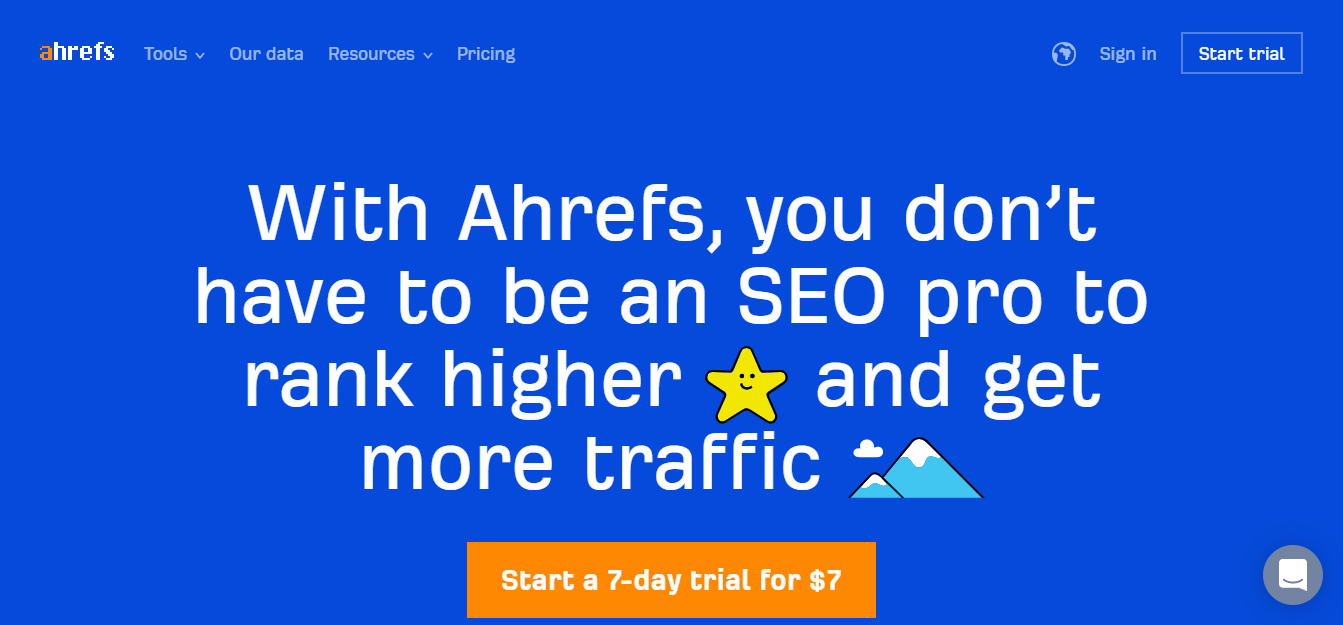 Ahref's Site Explorer tool makes it simple to explore any website in-depth with just one click! Discover every page on these websites along with related keywords & content until now hidden behind paywalls by using their databases to get information about social media profiles, contact info, organic search visibility stats as well as country-, language- and device-specific data such as Google indexes and rank positions per city/region around the globe.
Ahrefs is the go-to tool for competitive keyword research, as well as ensuring that your content ranks.
Its site explorer lets you check any URL's top organic keywords and estimate how much traffic a competitor receives for given search terms while also giving insight into their best performing content so it can help your rank too!


5. Clearscope
To make your content more shareable, clickable, and readable you need to keep in mind that it has to be highly relevant for what people are searching for. Clearscope's software helps you produce high-quality content so that the time invested is worth every second spent.
ClearScope is a company that helps you create content for your website. They offer tools to make sure the most relevant keywords are used in posts and they will help optimize them so it's more likely people will click on these links from search engines like Google or Bing.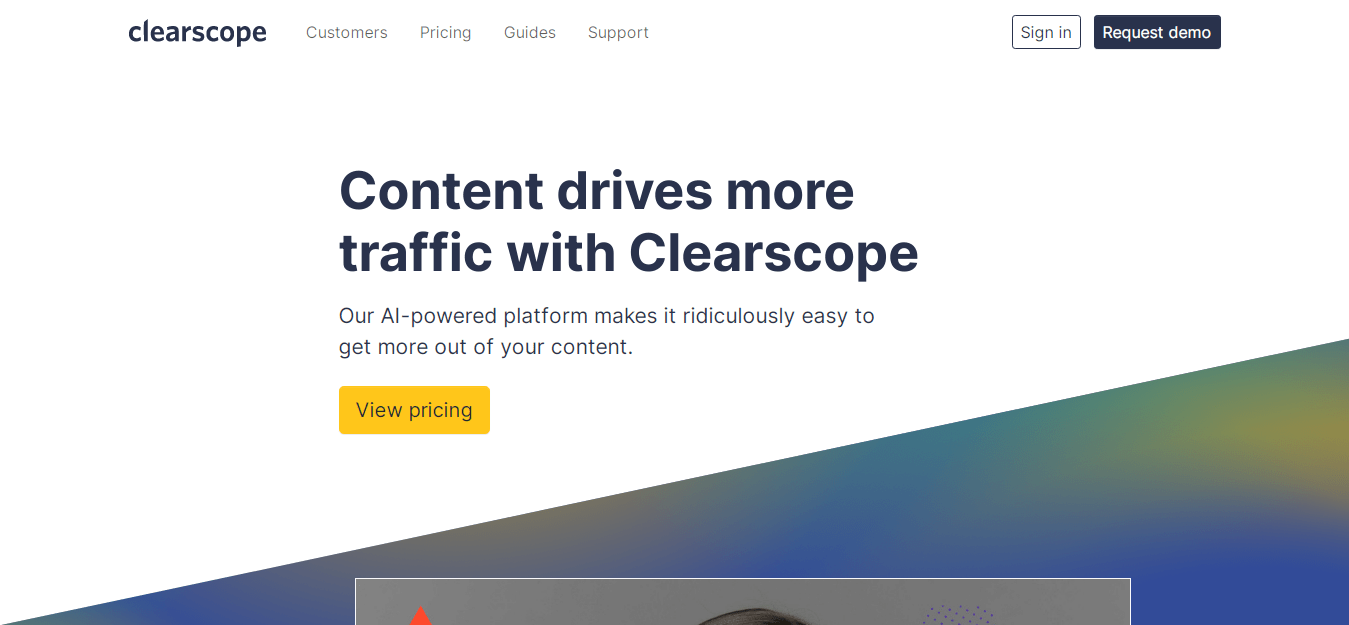 ClearScope understands how important content can be when trying to grow organic traffic – which means our team works closely with clients one-on-one to provide assistance through every step of their marketing process; ensuring high-quality output while remaining budget-friendly at all times!


6. Unbounce
Some people just want to have fun. This is the site for those who don't care about all that business stuff and are looking for a quick way of getting something done. The focus here at Unbounce is on landing pages, creating an easy-to-use interface with tons of templates available in multiple colours and fonts so you can create beautiful websites without having any coding experience whatsoever! You've got your logo ready? Great! Just drag it onto one of these professional design templates then customize as little or as much as you like by adding text boxes, images, videos – whatever suits your fancy because now there's no limit to what type of designs you can build if only limited by how big their imagination allows them to be creative.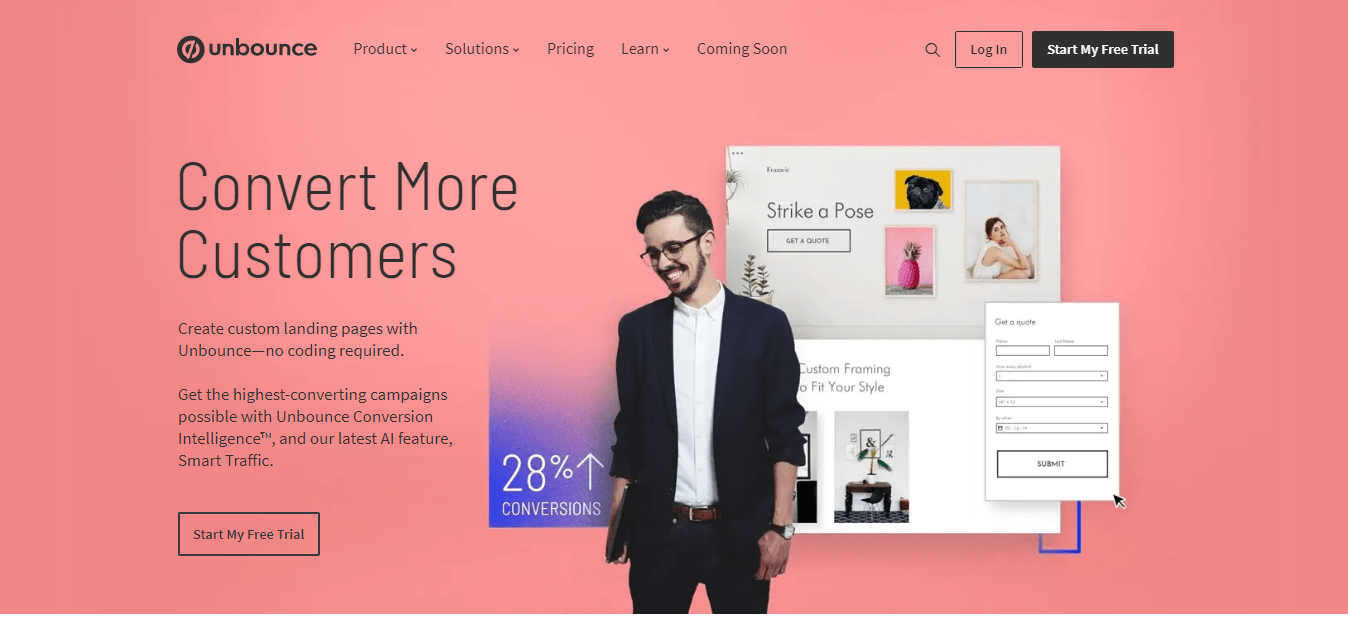 Unbounce has the ability to create and publish landing pages whether you're a beginner or an expert.
Unbounce is one of the most flexible, customizable platforms available on the market today for creating successful marketing campaigns with easy-to-use templates in a simple drag and drop editing mode.


7. Optimizely
Optimizely is a powerful and innovative way to create landing pages. It offers its users the ability to A/B tests their performance, track conversions on-demand, as well as find out which specific features of your site are most in-demand with visitors. Optimizely's ease of use and price point make it an excellent choice for any business looking to improve conversion rates right now!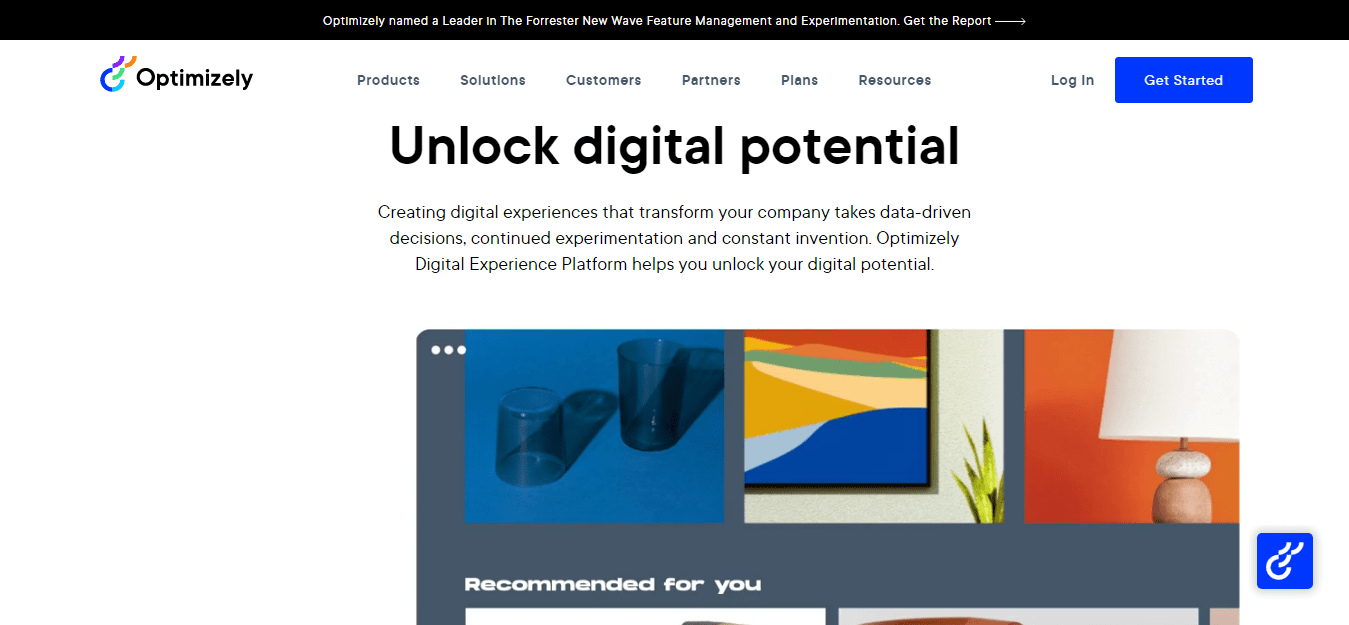 Unlock digital potential with Optimizely.com! They're a company that's dedicated to helping you transform your business through data-driven decision making, continued experimentation and constant innovation. It transforms the way many businesses do things by giving them access to their customers' paths of interaction on different devices in order for insights into what kind of user interface design is needed or how changes should be made so it doesn't deter users from completing tasks successfully online.


8. Clearbit
Clearbit is a data engine that helps marketers and salespeople understand their customers better than ever before. With Clearbit, you can collect customer information from different sources like your website or social media networks to get insight into the demographics of potential prospects in order to personalize every marketing campaign or interaction with each individual customer.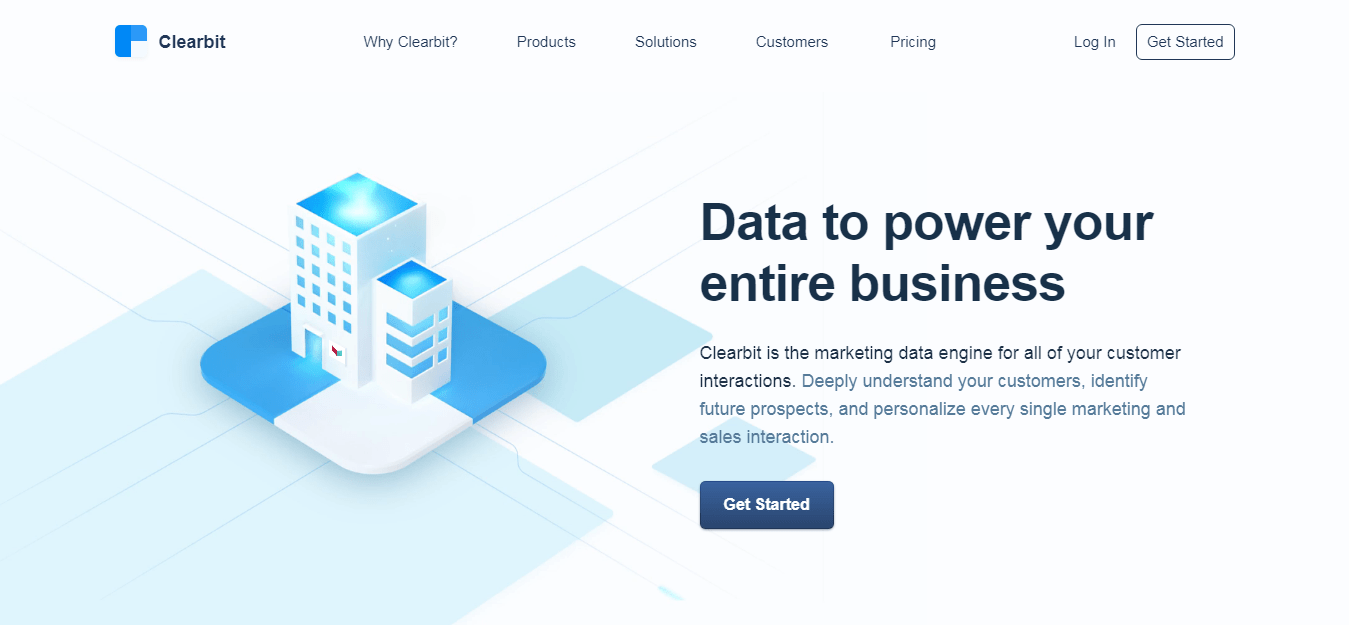 Clearbit's lead intelligence and prospecting platform helps you be more productive by staying up-to-date on your target audience. The information gathered includes a company, role, size of the business–all this data is updated every 30 days to make sure it stays fresh. That means that when you're reaching out for meetings or pitching prospects with a personal email message, you can do so confidently knowing all relevant details are in order before sending anything off!
Clearbit provides marketers with accurate insights about their target audiences using 100+ sources including Salesforce and additional marketing platforms like Adwords APIs & Facebook Business Manager API which provide important demographic info such as occupation (e.g., "Marketing Director") along with other key contact information from LinkedIn profiles.


9. OptiMonk
OptiMonk is a business that helps websites around the world create personalized, A/B tested shopping experiences for their visitors. OptiMonk's advanced features are what make it so attractive to brands looking for an efficient eCommerce platform that will help them stand out from competitors and delight shoppers with tailored product pages.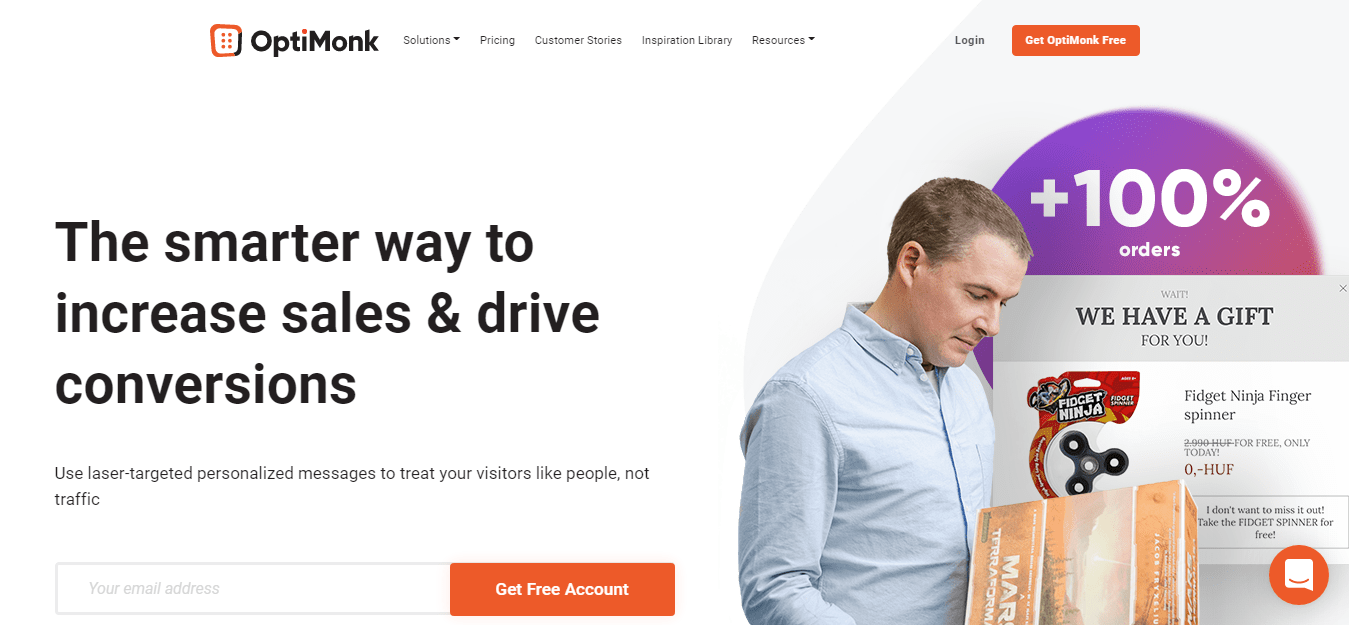 OptiMonk is a platform for business customers to engage with potential customers. The company understands that every customer has different preferences and it is not always possible to be disruptive, so they offer templates based on what shoppers are already responding to. OptiMonks easy interface allows brands the opportunity to customize messages without having any coding skills or IT team members necessary!
Optimonk's pop up campaign software will help you grab your target audience's attention before they bounce away from your website as well as prevent them from exiting when visiting one of their pages – all in an effortless way through personalized appeal triggers that avoid being intrusive like other platforms can be known for employing by popping up constantly once visitors have arrived at certain points.


10. Venngage
Venngage's infographics are so customizable that you can even upload your brand logo to make sure it matches. With hundreds of chart configurations, and imports from Excel or CSV files, designing an infographic has never been easier!
Venngage offers a wide range of customization options for its graphics creators who want their work to be uniquely theirs. Uploading custom logos is just one way Venngage helps create unique visualizations which match any branding color scheme in use by the creator's company ̶ no matter how complex they might be with tons of built-in graphics like fonts and icons at hand as well.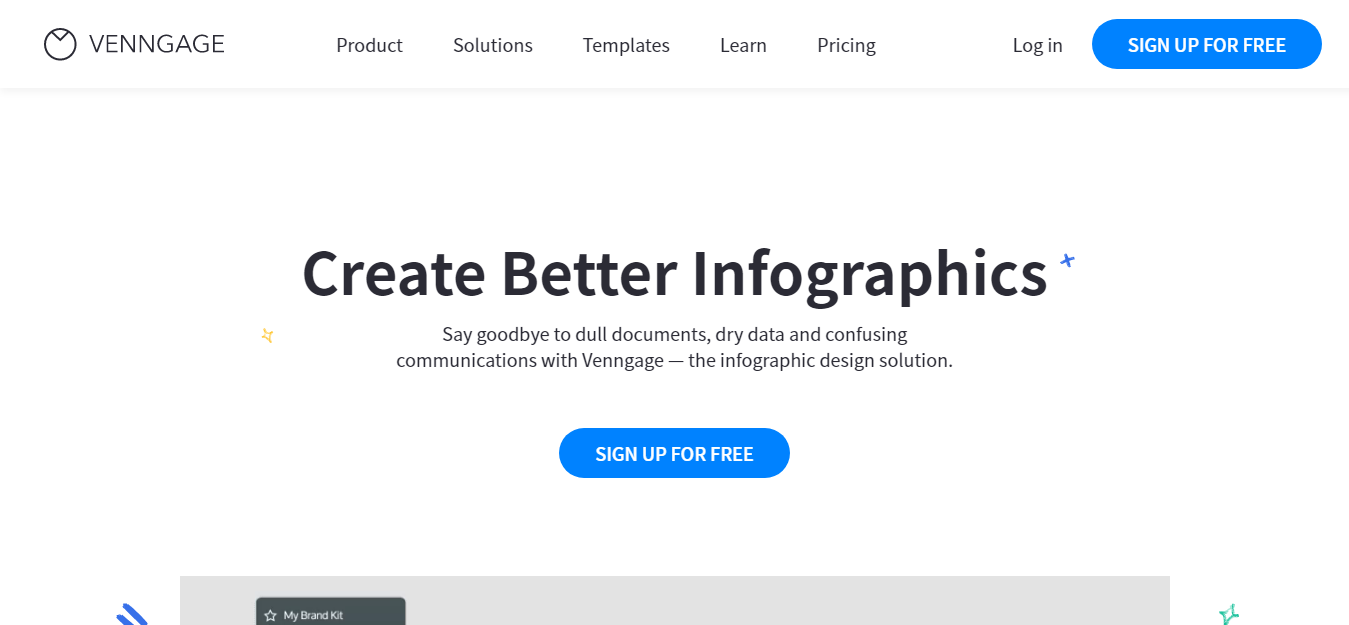 Venngage is an infographic design solution that will help you create better infographics. With Venngage, say goodbye to boring documents and dry data because they are a thing of the past!
Venngage lets users Create Better Infographics by giving them access to more than 40 million images from all over the web-sphere in one click with their fully-integrated search engine. Say goodbye to confusion when communicating your ideas; use visual diagrams like flowcharts, timelines & maps for clarity instead of words alone so people can learn what needs learning without having any background knowledge on it beforehand.

FAQ About Digital Marketing Tools
Conclusion
Are you using these tools to promote your online business? You're ahead in the game if your answer is yes. If your answer is no, see where you can fit these tools in your digital marketing endeavours, whether it's traffic, analytics, competitive analysis, marketing strategies, and many more things. If you think we're missing some necessary marketing tools then share with us.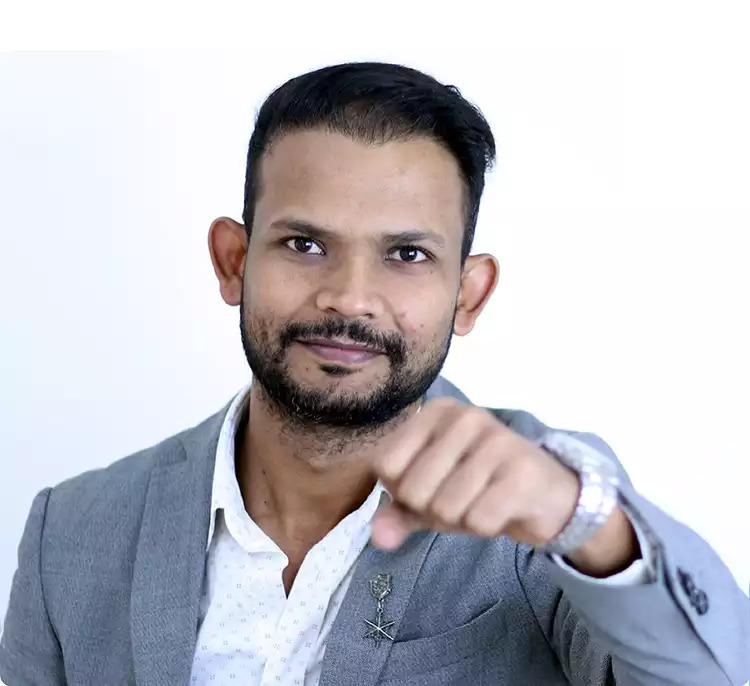 About Deepak Chauhan Hi, I am Deepak Chauhan, a Digital Marketing Strategist. I'm the CEO & Co-Founder of VOCSO Digital Agency, a creative web design, development, and marketing agency based in India & USA.