Starting a business has become easier than ever in the digital age, however, it can be a challenge due to competition. How can you attract larger audiences to your site for better results? There are various ways to achieve this, including building a lead generation site and applying SEO to drive traffic to your brand; investing in PPC ad campaigns to generate leads and marketing using social media; content and lead management software for better fruition. The idea is to deploy various tools to maximize your viable footfall to the site, ultimately generating revenue and creating ROI streams. Let's explore all of these strategies individually in further detail.
What is lead generation?
This process comprises applying both inbound and outbound marketing to garner interest in a brand and what they offer. You need to appeal to your audience.
Inbound marketing entails marketing hacks that highlight your business when customers are searching for something that corresponds to what you provide. Essentially, you're making yourself more visible and discoverable to them. SEO and content marketing fall into this category.
Outbound marketing uses tools that present your business to people when they're not actively seeking such, for instance, TV, radio commercials, offline hoardings, and paid ad campaigns. This is an incidental and more aggressive method of catching someone's attention.
Digital lead generation marketing strategies utilize an array of channels to engage people in your online business.
Here are 6 results driven lead generation marketing strategies to follow by every startups
The digital lead generation strategies are:
A dedicated lead generation site
Search engine optimization (SEO)
Pay-per-click advertising (PPC ads) and social media
Content marketing
Lead generation/management software
Social media marketing
#1. Build a Lead Generation Website for Your Business
A business needs sales to thrive and more importantly, survive – but how to generate leads? This question can be answered by addressing the following factors to fulfill the impending needs. What attracts potential customers and others to your site? Is its brand value, quality, service, visual aesthetics…the list is almost endless? Nevertheless, this feat is possible with a few structured tacts to appeal to larger audiences. Let's explore what really matters and makes the difference between success: make or break it!
How to design your website for lead generation
Incorporating elements including speed (responsive and mobile-optimized), security, social media interactivity cum integration, transparency, loyalty signals, and of course, personalization – these all contribute to a harmonious and interesting site. Ultimately, that'll create a great platform for enticing customers. Make the experience both entrusting and accessible too.
a. Secure your site with HTTPS
Regardless of the domain, product, or service, a secure site is needed. Nowadays, internet browsers, such as Google Chrome proactively alert visitors upon accessing an unsecured site. This evokes a feeling of danger and often leads to abandonment (instead of a potential lead conversion). This is a pointless missed or even wasted opportunity.
You can always verify if you have a secure site by visiting it yourself and reviewing your URL. If a padlock symbol is displayed, then this confirms that it's a secure HTTPS site. However, if absent and your URL states 'Not secure', then clearly it's insecure. Secure it by collaborating with your development team to procure and install a Secure Sockets Layer (SSL) certificate.
b. Make your website mobile-friendly
A mobile ergonomic site is paramount to users. Currently, people spend most of their internet browsing time on mobile devices, highlighting the importance for enterprises to maintain a mobile-optimized site. Such compatibility supports lead generation, plus boosts your market share. This enables commuting users to easily access the site.
For best performance, design a responsive site that can adapt to any device, be it a computer to a tablet, or smartphone. These are also economical to build, owing to the cost and maintenance savings of running an independent mobile site (which would end up unnecessarily duplicating everything). You can always check if you have a mobile-friendly site by deploying Google's free testing tool.
If doing this is overly demanding of your internal team's time, you can always hire a web design company like WebFX. They offer a 30-day web (re)design service, helping you to launch an appealing lead generation site.
c. Accelerate your website's speed
Upon designing your lead generation site, it's paramount to make page speed a priority. No one likes having to wait for online page loading: surely you can also relate to that when faced with sluggish sites. Hence over 80% of users expect pages to be ready to view and fully functional within a mere 3 seconds. This is the reason why over half of visitors will abandon pages that fail to load within this desired framework.
Sites that are thoughtlessly created without any consideration regarding speed will fall short of lead generation. During the development of your site, it's therefore imperative to focus on speed which inevitably reaps benefits and yield great results. Furthermore, website maintenance and updates are also essential to draw new leads.
You can always gauge your page speed with yet another free Google tool: PageSpeed Insights (aren't they generous now…?). This'll equip you with a score for both desktop plus mobile devices and offers advice to boost your page speed. To exemplify, suggestions for your developers to hone your page speed by:
Minifying CSS, HTML, and JavaScript code
Compressing CSS, HTML, and JavaScript files
Restricting redirects
Eradicating render-blocking JavaScript code
As your site and lead generating tactics develop, you'll need to take initiative to maximize your page speed. For instance, new blog posts require image compression to mitigate static pages.
Quicker sites mean a sizable rise in your lead generation rate.
Research demonstrates that sites that reduce latency by just a second manage to boost their conversions by almost 10%. What're more, mobile-friendly sites that load within 2 seconds achieve 15% higher conversion rates. Hence never overlook or omit page speed optimization during the formulation of your lead generation website.
d. Amplify your website's usability
Usability is another critical element of lead-generating site success, including:
Navigation
Typography
Layout
Buttons, etc
By maximizing your website's usability, you'll be able to achieve the best results. Instinctive design can really augment your online lead generation efforts. It'll also give a visitor a better opinion of your brand and product, which is useful if your customer journey has many touchpoints.
For instance, if someone finds your site via Google and subsequently leaves upon perusing a blog post, you wish for them to return (when they've advanced their purchase path). However, in case they disliked your site's layout and ergonomics, it's improbable that they'll return, right? Actually, it's likely that they'll avoid your website altogether.
Boost your site's ergonomics with these hacks:
Limit navigation to seven pages or links: use mega accessibility for additional sources
Position this navigation bar in identical locations throughout your site's pages
Restrict the number of fonts to three
Maintain standard and web safe font styles, such as Open Sans
Apply contrasting colour themes to entice users to particular aspects
Curtail line length to 30-40 characters for mobile and 40-60 for desktop
Integrate white space to divide design elements
Deploy splitting pages into thirds during design layout
Text written in buttons should be large, legible and concise
Use the first-person for buttons, e.g. 'my' rather than 'your' (avoid 2nd form)
Working with a small internal team can make designing a lead-generating website incorporating these features appear intimidating. For this reason, most enterprises prefer to hire a web design agency, such as WebFX. They can ease the design, formulation, and site launch.
e. Optimize your website for SEO
Search engine optimization (SEO) plays an essential role in lead generation sites. The best lead generation sites deploy SEO because it facilitates potential leads to discover your company. This enables you to optimize your site (on both the front and backend) for visitors plus search engines, such as Google. A well-optimized website usually ranks highly in search results, making it more convenient for people to find. This means increased traffic and greater lead volumes for your business.
Search engines plus SEO influence lead generation in multiple ways, including:
Over 90% of online journeys incept with a search engine
Most search traffic is routed to a search engine's initial page results
Almost half of revenue originates from organic search traffic sources
This can help your site generate further leads by evaluating rating factors that search engines use to rank results. For instance, most search engines use page speed and mobile-ergonomics as ranking criteria. This is yet one more reason to formulate a sharp and responsive site.
Other things that you can do are:
Create a Google Search Console and Google Analytics account
Drawing an HTML and XML sitemap
Taking ownership and updating your Google My Business profile
Researching keywords (or searches) for targeting on various site pages
Incorporating these into content, title tags and meta descriptions
Implementing descriptive alt text to images
Designing short, expressive and pertinent page URLs
Develop a content marketing strategy to broaden your SEO strategy
Be mindful that SEO can take up to six months to become productive. Although your site won't transform into a lead-generating website instantly, appreciating this fact can help your brand stakeholders to be more SEO cognizant. The tricks of the trade are vital to achieving success.
f. Test your designs, contact forms, and CTAs
A lead generation site's potency is continually scrutinized. Hence your site needs constant testing. Ranging from your page designs to contact forms or calls to action (CTAs),you can gauge many aspects of your site. Utilizing a gratis tool such as Google Optimise, your brand can launch several tests, including:
A/B (comparing 2 page versions to see which is more effective)
Multivariate (similar to A/B, however specifically focuses on various sections)
Redirect (URL/path to distinguish 2 different pages)
Personalisation (to target visitors)
Harness the power of these features and explore new methods to draw further leads.
Build the best lead generation website with VOCSO
In order to succeed, you need to be tech and sales savvy. As a professional custom web development company, here at VOCSO, we do just that to empower you by equipping your brand with the material to do so. Acquiring and then possessing domain-based knowledge with content, CTA, and profile data intelligence helps to build attainable workflows. Establish sales on every possible device via various delivery channels and entice customers with deals/offers, customize your displayed work, demonstrate your prowess with social media posts. Publish alerts/notifications with a cloud-based framework. Convert leads and monitor your progress via a dedicated CRM.
Implementing contact details, forms and credible references all support your brand, as do interactive videos to engage audiences. Furthermore, accreditation/certification by recognized bodies, powerful words to target people's emotions, and personalized templates draw customers to your site. Your ultimate aim should be clear and applying white space effectively as well as tracking funnels, analytics, timelines, and live performance reports to put your site in good stead.
#2. Utilize search engine optimization (SEO) to drive valuable traffic
Search engine optimization (SEO) is the coveted lead generation strategy for routing pertinent traffic to your website. Upon this investment, you boost your site's ranking in the search results to drive desirable traffic. It's a great way to expand your business.
How do I start using SEO?
Firstly, select your keywords. These will prompt your site to appear in pertinent search results. You need to select keywords that drive valuable leads to your page. By conducting keyword research, you can achieve this with terms and phrases. This presents your brand to potentially interested customers. During your keyword research, you need to home in on long-tail keywords. These contain three or more words and are superior for your SEO campaign as they drive further interest-based leads to your business.
Apart from keyword selection, you should focus on other optimizations that boost your site's ranking. These include:
Increasing page speed
Creating domain-relevant content
Enhancing user experience
Incorporating engaging visual aspects
These are just some of the multiple optimisations which can be deployed to improve your site.
Why should I use SEO for digital lead generation?
Over 90% of the entire online experience commence from a search engine, as most people do so. It's therefore crucial that you invest in SEO to obtain such leads to your page. 80% of shoppers perform research online prior to looking for a product or service. People rely upon search engines to assist in finding suitable products, services, businesses, and information. In order to reach these searchers, investing in SEO to optimize your site will push it to the top of the search results. This powerful lead generation technique will invite traffic to your site. Subsequently, pertinent traffic will be driven to your brand using particular keywords and phrases.
Grow your website visibility, traffic, leads, and conversion organically with VOCSO SEO services
As a results driven SEO services provider, we here at VOCSO pride ourselves on promoting your online visibility, to be easily discovered by unknowing visitors. Improve your site performance by resolving backend issues and driving functionality to make the customer experience a stellar one. Capture demographic data to target customers even more effectively to adapt to their local language or otherwise. PR consulting and eCommerce solutions also help to market your company more efficiently. Methodical keyword management to drive traffic, comprising of analysis, assignment, code optimization, advanced engine, and linking protocol strategizes your site growth. Boosting conversion rates, CTRs and channelizing social media content really does make your site a customer paradise.
Driving traffic and reputation salvaging practices also substantiates your efforts to lure more visitors, destined hopefully conversion. Enterprise tools, content marketing, offline link building, recovery services, guest posting, dedicated advisory resources, and reseller services continually guide users on best practices. Boost your organic rankings this way too. Sustainable design and development, PPC, SEO audit, and penalty recovery are also just some of the aspects that we here at VOCSO specialize in.
#3. Invest in pay-per-click (PPC) advertising to help you attract leads that convert
If you're seeking the best digital lead generation tactics, then Pay-per-click (PPC) advertising is an ideal strategy for drawing leads that convert. Ad clickers are 50% more likely to buy than organic visitors.
How do I start using PPC advertising?
Likewise, with SEO, you need to select your keywords. This is crucial for PPC, as stipulates where your ad appears and affects the cost-per-click (CPC) too. For example, short-tail keywords are more difficult to rank as they just have up to a couple of words. Such phrases are in high demand, hence dearer to bid for. They also attract popular brands with vast funding potential.
Alternatively, long-tail keywords have lower CPC and are better for lead generation. Since they're more centric, fewer brands compete for them. It's analogous to a small independent local store being ousted by a major retailer who can afford to spend more per click owing to larger budgets. Hence long-tail keywords are contingent as these phrases experience less competition due to their niche manifestation. This makes lower bids possible. Obtain greater clicks for your budget, hence producing further leads.
Upon selecting your keywords, you can then bid for your ad's placement. Set your maximum bid – i.e. the highest that you're willing to pay when someone clicks on your ad. This along with your quality score will decide your ad's position in the search results. Once this is confirmed, you can launch your campaign.
Why should I use PPC advertising as a lead generation marketing strategy?
PPC is one of the most effective lead generation tactics for augmenting your business to earn leads that have a higher chance of a conversion. Such ads are a potent way of attracting suitable leads who are looking for your products or services.
Around half of all clicks proceed to the top three PPC ads. Many visitors are unable to discern between paid listings and organic results! This smooth mix of ads and organic results increases the likelihood of leads clicking on your paid listing. People who click on your ads are most intrigued by your products or services as well. Almost two-thirds of all high-intent searches lead to someone clicking on an ad. You're enticing people who are already in search of the right material and willing to purchase.
Earn leads that are more likely to convert with VOCSO PPC services
Be it remarketing, addressable, or geofencing/banner ad services, VOCSO caters for them all! The setup, rule bidding, and delivery are all taken care of by our bespoke comprehensive executable packages. Offering a reportable accountant, extensive keyword research, AI-powered workflows, and continual monitoring to gauge progress, you can certainly count on us. Google Adword tracking also helps to stimulate conversions by knowing what exactly people are looking for and how they find it. Knowing and understanding what works and how to implement it is key. So why not invest in a relatively convenient and potentially ROI boosting outcome with PPC?
#4. Utilize social media ads to market more precisely to leads
These are ideal for online marketing lead generation and work similarly to PPC ads. Rather than waiting for visitors to perform searches using your key terms, you present ads to those profiled as being matched to prefer your products or services.
How do I start using social media ads?
Such ads are fairly straightforward to establish and deploy. There are multiple recognized social media platforms that you can access and procure valuable leads, for your business. These include Facebook, Twitter, Instagram, Pinterest, and LinkedIn. Each of these has its respective setup for paid ads. You'll need to check your platform and see what is offered for paid advertisements. Let's quickly explore the top three platforms and their advertising prowess.
Popular social media platforms
a. Facebook
Facebook offers a solid yet innovative framework for social media based ads. Be it connecting with people with their appealing outreach methods or deep visuals for active engagement, Facebook has all bases covered. Their monetisation strategy explores customers via demographics, user activity and other geolocation trends. This empowers brands to maximise their revenue streams and channelise ROI. This drives efficiency by distributing funding in an intelligent manner, based on weightage and effectiveness criteria. Customise with contact lists, boost lead conversion rates, dynamic direct response advertising and posting. An additional layer of detailed audience analysis and link sharing solutions reinforce your efforts.
b. Instagram
Be it their innovative integrated Hyperlapse camera polishing time lapse effects, a brilliant simplified layout, creative tools such as Boomerang, Instagram is a powerful multi audience platform. A picture can paint many words and these bespoke graphics entice people from all demographics (namely the younger generation). Aligning organic posts with a timeline and hashtag based approach drives greater engagement.
Being an image & graphic based platform, this makes a great platform for advertising which involves any visually appealing product content. This is also ideal when targeting younger demographic groups, particularly aged under 30 years old. The various ad forms including carousels, videos, collection, story and explorative settings. What's more, the reels are a new feature of this app and conceptualised by TikTok. These are brief videos offering featured content within their respective feeds and profiles (as well as globally).
c. YouTube
This video based app has been around for a while and pioneered an educational, informative and entertaining platform for anyone to use. The regular posting feature enables businesses to draw in audiences with high fidelity and editing capabilities. Calls To Action (CTAs) grow your enterprise, while the single keyword and topics deploy phrases, titles and descriptions, as well as tags drive results. The close captioning system with innovative voice recognition, whilst the thumbnails increase Click Through Rates (CTRs). Branded channel layouts and content recycling creates a sustainable ongoing framework. Internal and extrinsic promotion adds value to your company with customised and independent information sources. Offline and live streaming are both available to cater for all viewers plus search query ranking steers your brand. Finally, the audience comments promote engagement and sharing of ideas, integrating information exchange.
d. TikTok
The decision by Google to include aggregated short videos from the likes of both TikTok (and Instagram) lately is just another drive to use this platform for marketing. Moreover, mobile optimisation is being rapidly developed which appeals to all demographics. In feed videos, branded effects and brand takeovers are innovations to drive your brand with short snippets. AR backgrounds, 2 & 3D capabilities garner interest with business propositions.
e. Twitter
Twitter remains a robust text based social media platform aimed at everyone, however particular at academics, scholars and factual information (be it news or taglines). The use of pertinent hashtags to boost visibility, analytic tools to check what's trending and adding images does wonders for your campaign. With the retweet and own quote protocol, you can reach masses quickly. Feed lists, amusing content and images can also be deployed to make things more interesting. Embeddable cards and publishing adds to the robustness of this platform. Optimised referrals, pinned items and your bio cum handle all personalise your profile. Monetised impressions and polls engage audiences for surveying purposes. With account auditing options, personality & time/location based posting, your tweets are really flexibly controlled with full autonomy given to you as the driver. UTM short text codes help to augment your readership by analysis vital stats and metrics, such as conversion.
f. LinkedIn
Contrary to popular belief, LinkedIn isn't solely a professional portfolio platform where people publish their profiles in search of work or to connect with others. It also offers learning plus Q&A presentations to interactively educate audiences, events and interactive collaboration via direct messaging. Furthermore, the advanced search and publishing facilities enable convenient navigation and distribution of material. Their multilevel and device agnostic marketing strategies synchronises your content across a broad spectrum of users to maximise reach. With automated workflows, data analytics, dedicated company pages and traffic monitoring tools, you can easily direct visitors to your page as well as understand their needs. Lastly, its privacy record makes it a trusted if not revered social media platform for both conversions and conversations to take place!
Why should I use social media ads for digital lead generation?
Overall, this has a major effect on consumers and the products they buy. Almost three-quarters of people use social media when deciding what to purchase. Irrespective of whether it's a paid ad or an organic post, social media does swing what and what time people tend to purchase. People also spend a large portion of their time online using social media sites. On average, users spend almost a third of their browsing time on social media. To exemplify, if someone is online for an hour, a quarter of that time is exclusively on social media. Considering that the mean search session is less than a minute, spending this much time on social media is huge!
Social media ads can promote personalized audience engagement. You can create customized ads that correspond with user interests drawing them to select your business. This is a very effective lead generation method to engage audiences.
Engaging your audience on Social media to choose your business with VOCSO Social Media Ads services
VOCSO knows social media inside out. We thrive on driving engagement via such channels. Be it Facebook, Twitter, or LinkedIn (to name but a few), our robust platform management works wonders. We harness the power of each specific framework's features to ensure that results are maximized. Boost your engagement potential with our strategic plans, backed by the expertise and active support. Our dynamic approach ensures that we remain ahead of the curve and in line with current trends to keep your brand fashionable across the masses. So what are you waiting for? Contact us today and find out how we can transform your business!
#5. Invest in content marketing to help you boost leads on your website
This is yet another important lead generation hack for promoting new leads by distributing neo informative content. Upon investing in content marketing, acquire customer trust, and boost your authority by imparting your domain based expertise to your audience.
How do I start using content marketing?
Upon commencing deploying this digital lead generation tactic, you should prepare your content topic ideas. Keyword research helps to brainstorm ideas for your material. When deciding on topics, focus on industry-based trends. This drive fidelity leads by remaining focused on these.
For instance, if an electrician compiles content on electricity, they'll attract leads who search for such relevant topics on power. However, if the same electrician now writes about cooking, then this won't draw specific leads, as it's unconnected to their business.
Upon deciding your topic, you can choose the format from the different ones available, including blog posts, videos, ebooks, and infographics. It's good to vary these formats to ensure that your content is revitalized for your audience.
Post this, you have keywords and a format to contemplate about. You may begin writing, filming, or designing content aligned with your audience. As you create your content, ensure to emphasize central audience interests. Let's take an example. If someone searches with the query term 'how to wire a plug', they'd naturally expect to find and view the required steps explaining or demonstrating how to do just that. You need to target every stage in the wiring process, from identifying and stripping the wires to fixing them. It's imperative that you furnish your audience with all the pertinent information that they require. By doing so, promotes increased retention rates and encourages them to remain on your page for a greater duration.
Content marketing is an undisputed valuable lead generation strategy for enterprises seeking to increase their site traffic and procure new leads.
Why should I use content marketing for online marketing lead generation?
Content marketing produces over 50% more leads than conventional marketing. This strategy is ideal for generating leads who are inclined towards your products or services. As you're designing customized and informative content, you're more likely to draw people seeking setups such as yours.
This method yields conversions as well. Businesses using content marketing often witness sixfold transactions compared to companies that don't do so. It also helps you earn more valuable leads which are more probable in converting.
Obtain more valuable leads that are more likely to convert with VOCSO content marketing services
Boost ranking, traffic, and sales with great conversion rates when you choose VOCSO. Drive brand awareness and increase ROI in a promising manner with our optimized development, creation, and report strategies. Copywriting also forms an integral part of this to ensure that your audiences remain engaged. This enables you to learn what works, how, why, and also monitor your progress. Take a snapshot of your current situation to gauge the relevant metrics and then improve upon them. Then watch as you see your brand grow. Be amazed and call us today to know more about what we can do for you!
#6. Utilize exclusive lead management software to Turn your leads into sales
Essentially, specific lead management software tracks visitor activity to then capitalise on it. For instance:
Via which channel(s) did they find or were redirected to your site?
How often do they visit or spend there and when do they leave?
Why: what are they looking for?
Lead monitoring with sales follow up
Data analytics to hone your processes
Multiple user profiles with efficiency management for effective collaboration
Why is lead management software important?
Is your lead conversion rate satisfactory or are there some potentially sizable leads escaping? Lead management software organizes, prioritizes, and converse with leads, churning them into customers. Essentially, this helps to optimize your lead utilization. With data unification, you can now correspond with leads with greater efficiency. Monitoring lead to progress within your team or department enables more calibrated workflows. Review retrospective leads data to gauge your method efficacy and subsequently improve your marketing and sales strategies. Lead management software assists in conversion to customers and boosts your revenue.
How much does lead management software cost?
Pricing for this varies broadly, according to features offered, usage and so on. Companies categorise costs in various formats, including:
Per user every month/monthly for a (preset or unlimited) number of users
Custom quote only
Another option is deploy free lead management software, however such systems have skeletal features and permit only single user operation
A per user for every month basis can cost between 12 to $500
On a per month basis, expect to pay somewhere from $12 to $1200
What does lead management software include?
Features offered to depend on individual systems. Simple systems enable tracking elementary details pertaining to your leads. At the other end of the spectrum, advanced functionality includes automation and integrations.
These are just an array of potential operability provided:
Tracking how leads are directed to your site, including via which channels or campaigns
Monitoring activity on your site, including which pages are accessed and buttons clicked
Viewing which stage of the sales process each lead falls in
Overseeing your sales team's correspondence with leads
Interacting with other team members
Creating phone numbers for marketing campaign for tracing purposes
Then monitoring these calls and listening to voice transcripts
Arranging appointments with leads
Perusing analytical reports about lead management data
Integrating this with CRMs and other commercial frameworks
How is lead management software pricing determined
These are the major factors affecting cost
1. Extent of features
Features included playing a major part in the expense of such software, as this varies depending on the supplier hosting the functionality. The majority of brands have a tiered system with increasing features and advanced capabilities.
Every system has an elementary framework, such as the ability to store lead details and track which stage leads are in the sales process. The software which has fewer features tends to be cheaper, so to obtain all the requisite features, you'd need to pay a higher premium. It's essential to have clear expectations, enabling you to make the right choice.
Upon doing so, categorize in order of priority which option offers the features that are essential, are desirable, and redundant. Subsequently, you should tally expenses of the features required as well as desired, your budget, and anticipated return on investment (ROI).
2. Number of users
This may impact the price of a system as some suppliers levy a fixed rate, irrespective of user volume (whilst others do proportionately). Of course, the latter will attract higher costs with more users, which may be unfeasible – so choose wisely!
How much should you spend on lead management software?
What do you reckon is an ideal amount to invest in this protocol? This varies across the board, so let's review and see what's the best range to aim for plus evaluate common pricing trends:
1. Your budget
This is imperative prior to elect any software and planning this well in time will help guide your spending, along with the perfect choice which works for you.
2. Your goals
These should be explicitly clear to ensure that you opt for a system that offers fitting functionality to satisfy your needs.
3. The complexity of your sales process
This is yet another significant metric, wherein having an advanced sales process warrants more complex features. These include granular categories, further monitoring choices, and greater automation (to name but a few).
4. How many leads you generate
This depends on your tracking and management. Certain systems have quotas imposed on the volume of leads, calls, and interactions that you can monitor. Larger enterprises with multiple leads often warrant dearer lead management systems.
5. How many user profiles you need
Gauge the number of user profiles that are required. The greater this is, the higher the cost – however, is essential for companies with bigger sales teams.
6. The features you need
Salient features will add to your costs, so be mindful of this – especially with multiple advanced options, as these quickly accumulate price-wise.
7. Savings opportunities
Never omit seeking contingencies to save money by combining your lead management system with other tools and services.
8. The quality of the system
Always remember that a low price doesn't necessarily represent value for money. A low fidelity lead management system may be cheaper at the outset, however will work out to be pricier in the future, owing to ineffectiveness and purged leads. Why not check the reviews for your shortlisted candidates to make an informed decision?
Best Lead Generation Software for your business
1. Constant Contact
Their email marketing service has live monitoring tools which analyse accessing, viewing and distribution activity of your emails, enabling you to plan your next steps. The convenient editor customises email templates and designs professional, mobile optimised emails which display well on all devices. They assist small enterprises in tapping neo audiences and promoting further commerce quickly with ergonomic email marketing automation and event management tools, surveys, as well as social campaigns.
2. ClickFunnels
This is a cloud based platform allowing multi scaled businesses in e-commerce, consulting and other industries to generate leads cum sales. Furthermore, they augment conducting webinars via email and Facebook marketing.
3. Drift
Drift is the global pioneer conversational marketing platform. They provide a contemporary shopping experience for customers, generate greater qualified leads and visibly accelerate sales cycles. Contrary to traditional marketing and sales software which relies on survey/questionnaire forms, cold calls, and multiple follow-up emails, Drift links businesses with site visitors using live bots and AI. They even offer a free demo to try it out and can assist any business or entrepreneur with a site to capture more leads and chat with customers.
4. Pipedrive
Closing property deals is a breeze with Pipedrive's potent yet streamlined real estate CRM software. Promote your team's focus client promoting activities to buy, lease or rent and property evaluations to viewings. Its communication strategy, versatility and intuitive mobile design offers updates on deals plus activities, while traversing between properties. A great personal assistant cum organiser!
5. ActiveCampaign
ActiveCampaign Deals CRM conveniently merges contact organisation with sales automation, promoting quicker and greater sales. Prioritise your leads, monitor tasks and automate contact management to avoid defaulting. Oversee your entire sales process with an overview to trace all interactions, for team calibration. Lead scoring, win probability and automated segmentation features along with marketing automation transforms your well collaborated, functional deal closing unit. They're ideal for MSMEs seeking to grow via enhanced customer relationships. They integrate well with the majority of leading marketing solutions.
6. Keap
Enhanced comprehensive sales and marketing software aimed at yielding service-based businesses, ranging from entrepreneurs cum startups to corporates. Their platform organises your client details and daily tasks in a unified setting. This creates more time which can be invested in business growth and stellar service delivery (instead of mundane repetitive tasks).
7. Marketo
Marketo Engage is an industry leader of marketing automation, offering a range of capabilities for MSMEs and large enterprises, across different domains. Features include email marketing, nurturing, SEO, landing pages, scoring and report analytics. Some editions deliver advanced website personalization, mobile engagement, social and web retargeting. Common customer pools comprise of both B2C and B2B brands of varying size. Customised and scalable segmentation plus deep customer engagement are other offerings too.
8. SharpSpring
SharpSpring is a complete marketing automation platform with strong features, functionality and performance. Being a flexible industry player, it offers potent, trend-based email marketing, native or 3rd-party CRM integration, social management tools, landing page and blog builders, universal CMS compatibility plus integration with many apps. It's also considerably cheaper than its rivals and furnishes marketing agencies bespoke partner programs.
9. Freshsales
Founded using a futuristic customer engagement platform, Freshworks CRM (AKA Freshsales) creates opportunities and delivers customised experiences across marketing and sales. Their AI-powered CRM provides better and timely customer insights throughout the journey. It includes salesforce and marketing automation, chat, and phone in a single solution. Now enterprises can entice, engage, close and nurture their leads, without the need of additional tools!
10. Pardot
Pardot brings B2B marketing automation using the global leader CRM – Salesforce. It equips marketing and sales teams to collaborate plus engage customers, fill deals as well foster relationships. They offer CRM integration, email marketing, lead nurturing cum qualifying and ROI reporting to generate leads, reduce sales cycles and monitor revenue. If your brand deploys online marketing for lead generation, an ideal candidate for marketing automation.
11. Salesforce Marketing Cloud
Salesforce is the leading marketing solution to boost user engagement. Their potent data management helps to collate, organise and store various data types securely, alongside offline channels with comprehensive customer data profiles. Customise all brand experience activity with the integrated AI. Subsequently, scale consumers individually industrial grade email, mobile, advertising and social solutions. Available for multi industry settings.
12. GetResponse
GetResponse a lightweight marketing automation for various sized setups. Scalable workflows offer customised campaign frameworks with simplicity to initiate lead generation and boost sales using targeted communication. Tag and monitor customer trends to understand better and promote live interactions, to link with your audience. Send cordial invitation emails, abandoned cart reminders, discounted offers, product advice and focus on online marketing.
13. Microsoft Dynamics 365
Microsoft Dynamics is an integrated and adaptive business management solution which equips teams to formulate firm commercial decisions. Offering a familiar Windows OS styled environment and with familiar software collaboration, this reduces associated threats when applying a new solution. These solutions automate and hone financial, customer relationship and supply chain processes to drive business success.
14. Marketing 360
Specialises in making your social media presence effective with quick results.
15. Act-On
Connect and unify multiple marketing methods for dynamic engagement strategies via their marketing automation platform. Execute customised correspondence easily with the program designer, offering drag-and-drop functionality for an engaging customer experience. Plan, execute and measure your communication strategy when tapping your model consumers
16. HubSpot Marketing Hub
HubSpot email marketing software easens establishing and running customised projects. The intuitive interface enables convenient list and content design, ensuring that only relevant material is distributed. Track email marketing using integrated analytics, allowing continual enrichment of your view/access and clickthrough rates. Free subscription for email campaigns which convert and nurture leads, handle customers foster growth of your business.
17. Leadfeeder
Most visitors refrain from sharing their contact information. Leadfeeder reveals the brands which visit your site, tracks the pages being viewed and the source – from where. They also manage new leads by sending them to your CRM and team. This helps to boost conversion and sales.
Note: Thanks to the result of a merger between Echobot and Leadfeeder, both companies are now called Dealfront, a go-to-market platform that powers sales and marketing teams with data.
18. Bitrix24
Bitrix24 is a commanding free social knowledge management and collaboration platform. With its global popularity and being available in both cloud and on-premise settings with open source code access, it offers flexible functionality. Distribute and brainstorm ideas, manage projects and more. It even supports remote team working, particularly in smaller setups.
19. BenchmarkONE
This is a convenient method of nurturing leads into customers. Catch leads on your site, send better emails and then convert them directly via your sales team with the integrated CRM. Manage sales and marketing campaigns plus workflows effectively without the dearness of other tools. Hence, this is small scale ergonomic too. They offer the main tools that are required and nothing else surplus. Primarily aimed at individuals or lighter setups, they can pursue leads on your behalf – simple!
20. Ontraport
Their comprehensive array of feature centres with a robust CRM and marketing automation system which smoothly integrates landing pages, email marketing, ecommerce and analytics tools. Customers benefit from streamlined and targeted experiences that yield results. They also offer subscription sites, referral programmes, sales force and business process automation features which drive both systemisation plus scaling.
Infographic: Lead Generation Strategies that Work for Startups

Conclusion: Start using digital lead generation strategies today
This empowers your business with development channels to reach more leads who are interested in your products or services. Here at VOCSO, we can guide you throughout the entire process. Make it a meaningful and worthwhile experience for everyone involved!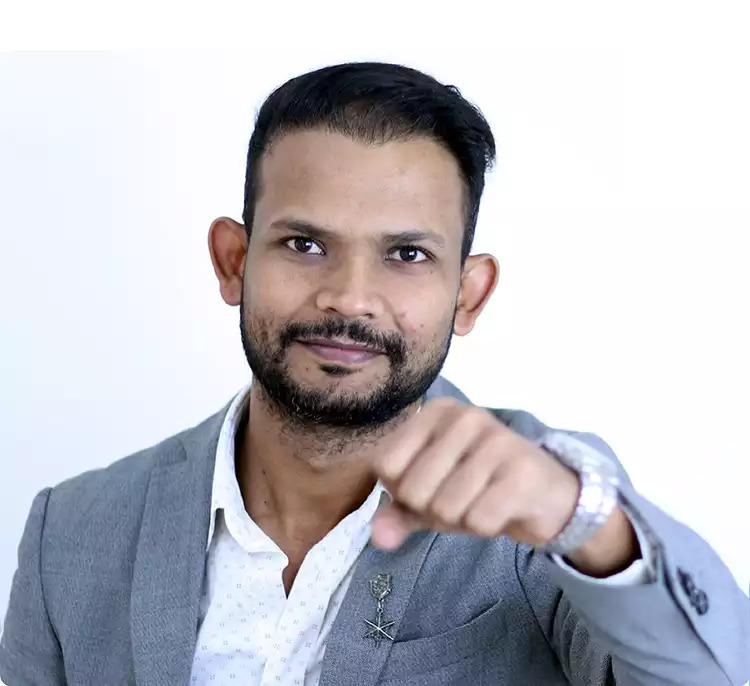 About Deepak Chauhan Hi, I am Deepak Chauhan, a Digital Marketing Strategist. I'm the CEO & Co-Founder of VOCSO Digital Agency, a creative web design, development, and marketing agency based in India & USA.