The keyword research process can be a huge pain. Keywords are important because they're the foundation of your SEO efforts. But if you want to get a complete picture of what your target audience is searching for online, you need to gather data from multiple sources, including Google's Keyword Planner, WordStream's Keyword Tool, and Moz Pro's free keyword tool. Keyword research is the backbone of SEO, but it can also be time-consuming.
Keyword research tools help you to find relevant keywords that really search in your niche industry to find products and services offered by you. These tools provide you useful insights with keyword research like relevancy scores, monthly search volume, competitions, top rank pages for particular search terms, historical clicks and impressions, similar keywords suggestions, geo-specific keywords, and much more that help you to choose the right keywords for your SEO campaign.
In order to compete in the digital age, businesses need to be aware of the best keyword research tools available. By using the latest tools and techniques, businesses can find the right keywords for their website and improve their online visibility. In this blog post, we will explore some of the best keyword research tools currently available and what to expect from them in 2023. So whether you are just starting out or are looking for an edge over your competition, read on for all you need to know about the best keyword research tools of 2023!
What is keyword research?
Keyword research is the process of discovering which words and phrases your target audience is using to search for websites and answers to questions on search engines. A keyword can be one or two words, but it can also take the form of a complete phrase or a question. Keyword research is also a critical component of Search Engine Optimization (SEO). Without knowing what keywords your competitors are using, you won't know how to beat them in the SERPs. When you're trying to rank for particular keywords, you need to be aware of useful resources like Google AdWords' Keyword Planner. Keyword research can be done manually by brainstorming terms that describe your products or services.
Why you should do keyword research on a regular basis?
The main purpose of performing keyword research is to find words and phrases that users are searching for on Google and other major search engines. These terms are related to the products and services on your site.
Keyword research can be a great way to find new opportunities for your company. You should do it on an ongoing basis because not only does the data change from day to day, but sometimes certain words or phrases take off in popularity and become more valuable than others over time as well!
In addition, doing this type of analysis regularly will give you insights into what people might want based on their searches which is always useful information when trying to market products correctly. You can use Google search console performance reports to find what exactly people are searching to find your services and products pages. You can use search clicks, impressions, locations, top-performing pages, devices used for searching, etc. to filter relevant keywords.
What is a keyword research tool?
Keyword Research Tool is a very popular tool used by internet marketers, bloggers, and business owners to find keywords that people search for when they want something. It's important because it helps you identify what your customers are searching for so that their needs can be met more efficiently! A keyword research tool is a software program that helps you find keywords people are typing into Google or Bing to search for specific phrases. You can also use it as an advertising platform, where companies pay per click (PPC) on their desired terms and get results delivered back instantly.
You can't miss keywords on any advertising platform. Whether you're doing SEO, PPC, or social media marketing keywords play a crucial role. Keywords research tools help you find keywords for your business advertising campaigns.
If you're specifically targeting the Amazon platform, having the best Amazon keyword research tool helps to optimize your product listings and improve your visibility on the platform.
Top Keywords Research Tools in 2023
Here is the list of top keywords research tools that you can use for your business to run various marketing campaigns:
1. Keyword Sheeter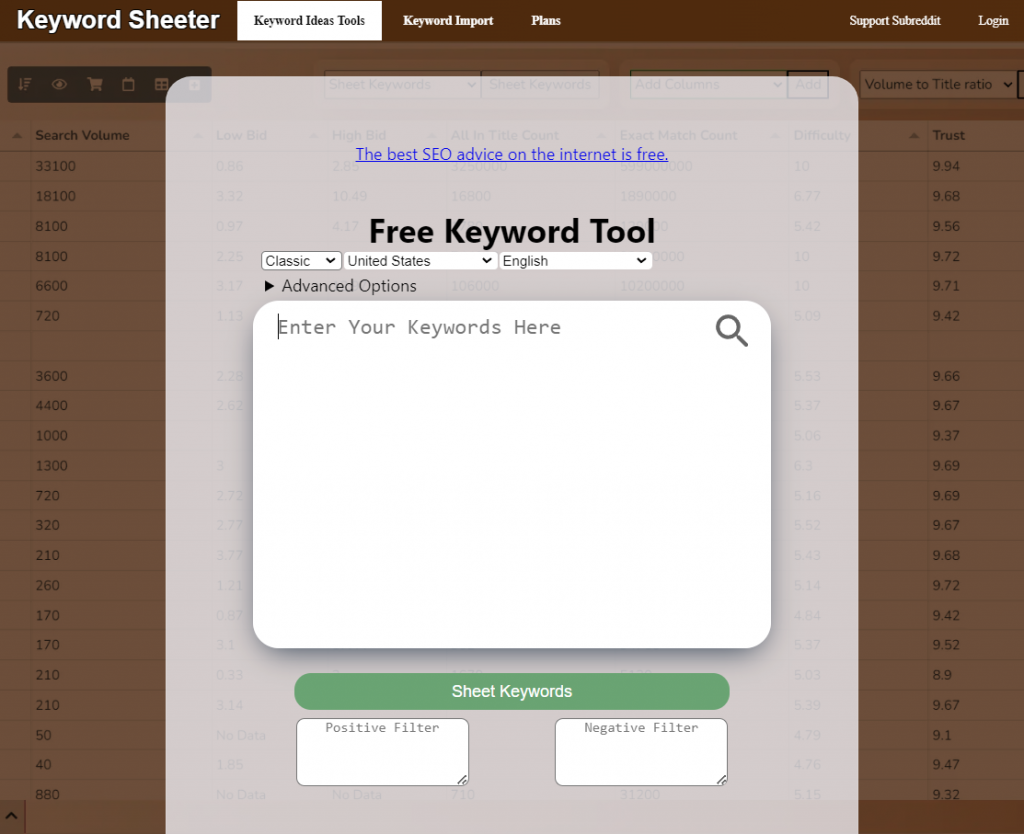 Keyword Sheeter is a powerful keyword research tool that can help you quickly generate new keyword ideas. It is the perfect tool for any digital marketer or content creator looking to boost their keyword research process. It allows you to quickly and easily generate keyword ideas that can be copied and pasted into your own documents. With Keyword Sheeter, you can quickly and easily find the best keywords for your content and campaigns.
It also makes keyword research easy and straightforward. With Sheeter, you can search for and find relevant keywords in seconds. Sheeter allows you to quickly identify new and relevant keywords related to your topic and objectives. Sheeter also provides you with detailed reports and insights into keyword performance, so you can make the most of your keyword research.
The tool is designed to be used by anyone, from beginners to experts. Sheeter's straightforward interface makes it easy to find high-quality keywords that are relevant to your content. What's more, Keyword Sheeter's advanced features make it a great tool for advanced keyword research.
2. Ubersuggest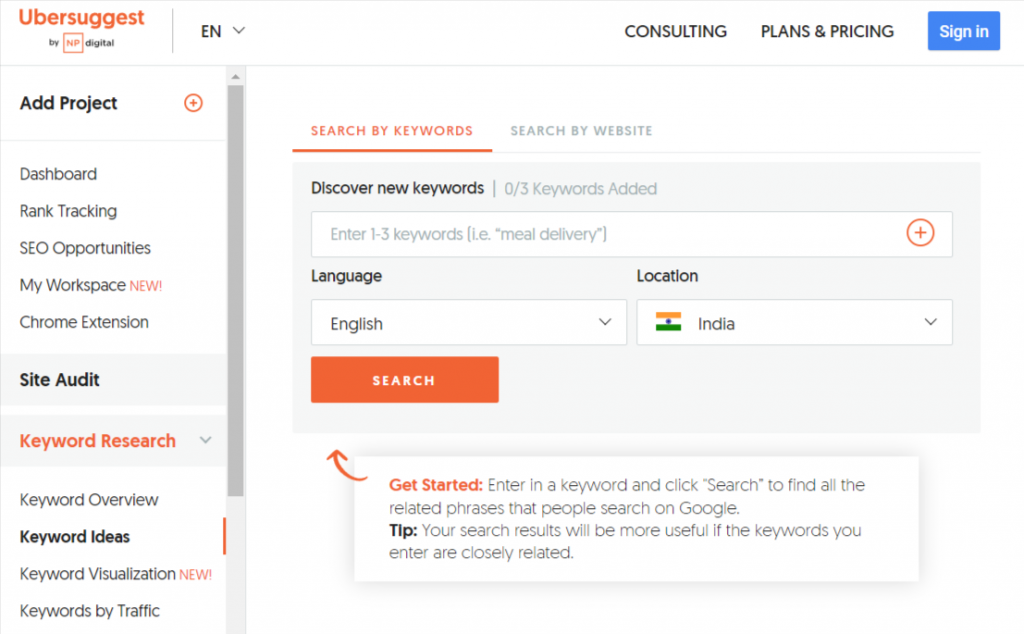 UberSuggest is the ideal tool for SEO beginners or businesses who don't want to shell out huge amounts of money for an SEO tool. Not only is Ubersuggest free, but it is also incredibly easy to use and provides powerful insights into the performance of your website. It can help you identify top-performing content pieces and competitive analysis, so you can focus your efforts on the topics and keywords driving the most traffic.
With Ubersuggest, you can easily track keyword rankings, discover new keywords, and monitor the performance of your competitors. It also offers a detailed analysis of your organic traffic, giving you a better understanding of what kind of content is resonating with your audience. Plus, the tool provides an in-depth analysis of backlinks, providing valuable insights into how well your site is performing in terms of SEO.
For businesses who don't have the budget for an expensive SEO tool, Ubersuggest is the perfect solution. With its comprehensive features and easy-to-use interface, it can help you gain valuable insights into your website's performance without having to pay a hefty price tag. The tool also allows you to monitor your competitors, giving you an edge over your competition.
3. Kwfinder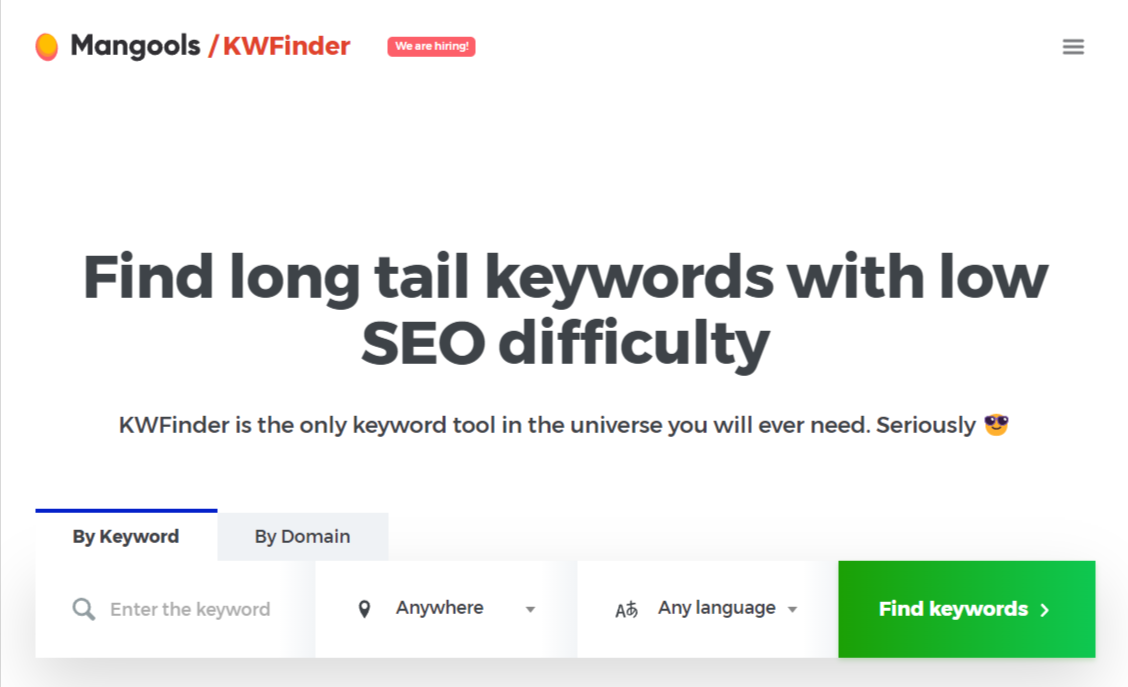 KWFinder is an incredibly powerful tool that can be used for a variety of tasks, ranging from SEO to paid search campaigns. It is a comprehensive keyword research tool that provides users with key metrics from various sources to help them make informed decisions and optimize their campaigns.
One of the great benefits of KWFinder is that it can be used for both SEO and paid search campaigns. It offers users an in-depth analysis of their data, enabling them to identify the best keywords for their campaigns. With KWFinder, users can easily find and monitor the keyword trends in their market, helping them to stay ahead of the competition. It also helps them identify the best keywords for their SEO and paid search campaigns, ensuring they are targeting the right audience.
KWFinder also provides users with valuable insights into their competition. Thanks to its comprehensive keyword data, users can easily spot opportunities to gain an advantage over their competitors. It also allows users to track the performance of their competitors, so they can identify new strategies and tactics to gain an edge.
4. LSI Graph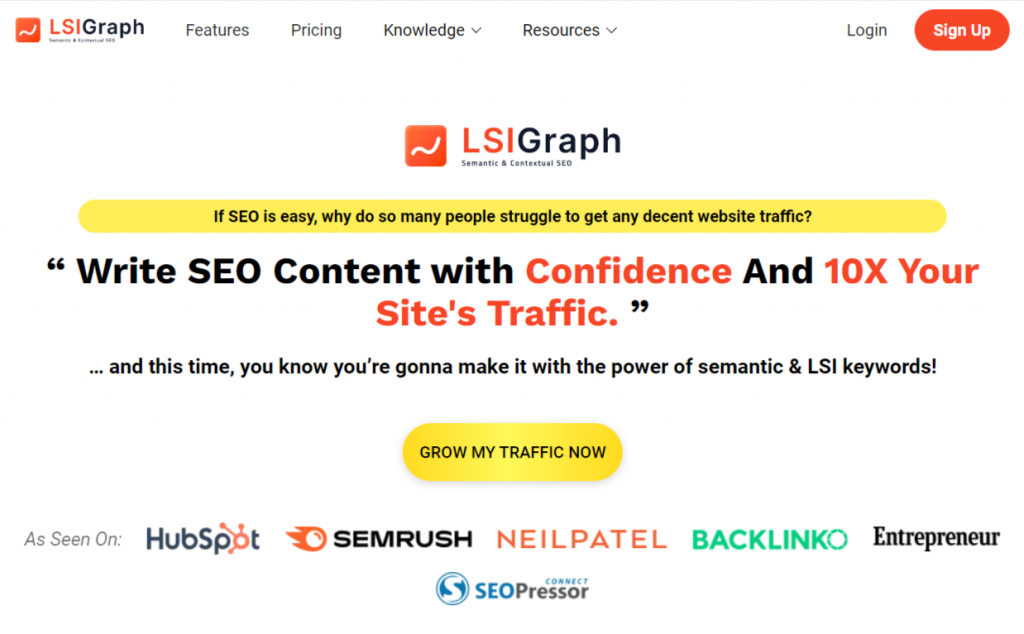 LSI Graph Packs An SEO Punch! LSI Graph is on a mission to revolutionize the way we think about SEO. Their intuitive, user-friendly interface packs an SEO punch and has been designed to provide users with an SEO library that's tailored to their specific needs. With the addition of Contextual Terms, you can easily identify the most relevant keywords and phrases to include in your content.
The sophisticated algorithm behind LSI Graph provides users with an extensive database of related terms and phrases to help them create content that is both relevant and SEO-friendly. The algorithm also provides the option to view the most popular terms associated with a given keyword, making it easy to identify what content is currently trending and what types of content to create. Additionally, the system can also suggest potential keywords and phrases that are relevant to a given topic, allowing users to identify the most effective keywords for their content.
LSI Graph allows users to save time and energy by providing detailed reports and analytics on their content. It also provides users with the ability to track their content's performance and see how it is affecting their SEO rankings. With its advanced features and insights, users can quickly identify areas where their content needs to be improved and take the necessary steps to optimize their content for better rankings.
5. Moz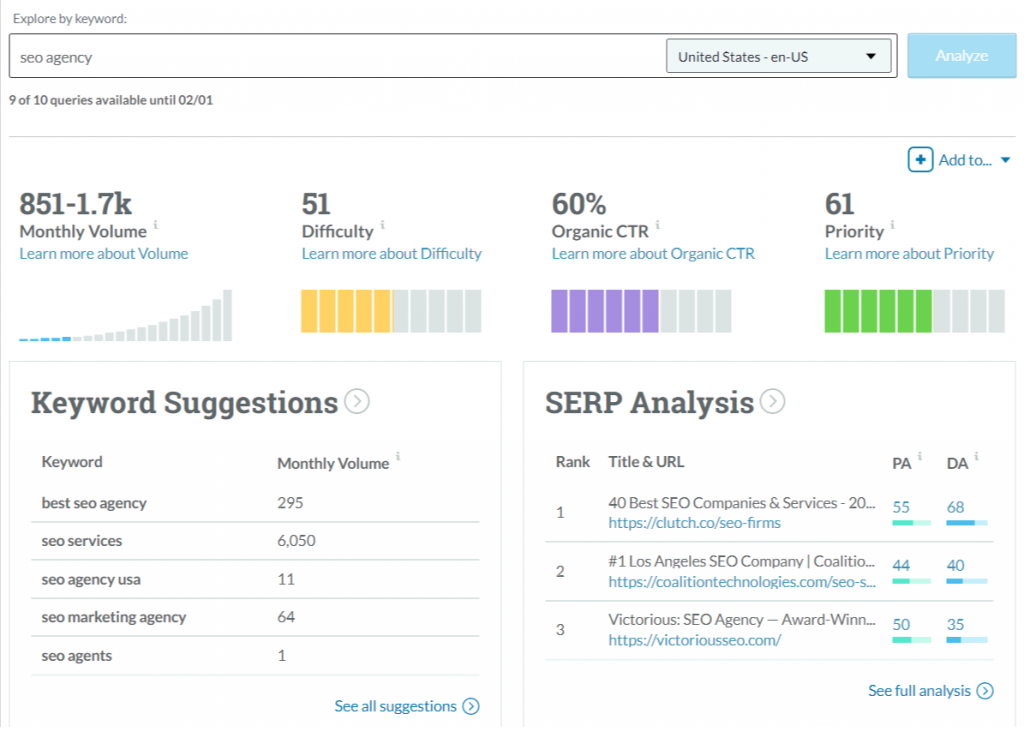 Moz Pro is an excellent tool for a team looking for an all-in-one digital marketing optimization tool. It is a great SEO tool used to track SEO rankings, plan a campaign and see how it's performing. The Moz Pro suite includes some powerful features that can help a team gain an edge over its competitors and maximize its digital marketing efforts.
The first feature of Moz Pro is its keyword research tool. This tool allows the team to identify the best keywords to target for their campaigns and see how their competitors are using those keywords. This can be a great way to identify opportunities for growth and increase their visibility within the search engine results pages. Additionally, the keyword research tool provides valuable insights into the competition, allowing the team to adjust its strategy accordingly.
Another great feature of Moz Pro is its page optimization tool. This tool helps the team identify any technical issues with their site that may be preventing them from achieving their desired SEO rankings. This can include factors such as page speed, canonical tags, meta descriptions, and more. With the help of this tool, the team can quickly identify and fix any issues that could be hindering their SEO performance.
Finally, Moz Pro offers a comprehensive reporting feature. This allows the team to track their progress over time and get a better understanding of how their efforts are performing. This can be a great way to identify areas for improvement and adjust their strategy accordingly. With the help of this tool, the team can ensure that their digital marketing efforts are as effective as possible.
6. Keyword Dit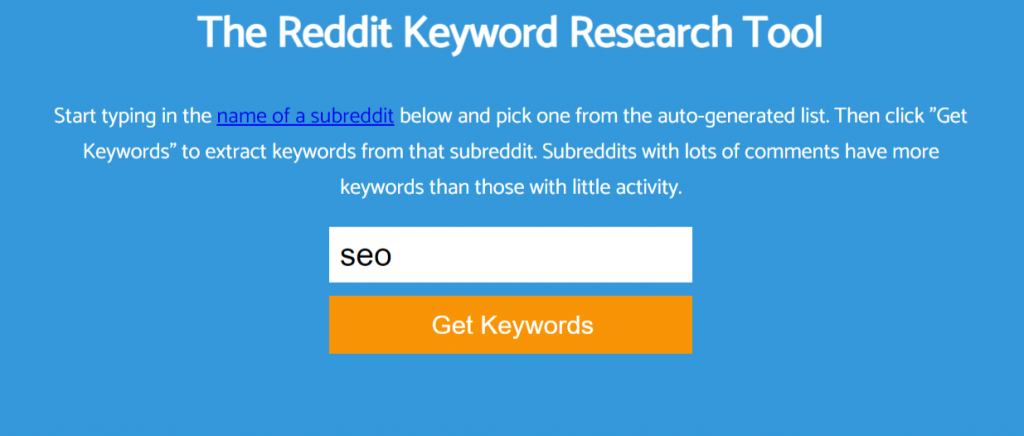 The Keyworddit tool is available here without charge. It is kept on the website for Higher Visibility.
Finding long-tail, low-competition keywords with significant search volumes is quick and simple using Keyworddit. It is not intended to take the place of more potent tools for keyword research like KWFinder, Ubersuggest, Ahrefs, or Semrush.
As an alternative, you may use Keyworddit to create a list of potential new SEO keywords to target, which you can then input into other keyword research tools to discover even more potential topics that you might not have discovered using those other tools alone.
7. Seed Keywords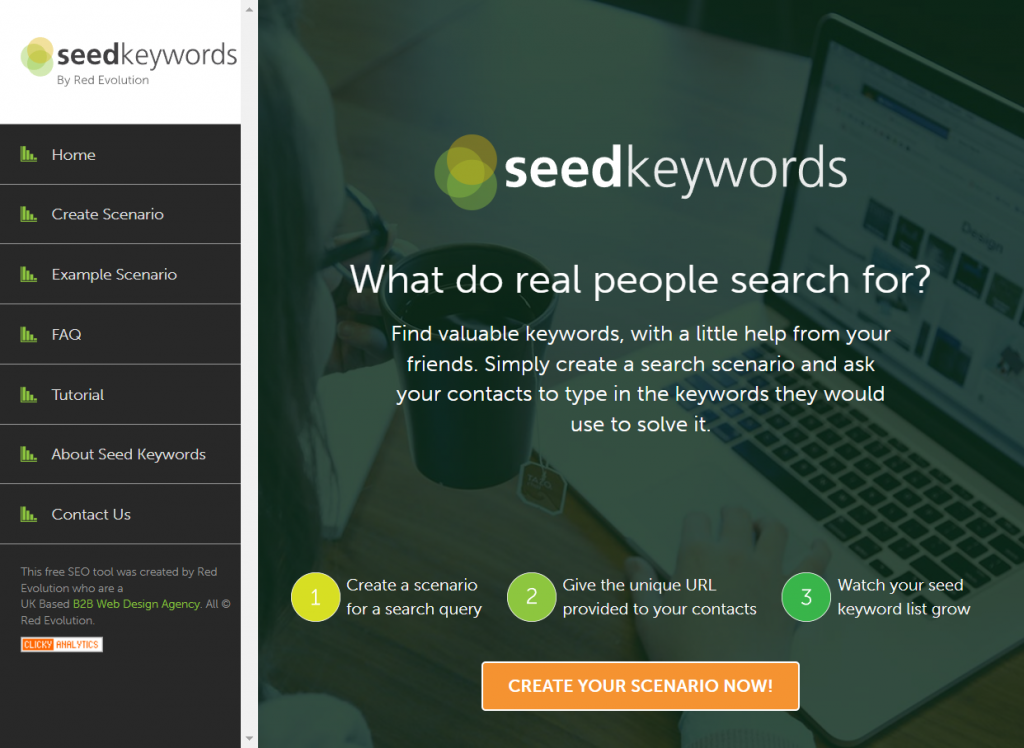 Seed Keywords is a keyword research tool that helps users find relevant keywords for their content or advertising campaigns. The tool uses machine learning algorithms to generate a list of keywords based on a seed keyword or phrase provided by the user. It also provides metrics such as search volume, CPC, and competition for each keyword, which can help users determine the potential performance of their campaigns. The tool also allows users to filter keywords by language and location, and export the generated keyword list in various formats. It is available as a web-based tool, and it's a paid service.
8. Keys4up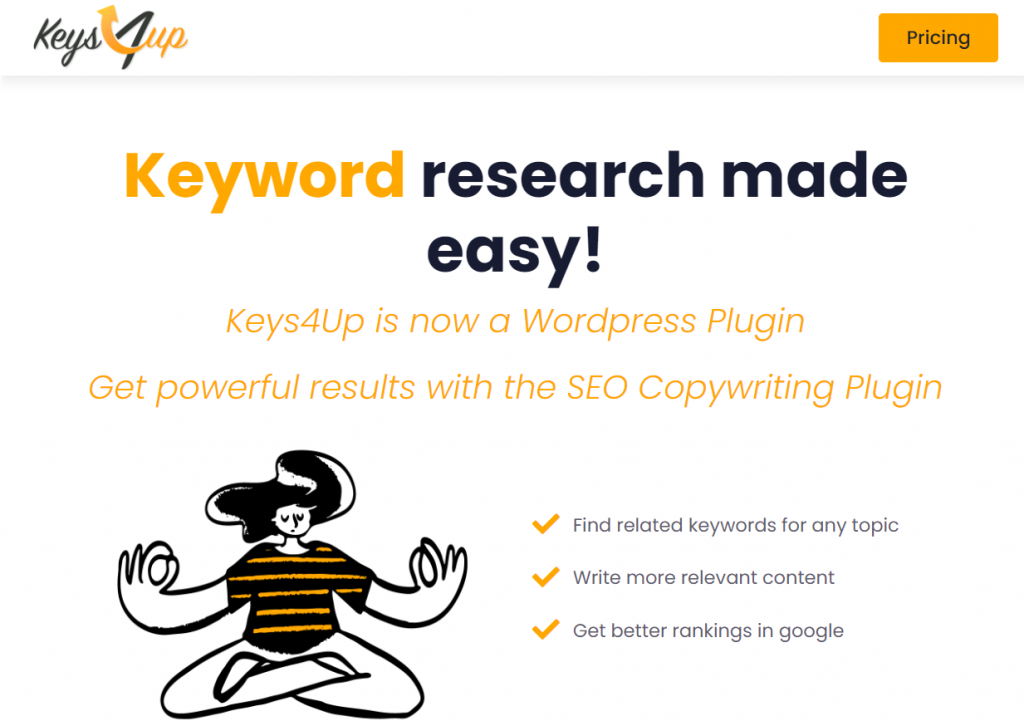 Keys4Up is a tool that helps users find related keywords for any topic they are researching. It is designed to help users optimize their content for SEO by providing them with a list of relevant keywords that they can use in their copywriting. The tool is now available as a WordPress plugin, which means that users can easily integrate it into their website and access it directly from their WordPress dashboard.
The tool works by analyzing the content on a website or a specific webpage and providing a list of related keywords that are relevant to the topic. These keywords can then be used in the content to make it more SEO-friendly and improve its visibility in search engine results.
The plugin also includes a feature that allows users to see the search volume and competition level of each keyword, which helps them to determine which keywords are the most valuable for their content. Additionally, the plugin includes a keyword research tool that allows users to find new keywords and phrases that they can use in their content.
Overall, Keys4Up is a powerful tool for SEO copywriting that can help users improve their website's visibility and drive more traffic to their site. With its user-friendly interface and powerful features, it is a great tool for both experienced marketers and novice users.
9. QuestionDB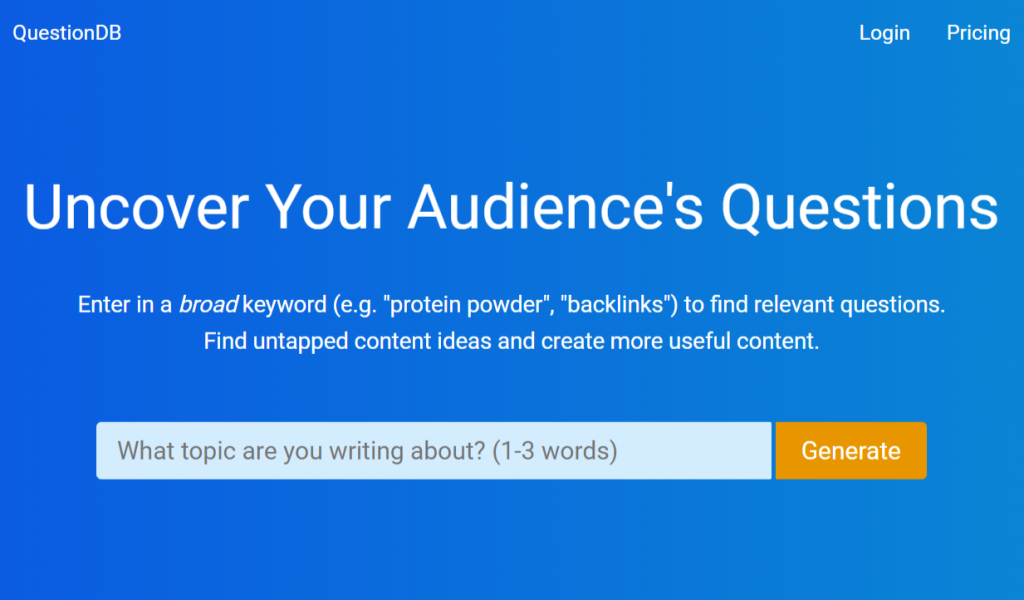 QuestionDB is not a regular keyword tool, it is a tool that lets you search a huge collection of user questions to get original ideas for new content. That means knowing exactly the type your content your audience is asking for will reveal what problems they have, what they care about, and also what are they interested in. Reliable content is the foundation of a successful blog. It doesn't matter how many visitors you're getting if you don't have the right content. Keywords are usually used to find blog post ideas, but most of them aren't good enough because they don't generate enough traffic to be worth your time.
What if someone told you that there was a way to get an infinite number of blog post ideas using only one tool? What if these ideas were based on the exact questions your audience is asking and searching on Google? You'd be able to make sure every piece of content you publish hits home with your readers and generates results… Searching through QuestionDB gives you exactly that: Blog post topics that are interesting, relevant, and highly searched by real people.
QuestionDB is a powerful tool for content creators and marketers looking to generate new ideas for their content. It allows users to search a massive collection of user-generated questions to find inspiration for new blog posts, articles, videos, and more. The platform is easy to use and provides a wide range of filtering options to help users find the most relevant questions for their needs.
Some of the key features of QuestionDB include:
A large, constantly updated database of user questions: The platform currently has over 10 million questions and is constantly growing.
Advanced filtering options: Users can filter questions by keywords, categories, and other criteria to find the most relevant questions for their needs.
User-friendly interface: The platform is easy to navigate and users can quickly find the information they need.
Exportable data: Users can export their search results to a CSV file for easy use in their own content creation tools.
Overall, QuestionDB is a valuable tool for content creators looking to generate new ideas and stay on top of the latest trends in their industry. It offers a wealth of data that can be used to create engaging, informative, and valuable content.
10. Keywords Everywhere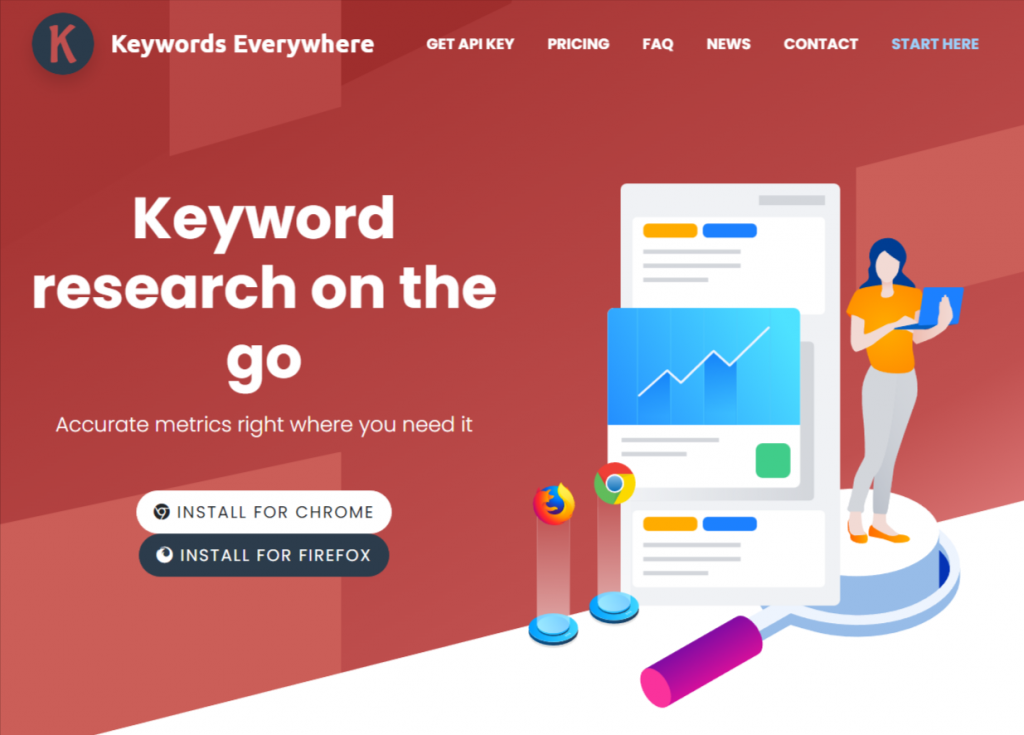 It allows users to easily research keywords for their content and SEO efforts. The tool can be used on websites like Google, YouTube, Amazon, and Bing. Users can also export keyword data in CSV format for further analysis. Additionally, the add-on provides related keywords and suggestions for long-tail keywords. Overall, Keywords Everywhere is a valuable tool for anyone looking to optimize their website or content for search engines.
11. Google Ads Keyword Planner
Google's Keyword Planner is a very valuable tool for any business owner looking to expand their online presence. It allows you to discover new keywords related to your business, as well as find out how many people are searching for those keywords. This information can then be used to create effective SEO and ad campaigns that will help you reach new customers.
The keyword planner gives you the ability to see how popular certain keywords are and how many searches they get every month. It also gives you insight into how these numbers have changed over time. These two features are invaluable tools when it comes to creating an effective marketing strategy.
Keyword Planner also allows you to see which ads are being used with each keyword to better understand what people are looking for. This is especially useful when creating ad copy or ad extensions since it gives you an idea of what type of message resonates with customers.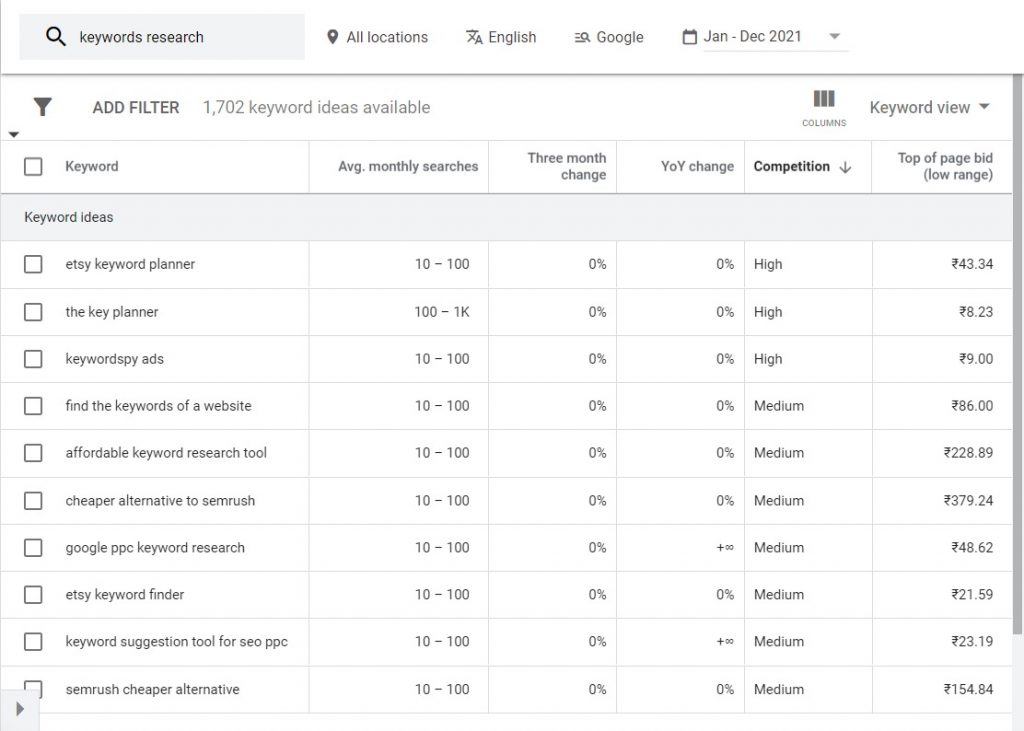 12. Bing Webmaster Tools Keyword Research
Keyword research is arguably the most important step in building an effective content marketing strategy. Content marketers need to be able to assess keyword trends and understand the true value of each keyword (i.e. exactly how much traffic it can generate). To create your next piece of successful content, you must first determine which keywords you want to target and which ones are the most relevant for your campaign. The only way to do this is with keyword research. Keyword research is conducted using a variety of different tools that are available online and within most SEO-related software applications.
Bing Webmaster Tools Keyword Research is designed to specifically assist webmasters and content creators and allow you to search for certain keywords and then provide a plethora of data about those keywords, such as monthly search volume, competition level, trending data (i.e., what terms are becoming more or less popular over time), and more. In addition to providing basic SEO information, this tool also gives you information related to your audiences, such as what questions they have asked about the subject matter of your article or page. This helps you build even better content by addressing the questions people are asking about your topic.
13. AlsoAsked
There is a great deal of information available on the internet, but it doesn't always provide the insight that you may be looking for. Keyword tools can help in your research, but they don't go deeper than that. In order to identify the most common questions people are asking about a certain topic, you need a new keyword research tool called Also'Asked Tool'. Asked Tool is a straightforward tool to recognize what questions people are exploring similar to a seed term. The tool enables you to adjust based on style and region. Whether working to identify pain points or better understand audiences' requirements, this is an excellent tool to start with. AlsoAsked is a different keyword research tool that's perfect for working out your target audience by inviting Google. With an easy-to-use interface and simple navigation, this tool will provide you with everything you need in terms of SEO and content strategy. AlsoAsked able to understand user intent and provide you with questions related to your query asked by people in your niche industry or topics.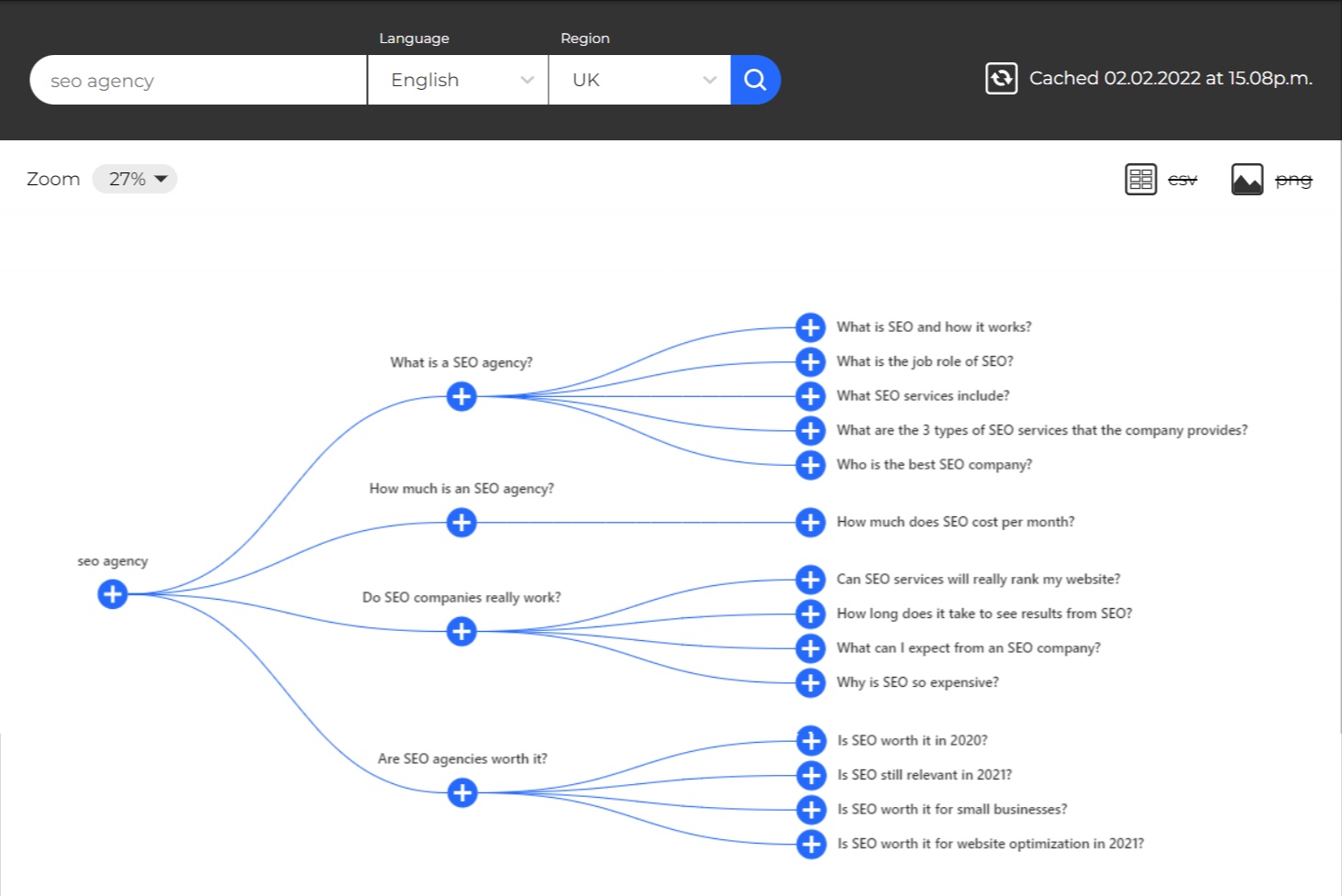 14. SuggestMrx
SuggestMrx is a keyword suggestion tool that instantly shows you the best long-tail keyword/s that you can use for your PPC and SEO efforts. You will be able to find the best keywords for your niche, for your blog, and for any purpose thanks to the most advanced algorithm on the net.
SuggestMrx is a must-have tool for anyone who wants to improve their online rankings in search engines using proven keywords. This keyword research tool helps you find great long-tail search terms with ease.
Tired of tedious keyword research? Forget about it! Just type in your keyword and watch SuggestMrx do its magic. SuggestMrx automatically detects Google Suggest, Bing Autocomplete, and Youtube Autocomplete too With just one click, you will be able to launch the analysis of the keywords suggested by the search engines with more than 3 different modes: Tree View, ListView, and CSV View.
Finding long-tail keywords are important for a new website to get found in search engines easily. If you're not familiar with long-tail keywords then you can read our blog on how to find long-tail keywords.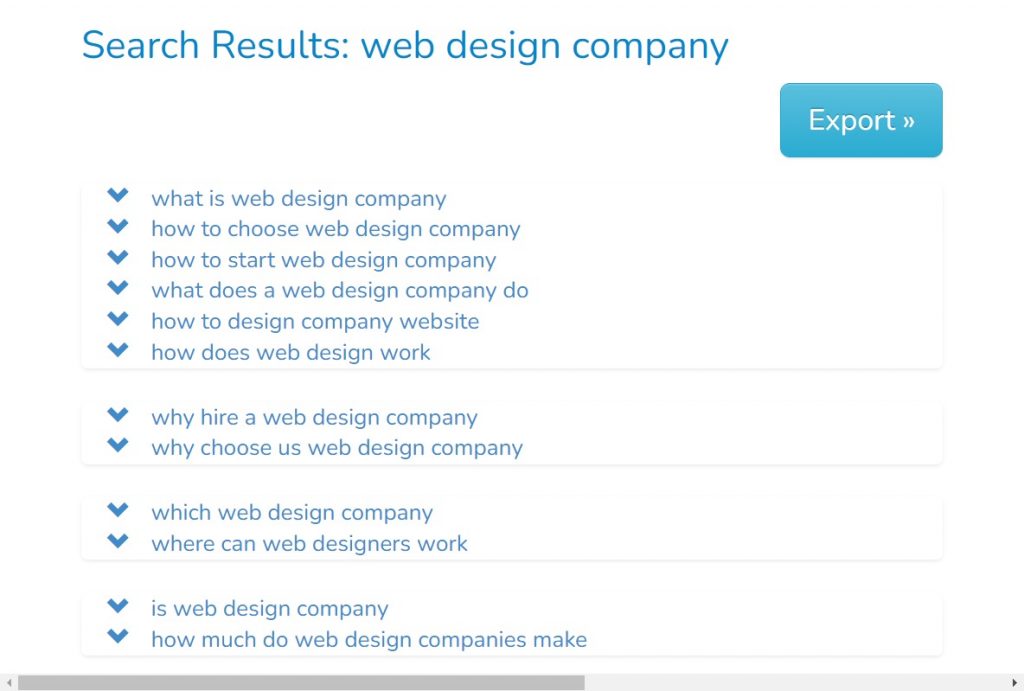 15. Keyword Surfer
Researching content online is usually a process of switching between tabs, copying and pasting data, and typing out the same phrases over and over again. Trying to keep up with the latest trends can feel like chasing a moving target.
Keyword Surfer is an extension that allows you to see search volumes directly in Google Search results. It's 100% free, forever. With Keyword Surfer, comprehensive keyword research and data-driven content guidelines are two clicks away. For every new search in Google, you'll uncover search volumes, CPC, keyword suggestions, related terms, visibility metrics, and on-page data.
You can also set up a Content Editor with NLP-driven guidelines for your content and start creating right away. Go through the whole content creation process—researching, writing, and optimizing—without ever leaving Google Search.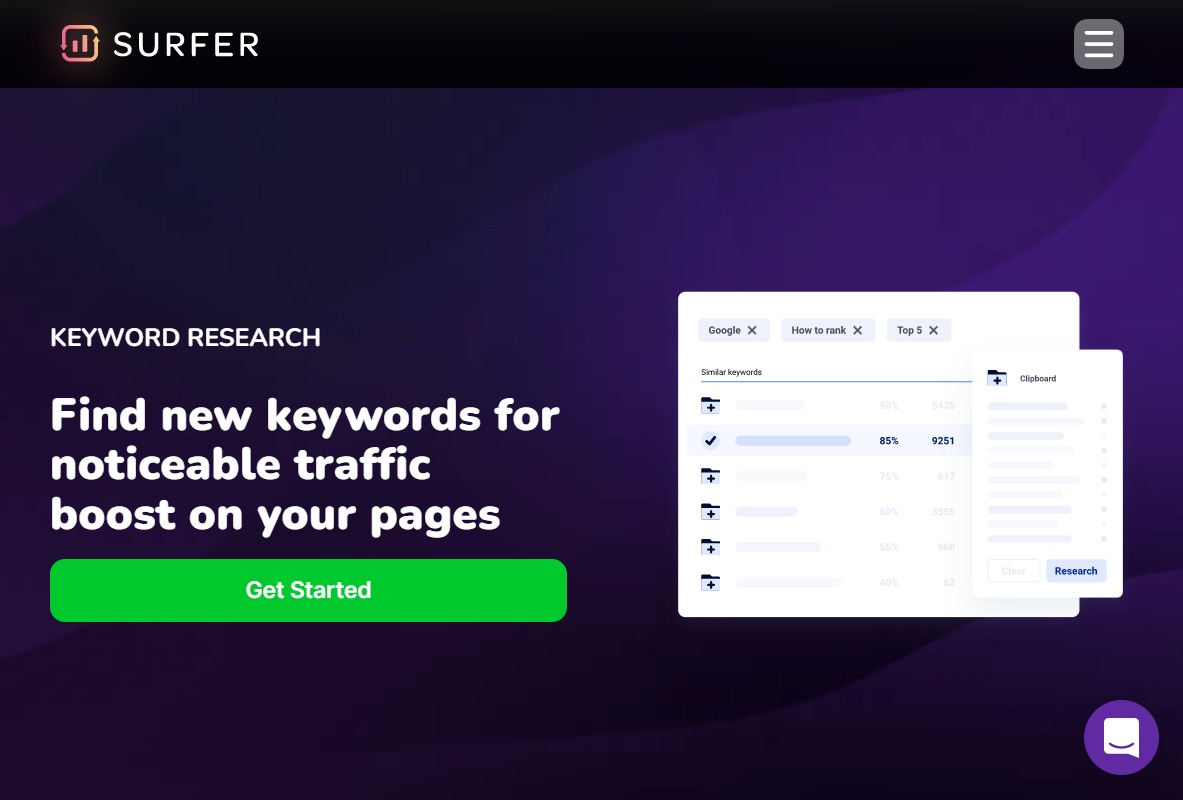 16. Google Trends
A simple Google search, or search engine query, is primarily a way to find information, but Google Trends can provide insight into the public's interests and opinions. Tapping into trending topics can help you learn more about what your customers care about and can reveal opportunities for your business.
When you know what your customers are interested in, you'll have a better chance of drawing them in with relevant content and reaching an audience that's likely to be interested in your products and services. Tuning into Google Trends can also help you monitor changing public perceptions of your industry by measuring whether rising search volume for a term is due to overall growth in interest or because of heightened interest from consumers in specific locations.
For example, if you operate a restaurant that just opened up in a new city, monitoring search volume trends for food-related terms can help you gauge how well-received your menu items are by the local community and whether they'll keep you busy enough to stay open.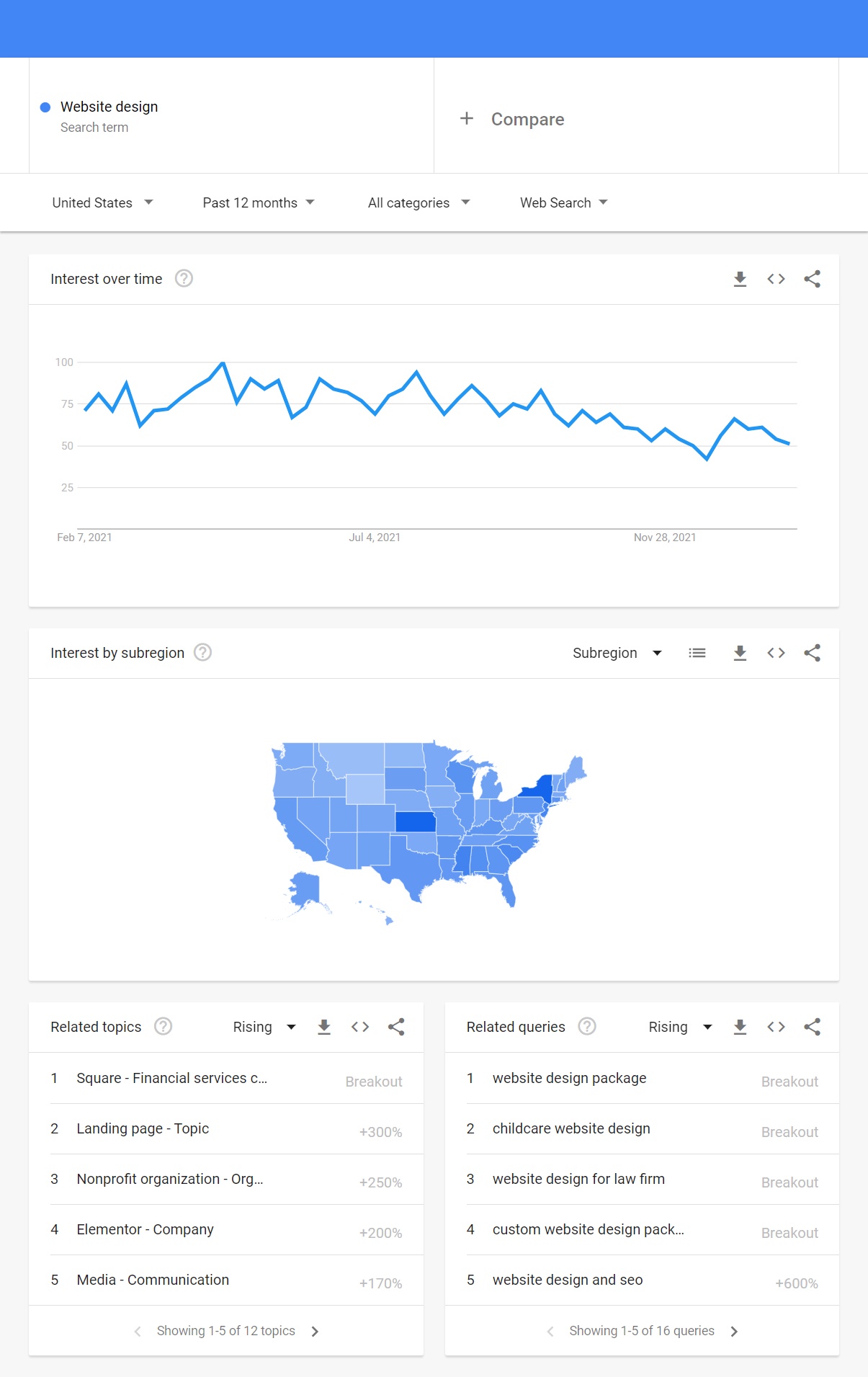 17. Ahrefs Free Keyword Generator
Ahrefs Free Keyword Generator is the most important step in building a successful SEO campaign. SEO experts and marketers can easily get overwhelmed by the sheer number of keywords out there, but remember: it's not about finding every single keyword, it's about finding the best ones.
Ahrefs is one of the best SEO tools also provides a Keyword generator tool that makes it easy to find these golden nuggets. Just type in a word or phrase and hit search. This tool also shows you what keywords your competitors are ranking for in search engines (not just Ahrefs), so you'll know which words to target on your site. It's a great way to see how well your SEO efforts are working.
TIP: Use the "Group Results by Page" function to discover new keyword ideas. Ahrefs will show you keywords related to specific pages on your site. This can be helpful if you want to improve certain pages or create new content related to the things people are searching for on those pages.
18. Answer The Public
AnswerThePublic works a little differently than most other keyword research tools. They present the keywords in a nice visual format, although you can also view them in a list or download the resulting If you are new to SEO and keyword research this is a great tool to try as you don't even have to create an account to use it. Just enter your keywords and see what comes up.
AnswerPublic's keyword results are based on Google and Bing's autocomplete/suggestion features. You can click on any of these keywords to search for it on Google and it will open in a new tab. AnswerThePublic's free version is a great resource for bloggers. However, if you regularly do keyword research, you will need their professional plan.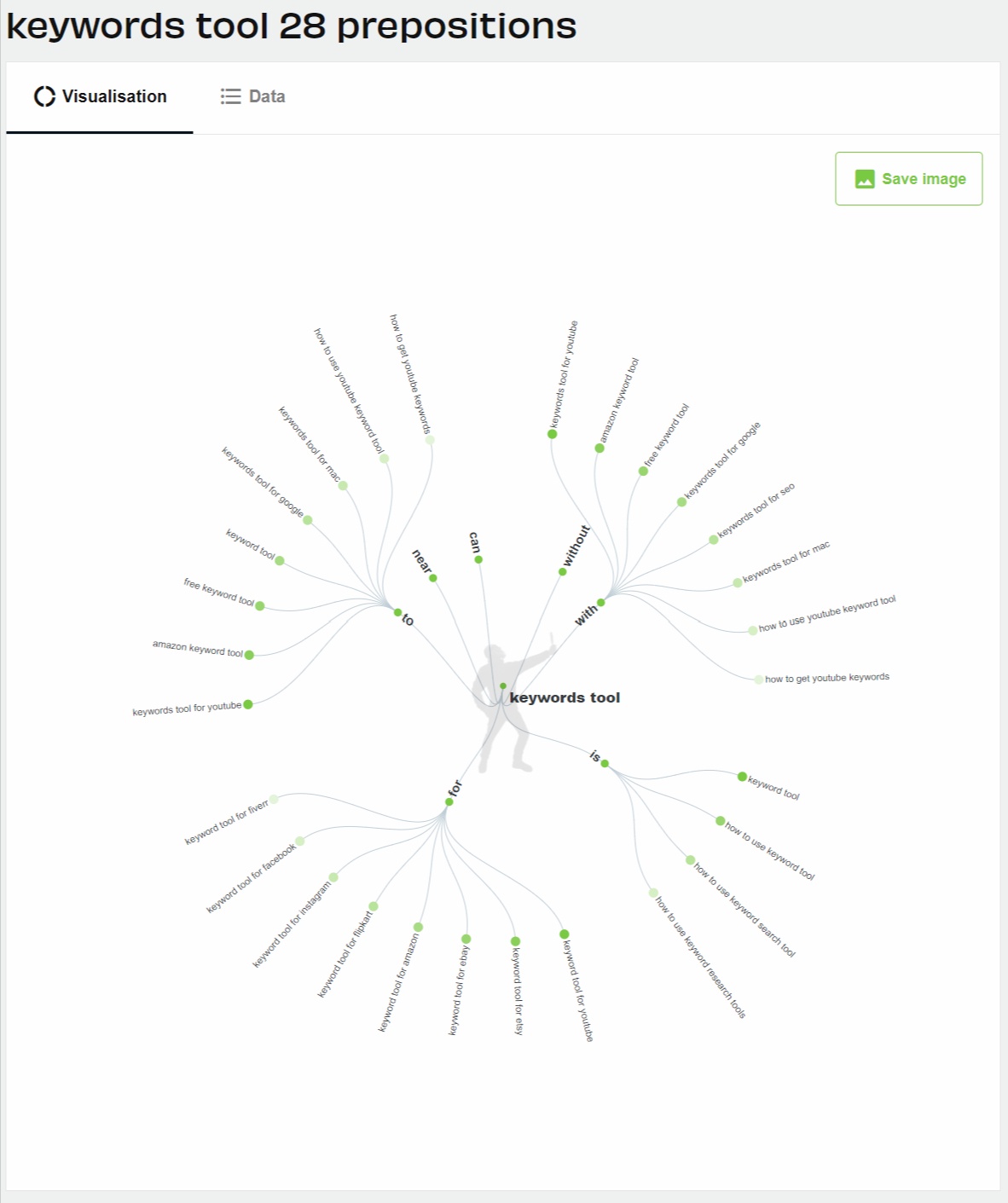 19. WordStream Free Keyword Tool
You know that the key to successful SEO is to rank high on search engines, but do you know how search engines work? The free keyword tool from WordStream is one of the most useful tools available because it takes a lot of guesswork out of your SEO campaign. By entering two or three keywords in the free keyword tool, you can get hundreds of keyword suggestions and even more information about your chosen keywords. Which words are the most popular? The free keyword tool gives you an idea of the popularity of each word with a traffic estimation (the number of people searching for it on Google) and a competition score (the likelihood that another website will rank using that same word). It also shows you the estimated cost per click (CPC) for each word.
This means that when you're making content for your website, you don't have to worry about creating content around words and phrases that nobody searches for or nobody cares about. You can focus on optimizing your site for words that people really use every day. How does the Free Keyword Tool work? Just enter a keyword and then choose your industry and country (if desired). You'll get a list of related keyword suggestions, including long-tail keyword variations, as well as their.
20. Topic Mojo
Discover what your customers are searching for & explore new opportunities for eCommerce, sales, education, and more! Topic Mojo analyzes Google and discovers every useful phrases or questions that people are asking around your keyword. Displays a list of all the search queries that contain your seed keyword. Displays a list of all the questions containing your seed keyword. This powerful software will discover new keywords and phrases related to your main keyword.
This is particularly helpful if you're trying to target a niche market or differentiate yourself from competitors by targeting specific search terms. You can use this software to create fresh, informative content that will help you beat your competition. You can also use Topic Mojo to find related products to sell online.
This software is perfect for large businesses with multiple locations who want to provide customized information for each local area. It's also great for online retailers who want to target their products based on the geographic location of their customers. Or local businesses can provide specific information about the city in which they reside! Explore the words and phrases that people are using to describe what they do, where they go, what they love, and how they feel — make sure you're there when they need you most!
21. KeywordTool.io
KeywordTool.io is one of the best tools having 2.24 million monthly users. Using this tool you can research keywords for different marketing platforms like Google, YouTube, Bing, Amazon, eBay, App Store, Play Store, Instagram, Twitter, and Pinterest. This easy to use tools not only give you results drive keywords but also provide valuable metrics like Search Volume, Average Trend, Average CPC (USD), and Average Competition that help you determine what keywords you should use to get ranked.
You can use this for free with limited features or results. If you want to get keywords with detailed information for your Google, YouTube, Amazon, Instagram, And More marketing campaigns then try Keyword Tool Pro!
KeywordTool.io is a highly effective keyword research tool that offers access to top keywords and trends across various platforms such as Google, YouTube, Amazon, Instagram, and more. It is widely used by thousands of people to boost website traffic and generate leads, making it a trusted tool in the SEO community.
The tool has been proven to deliver significant results, as showcased in a case study featuring CoinGecko, where Bobby Ong, the Co-Founder of CoinGecko, used Keyword Tool Pro to enhance their keyword strategy. This highlights the practicality and usefulness of the tool for real-world scenarios.
KeywordTool.io provides a 30-day money-back guarantee, ensuring customer satisfaction. This demonstrates their confidence in the tool's capabilities and commitment to delivering value to their users.
The tool has an impressive client base, including renowned companies such as Barclays, Capital One, Trip Advisor, Xiaomi, Disney, Microsoft, Pinterest, Klook, eBay, Philips, Adobe, Canva, Dentsu, University of Amsterdam, Uber, IKEA, Harvard University, Shopify, and more. This speaks to the trust and credibility associated with KeywordTool.io.
One of the standout features of KeywordTool.io is its ability to provide 100% accurate Google and Bing search volume data. This ensures that the search volume information for keywords obtained through the tool matches the numbers from Google Keyword Planner and Bing Keyword Planner, offering reliable insights for keyword analysis.
Additionally, KeywordTool.io offers precise monthly search volume data rather than search volume ranges. This level of accuracy allows users to make informed decisions based on real numbers, contributing to more effective keyword targeting strategies.
The tool also supports bulk search volume checking, enabling users to obtain search volume data for up to 100,000 keywords per day. This feature is particularly valuable for those managing large-scale SEO campaigns or conducting extensive keyword research.
KeywordTool.io addresses the common struggle of finding the best keywords to target. It recognizes that relying solely on Google Keyword Planner or other conventional keyword research tools may not always yield the desired results. With KeywordTool.io, users gain access to unique data that sets them apart from their competitors. By targeting fresh keywords that are easier to rank for, users can increase their chances of attracting targeted visitors who are genuinely interested in their content, products, or services.
In conclusion, KeywordTool.io offers a comprehensive and powerful keyword research solution. With its wide range of platforms, accurate search volume data, bulk search volume capabilities, and focus on unique and fresh keywords, it has become a go-to tool for SEO professionals looking to optimize their websites and drive targeted traffic.
How can VOCSO help you?
Keyword research is essential for any SEO strategy and other marketing campaigns. By understanding the keywords your target audience is using, you can better optimize your website and content to rank higher on search engine results pages. VOCSO as a professional digital marketing agency uses a variety of digital marketing tools and methods to find the right keywords for your business and industry. We then track their performance overtime to ensure that you're getting the most out of your investment. Want to learn more about how keyword research can help improve your website's visibility and drive more traffic to your site? Get in touch with one of our digital marketing consultants today for free digital consulting!
Conclusion
keywords are a crucial part of any marketing strategy. When used correctly, they can help you connect with your audience in ways that make sense for both parties involved; but it's not only about knowing the right words–you also have to know how people will search them! This means arming yourself with as many tools and tactics available so when opportunity strikes ),
In conclusion: Great keyword research ensures content gets ingested properly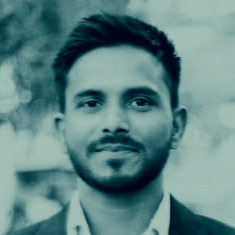 About Raj Kishore A digital marketing consultant at VOCSO. I've been working in digital marketing since 2010 and I am an expert at generating leads online via SEO, Paid Marketing, Social Media Marketing, Email Marketing, Site/Landing Page Testing and Optimization, and Display and Remarketing.