When we talk about SEO techniques, more often than not, we tend to focus on on-page SEO. But missing out on off-page SEO can impact your SEO game badly. Both on-page and off-page SEO are an integral part of your search engine optimization strategy. The right balance between the two can bring amazing results for you.
Since we generally fail to leverage off-page SEO, our overall SEO strategy somehow suffers. This blog walks you through the intricacies of off-page SEO and enlists the best off-page SEO techniques that you must know to get that competitive edge over your rivals.
Scroll down and dive deeper into the world of SEO techniques and tools!
Off-page SEO- Meaning
In simple words, off-page SEO comprises all the search engine tips and hacks which are not limited to your website. For instance, tactics like social media, content marketing, brand development, etc., come under the category of off-page SEO. When on-page SEO tactics are backed up by these activities, your website ranks high in the SERPs. With the right off-page SEO strategies in place, you can significantly enhance the position of your website in SERPs.
Off-Page v/s On-Page SEO
Let's give you a sneak-peek into the difference between on-page and off-page SEO:
On-page SEO is more like the show-stopper who steals the thunder and grabs all the attention. It includes all the techniques used by an SEO expert to rank the website high in search engine results.
It includes activities like H tag optimization, image optimization, title tag, meta tag, and so on. Like off-page SEO there are many helpful on-page SEO tools that you can use to optimize your on-page SEO. There are some technical SEO factors also that you must optimize to win your SEO game.
Off-page SEO, on the other hand, is similar to the "BTS" or behind the scenes of any movie or event. Off-page SEO techniques complement on-page SEO strategies, thereby bringing in a 360-degree improvement in your business website.
It includes activities such as podcasts, content marketing, social media, and so on.
Why should you invest time in off-page SEO?
1. Increased number of domain referrals:
Search engines never fail to notice the number of domain referrals that your website receives. If the numbers are impressive enough, your website will be considered a reliable one. This in turn will enable you to generate quality traffic. You will be able to attract traffic from different platforms.
2. Higher ranking in SERPs:
Because of off-page SEO, the search engines will eventually improve your rank by leveraging targeted keywords. And because of improved ranking, your website will be visible easily to your target audience. Quality leads will keep pouring in and the conversion rate will go high up as well.
3. A greater level of exposure:
Reaching out to your TG gets easy with the right off-page SEO tactics. For instance, when your potential clients see you on different social media platforms, they tend to get attracted to your website. The higher the number of visitors, the better the chances of conversion. Improved exposure makes your brand more reliable and helps you enhance your sales revenue.
Off-page SEO techniques and tools you can swear by!
1. Content marketing:
One of the most significant off-page SEO techniques, content marketing goes a long way in establishing your trustworthiness. It is much more than just content creation and publishing.
Guest posting for a website or publishing articles that get backlinks from authority websites are different forms of content marketing. The ultimate aim of content marketing is to offer value to your target audience. The content pieces should be engaging enough. While creating such content pieces, you need to make sure that these are easy to share on different platforms.
The strategy of content marketing is closely knit to other off-page hacks such as social media engagement, PR, brand building and so on.
Content marketing works wonders for both B2B as well as B2C brands. When you publish engaging and informative content for your potential clients, it helps you in generating quality leads organically. Besides, content marketing is way cheaper than any other conventional form of marketing.
2. Local SEO:
Local SEO is that branch of search engine optimization that enables your website to rank high for local search results. It involves local SEO tactics which help in attracting quality traffic and convertible leads based on specific locations. Local SEO makes your business visible to your local target audience.
GMB or Google My Business and Citations are the two important components of local SEO.
Let's first discuss GMB. It enables any local business to enhance its visibility and boost its virtual existence. When your business appears high in GMB results, you tend to enjoy a competitive edge over your local competitors.
Citation, on the other hand, is when your business gets mentioned online on apps, review sites, or social directories with your NAP (Name, Address and Phone Number). Make sure you mention the exact same details on different platforms. There should not be any inconsistency between your business names, contact numbers and address details. Otherwise, you won't seem reliable enough to your TG.
3. PR:
It won't be wrong to say that digital PR is much like link-building activities and is thus an intrinsic part of off-page SEO. Feel free to leverage digital PR to promote linkable assets. This will bring in some precious backlinks for your website.
In fact, PR is much more than just a link-building hack.
When you are doing it right, a successful PR campaign can bring your business right in front of your potential clients. As a result, your business will receive more referral traffic.
This, in turn, will increase brand awareness among your TG and help you portray your thought leadership skills.
4. Link building:
Off-page SEO considers link building as its Holy Grail. The ultimate motto of link building is to receive quality links. And you have to always focus on quality over quantity.
While working on link building strategy, you must focus on three factors- unique domains, authority, and relevance.
When you earn backlinks from authority websites, they make your business more credible and bring in a sense of reputation. Now you may wonder how to know about the authority level of a website. Tools like Domain Authority Checker will do the tricks for you. The authority score of the website lets you know if receiving a backlink from this particular website will be helpful for your website or not.
There are certain tools available that help you evaluate the authority score of your present backlinks.
Another factor worth noticing is that the greater the number of referring domains, the higher the rank of your website.
Besides, receiving backlinks from topically relevant websites is more beneficial than earning backlinks from multiple irrelevant websites. Your aim should be to get links from either the same niche or anything closer to it. If you're not aware about quality backlinks then you can get white label link building services to earn good links that are not against Google quality guidelines.
5. Brand development:
Another important component of off-page SEO is brand building. Without brand development, your off-page is never full-proof. You must take the necessary steps to increase the number of brand searches for your business. The brand search may include the name of your products and services or your business name. To keep a check on branded searches, you can use tools such as Keyword Overview and Google Trends. All you need to do is to enter your brand name here and click on the "Trends" option. This will give you a proper overview of the search volume over the last couple of months.
You may also want to spend your precious time on brand SERPs. Basically, brand SERPs are the search results that pop up when your TG searches for your brand name online.
Sharing relevant posts related to your business journey struggles you overcame, and goal accomplishment on platforms like LinkedIn can also help in brand building for your business.
When you have a robust branding strategy in place, search engines tag your brand as reliable and genuine.
6. Influencer marketing:
Over the last couple of years, influencer marketing has become immensely popular. In no time, it has pushed traditional marketing strategies to the back foot. It has emerged as one of the best and most impactful marketing techniques of modern times.
Nano, micro, macro, and mega influencers create entertaining and engaging but sponsored posts on different social media posts like Instagram, YouTube, and TikTok. Brands, both small and renowned ones, leverage influencer marketing as a tool to convey their message and reach out to their target audience seamlessly. Influencer marketing can help you in creating brand awareness among your potential clients as well as get convertible leads.
One of the easiest and most effective influencer marketing strategies is blogger outreach. Start with enlisting bloggers who work in your niche. Once you have a list ready, approach them and start building professional relationships with them. Soon, you can reach out to them one by one with your brand collaboration offers. Together, you can work on different types of influencer marketing campaigns, such as brand endorsement, unboxing, giveaways, affiliate marketing, and so on.
Brands like Mama Earth and Wow Skin Science have been focussing on influencer marketing to create a lot of buzz around their brands. Influencers have a huge fan following and they can literally "influence" their fans to spend on your products or services.
7. Social media:
Want your existing client base and potential customers to interact with your business? Leverage social media. An intrinsic part of off-page SEO, social media engagement makes your brand interactive and adds a humane touch to it. Social media platforms such as Instagram, Facebook, and Twitter have now emerged as a bridge between TG and the brand. Your potential clients can easily make certain queries on the platforms regarding your products and services, and you can cater to their doubts conveniently.
By sharing engaging, informative, and unique content and offering value to your target audience through different social media platforms, you can attract quality traffic to your business website.
Also, your existence on different social media platforms makes your brand reliable as well as popular.
The more active your brand is, the higher the chance of your potential clients discovering your phenomenal services and products online. Effective social media marketing strateies can help you drive ongoing social media traffic to your website and local store.
8. Forums:
Are you surprised to see this option in this list? Please don't be, as forums can literally be the gold mines to escalate your off-page strategy to the next level. Just do it right and make it a part of your brand conversations.
Leverage platforms like Reddit and Quora to establish your thought leadership. You can use these forums to answer your target audience and bring value to them. You can subtly promote your business, all the while building a relationship with your potential customers. Popular fashion brands like Beautitude and Exclusive rely on such forums to notch up their off-page strategy.
Community building on such forums requires you to be highly consistent. Adding a personal touch to your brand will enable your TG to resonate with your posts all the more.
9. Podcasts:
Another rage in the world of off-page techniques is podcasting. Have you yet joined the bandwagon? If not, know that you are missing out on something HUGE!
Podcasts are a part of audio SEO. So, they do impact your website ranking by targeting certain search terms. The reason behind pinpointing podcasts as an effective SEO strategy is their staggering popularity. People prefer listening to podcasts way more than webinars and audio programs.
Also, podcasts are majorly consumed by knowledgeable millennials. Businesses can leverage these targeted demographics to drive more traffic to their websites. Google supports podcasts that abide by its SEO guidelines.
With minimal competition at present, this would be the ideal time to tap into this gem of an off-page strategy. Cash in the golden opportunity and build a community of followers for your brand.
10. Guest posting:
Guest posting is a highly underrated off-page technique. When leveraged in a systematic manner, guest posting can actually fetch desired results for your brand website.
Webmasters rely heavily on guest posting strategy for link building.
You must leverage guest posting for the purpose of branding and gaining new clients.
11. Events:
Digital events are another off-beat technique to escalate your off-page strategy. Webinars, virtual summits, twitter space, LinkedIn audio events- there are so many options available for you to promote your business.
Such events serve multiple purposes for your brand. First of all, they keep your audience engaged. Secondly, they successfully manage to keep your brand name afloat and in trend. Further, they help you establish your brand as trustworthy and of premium quality. Also, they attract PR coverage which again is an integral part of modern-day marketing strategy.
12. Online reviews:
Consumers have grown highly aware of product quality and customer support facilities. In most instances, they prefer to cross online reviews before buying any product or hiring any services. Thus, reviews have a direct impact on their buying decisions.
Online reviews are a part of online reputation management, which, again, is an underrated off-page SEO tactic. Search engines like Google rely on customer reviews to generate rankings for different brands.
When you receive positive reviews on your business website as well as third-party apps, directories or websites, Google considers your brand as authentic and trustworthy. Besides, you acquire the trust of your potential clients, and thus the rate of conversions goes high for your business.
Must-have tools for a robust off-page strategy
Now that you know the nitty-gritty of off-page SEO techniques, you must be in search of a few tools that can help you in developing a strong off-page strategy for your website.
Of course, there are multiple free and paid tools available that help in preparing your overall SEO strategy and staying well-versed about updates google algorithms. But finding tools that solely focus on off-page SEO can be a bit problematic.
Fret not as we have a list of tools ready for you. Check out these tools to make your off-page strategy fail-proof and more efficient:
1. Ahrefs:
Ahrefs has been one of the top pick tools for SEO experts that you can use to build your off-page SEO strategy. The tool offers elaborate reports on different areas pertaining to SEO. Ahrefs is a highly useful tool that comes in handy for link building purposes. By leveraging a specific index, Ahrefs helps users to find out websites in similar niches.
Another great feature offered by Ahrefs is its monthly analysis of organic traffic. This makes Ahrefs part and parcel of off-page SEO strategy.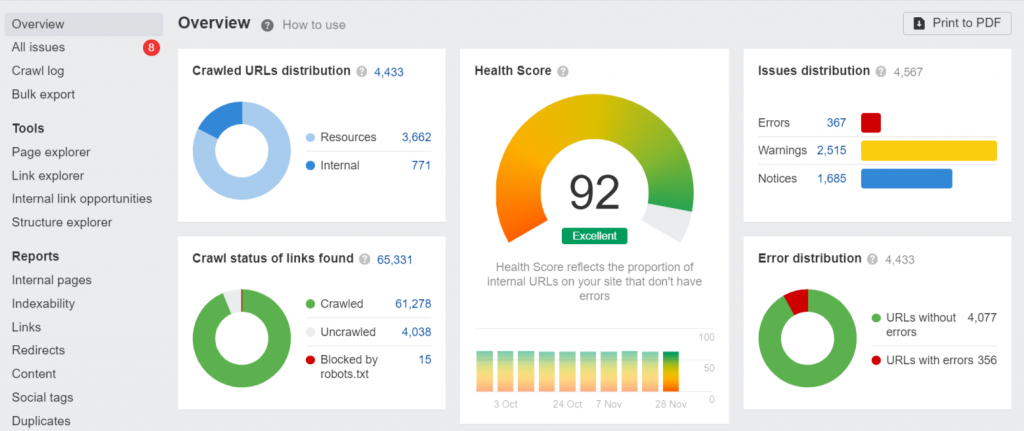 2. SEMRush:
Looking for an all-rounder that can manage your overall SEO strategy? SEMRush is your ideal option.
It comes with a bulk of data. Each piece of information can be used efficiently to evaluate different aspects of off-page as well as on-page SEO.
Another popular pick among SEO professionals, SEMRush helps them with effective link building strategies, content updation, traffic analysis, ranking evaluation as well as content idea generation.
Now you know why you should lay your hands on this all-rounder today!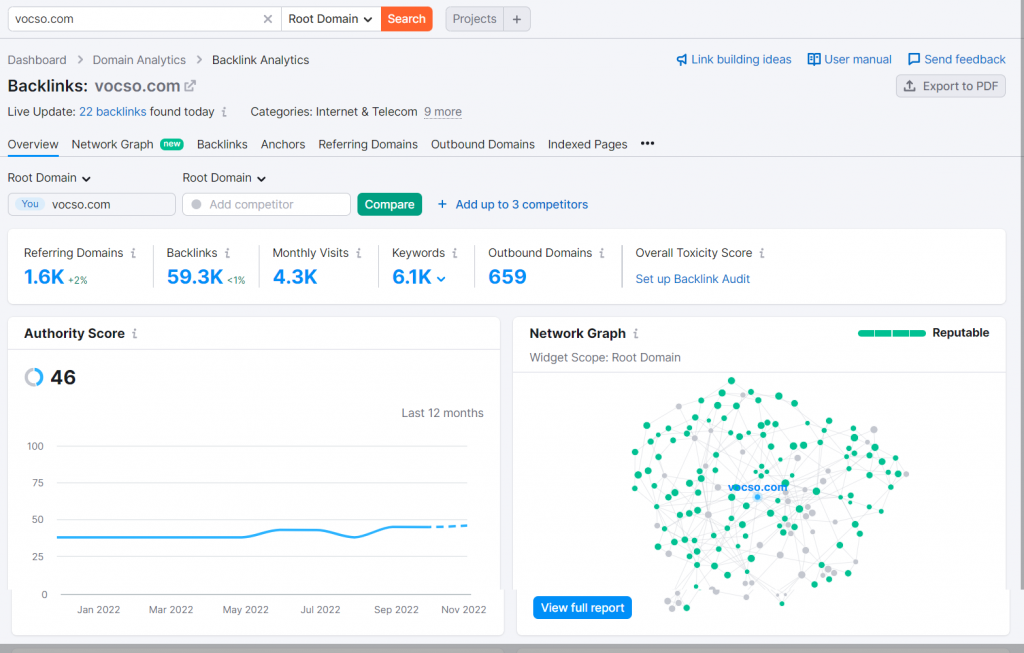 4. BuzzStream:
BuzzStream caters to three different areas of off-page SEO- link building, social media and PR. This tool basically serves the purpose of efficient outreach management in the above-mentioned areas.
BuzzStream ensures that you stay in touch with the right people in your network and do not let valuable contacts slip out of your hand.
The tool helps in creating pesonalized outreach emails and also guides you through scheduling and follow-up of emails. It also keeps track of your Twitter and email conversations and offers frequent reminders to keep in touch with your network.
BuzzStream also helps you identify bloggers and website owners who can take a keen interest in linking to your business website.
You must have this tool in your kitty to make sure that your off-page SEO strategy is on the right track.
5. SEOquake:
SEOquake is yet another beneficial plug-in to utilize for off-page SEO. It is a one-stop solution for different off-page requirements such as social shares, page rank, identifying the source of traffic, domain comparison and so on.
Try this tool if you wish to have complete control over the off-page SEO strategy.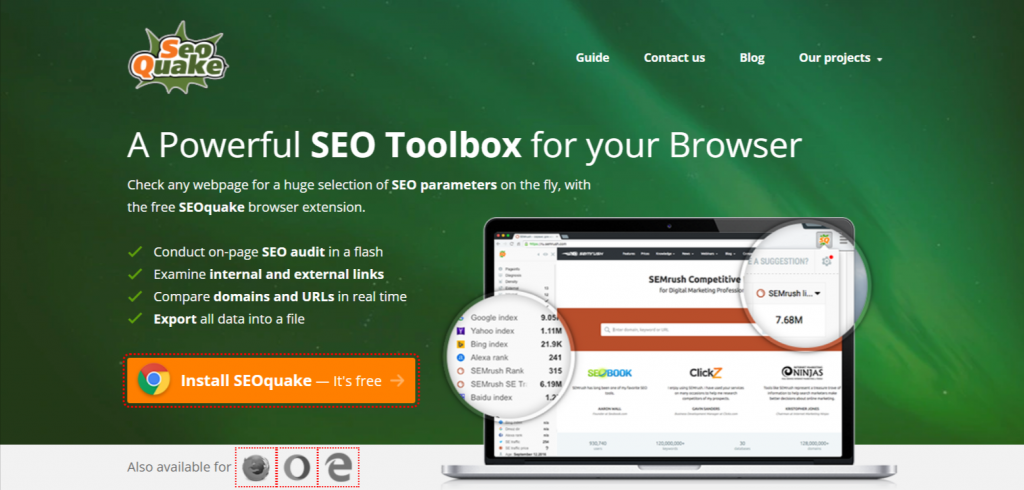 6. Contentbird:
Contentbird is an all-rounder, yet it is more useful for link-building strategies. From link prospecting to outreaching and then tracking these outreaches, Contentbird has got you covered at each stage.
Some of its most notable features are brand management, social media management, editorial calendar, audience targeting and so on.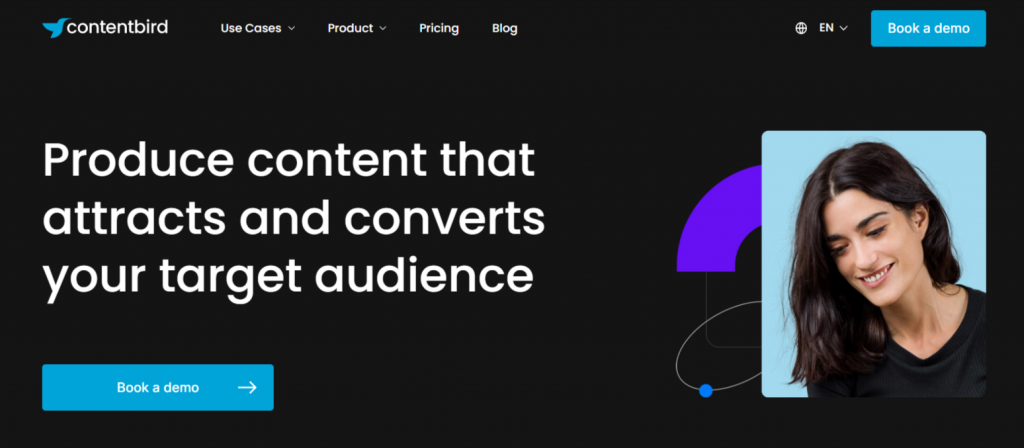 7. Google Analytics:
One of the most popular off-page SEO tools, Google Analytics offers you truckloads of data regarding location demographics, site visits and traffic sources. This tool also helps you to tweak the current content strategy and come up with something that actually adds value to your content marketing strategy.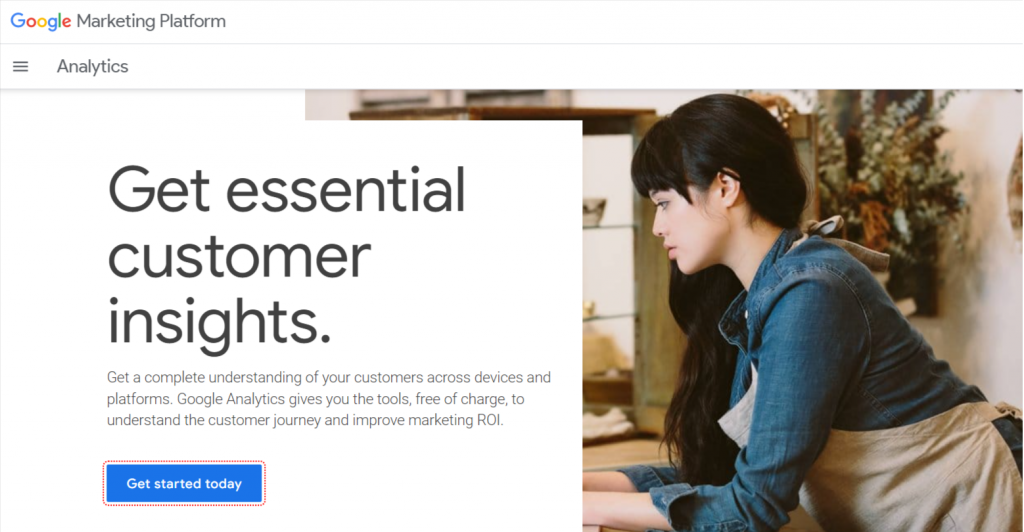 8. Disavow tool:
Remember the backlinks that you got from irrelevant websites? Want to get rid of them? This tool can help with that. Disavow tool enables you to let go of those backlinks that serve no purpose to you at all. It is more like decluttering your website of the unnecessary baggage of poor-quality links. You can use link removal tools to handle poor quality backlinks to your website.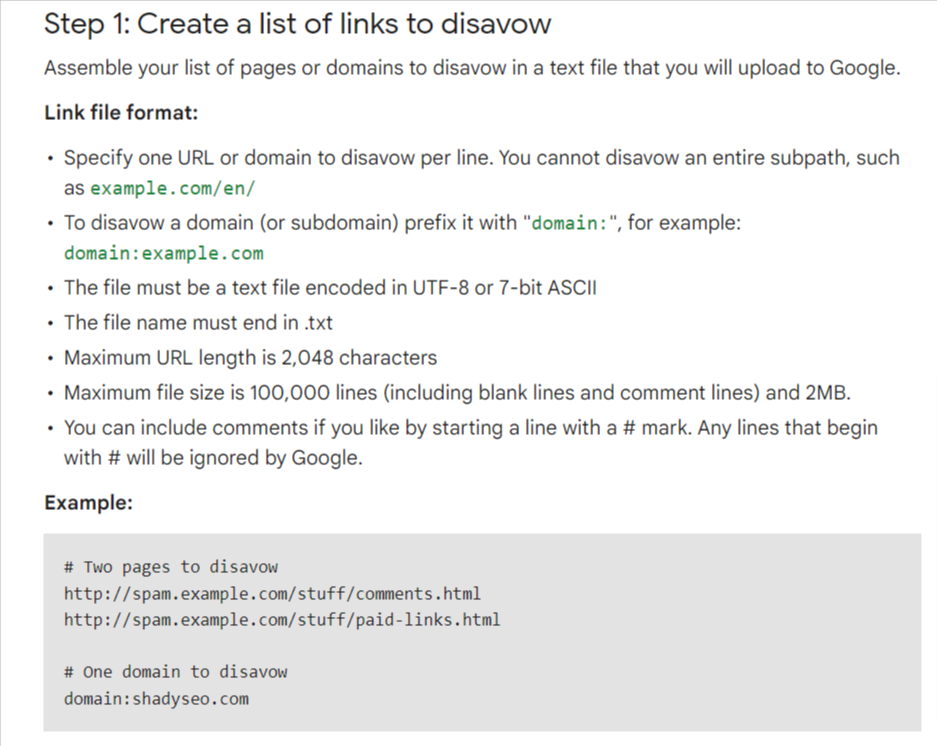 9. Local search results checker:
Since you know the significance of local SEO for your off-page SEO strategy, you might want to check the status of your business on local search results. This tool lets you do that in just a few clicks. If you feel that there is some scope for improvement, you can simply tweak your GMB profile details and do the needful.
In a nutshell
Off-page SEO is like that supporting actor in a movie without whom the plot will not look appealing and meaningful to the audience. Your search engine optimization strategy stays incomplete when you do not pay proper attention to off-page SEO. Make sure that the SEO expert you hire distributes his time and energy to both on-page and off-page SEO.
This blog aims at bringing value to you so that you understand the importance of off-page SEO and start working on the same. The sooner you pay attention to it, the quicker you will start getting results for your business website.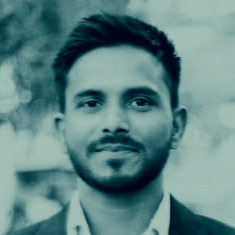 About Raj Kishore A digital marketing consultant at VOCSO. I've been working in digital marketing since 2010 and I am an expert at generating leads online via SEO, Paid Marketing, Social Media Marketing, Email Marketing, Site/Landing Page Testing and Optimization, and Display and Remarketing.