Have you created links that are against the search quality guidelines or has Google is already taken manual action against your website for unnatural links created for your site? Now you know if you want to grow your search visibility and organic traffic then you will need to remove these bad links immediately.
Creating bad links is one of the biggest mistakes doing by SEO professionals and business owners. If you're serious about SEO, then you know that building valuable backlinks is an essential component of a strong SEO strategy. If you have already done these mistakes then you need to remove the unnatural links to avoid a Google penalty. If you have got a penalty already then you will have to remove all bad links as soon as possible if you want to see improvement in your SEO ranking.
In this article, I am going to aware of a few useful backlink removal tools that can help with cleaning up bad links. Before jumping to these tools let's explore more about bad links so you can understand such links and take an action for removing these
What are bad backlinks?
A bad link is when you and someone in your team create a link on another website without checking the website content relevancy, website theme relevancy, website current authority, website current traffic, etc.
When it comes to SEO, backlinks are one of the main ranking factors that have been considered in Google SEO Trends for a decade. But sometimes, pages with bad backlinks can cause a lot of headaches when you're looking to rank quickly. For example, if you were using organic keywords in your website's title tag and blog posts in order to rank high in Google, and this website has a lot of bad backlinks pointing at it, those very important words could be ignored by the algorithm.
Why is it important to remove bad backlinks?
Backlinks are a type of SEO technique used to send visitors to your website through someone else's site. If the link is bad, it could bring down the quality of your page in search results for that keyword. It's important to remove bad backlinks from your website so you can improve your rankings and keep people on the front page of Google.
If you want to improve your website's SEO, focus on building up your backlinks that follow the Google quality guidelines. Reach out to other websites in your niche and ask them to add your website or learning resources like blogs, whitepapers, and infographics with providing them some value.
Make sure the SEO backlink creation strategies that you're using for your Website match the quality parameters from Google. If your links are matching with Google quality guidelines you'll see your website domain authority is boosted and Google search ranking is increased.
Types of bad backlinks
There are many different types of bad backlinks, but they all have one thing in common: they come from low-quality or irrelevant websites. This can include things like link farms, spammy directories, and even some low-quality blogs.
The problem with these links is that they can actually hurt your website's ranking because they make it look like you're associated with these low-quality sites.
The following are the different types of bad backlinks
1. Links coming from link networks
A link network is a group of websites that are linked together, typically for the purpose of giving one website a large number of backlinks.
These networks are often created for the express purpose of manipulating search engine results, and as such, they are often viewed with suspicion by search engines.
Link networks typically consist of a large number of low-quality websites with little original content. Additionally, there is often a lot of cross-linking between sites in a link network, as well as duplicate content.
This makes it easy for search engines to identify a link network, and they often view the backlinks that a website acquires from such a network as being of questionable value.
If your website has acquired backlinks from a link network, it is important to take action to remove those links. If you do not, your website may be penalized by search engines.
2. Sitewide links
There are certain links that are present on all web pages, and these are typically referred to as "footer links." These links often appear in a website's header, footer, and sidebar, and they can be used by website owners to acquire a lot of backlinks quickly.
However, this method of link building is now viewed as being unnatural, and it can cause your website to be penalized by Google. A single backlink from an authoritative domain is much better than numerous backlinks from low-authority sites.
3. Links from blog comments
There is a possibility that your comments box was inundated with spam. In order to stop Google from indexing these comments, which frequently include links to other websites, they are tagged as nofollow. Such spam comments have a negative impact on your website's inbound link profile when they link to it. This can negatively affect your website's ranking on search engine results pages.
If you have a comments box on your website, it's important to monitor it closely to avoid having it filled with spam. If you do find that it's been inundated with spam, the best course of action is to tag the comments as nofollow. This will prevent Google from indexing them, which can help to protect your website's inbound link profile.
4. Directory links
There are many benefits to submitting your website to web directories. For one, it can help you obtain high-quality backlinks naturally. This is because web directories are typically respected and well-regarded websites, so linking to them can help improve your own website's reputation.
Additionally, submitting your website to relevant directories can help you reach your target audience more effectively. However, it's important to be selective when submitting your website to directories, as too many backlinks from unreliable sources can actually harm your website's ranking.
Stick to directories that are well-established and relevant to your niche to avoid any penalties.
5. Links with over-optimized anchor texts
As you know, your backlinks' anchor text is quite important to your entire SEO strategy. If you're not careful, you may end up with a lot of backlinks that contain exact match keywords. This could flag your website as spam by Google, which would be devastating for your business.
To avoid this, you need to be strategic about your backlinks. Make sure that you're using a variety of different keywords and phrases, and that you're not relying too heavily on exact match anchor text. This will help you to avoid any potential penalties from Google and will keep your website ranking high in the search results.
Steps to remove bad backlinks
If you're looking to remove bad backlinks, the first step is to perform a complete backlink audit. This will help you identify any toxic links that may be hurting your website's ranking.
Manually checking each and every link can be extremely time-consuming and tedious. Fortunately, there are a few tools available that can help you filter your backlinks based on different parameters. Here are key steps to deal with your bad backlinks:
1. Collect your backlink data
Checking your website's backlinks is a crucial part of any SEO strategy. By identifying where your website is being linked, you can work on improving those links and increasing your overall link popularity.
Making a list of every backlink that leads to your website from various sources is the first step. For this, you can make use of a variety of tools,
If you want to find out which websites are linking to your own, you can make use of the Google Search Console. Search console is a free but one of the most useful tools to see your backlinks under the link report. When you will navigate to the top linked pages – externally, you will see the list of your website backlinks below: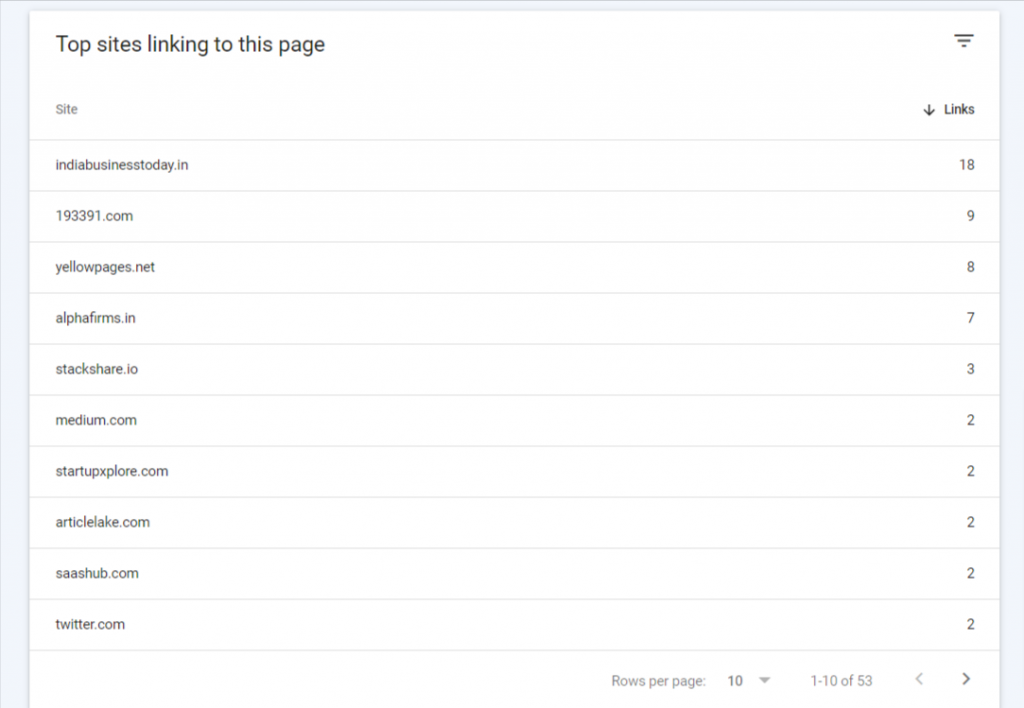 2. Identify bad backlinks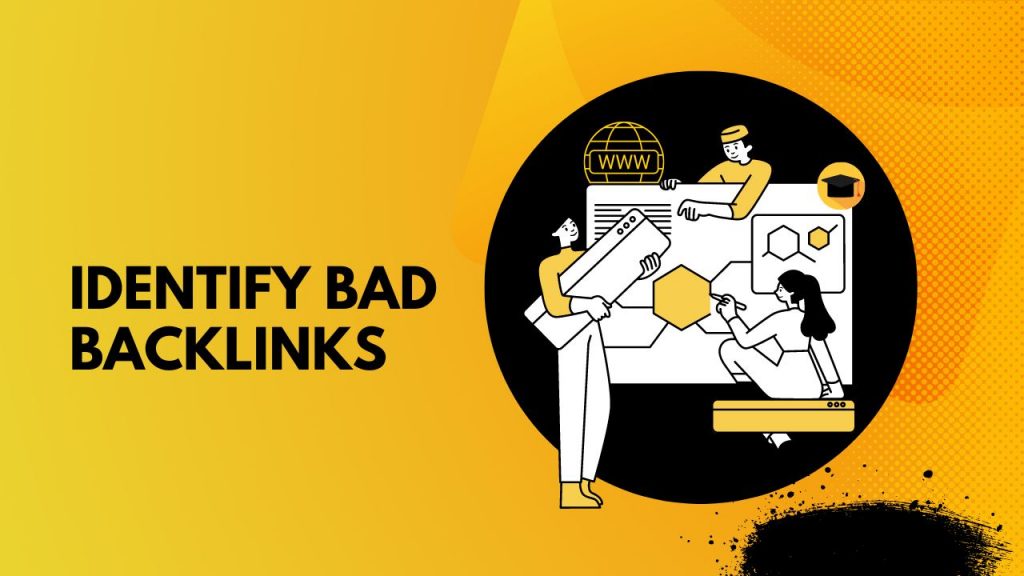 The most important step in removing harmful backlinks is to personally audit each link. When you click on a link, you should always consider whether the information is pertinent to your website.
If the content isn't pertinent, the backlink is probably not doing anything for your inbound link profile.
The backlink information obtained from Google Search Console is silent regarding the hazardous links. However, you can still use this information to manually audit each link.
By doing so, you can ensure that all of your backlinks are high-quality and relevant to your website. It is essential to identify websites with weaker domains in order to remove poor backlinks from them.
Additionally, you ought to use the name of the website to conduct a Google search. The website may be penalized by Google if it isn't indexed, which could lower its ranks. When you create a list of bad links then you must know that these are really bad links. You can still match with these link types to find out links that are really against Google search algorithms:
Press Release Links
Discussion Forum Links
Links From Foreign Guestbooks
Many Random NoFollow Links
Private Blog Networks (PBNs)
NoFollowed (& Followed) Social Bookmark Links
Directory Submissions (or a Directory Submissions Service)
Blog Comments
Links From Fiverr or Other Cheap Link Services
Links Built by Automatic Link Building Programs
To read more about these spammy backlinks tactics, follow this link
https://www.searchenginejournal.com/link-building-guide/bad-links-risky-tactics/
3. Remove bad backlinks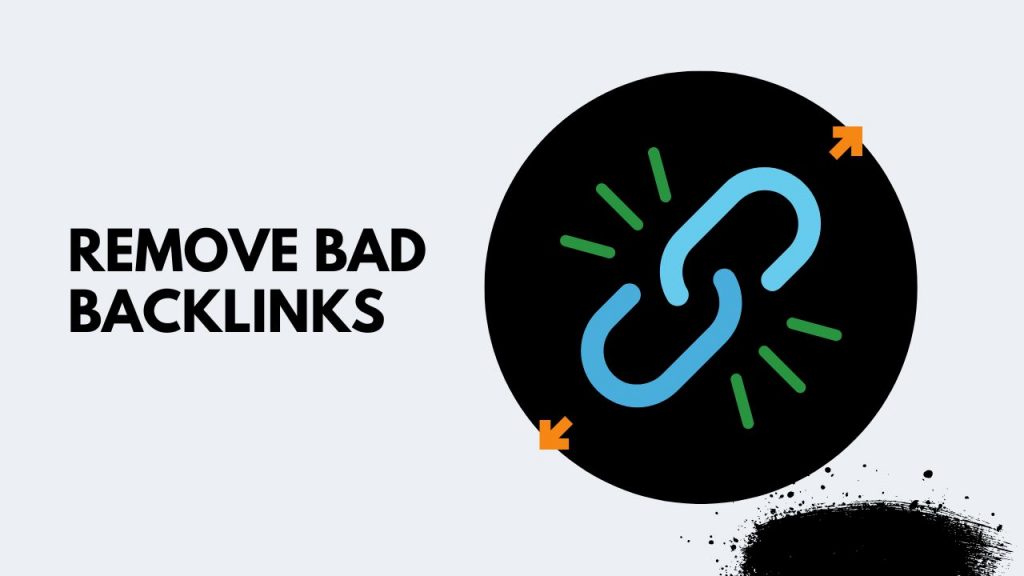 The next step is to reach out to the owners or webmasters of the websites that are linking to your site with negative backlinks. The goal is to get them to take down the backlinks without making them feel threatened.
Be specific about which backlink you want to remove, and provide instructions on where to find it. There are a variety of ways to find the contact information for webmasters.
You can use a search engine, social media, or other online tools. Once you have the contact information, reach out to the webmaster and explain your situation. Be polite and professional, and most importantly, be confident.
4. Track and monitor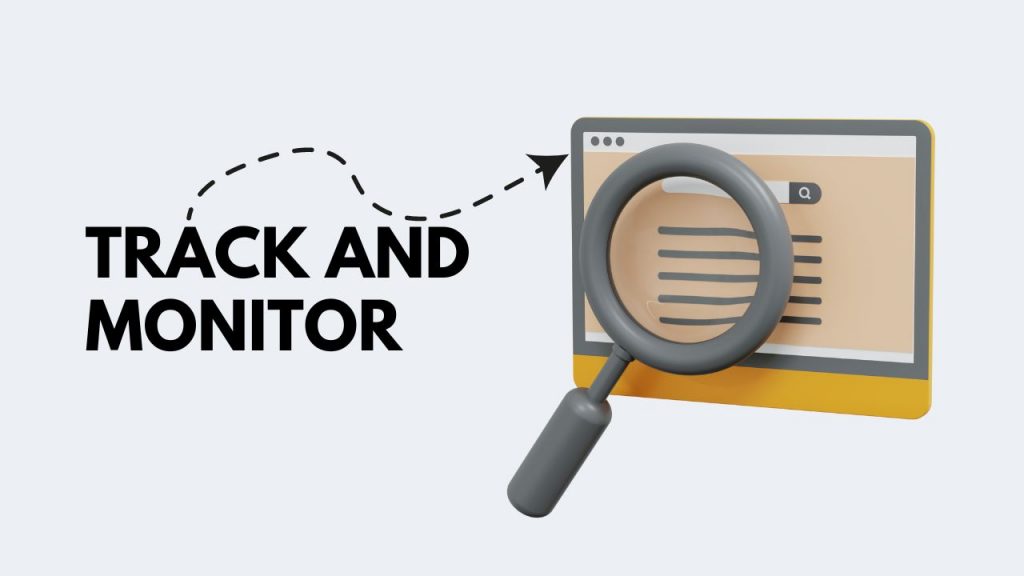 Unfortunately, simply sending a removal request to the webmasters of the connected websites is not enough to guarantee that your request will be honored. You must also track the backlinks to ensure that they have been removed.
Additionally, you may need to send a follow-up email to a webmaster if they don't reply within the timeframe you specify.
By taking these steps, you can help to ensure that bad backlinks are removed and that your website's ranking and reputation are not adversely affected.
5. Disavow the remaining bad backlinks
If you come across a webmaster who ignores your request to remove a backlink, or if they refuse to delete the link, you can take action yourself. Google provides a service called Disavow Links, which allows you to upload a list of links that you don't want to be associated with your website.
This will tell Google not to take these links into account when determining your website's search engine rankings.
Maintaining an Excel spreadsheet of links to disavow is the best way to keep track of which links you need to remove. This way, you can easily add new links as you come across them. To use the Disavow Links service, simply upload your list of links and Google will take care of the rest.
Best backlink removal tools to clean up and protect your website backlink base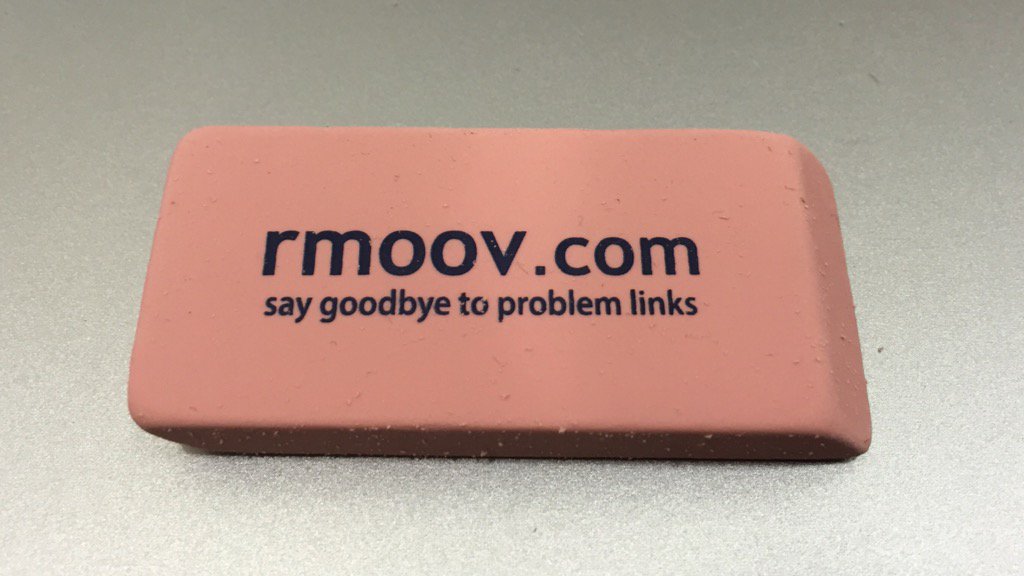 Rmoov is undoubtedly the simplest and most uncomplicated tool out of the lot, making it one of the simplest backlink removal solutions to use. You just need to provide the URL of your website and a working email account on your domain in order to get started.
This serves as a safeguard against unauthorized individuals deleting backlinks on websites they do not control.
Rmoov will lead you to the actual backlink removal tool after your information is verified. You only need to upload the URLs that contain the damaging backlinks to your website on this page.
Remember that you must specify the URL of the precise pages or posts where the link appears. You may also mass upload backlinks to the tool by uploading a CSV file, which would speed up the procedure even further.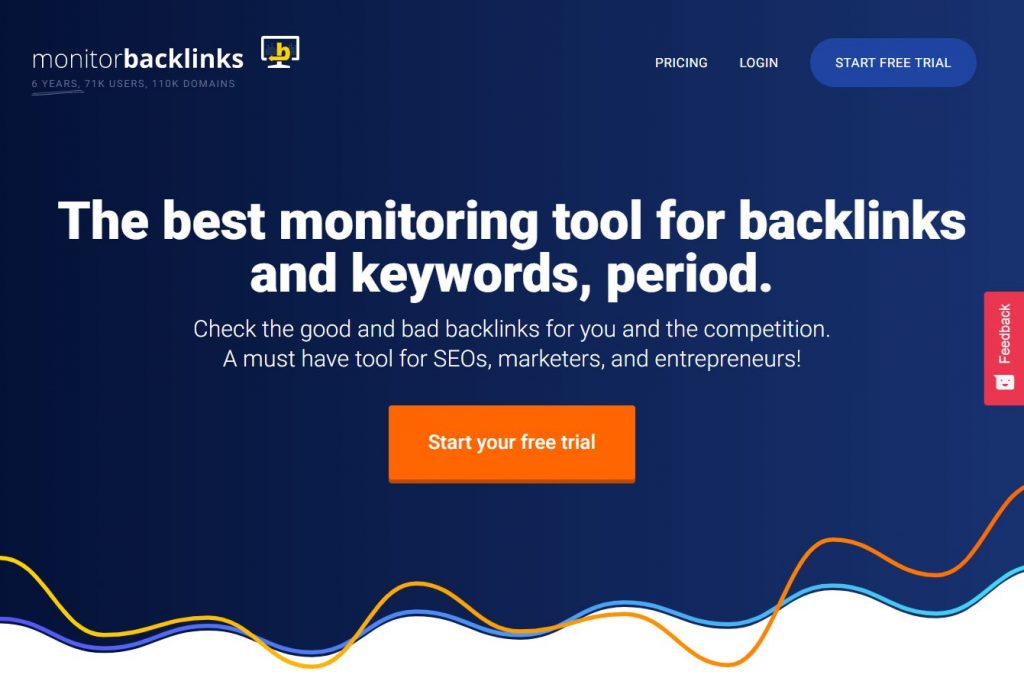 Monitor Backlinks is a comprehensive backlink monitoring tool that can help with all link-related tasks, including competition research and backlink removal. To use Monitor Backlinks for backlink removal, the first step is to set up a queue for your domain. You can do this by connecting your Google Analytics account and assimilating your website data. Alternatively, you can provide information about your domain or manually add links from other websites.
Once you have a queue set up, you can begin monitoring your backlinks. The tool will track your backlinks and provide you with data on each one, including the anchor text, target URL, and whether or not the link is follow or nofollow.
You can use this data to determine which backlinks are helping your website and which ones are harming it. If you find that a particular backlink is harmful, you can request that the website remove it.
Monitor Backlinks is a valuable tool for any website owner who wants to keep track of their backlinks and ensure that they are all helping their website.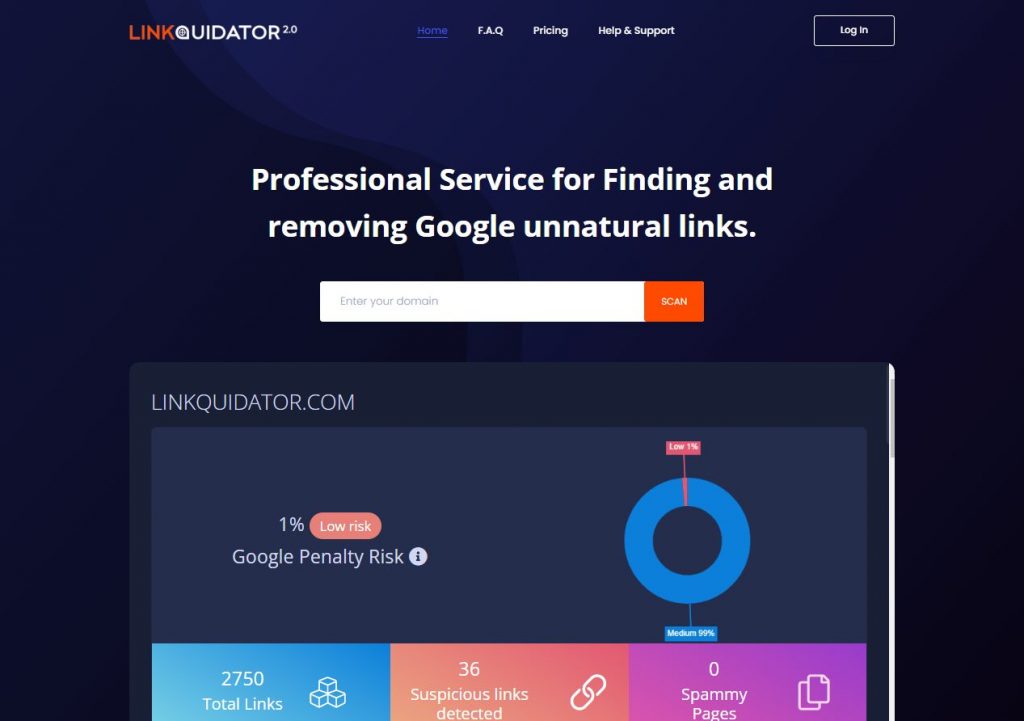 Linkquidator is a great tool for quickly identifying and disavowing low-quality backlinks. The platform is very user-friendly, with a clean and simple interface. To use Linkquidator, simply click "Add your new campaign" on the main dashboard and enter the address of your website.
Once your website appears as an active campaign, you can click the green "Start" button to begin locating harmful backlinks. This tool is a great way to protect your website from low-quality links that could negatively impact your SEO results.
Linkquidator's pricing is designed to be both flexible and affordable. Their 'pay per backlink' model allows you to adjust the cost based on the total number of backlinks you need to monitor.
This is a great option for those who want to keep a close eye on their campaign progress. Alternatively, their 'self-service' option lets you input the details of your campaign yourself. This is a great option for those who want to be in control of their campaign from start to finish.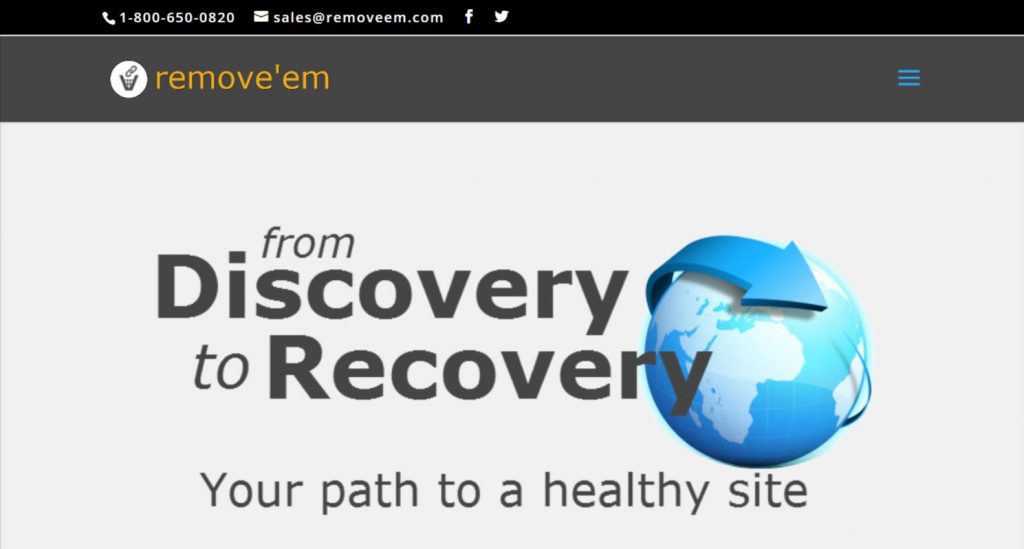 Remove'em "self-service" package enables you to create a domain-level workflow that will quicken the link analysis procedure, as well as control requests for links to be removed.
Simply enter your domain name to get started, and Remove'em will pluck your best backlinks. This makes it easy and convenient to keep track of your link portfolio and ensure that only the highest quality links are pointing to your site.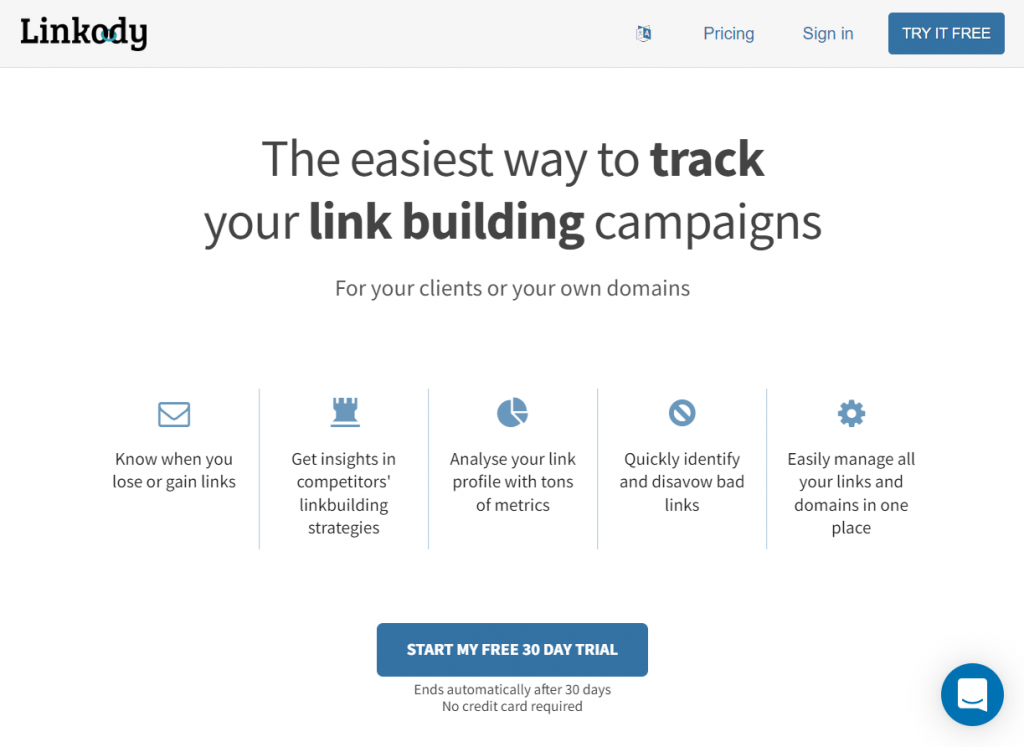 Finally, Linkody belongs to a rapidly extinct breed of thorough backlink tracking software. It can watch your competition, analyze your backlink profile, and track backlinks round the clock.
Linkody offers one of the fastest and most responsive online dashboards despite its many capabilities.
Linkody gathers a respectable amount of information about your backlink profile, much like Monitor Backlinks does. Such essential information as the link source's Domain Authority, Spam Score, and anchor text are included.
You can create reports from numerous different datasets in the "Analytics" section. This includes the dispersion of your links' Spam Scores, which can point you directly toward a possible link spam attack.
Conclusion
Your website's inbound link profile significantly affects how well it ranks in search engines. If you want to keep your website from being punished, you need to find and eliminate bad backlinks. The best strategy is to plan regular backlink audits so you can identify any hazardous backlinks and take corrective action.
You can use tools to screen for spammy and poor-quality backlinks, and then have them deleted. By taking these proactive steps, you can help ensure that your website enjoys a high ranking in search engines.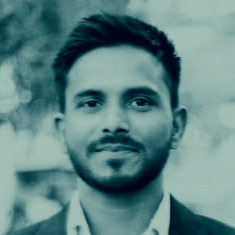 About Raj Kishore A digital marketing consultant at VOCSO. I've been working in digital marketing since 2010 and I am an expert at generating leads online via SEO, Paid Marketing, Social Media Marketing, Email Marketing, Site/Landing Page Testing and Optimization, and Display and Remarketing.