We at VOCSO requested top social media experts in the digital marketing space to share their best pieces of advice for social media marketing. These experts walk the talk. They have used their strategies for themselves to place them where they are today. Their best practices for social media marketing strategy are supporting other marketers and businesses in a different way. Let's find out how they have been able to grow their business and reach using social media marketing and get actionable tips on growing yours.
In our previous expert's roundup article topic predictions on digital marketing trends to follow, we took opinions from great people in the digital industry. What makes this piece unique is we only reached out to the very well-known professionals in the business this time.
Effective social media marketing insights from the top social media marketing experts:
Mandy McEwen
Mandy McEwen is the Founder and CEO of Mod Girl Marketing. She is have been working in the fast-paced field of online marketing and digital branding for nearly a decade. Let's see what Mandy McEwen has to share about her effective social media marketing strategies:
1. Know Your Niche Audience On Social Media
In order to really crush the social media game, you need to know where your ideal customers hang out. Are they on Instagram? Are they on Facebook? Are they on LinkedIn? Then, focus the bulk of your efforts first on that particular social network. A lot of businesses make the mistake of thinking they need to go crazy on every social media channel, and then their efforts are so watered down that nothing really "sticks." To prevent this from happening, devise a killer social media strategy on ONE network. Create a content calendar that incorporates video, live video, stories (if applicable), industry news, and trending topics. Devise an influencer outreach campaign to help you reach a much wider audience.
An effective strategy is step #1 couple all of the above with highly-targeted social media ads, and you've got a winning social media plan to help you attract new customers and retain existing ones!
Jen Lehner
Jen Lehner is a digital marketing strategist, consultant, podcaster, and professor of digital marketing at Cleveland State University. She is the author of the book "How to Create and Alexa Flash Briefing; No Tech Skills Required" and has published several digital marketing courses. Her free online classroom, "The Front Row" was named by Fast Company as "one of the top 12 Facebook Groups to Join Before Quitting Your Day Job". Let's read what social media marketing tactics has to share by these inspiring Women:
1. Optimize Your Profile, Wherever You Are
Even if you don't use LinkedIn much, or Twitter, or any other social media channel, it's still very important that you optimize your profile anywhere you've opened an account. Although you may want to drive traffic to your expensive, beautiful new website, the truth is, when people Google you, one of the first things to pop up is your LinkedIn profile and your Facebook profile. If they click to your LinkedIn profile and see a page with no profile picture and outdated information, that first impression has already been made.
To make sure that your profiles are optimized, make sure that you have a professional profile picture, but also an attractive, well-branded banner. This banner, and your profile, should clearly communicate what you do, who you serve, and how to contact you.
2. Use All The Pixels!
Pinterest, LinkedIn, Twitter, Facebook, and Google have handy pixels, or pieces of code, that you can easily insert into the header of your website. Once you've placed the code, your ability to retarget your ideal customers is practically limitless. That's because you can also use this information to build look-alike audiences for several of the channels. (Twitter, Facebook, LinkedIn and Pinterest). If you are a marketer without a giant email list you can still reach a huge, targeted group of people if you use these tools.
3. Use Facebook's "Premiere Video", And "Watch Party" To Massively Increase Traffic And Engagement
With Facebook Premiere, you upload a video and select "Premiere". You can schedule the date and time in advance and you can promote it. When it goes live, notifications are sent out to followers, but also, a red flashing button appears in the corner that simulates a Facebook live. You can be live in the comments with the viewers and it tends to create a lot of engagement. This is a great way to repurpose a Facebook live, also. Watch party allows you to queue up a bunch of videos to watch together with your audience, in real time. This content doesn't have to be your own. It just has to be on Facebook. So, for example, you could find your favorite TedTalk videos on Facebook, queue them up and schedule a Watch Party. You can invite people. As the host, if you join from mobile, you can also appear in the lower left hand corner of any video that you are presenting and actually make comments or narrate things throughout the viewing. So many possibilities here for educators!
There are so many wonderful tools available to us these days, it can sometimes be confusing to know where to invest our time. Optimizing your profiles, placing all the pixels, and using Facebook live, Facebook Premiere, and Facebook Watch Party will certainly bring you great results.
Lisa Sicard
Lisa Sicard Social media marketer and consultant at Inspire to Thrive. She is blogging for international clients and also train and consult with local businesses. Furthermore, she also does social media management, digital assessments, and blog. Read her insights on proven social media marketing tactics:
1. Social Media Engagement Is Important
My best way to do social media marketing is to engage with others on social networks. Social media engagement is like SEO for your website or blog.
It generates a buzz around your brand's Facebook page or other social media network channels. It gets more people to your profile and pages. By mentioning others and tagging them when applicable (and when applicable is a BIG one!) you will generate more people back to your pages. Please don't tag others just to read your piece – you must have mentioned them in the piece in order to tag them. This is one of the biggest mistakes I see out there every day by anxious bloggers or network marketers. Don't be one of them!
2. Social Media Ads Will Matter Most In the coming year
Of course, social media ads are needed today more than ever. I love the Facebook overlay tool to check that my ads will run well on their network. You must be so careful with the images vs. text ratio on Facebook. It's a good rule to follow on the other networks as well. Twitter ads work well, and you can also do ads on Pinterest and LinkedIn.
Knowing who your target audience is ranking #1 as you start to do actual social media ads. No sense in wasting your dollars on an audience that doesn't care about your products or services.
Generating look-alike audiences on Facebook is another great way to reach a target audience and extend your ad's reach. There are so many ways to use Facebook ads today, you must really study what they have to offer and how you can use them effectively.
Twitter has an automated ad system where you can spend $99/month and they do all the work for you, easy to run!
Your best method of social media marketing is to use engagement and ads together on social networks to really market your business today!
Hope you'll be able to benefit from the great piece of advice from these remarkable Women Digital Marketers. We understand that the list above is not exhaustive, however, every piece of advice given can have a positive impact on your social media efforts. If you believe you have something that deserves a place in this article, feel free to reach out to us and we will be happy to consider it.
Other Killer Social Media Marketing Strategies to Keep in Mind
In the age of social media, female entrepreneurs have never been more important than now. Marketing to optimise your social media posts and content is crucial to gain, retaining, and growing your business. Maintaining a consistent yet effectively evolving approach to marketing your campaigns is the way to succeed. Knowing the reason/purpose behind what you're doing, how you intend to communicate with your audience, and where and when will really drive this process.
1. Define your goals
With a specific aim, you'll have a better understanding and idea of how to drive your marketing strategy. Just remember to keep your goals specific, realistic, and gaugable.
2. Learn about your target audience
Structure your social media methodology according to the target audience. They'll automatically guide you as to which platforms to be using and what type of content to upload. Sharing posts that are meaningful and matter to visitors is what will engage plus retain them. Understand their queries, issues, and more importantly, demographic circle in order to find an appropriate domain.
3. Select your social media platforms wisely
It's not the quantity but rather the quality of what you do and where it's implemented for maximal impact. Research and plan accordingly for your target audience, being mindful of their preferred platforms to take advantage of.
4. Build a winning game plan for social media marketing
Document where you intend to post material, how, when, and why. What you upload is of course also significant, as is being appealing to the target audience. Enumerate all special occasions, such as festive holidays, and then design a content-based theme surrounding this. List hashtags for these for a synchronous experience and ensure that it represents main events, features, and campaigns.
5. Set up social media content calendar
Planning is an essential prerequisite for success and deploying a social media calendar to organise your efforts is ideal. Such tools help to publish your content both effectively and on time. This also augments disseminating resources efficiently and enhances teamwork and cooperative results-driven strategies. An example of this is SocialPilot's digital organiser to handle content, set up images, scheduling, dashboards, and regular updates. Design team areas and share with colleagues their respective inputs prior to publishing.
6. Focus your messaging
Demographics are key to a successful social media marketing strategy. Remember that these can be overlapping across various platforms, however a focused outlook will generate greater fidelity content. This ensures relevance to your audience according to network geolocation, language or other metrics. You can elect who to present such material to and which groups to avoid. This way, everyone is provided with something meaningful.
7. Keep an eye on what's trending
Strategic popular trends drive engagement, although you still need to be relevant and remain focused. This standardizes and censors any content posted in the future. Try collating fidelity material and updated sites to then be fed into RSS readers such as Feedly. You now have a dashboard of entrusted as well as the latest content. Integrate original content with distinctive features.
8. Invest in video content
Since YouTube's inception, even IGTV has emerged lately. The point is that video and interactive material have become commonplace in social media, so why not harness its power? Posts containing such media are much more likely to be reshared than those devoid of it. There has been unprecedented growth in this area and now greater priority on networks results in better engagement via Google's revised algorithms. This results in greater exposure…akin to additional PR.
9. A/B test whenever possible
AKA split testing compares 2 or more headlines with identical content tried and tested to see which reaps better results. Apart from the conventional applications of landing and sales pages, A/B tests can be deployed even for social media. Post scheduled links with distribution, whilst solely tweaking the headline to gauge what effect it has (if any) on user engagement. Reasons for lower success rates include quality issues with content or a bland tagline. Factor this into account, as well as the copy and CTA phrases. Sprout social's post-planning feature is such a tool that may be able to assist you with the process.
10. Join in on communities
Niche communities who all share a similar calibrated mindset will forge groups of common focus people. This helps to gain more authority and autonomy over the market, as does connect with them. Engaged participants can even form a small well-knit community, willing to represent your brand by taking on ambassador roles!
11. Interact with your audience
Audience engagement is imperative to ensure that everyone benefits from your content and is drawn to it as well. Be it videos, hashtags, interactive post-led conversations, or even distinctive material to entice visitors, always ensure that your site is interactive. Being responsive and fulfilling customer requests can also encourage better reviews and contributions too. Bidirectional correspondence is always better, which can enhance your comments section. Use a variety of question styles, including probing and leading questions to really get the ball rolling.
12. Don't be discouraged by algorithm shifts
Don't be phased by continually advancing criteria to rank your posts. By simply maintaining fidelity material, you'll reinforce your campaigns to resist such abrupt changes. Try to see and find what interests your audience and follow suit. Deliver what they want to see, hear or read. Adopting a consistent content framework helps to put things in perspective. To exemplify, Instagram stories are a fairly robust method of engaging audiences, so why not try to reinvent your strategy to rekindle interest in your profile? With higher click-through rates, platforms will be swayed to present more of your content upfront to viewers. Score!
13. Partner with influencers and micro-influencers
Promote your products or services organically with esteemed advocates who people follow and admire. Make them your brand ambassadors (as it were) and see the results! This personalises the user experience and helps to gain their trust too. Such media exposure improves PR ratings and even micro or nano-influencers can still spread word of mouth within a niche community.
14. Involve your entire team
All make a holistic and synergistic impact with a combined effort to drive your social media marketing campaign. This could range from uploading images to written posts. This creates trust and again, you can personalise your material with individual testimonials or even the experiences of an employee. Create internal celebrities and watch your audience grow out of sheer curiosity!
15. Let the tools empower your strategy
Use automation and AI to update your content on time and improve efficiency. Now you can invest these resource savings into something more meaningful to grow your audience and ultimately, business too. For instance, SocialPilot automatically posts your content and even analyses it for further improvement. Designing and scheduling your material as per a calendar helps to monitor your hashtags, incorporates media, and enriches your productivity.
16. Use the art of storytelling
Stories not only sell but are also more meaningful to readers. This results in better retention and establishes a relatable rapport with your audience. Even a successive segmented approach with regular updates via posts can build up excitement within the audience, so why not try it?
17. Humanize your brand
Adding a human touch is still very much required and in trend. Imagine showcasing your workforce to the public and how they interact with each other within the workplace. It's akin to a mini reality show snippet, except that it serves the prudent purpose of evoking empathy and emotion from the audience. Viewers always appreciate the finer elements of businesses and life. This helps to connect values too.
18. Use emoticons
If appropriately applied and formatted, emojis can be an indispensable tool to deploy and add to the many featured content elements for your campaign. They add life and invigoration to the scene, so try them out next time you're designing your masterpiece.
19. Embrace your mistakes
Be humble and openly acknowledge your errors – people will appreciate your modesty and receptiveness to improve. Depending on the severity of your mistake, you can always publicise how you identified and worked on it to rectify the situation. Often, this'll actually work to your advantage, so don't shy away from doing so!
20. Optimize your post frequency
Demographic peak buying time trends are imperative to understand when targeting certain age groups. It's not just what they intend on purchasing or how but more importantly when they plan to do so. With this information, you can establish how often you publish new lines, related analysis and the type of material shared. Timing is key, as is the quality of what you're posting. Experience will also guide you with relevant feedback, depending on the results.
21. Cut back on the number of hashtags
Although these are designed to organise your social media posts, don't forget that there's always a moderating factor involved here. Yes, accessing them helps to promote content and start an interaction with customers. Then again, your engagement rates could take a hit in the process. Hold back on too many and only include the high yielding ones which can be sought from the generator tools commercially available.
22. Treat each social channel uniquely
Personalising and scheduling your posts according to the platform being used is an effective way to maximise its features. Be it the subscriber demographics, primary purpose of posting and targeted audience, this is the best way forward to achieve great results.
23. Share Quality visual content
Retention rates are boosted by visualising imagery, audiovisual content and otherwise. Boosting traffic, marketing and sales are just some of the associated advantageous factors in doing so.
24. Deep dive into social media analytics
Whether it's generating further traffic, boosting metrics such as CTRs, access/views, shares or impressions, there's always a way to hone your marketing strategy. Extrapolate data to predict what may happen by tweaking certain variables and explore the unknown!
25. Be consistent
How active you are on a specific social media platform depends on the associated algorithms which gauge your success. It's not always about quantity and the quality should certainly be monitored. Having a plan as to the frequency and type of posts plus who you're actually targeting as an audience is key.
Conclusion
Continually innovating and pioneering new ways to engage and reach audiences with a proactive approach is what'll sets you apart from the competition. Taking that initiative to improve organic visibility and adapt to the ever-evolving digital market will make your audience grow.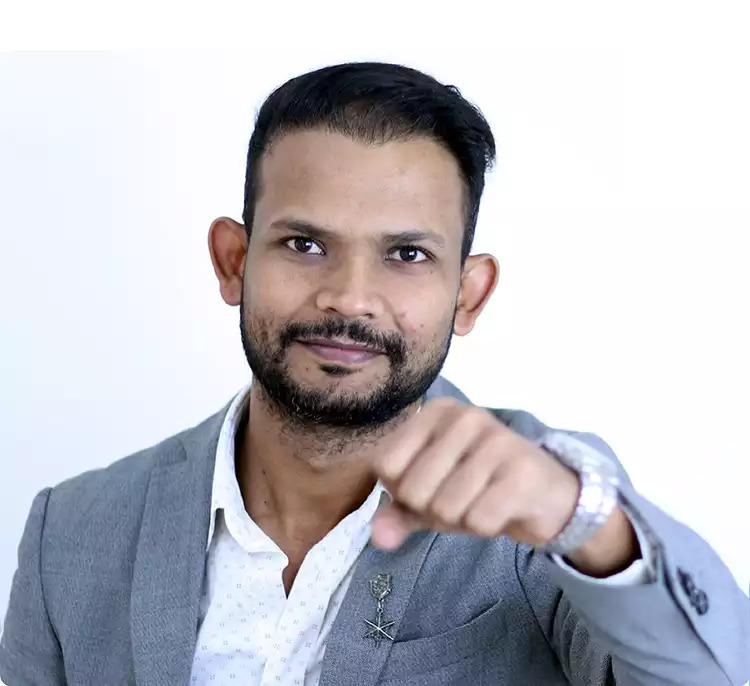 About Deepak Chauhan Hi, I am Deepak Chauhan, a Digital Marketing Strategist. I'm the CEO & Co-Founder of VOCSO Digital Agency, a creative web design, development, and marketing agency based in India & USA.