Pinterest is a great way to increase website traffic, but it takes effort to stay on top of the best marketing practices. Additionally, Pinterest Idea Pins have just been introduced to increase engagement WITHIN the platform rather than driving traffic to your website. You'll need to be even more active on Pinterest to get results.
Only some of your Pins will be visible when you upload them since Pinterest employs a Smart Feed to display content. Since your Pin's inclusion in the Smart Feed or the customized feed you see in your account depends on the algorithm, quality is a crucial component of that algorithm.
To rank your Pins, Pinterest looks for indicators of user interaction. Therefore, if you post material at a time when your audience is likely to see it just as they're getting ready to interact with it, you're asking Pinterest to show your content to more users right away and frequently.
Let's look at a few practices you can use and make sure you can pin at the ideal moment, and you'll maximize your traffic.
Essential Pinterest Statistics You Need to Know in 2023
1. Million people use Pinterest worldwide
As of the third quarter of 2020, Pinterest had 442 million official users. This represents 37% growth from the previous year, which is impressive. Pinterest has become a go-to platform for many people looking for inspiration, whether it be for fashion, home decor, or recipes.
 The company has been able to capitalize on this by creating targeted ads and content that speaks to its audience. With a solid user base and continued growth, Pinterest is poised to be a major player in the social media landscape for years to come.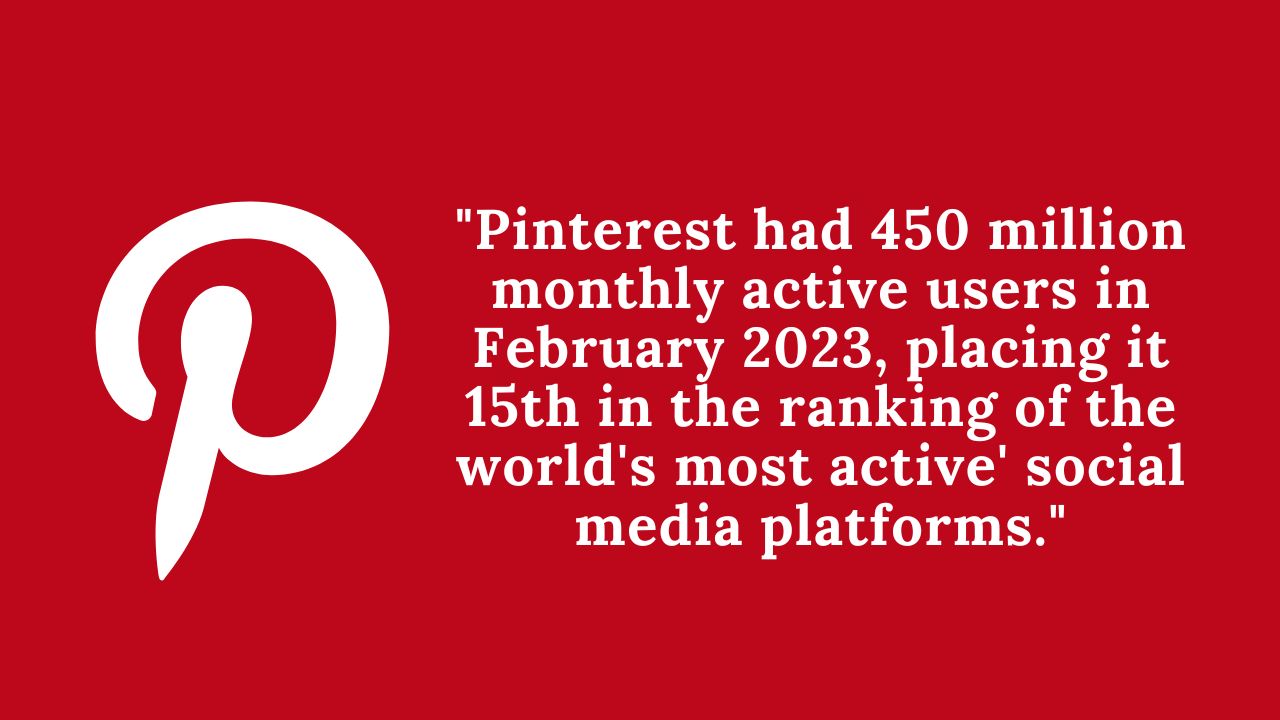 2. The number of Pinterest users has increased year-on-year
There's no doubt that Pinterest is one of the hottest social media platforms. In the past year alone, the site has seen a 37% growth in active users, with a 46% growth internationally (excluding the USA). That's pretty impressive, especially considering that other social media sites have struggled to maintain their user base.
What's even more impressive is that Pinterest is now being used for more than just sharing pretty pictures. The platform is now used for marketing, product research, and even e-commerce. This growth will continue as Pinterest finds new and innovative ways to engage its users.
3. Most Pinterest users are between 18 and 44 years of age
Pinterest is one of the most popular social networking platforms, with over 175 million monthly active users.
Most active Pinterest users are between the ages of 18 and 24. This is likely because 26% of the population is over 45. Pinterest is a great way for young adults to discover new things and a great platform for promoting businesses and products.
4. More than 50 % are female Pinterest users
According to Pinterest Audience Insights reports, 69 percent of all users are female, 25 percent are male, and 6 percent have not indicated their gender. This data indicates that most Pinterest users are female, with males making up a significantly smaller portion of the user base.
This may be because Pinterest is often seen as a more "girly" platform focusing on fashion, beauty, and home decor. However, it is still a popular destination for males, with a quarter of all users being male.
5. Pinterest users have discovered new products or brands on Pinterest
Pinterest is a visual discovery engine that helps you find fresh content and offers inspiration. Additionally, when it comes to making a purchase selection, Pinterest is used. With millions of Pins on topics ranging from fashion to food to home decor, there's something for everyone on Pinterest.
And when you're ready to make a purchase, you can easily find the products you're looking for and buy them right from the app. So whether you're looking for new ideas or ready to make a purchase, Pinterest is the perfect place to start.
Why does pinning time matter?
In the past, marketers who wanted their pins to be seen relied heavily on Pinterest's chronological feed. However, with the introduction of the Smart Feed, timeliness is now more critical.
Although it may seem like there's less pressure to pin at a certain time, users need to be mindful that they're still getting the most engagement from followers when they understand what times will work best.
The number of followers a user has on Pinterest might be less than the level of engagement those people have (rated by whether or not they save or click on new pins). If users don't take care of this engagement via time-sensitive posting and preserve their content to keep it ranked high in search results, they'll get fewer views.
The right times to post on Pinterest In 2023
1. Right time to post on Pinterest:
There is a typical time in the day when marketing professionals publish content on social media. According to our latest study, from 6 pm to 9 pm, Sunday through Thursday is the best time to publish on Pinterest, and the second-best time is noon to 3 pm, Monday through Friday. Understanding these patterns can help marketers better plan their social media campaigns and post at strategic times.
This information is valuable to marketers because it allows them to understand better when their audience is most active on social media. By posting during these times, marketers can ensure that their content is more likely to be seen and engaged. Additionally, this data can help marketers to understand better the overall social media landscape and how different platforms are used throughout the day.
This difference is likely due to the different audiences that each type of brand is trying to reach. B2C brands are likely targeting consumers looking for ideas and inspiration for their personal projects, while B2B brands are targeting other businesses looking for information and resources.
Sundays are typically when people have more free time to browse the internet and look for new ideas, so it makes sense that B2C brands would want to take advantage of that. However, Mondays are the start of the work week for most people, so they may have less time to dedicate to looking for new content.
That's why B2B brands are more likely to post on Mondays when their target audience is more likely to search for new information actively.
2. Best days to post on Pinterest
Are certain topics better for certain days?
Pinterest data shows that people tend to search for different topics on different days of the week. On Sundays, for example, people are more likely to search for recipes and crafts. On Mondays, fitness-related content is more popular. And on Tuesdays, people are more interested in gadgets and technology.
This information can be useful for businesses and individuals who want to maximize their reach on Pinterest. For example, if you're promoting a new product, you should launch it on a Tuesday when people are more likely to be interested in gadgets and technology. Or if you're sharing a new recipe, you should wait until Sunday when people are more likely to be in the mood for food-related content.
By understanding which topics are most popular on which days of the week, you can ensure that your content is being seen by those most likely to be interested in it.
According to Pinterest data, particular subjects or niches tend to do better on particular days of the week. The following is the list
Sunday: Food and crafts
Monday: Fitness
Tuesday: Gadgets and technology
Wednesday: Quotes
Thursday: Outfits
Friday: Gifts and humor
Saturday: Travel
How can you find the right time to pin on Pinterest
Pinterest has become one of the most important platforms for website traffic. However, it can be challenging for bloggers to keep up with the best marketing practices on Pinterest and constantly create new and beautiful pins.
The Pinterest algorithms favor fresh or brand-new pins, so if you create new pins, post them at the most optimal time.
If you are using Pinterest to drive blog traffic, knowing the optimal time to post is essential. This is one of the important practices you should add to your Pinterest SEO strategy.
Wondering How to find the best time to post on Pinterest? Don't worry; we've got you covered on that too!
1. Remain consistent for at least 30 days (Manual Pinning)
If you're new to Pinterest, there are a few things you need to do to get started. First, you need to be active on the site. You can do this by manually pinning for 30 days. This will let Pinterest know that you're active and have many boards where you're dispersing your pins.
However, you need to concentrate on your content and the quality of your pins. Using catchy taglines and visuals will have a positive impact on repinning.
So, what do you need to do for the next 30 days?
As a business owner, it's important to be active on Pinterest to promote your products or services. To get the most out of Pinterest, you should log in to your account multiple times throughout the day and post new pins regularly. Be sure to switch to your business account when posting, and claim your website to help optimize your profile for search engines.
To maximize your exposure, create multiple boards relevant to your niche and optimize them with keywords. You should also join and send requests to multiple group boards.
Remember to repin your pins to the group boards and other pins to show support. By following these tips, you can ensure that your business is getting the most out of Pinterest.
2. Overall Engagement
Having a successful Pinterest presence can mean more business for your company. Hubspot has researched the best times to post on Pinterest and the worst times, so this data is important to know.
The time of day that may have the most meaning for your company is between 8 and 11 pm because this is when more people are online and within Pinterest's demographic. This makes it important to Know the overall engagement. After analyzing the engagement rate, you will also be able to find what time duration your pins get more engagement.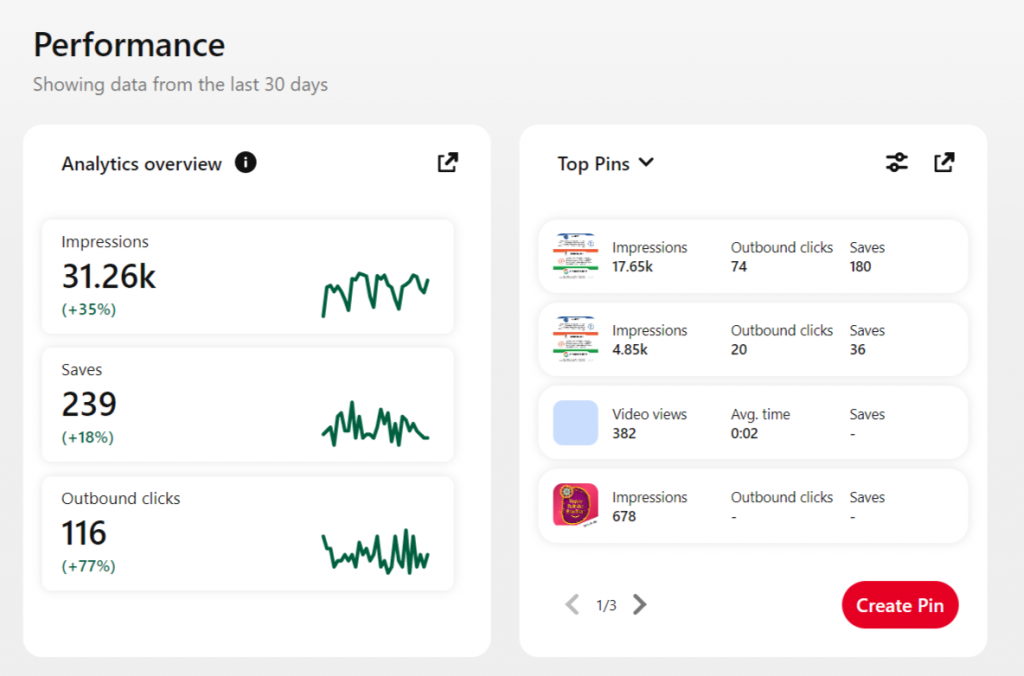 3. Use Google Analytics
If you're not using Google Analytics to collect data about your website, your website growth plan is probably off the mark. Google Analytics provides a wealth of information that can be used to improve your website and grow your business.
You can check out the social media report in Google Analytics if we talk about Pinterest. Google is one of the best tools to provide social media analytics reports where you can see different social me session sources. You can compare these reports based on daily, weekly, and monthly to see the social media or Pinterest traffic report. This will help you to know what day, week, and month your Pinterest account is performing well.
4. Using tools to find the best time to Pin
If you're looking for a way to make your Pinterest account more efficient, there are various tools that you can use. Like Tailwind.
Tailwind offers a Smart Schedule feature in addition to scheduling your pins for you. This ingenious function determines the ideal posting hours based on your account.
It can calculate slots based on other Pinners in your niche, even if you have a new account. It will create a timetable for you once you tell it how frequently you want to pin each day.
To use Smart Schedule, log into the Tailwind app and click the "Smart Schedule" icon in the menu at the top left-hand corner of your screen.
From this point forward, you should see a list of times, with each time slot containing an estimated number of people engaging with your post during that hour.
FAQ:
What time of day is ideal for posting on Pinterest?
According to a study by Pinboard, 6 pm to 9 pm, Sunday through Thursday, is the best time to publish on Pinterest. The second-best time to publish on Pinterest is 12 pm to 3 pm, Monday through Friday.
What hours are most popular for posting on Pinterest?
The peak time to post on Pinterest is between 8 pm and 11 pm and between 2 am and 4 am.
How many pins per day should I make?
Safe, effective Pinning strategies are around 6-15 pins per day.
Pin the same URL sparingly in 24 hours to ensure good reach and engagement.
Keep your content fresh and interesting to ensure high viewership and pin success.
How do I make the most of my Pinterest exposure?
Pin consistently and frequently
Pin good quality images only
Write keyword-rich descriptions for pins and boards
Confirm your website
Use rich pins
Optimize your website to be Pinterest friendly
Build a community
Be useful
Is it advisable to post on Pinterest every day?
Consistency is key on Pinterest. Posts should be published 1 to 4 times per day, depending on your available time. Ensure that your pins are relevant to your audience and helpful in promoting your content.
Final Words
Even though each social network has an uptick in engagement during particular times and days of the week, you must still customize your strategy for your audience.
Use this data as a guide if you need more information. Once you begin posting frequently and have gathered data, analyze it to learn when your audience is most engaged on the site and what posting schedule they prefer.
You might discover that posting particular content at particular times is more effective. For instance, releasing your films in the morning may help them perform well, whereas putting your photographs in the late afternoon may help them perform better.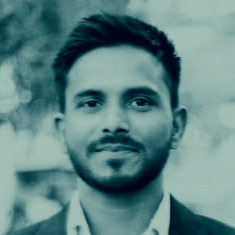 About Raj Kishore A digital marketing consultant at VOCSO. I've been working in digital marketing since 2010 and I am an expert at generating leads online via SEO, Paid Marketing, Social Media Marketing, Email Marketing, Site/Landing Page Testing and Optimization, and Display and Remarketing.