Building a website for your small business can be an expensive and time-consuming project. However, it doesn't have to break the bank or take up all your free time. With these tips, you'll be able to launch a professional-looking site that's tailored to your needs without spending too much.
A successful small business website is crucial to the success of any company. Building a site on your own, however, can be an expensive and time-consuming process. Luckily for you, there are plenty of affordable options out there for building a great website. In this post, we will cover some key steps to creating a beautiful and functional site without breaking the bank or taking up all of your spare time.
Key steps on how to a build small business website on a budget
#1. Determine the purpose of your site
It's essential to determine the purpose of a website before you dive into the website design process. A website's purpose is to provide information and increase revenue.
A small business website can be majorly categorised into the following categories based on use case.
-Sales Websites: Small business websites that are used to sell products and services. These kind websites will help generate enquiries from interested people.
-Ecommerce Website: Small businesses who only want to engage in online sales of their product or service. This allows you to be able to take credit card payments online so that customers can buy from your website without having to call or visit you.
-Service Provider Site: Small business website for companies with a physical store but also provide services on the web, such as retail stores, beauty stores or restaurants.
-Information Site: Small business website that provides information to their target audience without selling a product or service. Examples of this include blogs and news websites. Here your purpose may be to generate ad revenue or promote someone else's products/services as an affiliate.
Deciding which type of site is best for what you want will help make sure that everything goes as planned when it comes time to build the page!
Whether you design a website for your small business yourself or hire a website design agency, it is important to decide the purpose of the site and how it should be marketed. It will help pave the way for further steps for building a successful small business website.
#2. Obtain a good domain name
It's a known fact that the web is full of domain names, but how do you know if one is right for you? There are many factors to consider when choosing a domain name. A good domain name should be relevant to your business or blog, easy to remember and spell, and not too long or complicated. It also helps if it contains keywords that can help people find what they're looking for. Owning a domain name is an important part of building your online presence. A web address can be the first thing potential visitors see when they do a Google search for your business, so it's important to have one that reflects your identity and message. Explore how to choose the best domain name;
1. Make it easy to spell
You need to make sure your domain name is easy for people to remember and not hard. Don't use slang, made-up words or any other strange terms that a lot of people don't understand.
2. Keep it as short as possible
The domain name should be kept as short and concise as possible. Longer names are harder to remember, easier for people to misspell or misread, more expensive when it comes time to renew the contract because of a longer length – not to mention that they take up on valuable character space often needed in email addresses making them hard to use!
3. Use the proper domain extension
When choosing a domain name, it is important to make sure the extension matches what type of website you are building. For example, .com domains should be used for commercial websites, .ai for new age startups using Artificial Intelligence, .io related to data and API related websites, while other extensions such as .org and .gov are used for large organizations and government websites. You can stick to .com or country specific domains for best results.
It's more than just picking a catchy word; when deciding which web address best suits your company its worth considering if it will function better with one suffix over another (i.e., ".net" vs ".co"), but keep in mind that everything from how easy they are to remember all the way down to SEO performance may change based on where you go online!
4. Avoid numbers and hyphens
Domain names should be easy to remember and spell. Numbers, hyphens, or other symbols might make it difficult for people to recall your site name when trying to mention the URL verbally.
5. Make the address broad to facilitate future growth
It is a good idea to choose an address that allows for future growth. For example, Amazon.com is a much broader website address than BooksOnly.com, this is the reason they are now able to sell pretty much every type of consumer goods because their domain name has become more broad and vague in its implications.
Although this is something you as a business owner need to decide. It's equally good to target your name to a particular niche.
6. Ensure it is memorable
Choose a name for your website that will stick in peoples' minds. You'll want to be able to find it later when you need something from the company, and people might not remember how they got there if their domain isn't memorable enough. So many websites on the internet, it is important that your website name is catchy or simple but easy-to-remember!
Many of us have trouble remembering which site we visited last week. What was its URL? Perhaps because over 80% of sites are made up of words like "shop," hotel," mall." Your brand deserves better than being just another word among millions online. Make sure you pick a unique domain (it still costs the same!). So when someone remembers one word from it, they can recall the full domain name.
7. Research the domain name
When starting a website, it is important to research the domain name. If there are any similar websites that have already been registered with an address identical or close enough to yours, you may want to reconsider your choice of site names and register what .com domains might be available instead. To ensure this doesn't happen in future cases where someone has already taken uprights on a trademarked word for their own use elsewhere online (say Facebook), do some searching at USPTO's database which maintains all trademarks filed under its registry system.
Start by researching the domain name – if there exist other online sites with addresses very much like your new one then rethink whether or not this is.
8. Check if the price is right
Is your domain name worth the price you're asking for it? A smart investor would not buy a website address without checking out its price on different domain name providers. Some TLDs ( Top Level Domains ) are priced higher than the standard .com.
9. Avoid nonsensical names
Beware of domain names that don't make any sense. When you set up the website, it should be easy for your visitors to find what they want and remember where they found it by following a logical flow. Avoid absurd domain names like "wtfdomainnamewouldyoudo."
10. Create an SEO-friendly URL
Even though domain names are the first impression of your website, it is important to have an SEO-friendly name. If you want people to search for and find your site then make sure that they can type in or say what it says easily so that their experience using Google will be good.
11. Domain cost estimate
Domains can be purchased for $2 to as much as $20 per year, depending on discounts or specials. The new domain extension .app might cost more than the standard range (or it could even exceed that) because they have only recently gone up on sale after being released into the market.
#3. Purchase secure, scalable website hosting with good tech support
When it comes to choosing your website hosting company, you don't have to choose between a cheap shared host and an expensive dedicated server! You can start off with the most affordable option available for a low-traffic site that will still provide reliable service. If traffic increases or if there are other needs in the future, such as higher security requirements like Firewall or more bandwidth than what is offered by your current provider at no additional cost (or lower costs), then stepping up from shared hosting services to faster and more powerful dedicated servers won't break the bank.
When you create a website, it's important to also find the right web host. The best hosts offer servers and data centers that are physically located near your business or organization, so they can reliably serve all of those who visit your site without having any noticeable lag time on load times.
Hosting a website is the essential aspect of taking your business online. There are many web hosting providers, so it's important that you choose one with excellent customer service and reliability for an easy setup process.
However, selecting the hosting provider can move to later stages if you're working with an agency like VOCSO. VOCSO uses its own staging servers to build and show you the website during the design/development process. This way you don't have to bear the cost of hosting for that period of time.
1. Shared servers and dedicated servers, which one is better?
There are many types of hosting available to business owners today, primarily: shared and dedicated. Shared web hosts allow you access a server with other companies, while Dedicated Web Hosting gives your company its own private space on the internet where only it has full control over everything.
If you need more processing power or storage than what is offered through the traditional option then consider going for dedicated hosting as this might be just right for your needs if those extra resources will make all the difference in performance between good and great results. Furthermore, these servers come equipped with cPanel which makes managing content simple!
Many people may find a dedicated server is best for their needs, but there are other options. There are shared and virtual private servers which can also be an excellent option as they're less expensive than traditional ones. When considering this type of service it's important to consider the amount you'll need in order to make use of these types of services effectively because some providers offer lower rates if your usage falls below certain limits while others will charge per gigabyte used on top of what has been allocated by the provider from its available pool.
2. Virtual Private Server" (VPS) Hosting Plan
A virtual private server (VPS) hosting plan is a great way to start out with an economical but reliable web hosting solution that has many of the features you would expect from more expensive plans. You will have total control over your VPS and can make any modifications or upgrades necessary for running your website(s). For those just starting their business venture, this type of inexpensive option may be all they need at first.
Even though it's been around for years, a virtual private server is still the most cost-effective option when looking to start your own website. In fact, with an average host, you could save up to $70 per month by switching over!
3. Speed
In today's digital world, speed is everything. Websites need to load quickly in order for users on different devices (smartphones, laptops) or with limited bandwidth internet access to be able to enjoy them the way they were intended without any lag time and buffering issues. A slow website can deter a customer from making an impulse purchase while browsing online which could cost your company a significant loss of revenue that will hurt its bottom line down the road if not addressed immediately!
You might be asking: why is speed important for web hosting? The answer to this question can depend on the type of business you have. For example, if your website offers a lot of multimedia content such as videos or images then it's vital that visitors are able to load these assets quickly in order to get the best experience possible and not become frustrated with slow loading times. On top of making sure download speeds are fast enough so customers don't leave, there should also be sufficient upload bandwidth available so users aren't waiting around before they're uploaded their files either.
Do you know 47% of users won't wait longer than

2 seconds

for a website to load?

Get your website speed score 90+ with our speed optimization services

Speed Up My Site
4. Security
Web hosting security is important. It can be compromised by a variety of factors that may lead to legal consequences for the web host if illegal activity occurs on their property. The most common methods are hacking, insider sabotage, or loss of data due to hardware failure and environmental issues such as power outages, fire damage, and sewer overflow disasters among other things that could happen at any time without warning but these three examples should give you an idea about what we're talking about here.
Keeping your website secure should be the utmost priority of any web hosting company. Website hosts should have powerful firewalls to safeguard against unusual activity or unauthorized intrusions on your site at all times. Your host also supports SSL certificates, which encrypt information with an extra layer of security that travels between websites and browsers securely to ensure user safety. SSL certificates are also a way to show search engines and users that you care about your user's data and acts as a trust and ranking signal.
5. Support
We all know that at some point, we are bound to need web hosting company support. Small businesses are not immune to this. When you have a problem with your website, knowing that your hosting provides someone at your disposal to look into these problems and act quickly. A good host will usually offer phone, live chat, and email support.
6. Scalability
What is Scalability? Web hosting scalability refers to the number and size of websites that can be hosted on a host without causing overloading. For example, if you have 200 users who are all accessing your website at once, then it will crash because there's too much traffic for shared web hosting to handle.
Web hosting scalability is the ability of a webserver to handle additional traffic when it comes in. This means that as demand for space and bandwidth increases, your host can add in the upgrades quickly to accommodate more customers without crashing or slowing down because your server will be capable of handling these demands.
7. Price
No one wants to spend more than necessary on web hosting, but the price of a service does not always equate with its quality. Compare prices and features before making decisions so you can find a package that is just right for your needs without spending too much money!
8. Hosting Cost Estimate
So, how much does it cost to host a website? Shared hosting (the cheapest kind) costs $2.49 – $15/month and dedicated hosting (the most expensive kind) can be anywhere from the low of 80$ up to 730$. The price all depends on what you really need, so if you are looking for something that is simple but still gets your site out there then sharing might work just fine. If not then maybe consider one of those other types like VPS or Dedicated Server Hosting. There's also Cloud Computing which I hear takes care of everything automatically!
The prices in this industry vary based on many different factors such as the type of service needed and the size of needs
#4. Implement the best content management system
The best content management system is one that can help you to create a customized website for your business. It should be easy to use and also provide the flexibility needed for you to edit or upload any content that you need.
Here are some of the most popular CMSs on the market today and discuss what makes them so great!
1. WordPress
WordPress is one of the best CMS or website builders for so many reasons. For one, it can be integrated with popular e-commerce platforms like Shopify and WooCommerce to create an online store that runs on WordPress without any major hassle or cost!
You don't need a separate website builder because you've already got everything you could want in your hands – just log into the backend of your site where all the magic happens: publishing posts, moderating content tags under the SEO section, updating plugins and themes from within Dashboard (I love how they make this process seamless!), viewing stats data about visitors at different time intervals…you name it!
It's truly amazing what WP developers have been able to do over these years since its inception; I am impressed by every single one!
What's more exciting is its ability to allow extending the functionality with the help of over 58,000 plugins ( free and paid ). What it also means is the platform allows the development of new features that work seamlessly with the rest of the website.
Get a Fully loaded

professional

website
in 3 days.

Don't miss out on this limited time offer! Get upto 50% off on our website design packages now.

Check details
WordPress Website Costs:
2. Drupal
Drupal is one of the most popular website content management systems in use today, however something I wouldn't recommend for a small business website. Drupal has a lot going for it, including its ability to support large volumes and high traffic levels with ease thanks to excellent database administration features that enable administrators at all skill levels to make changes quickly without risk of downtime. In addition, the security GDPR compliance module ensures user data privacy from anywhere on earth while still meeting European Union standards under General Data Protection Regulation law (GDPR). The community-driven development model also results in an incredibly responsive product as new ideas are implemented within days—sometimes hours!
3. Drupal Website Cost:
4. Joomla
It is no surprise that Joomla has become one of the most popular CMS systems in the world. It's user-friendly than many other systems on offer since it was designed with beginners in mind from day one. In addition to its easy interface for novice webmasters, experienced users can use a variety of extensions or templates available through third parties like Template Monster – making customization a breeze! No matter your skill level as an internet marketer; you will find success using this platform because it offers such creative freedom without compromising security features: unlike some competitors who are all about flashy websites but lack basic functionality needed by online entrepreneurs today (eCommerce capability).
Joomla Website Cost:
5. Squarespace
The benefits of Squarespace are endless. One can create an unlimited number of pages, use multimedia in posts and galleries, and add a blog component to the website with ease; it is not even necessary for users to possess any knowledge about web development! This CMS also offers SEO tools that help websites rank high on search engines such as Google or Bing. As if all these features were not enough – customers have access to over two million stock photographs they could incorporate into their projects at no additional cost whatsoever!
Squarespace Cost:
6. Wix
Wix is the complete web development platform. Making it easy to design, build and publish your website on any device or social network you want with just a few clicks of the mouse. It offers everything from hosting services, domain registration as well as mobile apps for Android & iOS devices enabling users to have total creative control over their site without having to worry about coding!
Wix Website Cost:
7. Laravel
Laravel is a popular framework for PHP. It has many features that make it useful and unique, including its speed, simplicity of use (compared to other frameworks), and flexibility in development as well as the ability to create powerful web applications with minimal effort on your part.
Laravel can be considered one of the most widely-used open source frameworks available because this software offers an easy way to build modern websites and web applications. It however requires significant programming skills. It's also ideally recommended for web applications and may not be a good choice for your small business website.
Laravel is built on top of Symfony ( a PHP Framework ), and offers a stripped down library that allows developers to create expressive code and flexible applications without having to worry about low-level details such as database management or routing files. Laravel has taken off in recent years thanks mainly due to its intuitive syntax which makes it easy for beginners with little PHP knowledge to develop their first application quickly while also providing powerful features like support from multiple databases by default.
Laravel Website Cost
#5. Choose a good e-commerce platform
WooCommerce
Shopify
Business Squarespace
OpenCart
GoDaddy Online Store
BigCommerce
Prestashop
3dcart
If you intend to sell goods or services via your website, fitting technology is required. Furthermore, if you're not already selling anything yet, you may consider doing so, as e-commerce can potentially increase your profits. If you permit users to conduct online financial transactions, you'll need to opt for the appropriate platform to suit & fulfill your business model.
Here are some popular small business e-commerce platforms:
1. WooCommerce
WooCommerce is a globally popular e-commerce platform as it transforms your WordPress site into an online store. Similar to WordPress, multiple plugins are available plus it combines with WordPress, making it fairly versatile. There are plenty of preset complimentary & premium themes. Ideally, it's advisable to apply a premium theme from a reputable developer, owing to offering better security as well as support. In case you're not technically adept, you'll require a WordPress developer to support in setup & usage. Their great feature capability & scalability can improve your business outcomes.
2. Shopify
Shopify is a cloud run e-commerce solution allowing users to create & customise online stores, as well as offering product, inventory, payments, & shipping management. Unlike WooCommerce, it's not a WordPress extension but rather a dedicated framework hosted on their own server. Hence, if you have a main website, your e-commerce section would be independent. It's also possible to link your account from your site built using WordPress, Drupal, Wix & so on (apart from when your main site has a Shopify integration plugin itself).

Features range from vast product lineups, infinite bandwidth, fraud analysis, discount codes, analytical reporting, etc. The main advantage of Shopify is that a developer for establishing a store isn't necessary. Furthermore, all backend content is ready to use upon subscribing. And especially has a Shopify Starter plan. This package for beginners only costs $5 per month, and it has full features for selling, like adding a sales button on the email, social media profiles… You can try It.
3. Shopify Plus
Shopify Plus is Shopify only but revitalised with greater customizability, more staff accounts & international e-commerce options. It also has a greater level of support. However, this comes at a higher subscription cost & flexibility plus customisation capabilities are less than compared to WooCommerce.
4. Business Squarespace
Business Squarespace offers a simplified e-commerce subscription option. They do levy a transaction fee, however this can be bypassed by upgrading your subscription to a basic online store. This includes a gratis domain, SSL security, SEO, abandoned cart recovery, discounts, live carrier shipping plus more. However, it's not as ergonomic to use as Shopify & likewise isn't as flexible as WooCommerce.
5. OpenCart
OpenCart is a PHP based platform using MySQL database coding to deliver e-commerce solutions. What's more is that it offers multilingual & currency support & is open for use by anyone with their public license.
Ironically, Wix actually has an ergonomic Shopify extension itself. You'll need to upgrade your account & subscribe to Shopify to use it though.
6. BigCommerce
BigCommerce is a public technology brand providing a SaaS ecommerce framework. Its features include customer groups & segmentation, SEO, web hosting, and more.
7. PrestaShop
PrestaShop is a freemium, open source e-commerce platform. The software is published & distributed under the Open Software License. It's coded using the PHP programming language, supporting the MySQL database management system. It's also available in various languages, akin to OpenCart.
8. 3dcart
3dcart is a private technology company which develops commercial e-commerce apps for online stores and retail POS systems.
9. GoDaddy
GoDaddy Online Store has a neo e-commerce independent subscription platform that's easy to establish & use. Technical knowledge isn't required to launch your shop & the templates are simple plus partly customisable. Features include marketing and SEO tools, social media integration, appointment booking, SSL security, rapid page loading, etc.
#6. Use WordPress as your CMS
You want to choose a CMS that will help you create the best site possible, but with so many options out there it can be hard. With WordPress's simplicity and established reputation in content management, this is an obvious choice for your next project. It has everything from templates (including ones specifically built by companies like Automattic) to plugins designed to take care of any functionality issues on your website without bogging down servers or making those annoying "loading" messages pop up all over the place as well.
WordPress offers one-click installation which means getting started takes just minutes instead of hours – no need for manual configuration shenanigans here. However, you should take this use of installation for granted and install unnecessary plugins. You may end up making your website slow and less secure.
#7. Design an interesting, memorable, and engaging website user interface
A WordPress website can be customized to fit any need, depending on what type of website you need ( discussed in previous steps ). You may want to look through the theme's directory available in WordPress backend. If you're just getting started and not bothered much about your branding and highly personalized web presence, any free or ready made template may work. However for a professional looking and functioning website, the custom theme development may be the right option.
The battle between read made templates and custom website design is an ongoing debate. We however believe that the advantages of a customized site, which are usually more aesthetically pleasing to visitors, personalized for your brand, outweigh any downsides they may have like higher costs or additional work for designers. There has been significant growth in this area over the last decade with most companies preferring websites created by designers rather than relying on templates when starting out online. It's important to consider all aspects before making your decision as there can be fantastic designs available from both options; it just depends on what you need!
VOCSO can help with custom WordPress website design without breaking the bank. You may want to take a look here to know the details, what's included, price points, etc.
#8. Plan and Develop Your Website Content Strategically
It is important to have a solid plan before you start developing your website content because it can be difficult to make changes later. Your site's traffic, the amount of time that people spend on your pages and how much they share information about them are all influenced by what kind of content you provide for users.
A good content strategy involves three stages – defining goals or objectives in advance, establishing an overall outline with different levels (website sections), then breaking down each section into specific functionalities and features needed; Developing these elements will enable visitors to find relevant information quickly without having to search through irrelevant data. This means more page views for everyone!
The key to success in the future of content will be providing value. In 2021, seeking out and delivering quality information that is pertinent to readers' needs takes precedence over other strategies such as SEO optimization or posting at specific times during the day. Investing time into finding articles that are relevant for your audience can help drive traffic and boost sales with minimal effort on your part!
#9. Add Your Business Philosophies, Value, and Mission
Your business philosophies, values, and mission are the bedrock of your company. You can include them on your website as an introduction to visitors so they know what you're all about! This is a great way for customers to really get a feel for who you are before investing in any products or services from you. Not only does this provide transparency into how your organization works but it also helps build trust with potential clients because they will be able to see that there is no "hidden agenda."
#10. Optimize your small business website for search engines
It is very important to optimize your small business website for search engines. Without SEO, it would be difficult or impossible for a person searching on Google to find you and this could potentially lead them in the wrong direction with little knowledge of what they are looking at. Search engine optimization makes sure that when people look up information about your company online, their findings will match exactly what you want potential customers to know – from where we're located, our hours of operation, and contact info all the way down to how many years we have been in business!
SEO is a set of practices you apply to your website so that it can be indexed by major search engines such as Google, Bing, or Yahoo!, which will then rank it appropriately on result pages. SEO also helps generate more traffic from these websites depending on how well-optimized your website is; this means if one site has optimized its content with appropriate keywords while another company hasn't, the former would have better chances at being seen first when someone does Internet research through any of those sites mentioned earlier! While doing SEO for your website pages make sure you know about the latest SEO trends that might affect your small business website performance in search engine results pages in the future.
It may be a painstaking process to learn the details. Luckily, there are plugins that help make the job easier. We recommend using the All in One SEO Plugin. Do you want to rank higher on Google? Well, if so then it is time to start setting up the All in One SEO plugin. The All-In-One SEO Pack has several advantages which make it worth using over other plugins that are available such as its speed, ease of use, rich snippet, ability to automatically generate canonical URLs, and many more SEO tags.
Here are a few crucial steps to optimizing your website for search engines:
1. Keyword research and implementation:
Use keyword research tools to find the relevant keywords and implement them into your website pages. This is especially useful for SEO to boost your rankings & ratings as well. Improve your visibility & be discovered easily to garner popularity. This is important to be integrated within the H1 tag, along with the title.
2. Optimal website code:
Combined with SEO techniques, it's imperative to apply HTML tags to drive traffic to your site. Reduce bounce/abandon rates cum dwell time, boost search intent, page load speeds & CTRs. Ensure that you hit target words within the intro of your site for maximal impact.
3. Boost Your Page Speed:
Deploy a faster hosting service & add using a CDN for good measure. Remove as many 3rd party scripts as possible, whilst also compressing or at least reducing your page's size by optimising images (with filename & text). Collectively, this ensures that bandwidth is utilised more efficiently. Know how to speed up your website via this blog post.
4. Voice Search SEO:
Create FAQ pages, as major search engines such as Google relish crawling content from this. The result? Sharp & specific results which entice visitors!
5. Having a mobile-friendly site:
Be it using subfolders, link building, short URLs or simply device agnostic frameworks to display your site perfectly across the spectrum, do justice for audiences. All features should be available for users to benefit from & access, irrespective of how they're visiting your site.
6. Wrap your blog post title in an H1 tag
Essentially, this is a min title tag that instructs Google to 'read' the structure of your page. Often auto configured by default in WordPress settings, this is important to uphold your search visibility.
7. Wrap subheadings in H2 tags:
This can help to boost your target keywords reaching the intended audience, just with a simple navigation path.
8. Use external (Outbound) links:
Outrank other competitors simply by advising Google what your site is all about. Topic focussed content stands out from the crowd & gets noticed easily!
9. Optimize your URLs for SEO:
As these take precedence over title tags, why not shorten your URLs & be sure to always include a keyword in them? It works wonders for being discovered & you can always add a few more words or order this after a subfolder.
10. Optimize title and description tags: (Modify & add weightage to search engines criteria)
Ensure that your descriptions are both comprehensive and concise. Front-load your title tags, modify them & unique keyword-rich metadata.
11. Unique content and valuable content: (Copyright, updated/new, authenticated & detailed)
Innovate your material, apply a robust user interface & compile strategic resources. Consolidated research & convenient plus accessible procedures draw interest.
12. Use review or FAQ schema: (Connects to rich snippets, driving CTRs)
Integrate with snippets to boost CTRs & check your status with a structured data testing tool. Add emotional elements (power words) to your title tags & year to the description to ensure updated relevance.
13. Use original images:
Uniqueness is underrated: it's simple. Use an original image as opposed to stock graphics. The result? Well more popularity & public interest of course!
14. Internal linking optimization:
SEO heaven really. Give authority to high priority pages & integrate keyword rich internal links for successful intrinsic functionality & operability.
15. XML sitemap:
Collate all your site's URLs to formulate a contents list for search engines to analyse & how to access this. This can simply be saved as a file & helps to organise everything.
16. Bots coverage issues optimization:
Program with error free & methodical algorithms to ensure seamless delivery as well as responsive outcomes. Automate such processes to operate round the clock & virtually accessible anywhere.
17. Mobile usability optimization:
Use ergonomic buttons for easy tapping, navigation, visible central material, eliminating downloads for speed optimized pathways & image compression to save on data latency/rates.
18. Understand "Core Web Vitals" for optimizing a website for the quality of user experience:
Largest Contentful Paint (LCP): Gauges loading performance. For a decent user experience, LCP should occur within 2.5 seconds of page loading.
First Input Delay (FID): Assess interactivity. This should be less than 100 milliseconds.
Cumulative Layout Shift (CLS): Measures visual stability. Pages that maintain a CLS of less than 0.1 are considered optimal.
SEO is a framework applied to your website to improve search engine indexing & ranking results for users. Upon crawling by search engines, your site competes with other websites that have similar content. The better your site design & material is, the higher ranking your site will reflect on search engine page results. Report & gauge these metrics with JS to see how you can improve your performance.
Features include:
Security & having an SSL certificate installed. This is the standard protocol that upholds data privacy across web servers & browsers.
Fidelity backlinks (external site links with pertinent material) that run to your site
Plenty of positive reviews online via various search engines, directories & social media link portals, such as Google, Yelp, Facebook, LinkedIn, Twitter, etc
Deploy internal links across the site to maintain CTRs & viewing/access your content
This continual process can result in a difference in reflecting on the first page of search engine results pages (yielding vast amounts of free traffic to your website) or an insignificant number (resulting in no traffic)
#11. Website Loading Speed
Page load speed is an important aspect of a website that can drastically affect user experience. Pages with load speeds above 1 second are considered fast while pages that take longer than 5 seconds to load start becoming noticeably slow for users who visit frequently after how many visits they've completed. How fast your website loads will have a meaningful impact on how many people decide to stay with the site. In fact, 40% of visitors leave if content takes more than 3 seconds to load! This is why page-load speeds are so important for websites.
The number one factor that contributes to a good user experience and page load speed is one most important from them. It doesn't matter if your website has amazing graphics or snappy navigation- it won't be worth anything in terms of ranking on search engines and being shared on social media unless people can get there quickly.
#12. Full Website Setup and Launch
You might be familiar with the term "launch strategy" when it comes to websites. That's because there are a few different kinds of launch strategies depending on what you're hoping to accomplish, like if your goal is just getting people onto the website or trying to get them engaged and creating content for your site in order to grow traffic. There are also some things that all good launches have in common though: research, analysis, planning and execution!
There are many steps involved before, during, and after launching a website, so be sure to read through our list of items below before getting started on yours!
Check the website for browser errors, responsiveness issues.
Check for broken links.
Check Google Analytics setup
Make sure all content is up to date
All test images should be removed and replaced with licensed images
Point the domain name
Configure SSL and ensure all pages are being rendered via https.
Make sure "on page optimization" is complete.
Configure and check google console for any errors.
Loading speed of your website
Website launch strategies have the power to make or break a company, so it's important that you take your time and plan out all of the details before proceeding with this project. You should decide who will be responsible for what tasks in order to ensure smooth sailing from start to finish. It's also good practice not only as an efficient move on paper but because many companies fail during their first year due to some sort of catastrophic error such as forgetting about one crucial aspect when launching their website like testing links!
It is vital that every step has been taken into consideration prior to starting anything else; otherwise, there may be problems down the line if any steps were skipped which could then snowball into major issues.
#13. Regularly create and publish quality content
There are a few reasons why you should regularly create and publish quality content. One of the most important areas is SEO optimization, which can be difficult for many businesses without professional guidance. The benefits to this include increased traffic as well as better conversion rates when visitors find what they're looking for on your website pages because their time was not wasted reading through articles that were poorly written or out-of-date in reference to current events like fashion trends or health care policies.
Producing quality content is an essential factor for any business. It's not enough to just publish it, but rather you should do so on a regular basis in order to maintain high quality standards and attract new customers over time.
If you've ever wanted to know how to write website content that ranks on Google, then you must go through best practices and strategies for creating high-quality web content and blog content for SEO and help get your site ranking for keywords.
#14. Implement a website maintenance plan
One of the most important things that businesses can do to stay updated is to have a website maintenance plan. With this service, you will be able to keep your presence alive on various social media platforms and also avoid any downtime with security breaches or attacks from hackers because everything has been taken care of beforehand!
Many small businesses don't realize how important website maintenance services are to the success of their business. In order for a company's site or web service to rank well on search engines and be visited by potential consumers, there needs to be constant effort put into making changes that will stay up-to-date with current technology trends so they can have an attractive design. Websites need regular updates in order not just look good but also ensure rankings within Google; if this is ignored it could lower your page ranking (and therefore sales) considerably over time because outdated sites usually show low quality content which makes them less appealing than those who constantly update theirs accordingly!
Why are website maintenance services essential for your business? A lot of people think that they can manage their own website and keep it up to date without any outside help. However, as soon as you start adding new content or changing the layout, things get a little bit more complicated. That's why having an expert on standby is crucial to making sure your site always looks its best.
#15. Measurement/Reporting/Google Analytics.
Some people might not know the importance of website analytics, but it is very important to consider. Website data can be used for a variety of purposes – from checking traffic stats and tracking your customer base's demographics to understanding what content they are coming in contact with most often on your site. This information will help you make decisions about how you want to shape specific features or even optimize them so that more customers subscribe as members or buy products!
Using Google Analytics and Google Search Console to track and measure visitor behavior is an important way for companies like yours to succeed online. One of the many great benefits of this practice is that it helps you better understand your customers, what they are looking at on a day-to-day basis, which pages have been popular or not as much so far in comparison with previous months/years. This information can help shape decisions about content creation and other aspects related to managing your website effectively down the line – but only if these metrics are tracked!
There are different types of business-specific digital marketing tools apart from Google Analytics and Google Search Console that can help your business grow.
Conclusion
If you're looking for a way to build your small business website on a budget, these are some key steps that may help. If this all makes you feel intimidated and you would rather have an agency handle it for you, that's not a bad decision either. After all, you may want to stay focussed on doing what you do the best – running your small business.
VOCSO provides professional quality web design and development services with competitive pricing. Our team will create a custom plan that meets or exceeds your expectations while staying within budget constraints.
We also provide dedicated resources for hire: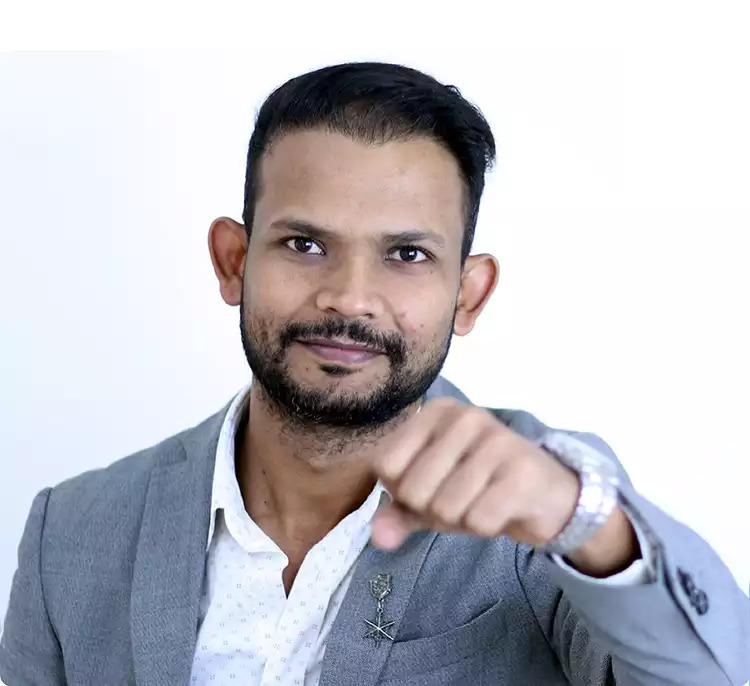 About Deepak Chauhan Hi, I am Deepak Chauhan, a Digital Marketing Strategist. I'm the CEO & Co-Founder of VOCSO Digital Agency, a creative web design, development, and marketing agency based in India & USA.