Maintaining your website is essential to ensure that it runs smoothly, is secure, and updated. You need to welcome visitors with an appealing visual and functional interface. This will promote a memorable experience, filled with an ergonomic framework to drive marketing and sales.
What is the need for a WordPress Website Maintenance Service?
Backups: Make multiple copies of your site to be used for restoration, in the event of a security breach or data content error, which can compromise, corrupt, or wipe any important material.
Expert WordPress support: CMS integrations assist with running your site to help run your site seamlessly for optimal workflows and effective management.
Security: update your frameworks regularly to patch any gaps and alleviate glitches to avoid any cyber attacks, including hacking or altering sensitive information.
Timely WordPress updates: be it themes or upgrading to ensure functional compatibility and plugin versions remain operable.
A Properly maintained website: Good User Experience. Boost your SEO, and brand visibility and subsequently be discovered more easily. Engage your audiences with greater content that is appealing to them with fluid and vivid aesthetic visuals. Ensure that all links are working properly to avoid and reduce bounce or abandonment rates.
Optimizing your databases: Streamline the data that's stored on your account to ensure that it's both efficient and meaningful. Remove redundant trash and only retain what's relevant to your site.
Boost your search engine optimization (SEO): For faster load times, promoting further visitors to your site and their respective retention. Who knows – you'll probably benefit from word of mouth recommendations and higher rankings too. Encourage your customers to leave better reviews and connect with keywords more effectively.
Maintenance can even impact your conversion rate: Customise and configure your site to optimise lead generation. Dedicated resources with assistance, along with live troubleshooting features, proactive hosting capabilities, and of course, security cum firewall protocol to protect your assets.
Website maintenance and support can be a creative and long bed story. It can be used to improve the design, functionality, security, and SEO of your site. There are many benefits to having someone manage your WordPress site for you. You can focus on other aspects of your business while knowing that your website is in good hands.
How to find the best WordPress maintenance service?
The autonomous and single touch operation allows you to update as well as run all your site easily. With custom drag and drop builders, quickly formulate your images and text within minutes. Prime your maintenance by gauging the feasibility of sustaining your services with their regular subscription or additional technical support. Would you rather pay a one off fee or a regular payment to assure consistency. The packages offered and true branding with many conglomerates merely modifying their name (however actually running identical facilitated services) is another aspect to consider.
Top WordPress Maintenance Services that Manage Your Sites So You Don't Have To
1. TemplateMonster
Website maintenance services by TemplateMonster provide a massive number of services to keep your site healthy and secure. It works for those users who have sites based on such platforms as WooCommerce, Shopify, WordPress, PrestaShop, and OpenCarts.
To cut a long story short, the team will make sure your resource gets uptime monitoring and regular health checks. In addition to this, it will work on extra objectives, including weekly backups, improvement suggestions, and weekly updates. There are also five hours that the dev team can dedicate to your tasks. It is also crucial to mention that you will get monthly reports.
All of these services are available for you at $899 per year. Do not forget that a promo code "thimpressMS" gives -5% OFF on TemplateMonster's website maintenance services.
2. WP Buffs
Hosting a 24/7 digital management platform, these guys really do boost your online potential with their dedicated WordPress tools. Power yourself with sustained growth, customised plugins and even 2months worth of complimentary service when opting for their annual plan! As if that wasn't enough, their mobile device optimised framework ensures full compatibility across the spectrum, including for tablets. What's more, their priority support and Google Analytics integration, it's both functional as well as gaugable for maximal performance.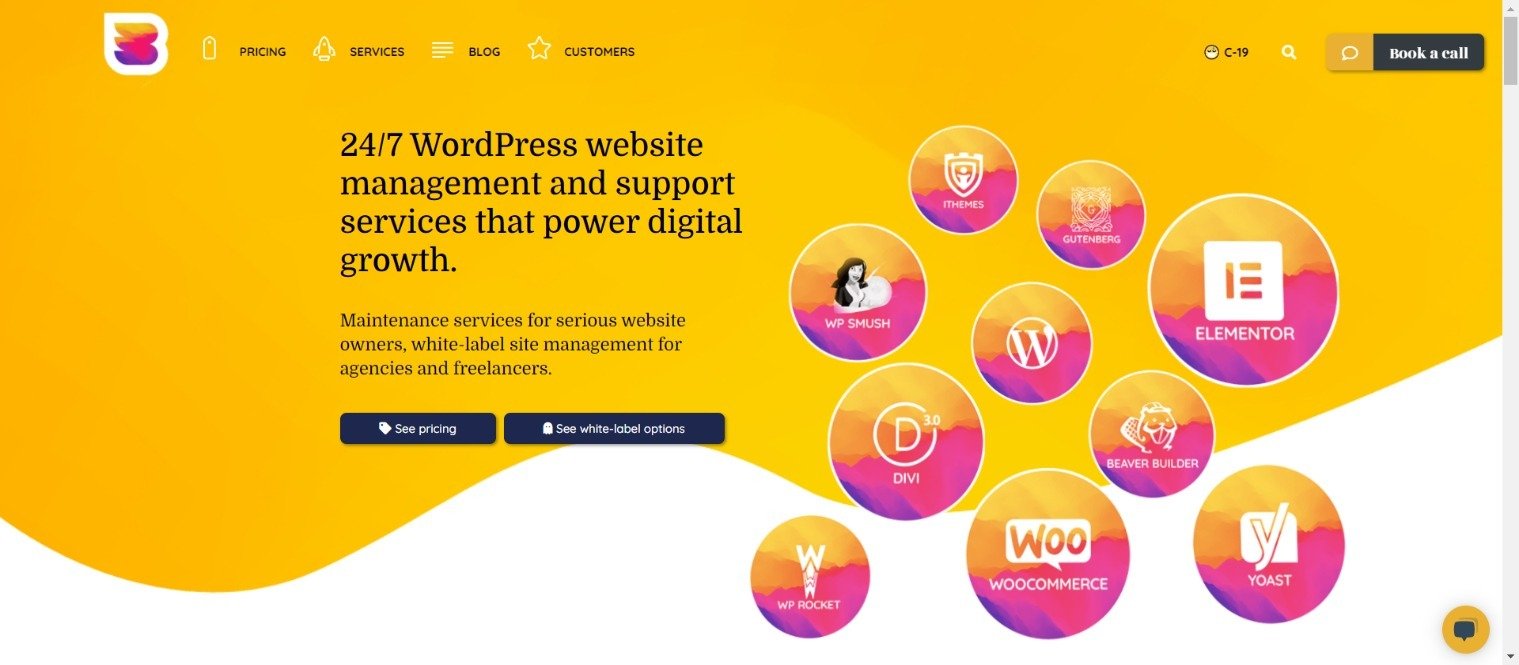 Edits and updates, optimisation with backups for restorative operations augment the user experience. This is compounded by the dedicated ecommerce and membership sites, plugins as well as constant monitoring to uphold uptime. Global service agents and clearly enumerated actioned elements help to inform customers about what work has been done, whilst remaining accessible 24/7. White labelling for client hosting is a useful additional feature. Downsides are that malware removal is only available on dearer plans, whilst plugins are only updated weekly (although this does allow for more thorough testing). Pricing varies to the tune of threefold for all premium add-ons (subject to subsidy on annual plans).
3. Codeable
Design customised packages with expert WordPress developers who can both maintain and secure your site. Be assured with fidelity work with their stringent qualifying worker process to filter out only the cream. Specify your precise requirements to ensure a discrete yet effective plan. The team doesn't support the process directly though and delegates work to others instead. This along with the expectation of technical knowledge in order to collaborate with experts directly can be overwhelming. Lags in estimated quotes for the work you assign can also be concerning, as is the cut that you need to pay Codeable themselves for this agency type service. Considering that this fee is non refundable, irrespective of the quality of work or whether it's even completed, this is questionable.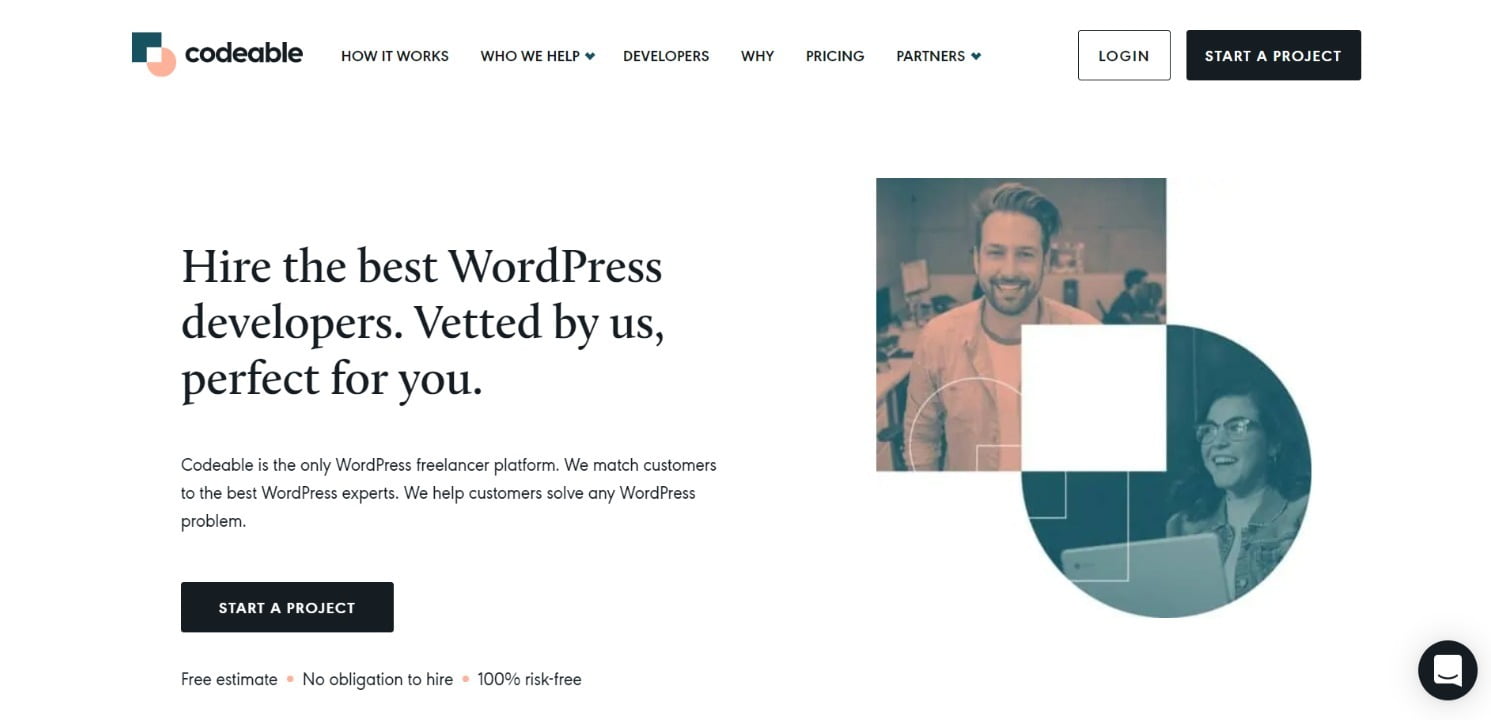 4. GoWP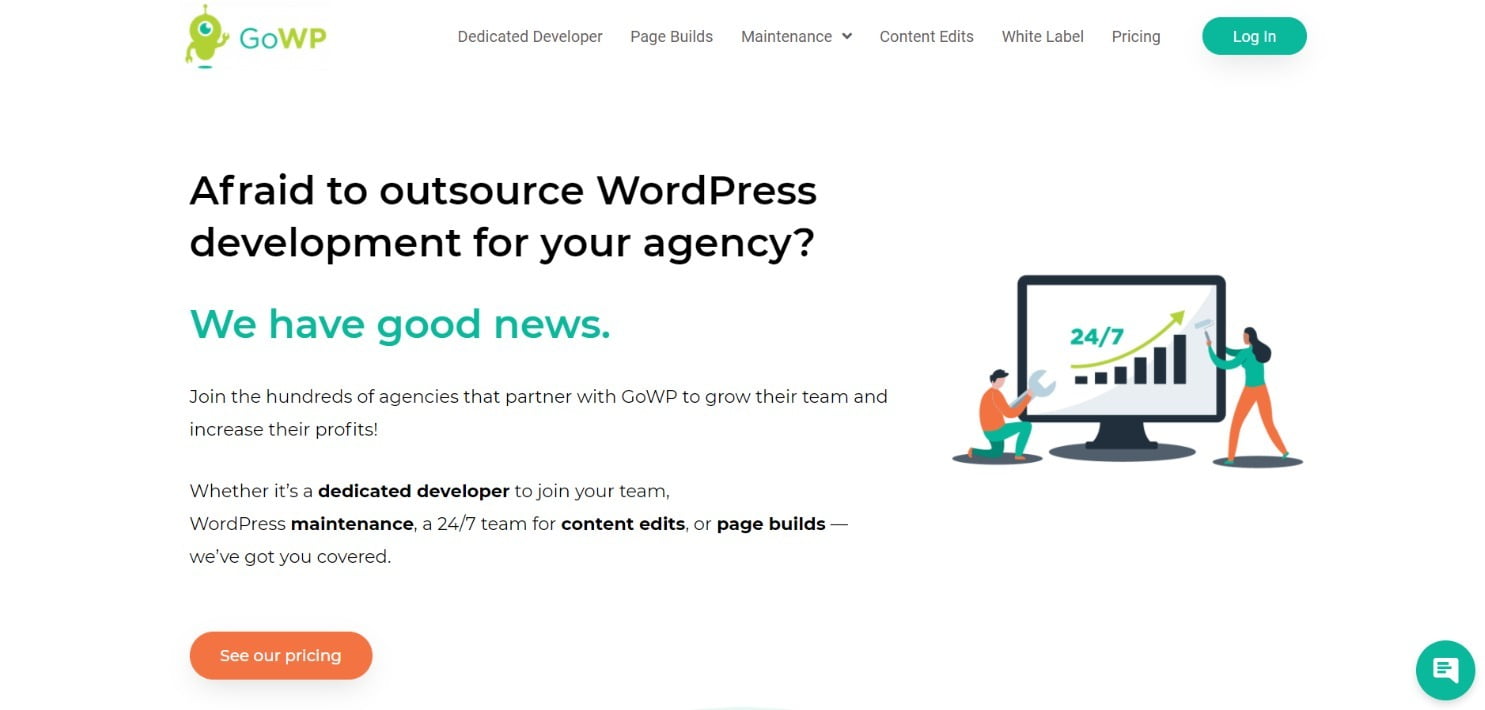 These guys offer white label WordPress maintenance and support. Be it updates, security and backups, this is a comprehensive site solution with 24/7 technical assistance. With multiple freelance simultaneous accounting capabilities, you can handle seamless integrations whilst multitasking. Integration and site cloning features are also available.
Their freelance specific maintenance allows independent branding but with technical structuring. Various packages enable time bound work assignments by their team, along with the visual validator to audit and verify plugin updates. The quick TAT ensures efficient service and resolution delivery and is available for both your own as well as on behalf of other sites. It can however be cumbersome to use for amateurs (being more agency based) and the interface work is chargeable beyond 30mins. Their pricing varies widely from a nominal monthly fee for the basics to almost 2 grand for a dedicated developer, including CSS.
5. Maintainn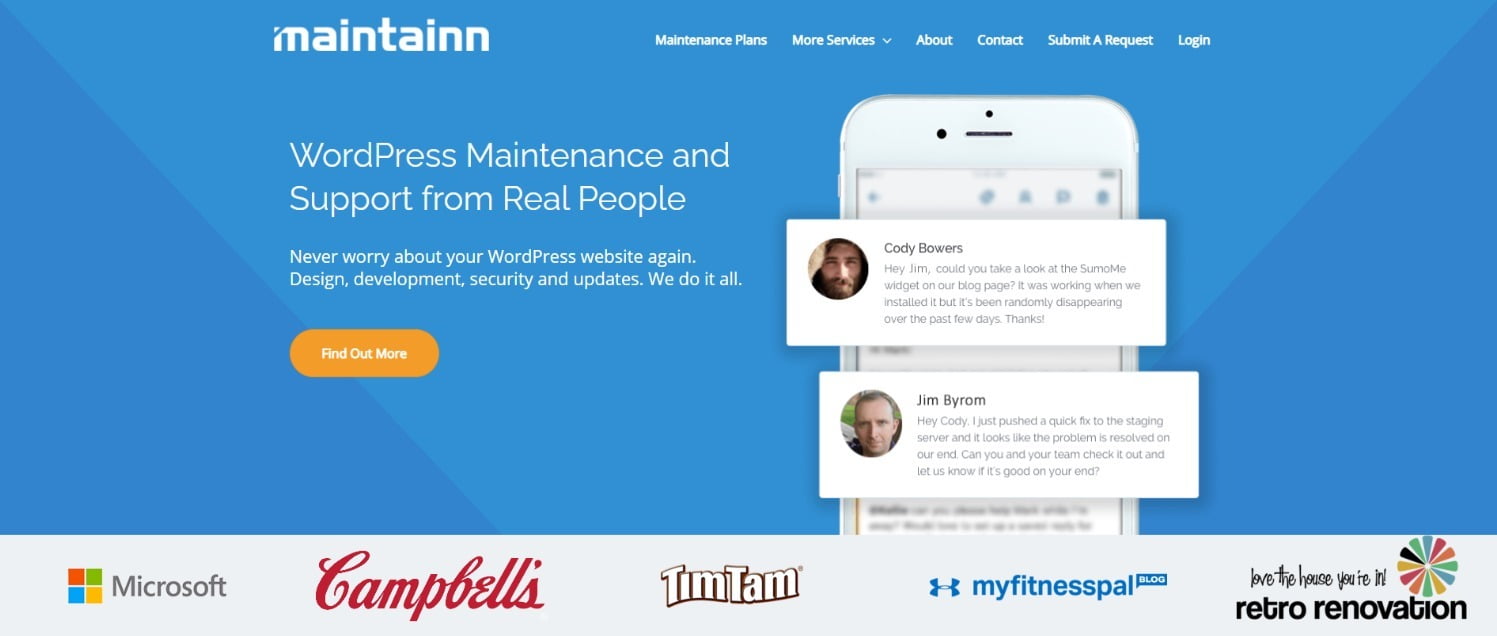 Having been around for almost a decade and owned as well as operated by WebDevStudios, Maintainn offers dependable site services, including regular backups/restore options, security tracking protocol, weekly updates and custom development. They can even edit your current coded algorithms for desired performance, personalise bespoke plugins, repair bugs and advise for optimisation. With enterprise and individual maintenance services, it's no wonder that their flexibility is desirable.
On higher priced plans, they offer constant uptime monitoring and ecommerce support plus post cyber attack malware removal. Updates, competitive pricing, live chat and email customer service, along with action reports to collate what work has been undertaken gives Maintainn its edge. Their design and development offering ensures that a comprehensive framework helps your site to run smoothly if not well! As their support isn't 24/7, this may be a challenge for some and certain features are exclusively available only on the upper scaled packages. The versatile array of plans which include a team based environment framework synergises both staging sites and version control.
6. Valet
Be it core WordPress or plugin updates, restorative backups and staging site previews are just some of the features offered by Valet. Offering both simplified pricing structures on both an hourly as well as monthly basis (depending on usage requirements), all users can formulate and benefit from such frameworks. This effective pricing also includes ecommerce and uptime monitoring for ultimate efficiency savings.
However, this is accompanied by a caveat. Pricing doesn't include support which is an additional service, as is the ambiguous SLAs which aren't outlined on their site. This lacks both transparency and accountability with assurance for any elected service. Their hourly developer fees are quite heavy as well.
7. WP Maintainer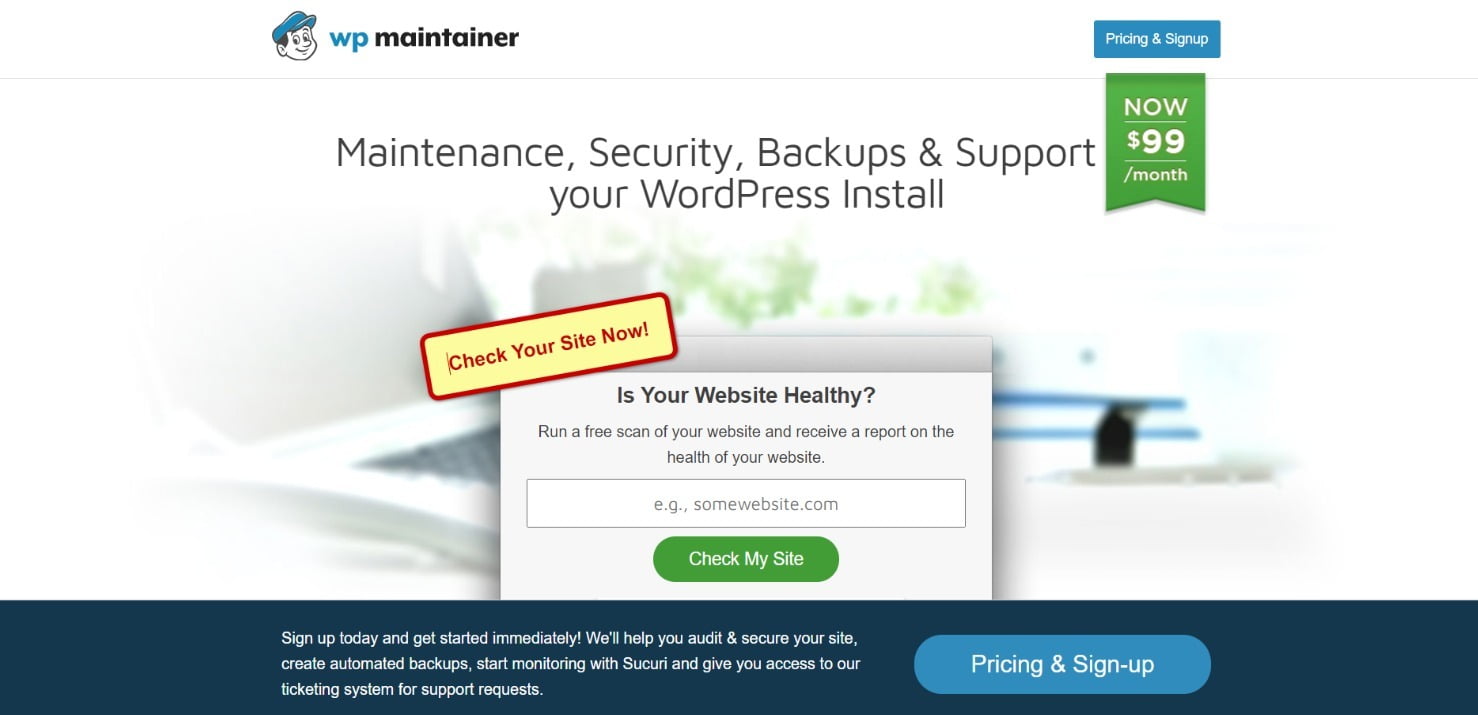 With their scaled pricing, configure your individual package according to your requirements. With stellar security, themes, plugins, development and a pay as per usage model, the innovative ways make way for better outcomes.
Add on support and developer processes are available at an extra cost. Free site scans and a unified plan declutters any unexpected elements, so that users know exactly what to expect. Malware cleanup in case of hacking attacks is inclusive. Their moderate developer support is more reasonably priced than compared to other rivals in the industry. Regular updates compliment the features to ensure secure oriented performance. The gratis site provider migration is another useful tool. Unfortunately, support isn't included but rather chargeable, as is the doubtful case of any satisfaction money back guarantee. This omission isn't very customer centric and questions the ergonomics of WP Maintainer. How feasible is this in the long run?
8. WP SitePlan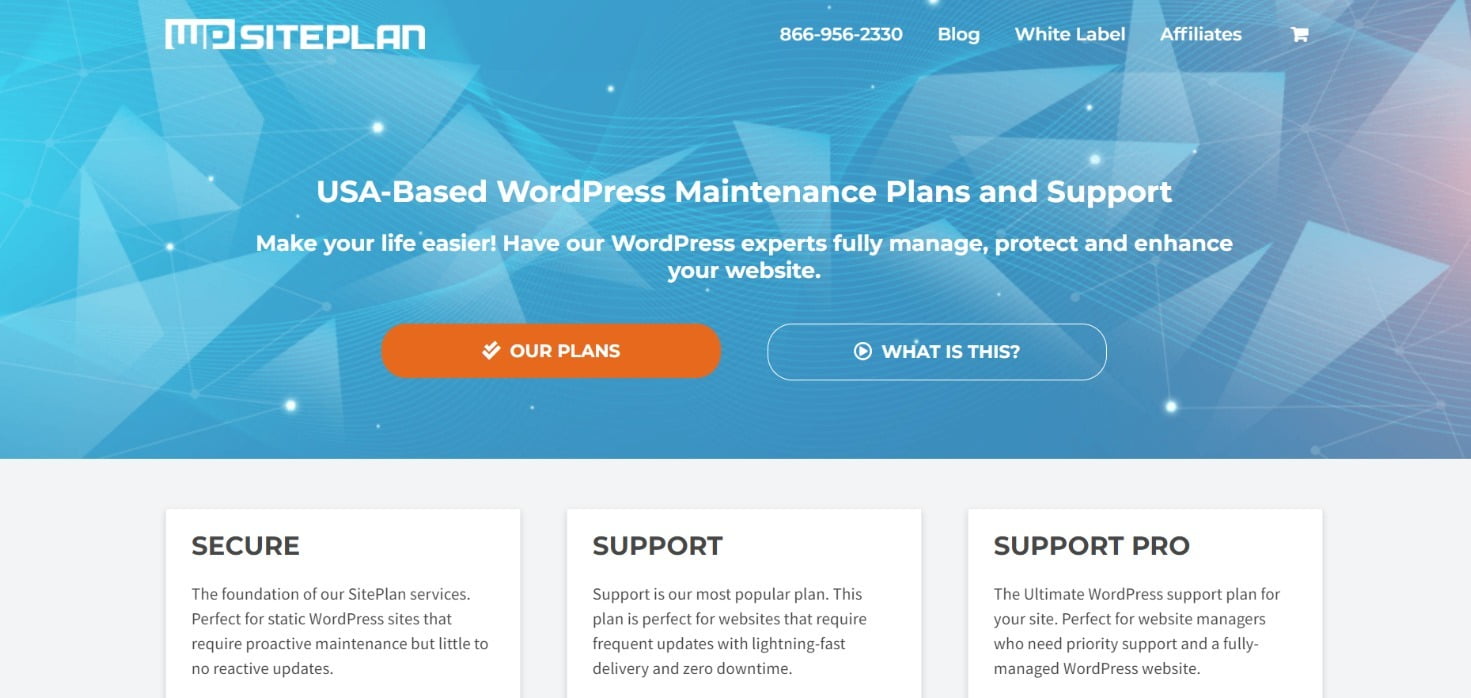 Hosting an array of salient features, including malware scans, database management, theme optimisation and of course flexible payment plans for fully adaptable options. Content editing, material performance modifications and robust workflows drive your site appeal. This helps to improve efficiency and consequently save time. Backups, uptime monitoring, tracking analytics, updates, database optimisation, scans.
9.WP Tangerine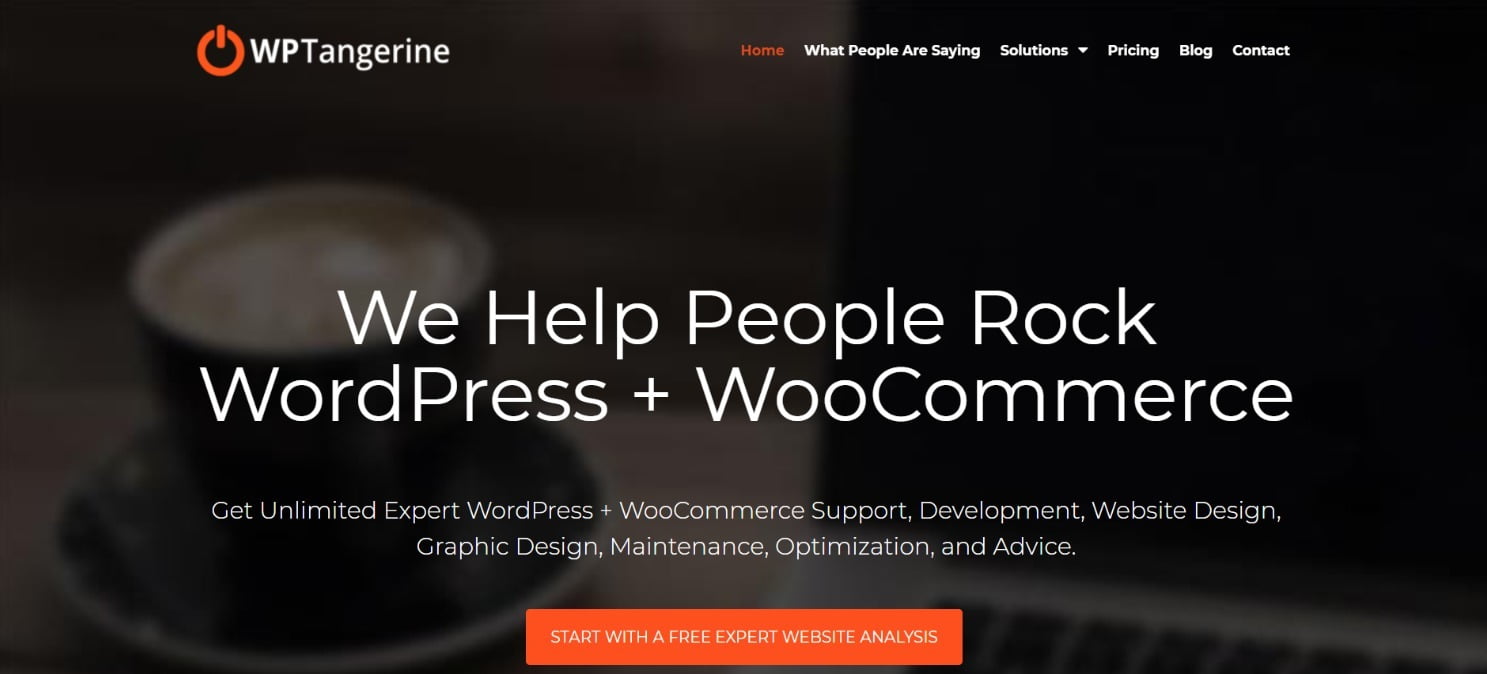 >

From SEO for reduced latency and boost fast page loading times to site transitions, these people have got you covered. Correcting site errors, researching and specific tool based requests are all offered as made to order services. Editing modifications, Q/A to promote learning, graphics, design and developer tools all promote appealing interfaces. Advanced SEO strategies with optional dedicated campaign cum content manager, transparent reporting, keyword analytical audits, marketing and copywriting all ensure better conversion coverage. Customised offline link building and social signals, along with responsive ranking puts your site in the VIP section of search results.
10. Total WP Support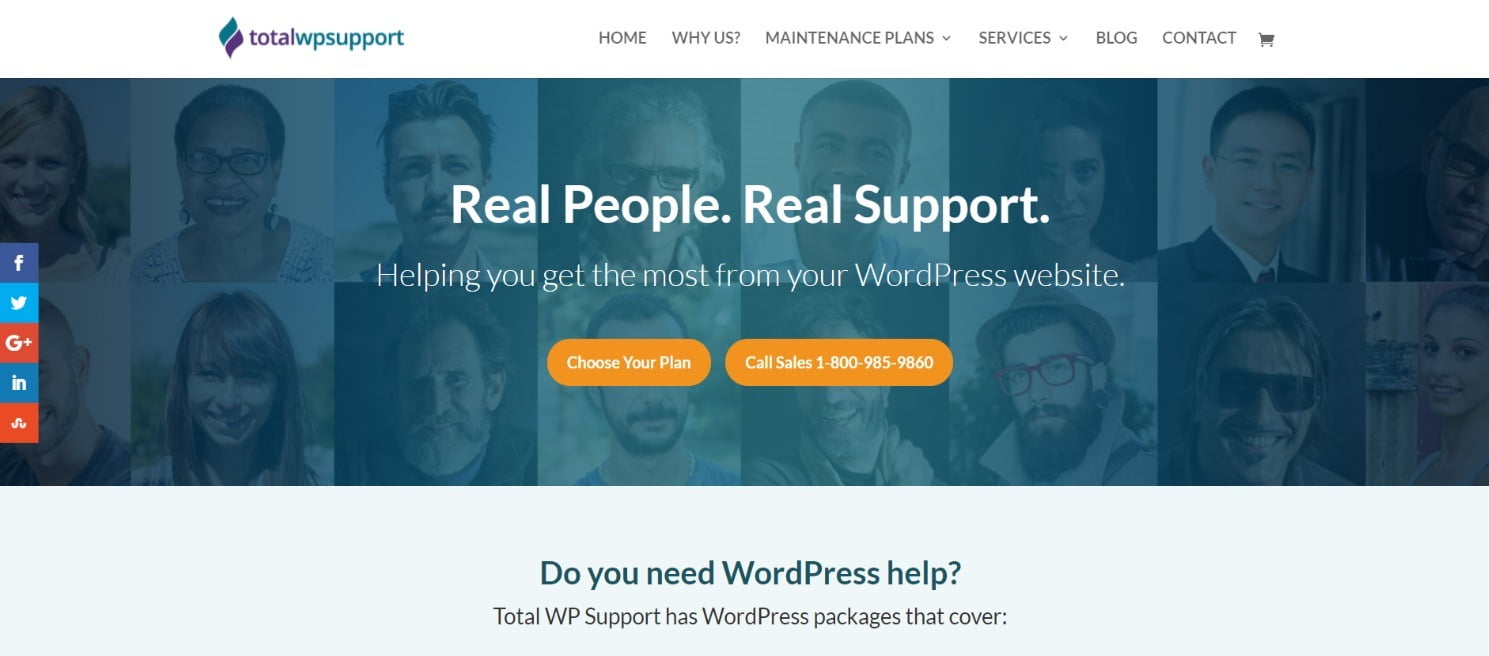 Uptime monitored hosting, malware removal and robust security protocol, Optimised with economy and small scale businesses in mind, this quaint package is ideal to achieve a balance between adequate maintenance of your site and efficiency. Their updates, maintenance services and backups all help to run your site better. Depending upon the plan, they even offer Google analytics, CDNs to boost page load speeds, live monitoring, error fixes, uptime maintenance, link management and SSL certified encryption too. Training and plugin protocol adds to the features to equip you with the skills required to maintain your site autonomously. Their expert analysis ensures that the cause of any hack or cyber attack is identified, addressed, site is cleaned, restored and blacklisting removed to uphold your IP address.
11. FixRunner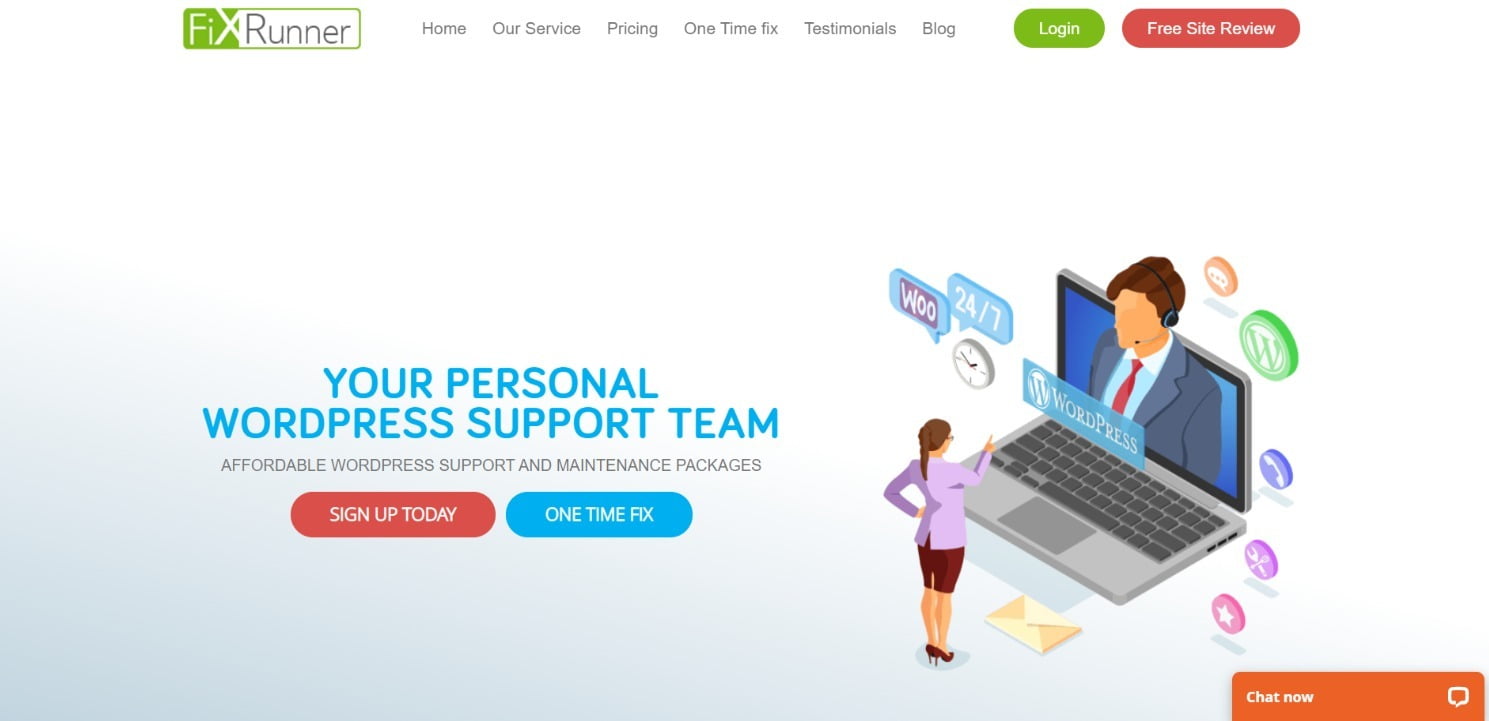 Expert and fixed pricing ensures fast as well as effective resolution of most problems. Remove malware, protect against hackers, regular backups and other security reinforcements to keep your site covered. Optimised page loading speeds and flexible options promote great performance which won't hurt your pocket.
12. WP Tech Support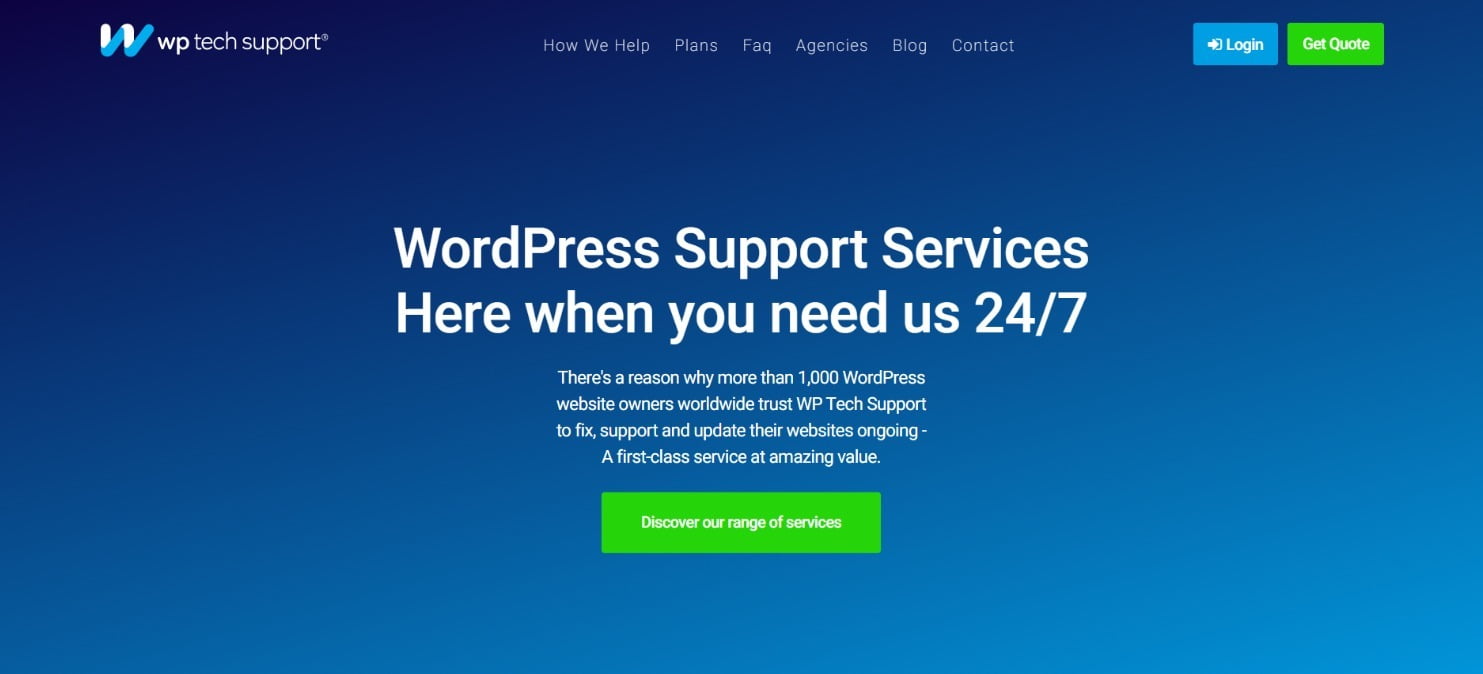 Dedicated WordPress support to fulfill all your needs, including development, emergency restoration via backups, hacking incident recovery, updates, plugins and optimised compatibility for seamless performance. Expert and responsive service, along with offsite reporting for detailed analysis plus tracking. SEO load speed boosting to reduce latency and encourage visitor footfall cum retention. Secure SSL certification for encrypted pathways, customised workflows/templates, hosting management, uptime checks, malware removal and increased organic search visibility.
13. Vepp

Delivering an ergonomic interface with dashboard, perfectly suited for and specifically aimed at both freelancers plus agencies. With safety being pinnacle, Vepp automatically configures regular cloud based backups to Google drive, continuously scans for malware and deploys SSL encrypted certificate protocol. Auto migration, installs and staging for test previews. Setup servers, user role and management profile access. Stabilised contemporary workflows with updates and profitable affiliate maintenance for monetisation. Caching, PHP developer tools, databases, integrated file management, site migration, domain connections and renewals for ultimate site performance. Monitoring with notification alerts, infrastructural maintenance and integration support helps to analyse how your site is running.
14. Ray Creations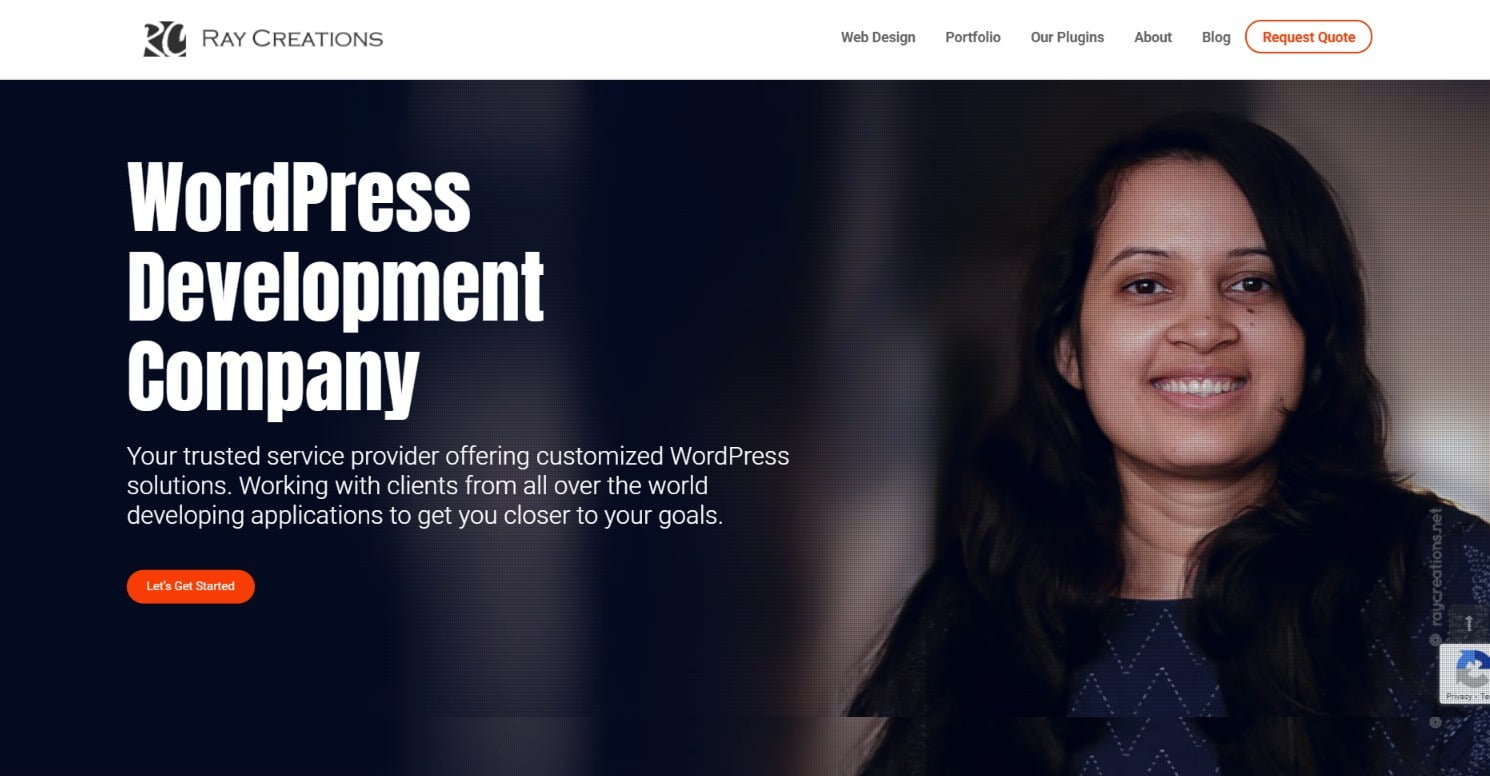 Optimised mobile device designs ensure full support and compatibility across the board while digital marketing boosts visibility for growth by diverting further traffic to your site. Responsive workflows, deduplication, SEO, conversion rate metrics, deploy digital advertising and email marketing plus social promotion. Integrated management, hosting, cloud based frameworks for backups as well as implementing updates. Address errors and glitches, as well as managed hosting with synced pathways for optimal performance. Database and IP organisation also assists the process as well. Customise apps for ultimate productivity.
15. WP Site Care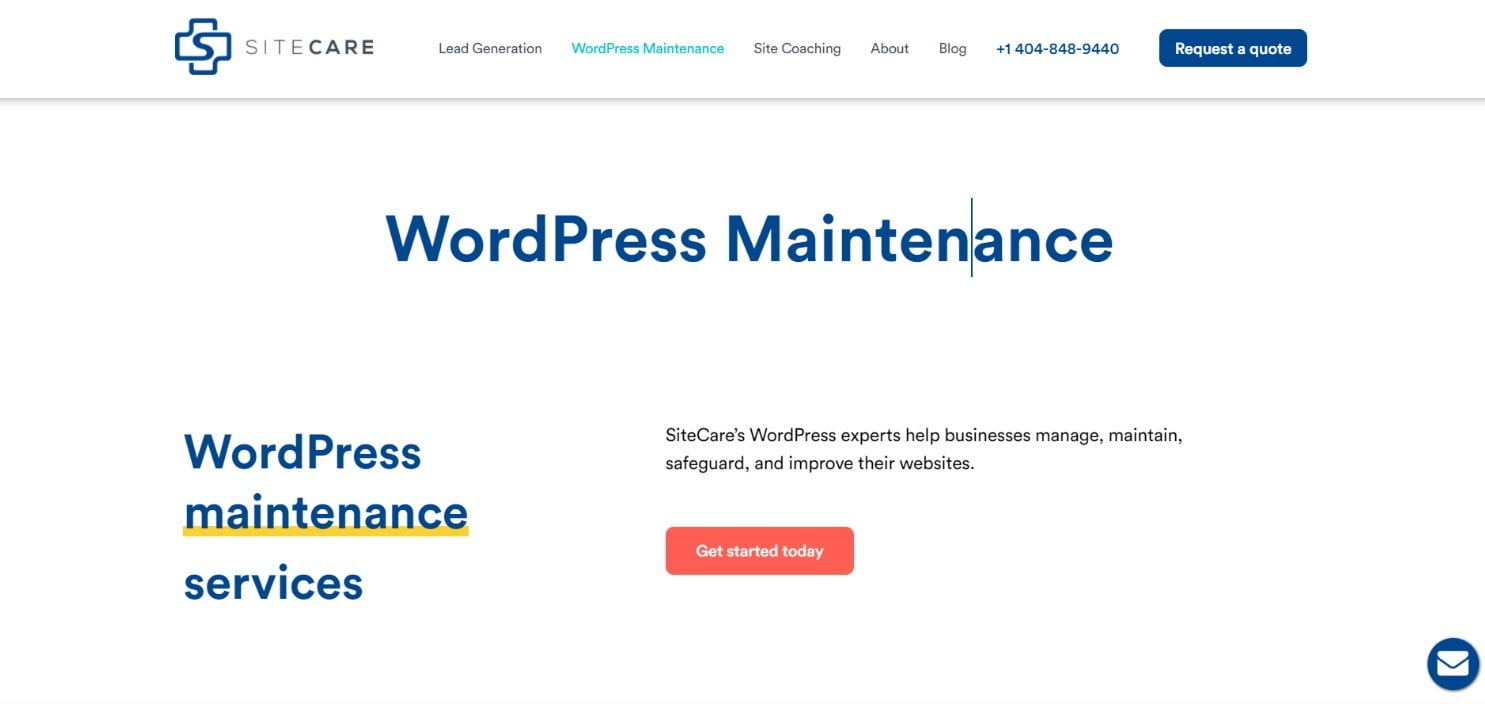 Ranging from SEO content management to security protection, as well as restorative functions to repair any cyber attack induced damage, constant monitoring as well as development. With various pricing options, featured content is available, dependent on which you opt for. Lead generation management, material marketing, speed boosters, updates and malware removal all keep your site safe and running fast. Convert visitors into buyers, PPC campaigns drive traffic induced monetisation, email marketing, social media integrations and higher rankings boost ROI. Create new revenue channels to stream even larger audiences.
16. Webful Creations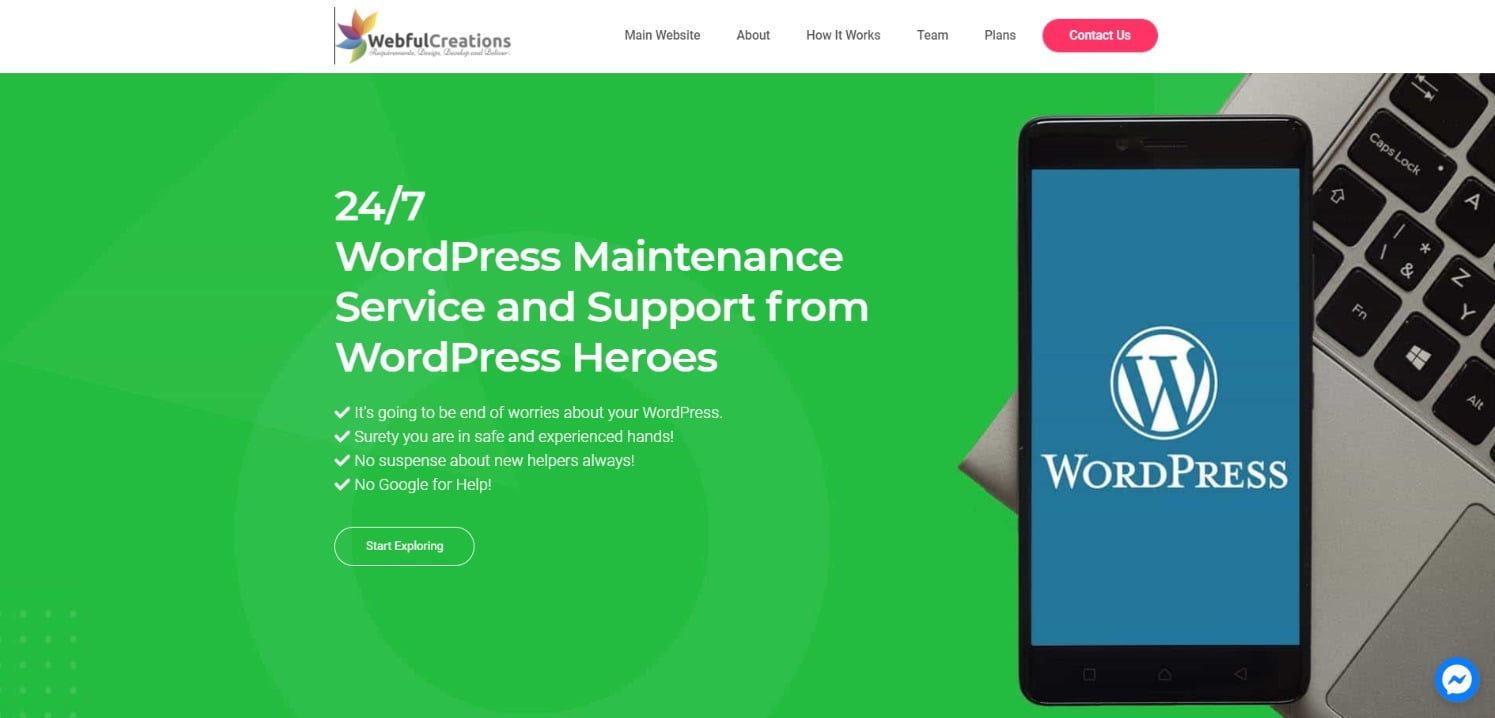 With unlimited edits and technical customer service support, be assured that your site is in good plus trustworthy hands. What's more, traffic management with coded logic to optimise via SEO for traffic flow controls all promote the entire experience. Regular updates and reports ensure seamless performance plus secured frameworks.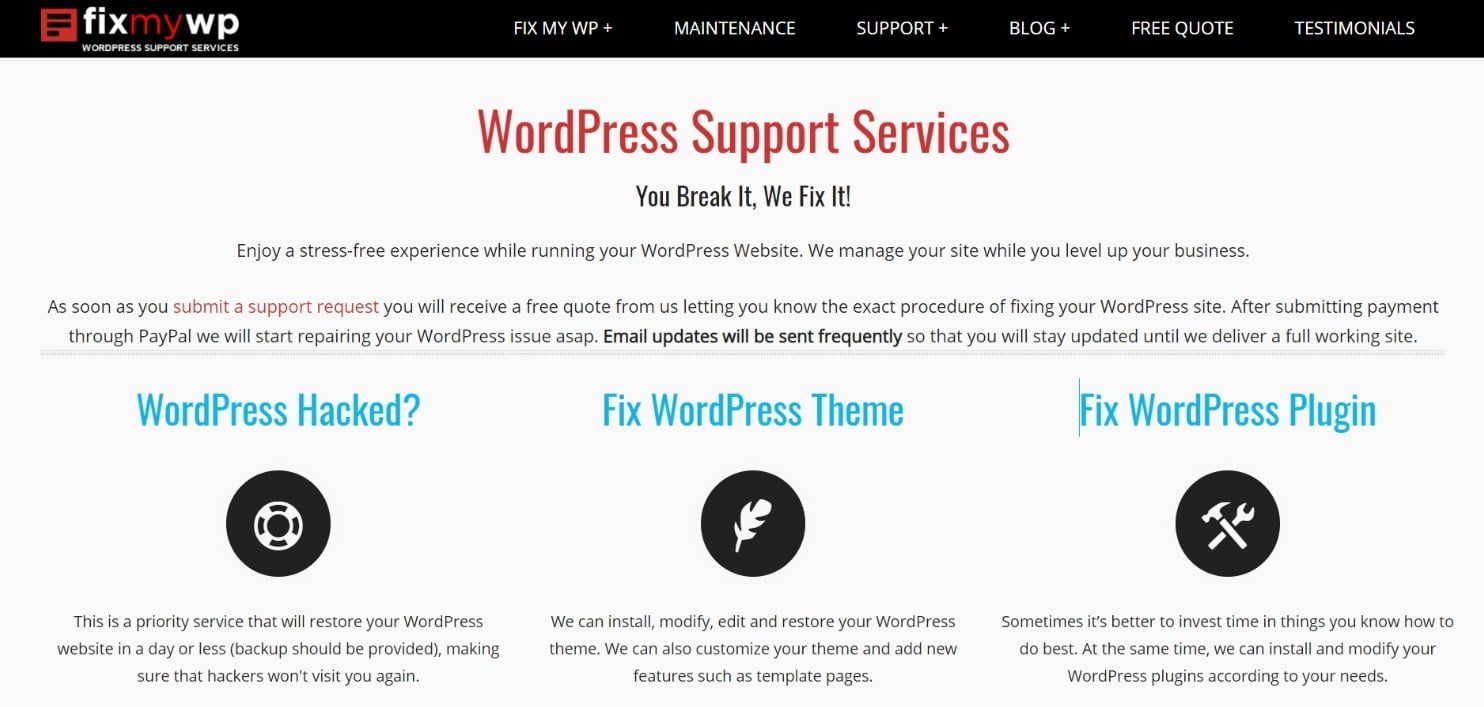 Optimised content, updates, backups and restore operations with malware removal for such incidents is all inclusive with FixMyWP's comprehensive plan. Protect your databases with cloud based protocol and monitor aspects, along with seamless migrations. Their plugins are backed by 24/7 support, speed optimised and template themes all contribute to the maintenance services.
18. Newt Labs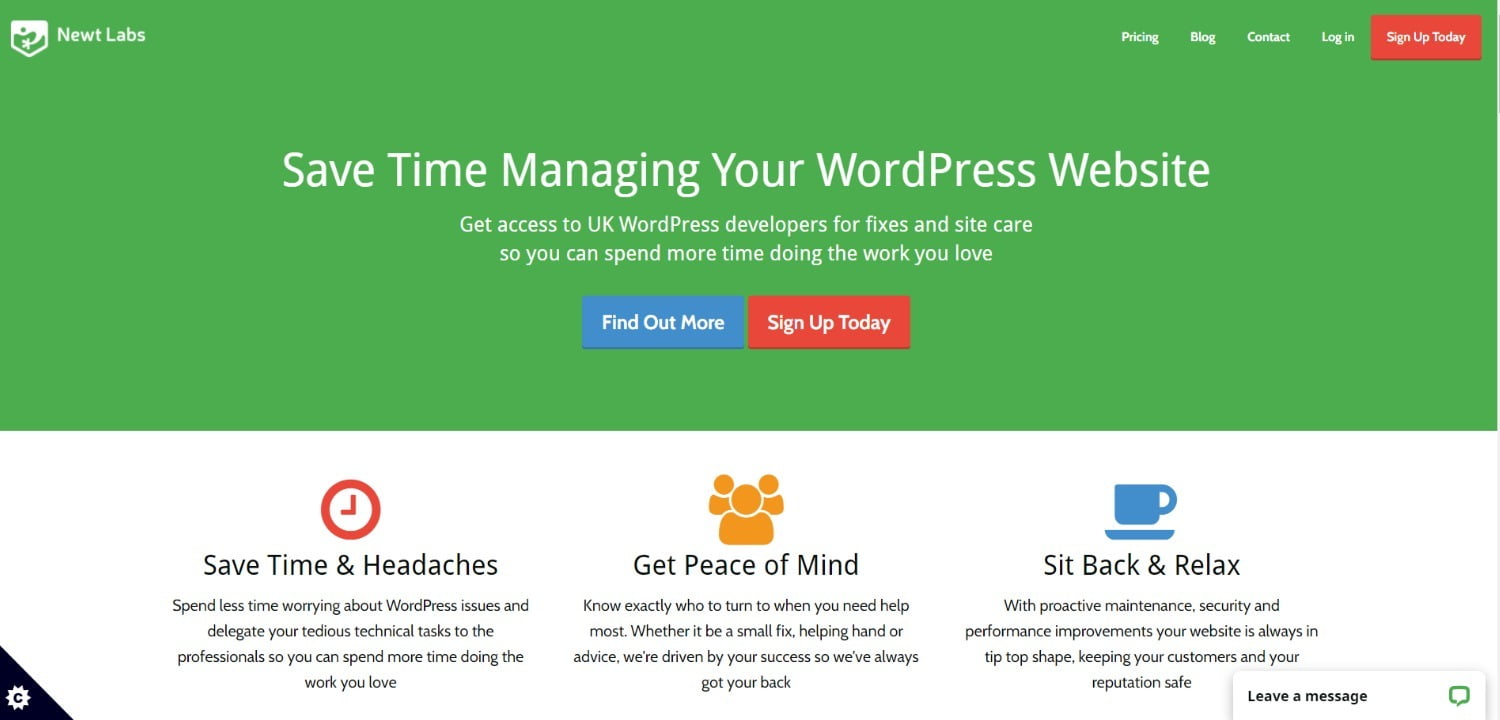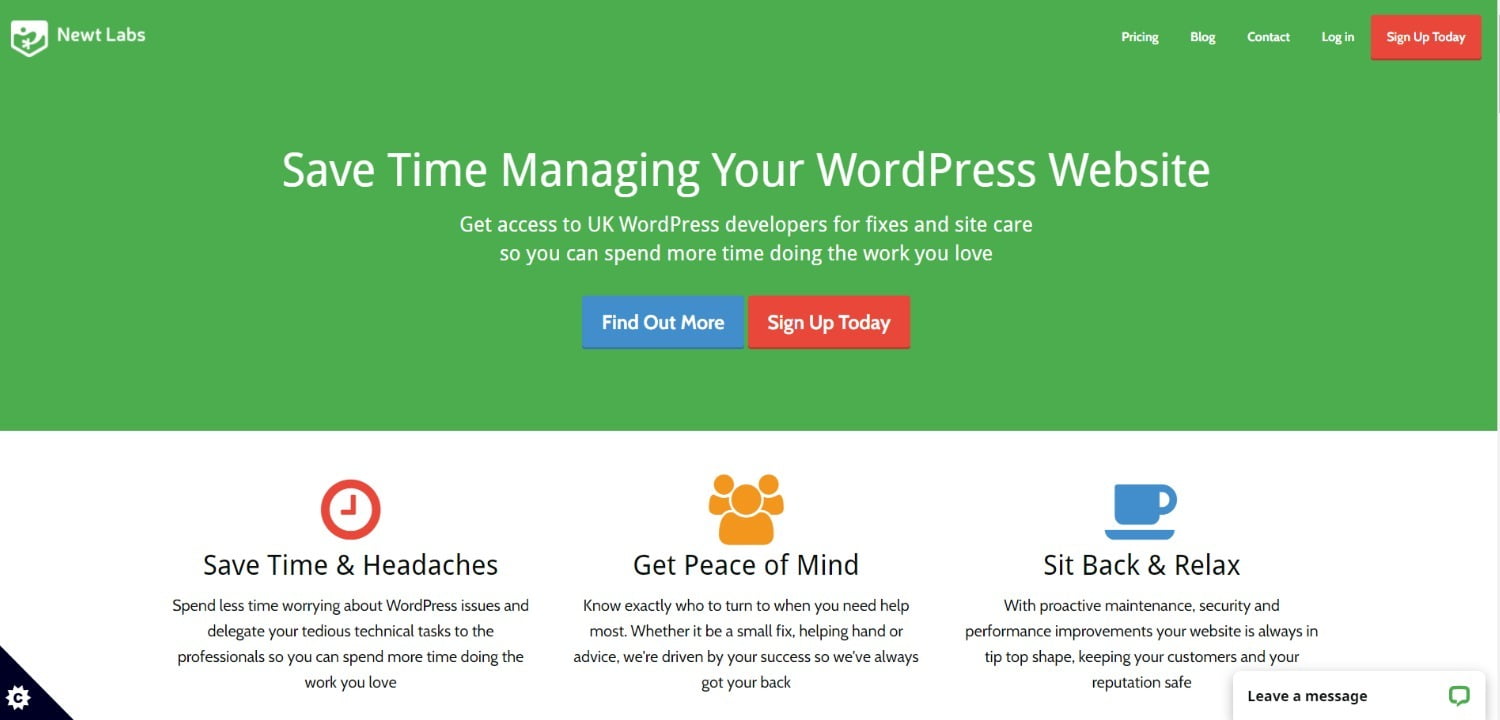 With a fast TAT of generally within the hour, great theme and plugin customisations, regular updates, robust security protocol and offline backups for ultimate recovery, Newt Labs has it all. Their distinctive reputation management continuously monitors your site and tallies this against any blacklist databases to ensure maximised rankings as well as ratings. This in turn helps boost your positive visibility, inviting customers to visit your site and potentially convert from leads to subscribers. This tracking, along with any malware removal in the unfortunate event of being hacked is all complimentary within the plan. The rich resource section provides interactive video content for better understanding to guide and implement strategic improvements. Maintenance is made easy with the unified and ergonomic dashboard, as is the file scanning, firewall and encryption to protect your data assets as well as privacy. Cloud based frameworks help to secure and speed up your WordPress load times, along with optimisation and reliable workflows. Developer options are also available offering the best design and functionality service.
19. WP Butler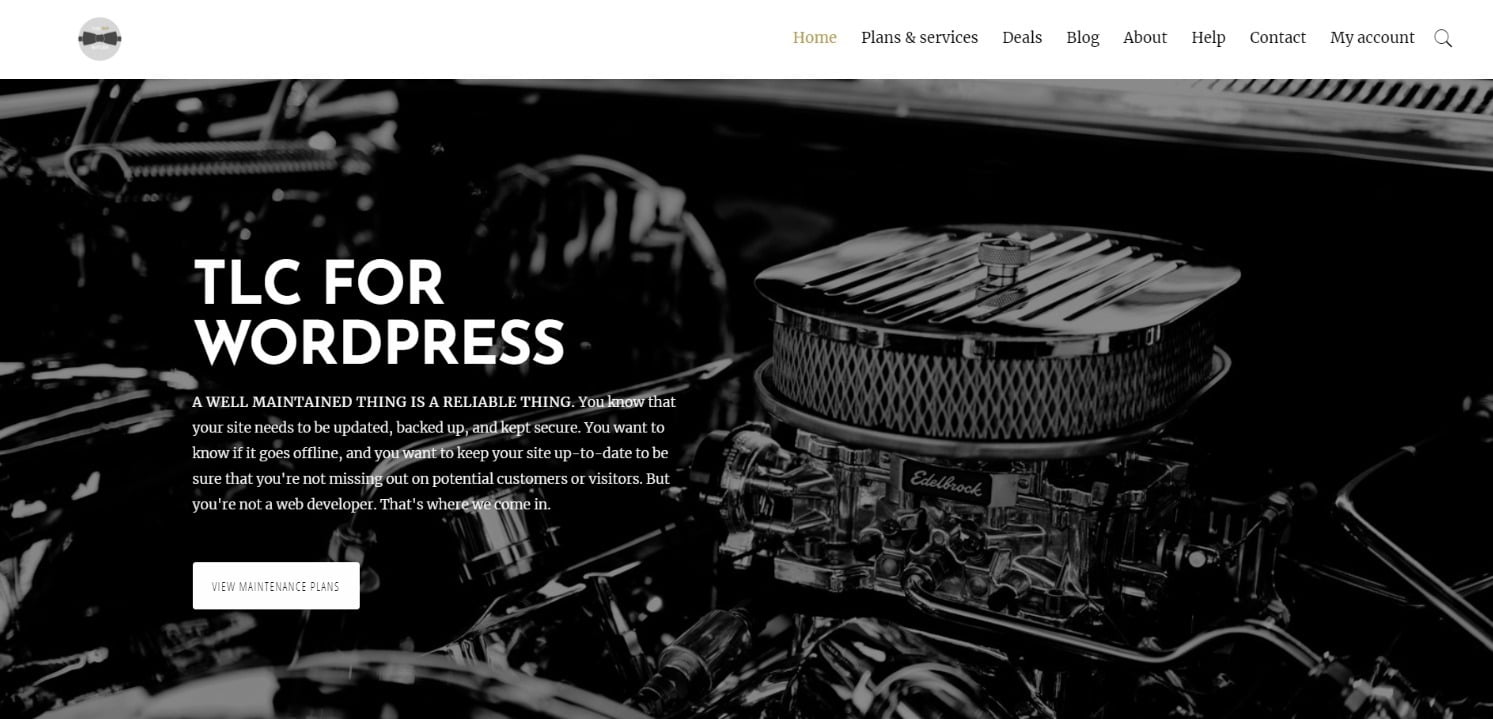 WP Butler offers professional WordPress hosting with regular updates, security and developer options to fulfill all of your requirements. Backup restores, expert advice and reinforced protection ensures that you receive great advice with guidance, salvaging your content. Automated processes along with their great support team ensures that your task management is effectively managed. This improves efficiency and allows for further time investment to develop your brand. Be it plugins, child themes, caching for speed, HTTPS configuration, security assessment, site audits and transfers, all are offered as one time use services, as per your needs.
20. Themelocation
Offering WooCommerce support, fixes and development with white label services plus infinite site edits empowers your site with reliable and functional content. Fast backup restorations, flat monthly rates for added transparency, professional developers for plugins, themes and regular updates. Backups and secure pathways ensure data integrity and maintenance of privacy too. Restore archived content with ease anytime. What's more, the basic graphic design and constant monitoring is available to compliment your material for ultimate coverage as well as appeal. Ergonomic dashboard panels, SEO and responsive, purpose linked designs, convenient installs and accessible support assists you to successfully drive your site. Customise content for an ideal niche outlook.
This on demand site service backed by a satisfaction guarantee entails minor tasks, repairs, optimisation and malware removal. Simply raise a support ticket to establish contact, review by assessing the task and sending a quote, finally being fixed by specialists. Be it simply updating styles, imagery or layout to plugin conflicts, internal server errors and faulty themes, get priority service. Fast page loading, seamless migrations, hacking recovery management to combat server disruption and uphold traffic volume. Keep your customers content to boost and maintain retention. Improve visibility to be discovered more easily by deploying their experts to revamp your site design. Update content and address checkout errors on ecommerce platforms with a review to finalise any further amendments. With fair pricing, backups, configured frameworks, domain transfers, caching, database management and image compression to reduce latency, your global reach just got even better. Avoid brute force attacks with limited login attempts and reduce bad request errors by fixing broken links.
The robust security protocol ensures that your site is continuously monitored, scanned and freed of malicious content. Remove blacklisting and core file reporting augments the organisation as well as auditing aspects of running your site. Updated SEO, along with mobile device support and compatibility for better ranking plus conversion assists monetisation as well.
22. VOCSO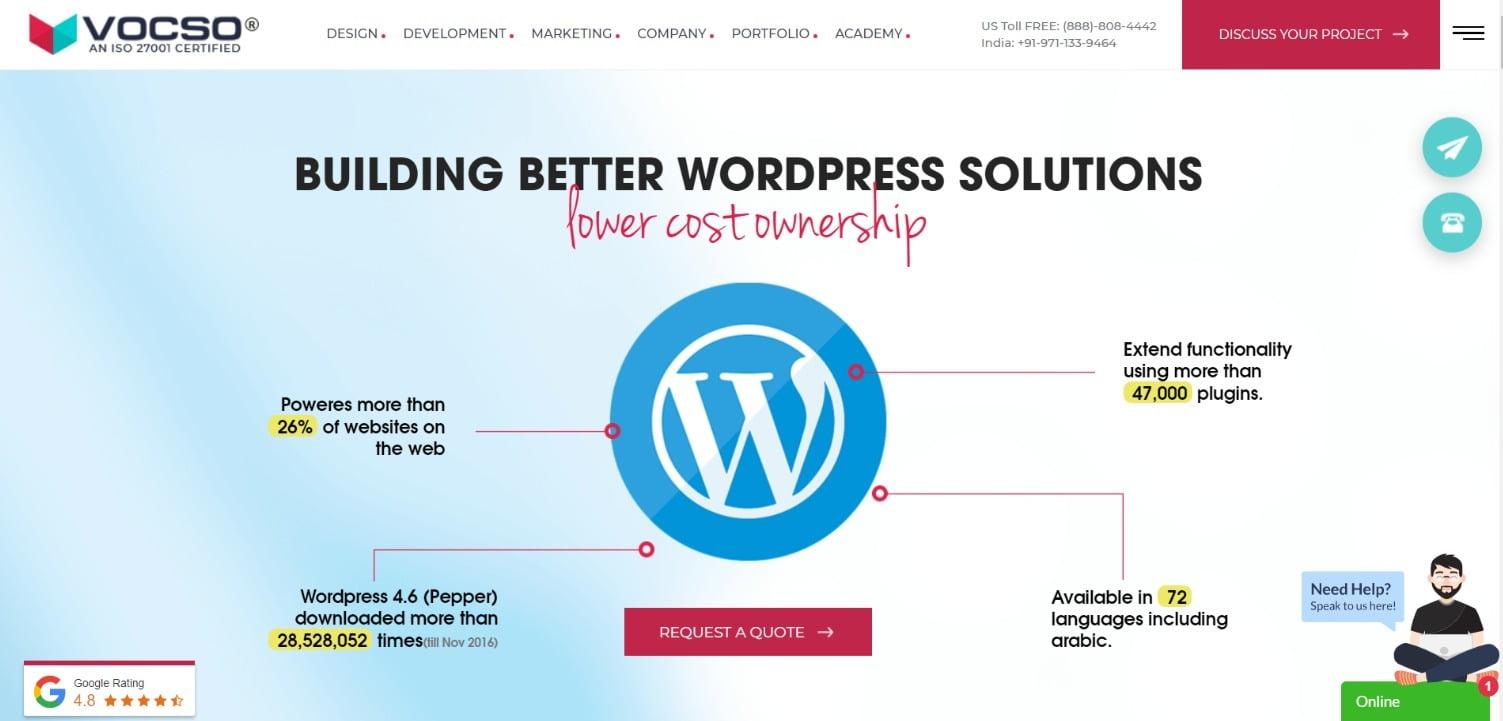 Here at VOCSO, we offer personalized on-demand WordPress development services at a nominal and competitive price. With our expert team and flexible website maintenance pricing plans, be amazed at what you can achieve. Ranging from infinite pay as you go to monthly and even annual packages, there are plenty of options available to suit your needs. Starting from a mere $90 per month, features including dedicated site management for multiple sites and support are included. Whether you're a small business or a significant organization, VOCSO has you covered. Design, management, e-commerce specialization, and SEO are all included as standard. Customized templates, multi-currency, and linguistics, along with a responsive lifecycle augment the entire experience.
WordPress is one of the most versatile and popular website builders, not to mention a powerful platform to host your site. Hence it's ideal to capitalize on whatever features you can deploy to harness the true potential of your site. Its simplistic and stylized CMS with a theme engine, custom type/taxonomy, and application framework enables true unparalleled scalability. We can boost your organic traffic with both SEO and mobile device-optimized compatible sites. Our responsive shopping carts promote monetization, developer options for reselling, site migration, membership/subscription management, community support forums/portals, and portfolios empowering you to run your site fluidly.
VOCSO's functional plugins, integrated Google ergonomic SEO, updates, fast workflows, and universal compatibility makes WordPress an ideal choice. With competitive pricing, fidelity, and service-based customer charter, be assured that we here at VOCSO will deliver your project in a timely manner with flying colours. Our flexible pathways, incorporated comments, easy publishing, user role access control, standard compliant code generation, and expansive designs just add icing to the cake.
We offer personalized engagement plans to drive more traffic to your website. With our bespoke marketing and content tools, our staff is equipped with the knowledge plus skills to deliver stellar results. Convert more leads into actual customers and promote retention and greater time spent on your site. We promote an interactive user experience and brilliant journey for those memorable moments to entice repeat visitors! Our methodical unified approach consisting of design execution, programming, and marketing solutions can increase your ROI. Not only that but our team creates seamless transitions and beautiful visuals, along with convenient navigation making the entire process accessible as well as pleasant. Regular updates and maintenance ensure a functional framework, thereby reducing bounce and abandonment rates.
Prices can range from a few to many thousands of dollars depending on your requirement, although here at VOCSO we always endeavor to offer you value for your money. If you allow us to offer our entire package, then the synchronized protocol could take around two months to finalize. We adapt to your audience's needs and wishes to streamline material and include relevant information via integrations. With all of this at your disposal, your site will not only run faster but also more effectively too. Now you have better command over everything, so go on – allow us a chance to showcase our talent and serve you with sublime service!
Our open source support for Magento provides you with eCommerce solutions used by around a fifth of all sites. Offering several extensions for this, VOCSO supports multi-lingual and store capabilities. Extendable and scalable functionality with hosting plus maintenance services makes for a great platform to rely on – all courtesy of us here at VOCSO. Vast customization empowers you with vast flexibility to improve upon your ideas and bring innovation to the table. Catalog management, secure checkouts, and SEO-friendly features make our Magento solutions an ideal choice. We even offer PSD to Magento, store migration cum development, and marketing for the ultimate entry into the online retail monetization environment. We establish your payment gateway and even assist you with configuring everything. Now that's great service! Contact us for further information.
Now coming onto Joomla, here at VOCSO we offer:
Customized templating systems, fields, nested categories, and tagging for rendering
Managed responsive front/backend for mobile optimized workflows
Scalable application MVC-based CMS frameworks
Multilingual capabilities, personalized designs and membership sites
PSD to Joomla conversion and migration with Virtuemart
Integrated SEO, trusted stability, and caching cum compression for speed
We at VOCSO go the extra mile by offering nominally priced services, delivering uncompromised fidelity each and every time. What's more, is that we'll offer support for a year at no extra cost. Try beating that! We're always focussing on user needs and future-proofing customer expectations, along with providing our technical acumen.
23. Pronto Marketing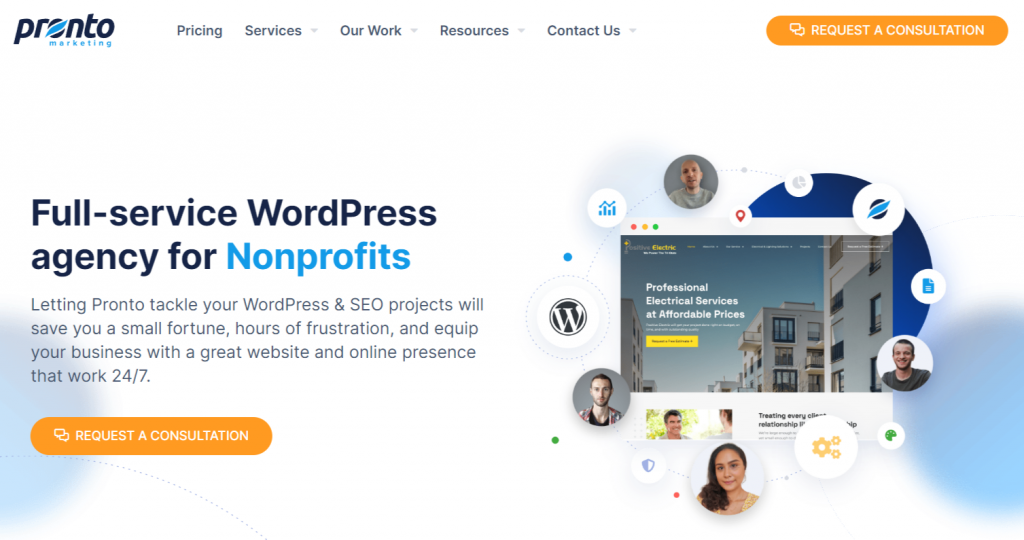 Pronto Marketing is a company that offers a range of services to help keep your website running smoothly.
They provide 24/7 monitoring to constantly check the status of your website and have engineers on standby to address any issues that may arise.
In addition to maintenance and support services, Pronto also hosts websites, providing a full-package solution with features such as automatic scaling from the Google Cloud Platform to handle spikes in traffic, enhanced security, and efficient architecture to improve loading times and user experience.
Pronto also offers daily backups and monthly updates to keep your WordPress core, themes, and plugins up to date with the latest bug fixes and security improvements. If you need additional support, they have a team of WordPress experts who can assist with editing and improving your website.
Key Features:
24/7 monitoring
Hosting included
Daily backups
Monthly updates
Price: Offers three tiers of support starting at $99 per month.
All WordPress Maintenance Services Comparison
| Company Name | Starting Prices Monthly/Hourly | Live Chat Support | Phone Support | Reports Weekly/Monthly | Location |
| --- | --- | --- | --- | --- | --- |
| WP Buffs | $39/month | Yes | Yes | Yes | San Jose, California, USA |
| Codeable | $69/hr | N/A | N/A | N/A | Klampenborg, Denmark |
| GoWP | $29/month | Yes | Yes | No | Roswell, Georgia, USA |
| Maintainn | $49/month | Yes | No | Yes, weekly | USA |
| Valet | $69/month | ? | ? | ? | Florida, USA |
| WP Maintainer | $99/month | No | No | ? | ? |
| WP SitePlan | $29/month | No | Yes | both | Ohio, USA |
| WP Tangerine | $197/month | Yes | Yes | both | USA |
| Total WP Support | $49/month | No | Yes | ? | Canada |
| FixRunner | $59 | Yes | Yes | Yes, bi-weekly | Delaware, US |
| WP Tech Support | $45/month | Yes | ? | Yes, bi-weekly | New York, US |
| Vepp | Free (with VPS) | ? | ? | Yes, daily | Russia |
| Ray Creations | Quote based | ? | Yes | ? | UP, India |
| WP Site Care | $79/month | Yes | Yes | ? | Utah, USA |
| Webful Creations | $29/month | Yes | Yes | Yes, monthly | Pakistan |
| FixMyWP | $50/month | No | No | ? | Greece |
| Newt Labs | $87/month | Yes | No | ? | UK |
| WP Butler | $39/month | No | No | ? | Oregon, USA |
| Themelocation | $49/month | Yes | Yes | ? | Pakistan |
| Fix my site | $39/job | Yes | Yes | ? | Estonia |
| VOCSO | $90/month | Yes | Yes | Yes | India |
Final Thoughts on Maintaining Your Site
Regular updates, security checks and implementation are all imperative to keep your site running effectively plus safely. Prioritising a fast page load time, with SEO secured protocol are not only essential for functionality but also helps to drive traffic plus efficiency. Now operate well within various avenues, across all demographics, devices and most importantly, save time.
As if that wasn't enough, we go a step further with configurable frameworks to ensure that bespoke and personalised designs are produced with stellar results. Our coding and PR writing plus distribution, as well as digital asset creation cum guest blogging serves all your correspondence needs. VOCSO's simple analyse, strategise, optimise, content marketing and report/monitoring model works wonders to run your site. We deliver social media activity integrations, infographics and tag structure support your entire framework too. Our team's experienced approach with backups/restoration, plugin updates, cyber attack assistance and error rectification eliminates any issues with your site for ultimate performance.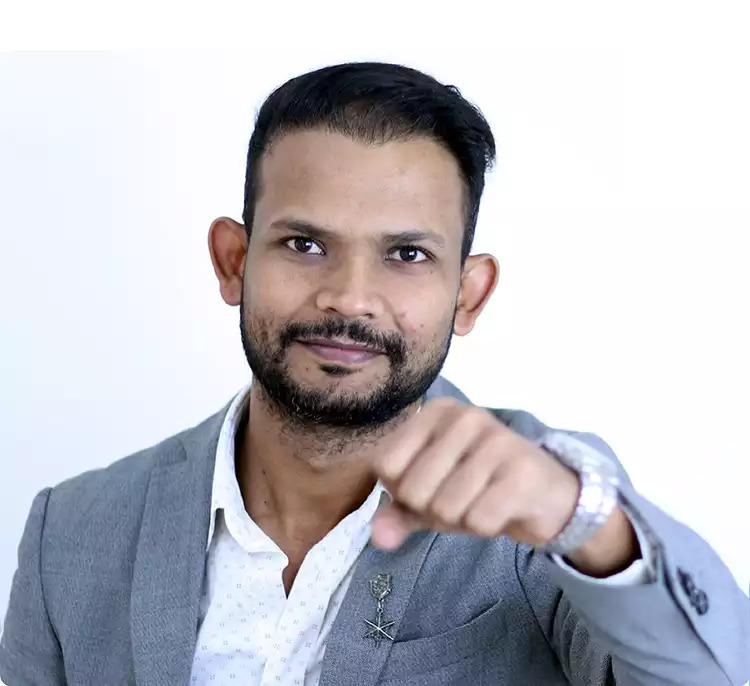 About Deepak Chauhan Hi, I am Deepak Chauhan, a Digital Marketing Strategist. I'm the CEO & Co-Founder of VOCSO Digital Agency, a creative web design, development, and marketing agency based in India & USA.