Many companies include YouTube marketing in their content strategy. However, not every business is successful in promoting their products and services via video. This tutorial summarizes best practices for making your channel and content follow YouTube guidelines and algorithms.
Before you start your channel, it's important to know how to rank YouTube videos according to their search engine algorithms.
First, the algorithm considers whether the video's title, description, and content match the user's request in the search bar. However, there are less obvious things that will boost your video in the search results. The more activity your video attracts, the more traffic "juice" it will gain. YouTube counts everything: the number of views, likes and dislikes, comments, CTR, audience retention, and much more.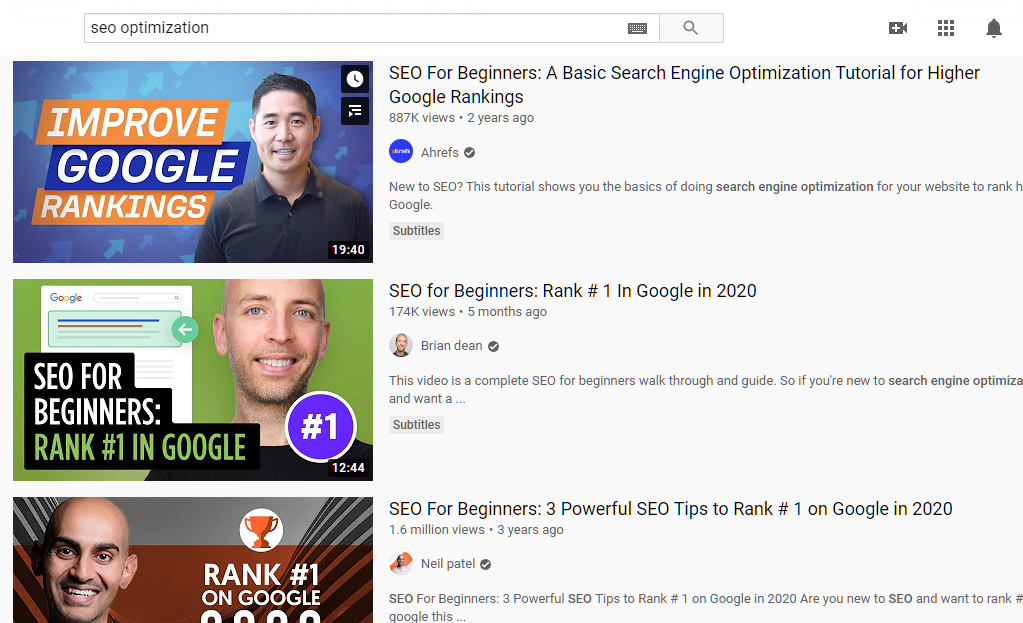 That's why there's a lot to consider when it comes to optimizing your videos or YouTube. So, here's a comprehensive guide to generating more views for your videos and having them appear higher in search results.
YouTube SEO best practices for 2023
1. Ensure video quality for YouTube ranking
YouTube videos that are poorly produced will not get the attention you are looking for. Skillfully edited and content-rich vlogs, however, will give you the best results. You can do this by crafting a high-quality, original video that tells a story or has some level of entertainment value. Try to think out of the box and come up with new ways to reach people and get their attention. The face of your channel is crucial, too – you need to find a person with a good on-camera presence and a great likability quotient.
Take care of the lighting and sound in the studio and use a dedicated camera to shoot your videos to get the best quality. This will ensure a better starting point when you come to the next and most essential part – editing the footage. Yes, your equipment and software are essential too, but that doesn't mean you have to invest thousands of dollars in a camera or professional video-editing programs. Make sure you put together a nice sequence of clips and normalize audio because if the sound is bad, it will ruin the overall impression entirely.
2. Set up your channel
When you have your first video and content strategy ready, it's time to set up a YouTube channel. Whether you're about to promote a personal or a company brand, you will need to come up with a unique name for your channel. The name should clearly indicate who you are and somehow transmit what you're doing.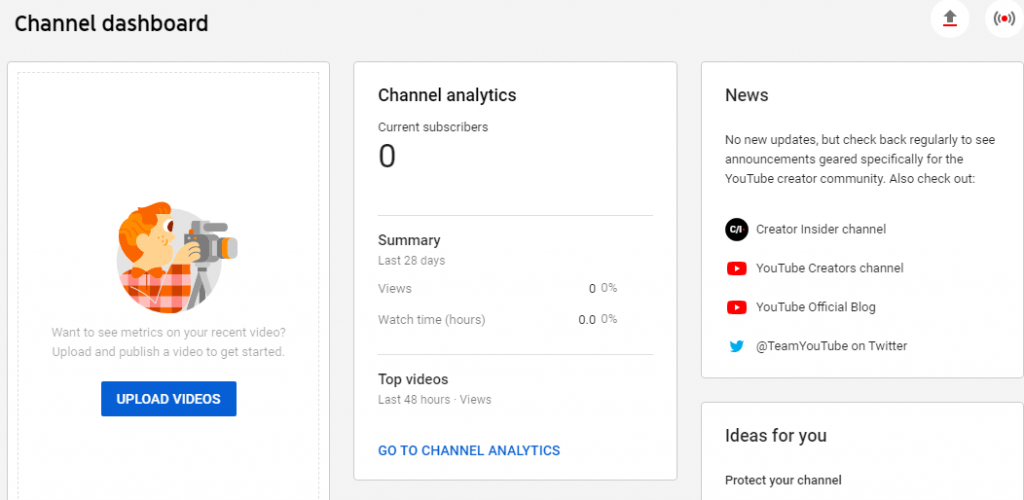 Your channel homepage sets the tone for practically everything. If you have a catchy trailer and attractive channel art, this will show your visitors that you're putting work into your channel and will give you bonus points in their eyes. Think about adding a brand avatar to all your videos to make them more recognizable. Themed playlists work great for better navigation if you have several types of videos on your channel.
Channel tags also work as keywords, especially your brand tag. Include it in your channel's description and the description of each video, but not in the titles. Channel tags are vital for content optimization, encouraging people to watch more than one of your videos.
3. Use SEO tools for YouTube to implement tips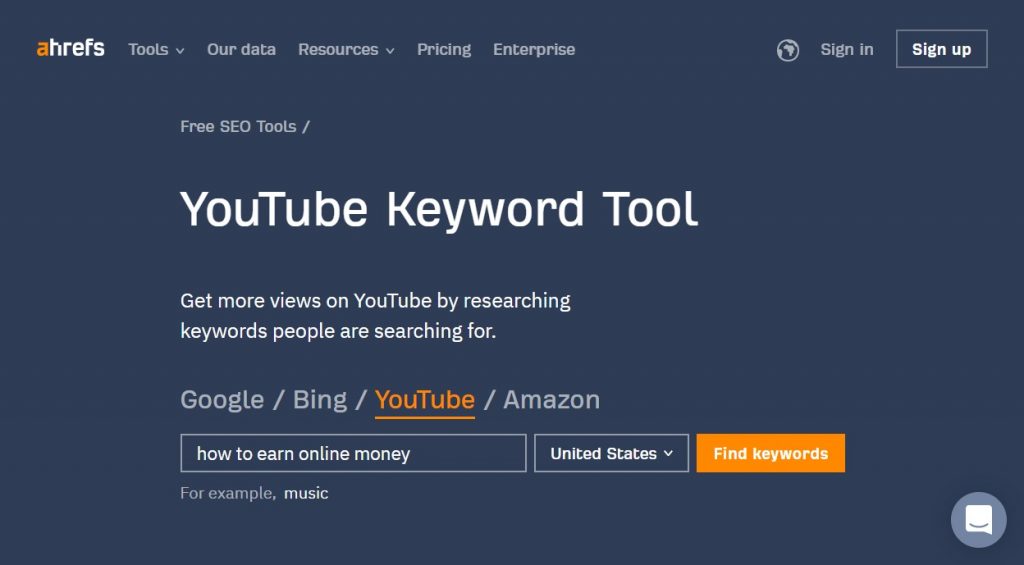 Optimizing videos for YouTube isn't as simple as just creating a video and hoping for the best. In fact, some marketers find it harder to rank for key terms on YouTube than they do on Google. As a YouTuber, you want to make sure your videos are seen by as many people as possible. One way to ensure this is by using SEO tools. Here are some tips on how to use SEO tools for YouTube.
1. Keyword research
Keyword research is essential for getting your videos noticed by search engines and users. It will help you identify just the right words and phrases people use to find videos in your niche.
Here's what you can do:
Type in potential keywords in the YouTube search bar. YouTube's suggestions will show what people actually search for – and you can give them what they want by adding these keywords to the videos.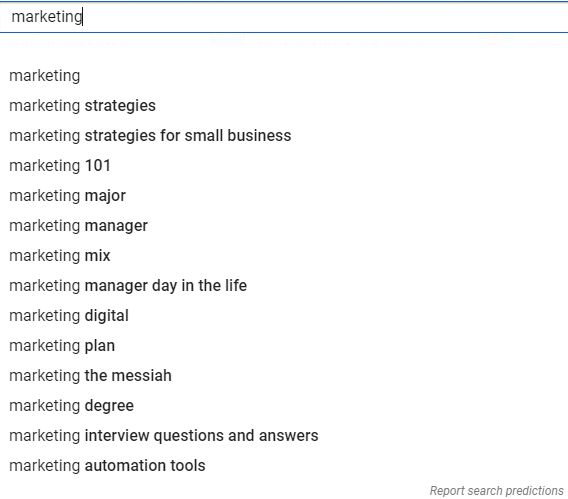 Monitor your competitors. Yes, it's legal to re-use someone else's keywords. Find the most popular videos in your niche and copy the keywords they use. If you've been doing SEO for YouTube for a while, you will spot them right away. You can also use extensions like vidIQ (available for Mozilla Firefox and Google Chrome) just to make sure you've collected every possible word combination.
Search for keywords in Google. The trick here is to find out whether a word or a phrase is video keyword material. If the results show videos as an answer to your query, most likely, you can use it as a keyword.
Retrieve keywords with SEO tools for YouTube. Just like in standard text optimization, you can use Ahrefs or Google Trends to find more keywords.
As a YouTuber, you know that keyword research is essential in order to help your videos rank higher in search results and get more views. There are so many different keyword research tools available on the web.
2. Keywords in titles and descriptions
Of course, you will need to optimize the title and description of your video so that people will find it on YouTube or via Google. The closer your keywords match users' queries, the higher your videos will rank in the search results. The title has the most weight in content ranking, so it's advisable to use the most important keyword when naming your video. The title should make people want to click on your video, so it needs to be both catchy and relevant. If the topic of your video is quite narrow, you can still add a high-frequency keyword through a slash at the beginning or the end of the title.
As for the description, it's crucial to use high-frequency keywords in the first 100 characters of the text because they are indexed just like the title. Even though you need to put keywords and tags as close to the beginning as possible, that doesn't mean the description should be a compilation of unrelated words. A good description reveals the plot of your video and makes people want to watch it. A collection of random words will be considered as meta-spam.
Vanity Fair's interview with Billie Eilish is on top every year when a new part comes out. Thanks to smart search optimization and the unique format, the interview ranks #1 for phrases with high keyword difficulty.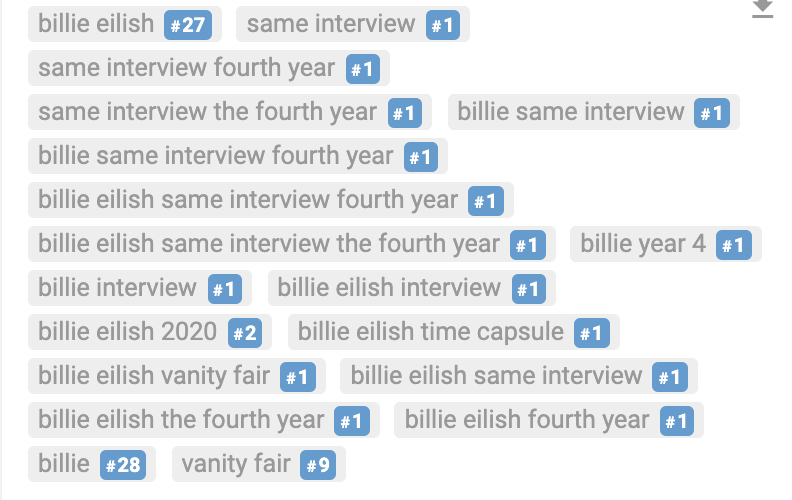 4. Keywords in videos
One thing many people forget is that you need to actually speak keywords and phrases in your video. That doesn't mean you should pronounce them as a separate part of your video, no. Using keywords in your narration naturally will show the YouTube algorithms that your content fits the description and is relevant to the user's intent.
5. Optimize for YouTube algorithms
YouTube has a complicated system of parameters that define the success or failure of your videos and channel. It takes into account your click-through rate (CTR), the average duration of view, and audience retention. This means you should pay extra attention to these factors:
create longer videos
post new content regularly and frequently
follow what top bloggers are doing
adapt your content to the trends in your niche to increase CTR.
6. Tags
Adding tags is another way to let YouTube and its users know what your video is about. YouTube has a special place for meta tags in the text right after the description. The trick here is to add relevant high-frequency and midrange keywords, as well as your brand name – with spelling errors if people use it to look you up. However, don't try to stuff up the field with every single high-frequency word or phrase – they need to be relevant to the content of your video.
Movavi's tutorial on using a voice-over has checked all the boxes to become number one for the most popular video-related queries. The winning trifecta includes repeating the right keyword in the title, description, and tags. Plus, the video's description is quite long and allows the use of other keywords naturally and repeatedly.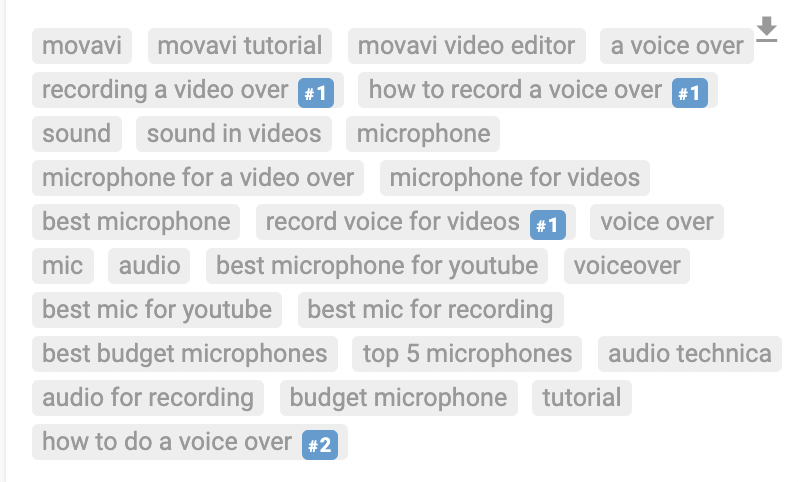 WIRED did the same with their instructions for solving Rubik's Cube. A short yet informative description, a keyword in the title, and many tags enabled them to rank first for the most popular queries about Rubik's Cube.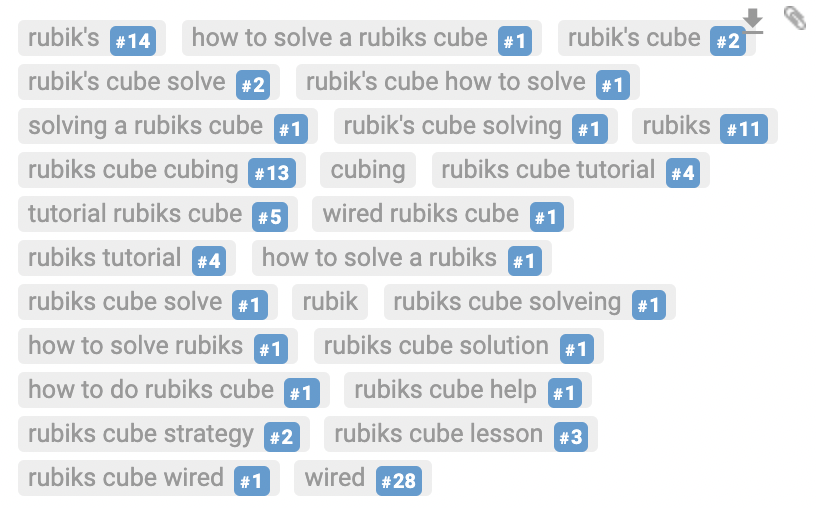 7. Categories
Categorizing videos will help users find the content they're looking for. YouTube will put your videos with similar ones making the search easier.
8. Thumbnails
Thumbnails are usually generated randomly, but it's advisable to create a custom one. Unique thumbnails attract users' attention and work amazingly well for brand awareness. However, you'll need to verify your account to add custom thumbnails.
9. Time codes & chapters
Time codes and chapters help your viewers find the part of your video they need much more quickly. You can place timestamps in the description and list all the important points you're covering in your video. Alternatively, you can add chapters to the progress bar. Users will be able to navigate between segments and skip any parts they are not interested in.
10. Transcript, subtitles, and closed captions
There is no evidence that captions of any kind have a direct impact on SEO success. You cannot be sure that they will guarantee you soar in the search results. However, they do enhance the user experience and help to ensure no one will miss out on what you're saying in your video. You can upload an SRT file or type in the text, making YouTube transcribe it and auto-sync it with the video. They will not affect search results directly, but it's an excellent way to make your videos accessible to a larger audience.
11. Cards and end screens
Cards are the little "i" signs in the top-right corner of the video. You can use them as links to other channels, external sites, fundraisers, or polls. End screens serve the same purpose – they are short preview clips that you can place closer to the end of your video. One of the greatest tricks here is to link your own videos, creating some kind of network:
Mention another video (B) in the current video (A).
Add a card linking to video B when it's mentioned.
Place an end screen with video B.
Leave a link to video B in the description.
Do the same with all of your videos, picking relevant follow-up videos for each clip.
Doing this will boost the duration of viewing sessions. If YouTube algorithms see that a user watches several of your videos in a row, they will suggest watching another one of yours, and then another one. Cross-link all of your videos to use cards and end screens to their fullest.
12. Video length
Another way to get higher in the search results than your competitors is to make longer videos than they do. Longer videos will increase your overall and average watch time. However, you also need to think about user retention and don't dilute your videos with irrelevant content. The key to success here is providing more useful information and tips to the audience.
13. Comments
Finally, make use of the comments section. YouTube viewers can post their feedback on whatever video you uploaded. This is actually a good way to connect with your audience, plus it's another way to demonstrate to the algorithms the relevance of your video. Additionally, you can pin a comment with a question that will generate a lot of activity – answers, follow-up questions, and discussions.
4. Promote the Channel
The next step is just as important as creating and optimizing your videos. Your channel and content need exposure outside YouTube, and you can get it naturally if someone embeds your videos on their blog or mentions you on social media. However, videos sometimes need a little nudge to start gaining views. The approach is similar to what you would take when promoting your online business.
1. Guest appearances
When people collaborate on YouTube, they tend to link their guests' channels in the description. Getting featured on another channel can bring you, new followers, generate more views and promote your persona really fast.
2. Advertisements
YouTube advertisement algorithms show your ads only to people who are most likely to be interested in them. You can specify your audience's interests, demographics, and exact geolocation. Google Ads will help you find the perfect words for your campaign.
4. Social media
While video content is not new, the video content role in social media marketing is constantly evolving. As platforms change and new technologies emerge, businesses need to be creative and adapt their strategies to stay ahead of the curve. Social media sites like Twitter, Facebook, and LinkedIn can be beneficial and effective for your video's visibility if you do it right. With the help of these sites, you can get more backlinks for your videos, and you will have an easy time getting higher YouTube rankings as well.
5. Blog posts
If you have a blog that brings you traffic, you can embed videos in your posts to make them more valuable. People who have found your blog by accident may want to check out your YouTube channel as well. It's also important to build links to your channel and not just to videos.
6. Q&A sites
If your video answers a "how-to" type of question, you can use it to help people on forums and Q&A sites like Quora. Keep in mind that many sites require registration to attach links and have strict spam rules.
7. Email newsletter
Your followers may not have the time to check your channel every day, so it can be helpful to send them a summary of what you've been up to. Send the newsletter once or twice a month to tell your audience about the most important topics you've posted about or remind them of some of your older but still great posts.
5. Analyze everything
The popularity of your videos depends on a number of factors, and you need to analyze them regularly to identify areas you can work on to make your channel even more successful. Analyzing and adapting is even more important when your videos are not getting views for some reason. YouTube has native analytical instruments to help you identify the issues and get the full picture. You can also use some third-party YouTube marketing tools recommended by experts around the world.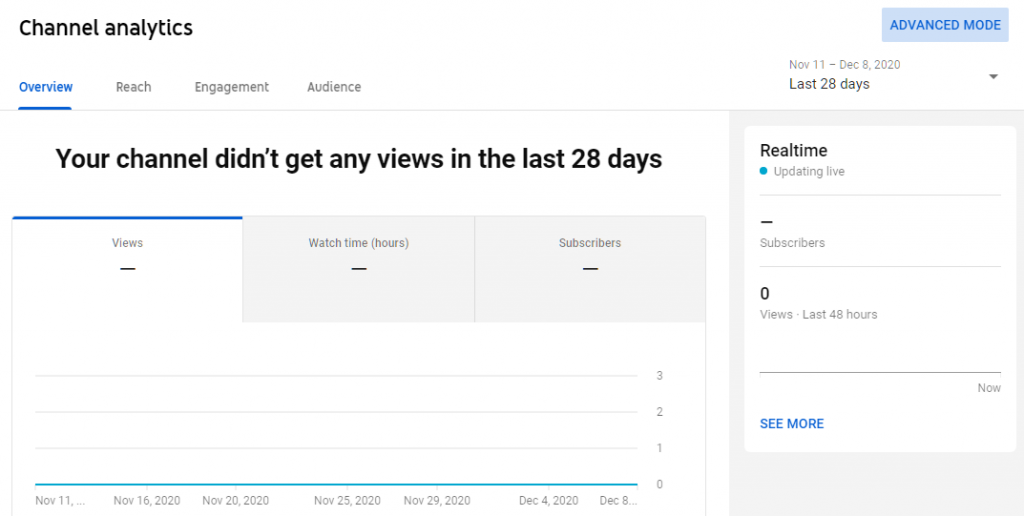 1. YouTube reports
YouTube collects a lot of data and statistics about your videos, including overall watch time, audience retention, demographics, subscribers, and engagement reports. All of this will help you identify and work on your weak spots.
2. Trends
With billions of people using the internet to search for information every day, it's no surprise that the number of YouTube videos being produced is also increasing. However, with all the attention that YouTube has generated, it can be difficult to keep up with the changes and trends that cause the platform's content to evolve. Researching and following new trends is important if you want your videos to stay relevant and be at the top of search results. Pay even more attention to the trends in your niche and adapt your content accordingly.
3. Competition
Finally, even if you are not experienced or skilled in creating content, watching videos from other users will often provide you with an interesting insight into how others go about achieving their goals. So, if you want to learn more about how you can improve your marketing campaign, try watching some of the popular videos.
In Summary
These are simple but effective steps you can take to make the most of your videos and your YouTube SEO campaign. Remember that optimizing videos may seem like a challenging task, but once you have done it for the first time, you will understand that it is really worth the time and effort that you have put in. You may even see some of your videos being ranked #1 in search engines like YouTube and Google. This is a good sign, indeed, because if your video is that popular, it is most likely getting more attention from potential customers.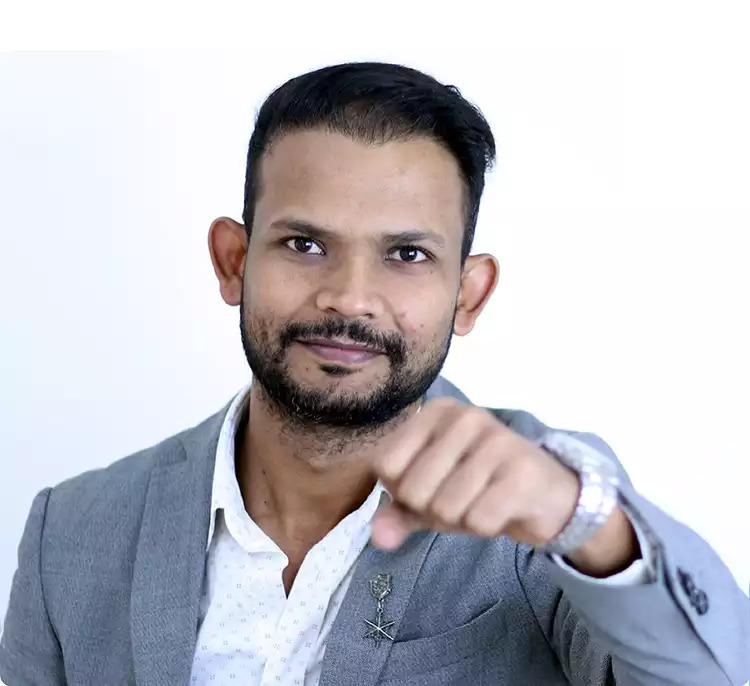 About Deepak Chauhan Hi, I am Deepak Chauhan, a Digital Marketing Strategist. I'm the CEO & Co-Founder of VOCSO Digital Agency, a creative web design, development, and marketing agency based in India & USA.