Having invested a lot of your hard-earned money and time into creating a website, you want to ensure that it works to its fullest potential. Like your car, a website needs regular maintenance to keep it running efficiently.
Website maintenance is an important part of keeping your website up and running, and this article will discuss why it is necessary, how to do it, and the benefits of doing it.
In this post, we will learn about why it is important and how it is done with the help of the website maintenance checklist for 2023. Let's look into it.
Why is Website Maintenance Important?
Why website maintenance for small businesses? Website maintenance is important not for only small businesses but also for big brands because it helps you keep your site running smoothly, improve your site's ranking in search engines, and keep your site secure.
When you neglect website maintenance, your site will eventually show its age. Your site's ranking in search engines will suffer; you'll lose traffic and become more vulnerable to security threats.
Regular website maintenance will keep your site running like new. Search engines will love your site, and your visitors will have a better experience. Plus, your site will be more secure.
Here are some of the most important reasons why website maintenance is important:
When you own a website, you are responsible for ensuring that it stays up-to-date and functioning properly. This includes regularly checking for broken links, updating content, and ensuring that all your pages are loading correctly. Website maintenance is important for several reasons, including
1. User Experience:
If your website is not up-to-date, hard to move around, or contains many broken links, individuals will rapidly become annoyed and leave. Consistently making changes to your website guarantees that users have a pleasant experience and are more inclined to visit again.
2. Boosts Your SEO:
Due to the frequent modifications to the search engines' algorithms, it is important to ensure that your website is in line with the latest changes. Otherwise, your website's ranking on the search results may be negatively impacted. To ensure that your website stays at the top, it is important to implement regular maintenance.

Keeping up with the latest Google SEO trends is essential for any business that wants to rank higher in search results. And without website maintenance, you can't achieve your SEO goals.
3. Increases Security:
Ensuring your business website is safeguarded against malicious hacking attacks is crucial. These hacks are becoming more advanced, and businesses cannot afford to take risks with internet safety. Regular updates and fixes will help ensure that your company's site is properly protected from hacking. There are a number of steps you can take to secure your website from hackers.
4. Stay Up-to-Date:
Have you ever heard the saying, "If you don't change your views every five years or so, people will say that you're out of touch"?
It is imperative to keep up with the current trends in the world of technology. If your website is not updated with the latest trends, it will quickly become obsolete. Maintaining your website with the current trends is essential to guarantee that it remains current and pertinent.
5. Protect your Brand Value:
Your website is essential for advertising your company. If it is updated or well-crafted, it will come off as a negative representation of your business. Keeping up with regular website upkeep can guard your brand and make sure it is always portrayed positively. Read how to convert your startup into a digital brand.
6. Improves Customer Satisfaction:
Good website maintenance is key to keeping customers satisfied with your business. If your website is easy to use and provides relevant information, customers will be more likely to return. And that's not to mention the benefits of an optimized website. Fast loading times, easy navigation, and modern design can all help to improve the customer experience. Plus, an optimized website is more likely to be picked up by search engines, which means even more traffic. Finally, keeping your website up to date with the latest content and features is essential.
You don't have an in-house team to manage your website? A website maintenance package from a web development company like VOCSO can help take care of all the changes for you, so you can focus on running your business.
Before you begin:
1. Install Google Analytics
To start website management, it is essential first to install Google Analytics. This powerful tool provides insights into website traffic, engagement, and conversions, allowing website managers to optimize their sites for better performance. Additionally, Google Analytics can track the success of marketing campaigns and measure the return on investment.
2. Sign up for Google Webmaster Tools and confirm your site
Before you begin with website management, it is important to sign up for Google Webmaster Tools and confirm your site. This will help you monitor your website's performance and ensure it is running smoothly. Additionally, you will be able to receive notifications from Google if there are any issues with your site. By signing up for Google Webmaster Tools, you can ensure that your website runs optimally and avoid any potential problems.
3. Set up a backup service and set daily database backups and at least weekly full-site backups
Your website is only as good as its backups. In the event of a hack, malware attack, or another disaster, you need to be able to restore your site quickly and easily. That's why we recommend setting up a backup service.
You can set up daily database backups and weekly full-site backups with Backup Services. These backups are stored on a separate web server, so you can always access them even if your primary site is down.
Plus, These services offer a variety of other features to help you keep your site safe, including malware scanning and removal, security monitoring, and more. So why wait? Get started today and sleep soundly, knowing your site is well-protected.
4. Use a third-party SMTP service to send emails from your web server.
If you need to send large volumes of emails, you can save time coding or setting up a server. Instead, you can use a third-party SMTP relay service to manage your emails. These services are specially designed to provide a secure and reliable way to send an email, allowing you to focus on other aspects of your business.
They also provide detailed reporting and analytics, so you can track how your emails are performing and optimize them for success. You will also have access to a team of experts who can provide support and advice when needed. With the right provider, you can trust that your emails will be delivered on time and with the highest quality. MailerSend is a trusted email provider that can help you land in the inbox every time.
With their intuitive platform and powerful features, you can be sure your emails will reach your customers without a hitch.
5. Monitor website security with automatic scanning.
Automated website security scanners are essential tools for ensuring the safety and security of a website. They enable you to test comprehensively for thousands of potential flaws and gaps right from the development stages – ensuring your website is secure before it goes live. The best scanners will scan your website for common vulnerabilities, such as SQL injections, XSS injections, and insecure traffic. It will also check for unauthorized access, weak passwords, and other security issues. With automated website security scanners, you can often identify potential security issues before they become a problem. Using a scanner to check for potential flaws and gaps, you can ensure that your website is secure. Website Maintenance Checklist for 2023:
1. Weekly website maintenance checklist
As a business, you know how complex web maintenance tasks can be and how important they are for the success of your business. Choosing the right web maintenance service is essential for any business, as it can make or break the success of your website. When selecting a service, there are a few key factors to consider. First and foremost, you want to ensure that the service is reliable and meets your business's needs.
Here is a comprehensive website maintenance checklist that can be employed to keep the website in a healthy condition. The checklist is divided in this manner:
Your Weekly to-dos or checklist for a website:
1. Fix broken links
Broken links can be a major issue for any website. Links to other websites and pages on your website are included when you create content for your website. But if you have broken links, Google won't index such pages, and users won't be able to access them.- resulting in a poor experience and loss of traffic. This can also decrease search engine rankings, as Google does not rank pages with broken links.
It's important to check for broken links regularly and ensure that any link you create on your pages is valid and working. If you do find any broken links, make sure to update them as soon as possible. This will ensure that your site is indexed properly and that users can access the content they're looking for. Broken links can greatly impact your site's performance, so it's best to nip them in the bud as soon as they appear!
2. Update software or plugins (For site builders only)
If you're using a website builder like WordPress, you'll want to add this important task to your weekly website maintenance checklist. Keeping your website updated is essential for its optimal performance and security. That's why you'll want to update your software and plugins regularly. Many of the plugins you use will need updates as the developers continue optimizing them to improve them.
So, to ensure your site functions correctly and securely, you'll want to update your software or plugin as soon as new versions are available. This is especially important for WordPress websites since WordPress is always releasing new versions. Keeping your software and plugins up to date will ensure your website runs smoothly and securely, so make it a priority.
3. Make sure forms work properly
Forms are a critical component of any website. Not only do they make it easy for visitors to contact you, but they also help capture leads and generate sales. That's why it's important to ensure that your forms work correctly every week. Checking your forms regularly can help eliminate potential issues that could stop customers from getting in touch. If you have a contact form, you should test it to ensure all the fields are working correctly and that your emails are being sent and received properly.
If you're using a payment form, you'll want to double-check that it's secure and that customers can submit payments successfully.
Finally, check your forms' design to ensure they look good on all devices and that they're easy to use. Taking the time to regularly check your forms can help streamline your customer's experience and ensure that you're capturing all the leads and sales you can.
4. Page experience on mobile or desktop (Google Search Console)
The new Google Page Experience report offers important metrics to help web admins optimize their pages for a better user experience. With the report, you can track key indicators like the percentage of URLs with good page experience and the number of search impressions over time. This is essential information for any webmaster, as it can help you gain insight into how your pages are performing and what you can do to improve them.
Additionally, the Page Experience report offers more detailed information about individual pages, including their speed, visual stability, and mobile friendliness. With this information, you can ensure that each page on your website is optimized for the best possible user experience. It's important to keep an eye on these numbers from time to time to ensure that your website is up-to-date and running smoothly.
5. Page indexing (Google Search Console)
Index Coverage is an important report in Google Console that can help you ensure that your website is in good shape before you start any major maintenance work. This report provides information about the crawling and indexing status of all URLs that Google has encountered. It's an invaluable tool for evaluating your website's performance and ensuring that all pages are indexed correctly. For example, it can tell you which pages are missing from the index or which ones are blocked by robots.txt.
This information can help you ensure that your website is running optimally before making any changes. So if you're planning on doing website maintenance, check the Index Coverage report first. With this report, you can be sure that your website is up to date and ready to go before diving into the work.
2. Monthly website maintenance checklist
Now that you have seen what's to be done weekly. It's time for a monthly checklist
Your to-dos for the monthly website maintenance are as follows:
1. Review your website performance
As part of your monthly website maintenance checklist, it's important to analyze the performance of your website. With the help of Google Analytics, you can track the pages on your site to see if you're achieving your desired results. You can use Google Analytics to measure page visits, bounce rate, time on page, and conversions. This data can provide valuable insight into how visitors interact with your website and what you can do to optimize it for better performance.
You can also use Google Analytics to monitor the performance of your marketing campaigns, such as email marketing and social media. This data can help you determine which campaigns are performing well, so you can focus your time and resources on those that yield the greatest results. Taking the time to analyze your website's performance regularly can help you identify areas of improvement to make the most of your online presence.
2. Check your site load time
Site load time is critical to your website's performance. With users expecting sites to load within two seconds, any delays can damage your business. That's why monitoring your website's load time each month is important. This will help you identify any potential issues and take corrective action. You can also check how your site is performing compared to the competition and see what areas you can improve.
To measure your site's load time, you should use a tool like Google's PageSpeed Insights or Pingdom. These tools can provide a detailed breakdown of your page speed and suggestions for improving it. You can find helpful insight by using this free tool to speed up your website. Once you make improvements, you can track the results over time and ensure your site meets the two-second deadline for page load time.
Taking the time to monitor and improve your site's load time can make all the difference to your website's performance and bottom line.
3. Test your checkout process
If you have an eCommerce business, it's essential to take the time to analyze your checkout process. This is especially important if you're seeing high levels of customer abandonment at checkout. By reviewing your checkout process, you can ensure that you're providing a seamless customer experience. This will ultimately help to reduce customer abandonment and increase conversions.
When analyzing your checkout process, please look at the number of steps, and the time it takes to complete it. You want to ensure that your checkout process is as streamlined and straightforward as possible. You also want to ensure it's secure so customers feel safe entering their payment information. Additionally, look at the design of your checkout page. You want it to be visually appealing and easy to understand.
4. Back up your site data
Regarding website maintenance, backing up your data should be one of your top priorities. No matter how secure your website is, you never know when a hardware failure, malicious attack, or natural disaster could cause irreparable harm to your data. That's why backing up your site regularly is essential. With a backup system, you can recover data quickly and get back to business as usual. It's also a good practice to keep multiple backups of your site data in different locations. That way, if one fails, you have another one to fall back on.
In addition to regularly backing up your data, it's important to ensure you're using a secure hosting service. This will protect your data and help keep your site safe from malicious attacks.
The right hosting provider will also provide you with the latest security updates and patch any vulnerabilities as soon as possible. Taking the time to create and maintain a comprehensive website maintenance plan will save you time, money, and stress in the long run.
5. Engagement rate (Analytics)
When it comes to monitoring the success of your social media posts, engagement rate can be a powerful tool. An engagement rate can help you determine what posts are performing well and what content your audience loves to engage with the most. This will help you know how to communicate your successes more effectively. It's an easy metric to track and understand and should be an essential part of your social media checklist. When monitoring engagement rate, remember that there is no one-size-fits-all approach. Different social platforms have different ways of calculating engagement rates, so you'll want to tailor your approach to each platform.
For example, you'll need to factor in comments, shares, likes, and reactions when calculating engagement rates on Facebook. On Twitter, you'll need to take into account retweets and replies. By keeping an eye on the engagement rate, you'll be able to quickly and accurately measure success.
6. Check Search Rankings (SEO)
A regular SEO ranking check or SEO audit is important to any website's success. It reveals how well your website performs on search engines and allows you to monitor it over time. A ranking check can show you which of your pages are at the top of the search results and which keywords are driving the most traffic to your site.
It also reveals which of your competitors are doing better than you, allowing you to identify areas where you need to improve. By regularly checking your SEO ranking, you can stay on top of trends and identify any issues before they become a problem. It also allows you to adjust your SEO strategy to ensure that your site remains competitive in the search results. In other words, a regular SEO ranking check is an invaluable tool that can help you track your website's performance online.
3. Quarterly website maintenance checklist
The following is the list of things you should consider doing Quarterly.
1. Analyze your website to see what could be improved
The first step in your quarterly website maintenance checklist is ensuring that your site is easy to use. The goal for your visitors should be an enjoyable and smooth experience. This means looking at page loading speeds, navigation, content organization, and overall design. If it takes too long for visitors to find what they're looking for, or if your site could be easier to navigate, you'll likely see a drop in conversions. It's also important to ensure that your website is optimized for mobile devices.
This means looking at page size, page speed, and the responsiveness of your site's design. It would help if you also looked for any errors or broken links hindering your user experience. Lastly, you should review any content that has been added since your last website checkup and make sure it's up-to-date and accurate. Taking the time to assess your website's usability regularly will help ensure that your visitors have the best experience possible.
2. Update website content
Content plays a fundamental role in keeping people engaged with your website. Whether it's text, images, videos, or something else, ensuring that your content is up-to-date is essential for attracting and retaining visitors. However, over time you may find that the content you created is outdated or no longer relevant. To keep your website fresh, it's important to review the content on your website regularly.
We recommend doing this at least once a quarter. Regular content reviews will help ensure that your website is always up-to-date and provides visitors with the best possible experience. Read how to update old content.
3. Test your website on different browsers
Ensuring your website functions correctly across different browsers is an important part of website maintenance. Every time you update your website, it's important to test it in different browsers to ensure it works properly for all users. This may include testing your website on different versions of Chrome, Firefox, Edge, and other browsers. Testing your website after making updates could break and prevent users from having a bad experience.
This could lead to a drop in website traffic or, even worse, potential customers leaving your site without taking action. It's much easier to prevent these issues from occurring by taking the time to test your website in different browsers. Doing this Quarterly is a good way to ensure your website is functioning properly and your customers have a good experience. Doing so will also help build trust with customers, as they know it's important to you that they have a great experience when they visit your site.
4. Check out targeting keywords (SEO)
As an SEO professional, one of the primary jobs is to monitor, track, and analyze the search engine rankings for their target keywords. This is an essential task, as it allows them to determine the current standing of their website.
It also allows them to identify any problems and ensure their website is always up to date. This can be done through various tools such as Google Analytics, which tracks website visits, and Moz, which helps identify quality backlinks.
Additionally, SEO professionals can use tools like SemRush to identify opportunities for optimizing their content and ensuring their website gets the visibility it deserves. Furthermore, they can use tools such as Ahrefs to identify the most popular keywords searched in their niche or industry.
All in all, monitoring, tracking, and analyzing a website's search engine rankings is crucial to an SEO professional's job. It is necessary to ensure their website remains competitive in a crowded marketplace.
If you saw the keywords are not good then you can change these keywords. Make sure you're using these keywords in your SEO meta title, description, and content. Keyword research tools can help you to do your keyword research process.
5. Compare impressions & clicks (SEO)
When understanding your online marketing performance, it pays to compare impressions and clicks. This comparison gives you a metric called click-through rate, or CTR. A high CTR means that most people who see your ad are clicking on it, and that's important for any business.
This is why it's important to monitor CTR every quarter. By tracking your CTR, you can ensure your campaigns reach the right audience and that your ad copy is effective. You can also use CTR to compare the performance of different campaigns.
This helps you determine which strategies are working and which need to be changed. Looking at CTR data ensures you're getting the most out of your online marketing efforts. So, don't forget to check your CTR — it's an incredibly valuable metric to keep track of!
6. Meta title & description
Reviewing your metadata should be a top priority if you're a digital marketer. Metadata includes titles and descriptions, essential for SEO optimization and ensuring your content is relevant and visible to users. Reviewing your metadata should be done at least every quarter, so you can make sure everything is up-to-date and correctly optimized. It's also important to ensure your titles and descriptions align with your overall marketing strategy. This can help to boost your rankings, reach more customers, and ensure the right people see your content.
Additionally, regular reviews can help you track user engagement and ensure your content is tailored to their needs. So remember to add metadata review to your quarterly task list! It might be tedious, but ensuring your campaigns are successful is incredibly important.
Updating the Meta title and description is part of on-page SEO optimization. There are several on-page SEO tools that you can use to optimize your on-page and technical SEO.
7. Validate your site. (CSS/HTML, Accessibility, Mobile-friendly)
CSS /HTML Validation can be a lifesaver for website owners and developers. It helps increase your website's quality score by finding and fixing broken links, redirects, and misspelled words.
This makes it easier for users to navigate your site, which is essential for a good user experience. In addition, validating helps you comply with accessibility standards. This is essential to ensure that everyone can access your website regardless of their ability. You can be sure your site is up to standard and that all users will be able to access it.
In short, validating with CSS/HTML is beneficial for your website in numerous ways. For example, it helps you increase your quality score, ensure users can navigate your site easily, and ensure your site is accessible to all.
8. Review and adjust website advertising campaigns
When it comes to marketing, many factors can impact your results, from the activities of your competitors and peers to market conditions and demand for your product or service to the emergence of new marketing methods such as AI and automation. It's important to be aware of all of these factors to find success in your marketing efforts. Knowing what your competitors are up to can give you an edge. This could include keeping an eye on what platforms they are using, what campaigns they are running, and what content they are creating.
By understanding the market conditions and demand for your product or service, you can create campaigns tailored to your target audience. Finally, being aware of the new marketing methods available can allow you to leverage them to gain an advantage over your competitors. You can ensure your marketing efforts are on the cutting edge by staying up to date on the latest trends and advancements.
9. Optimize Your Database
When it comes to database performance tuning, the goal is to minimize the response time of your queries while making the most of your system resources. To achieve this, it's important to minimize network traffic and optimize memory and disk space use. You can do this by optimizing your database design and query structure, as well as caching data and indexes. Additionally, you can leverage technologies like memory-mapped files, compression, and query parallelism.
These strategies can help you get the best performance out of your database. Finally, it's important to monitor your database performance regularly, so you can identify any inefficiencies and adjust accordingly. Database performance tuning is an art that requires knowledge and experience – but the rewards are worth it. Done correctly, it can make a huge difference in your query response times, giving your users a much better experience. So if you're looking for a way to maximize your system's performance, database tuning is the way to go!
4. Yearly Website Checks
Update the copyright date in your website footer and any other references
Here are a few key reasons to keep your website's copyright information up-to-date, even if the content is already automatically copyrighted. First, it helps to deter would-be plagiarists and content thieves – if they see that your content is recent and well-protected, they're less likely to try to steal it.
Second, it signals to your readers that your content is current and relevant, which can help build trust and confidence. Finally, if you have to take legal action against someone for stealing your content, having up-to-date copyright information can help prove your case.
1. Review each page of the site for content accuracy
A content review is the quality assurance process each content should go through before publishing—and periodically after that. By ensuring that all content meets certain standards before being published, content reviews help ensure the final product's quality.
Content reviews typically involve a team of reviewers who each assess the content against a set of criteria. The criteria used will vary depending on the type of content being reviewed but may include factors such as accuracy, clarity, tone, and overall effectiveness. Once the review is complete, the team will make recommendations for changes or improvements that should be made before the content is published.
2. Renew your website domains name(s)
If your domain name expires and your site goes down. As a result, it will hurt your SEO. Search engines will notice this, and it will reflect poorly on your site. To avoid this, make sure to renew your domain name well in advance of the expiration date. Consider updating the website design.
One important factor you should consider when building a website is how often it will need to be updated. Web standards change rapidly, and new website-building techniques are constantly being developed. Building a website using outdated technology will quickly become obsolete and need to be rebuilt from scratch. On the other hand, if you keep your website up-to-date, it will be able to take advantage of the latest web technologies and will be much easier to maintain.
3. Update your best-performing blogs
By updating your content and correcting any mistakes, you are improving the overall quality of your page. Adding more media, such as images and videos, makes your page more engaging and visually appealing. Reoptimizing your keywords will help ensure that the right people are finding your page and that you are getting the most targeted traffic possible.
Conclusion
If you're looking at this website maintenance plan and feeling overwhelmed, don't worry – you don't have to do it yourself.
We are here for you. We are professionals who can help you ensure your website runs optimally. From web design and development to website management and SEO optimization, there's no shortage of services that can help you get the most out of your website.
We also provide dedicated resources for hire:
You'll have peace of mind knowing we are looking out for your website's best interests. So if you need more time or resources to dedicate to website maintenance, feel free to reach out for help.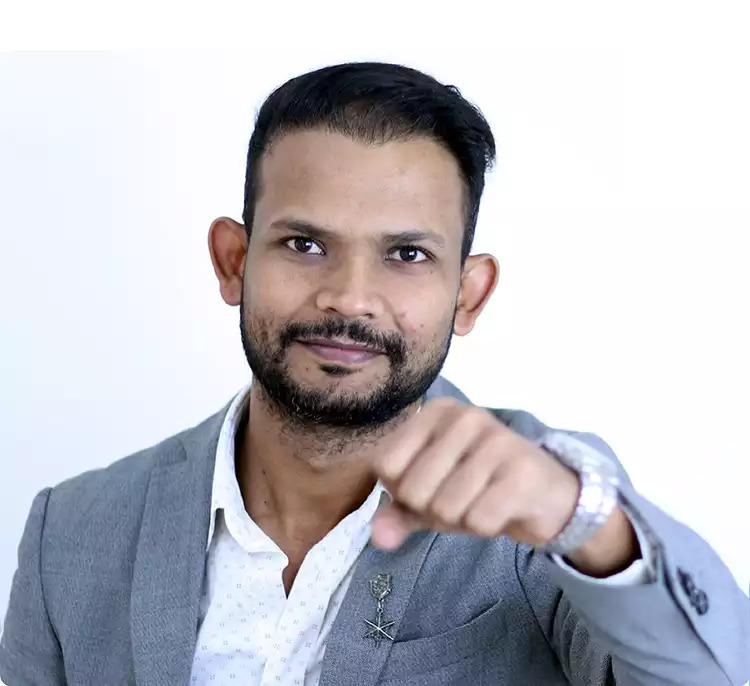 About Deepak Chauhan Hi, I am Deepak Chauhan, a Digital Marketing Strategist. I'm the CEO & Co-Founder of VOCSO Digital Agency, a creative web design, development, and marketing agency based in India & USA.