PPC advertising or paid search and SEO are not separate-standing entities anymore. The most common misconception is that these two marketing strategies cannot work in tandem. SEO and PPC can work together in case marketers develop a well-thought campaign for both.
It is worth noting that PPC and SEO are birds of a feather because paid advertising and search engine optimization are related to SEM (search engine marketing). That is why the main goal of PPC and SEO is the same – to hit the highest SERPs.
Speaking about the differences and specials of each conception, the PPC approach is about paid ads displayed at the top and bottom of the search results. SEO tactics provide organic visibility to hit the top SERPs. There are several SEO factors and Google SEO trends that you have to follow to win SEO Game. Additionally, PPC and SEO are used separately to perform different results:
Paid advertising campaigns are suitable for the short run because the metrics backtrack right after the promotion ends.
Marketers use search engine optimization for long runs. First, ROI can be far from desired because the SEO mechanism has just started to work. But when the website climbs to the top search results organically, wonderful results can be observed.
Tying PPC and SEO strategies together will increase SERP and keyword coverage and boost brand reputation and awareness. It is essential to do everything correctly in the paid search and search engine optimization tandem. Here are five recommendations to consider for undertaking the PPC + SEO alliance.
1. Determine the Demand and ROI
The biggest disappointment business owners can experience in digital marketing is getting a lot of traffic and little revenue in return.
This can be caused by one of three reasons:
Pages aren't converting enough
No demand for the offer from the target audience
Pages were created for the wrong user intent
To combat this issue, companies can use PPC reports to project revenue, justify spending, and get a conversion forecast, among many other insights that give them a complete picture in a much shorter period than a lengthy SEO analysis would.
Doing so helps you dip your toes in the water before going all-in on the search campaigns, be they paid or organic.
Making all the calculations on your return on investment is a huge part of any PPC marketing campaign, which can also help you impact your SEO bottom line.
Calculating your ROI helps you understand which content drove the most revenue for the buck. If, for example, one of your ebooks has a high ROI, you could choose to continue investing in this type of content to maximize investment. But this data also helps you understand what type of organic content assets may work really well for your business.
Despite this fact, many SEOs and even PPC managers fail to consider it, wasting their budget and efforts as a result.
If you expect to rely on a set-it-and-forget-it approach in your search campaigns, you've got another thing coming. You simply can't expect to get good results without doing the research and analysis first. To help you do this, check out the Postal solution, online ROI Calculator by Demand Metric, or just download a free ROI worksheet.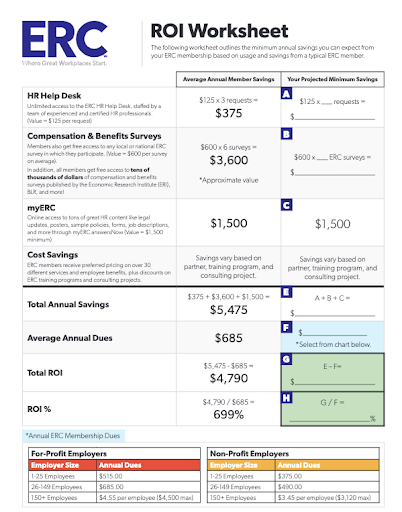 Image source: PDFfiller
Always do additional PPC research before cementing your search engine optimization campaign. Knowing both sides of the coin will help you go a long way.
2. Test SEO keywords through PPC ads
SEO and PPC have a critical thing in common: keywords. By taking advantage of the keyword data from PPC campaigns, you can identify search queries that can drive the most traffic and sales to the business.
Best practices suggest you leverage keywords with a commercial intent when promoting your offers to potential customers. Plus, branded keywords work great too, and have higher CTRs, making them a great investment.
When analyzing keyword performance via the keyword tool for SEO, make sure you pay attention to data from both organic and paid campaigns. This will allow you to transfer the success of one campaign to the other. Another helpful piece of advice is to run split A/B tests in each campaign to see what's working best.
Testing keywords this way allows you to find out which ones work better in organic and paid search campaigns. You can check up on the progress via Google Ads or find out what your competitors are doing with the help of Adbeat to define their strengths and weaknesses. As a result, it'll be easy to figure out which keywords have the highest conversion rate, further optimizing your entire content strategy.
There are several keyword research tools on the market that can help you deal with the keyword research process.
3. Maximize SERP Coverage
Support organic results with PPC ads. SEO is focused on increasing rankings for key terms, with the intention that web pages will rank on the first page of Google. A business can dominate the search results page by adding PPC ads to an already promising well-ranked SEO term. If your website is showing up both in paid and organic searches, the chances a user will click through one of the results increase.
But even if one of the pages ranks number one in organic search, there could still be up to four websites seen before yours. I am, of course, referring to paid ad campaigns. If you want to make sure people see your pages among the top results, you can't ignore paid campaigns.
This is even more crucial when you run ads for pages that target search queries that you're not ranking for organically yet. And it's one of the best ways to drive traffic to newly-created pages.
Although organic results get more clicks than ads, many people still click on them—especially when the ad's relevant to their search. PPC campaigns can skyrocket your SERP visibility and drive traffic to your site way before SEO shows any real results.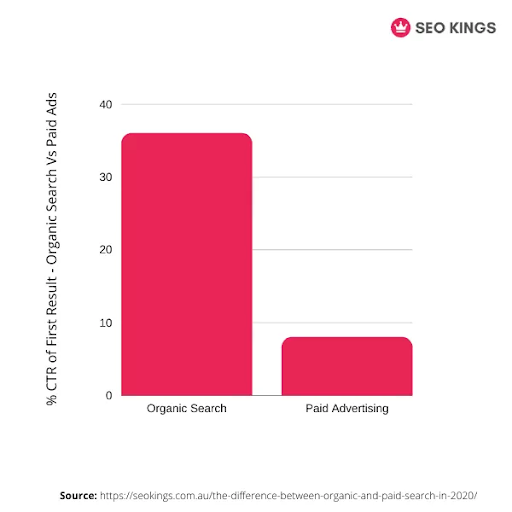 Image source: SEO Kings
4. Optimize landing page for both SEO and PPC
Optimizing your landing page in the context of the PPC and SEO strategies is essential to get a doubled benefit and prevent wasting your marketing spending. To do everything correctly, follow several steps:
Be sure that your conversions are generated through the right format. To have a non-indexed and conversion-friendly landing page, you must adjust everything according to the PPC advertising rules. The highly-converting on-page elements should be demo requests, chat inquiries, online forms to be completed by visitors, etc.
Create innovative hypotheses for your landing page with your SEO and CRO specialists. Monitoring of the on-page performance is a must, together with portioned (split) tests.
Separate your organic visibility with a focus on educational and informational content for the asset of SEO interest and importance.
Using modern web design principles and web design strategies for your landing pages for both digital marketing platforms.
It is worth noting that there is one more approach for PPC and SEO tandem so-called surround sound SEM strategy. It is beneficial for your brand marketing because it pushes your company up in the following way:
The user is searching for your company, products, and brand name.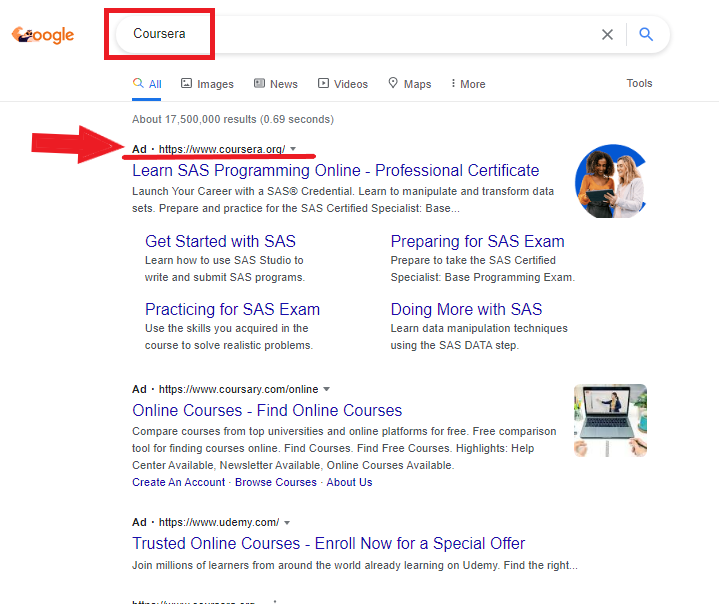 The searcher is coming across the paid advert and clicks your website.
This user spends several seconds on the landing page (or other PPC-friendly pages) but finally leaves it.
A little later, the same searcher can start another research on the Internet with an educational or informational purpose.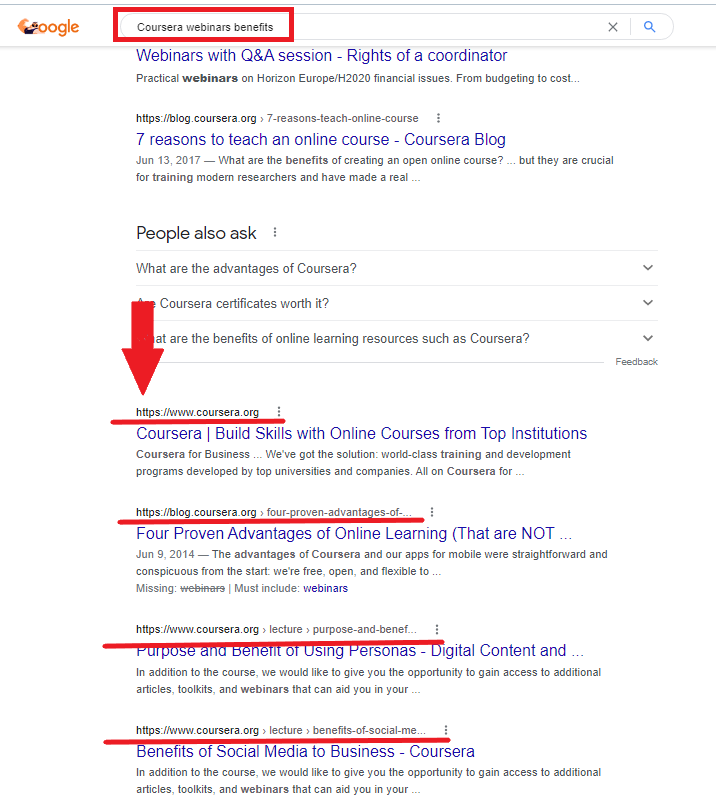 Your brand appears in the organic listings and catches the user's attention. The searcher continues introducing your website, blog posts, reviews, visuals, etc.
If the user likes the website, its messages, and its tone, they become a highly converting lead interested in your products and services.
This algorithm works vice versa, so this comprehensive approach where PPC and SEO strategies take place works not only for your SERPs but also for brand awareness.
5. Include Social Media Ads
Nowadays, digital marketers primarily focus on their SEO and social media marketing (SMM). Still, they rarely focus on the two together as two sides of the same coin. After all, the main goals of both SEO and SMM are to reach out and connect with potential buyers.
On top of that, both of these strategies have access to lots of marketing data. And if you've been active for some time, you should have plenty of data to analyze. The smart thing to do here is to use this data to optimize and grow these marketing channels.
You could improve your social media content by researching search queries. It is easier to do it in your social media business accounts since keyword data is generated based on the platform's real-world user behavior.
In addition, analytics tools help you learn more about your target audience. Such tools track how users interact with your site and offer insight into what people look for and engage with. Using this data will deliver a better experience to your potential customers, both on social media and via SEO.
By including social media ads in the mix, you will get another way of testing out the content before applying it to organic campaigns. Facebook's ads aren't just great for sales. They also give you an idea of how content will perform over a long time.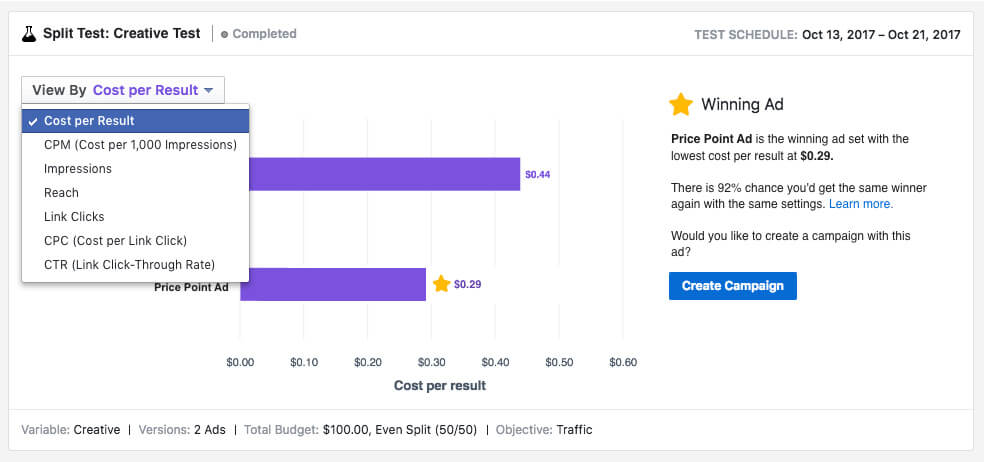 Image source: MarTech
You can take things even further, and instead of digging for data, let's get it straight. Reach out to your social media audience and ask them what kind of content they want to get from you. You can set up a live event that will get people to start sharing their feedback with you, reach out to specific people by tagging them in your posts, or you could even do a poll to make it easier for people to start their engagement.
Plus, promoting your blog posts on social media can help you get user-generated content like comments under blog posts. And as we all know, user engagement sends out positive signals to search engines and is great for SEO
How can VOCSO help?
VOCSO is a digital marketing agency that specializes in search engine optimization (SEO) and pay-per-click (PPC) advertising. The agency was founded in 2009 to help businesses grow online through better visibility in search engines. The agency has since helped hundreds of businesses improve their organic search traffic and ROI from paid advertising. And we're not just talking small businesses VOCSO has worked with some of the biggest brands. We also offer other marketing services like:
Ecommerce SEO Services
Enterprise SEO Services
SEO Audit Services
SEO Website Migration Services
Technical SEO Services
Paid Advertising (PPC) Services
Social Media Marketing Services
App Store Optimization Services
Let's Review
While some marketers are still afraid to unify paid advertising and search engine optimization campaigns, others successfully build the PPC & SEO association. It is essential to ensure the good collaboration of both marketing approaches.
For this purpose, two teams working on PPC and SEO strategies should properly unite paid search and search engine optimization tactics. The above-described recommendations will help create a powerful tandem and overcome weak spots of PPC (its complexity and costs) and SEO (rather slow-performing results in the context of organic listings at the very beginning).
Optimizing the landing page with the help of paid adverts and search engine optimization tactics, using social media ads, and undertaking keyword research through PPC ads will come in handy if you are interested in the doubled SEM power.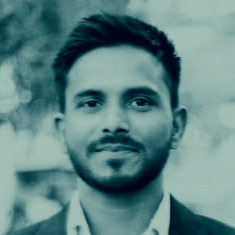 About Raj Kishore A digital marketing consultant at VOCSO. I've been working in digital marketing since 2010 and I am an expert at generating leads online via SEO, Paid Marketing, Social Media Marketing, Email Marketing, Site/Landing Page Testing and Optimization, and Display and Remarketing.