You can't escape the need for content marketing in today's world. Content marketing is a crucial strategy whether you're a startup looking to increase awareness among potential customers or an established business that wants to keep its brand top of mind. Unfortunately, startup companies face many problems in content marketing. They often struggle to develop an engaging and compelling content strategy that gets their message across to a broader audience.
Moreover, their content marketing experts find it challenging to communicate their story, mission, and vision to a broader audience. This often results in less engagement and general interest from website visitors. Most startups often do not put enough money into their content marketing efforts. It often limits the impact of their content, leading to lower site traffic and reduced conversion rates.
Therefore, we have highlighted some key points you need to know when planning and executing a successful content marketing campaign. It will also offer advice on producing high-quality content that appeals to various people and effectively promotes it online. Finally, we'll suggest additional strategies to boost your content marketing efforts and sustain your digital business in 2023.
The Ultimate Guide to the Best Content Marketing Strategy for Startups
1. Understand user expectations from your brand first
Any firm that wants to target a specific audience and engage them more profoundly must use content marketing. First, you need to understand what your audience wants and needs. Then,
Conduct market research 
Analyze the competitor's website, 
Review data collected by Google Analytics, figure out what customers expect from your brand, and define content marketing strategies accordingly. 
2. Write high-quality blogs with personalized elements
A well-planned content marketing is a key to success for any startup. That's why it's so important to write high-quality blogs that resonate with your target audience. First, having a clear idea of your target audience and what you want to achieve is essential. Then, use valuable data sources like surveys and focus groups when writing your content, and make sure all posts are optimized for search engine optimization (SEO). 
This will help you rank higher in Google searches and give your readers a better experience. So, put in the effort and start writing excellent content today yourself or with the help of a professional content marketing agency.
Personalization is key to success in content marketing because it engages users individually. By tailoring the content you put out there, you can keep your target audience interested and engaged. You also need to be consistent with your messaging for people to notice! Building a loyal following will help you attract more customers and effectively promote your product or service. Personalize it to fit your specific needs and encourage more customers.
3. Use the potential of video content
Startups are always looking for new ways to reach and engage their customers. One way to do this is through video content. Not only is video content an effective way to market your startup, but it can also help to convert leads into customers faster. Additionally, videos provide valuable information that can be used for research purposes. So, make sure to use video content as the foundation of your marketing efforts – it will pay off in the short and long run!
4. Include case studies in content marketing campaigns
Including case studies in your content marketing campaigns will show your audience how your marketing efforts have been successful. This will not only offer your customers the worth of your goods or services but also assist you in gaining their trust. Use case studies in all forms of content, including email newsletters, Facebook advertising, and blog articles. By showing success in real-world scenarios, you'll build trust with your customers and followers & encourage them to make more transactions.
5. Use infographics
Without a doubt, content marketing is among the best strategies for attracting and keeping clients. And infographics are the best tool for doing that. These visual representations of data are a great way to communicate your message to a broad audience. You must use infographics to show how your company or product differs from the competition and why customers should choose you over them. Please ensure all of your content is consistent with an infographic-style design so that users will know what to expect when viewing it online.
6. Grow your business fast with user-generated content
For startups, user-generated Content (UGC) is one of the most powerful tools. It engages customers and strengthens relationships with them, which leads to more sales. In fact, according to a study by Content Marketing Institute, user-generated content is three times as effective as paid marketing in driving traffic to a website. So, start generating UGC today and see the results for yourself!
7. Promote popular posts on all essential social media channels
Starting a business today is more challenging than ever because of many factors. Not only is the competition fierce, but customers are increasingly tech-savvy. You must advertise your site's content across various social media platforms, including Facebook, Twitter, Instagram, Linkedin, WhatsApp, Telegram, and Snapchat, to succeed and stay ahead of the competition.
It will help you get more social media fans, increase traffic to the site, improve website ranking on Google & other important search engines, and generate more leads. Interested customers spontaneously read and share popular social media content with their near and dear ones. It helps get more clicks on the website-totally free of cost and without applying extra effort.
8. Optimize your content for voice search
27% of the global population use voice search to look for products/services on the Internet. Moreover, 58.6% of customers in the USA have used voice search. That is why startup companies need to optimize their content for voice search. This means using shorter sentences, less jargon, and keyword discovery tools to determine the most popular topics. Additionally, it's essential to consider using Google Analytics data to see which keywords drive the most traffic to your site. By doing this, you can optimize your Content for increased reach and engagement.
9. Influencer marketing
One way to build brand awareness and generate leads and sales is through influencer marketing. It entails identifying prominent individuals and persuading them to promote your Content on their social media channels:
Do extensive research and consult with a content marketing agency.
Once you've found your target market, create a targeted campaign that produces measurable results.
Make sure to track the success of your influencer marketing campaign and make necessary tweaks as needed.
10. Leverage the potential of newsletters
A startup company's growth is about reaching new heights in everyday business activities. Email newsletters are compelling ways to reach out to potential customers with your message, engage them in a conversation, increase the subscriber base, and generate leads. With its help, companies can promote their brand, send periodic updates to them, drive website traffic, etc.
Step-by-step instructions: 
1. Make an email list first
First, you should build an email list of interested subscribers. You can use paid advertising or Email capturing forms for this purpose. The more subscribers you have- the more business opportunities you will get sooner or later.
2. Determine the frequency of newsletters
It is essential to send email newsletters at least once a week to keep your customers subscribed. This way, you can always ensure they are up-to-date on the latest news and promotions. You can also send automated emails, saving you time while ensuring that your content is engaging for your target audience. Make sure to track open and click-through rates (CTRs) so you know how well newsletters perform. Startup companies must deliver at least eight emails (about important updates) to customers monthly.
3. Crate informative newsletters
Startup company owners must never forget that subscribers will not read email newsletters if they don't find anything interesting inside them. That is why they must collaborate with professional email marketing experts and content marketing companies to craft high-quality and actionable newsletters. It will motivate people to visit the website to get more information about new products and services, updates, and corporate events and take the desired action as per instructions. To create high-quality newsletters-
Create appealing headlines,
Keep the email content short and straightforward,
Attach hyperlinks to the website and social media pages of your company,
Use images, videos, infographics, and widespread marketing messages,
Conduct an A/B test to use the best design format for newsletters,
Use keyword-rich titles and bullet points &
Add CTA buttons.
4. Deliver newsletters to customers with an email marketing tool
Once you have successfully created a sufficient number of newsletters, it's time to start sending them to subscribers at the right time. Unfortunately, the manual process of performing this task is quite tedious and time-consuming. But Email marketing tools automatically deliver such messages to individuals based on your settings.
5. Don't spam the user's inbox, please!
Regular Email users detest SPAM emails. Check all email newsletters for SPAM words before delivering them to customers. Brilliant work ultimately pays off as successful content marketing campaigns using Emails help you to
Earn $36 with a small investment of just $1,
Increase sales by 36%% in a month,
Generate 10% more clicks on the website, its landing page, etc.
Audience segmentation and personalization of newsletters help get more business opportunities.
11. Be active on question-answer websites
When you launch a startup business, customers and clients ask many questions almost daily. It is impossible for executives, customer care officers, business marketing managers, and company owners to answer the questions and concerns of a large number of individuals at the same time and satisfy their interests.
That is why they must start working on Question- Answer websites, such as Answer.com, Brainly, eHow, Quora, etc.
They ought to have genuine profiles on multiple question-answer websites and add the necessary details.
Once the service providers approve your profile, start making valuable posts on the question-answer websites and try to engage with customers as far as possible. Ask questions and invite folks to answer them as soon as possible.
It is a beautiful way to communicate with people from different geographical locations and direct them to your website or blog for more information. In addition, you must answer questions from other individuals and companies under your niche and add a link in the content, allowing visitors to land on your site for more information and take further action.
Regular activity on question-answer websites helps increase people's knowledge about your brand, products, and services, motivating them to visit your website or blog frequently.
The audience on multiple question-answer websites includes people from different walks of life. They would always appreciate you if you provided accurate answers to help them find solutions to their problems.
Quora- a leading question-answer website is beneficial for B2B and B2C startup companies. They can penetrate the market faster with well-planned content marketing for Quora and capture more leads efficiently.
Remember, working on question-answer websites requires you to produce high-quality content without interruption. You can do it yourself if you are a professional content writer and marketer.
If you don't have in-house resources for content marketing on Quora, seek help from content marketing companies. The uninterrupted supply of high-quality content all working days is the key to success in Quora marketing and generating sufficient leads and back-to-back sales.
Proofread the content and eliminate errors before posting them on the question-answer platform. If visitors find your answers interesting, they will happily communicate professionally with your brand and may purchase high-value premium products and services spontaneously.
12. Perform aggressive guest blogging activities
One of the main reasons 95% of all startup companies struggle to sustain the business & ultimately fail in the first five years after their launch is that they fail to build trust among the targeted audience and customers.
Customers who are already purchasing products and services from a big company hardly seem ready to relinquish their association with a prestigious brand and start buying from a newly established company.
But things get changed if a famous website or blog refers to your site for valuable services, products, major updates in your industry, etc. Getting a backlink to your site from BBC, Search Engine Land, Search Engine Watch, NewYork Times, Washington Post, etc., automatically increases your brand's credibility in the digital landscape.
Guest blogging is an ideal way to receive high-quality backlinks from internationally recognized web portals and grab referral business opportunities, customers, and appreciation.
Before starting guest blogging activities:
Research the worldwide internet carefully, communicate with prestigious website owners ready to publish your content on their platforms, and give do-follow backlinks to your website.
Just finalize the terms and conditions of such cooperation and start creating high-quality content.
Always keep in mind that world-famous websites are pretty demanding when it comes to content quality.
They will never hesitate to quash your content if it doesn't suit their brand's voice. The rejection rate of content in guest blogging activity is relatively high. Therefore keep all content writing guidelines in mind and develop high-quality material accordingly.
Proofread the content and finalize all details before sharing them with the website owner. They will take time to review the submitted content and publish it on their platform.
Aggressive guest blogging activities are efficient ways to get sufficient business opportunities from different geographical locations and sustain the business. 75% of startups and small business organizations actively use this technique to increase brand awareness and generate leads.
13. Write product reviews on eCommerce websites
As many individuals purchase products and services from multiple eCommerce websites, the E-Commerce business continues to grow by leaps and bounds yearly. But the good thing is that most regular online shoppers go through product reviews, get detailed knowledge about the available commodities, understand their pros and cons, and then make transactions. While purchasing products from Amazon or any other eCommerce website, you must have noticed both positive and negative customer feedback.
To address the needs of disgruntled customers and encourage them to buy products from your company, you must start writing genuine product reviews on multiple eCommerce websites and explain why it is beneficial for customers to purchase commodities from your brand.
Careful comparisons between products from your company and other organizations help increase customers' knowledge about the available options if they are not satisfied with the products made by a famous brand.
Just mention your company's name or a particular product while writing reviews and ensure that the content provides all-inclusive information to the audience. Soon you will see a good number of new customers on your site, more service requests on social media pages, and more comments on the blog.
But always keep in mind that you avoid speaking negatively about the products manufactured by other companies. You can write high-quality product reviews yourself or take the help of professional content marketing agencies. Remember to include high-performing keywords in product reviews for better visibility in search engine results.
14. Perform content marketing for small search engines also
Most digital business owners want to see their site's pages in Google's top 10 or 20 pages. It's because Google is the most influential search engine on the planet and is used by many internet users in multiple locations.
So it's true that your brand's healthy presence in Google's SERP is essential. But, on the other hand, it's wise to pay attention to the business opportunities offered by small search engines.
Always remember that there is fierce competition among business organizations and companies to secure a prominent place in Google search results. It's challenging for a startup company with limited resources to put its heart and soul into content marketing and compete with larger companies for business opportunities.
It takes time to get your website ranked in Google. It would be helpful if you performed content marketing for small search engines such as Baidu, Yandex, Bing, Yahoo, DuckDuckgo, and many others.
When startup companies struggle to survive in the digital business, even a single pie of business from small search engines proves to be a lifesaver.
| | | |
| --- | --- | --- |
| Small Search Engines | Market Share | Geographical Location |
| Baidu | 59.85% | China, Available Worldwide. |
| Bing | 3.19% | Worldwide |
| Yahoo | 1.31% | Worldwide |
| DuckDuckgo | 2.42% | Worldwide |
| Yandex | 51.66% | Russia, Available Worldwide. |
Nothing is wrong if a startup company grabs small business opportunities from these search engines. It will help them to compensate for the loss caused by major Google updates, low ranking of websites, poor performance of primary keywords, etc. These small search engines will give you business opportunities vital for the survival of startup organizations in a highly competitive business market.
Ask your content marketing team to learn the SEO practices of all these small search engines and perform content marketing. It will benefit your organization in the short and long term, enabling you to sustain the enormous competition from prominent organizations and generate sufficient leads every month.
15. Multilingual content marketing
Undoubtedly, the global internet is influenced by English-language websites. But the reality is that many people in different countries don't use English in their personal and professional lives. If you start a digital company and want to sell your product globally, you must perform multilingual content marketing to get the desired success in the shortest time possible.
| | |
| --- | --- |
| Language | Speakers |
| English | 1,132 million |
| Mandarin | 1,117 million |
| Hindi | 665 million |
| Spanish | 534 million |
| French | 280 million |
| Arabic | 274 million |
| Bengali | 265 million |
| Russian | 258 million |
| Portuguese | 234 million |
| Bahasa Indonesian | 198 million |
If you see the chart carefully, you will find that many people in different countries use other languages to purchase products and services from the Internet. Big companies like Amazon, Alibaba, Dhgate, and others are successful because they simultaneously address customer needs in multiple languages. 
So if you are looking for speedy growth of your startup organization and want to keep getting business opportunities from numerous locations, perform content marketing in different languages.
Indeed it will cost a few extra bucks, but the return on investment will be much larger than you expect. You can create content in multiple languages using artificial intelligence-powered tools or employ native content writers to perform the job.
Before doing multilingual content marketing perfectly, you will need to understand multilingual SEO best practices.
Conclusion
A content marketing plan is essential for any startup looking to grow its business. A well-executed plan will help you create high-quality Content that leads to organic traffic and conversions. Additionally, if you want to be updated on the most recent changes to internet search engine algorithms, it's imperative to stay on top of SEO news.
Create a well-throughout content marketing strategy for your startup and increase the number of business prospects by paying attention to these easy suggestions. Take action right away!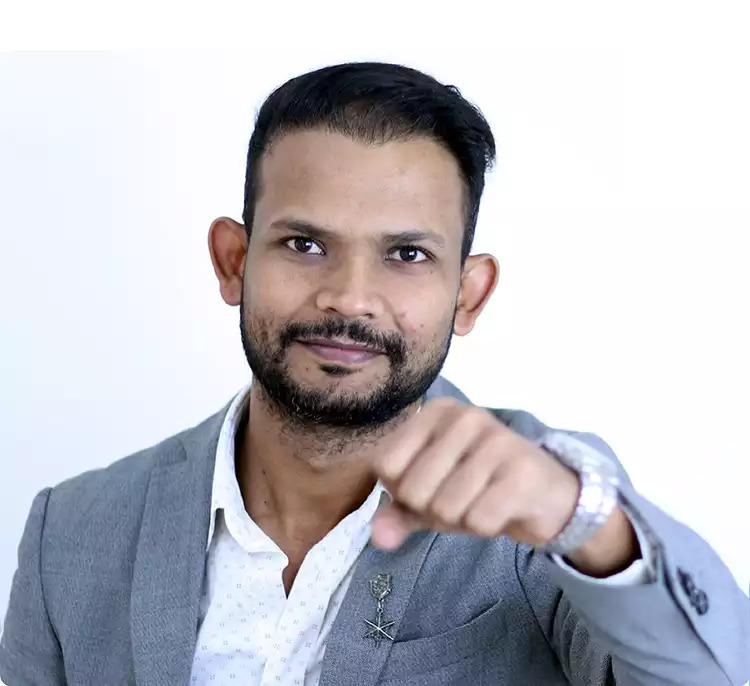 About Deepak Chauhan Hi, I am Deepak Chauhan, a Digital Marketing Strategist. I'm the CEO & Co-Founder of VOCSO Digital Agency, a creative web design, development, and marketing agency based in India & USA.