SEO tactics can be notoriously difficult to define and time-consuming to perfect. At the same time, SEO is an ever-changing industry filled with many new tools, tips, and tricks. Even the definitions of old strategies are changing. What was considered acceptable practice a couple of years ago may not be good enough today.
SEO is constantly changing with the new technology on the scene and the changes happening with the search engines themselves. SEO tools, tactics, and strategies are as much science as art.
Success in SEO ranking demands some of the best backlink tools in the industry. These tools allow you to create high-quality backlinks that help your website rank higher in Google search engine results pages (SERPs). Plus, they're easy to use and provide a wealth of information about your competitors.
This article will introduce you to some of the best backlink tools available. We'll discuss what each backlink automation tool does and how it can benefit your SEO efforts. By the end, you'll better understand which backlink tool is right for you. So don't wait any longer – start building your SEO arsenal today!
Backlink Tools to Improve Your SEO
If you want to improve your ranking on the search engine results page (SERPs), you need to be using backlink tools. Backlinks are one of the most important ranking factors for search engines, so it's essential to have as many high-quality backlinks as possible.
Business owners and marketing experts need to pick the best SEO automation tools to help their businesses get authoritative website backlinks. Marketers and web admins can use them to improve their website rankings and SERPs. When it comes to pricing, some of the best SEO automation software has a free trial period, and some provide a free version with limited features.
Various backlink tools are available to help you improve your SEO. Each has its own set of features. Some automation tools are designed for specific tasks, while others are more general. No matter your needs, there is a backlink automation tool out there that can help you. These tools can track and manage your backlinks and find new link-building opportunities.
Backlink tools can be beneficial in improving your SEO, but it is essential to remember that they are just one part of the puzzle. To see success, you need to focus on creating high-quality content that people will want to link to.
The below best backlink checker tools are a great place to start if you want some help with your backlink-building efforts and check your own website or competitor's backlinks.
1. Ahrefs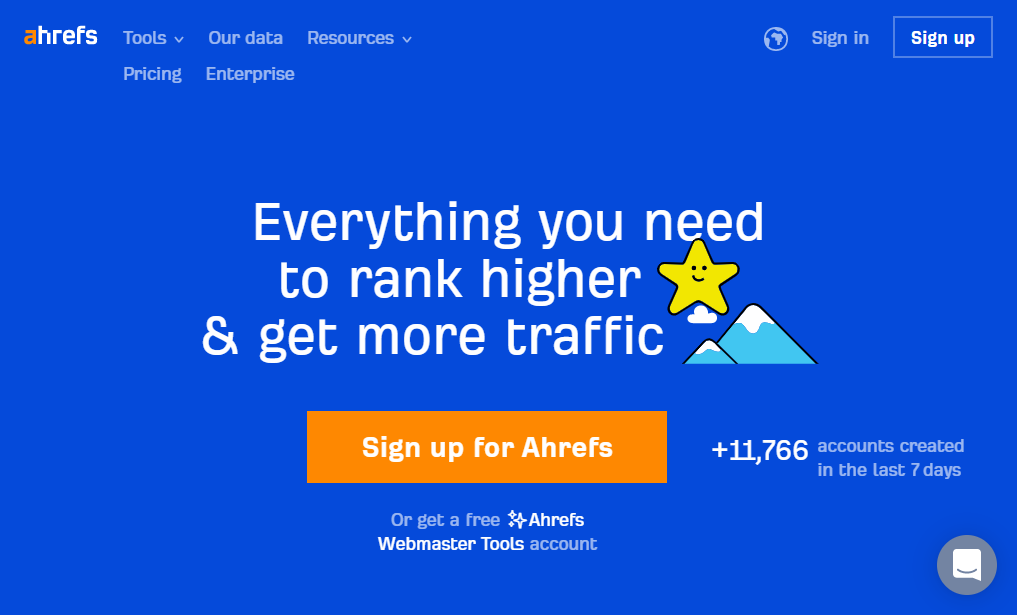 This is one of the best SEO automation software for your website. Ahrefs is a backlink analysis tool that helps you find the most authoritative websites that link to your website. Ahrefs is a powerful and comprehensive backlink research tool developed by SEO experts over the years. The company has been in the industry for more than ten years, which means it knows what it's doing.
The SEO automation software has several features:
SEO Dashboard: Obtain an overview of your projects and monitor their SEO performance and development.
Site Explorer: Gain a comprehensive understanding of the organic search traffic and the backlink profile of any website or URL you choose.
Keywords explorer: Find dozens of fantastic ideas for keywords, investigate how difficult it would be to rank for them, and determine how much traffic they may receive.
Site audit: Conduct an SEO audit to identify your website's technical and on-page SEO issues. Discover the specific factors that are preventing your website from ranking higher.
Rank tracker: Keep track of where you stand in the rankings over time and compare your progress to that of your competition. Receive regular, scheduled reports delivered right to your mailbox.
Content explorer: Find the highest-performing content in your specialized area and thousands of potential link partners.
Pricing
Lite – $99 – It's essential for small businesses and hobbyists.
Standard – $199 – This is ideal for SEO professionals and in-house marketers.
Advanced – $399 – Has Indispensable tools and more data allowance as your business scales.
Enterprise – Starts at $ 999 and is suitable for big agencies and enterprises.
2. BuzzSumo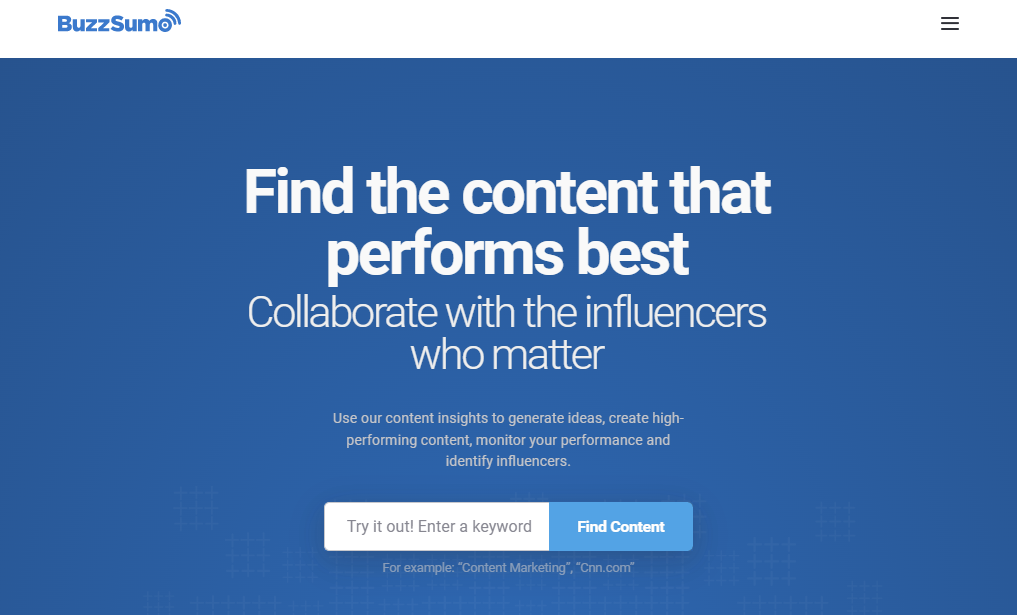 BuzzSumo is an online SEO automation software that helps you identify the most popular content on the web. It lets you find out who shared it and how many social shares it has. BuzzSumo backlink SEO automation software is a great way to increase your SEO. It helps you find out which articles are getting a lot of social shares so that you can create similar content and get more shares.
Its features include:
Content Discovery: You have access to an infinite number of thoughts. Explore different themes, trends, and forums to get ideas for your work. You get to know what's falling in popularity and gaining ground.
Content Research: Make sure the content you provide is meant for success. BuzzSumo combs through billions of online articles and social media postings to provide you with actionable intelligence.
Find Influencers: Look beyond simple measures to identify highly influential leaders. Find authors and artists on Instagram, Twitter, and the web who have actively engaged audiences with genuine authority in their field.
Monitoring: Keep an eye on the trends, mentions, and updates. BuzzSumo keeps an eye on your competitors and alerts you of important events.
Pricing
Free – Gain ten free searches a month
Pro at $99/month – Ideal for small start-ups and freelancers on a limited budget
Plus at $179/month – For small agencies and growing businesses
Large at $299/month – Suitable for agencies and marketing teams
3. SEMRush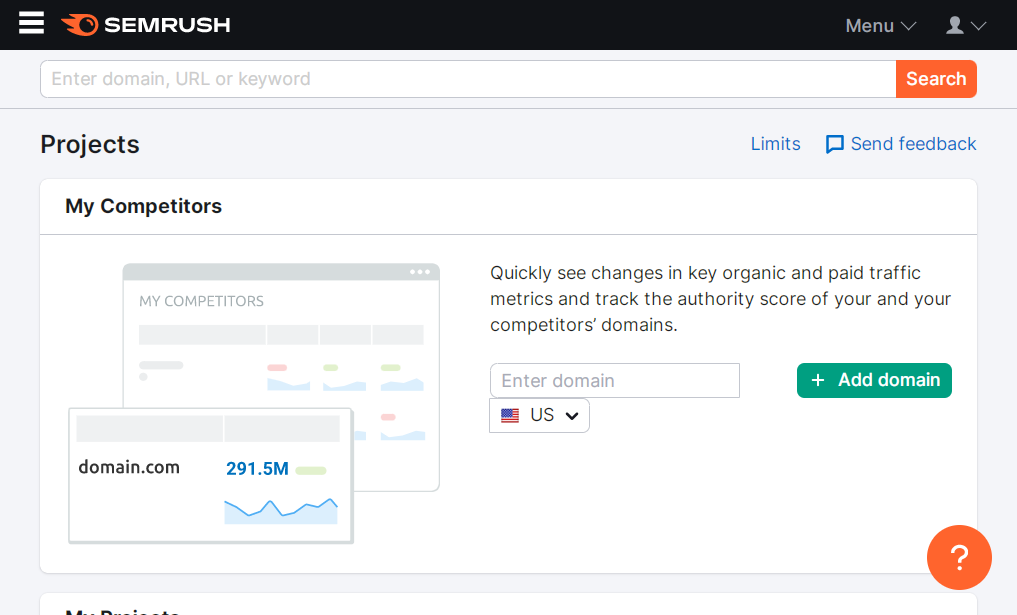 SEMRush is one of the most popular and powerful automated SEO software to analyze your competitor's backlinks. It provides detailed information about every link you see and its strength.
You can export all your data in a CSV file to easily share it with others or use it for your analysis. It shows you which websites have links to your website and how many links are no-follow or indexed. Export the data into a spreadsheet if you want to analyze it further.
Features:
Keyword research: Find the most effective keywords to drive your website traffic.
On-page SEO: Get fresh ideas to improve the health of your site and its performance in search engine optimization.
Competitor analysis: Increase your web traffic and enhance your performance by learning from the winning techniques of your competition.
Link building: Find possibilities that are one of a kind so that you can improve your backlink profile.
Rank tracking: Keep an eye on how your target keywords are changing each day.
Content optimization: Increase the volume of traffic you receive by using tailored suggestions to improve the quality of your content.
Content marketing: Create an effective content strategy based on data-driven decision-making.
Pricing
Pro at $119.95/month – For newbies and small teams
Guru at $229.95/month – For agencies and mid-sized businesses
Business at $449.95/month – For large agencies and enterprises
4. Moz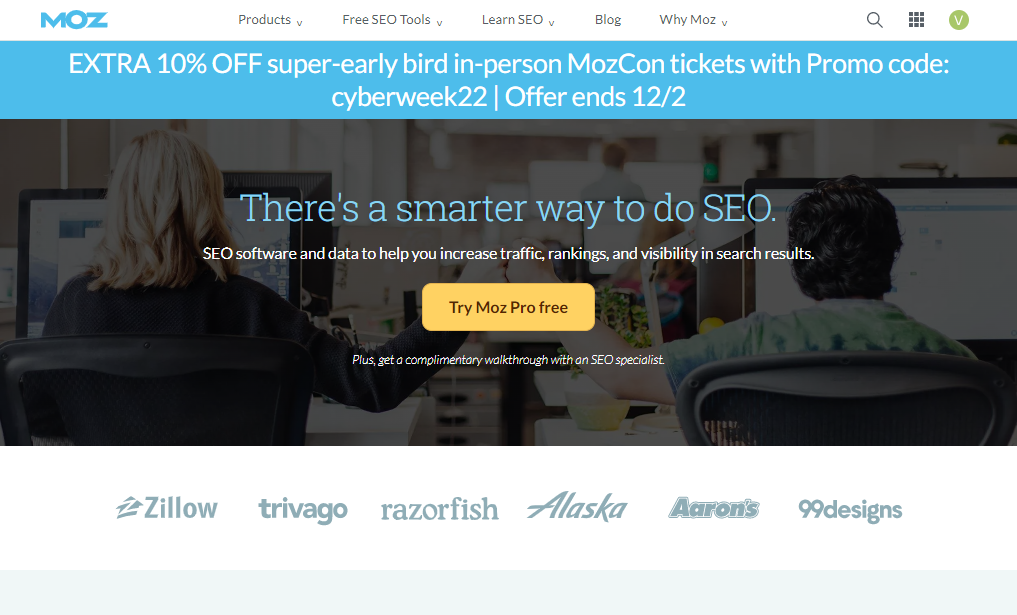 Moz is another popular SEO automation software that offers excellent information about your website's performance in traffic, rankings, and other metrics. Moz also provides free tools for:
Keyword research,
Backlink analysis, and
Competitor analysis.
Moz helps you find out how many links are pointing to your site, which ones are the most popular, what kind of content they are linking to, and much more. You can sort these results by country, domain, or even URL. This is an excellent tool for SEOs who want to find out why their competitors have more links than them – it's a great way to get ideas on building your links!
Site audits: Discover any technical SEO issues and get recommendations for upgrades and solutions. SEO audit is a crucial part when it comes to optimizing your website.
Rank tracking: Keep track of how well your traffic-driving keywords perform across several search engines.
Backlink analysis: You may view the analytics for any website in a matter of seconds, including the anchor text and Domain Authority.
Keyword research: Find thousands of keywords for your campaigns and a Search Engine Results Page (SERP) analysis. There are various dedicated keyword research tools that can help you.
Pricing
This SEO automation software has a 30-day free trial and costs $179/month after that. Perks include:
Entry to the industry's best search engine optimization statistics.
Comprehensive SEO automation toolset for data-driven analysis and reports.
Guided instruction from a subject matter expert.
Support staff's availability round-the-clock.
Q&A forum to discuss issues with business professionals.
5. LinkMiner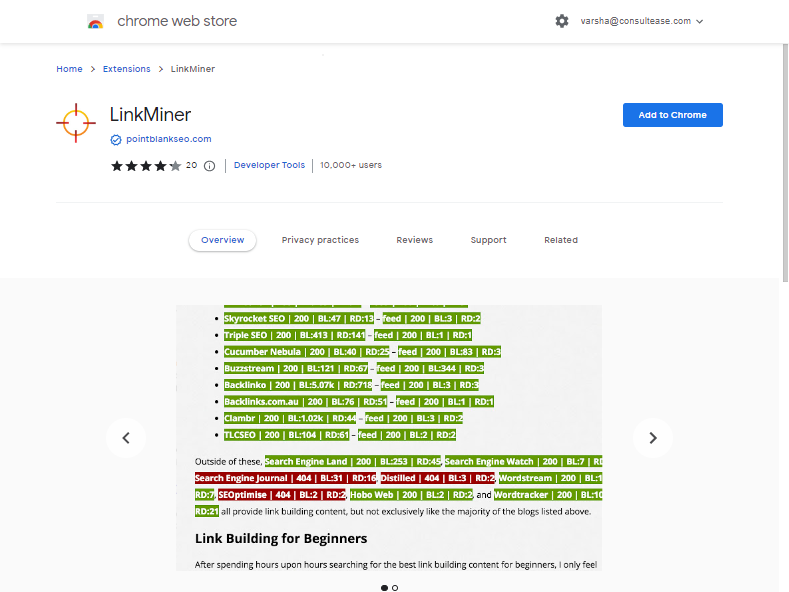 LinkMiner is among the best SEO automation software, allowing you to find and track backlinks from any domain. It helps you discover content that has been linked to other sites.
You can use LinkMiner to find out who links to your site or blog, which keywords they are linking to, how many pages they link to, and more. You can also use this automated SEO software
to find out what topics people want to be covered on your site by searching for related articles on Google. This will help you create better content that will attract search engine traffic.
Some of LinkMiner's features include:
Keyword research: Discover search terms that you can easily dominate.
SERP analysis: You will receive a localized SERP simulation on mobile or desktop.
Rank tracking: Find out how your website genuinely fares on search engine results page.
SEO metrics: Perform a search engine optimization authority check on any website.
Pricing
It has three plans with a ten-day free trial, and you can save up to 35% on annual plans.
Basic at $29.90 per month
Premium at $44.90 per month
Agency at $89.90 per month
6. Linkody
Linkody is a powerful link analysis tool that helps you to find and disavow toxic links. It allows you to connect with multiple users under a single account. You can run Linkody on your computer or shared hosting without affecting other users' accounts.
Being one of the best SEO automation software, Linkody provides many valuable features for SEO professionals. Here are some of them:
Multi-user Support: You can have several users under the same Linkody account. You can share the account with your team members or clients using Linkody to improve their SEO performance.
Disavow tool: Easily find toxic backlinks and disavow them. The Disavow tool helps you quickly identify and remove unwanted links from your site so that you don't lose any link juice from these sites in Google's ranking algorithm.
Instant link location: Visually locate the link on the source page with just one click. With this feature, simply hover your mouse over any URL in any source page and see where it links instantly!
Google index status: You can monitor the status of your links through Google indexing reports. The dashboard provides an overview of all your links, so you can quickly check which ones are indexed by Google.
Landing pages: The landing pages section allows you to monitor 404 errors on your site, so you don't lose ranking due to broken links. This is useful for SEO professionals who want to improve their rankings in search engines like Google and Bing.
Email notification: With Linkody, you'll receive daily email notifications alerting you when there's been a change on one of these pages!
Pricing
This SEO automated software has several packages, and you get a 30-day free trial:
Webmaster at14.90 $ per month – Two domains, 500 monitored links, and one user
Advanced at 24.90 $ per month – Five domains, 2,000 monitored links, and one user
Pro at 49.90 $ per month – 20 domains, 5,000 monitored links, and three users
Agency at 99.90 $ per month – 50 domains, 20,000 monitored links, and five users
Agency XL at 153.90 $ per month – 100 domains, 40,000 monitored links, and ten users
7. BuzzStream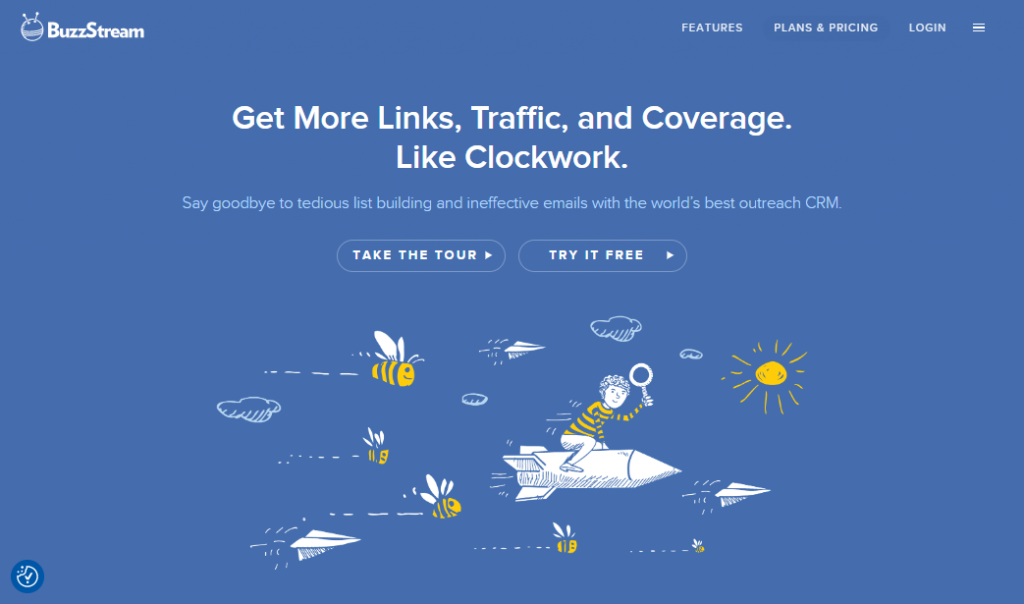 BuzzStream connects with Google Analytics and shows you all the keywords your site has been ranking for in the past six months. It gives you insight into how much traffic each keyword has received. This way, you can see if there's any correlation between ranking well and getting lots of visitors.
It also has excellent features like Google Search Console integration, so you can check rankings from within the program without leaving it.
BuzzStream can analyze backlink profiles on any domain or keyword. BuzzStream provides a wealth of data about your competitors' backlink profiles and SEO strategies. You can also use BuzzStream to determine whether a keyword has enough high PR links pointing at it to rank well in search results and get traffic from organic search engines and paid search engines such as Adwords or Bing Ads.
Features of Buzzstream include:
Research: You can look through prospect lists, add contacts, and the system will automatically identify contact information and analytics. Develop stronger profiles and reduce the time you spend working in spreadsheets.
Email: Send unique communications focused on your relationships without losing efficiency.
Manage: Make sure that your projects stay on schedule. Maintain your relationships and keep your team updated on your notes and progress. With the click of a button, you can view the current status of any project.
Report: Develop an in-depth understanding of your outreach. You must look at the proper facts to make the best possible judgments.
Pricing
Starter – Simple out-of-the-box outreach for up to 2 users at $24/month.
Growth – A complete outreach platform with team sharing, project reporting, and more at $124/month.
Professional – Advanced analytics, extensive customizability, API access, and personalized support at $299/month.
Custom – A complete solution customized to your organization's unique needs starting at $999/month.
8. Sitechecker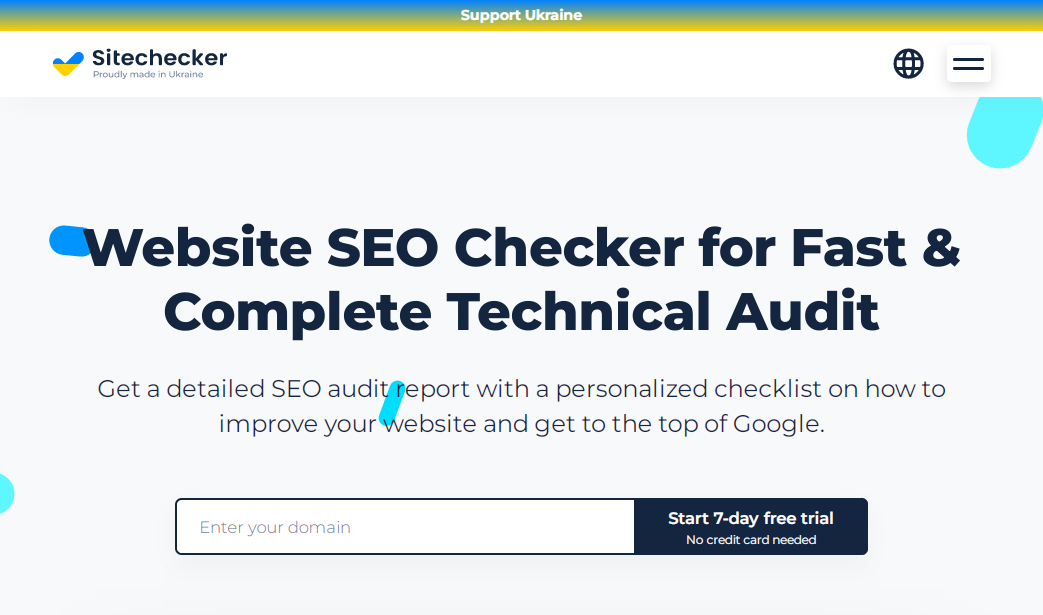 Sitechecker is a free tool that allows you to analyze your competitors' links. It will show you which links are backlinks and internal links and the number of referring domains for each. You can also see how many links from your competitors have been penalized by Google.
Use this tool to check the quality of your backlinks, how long it takes for Google to crawl your site, and whether or not your content is engaging.
Sitechecker's highlight features include:
Website crawler: Inspect the website in search of any technical problems and compile a prioritized to-do list with instructions on resolving any issues found.
Site monitoring: Assess what's going on with your websites and determine whether something went amiss.
Rank tracker: Keep an eye on your site's traffic and visibility stats, and get advice on how to boost them.
Backlink tracker: Monitor adjustments to your backlinks constantly to ensure you keep up all of your hard work. You have complete control over which links Sitechecker will gather and monitor.
Pricing
Start with a seven-day free trial to see if this automated SEO software works. Annual subscriptions cost 20% lesser.
Basic at $29/month – For startup founders, small business owners, bloggers, and freelancers
Standard at $49/month – For in-house professionals and small agencies
Premium at $99/month – For dedicated SEO teams and mid-size agencies
Enterprise at $399/month – For big agencies and enterprises
9. WebFX SEO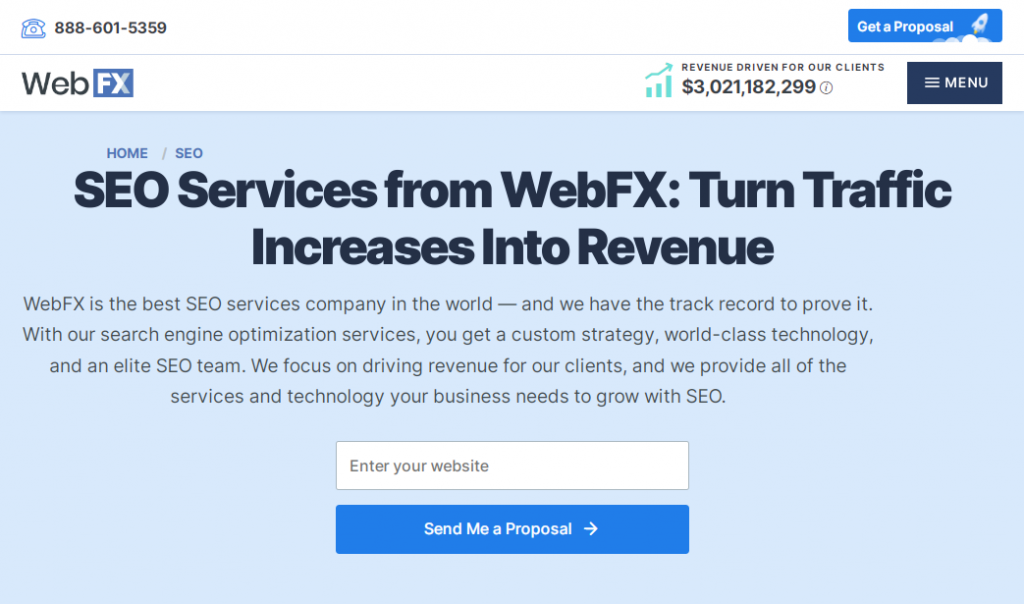 WebFX is an excellent SEO automation tool for checking the performance of your website over time. It lets you see where you stand and what needs to be improved and gives you recommendations on how to do so.
For example, it will show you which keywords are used on your site, how often they are used, and whether they rank well.
It checks a variety of metrics, such as:
Title tags: Do they contain enough keywords?
Meta descriptions: Are they long enough and descriptive enough?
Page titles: Are they unique and keyword-rich?
Headings: Are there any duplicate headings or subheadings?
Content: Is it relevant, keyword-rich, and on-topic?
Links: Are there any unnatural links pointing to your domain?
10. Majestic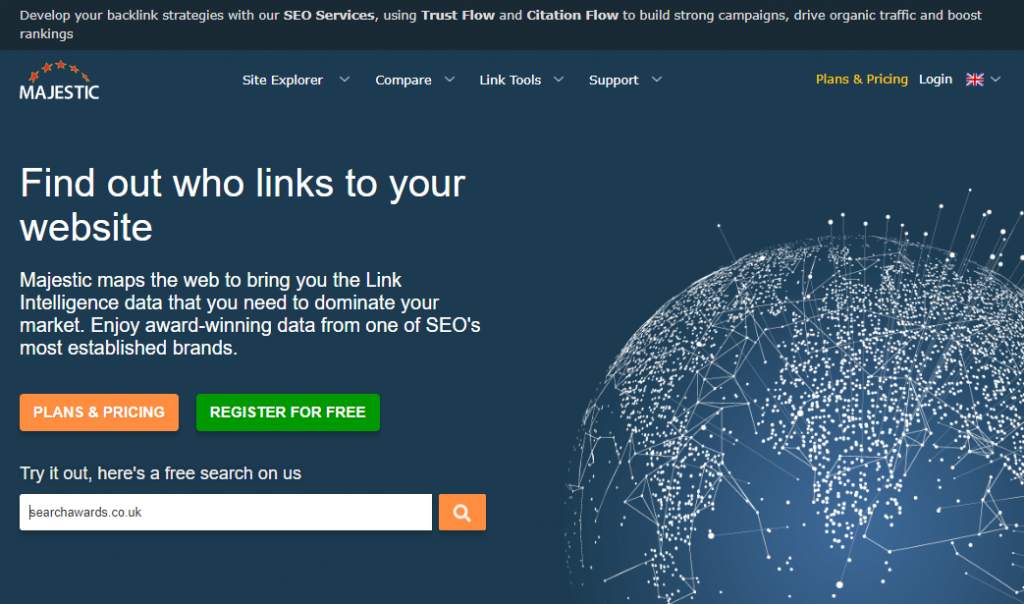 Majestic SEO is one of the most widely used and recommended automated SEO software
for checking backlinks. It provides a lot of information about your site's links with a simple, easy-to-read interface and charts that show how many links you have and from which domains.
Majestic uses data from the internet to find out what keywords are ranking well and which are not. For example, suppose a particular keyword doesn't appear anywhere in Google's search results pages but is still being searched. In that case, Majestic will use this data to determine whether something is wrong with the keyword or whether people are searching for it incorrectly.
The Majestic backlink automation tool concentrates on link intelligence data. It does so by expanding on this singularity of aim to present novel viewpoints on:
Link context
Citation flow
Related sites
Plans
Lite at $49.99 Monthly – For audit and prospecting of a small group of sites. Check Fresh Index backlinks several times a day.
Pro at $99.99 Monthly – For agencies, domain traders, and SEO consultants. Query Fresh and Historic Index at higher volume. Access a wider range of reports, and extract more data.
API at $399.99 – For agencies needing maximum power and developers who want to grab data directly from Majestic.
11. SE Ranking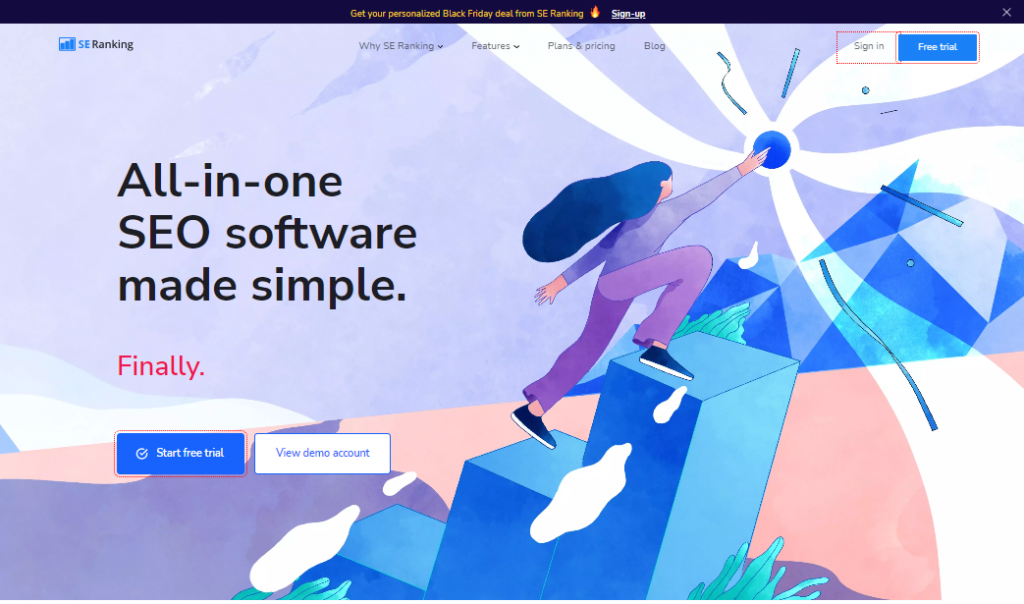 SE Ranking analyzes the SERP for any search term. The SEO automation software analyzes keyword rankings, traffic, and competition for each page on your website. It tells you which pages have the highest authority in their respective categories.
In addition to giving you a score for each keyword and ranking on Google, it also analyzes your competitors' rankings. This allows you to see if specific terms or phrases drive your competitors' rankings higher than yours.
12. SEO Review Tools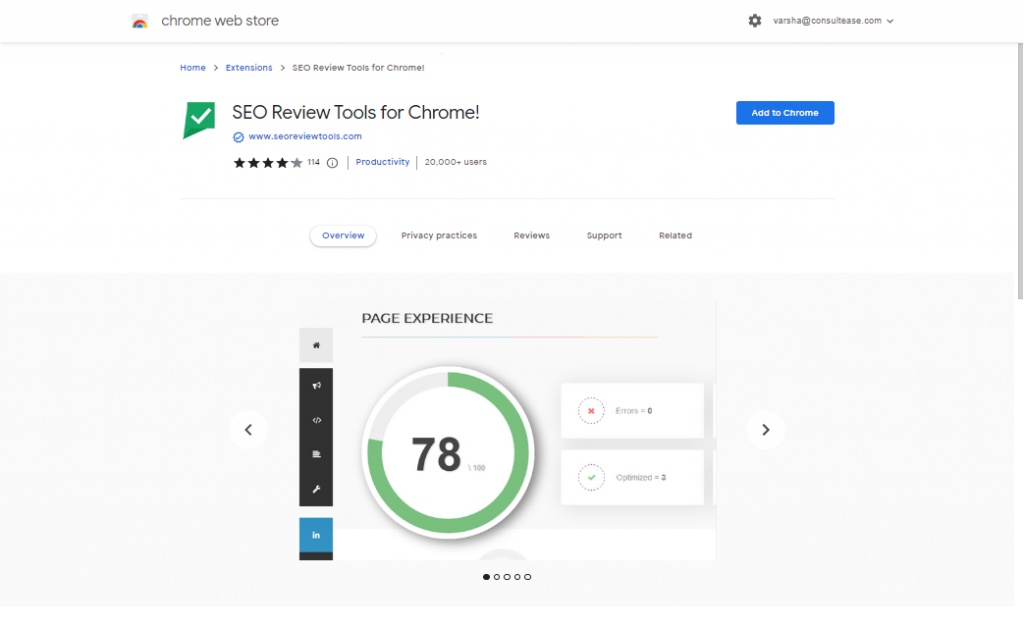 This is an SEO automation tool that helps you to get a comprehensive view of the health of your website. The data it shows is based on the metrics used by Google to check whether your site is optimized. You can track backlinks, keyword rankings, and much more. You can also see how many visits your site gets daily and how many people click on your links.
The best part about this automated SEO software is that it gives you a detailed report after every audit. This includes actionable recommendations for improving your SEO performance.
13. CognitiveSEO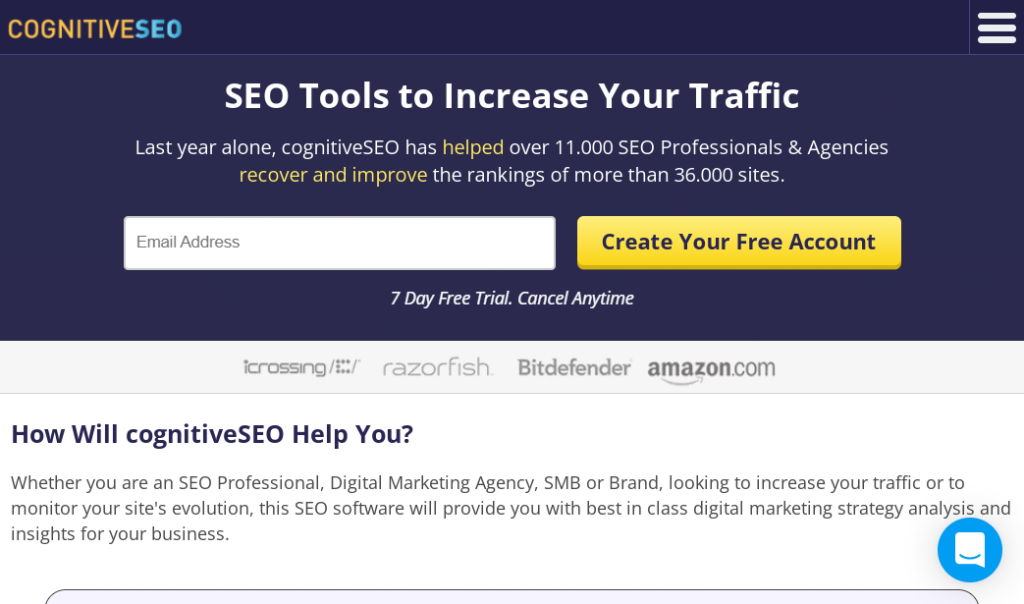 CognitiveSEO is an SEO automation tool that helps you to create meaningful content regularly to improve your SEO rankings over time. It uses AI technology to analyze the content on your website and then provides suggestions for improving it. This way, you get better results without spending hours writing new content or researching topics related to your niche.
It's an excellent way to find out if you have a lot of duplicate content on your site, whether you have broken links, and other things that can affect search engine rankings.
14. Rank Signals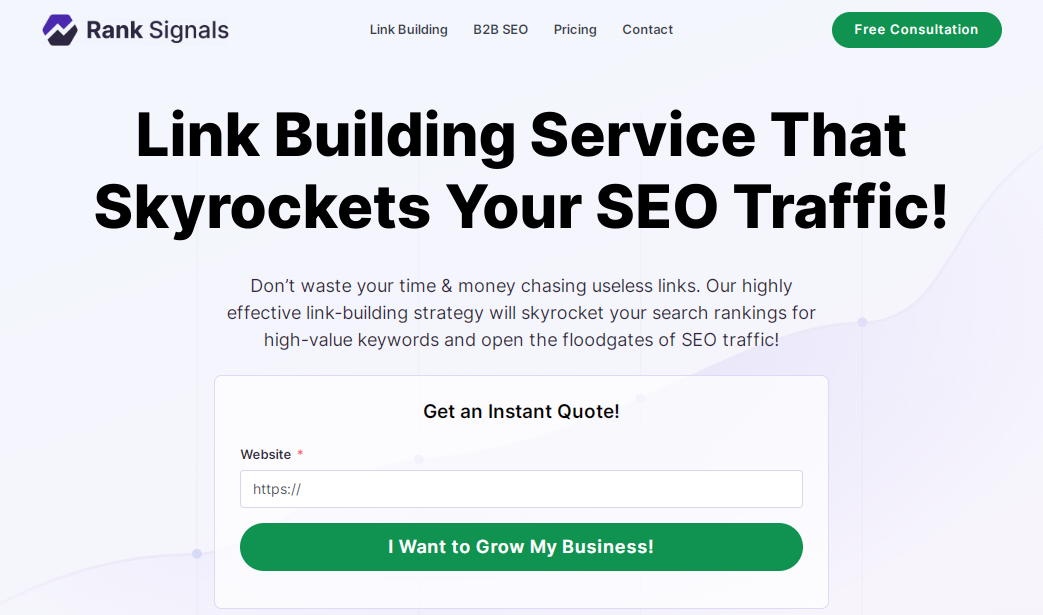 Rank Signals is a link-building service that helps you build relevant links to your content. If you need help getting links, Rank Signals can help you get more than just a few relevant links from top sites and authoritative domains. Their strategy is to help you drive traffic, attract leads, and make sales.
The main advantage of Rank Signal is that it allows you to see how many links are coming from other websites in your industry. This makes it easier for you to determine whether or not those links will help your site become more visible in search results.
Conclusion
If you're serious about improving your SEO, you must use backlinking tools. Backlinks are one of the most important ranking factors for SEO, and using the right tools can help you get the most out of your backlinks.
There are a lot of different backlink tools out there, and it can take a lot of work to know which ones are worth your time and money. This article has given you some of the best SEO automation software available, so you can choose the ones that are right for your business.
With backlink automation tools, find and assess the quality of backlinks, monitor your competitor's backlink profiles, and use this information to improve your SEO efforts.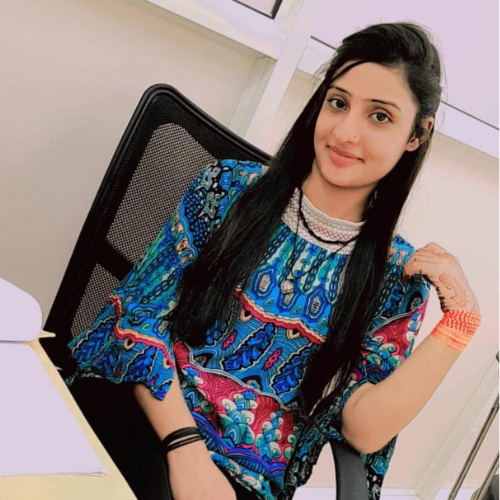 About Sneha Prajapati Hi there! My name is Sneha Prajapati and I am a digital marketing professional currently working at VOCSO Technologies. With several years of experience in the field, I am passionate about all things related to online marketing, including SEO, PPC, and social media.