An Online Courses Platform is essentially a website or a mobile app that hosts teachers who administer courses and learners who patronize these courses. It aims to help people in their education and to acquire new skills. For the past few years, the E-learning market and related services have continuously been trending as one of the most popular and profitable forms of online businesses – one 2017 report stating that it is an industry expected to generate $275 billion dollars by 2020. Today, the industry is expected to grow by as much as $325 billion in the next 5 years.
As the world shifts more and more of its goods and services into digital formats, many have noticed that education is following suit. A demand is growing for more E-learning platforms and as such, so are the opportunities to do business. Of course, Starting an online courses platform can be a daunting task and is sure to take a lot of time and effort. But if you are to capitalize on the growing demand for the service and highly likelihood of profit, such efforts in planning and research will prove to be indispensable.
Luckily, we have gathered, itemized, and simplified the things you need to know when starting an E-learning Business. In this article, we will discuss all the big decisions and technical requirements needed to supply you with the things you need to turn your ideas into a full-blown business.


Why Online Courses Platform?
In simple terms, an Online Courses Platform is a market place where the teachers are the vendors and the students are the customers. Teachers use your platform and its tools to create courses and modules on different topics. Students – of all backgrounds – looking to acquire new skills or more credentials, sign up for these courses.
All this happening online means that both students and teachers learn and teach at their own pace. This deeply personalizes education and allows it to be more flexible to people of different schedules. Another benefit is that its available to anyone and everyone with an internet connection. The internet boasts a massive customer potential – the biggest anywhere – with largely untapped market niches that you and your business can fill.
An Online Courses Platforms brings the school to you and, with economies globally shifting towards a service and skill based model, more and more people will be looking for services like these to achieve quality education in as little time as possible.


The Most Profitable Types Of Online Learning Business Models
Although all E-learning platforms have certain commonalities in their schematics, one of the bigger decisions you have to make when deciding to create an E-learning platform is the model in which it operates. This decision will be the guide for the other decisions you're gonna have to make for your new business. Listed below are two of the most common and successful business models:


1. The "Night School" Model
The Night School Model is perfect if you're looking to just test the waters. This model operates by offering courses under blanket niches that aim to accomplish a fixed endpoint. The courses would have titles like "How to use Adobe Illustrator of making concept art" or "A guide to improving Productivity".
Each course is tailored to aid learners accomplish certain tasks or develop specific traits or skills. The courses will likely be priced differently according to their length and technicality as well as the overall demand for the information.
You can operate under this format for relatively cheap to no operational costs. The only downside is that the cash flow will depend on the amount of customers drawn to the courses. Without subscription appeal, much of the expense will be geared towards marketing campaigns to continuously ensure a steady stream of new students. One way to mitigate this is to have courses focused on different tasks but under one blanket niche. Lessons priced separately but marketed as parts of a larger course, this will entice students who completed one lesson to continue to other lessons for the prospect of completing a course and becoming an expert in that niche field.
The Night School Model is perfect for the earlier days of the business to slowly but surely find footing in the market and gauge the customers' desires.


2. The "Academy" Model
As the name implies, the Academy Model creates comprehensive courses on certain fields of study or skill sets. They operate on a monthly or yearly subscription basis so income under this model is earned passively,
This model is perfect for people who are looking to understand topics in great depth and become masters of their chosen fields without having to pay for lessons individually.
With the potential to become very profitable, your concern is ensuring quality content from trusted and distinguished teachers and marketing them as such to attain new subscribers and keep the subscribers you already have.


How Do Online Courses Marketplaces Make Money?
The method of earning from an Online Courses Platform depends on the model in which the platform operates. For the Night School Model, the payments are made per course or per lesson within a course. Prices can range from $100-$350 dollars.
Some of that money will go to you as the owner of the platform and the rest will go to the teacher offering the course – usually a 10%-20% commission for you depending on the quality and popularity of your platform. You not only have to ensure quality courses in the Night School Model (which is a given no matter what business model), but market them heavily to ensure a high traffic of new customers to your platform.
With the Academy Model, money is earned passively by way of subscriptions. A monthly subscription can be priced anywhere from $10-$50. If the subscriber base is large, so will the monthly and yearly earnings. Then, teachers can be paid monthly fees depending on the popularity and comprehensiveness of their course with continuous updates or be paid a one time sum.
You may also make money through advertising revenue by way of banners and commercials on your site.


How to Start An Online Courses Business?
Now that we have gone through the basics of what an Online Courses Platform means and how they operate, it's time be discuss the technicalities you need to understand and incorporate into the design of your business. Doing so will set you apart from the many online startups that have tried and failed to get a foothold in the highly competitive online markets.


Prerequisites of an Online Courses Business
1. Specific Course Niche
Identifying the niche topic that your first courses will tackle can save you a lot of time, effort, and money in developing them. Some research into the most trending topics can allow you to cater to those demands and find subscribers right away. If your research shows that corporations are in need of people with a grasp of I.T (Information Technology), you can then create a line of courses that offer training for such skills either to individuals or the companies themselves.
Or if your research shows that there is a huge demand for digital marketing talent in corporations, you can offer online digital marketing course to train individuals with digital marketing skills.
At the same time, focusing on niches that are overlooked and neglected can allow you to fill a gap in the market for those who are looking for skills currently unrepresented. Settling on specific niches will lend your platform focus and purpose instead of it trying to tackle numerous topics at the same time – which is a waste of resources if some of the courses never catch on with customers.
You can always diversify your course offerings later down the road when the business is more established.


2. Research about the Niche and Do Research to Find the Needs and Gaps
When researching on the niche topics your platform would like to serve, it helps to keep an eye out for the news on online education and business. If you find that more companies – in the process of modernizing – are looking for ways to retrain their employees, create a platform that offers courses geared to train employees on important I.T. and software skills. Aim to market it towards companies looking to digitize and you would have made your own customer base.
Another example is if certain industries are dying out and the employees of that industry are looking to change careers. Creating a platform wherein they can acquire the skills needed to join a new and/or emerging industry.
Identifying a niche is essentially identifying a need unmet in the market and seeking to fill that gap.


3. Revenue model
Whether live streaming classes, pre-recorded videos, or PDF files, it's important to have a diverse network of revenue generation. Depending on your chosen business model, you may charge either by the lesson or in a monthly or yearly subscription. You may also charge separate fees for one-on-one tutorial sessions, certification programs, and earn from advertising banners on your website.


4. Formulate an Online Course Model
Once you've decided on your business and revenue model and settled on a niche group, it's time to develop the layout and design for the courses. This can be created by the teachers themselves or meet certain requirements that you have set up to make the courses more comprehensive and user-friendly.
It is best to segment the courses into related categories, have clear descriptions of the courses and what learners can expect upon completion, and a user interface that's easy to navigate.


5. Business registration
There are many benefits to registering your business with the government. It ensures the protection of the law to the name and brand of your business while allowing you to operate as a legal and registered entity which puts the mind's of your customers and teachers at ease.
In the USA, the likely business registration form for your E-learning business is the LLC (Limited Liability Company). It requires less paperwork, less fees, and is perfect if you operate your business from home – which will be designated as your central office. It also allows you to decide on more lenient forms of taxation which won't burden your new business with expenses.
Look up on the local online business policies and requirements of the country or state you live in to be sure on how best to register your new business.


6. Domain Registration
A domain name is the personal URL of your platform. It helps with the SEO (Search Engine Optimization) of your site and is the way by which learners can reach you. It's important to keep what is basically your internet address short, original, and memorable.
You can register your domain name on sites like Domain.com, BlueHost, for a relatively cheap renewable fee though prices may vary depending in the features of the package.


7. Trademarks
Registering a Trademark, whether it be a name, a phrase, or a logo, is essential in protecting the integrity of your business from copycats and con artists. When you register your trademark, it becomes your intellectual property, thus comes under protection of Property Rights laws.
For the US, Trademarks and Patent registrations can be done and paid for online.


8. Develop the platform
If you have no knowledge of coding and website building, you may opt for free LMS sites like WordPress (though you can pay for the premium features for greater design and layout tools). There is also an option to operate with the help of SaaS or Turnkey Self-Hosting vendors. They are paid services that allow you to outsource the building of a website and have it optimized for mobile devices.
Designing a website for training courses can be both exciting and challenging. On one hand, you want to create a site that is visually appealing and easy to navigate. On the other hand, you need to make sure that the site is packed with relevant information and provides a good user experience.
To strike the perfect balance, it is important to start by understanding the needs of your target audience. What kind of information are they looking for? What kind of design will appeal to them? Once you have a good understanding of this, you can start putting together a website that will help your training company reach its full potential. You can check out the Acuity Training website as an example of a good navigational structure.


9. Develop from scratch
If you are technologically proficient then you can build and design your own website – ensuring you have total control. If you are not a coder but still wish to build a site from scratch, it will be more expensive as you will need to set up a team of I.T. specialists. Such persons can be found marketing their services on online freelance forums. Once hired and assembled, they can be given specifications to build a site according to your vision.


10. Well Designed Content Layouts
A well designed layout is one that facilitates easy navigation for both learners searching for the right course, and teachers posting quality courses with ease. It must also be pleasing to look at with colors and themes that induce a sense of comfort and productivity.


11. User-friendly Course Information
The idea of an E-learning platform is to allow for newbies to pick up new skills and learn about new concepts. As such, keep course descriptions readable and easy to understand. Avoid the use of overly technical terms that might intimidate potential learners to keep them from availing.


Key features of the Online Learning platform
1. Learners Should be Able to Access Classes Easily
If a user is paying money for a course, they would want the course to be readily available upon logging in. Make sure that learners can quickly access courses by means of a personal tab where all the links to the courses they're currently enrolled in are readily available.


2. Your E-learning Website Should also Feature Some Free Classes
The offering of free classes is a great marketing tool in hooking new customers. If your site operates under the Night School Model, perhaps have the introductory lesson or first few lessons free of charge. This allows a new learner to develop an interest on the subject and pay to continue with the course.
In an Academy Model, offering a free trial that lasts for a month or more will allow a student to grow dependent on the platform's services and opt to continue with premium membership.


3. User Profile Options
For learners, their user profile options should allow them to see the history of the courses they have taken and access to courses already enrolled, It should also be filled with tools that allow them to assess their progress and receive feedback.
Teachers should be able to track the courses they have offered and how many students have availed of them. They should also be able to receive and give feedback, update courses, or upload new courses with no hassle at all.


4. The Process of Creating a Class Should be Easy
Online classes should be created by teachers with ease. This connects with establishing efficiency as it allows for more content to be generated and more learners to be catered to. Some regulation and quality requirements should be in place to ensure that learners are getting the best for their money, but the process of creating and posting a class should be as quick and as effortless as a push of a button.


5. Referral Program
Referral programs are another great marketing strategy where users who successfully entice a friend or family member to sign up for the platform receive certain discounts or freebies. This incentives word-of-mouth growth and transfers some of the efforts of marketing to the customers themselves.


6. Organization Program
Create subscription plans that cater to teams and groups looking to acquire skills needed by a company or organization. A program like this can also see your site partnering with organizations to retrain their employees online – diversifying you customer base and sources of revenue.


7. Smart Mobile App for your Online Learning
It is a given that your site is optimized to be just as accessible from smartphones and tablets as well. As more and more people conduct everything from business management to socializing from their mobile devices, your platform must be well suited for the times if it is to remain relevant.
Down the line, you might want to consider paying for the development of an app version of your platform to cater to learners who wish to study from the convenience of their phones or tablets. A venture such as this will open your platform to a host of new clients and customers and pave the way for a stake in the ever expanding app market.


8. Multilingual Lessons
By offering courses in multiple languages, you open your platform up to a larger market of non-English speakers and expand the accessibility of your content. Right now, little to no E-learning platforms offer such a service which means your platform would be one of the few that did. This will also garner your site notoriety as a trailblazer.


9. Assessment tools
Providing teachers and students with tools for assessing their progress and improvement will give the users of your platform a true educational experience. Create systems or add plug-ins like exam builders and support for multimedia tests with report cards and scoring systems. These features allow the teachers to fine tune their courses to be more effective and helps the students to know where they can improve.


10. Online Communities
Either setting up forums within your own site or creating communities on social media, these online communities lends great social engagement towards your platform. They facilitate new friendships and bonds, generate buzz for your business through person to person interaction, and allow you to gauge what are the praises and complaints of your customers.


11. Live Feedback
Adding a feature for students to receive live and real-time feedback from their tutors will aid greatly in the development of their education and the overall success of your platform's capability as a teaching tool. Doing things that allow for the most amount of people to succeed with the education you and your team of teachers provide will only highlight why your platform stands out from competitors.


12. Progress Tracking
A progress tracking feature with clear goals will aid in the productivity of the learners as well as boost the overall usage of the platform as they competitively want to reach the next milestone. Many platforms do this by a percentage bar that shows how much of the course the learner has completed. Another method is a rating system where the overall scores of the learner determine whether they are a novice, intermediate, or master of a certain course.


13. Dashboards
A good dashboard allows your users to see the progress and overall record of their time on the platform. It is a place to manage courses, classes, and track progression to achieve more efficient results. The dashboard needs to be a place for the user to see and manage it all in comprehensive and easy terms.


14. Data Backpacks
This feature is mostly for younger students who are signed in by their parents. Data backpacks are essentially online portfolios that indicate the student's overall performance, level of education, and other pertinent information. They allow both parents and teachers to see where the student can improve and by what teaching style that would be most suitable.


15. Generates Reports and Analytics
The ability to give constant analytical and performance reports is a must with any business. Ensuring that an Online Courses Platforms is teaching courses in such a way that actually helps the students acquire the skills that benefit their lives is in your best interest as the owner and/or manager.
The reports ideally highlight the successful classes or courses while identifying the courses that are seeing less than stellar results. Staying constantly informed on performance records, number of new customers, number of lost or dissatisfied customers, and the growing or shrinking of profit margins will guide you and your teachers' decisions for the continued success of the platform.


Conclusion
We certainly hope this article was beneficial to you and your research into possibly venturing into this side of the marketplace. Creating an Online Courses Platform is no easy endeavor: a great amount of effort, planning, and hard work is necessary to get started and find your footing. It will also take a bit more capital than other online businesses so some capital investment is certainly required.
But if you have the passion and drive to see it through, it can be the most rewarding and profitable of ventures. You get to provide great education that's accessible from anywhere in the world and by anyone. Done successfully, you will be profiting from doing something you love. What can be better?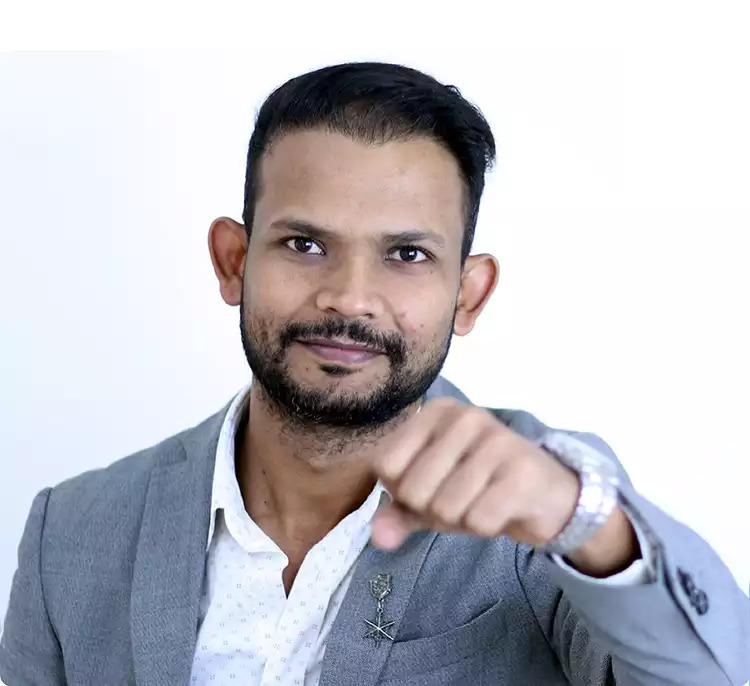 About Deepak Chauhan Hi, I am Deepak Chauhan, a Digital Marketing Strategist. I'm the CEO & Co-Founder of VOCSO Digital Agency, a creative web design, development, and marketing agency based in India & USA.