A website is now a requirement for any company that wants to be successful. Your website is often the first point of contact between you and potential customers, so it's important to make sure that it's professional and appealing.
Now the question is how to estimate website design and development costs. If you're wondering how much it will cost to design a website for your company, don't worry – we've got you covered.
Just read our comprehensive guide on calculating the price of designing and developing a website or web application, and you'll be ready to make your next project a success!
Why is it difficult to estimate the website development cost?
The most common query we receive from business owners throughout the world is, "Why is it so difficult to assess the cost of developing a website?" Today, you may obtain approximations of these data online, but they ultimately do not capture all the ideas involved in building a website and the intricacies of such a firm. Why is it so difficult to determine the price of website development? Let's examine this contrast. Imagine that you are constructing your ideal home and you are wondering the same thing:
"How much does building a house cost?" Costs vary depending on a variety of elements, including the type of home, the location, the design, the number of rooms, the size of the outdoor area, the interior and exterior finishes, and more.
The same is true for creating websites. How much would it, therefore, cost to construct a website in 2023? When estimating your project's cost, the response will depend on a number of variables. But don't worry; we'll make it simple for you to calculate the price of website development. We'll go over the numerous elements you'll need to estimate properly.
Before estimating website development cost
As a business owner, you need to do a few things before you build your web app. To get started, start by making your budget and evaluating the idea of your web app.
Sometimes people invest money in building a product or service that has already been on the market and doesn't have a lot of demand or value because they don't know how to make their idea work.
Doing research before investing time, energy, and resources into a project is important to make sure you are making informed decisions. As managing a professional web design agency since 2009, I believe that it's important to have a clear picture of what you want your website to do, and how it will help your business.
The following are a few things you must do:
1. Plan your budget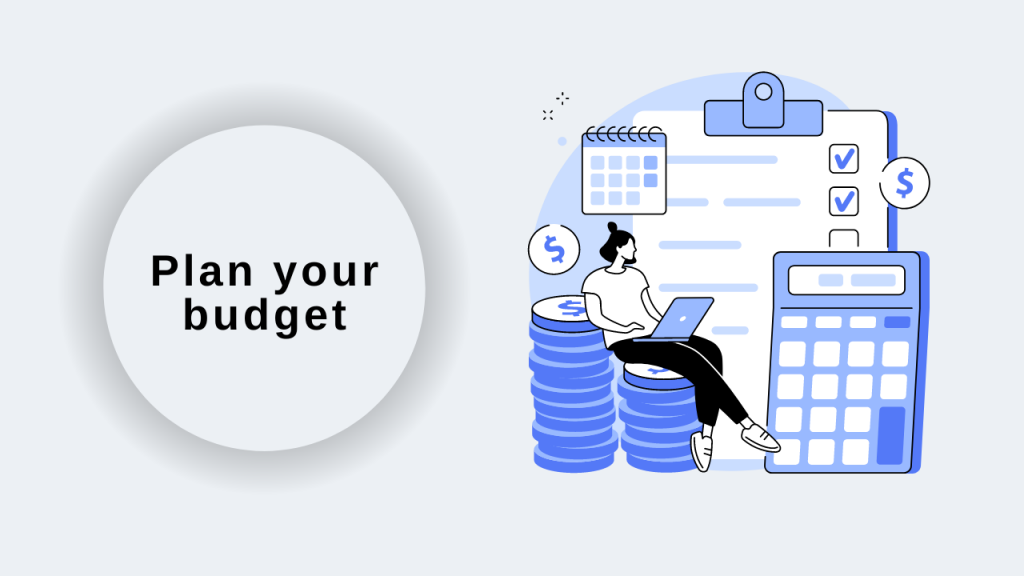 Want to build your small business website on a budget? To ensure your website is successful, you'll need to plan your budget carefully. Consider your idea and make a list of all the features your app will need to achieve your main business objectives. This will help you determine how much money you'll need to invest in your project.
Don't forget to factor in the cost of hosting, domain names, and any other necessary expenses. Once you have a clear picture of your costs, you can start looking for ways to save money. For example, you may be able to get a discount by signing up for a longer-term hosting plan.
Investing the time to create a detailed budget will pay off in the long run. By carefully considering your costs, you can make sure your web app is successful and avoid overspending.
2. Assess the viability of your idea
If you're considering investing in a new product, it's important to make sure that it's actually needed and that there's a market for it. Otherwise, you could end up wasting a lot of time and money on something that nobody wants or needs.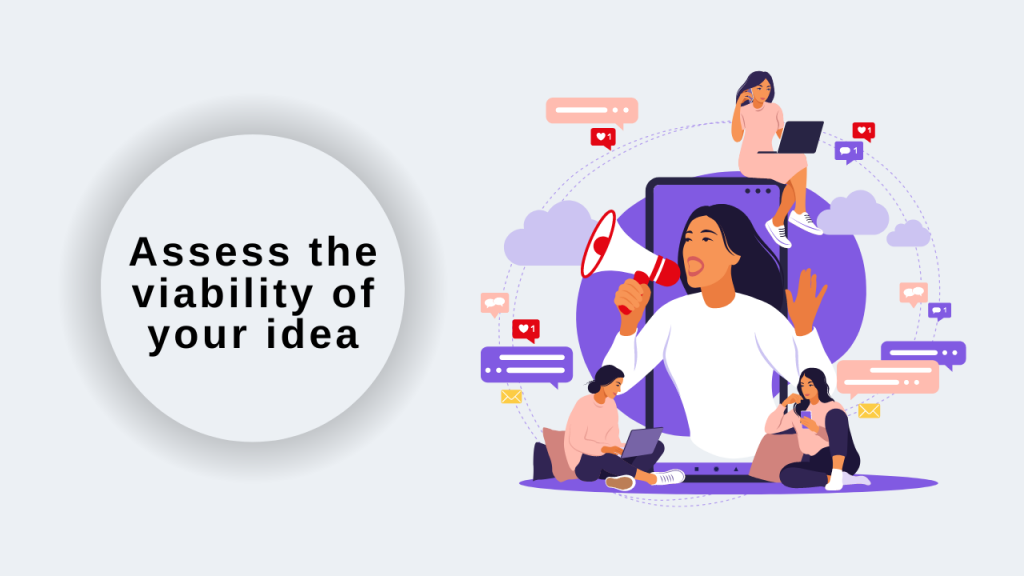 To evaluate the practicality of your proposal, start by doing some market research. See if there's already a similar product on the market, and if so, how well it's selling. If there's no market for your product, or if it's something that people can easily do without, then it's probably not worth investing in.
It's also important to consider the costs of production and marketing. Can you realistically afford to produce and promote your product? If not, it's probably not worth pursuing.
Take the time to carefully evaluate the practicality of your proposal before moving forward with it. Otherwise, you could end up wasting a lot of time and money on something that isn't going to be successful.
3. Pitch your idea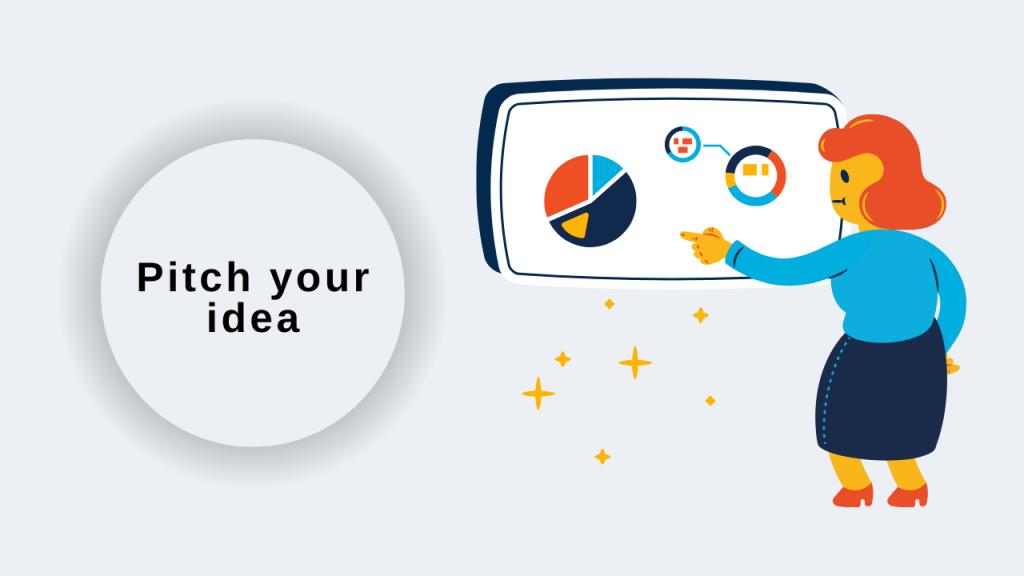 You've spent hours developing a marketing plan and you're excited to show it off to anyone who'll listen. Now what? Before you present your idea, it's important that you go over it with someone else to get feedback.
This is a brilliant way of ensuring that the business owner knows your vision and needs. By presenting your idea at work, in person, or through social media, it will be much easier for people to get behind what you are doing.
Why is difficult?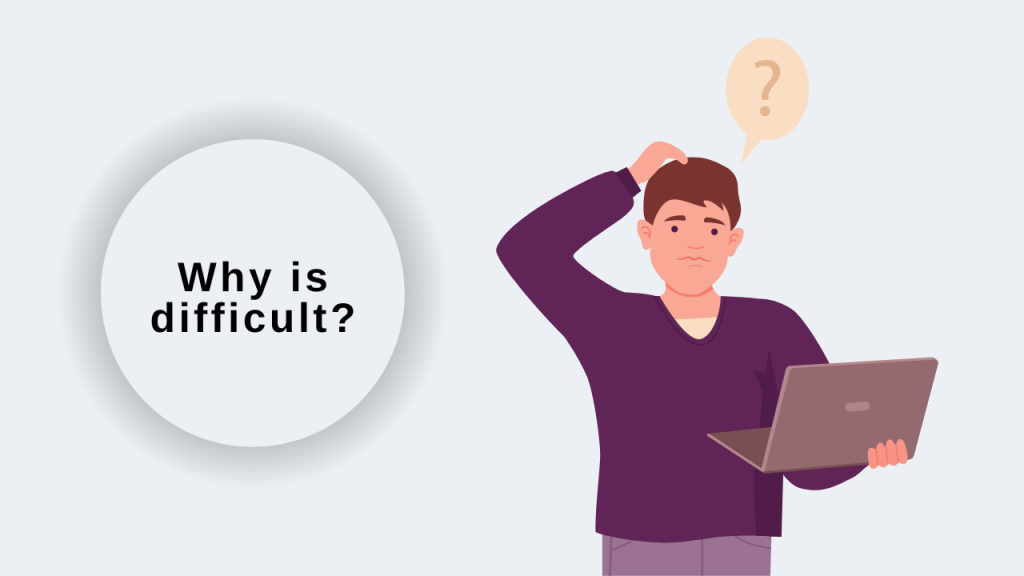 This is the most common question we get from entrepreneurs all over the world – why is it so hard to calculate the cost of creating a website? Today, you can find approximate numbers on the Internet, but these estimates ultimately cannot understand all the concepts of creating a website and the complexities of such a business. So why is it so difficult to calculate website development costs? Let's look at this comparison. Imagine you are building your dream house and you have the same question:
"How much does it cost to build a house?" Costs vary depending on factors such as house type, neighborhood, layout, total floor area, number of rooms, outdoor space, interior and exterior finishes, and more.
The same goes for website development. So how much will website development cost in 2023?
The answer will depend on several factors. But don't worry, we will make it easy for you to estimate the cost of creating a website. we will discuss the various factors you need to make a proper estimate.
What does the estimation of website development cost include?
1. Website type
Your website creation procedure, along with the tech stack, also influences the cost.
There are many factors to consider when designing and developing a website, and the type of site you're creating will dictate many of those decisions. For example, a landing page for a product or service will need to be very different from an eCommerce site. The former will need to be focused on generating leads, while the latter will need to be focused on facilitating transactions. The specific features and functionality you'll need to add to each will be different, as will the development strategy and cost.
It's important to understand the difference between these two types of sites before embarking on a project, as it will help you make the right decisions from the start. If you're not sure which type of site you need, our team can help you assess your needs and come up with a solution that fits.
But for now, to create a website, there are three types of platforms that you can utilize:
Website constructors
A template-based CMS
Custom development
There are three main types of website construction: template-based CMS, custom development, and website builders.
Each has its own advantages and disadvantages, so it's important to understand the difference between them before choosing a website construction method.
Template-based CMS is the most popular method of website construction, as it is relatively simple and easy to use. However, it is limited in terms of flexibility and customization and is not suitable for complex websites.
Custom development is more expensive and time-consuming than template-based CMS, but it offers more flexibility and control. It is ideal for complex websites that require a high degree of customization. There are several benefits of using custom web development services rather than template-based development.
Looking for custom website development services? Look no further than our team at VOCSO Digital Agency! We have years of experience in the industry and are dedicated to providing you with the best possible service. From designing and building your website from scratch to developing custom applications and hosting services. We take care of everything so that you can focus on what you do best: running your business. Contact us today to learn more about our customized web development services!
Website builders are a newer type of website construction tool that is becoming increasingly popular. They are similar to template-based CMS in terms of ease of use but offer more flexibility and customization. Website builders are suitable for all types of websites, from simple to complex. If you're not familiar with website development then you can create a microsite by using these website builders in a few hours.
See below the cost estimation table for different types of websites:
| | | |
| --- | --- | --- |
| Type of Website | Cost to develop, $ | Time, hours |
| Landing page | 3000 | 80 |
| Portfolio website | 4000 | 100 |
| Blog website | 4800 | 120 |
| News website | 4800 | 120 |
| Corporate website | 6400 | 160 |
| Directory website | 12,000 | 300 |
| eCommerce website | 40,000 | 1000 |
| Web portal | 48,000 | 1200 |
| Educational website | 40,000 | 1000 |
| SaaS website | 48,000 | 1200 |
| Entertainment website | 64,000 | 1600 |
| Marketplace website | 50,000 | 1300 |
| Social media website | 80,000 | 2000 |
2. Domain and hosting
Domain: Domain names are an important part of any website and can have a significant impact on the cost of creating a website. Different domain names can have different prices, with some being more expensive than others. The most popular domain names, such as .com and .org, can be quite expensive, while less popular domain names, such as .net and .io, can be more affordable. When choosing a domain name, it is important to consider the cost as well as the desired functionality of the website.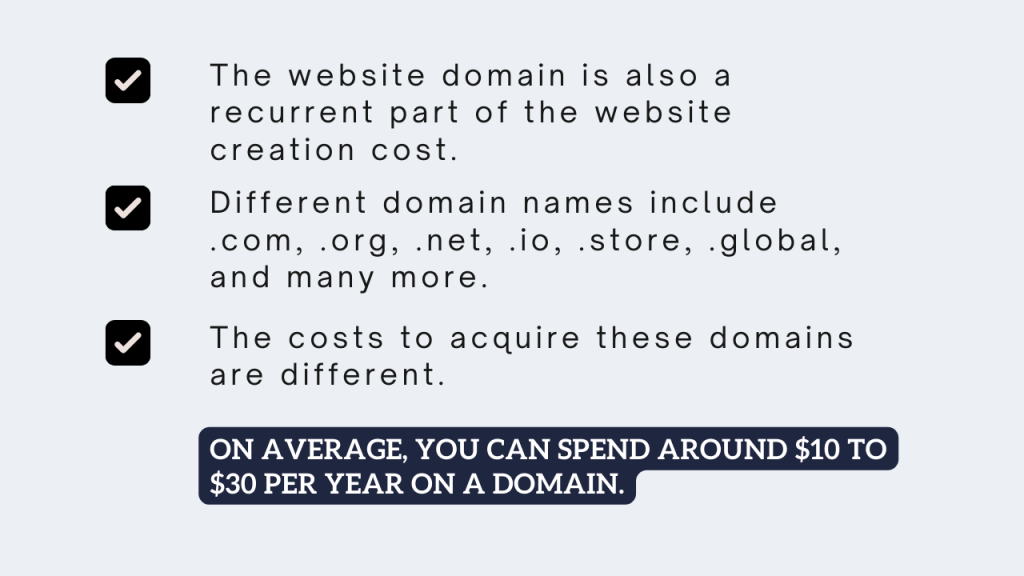 Hostings: Web hosting is imperative for anyone who wants to run a website on the internet. Without a hosting plan, your website will not be accessible to anyone. The hosting costs associated with website creation depend on the type of plan you choose. Shared hosting plans are typically the most affordable, but they also come with some drawbacks.
For example, you will be sharing server resources with other websites, which can lead to slower speeds and downtimes. If you need more control and reliability, you may want to consider a VPS or dedicated server.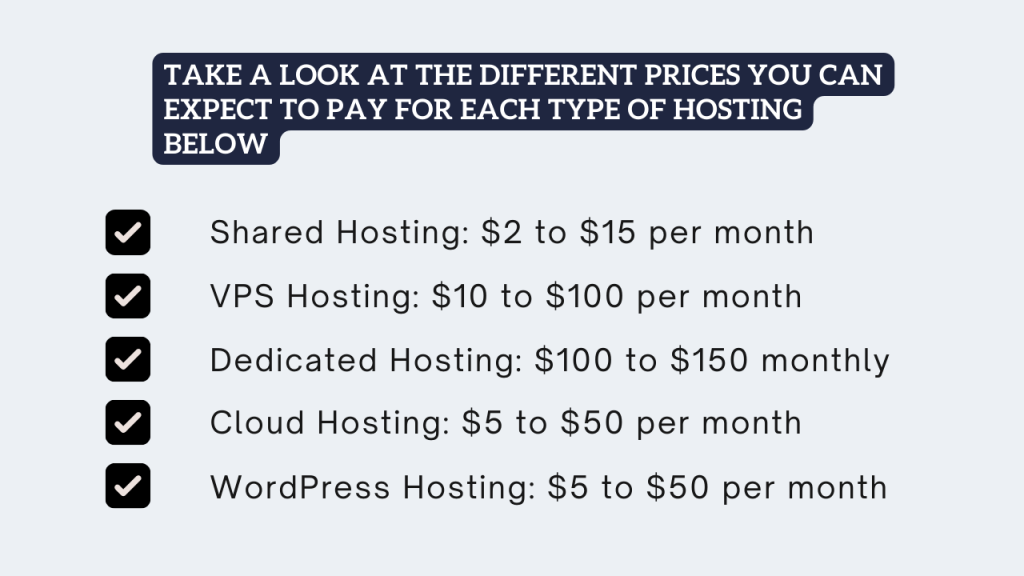 These plans are more expensive, but they offer better performance and uptime.
3. Core technology
There are a number of factors to consider when deciding on the right technology for your website. One of the most important factors is cost. Depending on your technology choice, the costs can greatly differ. For example, if you decide to base your website on a content management system like WordPress, the cost will be relatively low. However, if you choose to use a more complex system, the cost will be much higher.
Another important factor to consider is your level of expertise. If you are not very familiar with web development, it is probably best to choose a simpler technology. Otherwise, you may find yourself struggling to keep up with the more complex system.
4. Design, development, and setup
Website design and development can vary depending on the needs of the client. However, there are some general costs associated with creating a website. These costs can include, but are not limited to, the cost of hiring a designer or developer for web services, and hosting costs.
In some cases, websites may also require custom graphics or images. These costs may also increase depending on other factors such as more time required for development, the complexity of site function, server load capacity, and dependent servers (i.e., social media sites).
5. Maintenance
A website is not a static entity – it needs to be kept up-to-date, relevant, and engaging in order to attract and retain visitors. This means that the costs of continuing maintenance must be taken into account when deciding whether to develop a website.
A professional web development team will be able to advise on the best way to market your website and keep it running smoothly. They will also be able to offer advice on how to make your website more engaging and user-friendly.
Website management cost is a big consideration for any business. Not only do you have to pay for the website itself, but you also have to factor in the cost of hosting, domain registration, and other associated costs. It's important to keep your website up-to-date and running smoothly so that your customers can easily find what they're looking for, and so that you don't lose any potential leads.
If you own a website or are thinking of starting one, it is important to make sure that the site is kept up to date and looking its best. A professional website company like VOCSO can provide you with website maintenance plans that will keep your site running smoothly and ensure that your visitors have an enjoyable experience.
Investing in a professional web development team is an important decision that should not be taken lightly. However, if you want your website to be a success, it is essential to consider the costs of ongoing maintenance and marketing.
6. Who is going to build your website?
Option 1. Build an In-House Team
When creating a professional website, it's important to consider the cost. An internal team will cost more because you must pay salaries and benefits.
However, an internal team can be more flexible and responsive to your needs. If you outsource, you may get a lower price but you'll have less control over the quality and timing of the project.
There are many factors that go into decision making when it comes to building a website: budget, timeline, scope, etc. The best advice is to take your time and consult with experts early in the process so you can make sure you're getting what you need for your project at or below market value.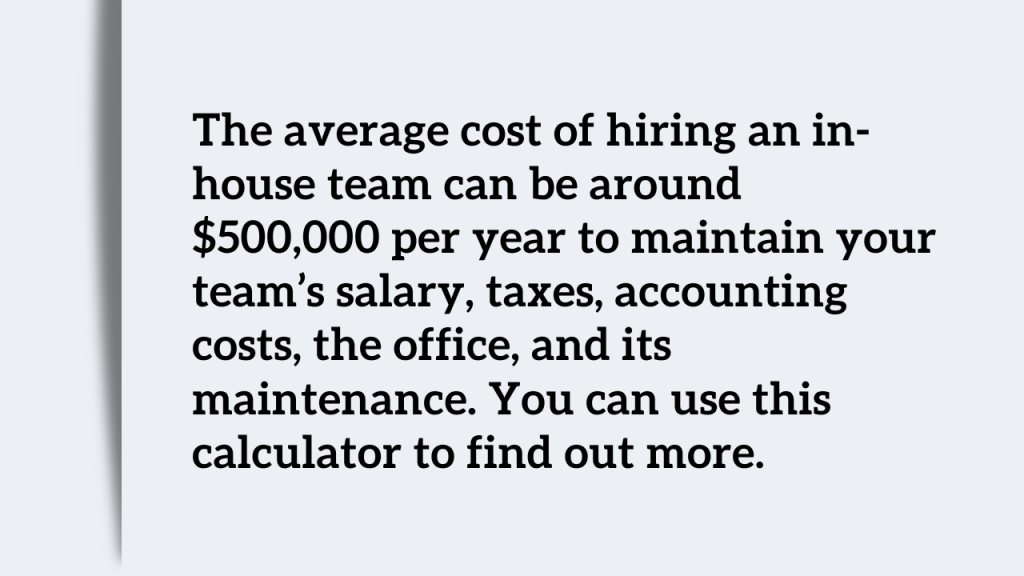 | | |
| --- | --- |
| Pros | Cons |
| The team knows your business | Key-person risk |
| They know your business goals | Limited area of expertise |
| They are available when you need them | You may feel the lack of available resources |
| | It's an expensive option |
Option 2. Hire a Local Website Development Agency
Let's focus on the second option. If you're planning to hire an agency, here are a few factors that will determine the website development cost:
The cost of web development can vary significantly depending on where your business is located. In general, businesses in the US and UK tend to be subject to higher costs than those in other parts of the world. This is due to a number of factors, including the higher cost of living in these countries and the fact that web development is a relatively new industry in these regions.
Additionally, businesses in the US and UK tend to be more demanding when it comes to the quality of their web development services, which can also drive up costs.
| | |
| --- | --- |
| Pros | Cons |
| Expertise | Expensive |
| No Communication Gap | Low availability |
| Performant product delivery | Work on their terms |
| Easy to hire | Takes more time |
In these situations, outsourcing can be a great solution even if it comes at an increased expense. Consider nations where living expenses are lower and services are of trustworthy quality.
Outsourcing is also a great way to reduce the cost of web development as well as offer realistic goals for your business to reach in the future.
There are a few key services that you should look for when contacting a digital marketing agency. The first is market research. This will help the agency understand your target audience and what kind of messaging will resonate with them. The second is wireframing. This is a critical step in the design process, as it helps to map out the overall structure and flow of the project. The third is design.
A good agency will be able to create a visually appealing and user-friendly design that meets your specific needs. And finally, the fourth is written content. This can include anything from website copy to blog posts to email newsletters.
A good agency will be able to produce high-quality written content that engages and informs your audience.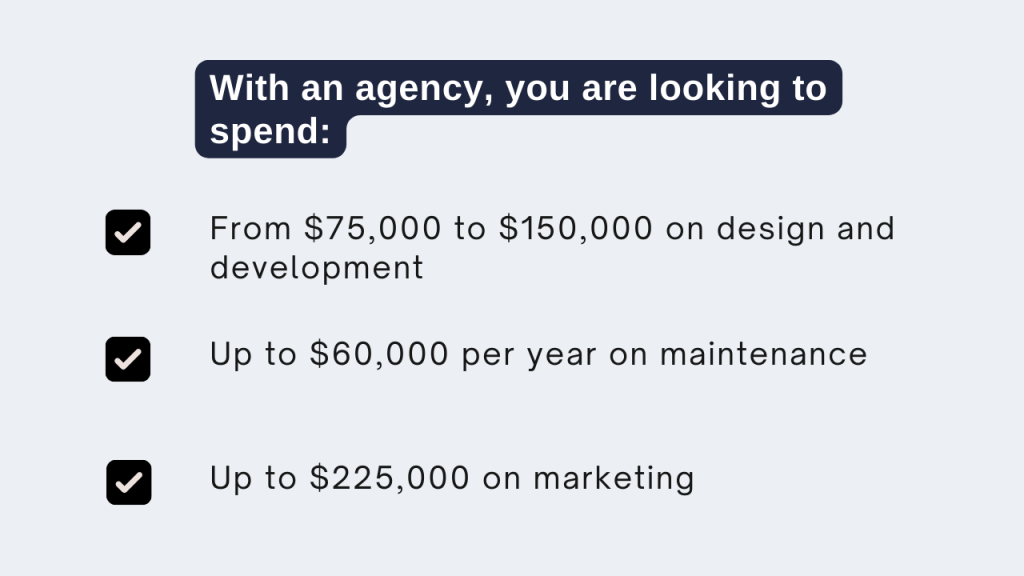 Option 3. Hire a Freelancer or a Freelance Team
When it comes to website development, there can be a significant cost difference between hiring a freelancer and a web designer. A freelance website developer can charge anywhere from $10,000 for their services, whereas a web designer typically charges between $250 and $2,500.
If you're looking to create a complex website, it's important to factor in these costs so that you can budget accordingly. Ultimately, the decision of which route to take should come down to your specific needs and what you're looking to achieve with your website.

| | |
| --- | --- |
| Pros | Cons |
| Easy to source | Reliability issues |
| Cost-Effective | Gaps in Communication |
| Diversity and Experience | No guarantee you'll get your project done |
| Flexibility in work | |
Option 4. Hire an Outsourcing Agency
Because they have the necessary experience, outsourcing agencies will charge a little more than independent contractors. However, their prices are much lower than those of potential in-house staff.
This is because the agencies have lower overheads and can pass on these savings to their clients. In addition, they are likely to have a number of staff who are experts in different areas, so you can be sure that you are getting a high-quality service.
In other words, if a designer costs $100 per hour in the US, outsourcing will cost you only $50. As a result, the cost of building the website, which takes roughly 500 hours, can be cut in half by outsourcing. This can be a great way to save money, but it's important to be aware of the potential risks. Make sure you do your research and only work with reputable companies.
| | |
| --- | --- |
| Pros | Cons |
| Expertise and proficiency | Time gap |
| Tech-agnostic development process | Difficult to source good agencies |
| Seamless communication | |
| One channel for all delivery | |
| Dedicated team members for the project | |
| Cost-effective | |
Based on the data, you can plan your hiring options based on your budget.
When are freelancers available for hire? A new freelance software developer may be useful if you have a modest project that one person can complete. But lacking experience can work against you. As an alternative, you can discover seasoned, qualified freelancers who can bill between $25 and $300 per hour. It's always safer to hire qualified professionals than trust the risk of inexperience.
Losing your operations overseas can be a significant blow for some companies. And when you feel that complicated web development demands a more experienced team, maybe offshore developers are for you. However, it can be difficult to find the right developer and if something does go wrong during the process, you might lose a lot of money and time. Another option is to hire local developers from nearshore design studios. These teams are cheaper and communicate better with customers as they are based in your area.
7. The Cost of Website Development by the Team's Region
When it comes to website development, the cost can vary depending on a number of factors. One of the most important factors is the region where you form your team or outsource to a web development team.
For example, if you were to outsource your web development to a team in Asia, the cost would be much lower than if you were to form an in-house team in the United States. This is because the cost of living and wages are significantly lower in Asia. However, there can be some downsides to outsourcing to a team in another region. For example, there may be language barriers or cultural differences that can make communication and collaboration more difficult.
Ultimately, the decision of where to form your web development team will impact the final cost of the website development. If cost is a major factor for you, then you may want to consider outsourcing to a team in a region with lower costs. However, if communication and collaboration are important to you, then you may want to form an in-house team in a region where you can more easily communicate and work together.
Let's see how the rates of the web development team differ around the world.
| | |
| --- | --- |
| The region | The cost per hour |
| Australia | $80 – $120 |
| The USA | $100 – $150 |
| The UK | $90 – $130 |
| Western Europe | $70 – $100 |
| Ukraine | $40 – $80 |
| India | $10 – $30 |
You should also take in mind that these numbers are relative and differ from project to project.
Estimate the Cost of your Website Design and Development by using a free website calculator by VOCSO
Your site's kind, size, and complexity will all have an impact on how much it will cost to design it. Utilizing VOCSO's website design cost calculator makes it simpler to estimate your costs and develop a project budget.
The calculator walks you through each stage of the budgeting process. It is pre-populated with standard site design elements, so all you have to do is choose and enter each expense that pertains to your project. The calculator can assist you in avoiding missing important components because it breaks down each of these components. To reduce the chance of human mistakes, the calculator completes all of the calculations once you enter your costs. Making sure your budget is accurate will be beneficial.
Frequently Asked Questions (FAQs)
Q. What is the average cost of website design and development?
A. Website design and development costs can vary significantly depending on various factors such as the complexity of the project, the size of the website, the features and functionalities required, the expertise of the web design agency or freelancer, and the geographical location.
On average, a simple website with basic features can cost anywhere from $1,000 to $5,000. However, for more complex websites with advanced functionalities or e-commerce capabilities, the cost can range from $5,000 to $50,000 or even more.
It's important to remember that these are just rough estimates, and obtaining detailed quotes from professionals is essential for accurate cost estimation. If we talk about the web design packages of VOCSO then we charge $990 for a basic website design with up to 10 pages.
Q. How long does it take to build a website?
A. The timeline for building a website depends on several factors, including the size and complexity of the project, the availability of resources, the client's responsiveness, content, and the chosen development approach (e.g., agile or waterfall). Simple websites with basic features can typically be developed within a few weeks to a couple of months.
More complex websites, such as e-commerce platforms or custom web applications, can take several months or even longer to complete. It's important to have a clear understanding of the project requirements and establish a realistic timeline in collaboration with the web development team.
Q. What are the ongoing maintenance costs?
Website maintenance costs generally include expenses related to regular updates, security measures, hosting fees, domain renewal, and technical support. The exact costs can vary depending on the complexity of the website and the level of maintenance required.
As a rough estimate, ongoing maintenance costs can range from $500 to $5,000 per year. It's crucial to consider these costs when budgeting for a website, as neglecting maintenance can lead to security vulnerabilities, performance issues, and outdated features. At VOCSO we charge $990 yearly for maintaining any type of website. We're offering 4 different website maintenance packages to fulfill different types of clients.
Q. Can I update and manage my website on my own?
A. The ability to update and manage a website largely depends on the chosen development approach and the content management system (CMS) used. Many modern websites are built on CMS platforms like WordPress, which provide user-friendly interfaces for website owners to update and manage content, images, and other elements.
With proper training or familiarity with the CMS, website owners can make routine updates without extensive technical knowledge. However, for more complex changes or custom functionality, it may be necessary to seek assistance from web developers or professionals. At VOCSO, we provide free training sessions to our clients with our WordPress website design services.
Are there any hidden costs in website development?
While reputable web design agencies and freelancers strive to provide transparent pricing, it's important to be aware of potential hidden costs that may arise during the website development process. Some common examples of hidden costs include:
Additional features or functionalities requested during the development phase that were not included in the initial agreement.
Third-party integrations or APIs that require additional licensing or subscription fees.
Customizations or revisions beyond the agreed-upon scope of work.
Post-launch support or training fees.
To avoid unexpected expenses, it's crucial to have a detailed discussion and written agreement with the web design agency or freelancer, clearly outlining the project scope and any potential additional costs that may arise.
Note: The information provided above is based on general industry knowledge and research. Actual costs and timelines may vary depending on specific circumstances and individual projects. It's always recommended to consult with professionals for accurate cost estimation and project planning.
How can VOCSO help here?
VOCSO is a custom web and mobile application development company offering custom CMS development, custom website design and development, custom web application development, and custom mobile app design and development services in and out of India.
We also provide dedicated resources for hire:
Conclusion
Keep in mind that estimates are never perfect, and there will always be some uncertainty. However, by taking the time to create a careful estimate using these strategies and tools, you can ensure that your website project stays on track and within budget.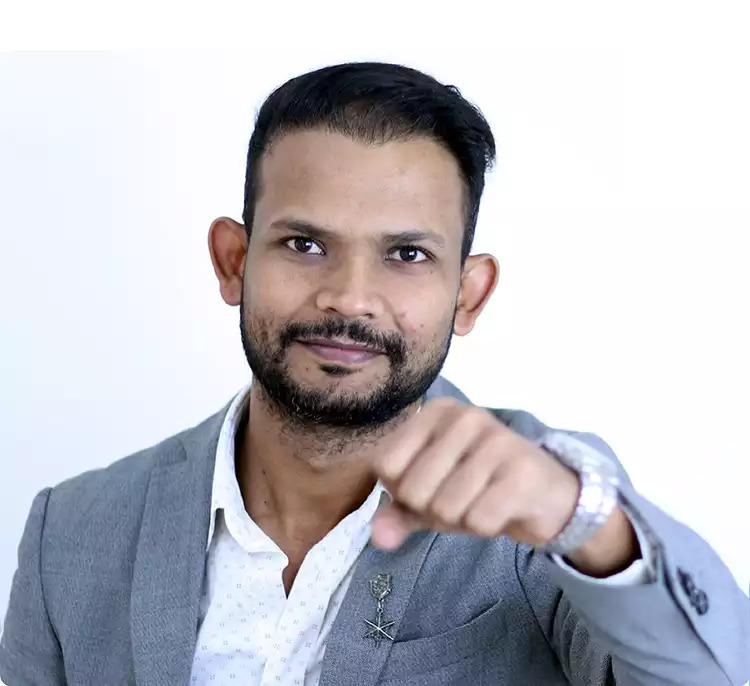 About Deepak Chauhan Hi, I am Deepak Chauhan, a Digital Marketing Strategist. I'm the CEO & Co-Founder of VOCSO Digital Agency, a creative web design, development, and marketing agency based in India & USA.