Excited to know how you can create a microsite web design? Do you know what a Microsite is? Well, A Microsite is also known as a minisites website it also helps to build for marketing and sales. This kind of site is different from a company's main website, which has a very specific purpose.
Microsites are commonly designed for new product launches, to run campaigns, site to tell a story of a brand, for digital magazines, to market content, etc. Many companies' main websites sometimes feel restricted, with a navigation bar on the top of their sites like – About Us, Shop, Careers, blog, and Contact. That order is a pretty lovely and systematic thing (it makes users find anything very quickly and gives a better experience internet-wide, as even new websites can feel familiar to users). But on the other hand, it sometimes limits the company's abilities to experiment with something new, think creatively, reach specific, and increase user engagement for targeted audiences.
But if you choose to build a microsite, it can help you to promote individual product lines, new products, email marketing, smaller divisions of your company, and more. There are specific points that the microsite can provide you with:

A new reach, demographics, and target audience.
Intend the user to do a specific action (like signing up for the email by the user).
Allows to create awareness of new product launches to increase customer engagement.
Generate new leads.
Few points to keep in mind before creating a microsite
Always keep your microsite with less text to grab user engagement.
Whenever a microsite flees from the main site, then don't worry. It helps to increase the visual impact.
If you want to break away from your main site, make sure you include a logo and introduce yourself to visitors who are unaware of who you are
Make it responsive it is necessary for you that your microsite should look perfect on any mobile device.
It is very necessary for you to test everything before launching any campaign on the microsite.


How To Create A Microsite By Using Free Website Builders
When it comes to creating a robust microsite, there are lots of free tools with the help of them you can quickly create a microsite:


A good way to start any project is by planning ahead. The hardest part of the process can be coming up with a plan for what you want your site or website to look like, and this may take some time if it's something new that needs lots of research before beginning on it. One great option would be going through Wix templates because they have different types in there from business sites all the way down to small personal blogs. It might not seem as complicated when we break things into segments but each type has its own set of rules about how everything should fit together so just keep an eye out while browsing for one near-perfect template!
Wix is one of the most popular free website builders that's been around for a decade, with over 110 million users. The fully hosted platform offers an easy drag and drops editor which allows you to create custom websites in minutes; it also boasts professional-looking templates perfect for small businesses or online stores alike! Wix has everything you need to get started including hosting so there are no technical headaches along your journey.
With its simple and intuitive design, Wix has been praised by many as a user-friendly website builder. It features an easy drag-and-drop editor that makes it possible for anyone to build their own site without any coding knowledge or experience. The platform also offers over 1 million different templates in various styles such as business, portfolio, and blog layout options among others, making the process even more accessible than ever before!
Wix offers a free website builder with no coding needed. This means that you can build your own site in less than an hour, and it comes with more templates to choose from so the page looks professional.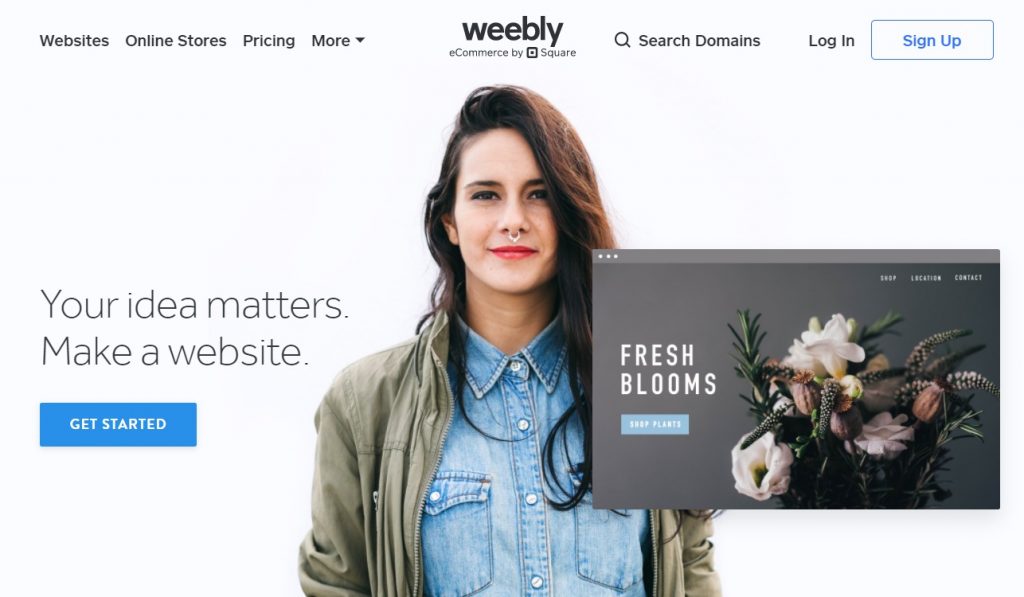 Weebly's flexible website builder has made it a popular choice among startups and businesses of all sizes, as well as some international artists like Kanye West. It works with any device or platform, is easy to use for beginners, yet advanced enough for professionals who are looking to take their business online quickly without making complicated decisions about security settings.
The all-inclusive website builder Weebly offers many services including web hosting, domain registration, and eCommerce. When you need a site with the ability to be viewed on any device or platform, this is an ideal choice!
Weebly is a fantastic website for those looking to create their own professional-looking site.
Weebly comes with an easy drag-and-drop interface that can be used by anyone, even if they do not have much technical knowledge or graphic design experience. It also has many templates available so you don't need to start from scratch when designing your first page on the platform! There are themes in this CMS such as blogs, portfolios/showcases of work, and eCommerce sites which make it perfect for any business owner who's trying out new ventures while still running their old enterprise too – just take advantage of its versatility today!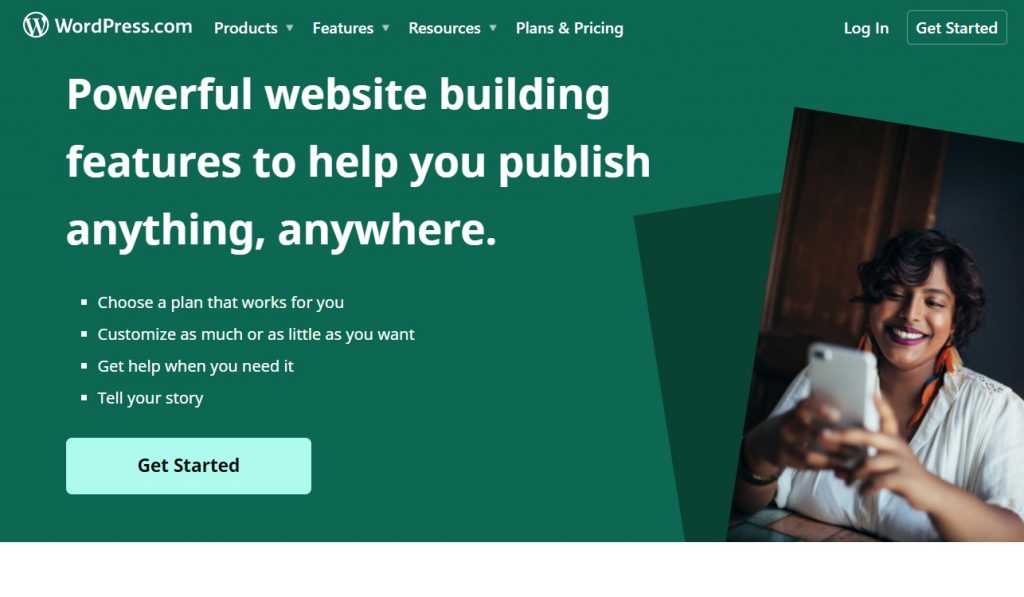 For those who want a free website builder with an easy-to-navigate interface and the ability to purchase your own domain name, WordPress is worth exploring. You can build visually stunning websites for clients or just yourself (or both) by using their templates. Plus they have assets like contact forms, videos, and embedded content that you can place on various pages of your site which will make it more engaging!
In just 10 years, WordPress's popularity has grown exponentially and it now powers nearly 31% of all websites on the internet. It is also used by many high-traffic sites such as BuzzFeed, The New York Times, Mashable & Vogue Magazine to host their content online for free so that they can focus more time on making products instead of building a website from scratch each time.
Get a Fully loaded

professional

website
in 3 days.

Don't miss out on this limited time offer! Get upto 50% off on our website design packages now.

Check details
In just ten short years since its release in 2003 (and with 20 million new users every year), WordPress's popularity has exploded into what is currently known as being one of the most popular website site builders available today: powering over 30 percent of all websites worldwide! With an incredibly wide range of use cases–from blogging platforms like this very blog you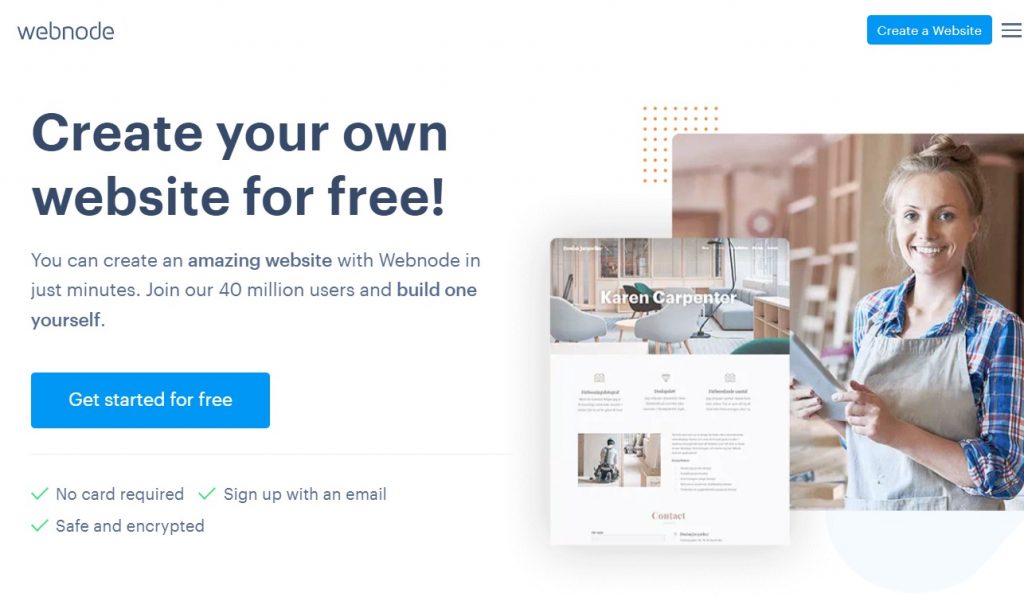 A cool website builder, WebNode is a great choice for personal brands and professionals alike. It's easy to use so you can create your own site in any language or on whichever platform suits your business needs best. If it has an eCommerce store option available, it'll be compatible with Android devices as well as Macs and iOS phones! With the free version of their service (which doesn't have ads), WebNode will provide statistics that track how successful your site is — all without costing anything extra than what you're already paying them per month!
WebNode is a website builder that allows you to create and maintain your website with ease.
WebNode, is the ultimate web design tool for its unique drag-and-drop system where all of the technicalities are handled by Webnode so you don't have to worry about them at all when designing or maintaining your site. There's no need for any HTML coding knowledge because it does everything automatically!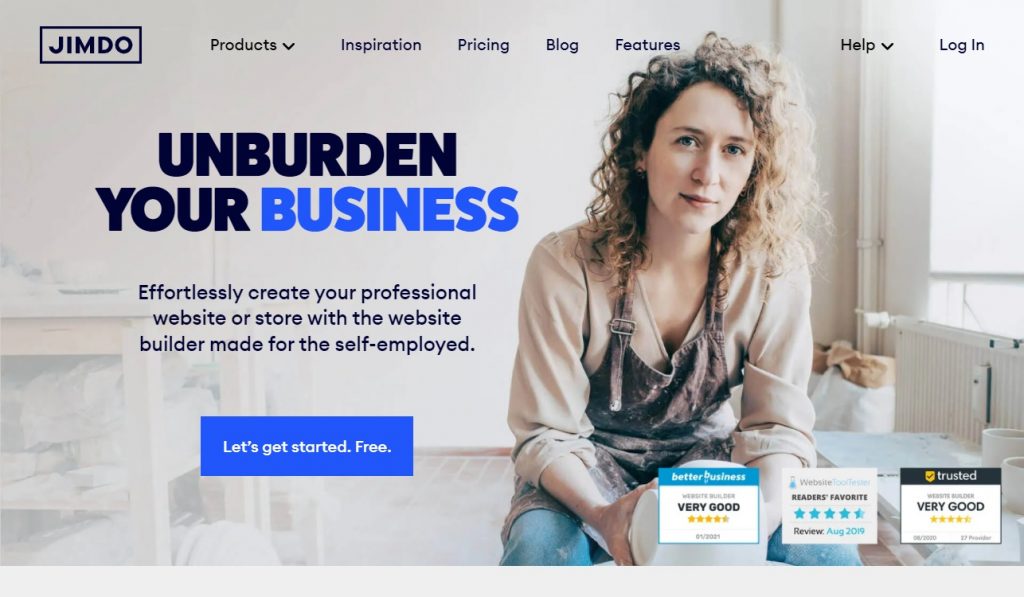 Jimdo is a great choice for international companies looking to create a site in more than nine languages. The builder can be used with smartphones and tablets, as well as on the go with the Jimdo mobile app that lets you build an optimized mobile website.
Jimdo is a leading provider of web hosting and website building services. The company's focus is on making its service accessible to international companies with different language preferences, as well as those who want an easy-to-use platform for mobile users. Jimdo builds sites in more than 9 languages, including Arabic, Spanish, German, and French – so that clients can connect with customers around the world regardless of location or nationality.
Build a website with Jimdo, the free online platform that offers unlimited high-quality templates to match any business or personal style. You don't need technical skills either – simply choose your template, and drag and drop content wherever you want it on the webpage using an intuitive interface for beginners as well as professionals.


Mozello is a Latvian-based company that offers one of the most intuitive and user-friendly sites for building your own website. For free, you can create an international site with all features including 500 MB of storage space to store images or videos. The only downside is there are not many design customization options which means it may be better suited for those looking at advertising themselves as opposed to marketing their products or services because this builder doesn't have extensive drag-and-drop capabilities like some other builders do.
Mozello's customization and simplicity are a large selling point for many people looking to create their own websites. Mozello offers SEO setting options, an online store builder with WordPress integration (with the option to use different themes), and blog posts that are automatically updated when they're published on your site by way of RSS feeds or social media platforms such as Facebook or Twitter feeds. One drawback may be the lack of drag-and-drop capability in comparison with other sites but it still remains one of the most simple websites available out there today especially considering its low price point!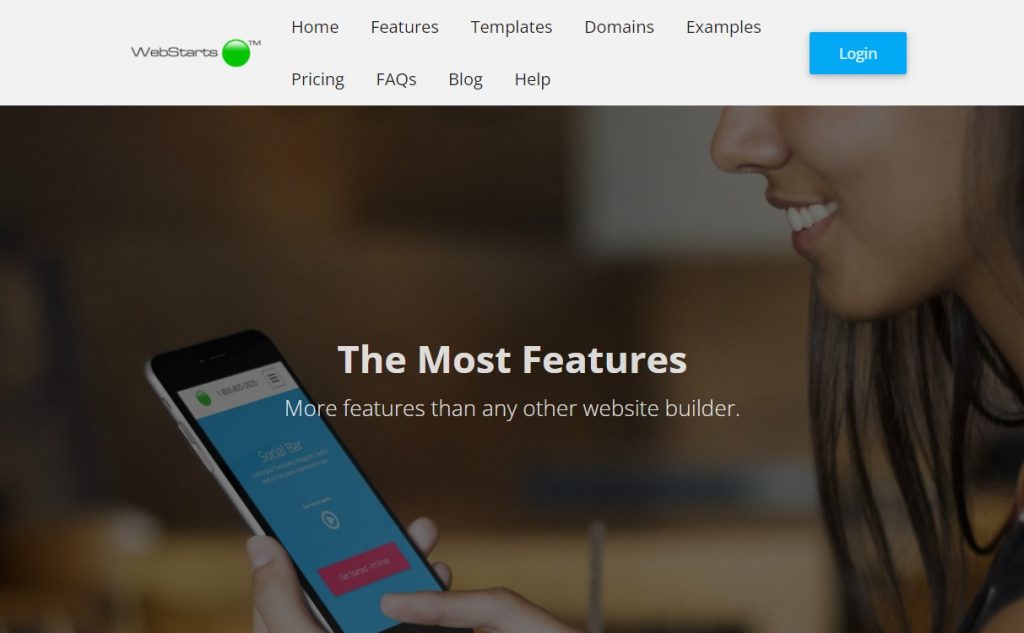 WebStarts is the perfect website builder for those who don't have much experience with web design. With a wide selection of templates and drag-and-drop functionality, Webstarts will make your life easy. You can see what's happening to your site when you're designing it so that there are fewer surprises on launch day – making them the best choice among beginners!
WebStarts is a free website builder that offers to do all the work for you. You can create your own design, upload photos and videos of yourself or others, use free templates if desired, and make changes at any time with no extra cost (no one likes surprises). They also offer an affordable package where they host your domain name while you're busy making innovative content on their platform. It doesn't get much easier than this when it comes to creating web pages for personal blogs and business websites alike.


Webflow is a great tool for designers and agencies who are looking to build beautiful, high-performing sites. Webflow offers an interface that allows you to code HTML/CSS without having any knowledge of coding languages. And if you're really going into depth with your site design, this will allow full customization! Once you have finished building your website on Webflow it's time to transfer it from their platform onto another content management system like WordPress or Drupal — these platforms offer integration between other business software such as CRM tools so they can be more fully integrated into one place.


Squarespace is a great option for businesses in the visual media, entertainment, dining, or fashion industries. The pre-designed themes offer imagery and video so your audience can get to know you quickly. Plus many templates are both simplistic and mobile-optimized – perfect if people take up most of their time on the go!
Squarespace is an innovative website builder that lets you design a webpage easily. With the drag-and-drop interface, it's easy to upload your own photos and videos for the background of your page or create custom layouts with different headers and footers. You can also customize fonts, colors, backgrounds, etc., Squarespace makes creating websites simple!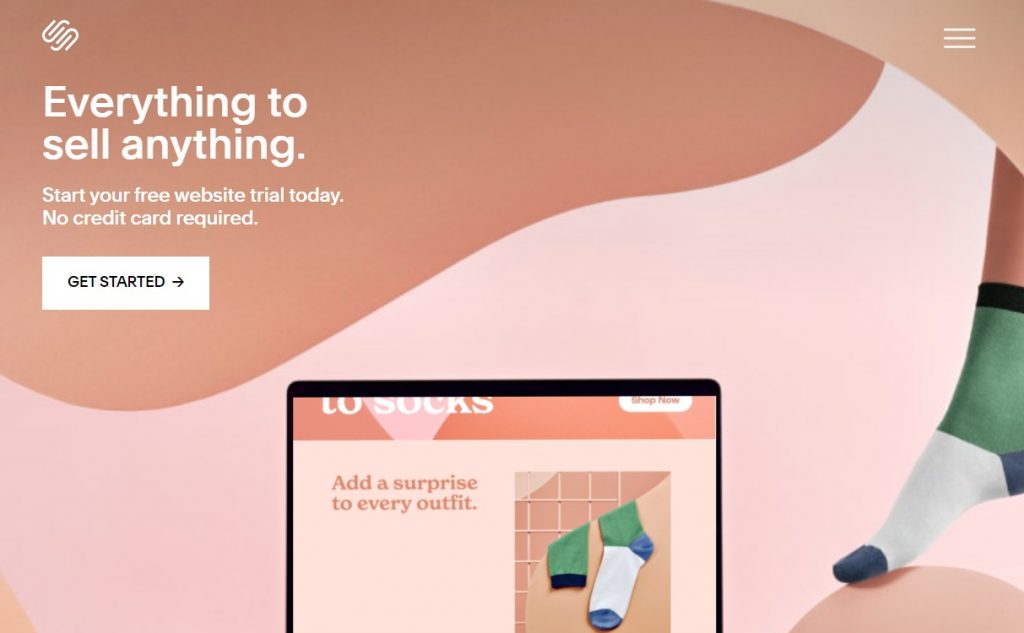 There are many tools out there for web designing and you're probably asking yourself, "Why should I go with Readymag?" Well, the answer is simple: this tool will save you time in creating a website. You won't need to spend hours figuring out how everything works or writing code because it's all done for you!
Readymag is a powerful web design tool that does not require prior programming knowledge.
If you have no experience with coding, then it may be difficult to find an easy-to-use and intuitive website builder for your needs; Readymag solves this issue by allowing new users without any technical skills to create their own websites in minutes. You can easily edit layouts using the drag & drop system or preview designs on mobile devices before publishing them live online!


Benefits of Microsite
1. Keeps you focus
Microsites keep your focus on your target audiences. Whereas main company websites have to check all the agendas going on in the organization. Which results in the main company site becoming focused on content more than marketing skills.


2. Speed matters
Speed matters for every site. If your site page takes more than 3 seconds to load, then you won't accept any customer visits again. When we talk about microsites, it rapidly speeds up sales.


3. Microsite is hub
Yes, it's true Microsite is a hub of your marketing campaign. If you want to run any sales campaign then a microsite is always the best option. With the help of a microsite, you can have control of information as well as the data.


4. Increase your web presence
The development of the Micro website is a great search engine optimization tool what this means is when someone performs a search on Google Yahoo or Bing they not only find your main parent website in search results but they now also find your micro-website which specifically answers the questions that they are looking for.
Microsites are a great tool because as visitors come into a new micro-website and find the answers, they're looking for they then could click into your main parent website.


5. Cost-effective
The development of a microsite is cost-effective Because you've already developed your main corporate website in essence to develop a micro-website, you are taking the same information color scheme and layout and cutting it down into a three or four-page site. As you've already developed your creative tools like your logo and color scheme you're then taking that information and just putting it on a new URL.


6. Testing
Yes, a microsite proves the best tool to experiment with your sales marketing skills. If you are an online retailer, it is a must for you to test new navigation or try out how to sell your newly launched product. Microsite lets you understand the techniques before you are going to invest it tells you about the correct and wrong methods. Microsites are best used for testing ant new products or techniques. If you pass to bang on the Marketing message amount your target audience, you can create a microsite to examine options going to full tilt.

How is Microsite helps to make money?
Through a microsite, you can easily make money. Want to know how? Let us discuss this- The well-known procedure is an affiliate program. Yes, like if it takes the example of Amazon- with an Amazon title link you can easily earn money. These companies pay money to a microsite on sales. Amazon-based sites pay commissions on products sold via a microsite. If you are a microsite editor you can easily money based on the number of page views, PPC (Pay per click), and an even best way to earn make by Google Adsense. A simple and easiest technique to make money is – The more visitors visit your website, the more money you can make it.
So, to earn money, you need to keep control of the site and always try to keep an eye on increasing traffic to your site. To increase traffic to your website the best way you can use Search engine optimization using simple meta tag keywords and providing great content to the visitors. Trust me! This method will help you to make masonry through microsites.

Infographic: Top free website builders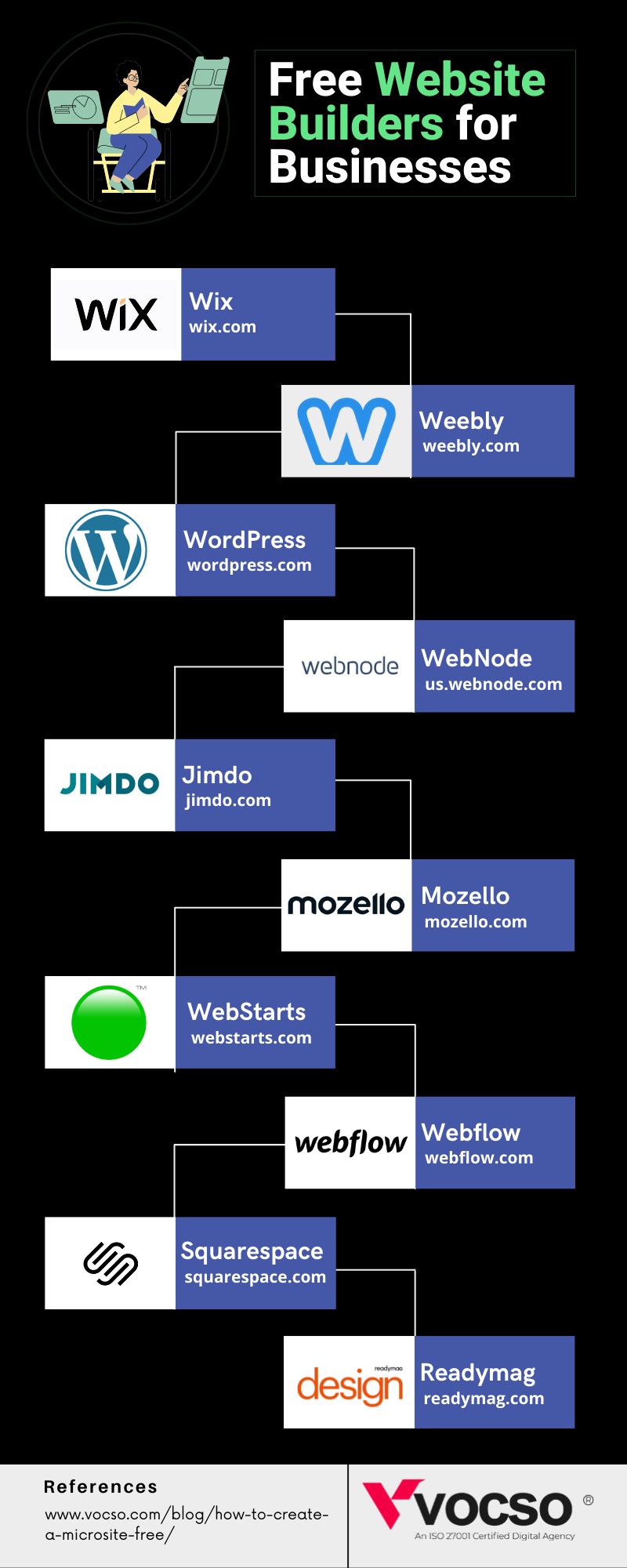 FAQs
How did you find it?
I hope with the help of this article you can create a microsite web design. If you are into a new business then a microsite is the best option to build branded site. Microsites can perform a diverse variety of businesses in a wide range of industries. With the number of preparation and strategy, a microsite helps you to build robust marketing goals and overall business strategy.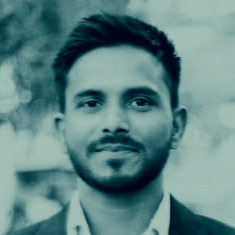 About Raj Kishore A digital marketing consultant at VOCSO. I've been working in digital marketing since 2010 and I am an expert at generating leads online via SEO, Paid Marketing, Social Media Marketing, Email Marketing, Site/Landing Page Testing and Optimization, and Display and Remarketing.