As more and more businesses are going online, the need for customer reviews has become crucial. In fact, studies show that 97% of consumers read online reviews before making a purchase decision. This means that having a review system on your website can significantly impact your business's credibility and sales.
If you are using WordPress for your website, then you're in luck, as there are many review plugins available to help you collect and showcase customer feedback. However, with so many options to choose from, it can be overwhelming to pick the right one.
There are thousands of WordPress Plugins available that you can use accordingly to your need. As a professional WordPress developer who is managing a WordPress design agency for a decade going to explore the best WordPress review plugins for 2023 that have received 5-star ratings from users. Our selection is based on extensive research, user feedback, and expert analysis, so you can rest assured that you're getting the most reliable and effective solutions. Let's dive in!
Criteria for Choosing the Best WordPress Review Plugins
It's crucial to take into account a number of factors while selecting the finest WordPress review plugins for your website in order to discover one that meets your demands. The following are some of the essential criteria we can take into account when choosing the best review plugins for 2023:
1. User Ratings and Reviews
User ratings and reviews are one of the most crucial factors in choosing the best WordPress review plugins. To evaluate the overall satisfaction level of each plugin, we looked at the reviews left by actual users. High-rated and well-reviewed plugins typically offer superior functionality, features, and support.
Consider the "WP Review Pro" plugin, which has received over 900 reviews and an average rating of 4.8 out of 5 stars in the WordPress.org plugin directory.
2. Compatibility
For any plugin, you're going to use for your WordPress website, compatibility is an essential factor to consider. If you're installing a plugin that is not compatible with your WordPress version then you may face a critical error. Make sure you always check compatibility before installing a plugin. A plugin that is not compatible with your WordPress theme or other plugins can cause issues with functionality and performance, which can ultimately harm the user experience of your website.
For example, if your WordPress theme uses a page builder plugin like Elementor, it's crucial to choose a review plugin that is compatible with it. The same applies if your website uses any other specific plugins that interact with user-generated content.
Incompatibility issues can lead to the breakdown of the website and ultimately harm its user experience. To avoid this, we tested each plugin on different themes and environments to ensure compatibility. You should also check each plugin's documentation and support channels to determine how quickly they respond to compatibility issues.
3. Ease of Use
Ease of use is a basic requirement for any plugin. Make sure your WordPress review plugin is easy to install, configure, and use. If the plugin is not easy to use then it can take a long time for the user and also increase the chances of mistakes. Make sure the plugin is easy to use for you so you can save valuable time.
4. Customization
A website's pieces of information and functionalities are changeable. Every website has unique requirements, so a review plugin must be customizable. We evaluated each plugin's customization options and ability to integrate with other WordPress plugins to meet the specific needs of your website.
5. Pricing
Pricing is the factor that everyone thinks about first before investing in anything. The same pricing is also an important consideration when using a WordPress plugin. Some WordPress review plugins are free, while others have a price tag. We compared the features and pricing of each plugin to determine which ones offer the best value for money.
For example, "Jetpack" is a popular free review plugin that comes with basic features. At the same time "WP Review Pro" is a premium plugin that offers advanced customization and rich snippets for search engine optimization.
Looking to create a WordPress website? Make sure you think about these considerations before installing a plugin. Whether you're installing plugins for SEO or plugins for design or plugins for age verification, or plugins for website speedup, other purposes involve considering user ratings and reviews, compatibility, ease of use, customization, and pricing. By carefully evaluating these factors, you can find a plugin that meets your needs and helps you showcase user reviews on your website compellingly.
Top 10 Best WordPress Review Plugins for 2023
1. WP Review Pro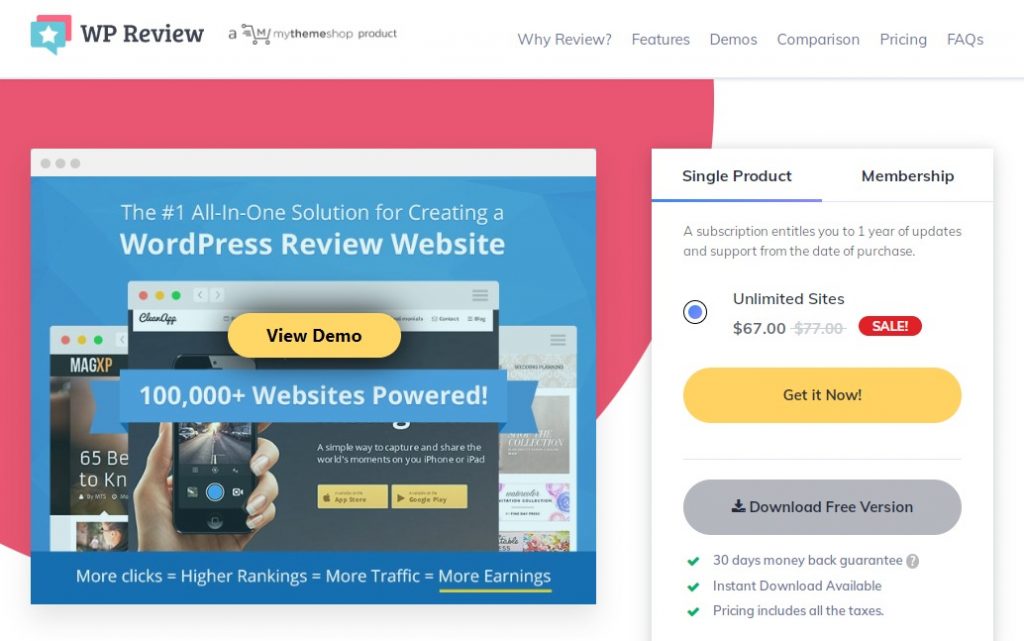 A. Overview of the plugin
A WordPress plugin called WP Review Pro enables website owners to include review functionality on their websites. Using WP Review Pro, users can write evaluations for the goods, services, and other material on their websites. The plugin enables the review process to be customized, including adding a review summary, unique criteria, and star ratings.
B. Key features and benefits
WP Review Pro has a number of important features and advantages, including:
Users can develop their own standards to fit their unique requirements and market.
The plugin supports point, percentage, and star ratings among other rating systems.
Users can customize review summaries, and these summaries will be displayed at the top of the review box.
Users can add advantages and disadvantages to reviews, which can assist readers in making wise decisions.
WP Review Pro enables users to offer their personal evaluations of goods and services, which can foster a sense of community and trust.
Rich snippets are supported by the plugin, which can help with SEO and raise click-through rates.
Pricing options
The premium plugin WP Review Pro has three pricing tiers:
License for a single site: $89 annually
A 3-site license costs $139 annually.
A 10-site license costs $239 annually.
Every license comes with a year's worth of updates and support. Another feature of WP Review Pro is its 14-day money-back guarantee.
2. Site Reviews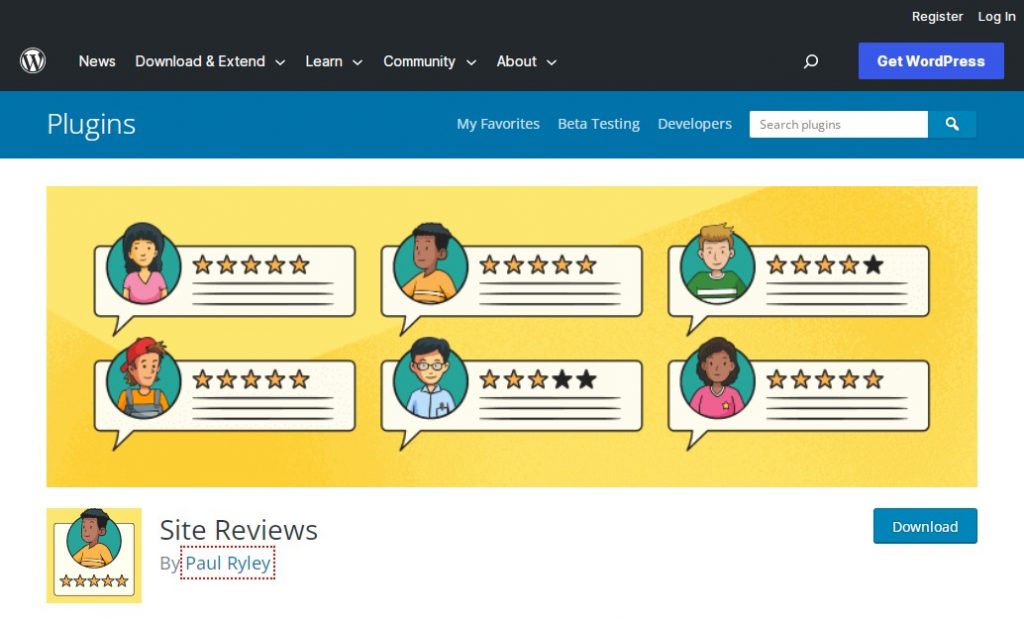 Site Reviews is a plugin for WordPress designed to provide a complete review management solution for websites. The plugin is similar to platforms like Amazon, TripAdvisor, and Yelp and provides blocks, shortcodes, and widgets, along with full documentation.
One of the key features of Site Reviews is the ability to pin the best reviews, mark reviews as verified, require approval before new reviews are published, and require visitors to be logged in before writing a review. The plugin also includes the ability to send custom notifications when reviews are submitted, respond to reviews, and more.
Site Reviews provides more features and options than most free review plugins, and the support provided on the WordPress forum is excellent. The plugin is actively developed and supported and provides Asian language support for excerpts.
Other features of the plugin include the ability to assign reviews to categories, posts, pages, custom post types, and users. The plugin provides avatars through the WordPress Gravatar service, and it is possible to back up and restore your settings and custom text strings.
Site Reviews also includes a blacklist feature to block review submissions containing specific words, phrases, IP addresses, names, and emails. The plugin is developer-friendly, with over 200 hooks and convenient functions, and provides documentation in the form of an FAQ and documentation for all shortcodes and functions.
Site Reviews provides editor blocks that can be used in the Gutenberg editor and integrated with Elementor through native Elementor widgets. The plugin also allows you to match the review form with popular themes and form plugins and integrates with GamiPress, allowing you to award points when someone writes or receives a review.
Site Reviews includes a built-in CSV importer to import third-party reviews and display reviews and ratings in search results using JSON-LD schema. The plugin provides multilingual support and fully supports network/multisite websites. Site Reviews integrates with the WordPress privacy tools, displays a summary of review ratings from high to low, and allows you to write responses to your reviews.
Site Reviews provides configurable shortcodes with full documentation and integrates with Slack to receive notifications when a review is submitted. The plugin includes five layers of protection against spam, including a built-in honeypot, four CAPTCHA options, Akismet, blacklist, and review limits. You can use Site Reviews templates in your theme for full control over the HTML and easily change any text of the plugin to your own in the settings.
Site Reviews Premium offers even more features and gives you access to all paid add-ons, including review filters, review forms, review images, review notifications, and review themes.
The plugin is officially compatible with a range of third-party plugins, including Akismet, Divi, Elementor, GamiPress, GeneratePress, hCaptcha, Hummingbird Performance, Litespeed Cache, Loyalty Program for WooCommerce, Members, Ninja Forms, Oxygen Builder, Perfect Brands for WooCommerce, Polylang, RankMath Pro, Schema and Structured Data for WP, Schema Pro, Search & Filter Pro, SiteGround Optimizer, Speed Booster Pack, Swift Performance, Thrive Architect, W3 Total Cache, WooCommerce, WooCommerce Loyalty Points and Rewards, WooRewards, WP Fastest Cache, WP Rocket, WP Super Cache, WP-Optimize, WPForms, WPML, and Yoast Duplicate Post.
Key features and benefits
Site Reviews offers a straightforward, editable review form that can be placed through a shortcode on any post or page.
Website owners can gather user-generated evaluations and ratings for their goods, services, or any other material on the site using site evaluations.
Site Reviews offers moderating tools to ensure that only relevant material is shown on the website.
The plugin incorporates rich snippets into the website's content, which can raise click-through rates and increase search engine exposure.
To gather more data from visitors, site owners can add custom fields to the review form.
Price
The WordPress plugin repository is where you can download and set up the free Site Reviews plugin. There are no premium or extra-cost features in the plugin.
3. Plugin For Google Reviews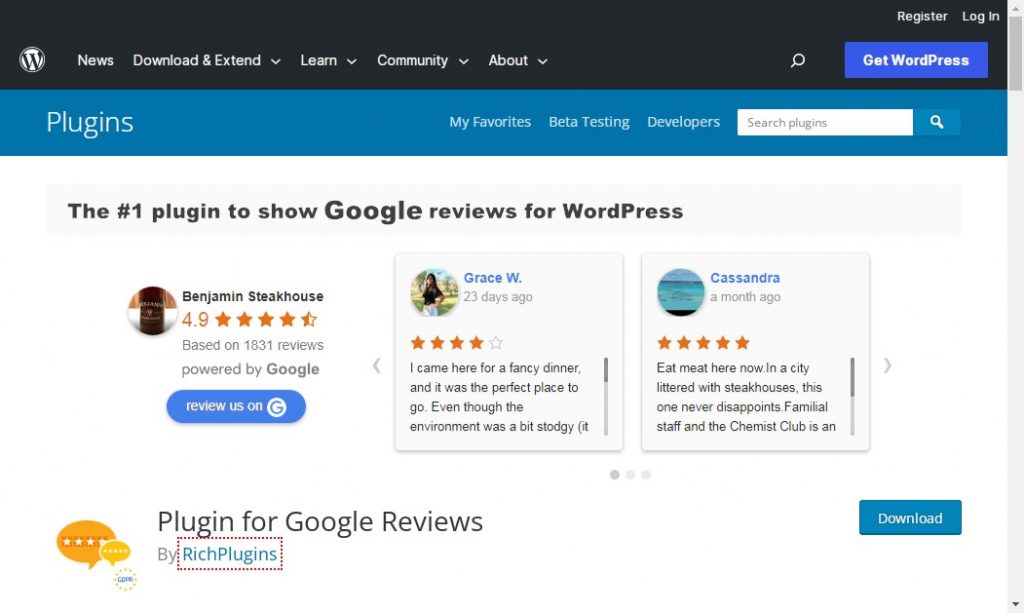 Through an official and approved Google API, the Google Business Reviews plugin for WordPress is a solution that assists website owners in displaying Google reviews and ratings on their sites. The plugin's main attributes and statistics are listed below:
Type of plugin: WordPress plugin
Google My Business (GMB) API was utilised.
Downloads of the free version: over 100,000
The price range for the business version is $29.95 to $249.95
All Google reviews, multiple locations, Facebook and Yelp integration, custom templates, priority assistance, and more are included in the business version.
Important features and benefits
If you wish to show user reviews and ratings on your website, the Google Business Reviews plugin has a number of advantages. The following are some of the main benefits and features of the plugin:
For presenting reviews, many widgets including Google Places are used.
All associated Google ratings and reviews receive automatic updates.
For showing reviews on any device, a responsive and resizable slider is available.
Options for showing reviews include list layouts and rating badges.
Support for presenting reviews in page builders, widgets, and shortcodes
Remove some reviews from the display
Upload your own Google business photo Options for long reviews to paginate and to "read more"
Support for dark websites and multilingualism
Possibility of modifying layout with additional CSS
Price
The Google Business Reviews plugin offers both a paid version with much more features and a free version with many helpful features. The price ranges for the business edition are as follows:
$29.95 for a single location and website.
Five locations and five sites: $59.95
$109.95 for ten locations and ten sites.
Sites & places indefinitely: $249.95
For the business edition, the plugin also provides a 30-day money-back guarantee.
4. Customer Reviews For WooCommerce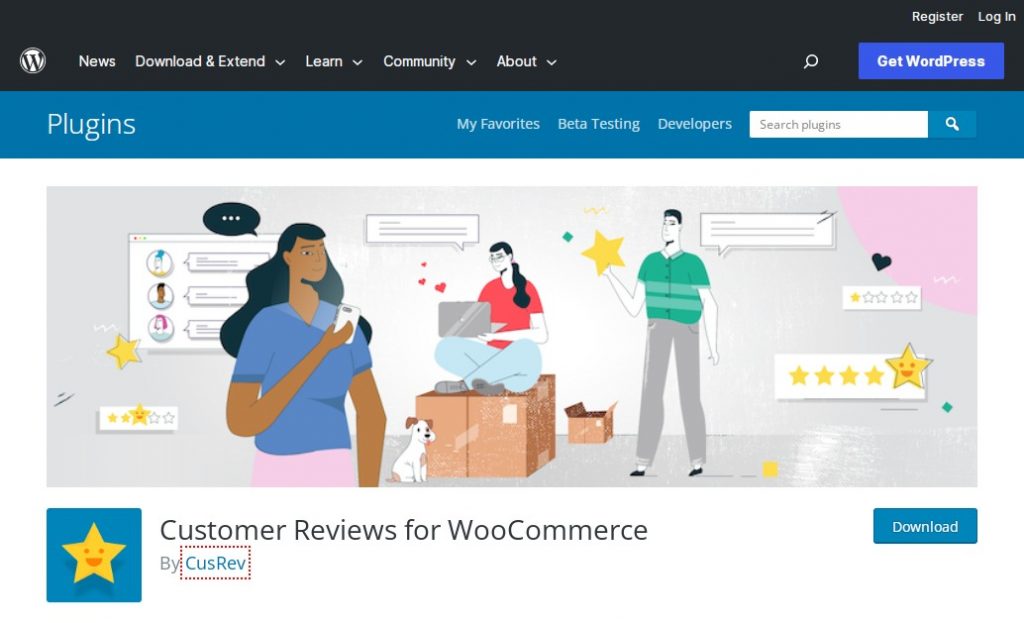 Through the use of social evidence, the Customer Reviews for WooCommerce plugin was created to assist online retailers in boosting engagement, cultivating customer loyalty, optimizing SEO, and boosting sales.
The plugin also offers a Q&A area on product pages, the opportunity to validate customer reviews using an outside source, and customized email reminders for customers to post evaluations. More than 50,000 stores have installed it, and it has been localized into more than 40 languages.
Key qualities and advantages
According to the plugin's description, some of its important characteristics are as follows:
Automated and customized review reminder emails are possible with this plugin, which can help boost customer engagement and loyalty by reminding them to provide reviews following a purchase.
Enhanced reviews: The plugin gives enhanced reviews that can help with social proof and SEO by integrating ratings, photos, voting, and filtering options.
Q&A feature: The plugin has a Q&A section on product pages where users may post questions and get answers. This feature helps reassure users and increase engagement.
Discounts in exchange for reviews: The plugin gives users the ability to provide discounts in return for reviews, which might encourage clients to do so and boost their likelihood of returning to the site.
Google Shopping integration: The plugin is integrated with Google Shopping, which may increase visibility and promote sales.
Localization: The plugin has been localized into more than 40 languages, making a variety of clients more likely to use it.
Verification of customer reviews: The plugin offers optional integration with CusRev, an outside service that gathers customer reviews and authenticates them.
Overall, the Customer Reviews for WooCommerce plugin's primary strengths are its capacity to improve reviews, offer social proof, better SEO, encourage reviews, and boost engagement and loyalty.
Price
Three payment tiers are available for the Customer Reviews for the WooCommerce plugin:
Free: The plugin's basic version is cost-free but has fewer features.
Professional: For $79 a year, this plan includes extra features like review reminders, a Q&A section, and the capacity to import and export reviews.
Ultimate: This package, which costs $119 annually, has all the capabilities of the Professional plan as well as Google Shopping integration, photo and video reviews, and the capacity to provide discounts in exchange for reviews.
All plans include updates and support for a year following the date of purchase, and each one includes a 30-day money-back guarantee. Customers can renew their licenses for a reduced price after a year.
5. Starfish Reviews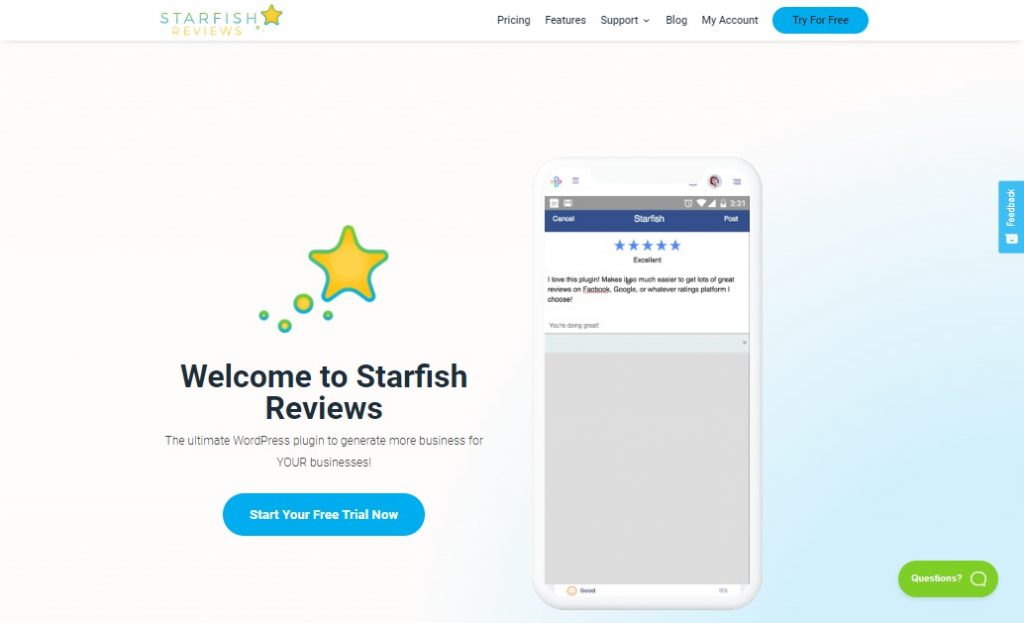 A WordPress plugin called Starfish ratings enables users to quickly display customer ratings on their websites. With the help of this plugin, businesses can gather, organise, and publish client reviews to create social proof and boost customer confidence.
Key characteristics and advantages
Among the main characteristics and advantages of Starfish Reviews are:
Straightforward setup and installation: The plugin is straightforward to install and configure, and it has a user-friendly interface that makes it possible to customize the look and feel of the review system.
Review forms that can be customized: Users can design review forms that can be used to gather particular client input. These forms can include options for star ratings, comments, and more.
Automated review collecting: The plugin automates the review collection process by sending emails to clients following a transaction or visit asking them to leave a review.
Effective review management: Starfish Reviews offers effective review management options, such as the capacity to accept or reject reviews, filter reviews based on ratings, and reply to reviews straight from the WordPress dashboard.
SEO-friendly: The plugin has options for adding schema markup to reviews, enhancing search engine exposure, and raising click-through rates. It is created with technical SEO factors in mind.
Pricing options
There are three price points available from Starfish Reviews:
Business: With l customization possibilities, the plugin's business edition enables users to gather and show customer evaluations on their websites. At 37$
Entrepreneur: This edition costs $97 per year and adds more features including personalised review forms, email automation, and sophisticated review management.
Agency: The plugin's Agency edition comes with all Pro capabilities, white-label branding, priority support, and the capacity to administer numerous sites in addition to all Pro features at $197/.
6. Taqyeem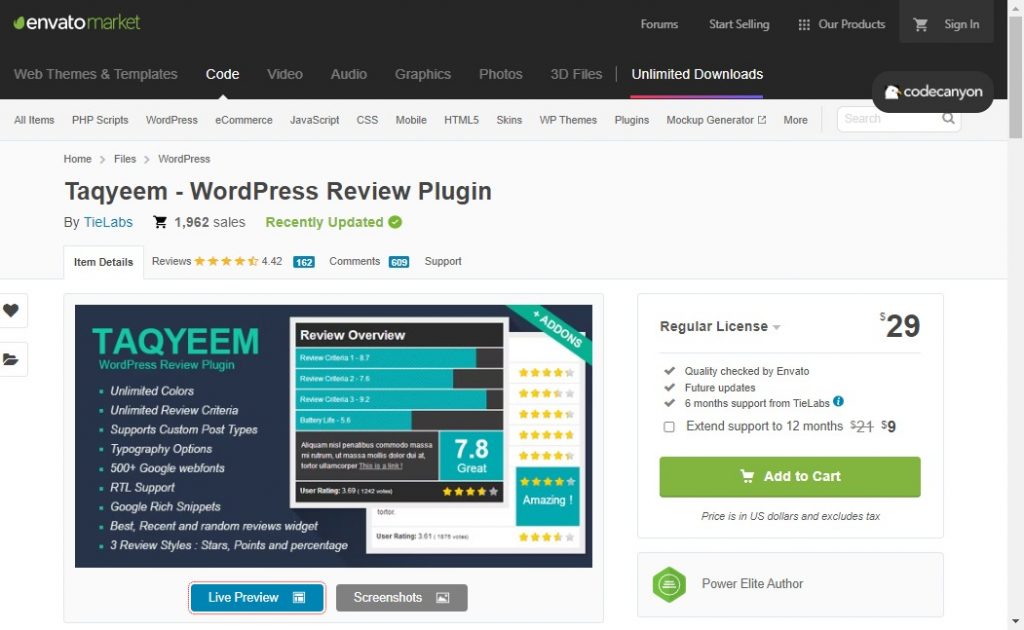 To add appealing and reversible ratings and reviews to your posts, pages, and custom post kinds, use the Taqyeem premium WordPress plugin. You can modify the rating system to suit the requirements of your website thanks to its infinite colour and criterion possibilities.
With more than 500 Google Web Fonts available, the plugin also provides a number of font options. Taqyeem also offers Schema SEO Rich Snippet Review Microdata and right-to-left (RTL) language support to improve the search engine optimization (SEO) of your website. The plugin has a best, latest, and random reviews widget, and users can also rate the content.
Taqyeem provides numerous alternatives for the rating image in addition to three various evaluation formats (stars, points, and percentages). Additionally, it offers localization assistance and comes with Po and MO files, making translation simple.
Key features and benefits
Unlimited colours: Users can change the review plugin's colours to match the style of their website.
The number of review criteria that users can add to their posts, pages, and custom post kinds is limitless.
supports custom post kinds, pages, and posts: The plugin can be used to add ratings and reviews to various sorts of website content.
Typography options: Users can modify the fonts used for elements in a theme by selecting from more than 500 Google Web Fonts.
RTL Support: The plugin works with languages that read from the right.
Schema SEO rich snippet review microdata: The plugin enhances the review content with rich snippets, which can aid in SEO.
Users can rate the content and leave reviews if you let them.
Benefits
Enhance User Engagement: You may boost user engagement and persuade visitors to stay on your website longer by enabling users to post reviews and ratings.
Boost Credibility: Since potential customers are more likely to believe the opinions of others, user-generated evaluations, and ratings can boost the credibility of your website.
The plugin has a variety of customization options that let you adjust the look of your reviews and ratings to match the style of your website.
Support for Rich Snippets: The plugin offers support for microdata for schema SEO rich snippet reviews, which can increase the click-through rates and search engine exposure of your website.
Pricing options
The Taqyeem WordPress Review Plugin is available on Codecanyon for a one-time fee of $29. This includes lifetime updates and 6 months of support from the plugin author. You can also extend the support period to 12 months for an additional fee of $9.38.
7. Widgets for Google Reviews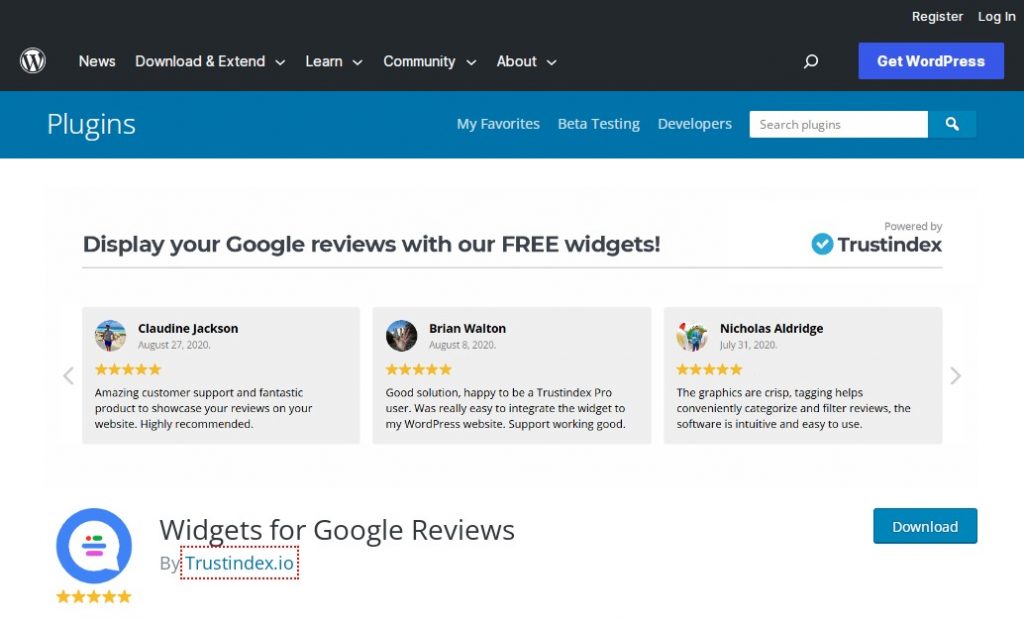 For businesses looking to improve their internet reputation and promote sales, the Google Reviews WordPress plugin is an excellent resource. Having a presence on Google is crucial because this platform is important when consumers are making decisions. Consumers reportedly trust internet evaluations as much as personal recommendations 88% of the time, according to BrightLocal.
The plugin provides 40+ widget layouts and 25+ pre-designed styles for displaying up to 10 Google reviews for free and easily. Even additional capabilities are available in the professional package, such as a mechanism for automatically inviting reviews and the ability to display reviews from other platforms.
Key features and benefits
The Google Reviews WordPress plugin's main characteristics and advantages include:
Show 10 or more Google reviews
25+ pre-designed designs and more than 40 widget layouts
Filtering reviews and language assistance
Integration of shortcodes and use with any page builder
Use of assets stored in CDN with no loading time
Benefits
Boost client confidence and SEO
Display client testimonials on your website.
Select patterns that complement your company's image.
Utilise Google's influence over shopper decisions
Free advertising via online testimonials
Simple review management and implementation
The professional bundle comes with additional features and advantages.
Pricing options
Google Reviews Widgets offers a free version that allows users to display up to 10 reviews on their websites. The free version also includes customization options and real-time updates.
For users who need more than 10 reviews or additional features, there are paid plans available. The pricing options are as follows:
Basic Plan: $4.99/month – Includes up to 30 reviews, unlimited customization options, and priority support.
Pro Plan: $9.99/month – Includes up to 100 reviews, advanced customization options, and priority support.
Premium Plan: $19.99/month – Includes up to 500 reviews, all customization options, and priority support.
Users can also save money by opting for an annual subscription, which offers a discount on the monthly price.
8. Faview – Virtual Reviews for WooCommerce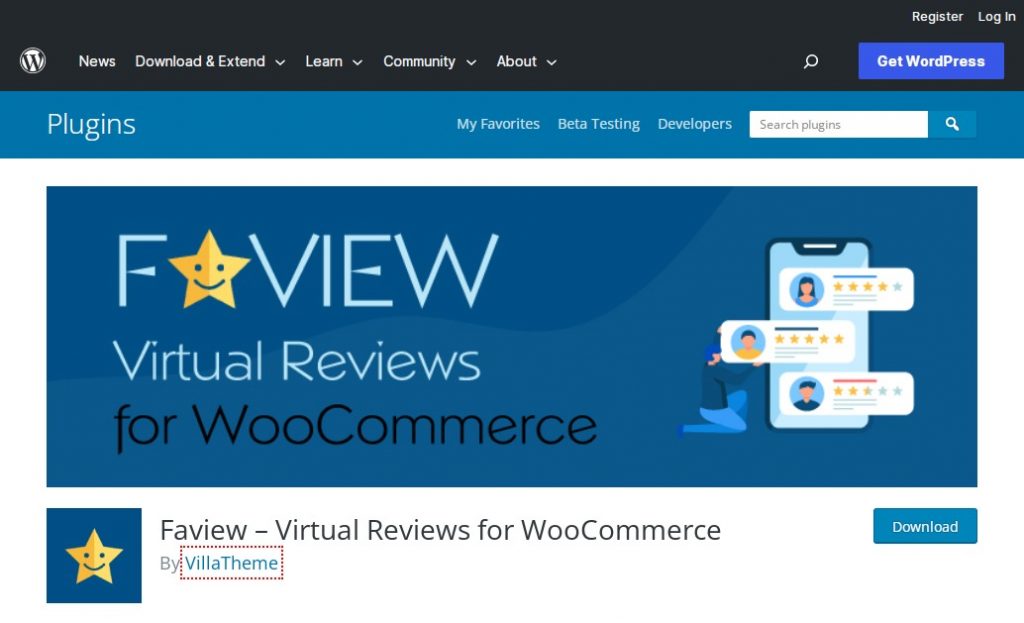 For the well-known e-commerce platform WooCommerce, Faview is a virtual review plugin. By displaying product reviews in a distinctive and engaging manner, this plugin assists store owners in growing sales and consumer interaction. Faview displays reviews using 3D virtual product models, making it simple for customers to see and comprehend the product. Customers can use this plugin to post their evaluations on social media, which can assist in advertising the product and broaden its appeal.
Key qualities and advantages
Customers that use Faview can engage with the virtual product models by rotating, zooming in and out, and looking at the product from various angles. This interactive experience has the potential to boost consumer engagement and boost revenue.
Sharing on social media: Customers can post their evaluations on Facebook, Twitter, and Instagram, which can assist in advertising the product and broaden its appeal.
Design flexibility: Store owners can alter the virtual product models' appearance to fit their branding and sense of style. This function might aid in giving the store a unified and polished appearance.
Faview is simple to install and operate. Store owners may swiftly put it up and begin displaying virtual product reviews.
Price
Free version: The Faview free edition comes with standard features including configurable design, social network sharing, and 3D virtual product models.
Advanced features like limitless product reviews, personalised product templates, and priority support are included in the pro edition of Faview. Starting at $19 a month, the pro version is priced.
9. Recencio Book Reviews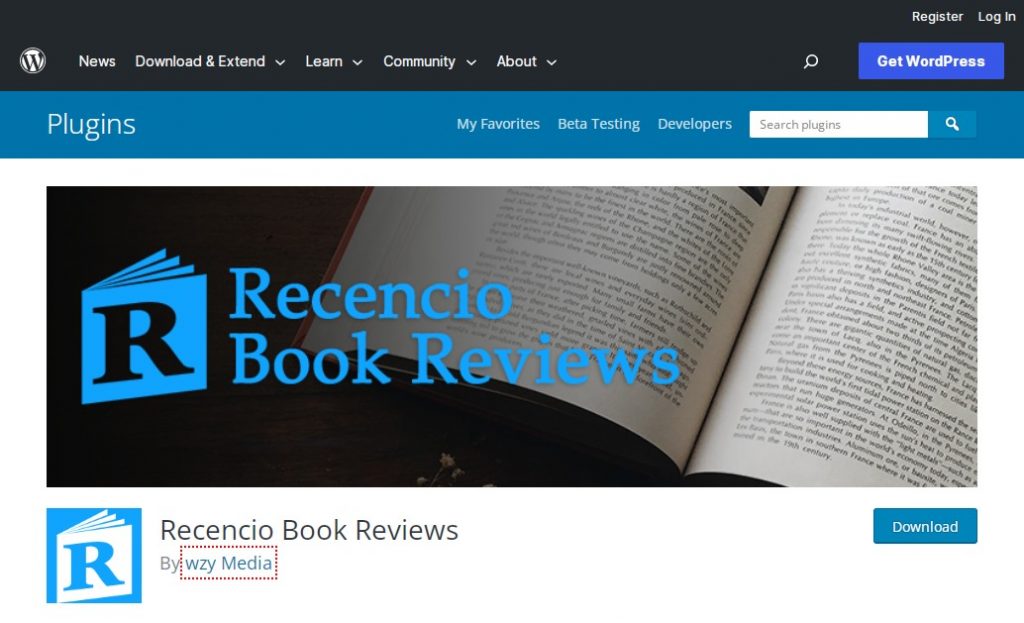 Over 20,000 WordPress websites have the Facebook Page Reviews plugin installed, and the most recent update was 5 months ago. The plugin offers features like SEO, shortcode support, auto-refreshed reviews, and pagination and requires WordPress version 2.8 or higher. Additionally, it can display all Facebook reviews and supports a number of page builders. Additional features available in the Business version include Google Rich Snippets, a collection builder, and a priority support option.
The main characteristics and advantages of the Facebook Page Reviews plugin are listed below in bullet points:
Features
Use the official Facebook Graph API to display Facebook page reviews and recommendations on WordPress websites.
automatic updates to reviews
Pagination
assistance with multiple page builders
All Facebook reviews will be shown
Real testimonials from Facebook users
Benefits
Boost user faith
Present social proof
perhaps increase sales
A quick and efficient method of showing reviews on a website.
Pricing
Recencio Book Reviews offers both free and premium pricing options. The free version of the plugin includes all of the basic features, such as the customizable review form, rating system, and moderation options. The premium version of the plugin includes additional features, such as the ability to customize the review display, display reviews in a widget, and integrate with WooCommerce.
The premium version is priced at $59 per year for a single website license, and $129 per year for a five-website license. There is also an option to purchase a lifetime license for $179 for a single website, or $399 for a five-website license.
10. Social Reviews & Recommendations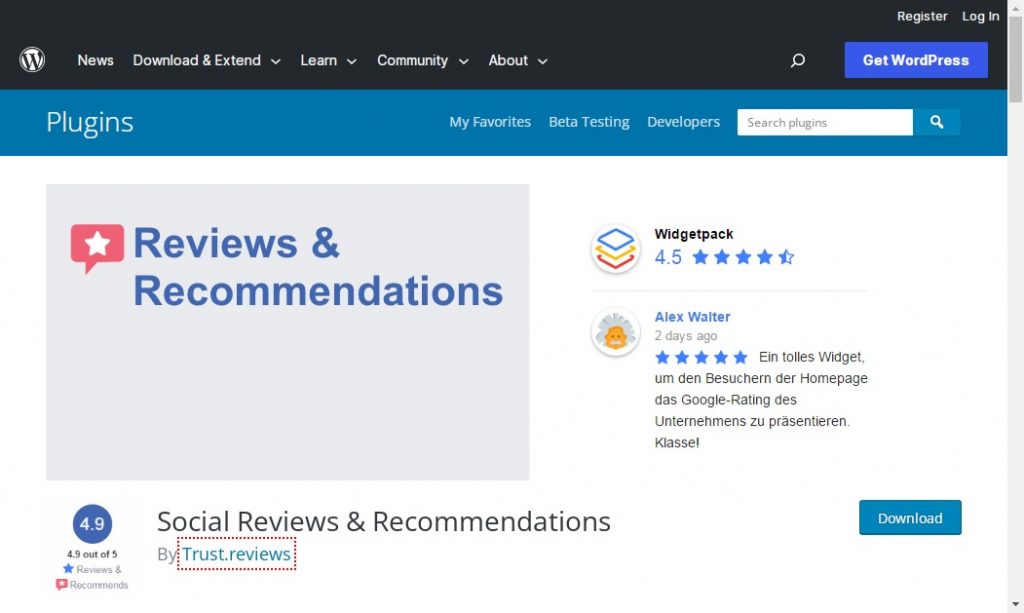 A free WordPress plugin called FB Ratings Widget enables website owners to show Facebook page ratings on their pages. This plugin makes it simple for businesses to highlight their favorable Facebook reviews and win over new clients.
Key characteristics
Design Options: The FB Reviews Widget's users have the option to alter the widget's appearance to match the theme of their website.
Display of Multiple Reviews: Using the plugin, users can show various reviews from their Facebook profile on their website.
Reviews can be filtered by ratings, and only the reviews with the highest ratings will be shown.
Simple Integration: The FB Reviews Widget may be quickly and easily added to any WordPress website.
The plugin is capable of being translated and can be used on websites that are multilingual.
The widget is responsive and operates without a hitch on all devices and screen sizes.
Lightweight: The plugin isn't heavy and doesn't affect how quickly a website loads.
SEO-Friendly: By supplying new content and user-generated information, the plugin's reviews can enhance the website's SEO.
No API Key Needed: To display the reviews, the FB Reviews Widget does not require a Facebook login or API key.
11. Judge.me Product Reviews for WooCommerce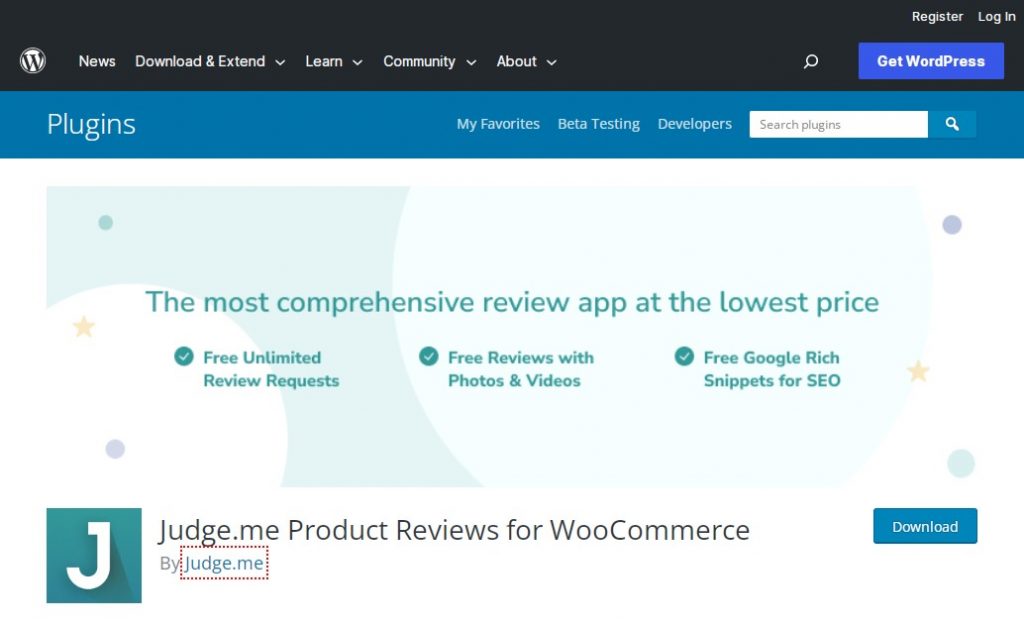 Judge.me Product Reviews for WooCommerce is a plugin that allows customers to leave reviews on your WooCommerce store. With this plugin, you can easily gather and display customer feedback, which can help increase your sales and build trust with your audience. The plugin also offers a range of features and customization options to help you manage and optimize your reviews.
Key features and benefits
Unlimited review requests: Send review requests to all your customers, without any limit on the number of requests you can send.
Review reminders: Send follow-up emails to remind customers to leave a review.
Review imports: Import reviews from other platforms to your WooCommerce store.
Rich snippets: Add rich snippets to your product pages to display rating stars, review counts, and other key information in Google search results.
Customization options: Customize the look and feel of your review widget to match your branding.
SEO-friendly: The plugin is designed to be SEO-friendly, so your reviews can help improve your search engine rankings.
Moderation tools: Manage your reviews with easy-to-use moderation tools that allow you to approve, edit, or delete reviews.
Social proof: Display customer reviews on your product pages to help build trust with your audience and increase sales.
Pricing options
Judge.me offers several pricing plans for WooCommerce stores, including a free plan and paid plans starting at $15/month. Here are the main pricing options:
Free plan: Includes all basic features, unlimited review requests, and up to 50 monthly review emails.
Awesome plan: $15/month. Includes all basic features, unlimited review requests, up to 250 monthly review emails, and additional features such as review imports and review reminders.
Business plan: $29/month. Includes all Awesome plan features, up to 1500 monthly review emails, and additional features such as custom review forms and custom branding.
Agency plan: $89/month. Includes all Business plan features, up to 10,000 monthly review emails, and additional features such as multi-store support and priority support.
How can VOCSO help here?
VOCSO is a web development company offering custom CMS development, custom website design and development, custom web application development, and custom mobile app design and development services in and out of India.
We also provide dedicated resources for hire:
Conclusion
The user experience and trustworthiness of your website can be significantly impacted by selecting the finest WordPress review plugin. You may pick a plugin that suits your demands and contributes to the reputation of your website by taking into account the factors covered in this article, such as user ratings and reviews, compatibility, the convenience of use, customization, and pricing.
Users have given the plugins we've listed five stars, and they offer a variety of functions to meet the needs of various websites.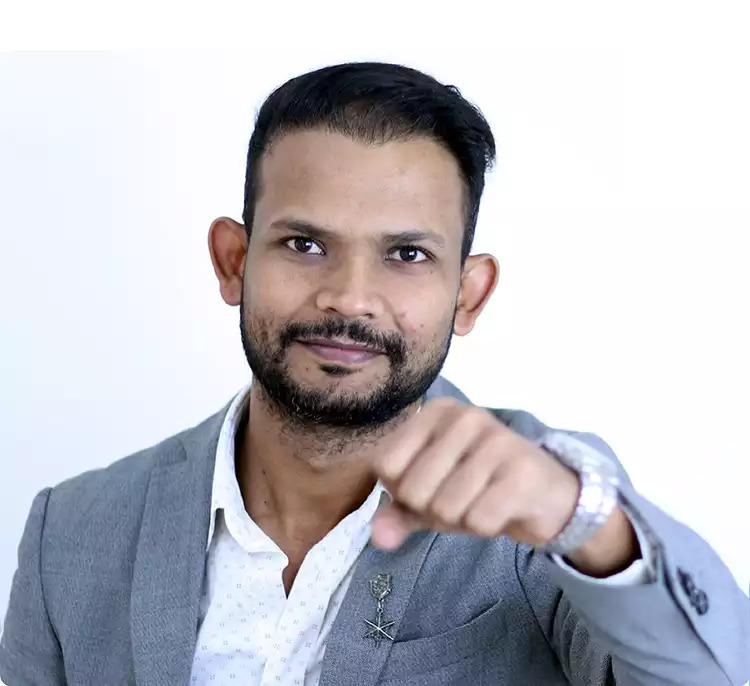 About Deepak Chauhan Hi, I am Deepak Chauhan, a Digital Marketing Strategist. I'm the CEO & Co-Founder of VOCSO Digital Agency, a creative web design, development, and marketing agency based in India & USA.