We are living in a time when most people turn to Google for just about anything. According to Internet Live Stats, in 2022, Google processes over 99,000 searches every single second and this makes more than 8.5 billion searches a day. There is absolutely no denying that Google is the most popular search engine to date, and if you are ranking on the first page of Google for your product or service, then it is a great source of revenue and leads for your eCommerce business.
It is an unfortunate truth that you are practically invisible if you rank on Google's page two or beyond, so ranking on Google's first page is important as it can bring a lot of customers.
Ranking on the second, third, or fourth page won't help you get the clicks and traffic you need to make SEO worth your time and money. Based on the studies conducted by Moz (the SEO giant) in 2014, about 71% of Google search traffic goes to the first 10 search results, and this has been reported to be as high as 92% in recent years. The second-page results are far from a close second, coming in at below 5% of all website clicks.
If you want to get on the first page of Google, you have come to the right place – but you need to understand that you're competing with every other business in your industry. Some have years of experience and some have marketing budgets larger than your business's entire budget. Can you still get to that first page? Yes, it is possible. However, it takes work, building content over time, and implementing search engine optimization techniques.
It is important for you to know that a good eCommerce SEO presence can be powerful, as it can drive inbound traffic that could grow your business for years to come.
Everybody wants to rank on the top of Page 1 of Google. But, how will you do it? It's certainly not easy! You need to have a website that has both a good user experience and a solid SEO strategy. In this article, we'll talk about some eCommerce SEO best practices to help you improve your rankings on Google.
How a Search Engine Like Google Works
Google Search uses its Page Ranking algorithm to rank websites in its search engine results. Google has an automated system that visits websites all over the internet and reads content on each web page such as photos, videos, text, audio, and so on. Once it collects these data, the algorithm uses them to determine which web pages should be shown for a particular keyword, and in what order.
In a nutshell, the Page Ranking algorithm determines which web page on the internet is the most relevant for a keyword or keyphrase and displays it at the top of the first page of Google. This link is followed by the second most relevant page, and so on. The resulting list of web pages is referred to as a Search Engine Results Page (SERP), which includes multiple sections:
The section at the top comprises a couple of paid text ads that are related to the keyword or keyphrase used to conduct the search.
At the center, you can find the organic listing of web pages that Google deems relevant to the keyword or keyphrase used to conduct the search.
Sometimes, an additional section gets included below the paid ads at the top when a user is looking for a nearby store to purchase something or a nearby location for business. This section is referred to as the Local Map Pack.
There may also be other sections, pulling from highly trafficked sites like Wikipedia.
The algorithm process is split into three stages:
Search engine crawling: This is the first stage and is referred to as the discovery process. In this stage, Google's bots set out to look for new and updated content. Irrespective of the format (text, audio, video, images, and so on), the content is discovered. Usually, Google finds it easier to locate pages that have more links. Once the pages are crawled, they need to be indexed to be ranked.
Search engine indexing: In this stage, Google analyzes the URLs that were discovered in the crawling stage and stores the page information (text, images, and other files) they deem good enough to be displayed to searchers in a database known as the Google index.
Search engine ranking: This is the final stage, where Google determines which among the indexed pages is the most helpful one for a specific search query. This is the stage where results are ordered from most relevant to least relevant. Search engine ranking aims at ordering search results based on relevance. Therefore, the highest-ranked website should be the most relevant one to the user's query.
Ensuring that your site gets crawled and indexed is a key prerequisite for it to show up in the SERPs. If you have a website, then it is a good idea to see how many of your pages are in the index so that you can gain some great insights into whether Google is discovering all the pages you want it to.
Unfortunately, any analysis of Google's algorithm and its process is solely based on opinions found across various articles, rather than anything concrete. Google does provide valuable advice, big hints, and important information from time to time regarding what it values when it ranks content; however, Google has never made the exact algorithm process public, as anyone could then exploit it to their advantage, thereby diminishing the company's value.
How to rank your eCommerce website on page 1 of Google
Let's get started. Here is what you need to do if you want your website to rank on page 1 of Google.
1. Inform Google about your eCommerce website's existence
The first step is to make sure that your website appears on Google. If you have an XML sitemap for your website, this can be done by submitting your sitemap to Google Search Console.
Google Search Console is a free tool that helps website owners to analyze their performance on Google Search, based on which they can take the necessary steps to boost their visibility on search. Another incredible feature of Google Search Console is that you don't need to log in regularly to see if your website is having any issues. Google will send you an email to alert you if it finds any issues.
2. Choose the right keywords
It is very important to utilize the right keywords in subheadings, the first paragraph, and within the text itself. But what are the right keywords? You need to first determine the set of words that best describes the products that you offer on your website. You need to research what phrases or keywords people are using when searching for products similar to yours. There are various keyword research tools available, like Ahrefs, SEMrush, and more, that help you find the right keywords. Once you find the keywords, you need to use them in your content and this will increase the chances of your website ranking on the first page of Google.
It is important to remember that if your content is just an excuse for the keywords, it may not work. People are looking for answers quickly, which is why your content needs to be tailored to the keyword searches it is targeting. If you want people to read your content, you must make sure that your content is educational and informational. Keywords that are added must be relevant to your topic.
3. Do a Competitive Analysis
"Competition is a good thing; it forces us to do our best" – Nancy Pearcey (Author)
It is important to understand the competitive landscape, as ranking on the first page of Google is not an easy task due to fierce competition. It requires you to do a certain amount of research. First, type your keyword on Google and hit the search button.
If you are in the business of selling handbags and if you type "handbags" in Google, then in all likelihood, you will find big, well-known brands in the result.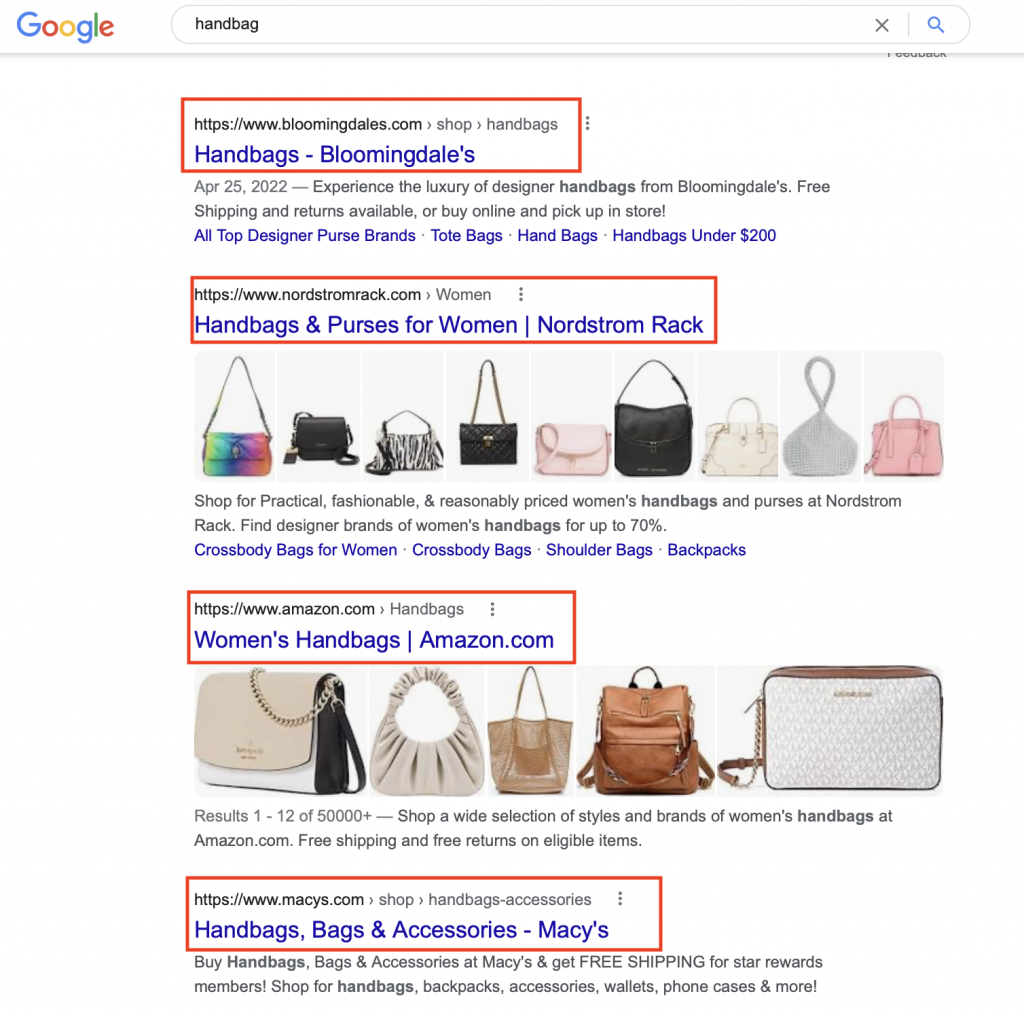 If you are a startup, it is going to be difficult to get to the first page. Most often, people prefer buying handbags, or any other product for that matter from well-established brands. If the keyword is crucial for your business, we will suggest targeting it. Although you will not rank for it immediately, building back-links to the page via content outreach can slowly but surely get you there. Knowing who you are up against is crucial, as it can help you find a solution to get your website on the first page of Google.
If your page features on the second page or beyond that, then you need to review your keyword strategy for further advancement and also find alternative keywords that can bridge the gap. For instance, you may never beat major retailers for "handbags," but what about "handmade handbags"? Or "artisanal handbags"? The list goes on.
Competitor keyword research helps you find the keywords that your competitors are using in their organic search and paid campaigns. When you find out the keywords that your competitors are targeting, you get the opportunity to outdo your competition by utilizing those keywords more effectively.
SEMRush, Ahrefs Keyword Explorer, Moz Open Site Explorer, and so on are some popular SEO tools that you can try for keyword analysis.
4. Choose or create a page that aligns with the search intent
The importance of the concept of search intent in eCommerce SEO is something that cannot be stressed enough as search intent is the reason behind a search query. Why did the person make this search? Is he looking to make a purchase? Does he want to learn something? If you want to rank your page higher on Google, it is important to understand and create content with search intent in mind.
Google ranks web pages, rather than websites, and you can choose any web page that you want to rank; it doesn't necessarily have to be your home page. However, you need to ensure that the web page content contains information that Google intends to rank for your target keyword. The chances of your web page ranking on the first page of Google are higher if it aligns with the content type, format, and angle of the content of search intent.
Search intent can be primarily categorized into four types:
Informational: When a person is looking for specific information, the search can be referred to as an informational type. It could be a one-word answer to a simple question "Who is the main character in Stranger Things?" or it could be something that requires a more in-depth answer "What are Lululemon leggings made of?" These keywords can be crucial in building brand awareness by targeting them with informational content and educating your audience.
Navigational: When the searcher wants to go to a website where he frequently logs in, he would prefer Googling it, instead of typing the entire URL in the address bar. "Facebook", "Twitter", "SEMrush for beginners." These keywords can be useful sources of organic traffic when the brand or site is well-known.
Transactional: The customer wants to make a purchase and they are looking for a place to buy it from. "Samsung Galaxy S22 5G", "Macy's coupon codes", "Buy MacBook at lowest price". Transactional keywords which are also known as buyer keywords can be very valuable when making a keyword search and planning an SEO or PPC strategy.
Commercial: This type of search occurs when a searcher wants to know more about a product or service. "Top restaurant in Chicago", "Macbook Pro M1 reviews", "Nike vs Adidas football boots". These keywords determine a person's intention to purchase in the future. Such keywords can be a great opportunity to reach an audience that could be converted into future customers.
An intent-based strategy for your eCommerce SEO could be the change you need to set your website apart from the competition.
5. Build trust by including quality backlinks
It is true that relevant internal links can boost the authority of your page; however, backlinks from reputable sites can be much more beneficial for eCommerce SEO, as they signal to Google that another resource finds your content valuable enough to link to it from within their own content. When your website earns additional backlinks, the Google search engine infers that your website contains valuable content that is worth ranking well on the SERPs.
An effective way of backlinks creation is to identify similar websites and send emails to them, asking them to link to an article on your website. Backlinks, also referred to as inbound or incoming links, are an essential component of off-site eCommerce SEO strategy.
6. Aim for "position #0" by adding featured snippets
The short snippets of text that appear at the top of Google's search results are referred to as featured snippets and they help in quickly answering a searcher's query. This content is automatically pulled from web pages in Google's index. Featured snippets can be a powerful weapon as they help to get more clicks from the organic search results without higher Google rankings.
The featured snippet box is referred to as "Position #0" by many SEO experts because it appears above the traditional #1 spot. You can give your organic click-through rate a serious boost if you are able to get your content in the featured snippet.
It is crucial to include a featured snippet as it can offer greater visibility to searchers, thereby boosting your brand recognition.
7. Make your web page Google mobile-friendly
The percentage of global web traffic on mobile phones has increased more than six-fold when compared to the previous decade. According to Statista, mobile internet traffic accounts for almost 55 percent of total web traffic today. This is one of the main reasons why Google has prioritized mobile page load speed as a key metric when determining your website's search ranking.
It is very important for you to optimize your page for mobile devices, as many people rely on their mobile devices while making online transactions. Google has already shifted its focus to mobile-friendly website optimization since internet traffic increasingly comes from mobile devices. All your other organic search efforts could be in vain if you are not able to establish a mobile-friendly website.
Final Thoughts
Ranking on the first page of Google may not be a simple task, as it can take time, resources, and knowledge. However, you can achieve it if you consistently and diligently follow proven eCommerce SEO practices. You can also try social media platforms to enhance your social media presence and increase the curiosity of your target audience. Including your location in your keywords can also be effective, as there could be many direct location-specific searchers looking for local business and it will help them to locate you.
The above-mentioned practices may draw several users to your webpage, but it is equally important to make them stay on the page and make them read the content till the end. For this, you need to make sure that the content is effective and easy to consume.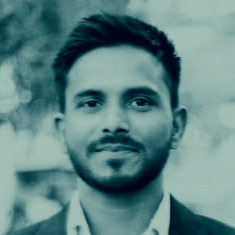 About Raj Kishore A digital marketing consultant at VOCSO. I've been working in digital marketing since 2010 and I am an expert at generating leads online via SEO, Paid Marketing, Social Media Marketing, Email Marketing, Site/Landing Page Testing and Optimization, and Display and Remarketing.