Would you like to save time the next time you write a blog post or an article? Producing quality content is essential, but catchy topic ideas are also key to getting the most out of your content.
You don't have to rely solely on your own writing skills to create stellar content that captures your audience's attention, generates leads and grows your brand. We created this guide because AI has come a long way in the content generation space.
There are many ways to write attention grabbing headlines for your blog. One of the more popular methods is using content idea generator tools. With the AI capabilities of these tools, you can get blog post ideas for topics related to your business or niche. The tools can also provide titles and summaries for articles so that you don't have to spend all day on them. In this post, we give you a list of ten tools that you can use for free!
What is a content topic idea generator?
The content Ideas Generator is a free online tool that allows you to enter relevant nouns to generate blog ideas about your topic. Content writers can use the content Ideas Generator to get inspiration for their next blog posts.
A blog is a great way for content writers to engage with their potential audience. Blogs not only offer you the opportunity to share your ideas and thoughts with the world but they are also an easy way for you to attract potential readers. The key feature of blogs is that they allow you to tailor your content so it will be more relevant and interesting to your audience. The blog ideas generator allows you to enter relevant nouns and it will generate content ideas about your topic. This generator can be used by any writer who wants new content ideas for their blog posts.
When to use content idea generator?
Content ideas generators are useful for all types of writing. It isn't just for creating blog posts or articles, though those are some of their most popular applications. The good news is that there are numerous generators available, some better than others, that can serve as your go-to tool for your topic needs.
Have you ever wondered when to use blog idea generator tools? Whether you are a new blogger or an established one, the best time to use them is when you are having trouble with your creativity. The best time is anytime when experienced writers would advise you to take a break and think outside of the box. You could also benefit from brainstorming new post ideas as well when it comes time to develop your content calendar.
10 best online content topic idea generator tools
1. Content Idea Generator by VOCSO
If you're struggling to come up with a catchy title for your next blog post, podcast, or video, the VOCSO Content Idea Generator is here to help. With the VOCSO Content Idea Generator, you'll get an original title that's sure to become a hit with your audience.
Simply enter your relevant keywords into the generator and you'll get a catchy title that's sure to get attention. So why wait? Give the VOCSO Content Idea Generator a try today and see how easy it is to come up with a catchy title for your next piece of content.
The VOCSO Content Idea Generator is here to help you stay organized and promote your marketing campaigns by generating unique titles that are sure to resonate with your audience. Just enter your topic into the generator and let the content title generator do the rest.
2. Content Idea Generator by UseTopic
The majority of blog content on the internet is poor. That's because most content marketers focus too much on the results they need to achieve, and not enough on the reader. When we lose sight of the reader, our content fails to add value, and Google takes notice. Our content gets sucked into a black hole, never to be seen again.
The blog idea generator tool by UseTopic can help you break free from this cycle and reconnect with your reader. Unlike other tools that simply add your keyword to a list of templates, our ideas consider your target audience. With our tool, you can create content that is relevant and valuable to your readers, and that will stand out in the sea of mediocre content.
If you're looking for unique content ideas, the tool is definitely worth a try. Simply enter your keyword and it will analyze the top-performing content on Google. It will then use that data to generate unique ideas using GPT-3.
Visit the website link: https://www.usetopic.com/blog-idea-generator
3. Free Content Ideas Generator by CopyAI
If you're feeling stumped over what to write about for your next blog post, never fear! Copy. ai's blog post idea generator can help you come up with fresh and interesting ideas for all types of blogs, including health, fitness, travel, food, relationships, and more
All you need to do is enter a couple of keywords related to the category of blog you're interested in (for example: "health," "fitness," "food"). The generator will then come up with a list of ideas for your writing pleasure!
With the help of the generator, you'll never be stumped for something to write about again.
Do you want to start a blog but have no idea what to write? The Blog Post Ideas Generator by CopyAI can help you. It will generate great blog post ideas for whatever type of blog you're interested in, so it's perfect for those who are new to blogging. For example, if you're looking to start a health and wellness blog, the generator will give you suggestions so that getting started is easy as pie!
Visit the website: https://www.copy.ai/tools/blog-post-ideas
4. Content Ideas Generator Tool HubSpot
Hubspot's Generator is one of the most straightforward blog topic generators. When you get stuck, you'll be given a few topics to get you started on your writing.
This tool generates five unique ideas for a set of three keywords or phrases (mainly nouns). You can enter up to three words in the given box section, and the tool will generate new upcoming ideas for you to use.
If you want to change the results, go back and re-enter the keyword set. If you're looking for specific content, be specific.
Visit the tool page: https://www.hubspot.com/blog-topic-generator
5. Content Idea Generator by AISEO
AISEO is one of the best SEO tools that provide effective tips and tools to write SEO-friendly content If you've ever wished you had a writing superpower, artificial intelligence may be your answer. With the AISEO blog idea generator, you can convert your thoughts to blogs and even have them written for you at the click of a button.
This AI-powered tool can help you come up with ideas for your next blog post, and even write the post for you. All you need to do is enter a topic and some keywords, and the AISEO blog idea generator will do the rest.
The AISEO blog idea generator can help you generate the perfect blog article with just the click of a button. Whether you want to talk about your industry or share tips on how to manage your work/life balance, this software will make it easy to generate a great blog post.
So why not give it a try and see what kind of writing superpowers you can get with artificial intelligence?
Visit the tool page: https://aiseo.ai/templates/blog-idea-generator.html
6. Content Idea Generator by WebFX
Finding blog post ideas can be really challenging for some sectors. Some advice on this topic is similar to "just brainstorm extremely hard," but it doesn't really assist anyone, does it?
If you're ever stuck trying to come up with an unusual or unique idea for a blog or article, consider using WebFx's Idea Generator Tool. Just enter in a query term and the tool will provide you with a list of suggested topics that are sure to get your creative juices flowing.
Whether you're looking for something fun and lighthearted or something a bit more serious, the Idea Generator Tool is sure to have something for you. So next time you're struggling to come up with an idea, give it a try!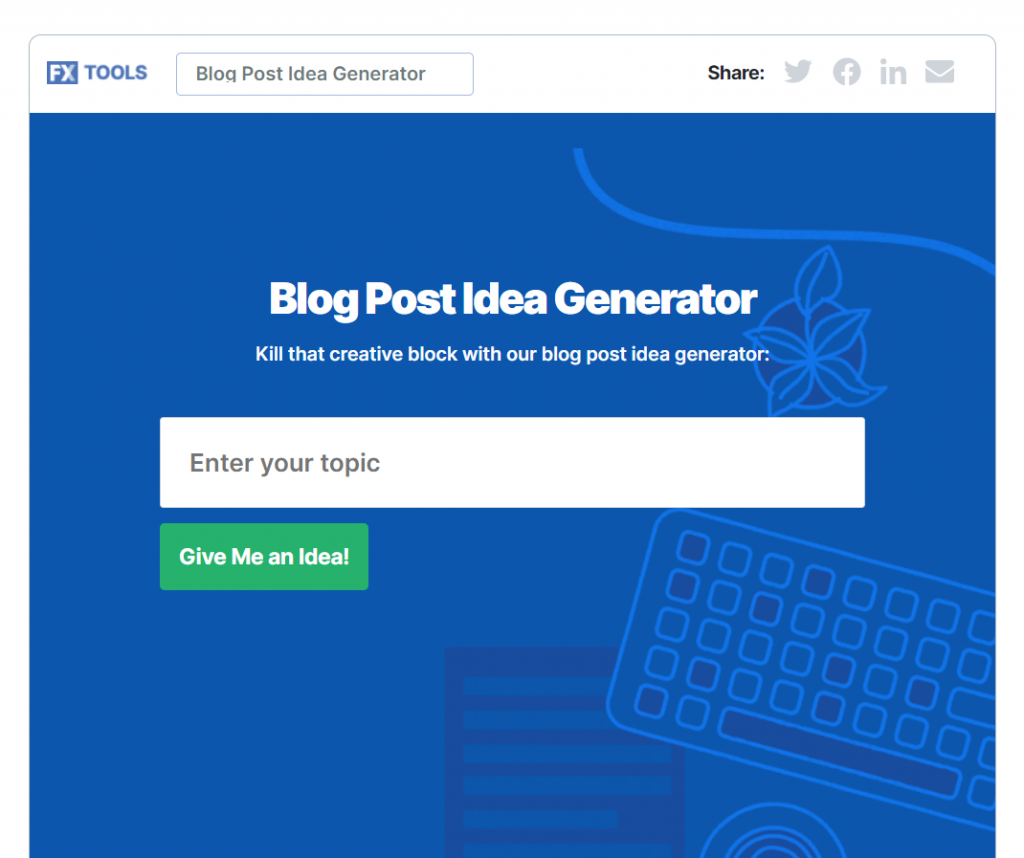 Visit the tool link: https://www.webfx.com/tools/blog-topic-idea-generator/
7. Engaging Content Ideas Generator by The HOTH
The Hoth's Blog Topic Generator is an excellent tool for coming up with headline ideas. It takes into account more information than other tools, making it a great option for those who want to get the most out of their headlines.
With its help, you can easily come up with catchy and attention-grabbing headlines that will help you get more traffic to your blog.
It takes into account the following elements: –
The sector in which a business works
The audience is interested in learning more about the topic.
The objective that the audience is pursuing
Visit the tool link page: https://www.thehoth.com/blog-topic-generator/
8. Content Topic Headlines Generator by FATJOE
If you're looking for a research-based way to come up with title ideas, look no further than there. Just enter your keyword into the tool and you'll instantly receive up to 100 related title-related thoughts on the subject.
And because it's just that easy, you'll also be able to sign up for 10 additional title recommendations every week. This tool is instrumental for any blogger looking for a resource for making sure their content always stays relevant and engaging with their readership.
Visit the tool page: https://fatjoe.com/blog-title-generator/
9. Content Topics Generator by INK
INK's AI-powered writing tools are designed to help you create material more quickly and get beyond writer's block. The blog ideas generator is one of these tools. How does it function?
INK, which is powered by KUPE AI, quickly generates interesting blog ideas. Additionally, the procedure is rather simple. Simply enter the appropriate keyword, and the programme will take care of the rest.
This is an extremely useful tool for bloggers who are struggling to come up with new ideas, or who simply want to generate a list of potential topics to write about. Not only does it save time, but it can also help to break through writer's block by providing a range of different ideas to explore.
Visit the tool page: https://app.inkforall.com/blog-ideas-topic-generator
10. Content Idea & Outline Generator by Rytr
Rytr is one of the best free websites for creating blog outline templates. It takes your primary keywords or keywords and generates a blog outline for you to complete. You can have it generate multiple variations of the outline if you want. The best part is that it generates blog titles in addition to the outline.
Rytr has a fantastic collection of text generation tools that you can use for blog writing. It includes a blog title generator as well as a blog idea generator. And once you've decided on a topic to write about, you can generate an article outline by specifying it. And it performs admirably.
To use Writer's blog outline maker tool, you simply need to create a free account. You can use the tool from the main web app by selecting "Blog Idea & Outline" from the list. After that, you specify the primary keywords and the number of variants before clicking the "Ryte more" button. It will generate the blog outline in the right sidebar.
Visit the tool page: https://rytr.me/use-cases/blog-idea-outline
Conclusion
If you're looking for some free websites to generate a blog post blueprint, you've come to the right place. All of the websites I've mentioned here can assist you in quickly creating blog ideas.
All of the tools I've mentioned here use AI to generate content, and you'll be pleased with the results. So, try out any of these websites and let me know what you think of them.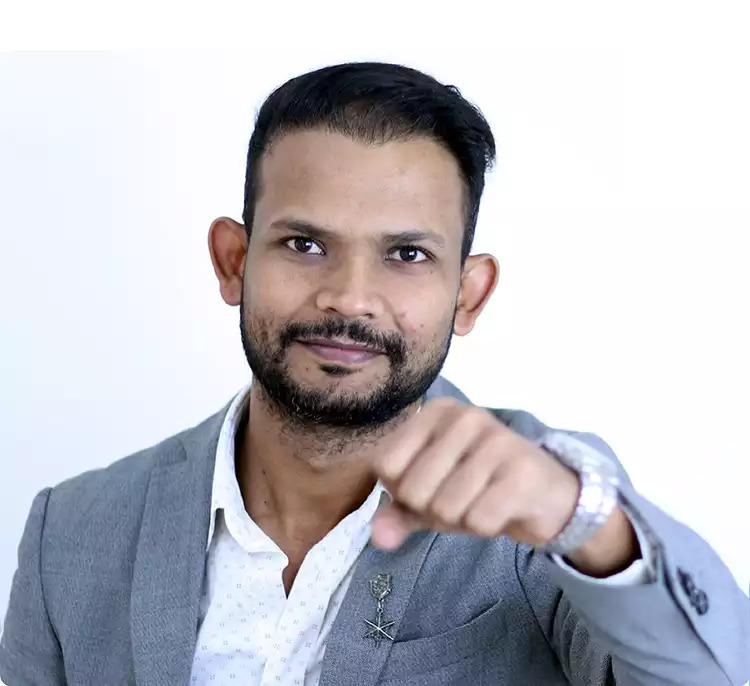 About Deepak Chauhan Hi, I am Deepak Chauhan, a Digital Marketing Strategist. I'm the CEO & Co-Founder of VOCSO Digital Agency, a creative web design, development, and marketing agency based in India & USA.