Google only loves you when everyone else loves you first.
This famous quote by Wendy Piersall, a well-known entrepreneur and social media strategist, is an excellent summary of how SEO works.
To join the club of websites that constantly pop up on the first page of Google search results, you have to make content that your target audience just can't get enough of. If the search engine then discovers that a lot of people prefer to go to your website to get the information they need, chances are high that your position in search results will gradually improve.
Since the majority of traffic on websites comes from search engines, optimizing content for search visibility is without a doubt the best way to make your online business known. According to Google's content guidelines, content creators should put the needs of their target audiences first when doing their job, so the main goal is to help Google users to understand your content and make sure that it has a certain value to them.
On top of that, content producers must deal with regular SEO updates. For example, Google has been constantly working on revising its SEO guidelines for websites to meet the needs of its users, so following these updates is of paramount importance.
In fact, Content Marketing Institute claims that changes to SEO and search algorithms was the top content marketing issue that was important to B2C businesses in 2018.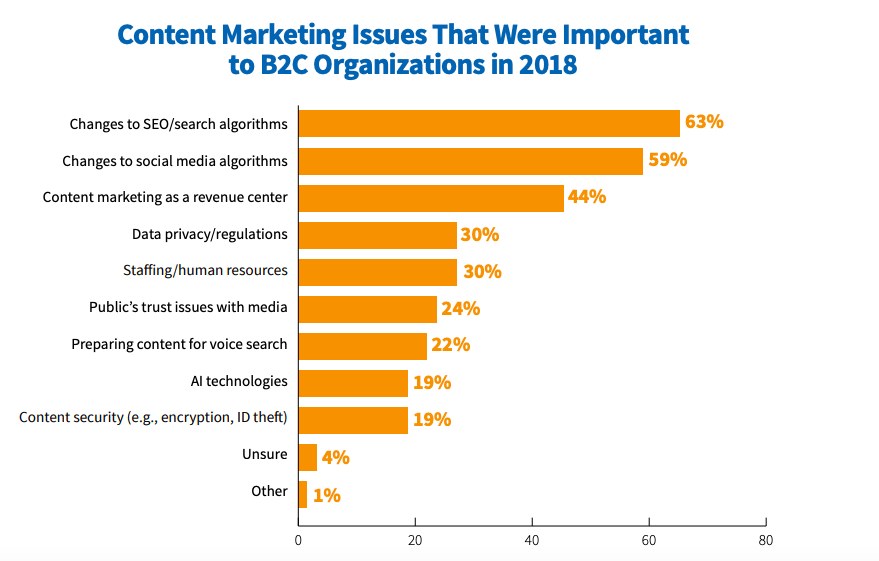 Apparently, the vast majority of B2C marketers follows the changes to SEO and search algorithms very closely because they understand the importance of this strategy for achieving their marketing goals.
If you're reading this, chances are that you're also interested in the latest tips on how to write SEO-friendly content that Google loves. In the next sections, you'll find exactly that. We've compiled this list of tips and techniques on writing the best SEO-friendly articles so your path to the first page of Google search results would be as easy as possible.


1. Give Your Readers The Information They're Looking For
Google makes it very clear that having high-quality content on all pages, especially a homepage, is the single most important thing to achieve SEO success. If you meet this requirement, then you're maximizing the chances that Google users will want to consume your content and return for more.


So how to ensure that your content is "high-quality"?.
While the answer is pretty simple – you have to make your content helpful – complying with this requirement requires a lot of work.
Every content writer knows that creating a blog article could be easy and quick. However, in many cases, that means poor quality and a little value to readers. That's why the average time for writing a blog post has been increasing in recent years, according to a blogger survey by OrbitMedia.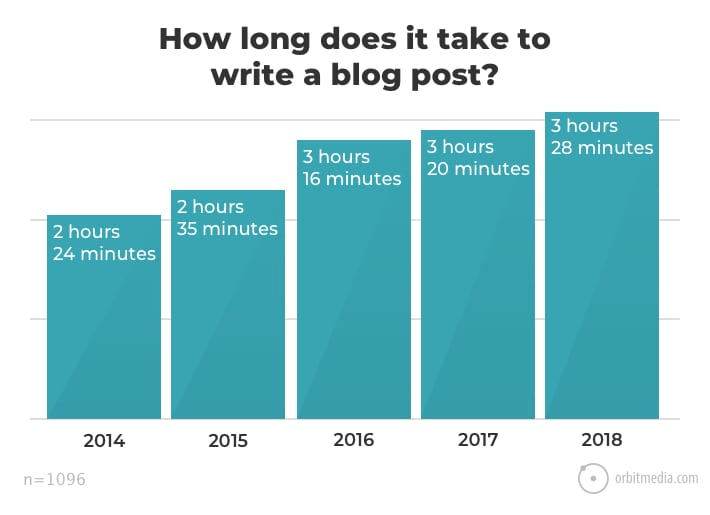 As you can see, it was common for bloggers in 2014 to spend 2 hours 24 minutes to write a good blog post, but by 2018, this time increased to 3 hours and 28 minutes (by the way, the survey also found that 13 percent of bloggers need 6+ hours to write a typical blog post). It's safe to assume that this time will continue to increase this year.
Undoubtedly, SEO requirements are one of the reasons why more time investments are required. To write a helpful, in-depth piece on something, a blogger has to perform research to ensure originality of advice they give to their readers.
Has this strategy paid off?
According to bloggers, the more time they invest in their posts, the better are the returns. For example, 38.9 percent of those who spend 6+ hours to write a typical post report getting "strong results," which means they receive good engagement. The performance of blog articles tends to decrease along with the time investments, as shown on the below image.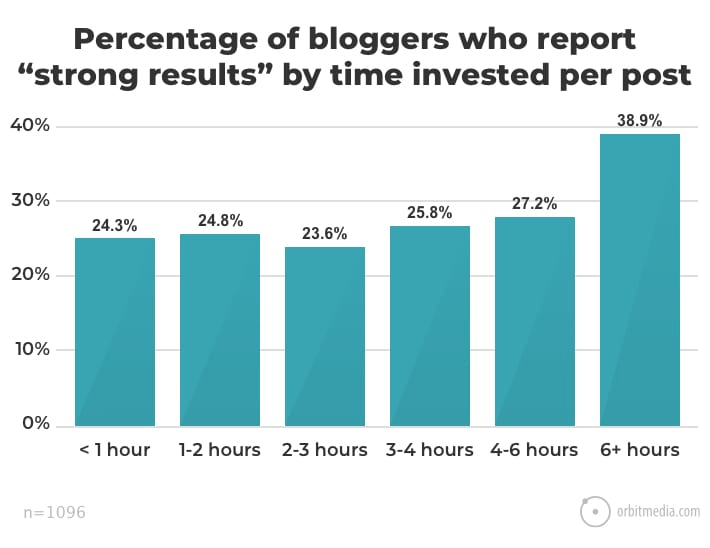 Source: OrbitMedia
Okay, this sounds good, but what about originality? It is associated with strong content performance? According to OrbitMedia, it is.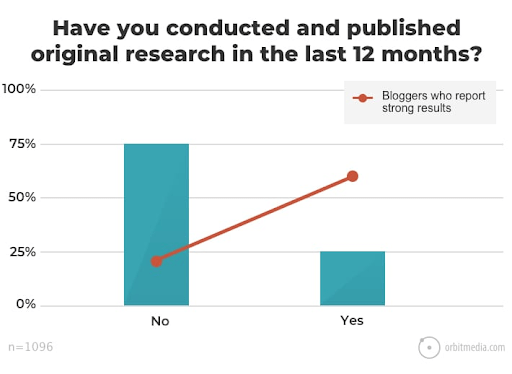 Apparently, Google users value original research and ideas, so investing in this is an effective strategy that brings success to the bloggers who choose not to rewrite content they've read in other websites, but come up with their own, unique perspective on something that interests their target audience.
Online research is something that many content creators, especially beginners, struggle with, so if you feel like you need assistance with evaluating information and finding unique perspectives on common topics, feel free to use online tools like TrustMyPaper and Google Trends.
So, the main takeaway here is that the more time and effort you invest in creating content that your readers love, the better the performance of that content will be. That's why you should always aim to produce high-quality content that has value for readers. Here are some tips to make that happen.


2. Research Your Audience
There are many ways to research your target audience's needs and interests, but there are some that are the most commonly used by content marketers, therefore, perform the best.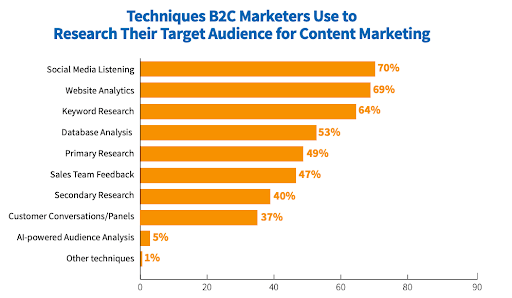 By using these techniques, you should have a good understanding of what content should be interesting and relevant to your target readers.


3. Write In-Depth, Value-Packed Articles (1,100+ Words)
According to the abovementioned blogger survey by OrbitMedia, the length of the typical blog post has been increasing in recent years. This is also a consequence of SEO requirements because many Google users are looking for in-depth explanations of issues they're experiencing and detailed guides on how to deal with them.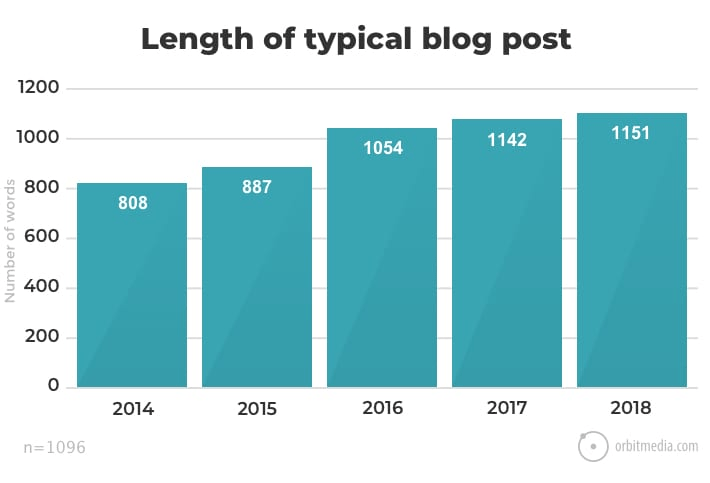 That's why it's recommended to write about 1,100-word articles for your blog. Remember: that doesn't mean writing fluff! Every paragraph should contribute to the main point of the article: give value and useful advice to readers. That's why many content creators consult with writing experts via online platforms like Supreme Dissertations, Grammarly, and Grab My Essay to ensure that their writing is fluff-free.
If you comply with this SEO requirement, you'll maximize the chances of being among those who report strong results by 1000+ word count, which is the highest performing group.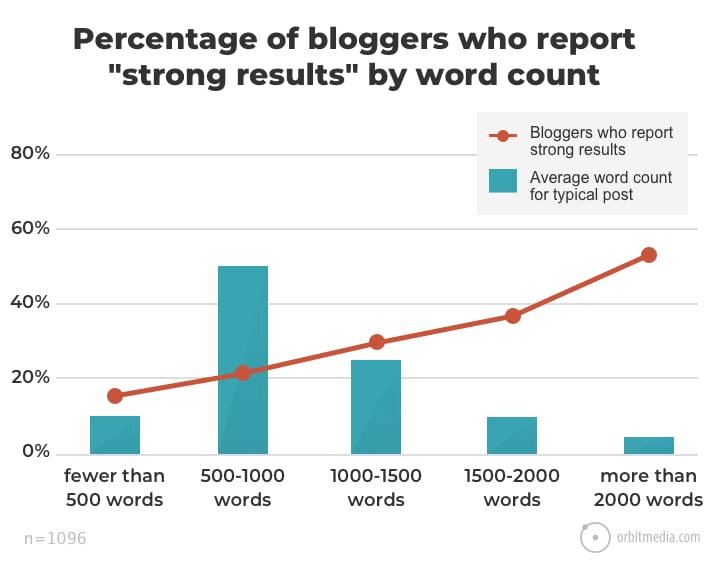 Pro tip: start writing articles around 1,000 words and then gradually build your expertise to write longer-form content that has the biggest value for readers, and therefore, can signal Google that your website is a reliable and popular source of quality information.


4. Perform Thorough Keyword Research
This is another part of learning what users and Google want. There are several ways on how to go about this, and we're going to cover some of them here.


Simple but Effective: Ask Google
Since we're optimizing our content for Google and readers, why not ask Google about the keywords? It's really easy and you could do it in a couple of ways: via the search bar and Related Searches section. Getting keyword ideas directly from Google is a good idea because it shows popular combinations used by real users.
So, open Google and start typing head keywords. For example, let's suppose you're running a blog about coffee and want to research keywords – and topic ideas – for the next month. Here are some results after you type "Americano coffee recipe."


As you can see, Google has come up with some excellent ideas that you can use for your content. By playing with keywords some more and exploring different combinations, you can discover a lot of ideas.
Another section that has useful information for you is located at the bottom of Google search results: the so-called Related Searches section. For example, here's what it had to offer for "How to make almond milk cappuccino at home" search query.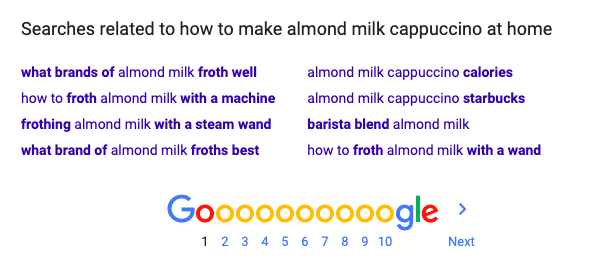 By searching for different head keywords that you're using for your content marketing strategy, you and your team can come up with a lot of interesting – and, more importantly, relevant – ideas for your content.


Research the Most Popular Content with Buzzsumo
Another way to research keywords, as well as engaging content ideas, is to use a content discovery tool. Here's how it works: you provide a head keyword or keyword combination, and it provides a list of the best-performing content pieces based on the number of social media engagements. As a result, you can research the keywords used by your competitors and assess the effectiveness of the ones you used for research.
One good content discovery tool is Buzzsumo. Let's continue with the coffee blog example and suppose that you've searched for "coffee recipe." Here's what Buzzsumo gave you.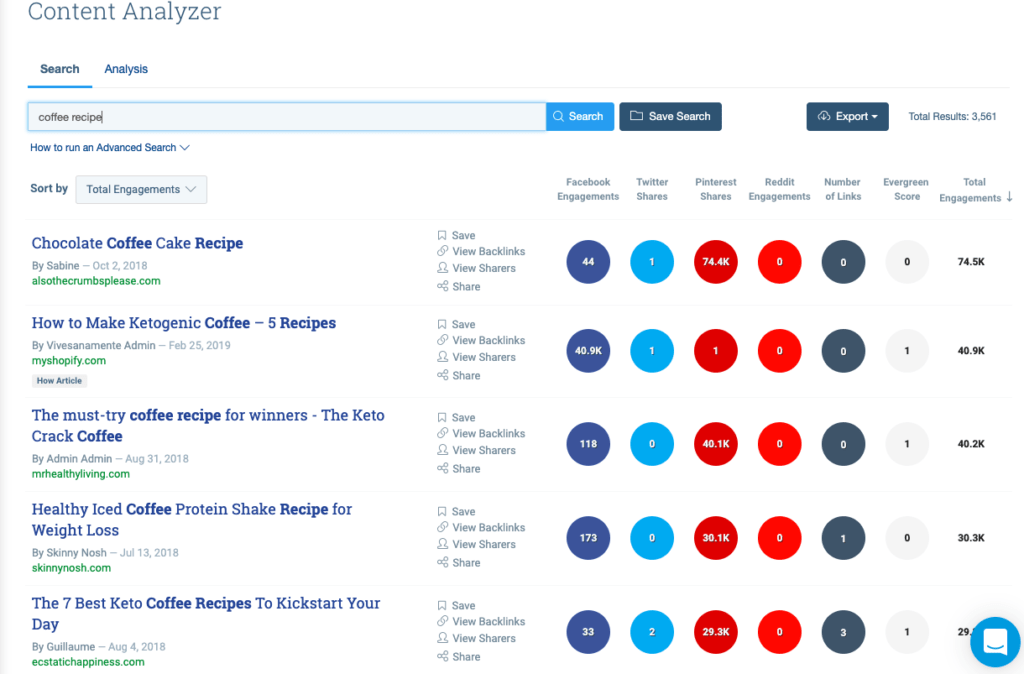 As you can see, the article about ketogenic coffee had more than 40,000 interactions within a year, so it was the most popular one for that particular head keyword combination. Don't know what ketogenic coffee is? Well, that means it's time for research and writing a great article to introduce your readers to this special type of popular drink.
You may also discover content in different languages when performing content research, which is completely okay, In fact, if your target audience speaks different languages, having your content translated is an excellent strategy for reaching more people. However, keep in mind that professional translation is a must here to avoid misunderstandings and fails; make sure to check out the reviews of translation agencies on websites like Is Accurate to make a good choice.


Use UberSuggest for Keyword Suggestions and Content Ideas
UberSuggest is one of the best keywords research tools developed by Neil Patel, a well-known digital marketer. For many expert marketers, this tool has become a go-to source for keyword research, and for a good reason. It's a great alternative Google keyword research and provides a lot of useful analytics for free, including:
Keyword search volume
SEO difficulty
Cost per Click (CPC)
Paid difficulty
Keywords
Keyword ideas
Content ideas
For example, here are the results for "Ketogenic coffee recipe."





In this section, you can assess some of the most essential data related to this keyword combination. If you need some more keyword and content ideas to help you with the creation of topics for your content marketing strategy, you can refer to the second part of the report generated by UberSuggest.
Here are the insights generated for "Ketogenic coffee recipe."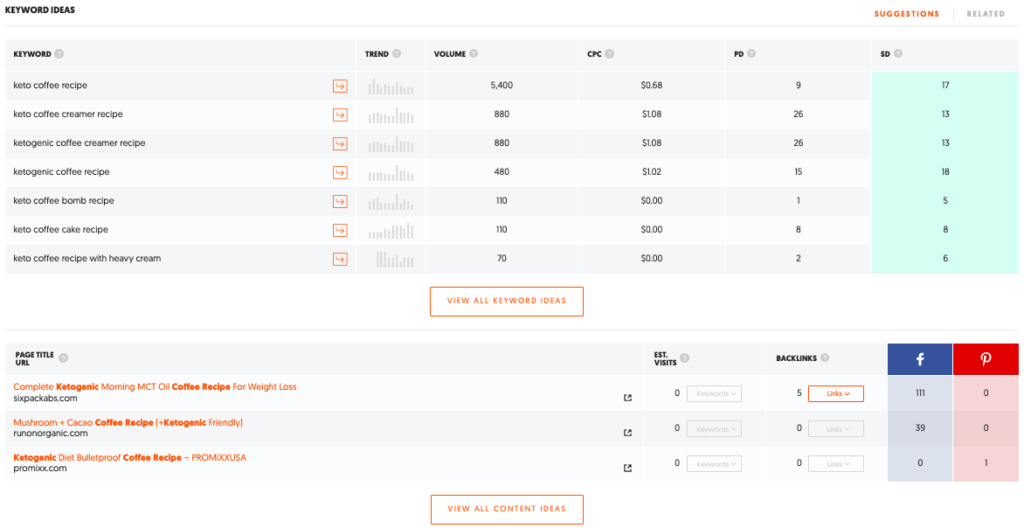 This data undoubtedly will be helpful to fuel your SEO strategy and improving the quality as well as the potential of your content to reach the first page of Google search results.
Pro Tip: "Creating various small posts with cliche' headings and trite content will not make you stand out among your competitors," shares Sergey Grybniak, a content expert in our recent Insights On Writing Content To Rank In Google SERPs By 11 Content Marketing Specialists. "Ask yourself what your readers would consider quality content and provide it, no matter how high it ranks."


5. Invest in Visual Content
Every experienced content writer knows that most readers are visual learners, therefore they love visual content like images, infographics, videos, screenshots, and so on (in fact, infographics and videos are some of the most common WordPress content types that attract the most traffic). This is another way to benefit content consumers, so you should definitely consider investing in the creation of visual content as an addition to textual content to improve your content marketing and see real ROI.


Here are some interesting stats to back this up:
When people hear something, they will remember about 10 percent three days later. When they see a picture, they will remember 65 percent. These findings suggest that you should create visuals like infographics to summarize important information or content that can be difficult to understand.
Bloggers are increasingly adding various visual content types in their content. For example, the abovementioned OrbitMedia survey found that 54 percent of bloggers used more than one image while 19 percent used videos.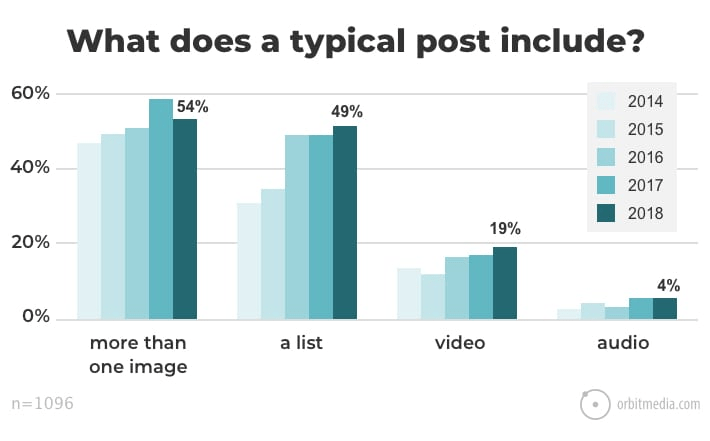 For example, using multiple images is a good strategy to break up content, explain hard-to-understand content, and make content more appealing (this is one of the reasons why this blog has so many visuals, too).
It's easy to forget to optimize visuals while working with them; for example, you need to write descriptive alt tags to improve indexation and compress images with tools like TinyPNG to avoid overloading and undermining the speed of your website (speed is an important ranking factor due to the recent Google algorithm update).


Final Thoughts
If people love your content, then Google will follow suit. By following the tips and techniques described above, you can significantly increase the chances of improving the performance of your content and achieve amazing results. Now that you have a good understanding of what "quality content" is, you can go beyond basic SEO strategies and drive more traffic to your website. Happy content writing!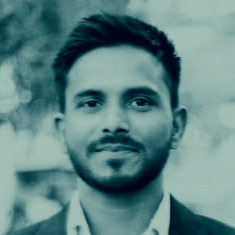 About Raj Kishore A digital marketing consultant at VOCSO. I've been working in digital marketing since 2010 and I am an expert at generating leads online via SEO, Paid Marketing, Social Media Marketing, Email Marketing, Site/Landing Page Testing and Optimization, and Display and Remarketing.