You can't ignore Instagram because it has more than 1 billion users who are active every month. In fact, brands and creators should interact on Instagram even more in the coming year, according to predictions for Instagram trends.
You'll need to make investments in a variety of third-party marketing solutions in order to enable you to take full use of the marketing possibilities it offers. Whether you need assistance with brand mentions, competitor analysis, video editing, or hashtags, this list includes a tool for just about anything.
As of August 2022 statistics, Instagram is one of the most popular social networks worldwide having 1478 Million active users per month. This is the reason why the top brand's availability on Instagram is increasing constantly. Whether you are just starting out or have been using Instagram for years, there are certain Instagram marketing strategies that you can use to improve your visibility and grow your following.
In this article, we have outlined some of the best Instagram marketing tools that you can use to achieve success on the platform. By using these tools, you will be able to grow your account and reach a wider audience.
Keep reading till the end as we have mentioned a few tools that can help you gain your goals. Without any further ado, let's delve further into the post.
Why use Instagram for marketing?
The era of brand posts and promotional content being the only forms of Instagram marketing is over. The platform has advanced enormously in terms of social media platforms.
With more than 1 billion daily users, it would be fair to say that Instagram is a significant marketing touchpoint. The platform also continuously develops and introduces brands to new features and upgrades that, when incorporated into marketing campaigns, may undoubtedly elevate a brand to a whole new level.
To get the most out of the features, the only issue that arises is the need to keep up with current trends.
It can be difficult to monitor marketing when there are thousands of brands that serve the same market.
Therefore, we have compiled the best tools and strategies for you to adopt in order to scale up your marketing efforts in order to increase earnings.
Top tools to help you maximise your Instagram marketing efforts
1. Buffer – For scheduling Instagram posts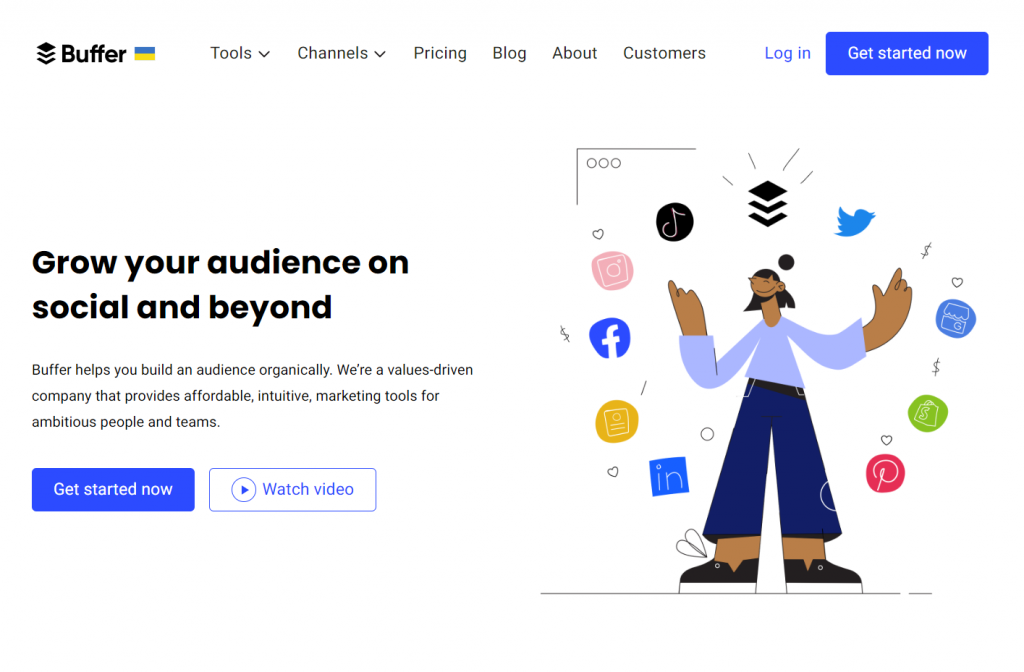 Buffer is a fantastic Instagram marketing tool that enables you to schedule posts for your account far in advance, helping you to produce meaningful and regular content for your Instagram presence.
For busy solopreneurs or business owners with small social media marketing teams, posting content frequently with image uploads and links is advantageous.
Buffer is one of the social media marketing tools that allows you to manage your online presence in one place. It has a really intuitive and easy-to-use interface, which makes it great for managing multiple accounts on different platforms. Additionally, Buffer offers some great features such as scheduling posts and push notifications for when you have new followers or comments. If you're looking to improve your social media management skills, then I would definitely recommend giving Buffer a try!
2. Taggbox Widget – To embed Instagram feeds on your website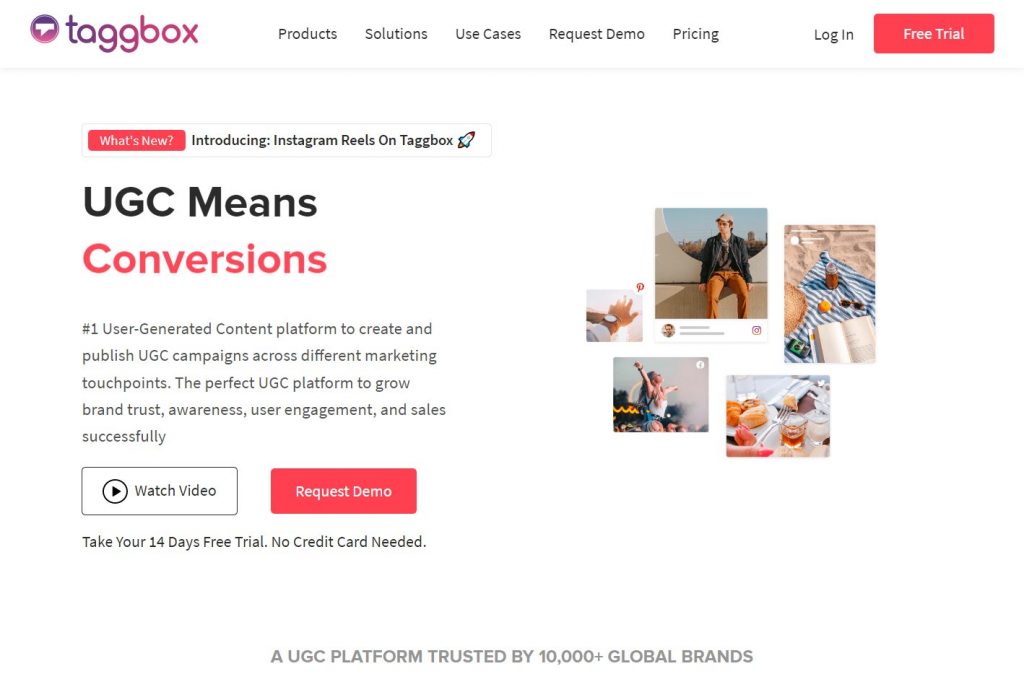 Embed Instagram feeds on the website is a technique that is used by many brands and businesses to increase the effectiveness of their official website. Being a major contributor to driving sales, the website of a brand needs to have content that is result driven and holds the potential to convert potential customers into brand ambassadors.
You can achieve this by aggregating and embedding content from the platform to major marketing touchpoints like your website. All you require is a responsive social media aggregator tool. The tool lets you seamlessly integrate amazing content from Instagram into your website.
The tool is highly responsive and does not require any technical expertise to be operated. Simply by creating a free account, you can aggregate the content based on your preferred connection type, customize it by choosing from a variety of options like background options, themes, templates, fonts, etc. The users of the tool can then moderate the content by eliminating any irrelevant content from the Instagram widget.
The tool also provides the option of leveraging real-time updates. The users can track the performance of the widget by getting insights like impressions, overall likes, engagement rates, etc. Additionally, the other features of the tool are content updates and a support team for assisting users if they come across any technical glitches while using the tool. Overall, this strategy and Taggbox Widget make a brilliant pairing for helping you increase your marketing efforts.
3. Later – For content creation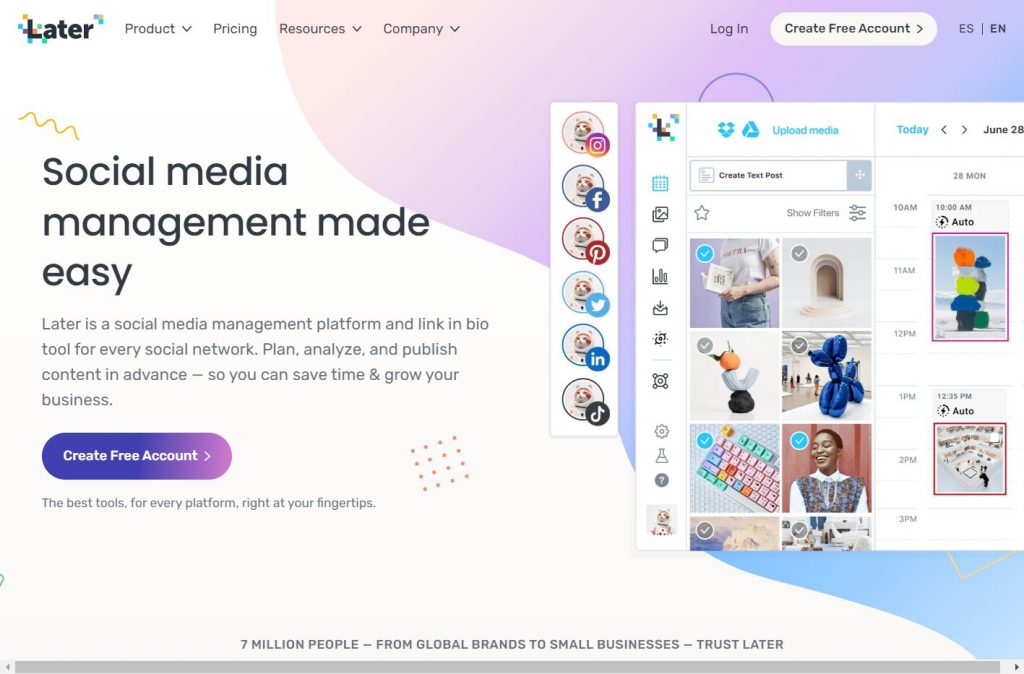 You can make aesthetically amazing content for your Instagram with Later. You may use a drag-and-drop visual planner with this Instagram marketing tool to generate and schedule posts. Before visitors arrive on your profile, arrange your images and content in preparation and give them a sneak peek.
Notably, Later is not recommended for medium-sized to large organisations. If you only require the most basic capabilities and manage one to five social network accounts, it's a good option.
4. Social Insider – Analyze the content appropriately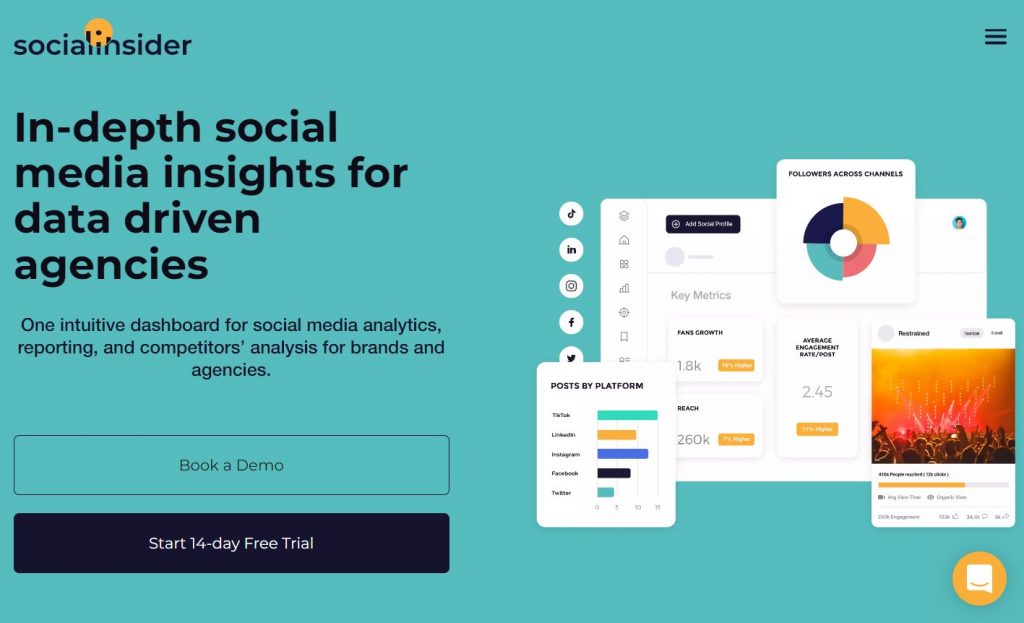 With a variety of analytics reports to assist you to understand more about the individuals that visit your website, Socialinsider is a social media analytics tool that can help in your Instagram marketing efforts.
You can generate more relevant content and enhance consumer interactions by being able to assess how people interact with your business. For thorough competitor analysis that keeps you ahead in terms of value addition, you can also use Socialinsider.
5. Kicksta – For increasing your following on Instagram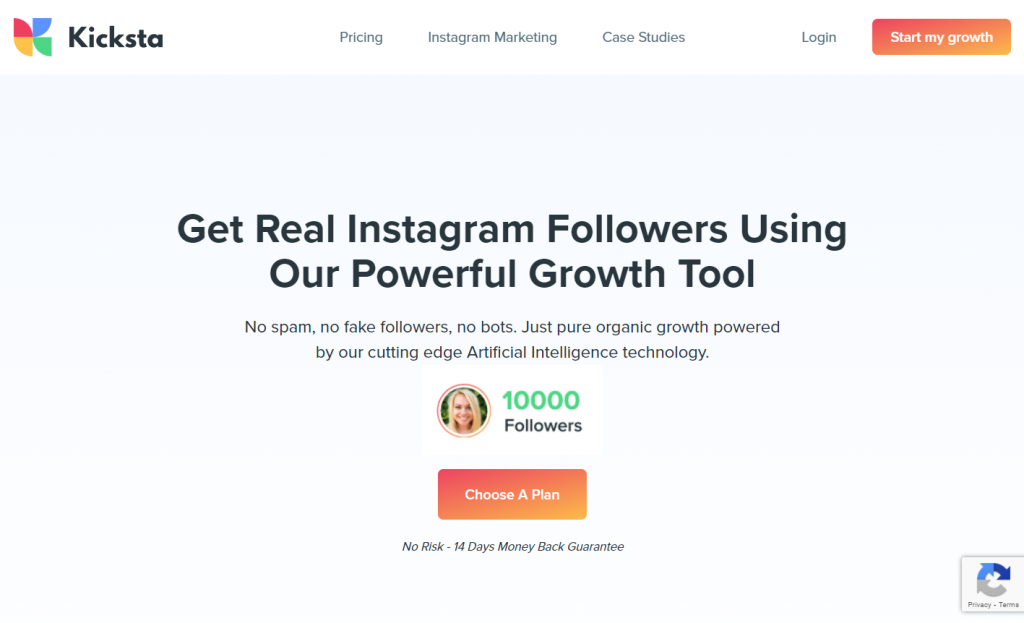 You can increase your following on Instagram by using the marketing tool called Kicksta. In the past, users had to manually go through accounts, liking and following everyone they believed might follow them back. This approach takes a long time and typically yields a much smaller ROI than most people anticipate.
You may optimise your Instagram approach and reach your target audience with the help of the AI technology used by this tool.
6. Gleam – For running powerful Instagram giveaways and contests
When it comes to running successful Instagram giveaways or contests, Gleam emerges as a powerful tool in your marketing arsenal. Gleam offers a comprehensive platform that enables you to effortlessly create and manage engaging giveaway campaigns on Instagram. With its user-friendly interface and robust features, Gleam makes it easy for businesses and marketers to boost their Instagram presence, attract a wider audience, and drive meaningful engagement.
With Gleam, you can leverage a variety of entry actions, such as liking posts, following accounts, or sharing content, to encourage user participation and expand your reach. The platform provides seamless integration with Instagram, ensuring that your giveaways and contests run smoothly while complying with the platform's guidelines.
Whether you're a brand looking to increase brand awareness or an influencer aiming to grow your follower base, Gleam equips you with the necessary tools to run successful Instagram giveaways and contests. Elevate your Instagram marketing game and achieve remarkable results with Gleam's intuitive features and comprehensive campaign management capabilities.
In order to promote small companies, Instagram is continually developing innovative features. So that you may get the most out of your presence on Instagram, you need a tool that also changes over time.
To help you choose the best option to expand your social media account, we have included a list of many Instagram marketing tools here that takes into account the various business sizes, experiences, and demands.
A few tips to use Instagram effectively to grow your business
Instagram is being used by brands to implement new marketing techniques. Find out how to use Instagram to make your brand stand out by reading these proven tips.
How long does a day's worth of Instagram scrolling take you? We are sure the answer is unlimited. If you own a business and spend a number of hours on Instagram every day, you may be able to use this fantastic platform to attract new customers and expand your brand.
But how do you go about doing it?
We're here to help, so read on for a few strategies that will be very helpful if you enjoy using Instagram for business purposes while also wanting to improve your Instagram following.
1. It's crucial to be consistent

Once you've established a theme for your Instagram page, it will look more appealing and organised. It's imperative to stick to the same layout so that posts don't get cluttered. You will find it much simpler to decide what to post next once you establish a pattern. Your followers will pay you more attention right away if your Instagram Feed account is organised well.
Additionally, always publish consistently. Your supporters will be aware of what to anticipate and will continue to engage with your brand in this way. To keep your audience engaged, you must post at least four times every week. Another strategy to maintain a constant and active Instagram is to hire a social media manager.
2. Embrace call to action in your content

Do you engage with your readers when you're writing your posts by using phrases like "Call Now!" "Limited Seats Available," or "Hurry"?
Making your audience more effectively and efficiently connect with you is the key goal here. By including a CTA in your captions, you must encourage engagement from your audience. Include prompts such as "Tag your friends," "Comment your answer," and "Let us know what you think."
3. Add an Instagram feed to your website

Instagram feed widget embedding on your website is a powerful approach to increase brand engagement with your audience. Let's say that, by coincidence, a prospective consumer came to your website rather than your Instagram. When customers notice your Instagram Feed on your website, they can become interested in it and get compelled to redirect to your profile.
Moreover, social media aggregator is ideal for embedding your Instagram feed on your website. You may embed and edit your Instagram feed to make it look better by using different colours, themes, and design layouts.
The tool also comes with a content moderation panel that can help you eliminate any unwanted content from your Instagram widget. The other highlights of the tool are advanced analytics, automatic content updates, and a support team for assisting users if they encounter technical issues while using the tool.
4. Utilize Instagram reels

Video content is one of the most powerful tools social media marketers have at their disposal. Not only can video content help to build relationships with potential customers, but it also provides valuable information and tutorials that can be helpful in promoting your business or product. New features on Instagram continue to astound users. Out of all the features, reels have proven to be the most frequently exploited because it allows users to produce films utilising amusing backgrounds and colours, as well as generally assist them in creating content that is interesting and attracts the attention of their followers.
For brands and marketers, utilising Reels is a terrific concept because it enables them to engage with potential customers more successfully through the use of films. A further well-known truth is that videos are 10 times more effective than their text-based competitors.
5. AR filters focused on brands

When seeking strategies to sell their products more effectively, firms frequently use Instagram.
Smart marketers and companies have started embracing innovation in their strategies, which is why they started implementing augmented reality into their marketing. It will help potential clients feel more confident about their decisions and pleased with the goods they receive.
AR filters are already being used by a sizable percentage of companies, such as those in the cosmetics, clothing, and accessories sectors, to assist their consumers in choosing the products that are most appropriate for them. In the upcoming years, this trend will undoubtedly take off in popularity.
6. Instagram stories used more frequently

Since its launch in 2016, Instagram stories have gained a lot of popularity. More than 500 million active users every day utilise Instagram stories. Gen Z and Millennials, respectively, make up about 25% of those who utilise the tool to find new companies and goods.
This feature is already very well-liked, and this year it will become exponentially more so as brands heavily rely on it to communicate with potential customers.
7. Go live!

Curate a script, collaborate with another brand or an influencer, and have an interview or a session about your brand with the live feature. Live means live so make sure you have a plan and work accordingly. The best part is Instagram always sends a notification to every follower when you start a live session on Instagram.

8. Categorise stories on highlights

As we already know stories stay on the profile only for 24 hours. You can add them to your highlights to save them on your profile for a longer period of time. Add a cover image and categorise your highlights to make them easily accessible and help users navigate through whatever they wish to see.

9. Employ story ads on Instagram

Target your audience and develop Instagram story ads to enhance your reach. Create an ad, throw a little money, and promote your brand. You can also promote a specific product or service. Add Hashtags, stickers, or a simple yet engaging message to encourage users to interact with your brand. Redirect them to your website or your profile, anything that suits you.
10. Use poll stickers in creative ways

People love taking polls on Instagram, it's not about providing their opinion about a brand, but they find it so engaging that relevancy does not matter to them. However, it does to us, so develop a series of stories asking their opinion and taking polls around your niche.

11. Promote products with product stickers

Got a particular you wish to promote? Try the product sticker available on Instagram and promote a specific product. Tag the product make it shoppable directly from Instagram or add a link to the particular product webpage. Add some hashtags, and other entertaining stickers with a high-quality image or video about the product to encourage your audience to tap on the sticker.

12. Understand user needs with question sticker

Ask particular questions, and give them the option to express their opinion freely. You can also tell your audience how available you are through Direct Messages. You can add engaging visuals to the story to make it look more appealing. Brand identity matters the most!
13. More relevance to Analytics

To get the intended outcomes, Instagram requires more than just uploading content, it also requires monitoring and tracking its success.
Utilizing advanced analytics to monitor your performance and keep your competitors' performance in check is essential for running a successful marketing campaign in 2022.
Brands can perform better and can make improvements in their weak areas by analyzing their performance.
14. Include giveaways & competitions

The best approach to grow your fan base and promote brand awareness is through giveaways. Free things are appealing to all people. Use consumer interest in your brand to your advantage. Make your Instagram feed interesting to draw viewers in. You'll produce high-quality leads in addition to enhancing your brand's visibility.
Among the 100 leads you produce, at least a few of them will probably end up making a purchase because they took the time to enter the giveaway and show some interest.
15. Put your customers in limelight in your posts and stories

When a customer buys something from you, give them a feeling of worth. It's fantastic if your consumers take the time to mention you in their posts and Instagram stories and seem to be satisfied with your goods or services. Make them feel unique; it's your moral responsibility to do so.
Start resharing their reviews on Instagram to start returning the favour. By doing this, you will increase your credibility and social proof.
Top 4 ways to get the competitive edge in the market for your small business with Instagram!
Most entrepreneurs owning a small business are aware of the need to reach out to as many people as possible within their target audience when it comes to selling their products or services. This is the only way they can ensure the growth of their establishments in the marketplace. Research shows that unless they take the initiative to maintain an active business profile of their organizations on popular social media networking sites, they are likely to lose out in this environment. Even experts admit that in the digital age 2 out of every three individuals within the age group of 18 to 65 years use such sites for various purposes. This makes social media marketing all the more important for such proprietors.

Experts say out of all the popular social media networking platforms on the internet, Instagram stands out in popularity. This is because of its simplicity, user-friendliness, and versatility. For entrepreneurs operating small businesses, this is a networking channel that they need to use to their advantage to achieve their objective in the marketplace. They also cite the following four critical reasons why these proprietors of such establishments should opt to take this course of action:
Instagram is a convenient photo-sharing application that people can use with their smartphones even when they are moving from one place to another. The visual content of this social media networking site sets it apart from other similar channels on the internet. It allows entrepreneurs to upload eye-catching images of the product or services they are trying to sell to the public to boost sales.
Instagram has enabled entrepreneurs to be creative with the marketing campaigns they launch for their target audience because of its user-friendly features like Instagram stories. This goes a long way in boosting customer engagement.
Entrepreneurs do not have to incur any costs for maintaining a viable business profile of their organization on this popular social media networking platform. This is a far cry from traditional modes of advertising.
Maintaining an active business profile on Instagram helps entrepreneurs to be aware of the latest consumer trends and fashions. This puts them in a better position when it comes to modifying their products to meet the needs of their customers.
Top 4 advantages of using Instagram for small businesses to promote their brand products
Social media marketing for small businesses can be a great way to connect with your customers and reach out to potential new ones. Instagram is a social media platform that has become increasingly popular over the years, not just for people to share photos of their everyday lives but also for businesses to promote their brand products. There are many reasons why using Instagram as a promotional tool can be advantageous for small businesses:

1. Enhances customer engagement
Instagram allows entrepreneurs operating small businesses to interact with the members of their target audience in a manner they could not imagine possible a few years back. Research shows people who have an active profile on this social media networking site are more likely to purchase in comparison to similar platforms on the internet. This allows such owners to connect with such customers, listen to what they have to say, and build a viable relationship with them. The number of real Instagram likes such owners get for the marketing campaigns they launch is an indication of the level of engagement they have with their customers.


2. Becoming aware of what their customers like
Entrepreneurs may not be aware that their customers may be sharing the eye-catching images and videos of their products with the people they know using Instagram. It is obvious the friends, relatives, and acquaintances of such individuals will view the comments and photos such individuals post using this application. This may even tempt them to try out such products themselves. Such a trend helps entrepreneurs reach out to a new audience.


3. Boost sales
Using this popular photo-sharing application to come up with a professional-looking image of the products such entrepreneurs are trying to enable them to enhance their sales. However, such owners need to be creative when it comes to displaying what they are trying to sell to the public and writing up catchy comments to attract the attention of their target audience.


4. Increases online traffic to their business websites
While it is not possible for entrepreneurs to insert clickable links to all the Instagram images they upload, they will notice this social media networking site generates a lot of organic traffic. They can even upload such content on other similar networking platforms on the internet such as Facebook and Twitter. In the long run, this trend helps to boost their business website rankings on the results pages of popular internet search engines.
The above four advantages go to show that Instagram is the ideal platform for entrepreneurs of small businesses to promote their products or services in the market. It allows such owners to interact with their customers in a manner they could not imagine possible and obtain constructive feedback from them. This goes a long way in enhancing the bottom-line revenues of their organizations.


Conclusion:
Approximately 500 million people use Instagram daily, according to research. Consider how many users you could reach if just a small portion of them interacted with and connected with your brand.
No matter what industry your company is in, whether it be a restaurant, hospital, fashion label, shoe store, or anything else.
Use the power of social media to promote your business instead of using other techniques like cold callings, cold mailings, and other outdated tactics. Go on now and include all these tips in your upcoming Instagram strategies to make the most of them.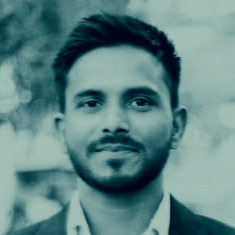 About Raj Kishore A digital marketing consultant at VOCSO. I've been working in digital marketing since 2010 and I am an expert at generating leads online via SEO, Paid Marketing, Social Media Marketing, Email Marketing, Site/Landing Page Testing and Optimization, and Display and Remarketing.