Did you know there are more than 4.7 billion social media users globally? That is a huge number that shows how useful social media can be for marketing. So, are you looking to have more sales or conversions with social media and want to find out the tools that can help?
Are you looking for one of the best social media marketing tools? If yes, your marketing never gets better than by using the top tools you can find online. So, the use of Buffer, Social Sprout, Sendible, and Buzzsumo is a must. And we are going to talk about the best features these tools have and you can use.
Best Social Media Marketing Tools to Keep Your Business Moving Forward
1. Buffer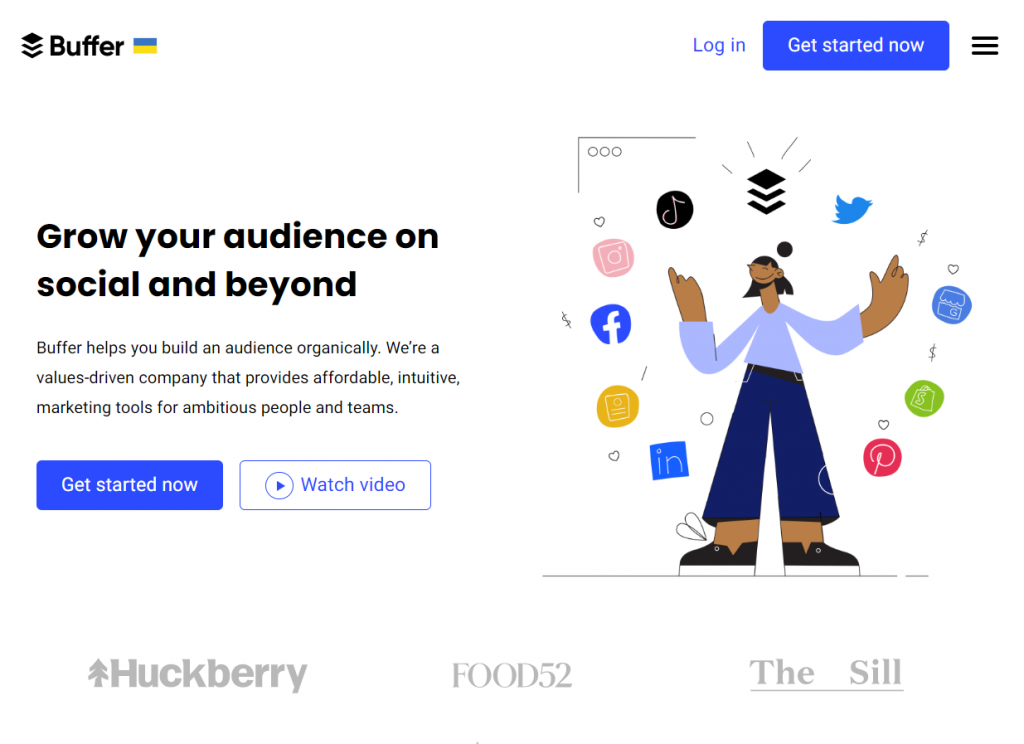 Buffer is a great social media tool that comes with so many huge benefits you can gain from it. It is one of the tools that are available in the extension and can be customized as well. You can use it for images and for adding text.
Try using text for your platforms that you can get by highlighting and selecting it. You can try to click an image to use by right-clicking it. At the same time, you can find the charts for the most active hours of the day. Try using metrics to improve, gain insights and recycle your content.
2. Social champ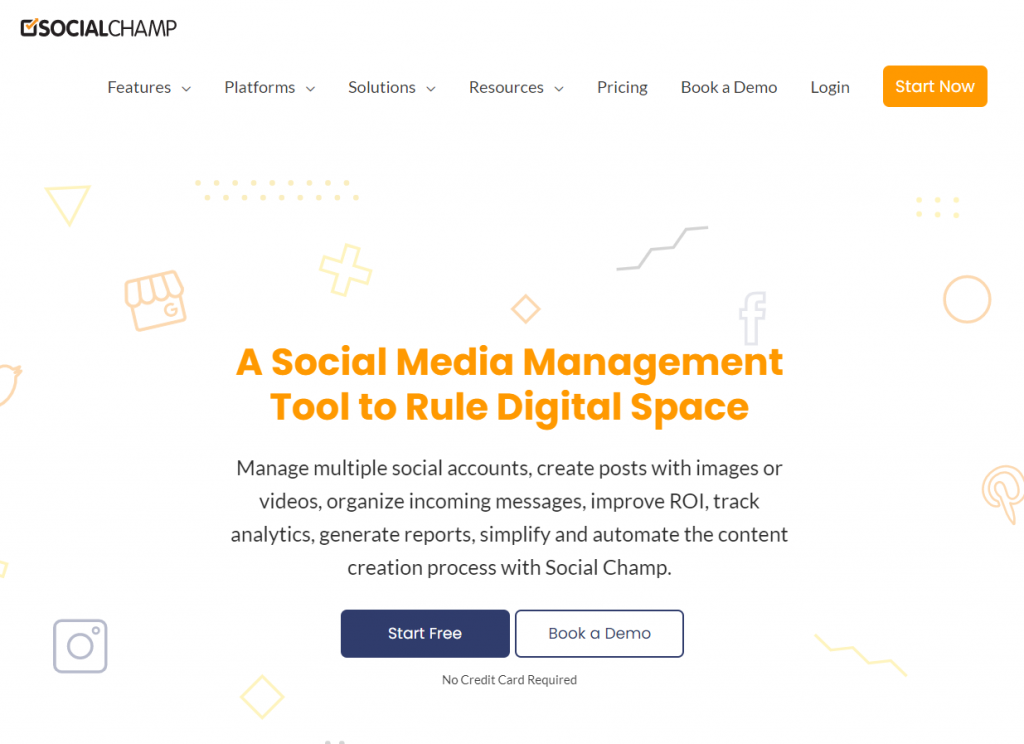 Social Champ is a great tool for social media campaign management. It allows you to reply to comments on any platform from one screen. So, you do not have to worry about any problems when you create content for these platforms.
Try using calendars and monitoring performance for your marketing. You can also try bulk uploading text, links, images, and videos for your channels. Analyzing sentiment for the post's comments can be a crucial thing to do.
So, you can use this tool to improve your understanding of your users' sentiments. This means you can get an insight into the comments your content is getting online. You can have better results once you understand their sentiment.
At the same time, you can try tracking and viewing social media posts for your content. This feature allows you to find what kind of content will be most beneficial and what you should try. It also has tailored scheduling and you can use its reports.
So, you can schedule content for any platform and publish your content according to your needs. This means you can publish more content without having any problems.
3. Sprout Social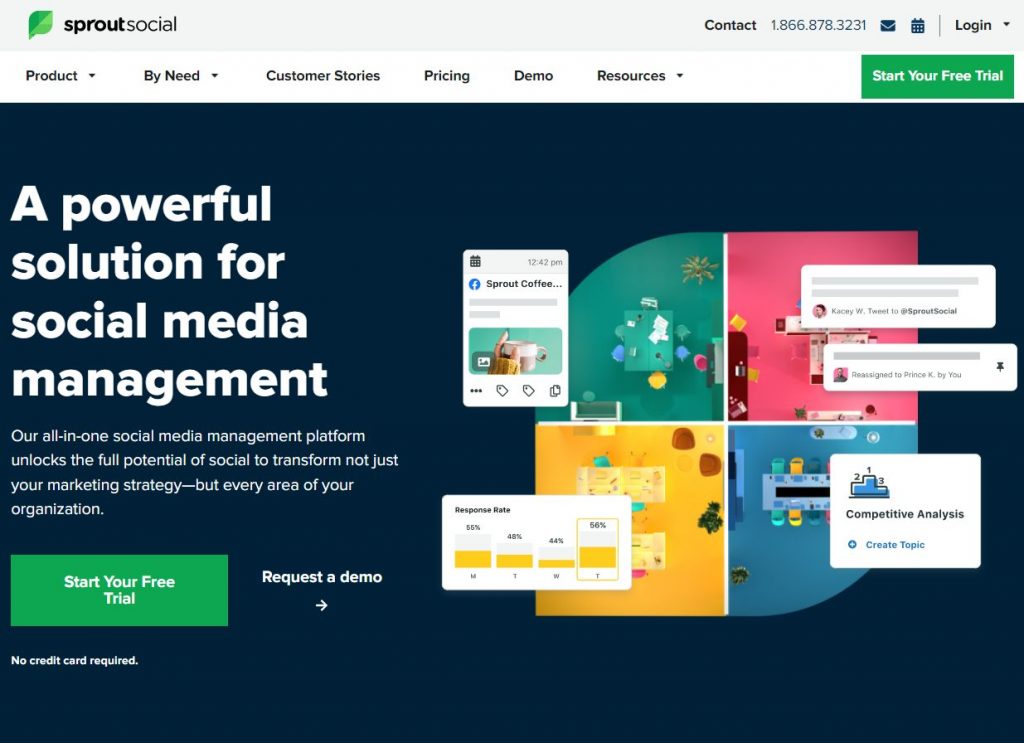 Sprout Social is another tool that you can use for pointing out trends to use. So, you can use these trends for creating content that gets you a lot of hype in your niche. It would also allow you to find indicators in your Twitter account and use chatbots for social platforms.
Social Sprout is a perfect tool to use for management and planning content creation. It can help you deliver social content in a smart inbox that you can monitor to find the best content. You can also try using personalized responses at scale with this tool.
4. Sendible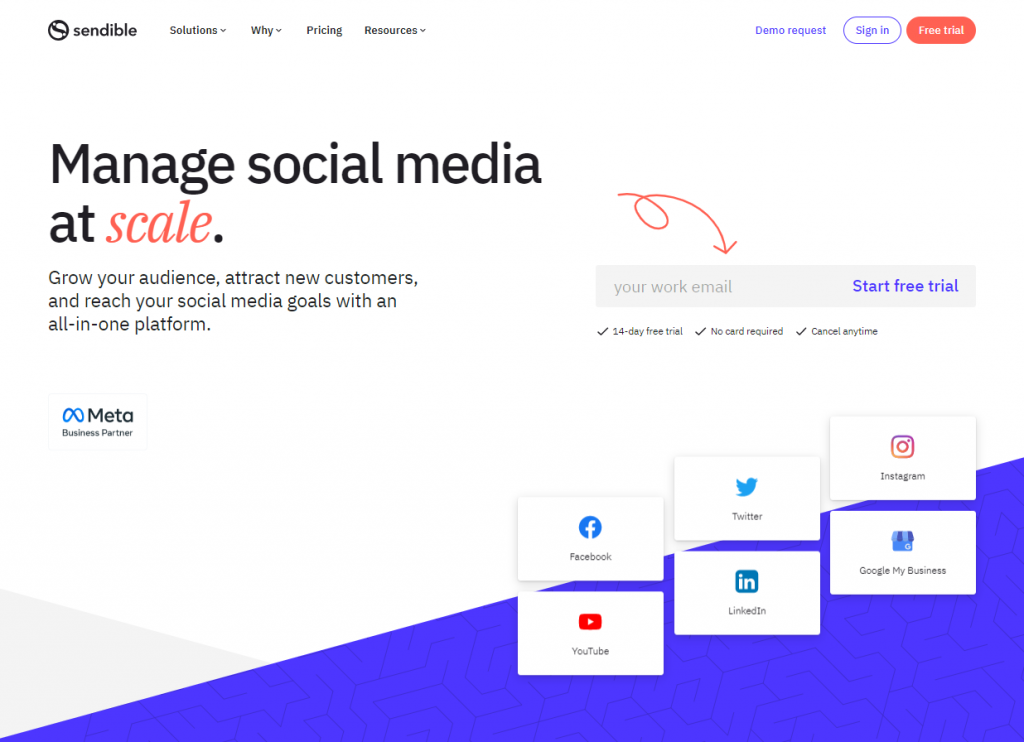 Using visual calendars can help your content creation teams collaborate better. So, the use of visual calendars can be super beneficial for your creation. At the same time, the usage of reports can improve your marketing results to the fullest.
This tool allows you to use visual calendars that allow better collaboration for content creation efforts. You can use it to create reports for your clients and let them know about your campaign progress. Moreover, you can respond to your brand mentions.
Finding out who is collaborating with your content can really improve your results and help you get more results. At the same time, Sendible allows you to preview your posts before you publish them. So, it's not difficult to publish content that looks amazing according to the platform you are publishing on.
You can find the right format for your posts and add colors that you wish to follow for your brand. This feature allows you to follow consistency which matters for brands heavily. At the same time, you can try using email notifications and use your domain for that.
The tool also allows you to manage multiple brand campaigns from the same dashboard. So, it is a great way to control most of your social activities from one single place. At the same time, your team can collaborate on this tool to improve your marketing results.
5. BuzzSumo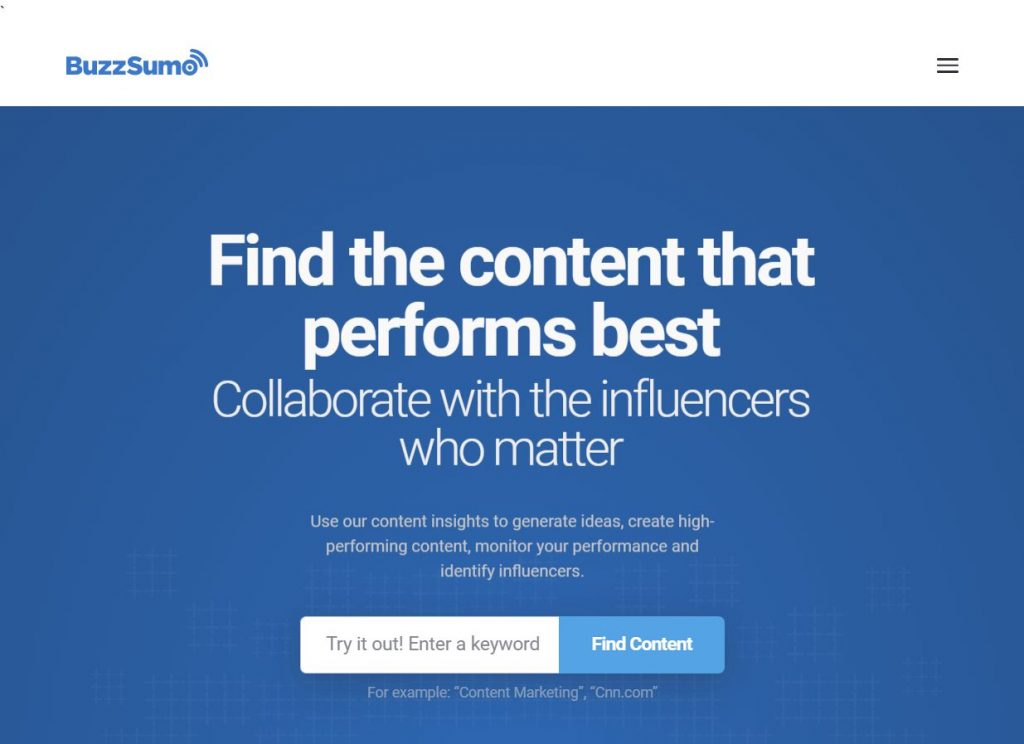 Buzzsumo is one of the most detailed software when it comes to trend-hunting for your brand. So, you can use it to find out what is trending on social platforms for your niche. It allows you to do reporting, get statistics and analyze content to the fullest.
It also has a tool that you can use for analyzing your content questions. Other tools include alerts for brands that matter incredibly, like mentions and backlinks.
Also, you can try some keywords to get alerts about them. You can also try to get author names for content and content from a certain website for understanding new trends.
It is a complete solution to finding out the best trends that you can pursue in creating content. BuzzSumo is also useful if you wish to find certain content with a specific date. It would work for Reddit engagements, Facebook engagements, and others.
Advanced search features can help you find multiple words for a certain query. It would also allow you to use URLs for a domain search and content by author name. You can also search for the Twitter username that shares the content you are looking for.
Using BuzzSumo for total, average, and average engagements by the network can be useful. You can try using the metrics of total engagements per day as well. The use of all these metrics can be super beneficial for brands looking to grow online.
6. Hootsuite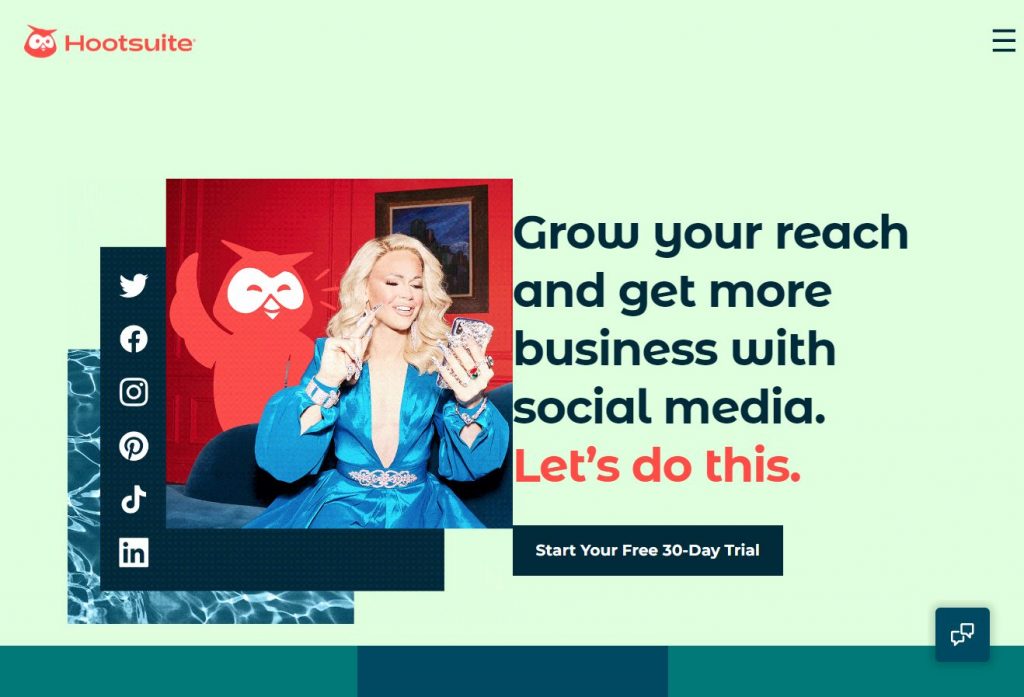 Hootsuite is one of the most famous tools known for providing a lot of help for social media marketers. It allows you to monitor your conversations on one dashboard. This feature allows you to find the best conversations that you can use for your marketing.
Hootsuite is one of the tools that allow you to post to almost all social platforms. Also, you can use keywords, posts, and hashtags. Scheduling posts is one of the best ways to get your marketing results, so use this tool for that.
It allows you to see media activity for relevant social activity. At the same time, you can use it for finding the top metrics for creating reports for your clients.
7. SocialPilot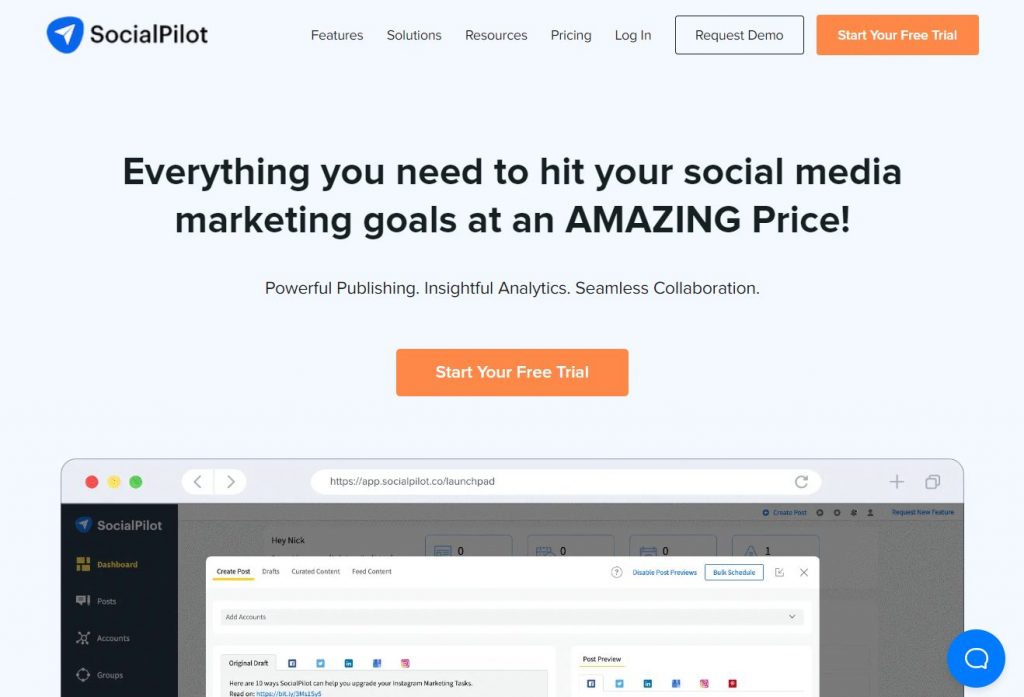 SocialPilot is an amazing tool that you can use for marketing and monitoring your campaigns. It allows you to analyze your results and create reports for clients. It helps you get relevant content and manage social media teams for work and schedule up to 500 posts at a time.
Scheduling these many posts for a certain time can be a great way to get more content for your marketing. You can also try creating calendars for 50-plus accounts for scheduling posts. Using it for shortening URLs can help your marketing efforts and make your content look special.
This tool allows you to get all of your conversations in one place and boost the best Facebook posts you find. It also allows you to visually market your content for better management.
8. MavSocial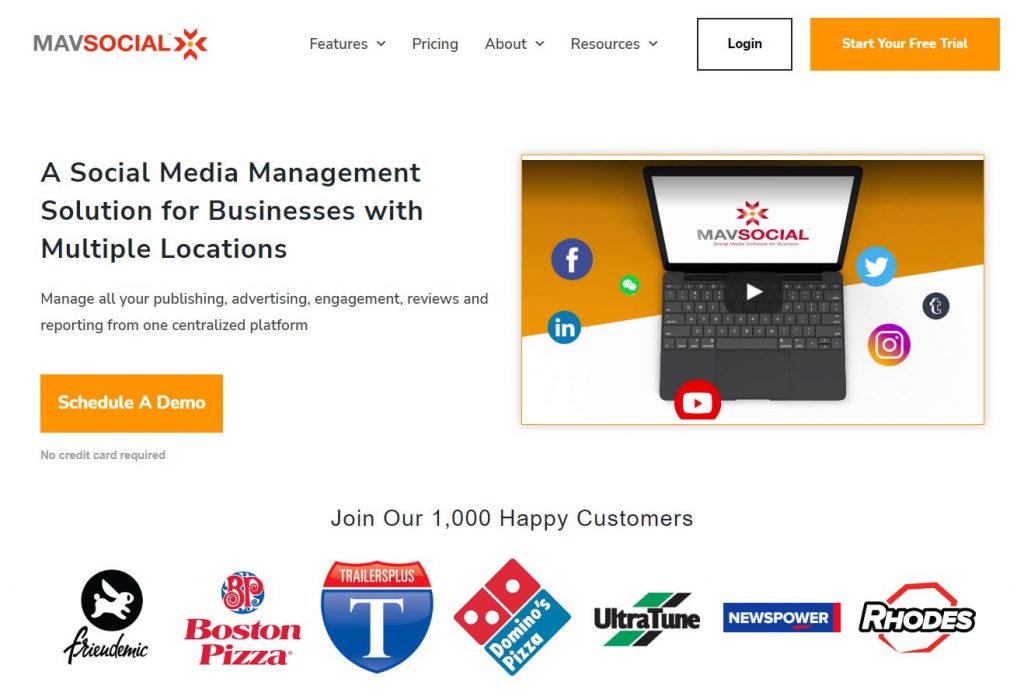 Mavsocial is a perfect tool if you are looking to amplify your posts. At the same time, it allows you to see messages, comments, and other stuff across platforms. Moreover, you can join the right conversations to promote your content campaigns and interact with users.
Using this tool can also help you retweet and post from the dashboard. Moreover, it allows you to automate your content creation and apply the filters that you wish to use. Using this tool for customizing and assigning messages is also available.
MavSocial allows you to plan your posts with a calendar and understand your actions like tasks completed. At the same time, you can find statistics for a certain activity and analyze it. Sentiment analysis allows brands to find out the right data about their new products.
So, the use of this tool allows you to get this sentiment information to make your content more useful. At the same time, you can use it for finding out what a certain post comment meant for your brand. It allows you to know if a certain comment was positive or negative.
Reports are a great part of many tools online that allows you to monitor and share performances. So, using reports can help you get an idea of how your campaign is going. It also helps you improve your campaigns to get better results on investment.
9. Sprinklr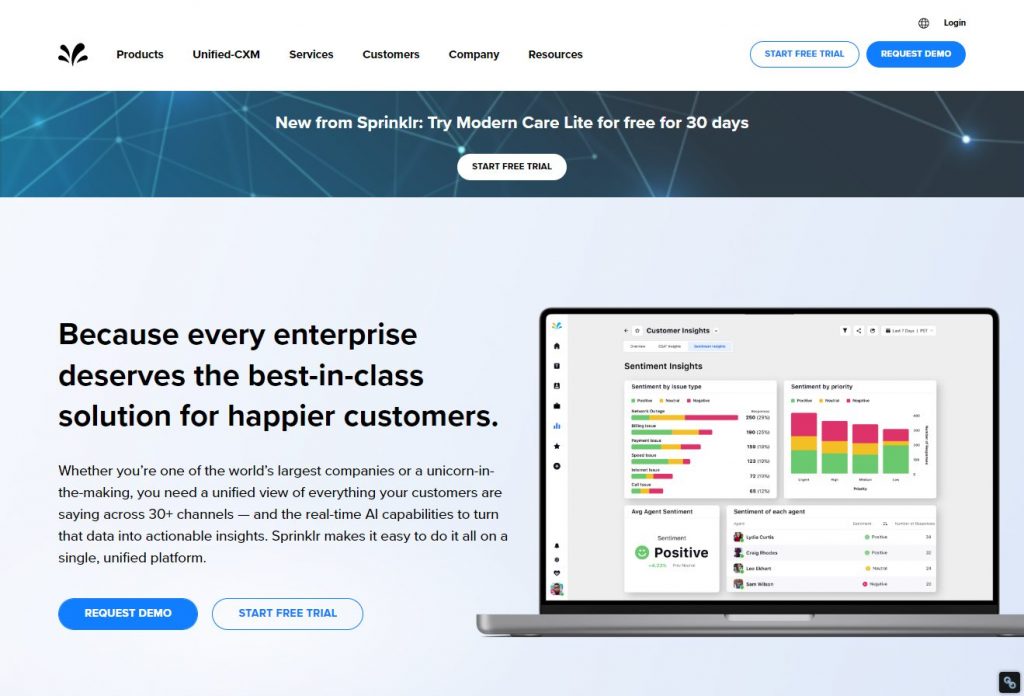 Using social media tools can help you find the top metrics that you can rely on for marketing results. So, you can identify the top trends and use data from several different channels. Using data from 30 plus channels can help improve your results.
You can analyze better when you can get data from several useful sources. These channels are the same and work perfectly well for your analysis. Sprinklr is perfect for knowing your metrics and identifying key trends in your niche.
You can get information and data from online and offline sources with it. It also helps you give insights to the whole team to improve your marketing results. Try using its reports to update when required and find opportunities for reusing content for your purpose.
Once you know the opportunities, you can grab them to get more hype for your brand or product. So, it is a great way to get more information about what you can do with your social channels.
10. Brandwatch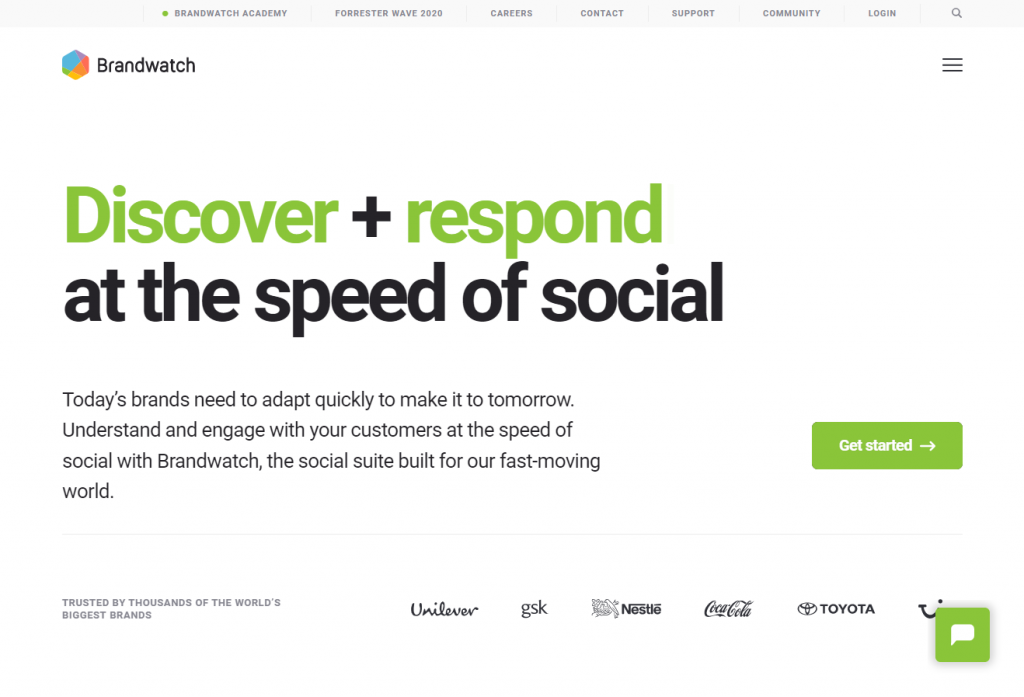 Brandwatch is a perfect tool that improves your marketing results as it allows you to analyze your results. You can monitor it for a better understanding of the content and it helps by using one inbox for all networks. It is great to go when you have one inbox for all social media.
You can manage workflows for your campaigns and teams. Such a collaboration is perfect for teams that want to achieve their marketing goals quickly. At the same time, it allows you to make decisions by using trends that work for you.
So, using this tool can be super beneficial for marketing efforts and for creating a following.
CrowdFire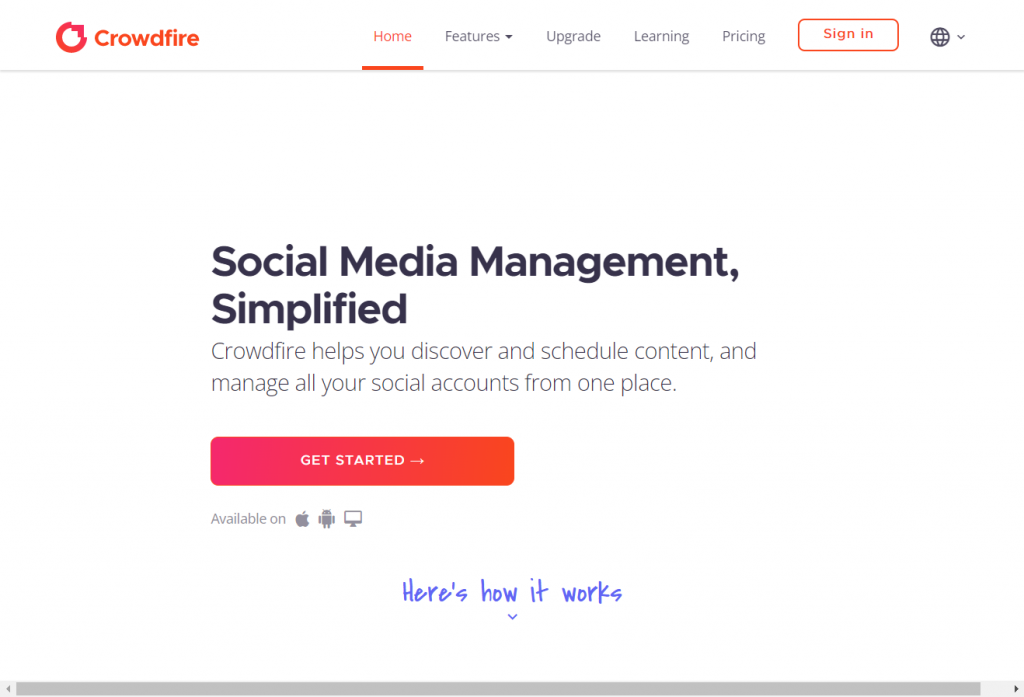 This tool is one of the best Instagram analytics software you can find. It allows you to track mentions to find out how well your social campaign is going. It allows more than one user to access the account and monitor the competition according to the performance.
It is perfect if you are looking for variation in pricing plans as it allows you multiple plans. So, you can use a plus package or a free plan for your campaigns to perfect your need for cost-effectiveness and efficiency. Try using its top plans if you want to achieve higher goals for your marketing.
This tool can help you get more Instagram real followers which can improve your overall performance. Such growth can help you get more credibility with a perfect reach and promotion.
10. Canva
As myself using Canva for the last 5 years for my social media management I would like to add this tool to this social media marketing tools list for 2023. Canva is a popular graphic design platform that has quickly become one of the major social media marketing tools. With over 100 million users every month and a team of 2,500 employees, Canva has revolutionized the way individuals and businesses approach graphic design for their social media marketing campaigns.
One of the reasons Canva is so popular is its ease of use and rebuild things. Even those with little to no graphic design experience can create visually appealing social media graphics and posts with a user-friendly platform. You can also create YouTube short videos by using this tool to grow your YouTube channel. With thousands of templates, design elements, and stock photos available, Canva allows users to customize their designs and make them unique to their brand.
Canva's ability to streamline the design process has made it a valuable tool for businesses looking to create professional-quality social media content quickly and efficiently. The platform's features, including collaboration tools and the ability to save and reuse designs, make it an ideal solution for businesses with multiple team members working on social media marketing campaigns.
Canva is available with free and premium plans. You can create engaging things by using Canva free plan. But if you want to create more engaging things and do not want to spend your time finding free resources on this platform then I will recommend taking the Canva premium plan. By using the Canva premium plan you can do amazing things just starting from $119 per year.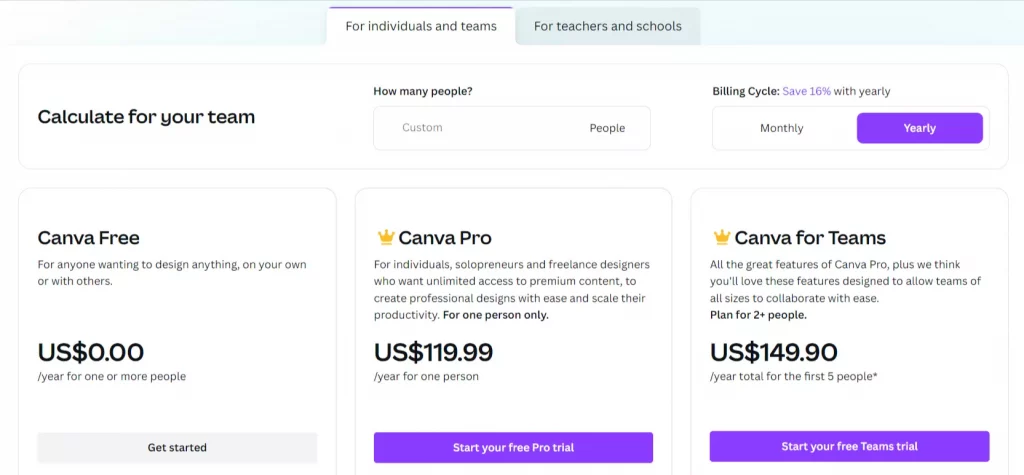 The staggering number of designs created on Canva every second, 80 to be exact, is a testament to the platform's popularity and effectiveness as a social media marketing tool. And with a revenue of $1 billion in 2021, Canva's success is only continuing to grow.
According to my experience with Canava, I would like to say Canva's accessibility, efficiency, and ability to produce high-quality designs have made it an essential tool for social media marketing. With its popularity and continued growth, it is clear that Canva will continue to be a major player in the world of graphic design and social media marketing for years to come.
How to Amplify Your Social Media Reach
Social networking promotion is basic in one sense. Make content that includes esteem and then pop it out to whatever number of individuals' eyeballs as could be allowed. In the event that you do it well then the group shares and it goes around the globe at the velocity of a tick. Get fortunate and it turns into a web sensation and those thousands transform into millions. Things being what they are, have you been investing energy in social networking and are searching for ways to expand your social networking range?
On the off chance that you've been an ardent client of social networking systems, I'm certain you've heard about the advantages and what it can accomplish for your business. So I won't be going down that street and "address" it to you. As opposed to doing that, I need to feel free to share a few tips and traps that have helped form my online networking span.
1. Share Useful Content
Likely the easiest and most fundamental step – however unquestionably one that you can't get away from – is the need to share helpful substance. On the off chance that you need to expand your online networking contact, you must be composing and sharing incredible articles, blog entries, tips, and traps that increase the value of your group always.
At the point when individuals observe that you are serving to them tackle an issue that they've been having or increasing the value of their ordinary lives, they are more inclined to not just subscribe to your site and tail you, yet they may additionally impart it to their adherents and fans and even discuss you in their web journal. Social profiles or sites that are fruitful have one normal likeness, which is every last one of them shares significant substance for their perusers.
Another tip to recall when posting substance is that you must be predictable. You can't be composing or sharing one day and vanish for the following month or two. You must be predictable so that individuals would recollect that you and recall to visit your online networking stages to get their upgraded substance.
2. Organize a Social Media Contest
An online networking challenge is an incredible approach to compensate steadfast adherents, fans, or perusers who have been tailing you for some time. It can be utilized to develop your online networking reach too.
Online networking challenges can be utilized as an inspiration for new crowds to share or unite their online networking profile and messages. Online networking challenge stages like Binkd do not just accompany an email-catch capacity where individuals would need to fill in before joining a challenge, however, it additionally accompanies an offer or tweet button to get individuals to share the challenge.
And since your objective would be to get however many new contacts as could be expected under the circumstances, Binkd has made it so that, for Facebook challenges, members will be spurred to allude to some of their loved ones as they would have the capacity to get another passage when somebody they allude chooses to participate in your challenge. This implies that when more individuals alluded join your challenge, the more sections they acquire.
For Twitter challenges, fans would need to tweet to accept their entrance helping your challenge become a web sensation and expand supporters.
3. Guest Post
Visitor posts (like this one) are an incredible approach to expanding your achieve, it helps you to achieve perusers that you lacked the capacity to reach beforehand by taking advantage of a new group.
My similitude for visitor posting is similar to being welcome to talk at a completely stuffed meeting. Preceding the gathering, relatively few individuals may know who you are or what you do yet after your discussion; individuals will think about you and will no doubt need to know all the more about you and your business.
Support is an extraordinary case of a startup that has utilized visitor presence to increment its achievements, customers, and deals. Visitor posts alone helped them build their customer base to more than 100,000 individuals in a year.
4. Learn How to Maximize Your Marketing
Each informal organization has its little ways to amplify your promotion. Every interpersonal organization has its qualities and usefulness, and one of the missteps a great many people do is posting the same careful arrangement of messages to EVERY informal community.
Why would that be an enormous misstep? Since each informal organization is improved in an unexpected way. For instance, individuals use Twitter hashtags to expand their reach, however, no one uses hashtags when posting on Facebook.
On Facebook, pictures function admirably to draw in consideration and expand reach. In any case, individuals have a tendency to disregard this and conclude that it's okay to post tweets with hashtags and connect it to their Facebook status. Not just does it not work, but the issue is they are posting the slightest viable sort of substance on Facebook.
5. Join Twitter Chats
A Twitter talk is similar to a gathering examination reproduced by 100! It's a "visit" held amid a specific time and day where Twitter clients would get together to talk about a specific topic and share their own particular thoughts, tips, and musings utilizing a specific hashtag.
It's additionally an incredible approach to expand your online networking reach and get saw when relatively few individuals know who you are. Taking after the individuals who are on Twitter talks helps you to take after pertinent individuals in your business sector too. There are numerous Twitter talks accessible out there. Here is a HUGE rundown of Twitter talks.
6. Use Infographics
Here is a bit of mystery that I adapted on a webinar by Kissmetrics, it is no other than infographics! On the off chance that you take after this site nearly, you'll see Kissmetrics utilizes infographics as a part of their posts. They have utilized infographics to develop their online journal and it has brought them more than 2 million visitors.
7. Optimize Your Social Presence
First and preeminent, you must verify your vicinity is streamlined. Verify the bios/profiles for your online networking records are finished and that they incorporate clear and succinct portrayals of your business, your organization logo, and your site URL.
8. Promote Your Social Presence Everywhere
And by all around, we mean all over the place – on different pages of your site, on your website, on signage in your storefront in case you're a neighborhood business, in print promoting, on your business cards, in your email advertising messages. Numerous social networking locales now have authority "take after" buttons you can incorporate on your site and online journal. If not, you can make your own particular button and connection it to your online networking record. Twitter, for instance, offers an authority take-after button that empowers your site visitors to turn into Twitter devotees with only a single tick!
9. Find, Follow, and Build Relationships with People in Your Industry
Use tools like Twitter Search, and Twellow to distinguish other Twitter clients in your industry. Begin tailing them, taking an interest in discourses, and participating in discussions. Discover and take after other compelling bloggers and retweet their substance. Take after back any individual who tails you. Take part in Twitter visits and hashtag discussions like #FollowFriday. Begin taking after a portion of the individuals your supporters (and the individuals you're taking after) are taking after, too!
10. Add Social Sharing Buttons to All Your Content
Just as you ought to be advancing your social vicinity in whatever number of places as could be allowed, you ought to additionally be empowering your site visitors and email endorsers to impart your substance to their own systems as effortlessly as would be prudent. Include social sharing buttons to the greater part of your substance – on individual website articles, in email messages, on landing pages for digital book and webinar downloads, inside of the pages of your ebooks, and so forth. By evangelizing your crowd to share your substance, you can possibly achieve a more extensive group of onlookers that augments beyond your immediate system of fans and adherents.
Final Thoughts
We discussed some of the top social media tools that work for analysis, monitoring, and scheduling. Using these tools can help you reach your marketing goals in a quick and more efficient way.
Tools like Sprout Social, Hootsuite, Sendible, and BuzzSumo can help marketers reach their goals. All of these tools mentioned can be useful with their own specialties that matter for marketing. So, the use of these marketing tools can perfect your results for better reach.
So, using them can improve your return on investment and solve your difficult problems with ease. Some top features of these tools include better monitoring, better scheduling, and improved return. Using these tools can also help you identify the best trends in your niche.
This feature would allow you to get the best results with amazing opportunity identification. So, using it can be super beneficial for brands who believe in monitoring trends. These tools improve your results as a marketer and can help you understand your strengths and get results.
Social Champ, Sprout Social, Sendible, BuzzSumo, Hootsuite, SocialPilot, MavSocial, and Sprinklr are among the top tools to try. Using these tools can help you get the right results with impressive marketing gains for your brand.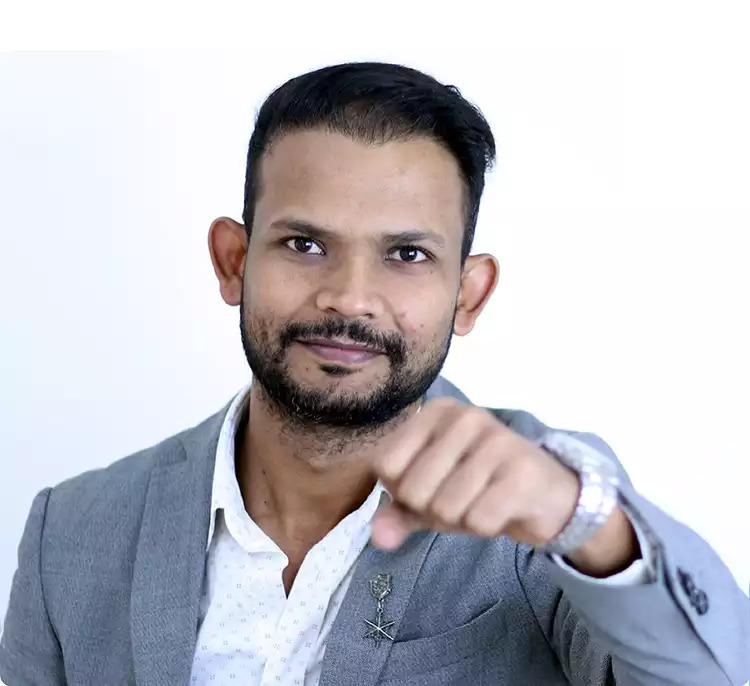 About Deepak Chauhan Hi, I am Deepak Chauhan, a Digital Marketing Strategist. I'm the CEO & Co-Founder of VOCSO Digital Agency, a creative web design, development, and marketing agency based in India & USA.