Have you always had a feeling that website designing is expensive? We get this question from time to time and for good reason. The average cost range for a web design can be $100 to $40,000 or more from anywhere. A website design cost for a small business may vary for a DIY with website builders based, designed by an in-house designer, a freelance, and a web design agency.
Also, the cost will depend on the type of websites, templates vs custom-based design, no. of pages, designer experience, agency type, etc. It can be hard to put into words just how much creating your very own site costs – there are so many different factors involved in the process!
That's why we decided it would help if someone took the guesswork out of these numbers by providing accurate estimates on how building an entire business online will set you back as far as web design trends go today (and beyond). Let's see how different methods of designing a website can affect the cost of designing a small business website in 2023.
Methods of Building a Website: Cost of Website Design for Small Businesses
There are various methods of creating a website like using a DIY tool or hiring an in-house designer or agency. Most small business owners want to save costs when building a website for their small business. They select a website design method or service based on their budget.
Some small business owners choose the DIY method to design and developed their websites to save the cost. Some prefer to hire a freelancer or a web design agency to build their website. Some businesses that want to make their unique presence and have a decent budget then they choose custom website design services.
Designing it yourself might be cheaper but won't give you as much control over what goes into making up this site's look & feel – plus there are legal issues with using copyrighted images or content without permission which could end up costing extra time wasted getting rid off unauthorized references even before construction begins.
Here we'll discuss different types of website design services available for small businesses and the costs involved with these different types of services. So, no matter what methods you're using, ensure you follow modern web design principles when designing your website. Following are the methods of building a website.
1. In-house designer
The bottom line is that in-house design feels safe. It's a tried and true method for managing design.
In-house designers are individuals who have a place with the organization's staff. This sort of participation, like any other method, has its peculiarities like the following:
Monetary transparency: If you employ a planner in-house you realize precisely the amount you should spend routinely. Interestingly, while employing an agency, organizations are generally worried about the degree of transparency
Control: Controlling every activity inside the group (and consequently the method and expenses of designs) is more specific than crafted by an agency
Inclusion: In-house designers are more engaged with all processes, and they have a superior comprehension of the item, values, organization culture, and brand theory which can help in making good designs.
Pros of In-House Designer
Cons of In-House Designer
Convenient
Efficient
Flexibility
Friendly Relationship
Cost-inefficienciesTime
Disadvantage
Burdensome
Limited view of the overall perspective
2. Hire a freelance web designer
The most well-known strategy for website design, recruiting a freelance designer, balances cost and the nature of the result. It's additionally a steady center ground between doing everything yourself and not doing anything yourself.
Employing a freelance web designer is to a greater degree a joint effort and less like outsourcing. You or somebody in your group needs to clarify your organization's vision and some foundation in the plan that helps in communication.
Additionally, you and your organization should initially know what you need, with reasonable assumptions and informed plan choices. If you leave all your plan choices up to your designers, odds are it will turn out differently in contrast to what you anticipated. Yet, have confidence, that an expert will make something both useful and gorgeous.
One thing to remember, however, is that assuming you require heavier upkeep than typical, you might need to consider recruiting an in-house designer. But a Freelance web designer turns out best for most sites,
Pros of Hire a freelance web designer
Cons of Hire a freelance web designer
✓ Cost savings
✓ Access to specialized talent
✓ High-quality work
✓ Faster deliverable
✓ Company risk reduction
✓ Lack of Supervision
✓ Unpredictable Quality of Work
✓ Lack of Ability to Train a Freelancer
✓ Lower Investment in the Compan
✓ Aren't as Loyal as Full-Time Employees
3. DIY using a template site or a website builder
Websites like WordPress, Wix, Squarespace, Weebly, and Shopify are introducing another time of DIY website design, permitting anybody to fabricate and deal with their webpage for insignificant expenses. Template Monster additionally offers a wide scope of site layouts planned and created by field specialists.
The foremost preference you make is which site to utilize. Various sites appeal to multiple styles and businesses; Shopify is solely eCommerce, WordPress hosts an enormous local area for third-party designers for more customization choices, and so forth
These sites target individuals with almost no earlier plan information, so their ease of use is operated around convenience, regularly with intuitive usefulness. Designing inability shouldn't dissuade you from utilizing one of these sites, however assuming you want a few progressed plan procedures, you ought to consider your very own time interest in investigating and learning.
How these sites work on such a complicated cycle is through templates. A large portion of these sites are organized around template parts, prior topics, and additional items; you either pick one of a progression of presets or download the specific choices and features you need.
The disadvantage is fewer choices for customization. If you have new or unique thoughts, layouts can smother inventiveness; you're restricted to what in particular has effectively been done previously. While in some cases you find the ideal piece or improvise something near your vision, generally you're left frustrated in the wake of squandering hours perusing inventories. Also to exacerbate the situation, there's the likelihood that different sites (might be involving precisely the same parts as you are.
Pros of using a template site or a website builder
Cons of using a template site or a website builder
✓ It's fast.
✓ It's inexpensive
✓ It's simple.
✓ It's inbound-friendly.



✓ You can't be too picky.
✓ You'll have to be flexible with your branding
✓ You'll be paying for support.
✓ You'll be doing more work than you might expect
The best cost-effective template-based website builders and their cheapest subscription costs are:
| Site Builder | Pricing, per month |
| --- | --- |
| WordPress | $4 |
| Joomla | $199 per year |
| Drupal | $5 |
| Weebly | $6 |
| One.com | $2.49 |
| Ucraft | $10 |
| Webnode | $3.95 |
| Wix | $80 |
| Jimdo | $9 |
| Templatetoaster | $49 |
| HostGator | $9.22 |
| Dreamhost | $3.95 |
4. Work with an agency
Hiring a web design agency to design your site is the best way possible. You get all of their talents, but at a price – you are paying for web development costs and extra benefits like having team members who specialize in different fields so that they can help make sure everything falls into place seamlessly on deadline.
An example would be if someone wanted some graphic work done while also hiring another individual specialized exclusively in content writing or SEO engineering; this gives clients more flexibility than trying to do both themselves because there's no need whatsoever when working alongside professionals
Agencies offer a number of advantages for those looking to outsource their work. Once you sign on with an agency, your job is more or less done as they handle everything from start to finish! You can still oversee progress and give notes if needed but will not have the hassle involved in managing day-to-day tasks which could take up valuable time when really this project has been purely about getting something made without worrying about too much detail-oriented stuff.
Pros of hiring an agency
Cons of hiring an agency
✓ You get more value for the money spent
✓ A deeper and wider understanding of the industry
✓ You get your website designed Faster
✓ You get a unique website design
✓ A higher level of user experience
✓ Any features you can imagine
✓ Unlimited growth
✓ Better SEO involvement
✓ Collaborative Work Environment
✓ Access to Resources
✓ Miscommunication
✓ A web design agency will initially cost more
✓ Time will not be on your side
Website/Business Type: Average Cost for a Small Business
A business site can cost a huge number of dollars.
Website composition costs for business sites, for instance, range from $2,000 to $75,000, while yearly site support can cost $400 to $60,000. These costs, in any case, do rely upon the size and highlights of your site. Contingent upon your site, you might save money (or more) than these evaluations.
Consider the average cost for website construction by business type, below.
| | |
| --- | --- |
| Type of Website | Cost to develop ($) |
| Landing page | 1000-3000 |
| Portfolio website | 2000-4000 |
| Blog website | 2000-5000 |
| News website | 3000-4800 |
| Corporate website | 3000-6400 |
| Directory website | 3000-12,000 |
| eCommerce website | 2000-40,000 |
| Web portal | 3000-48,000 |
| Educational website | 2000-40,000 |
| SaaS website | 2000-48,000 |
| Entertainment website | 15000-64,000 |
| Marketplace website | 20000-50,000 |
| Social media website | 50000-80,000 |
Other Factors – Additional Website Creation Costs
Regardless of whether you're hoping to send off a shiny new site or update your current website, your business needs to consider some website composition and advancement costs. These expenses are regularly one-time expenses, which means the amount it expenses to fabricate a site is frequently more than the amount it expenses to keep a site. For understanding, it better look at the table below
List of other various cost factors of website design
| | |
| --- | --- |
| Factors | Average Costs |
| Domain Name | $2 – $20 |
| SSL Certificate | $0 – $1,500 |
| Website Hosting | $24 – $10,000 |
| Style or Theme | $2,000 – $15,000 |
| Custom site layout | $15,000 to $30,000 |
| Interactive Multimedia | $250 – $10,000 |
| Content Management System (CMS) | $2,000 – $25,000 |
| Ecommerce Functionality | $2,000 – $25,000 |
| Database Integration | $2,000 – $25,000 |
| No of Pages (1 to 250 pages) | $1,000 – $10,000 |
| Copywriting | $50 to $500 per article on average |
| Custom images & graphics | $50 to $500 |
| Custom logo | $500-$1,000 |
| Premium plugins | $100-$200 |
| Stock photos | $50-200 |
| | |
Before You Start: How to Reduce Your Small Business Website Design Cost
Building a website can be one of the most exciting things you do. And we're not just talking about your basic personal page on Facebook or Twitter, either! A professional site with all sorts of cool interactive features and tech-savvy design will make an impact
The internet has become such a large part of our daily lives – naturally, people want their own websites too… But don't get ahead of yourself before considering what kind might work best for them As tempting as creating something new may seem at first glance though, there are some precautions that should always go into place when designing
1. Start small
Building a website is an exciting but also scary experience. Many things might go wrong and it's easy to get lost in the technical details when you first start out, so make sure not only to do your research before starting – take some time for practice! You can find free tutorials online or cheap tools that will let even those without too much knowledge learn how to create sites quickly enough (before investing in anything more than just enthusiasm).
2. Be realistic
When you're just starting, it's important to have realistic expectations and not get carried away with dreams of what your website might be like in the future. Though there is nothing wrong with big plans for websites – they are always welcome! But if this will become an issue down the road when looking back on them or reflecting upon how much work went into creating these things- remember: don't set too ambitious goals early so everything becomes overwhelming before you even begin building anything
3 Ask the right questions
There are other questions you need to ask to find answers and keep an overview
What is my actual budget?
Your budget shouldn't hold you back, but it should affect your creating options. For example, if you are on a tight budget, you may not be able to afford a professional web designer, which means that you should choose WordPress or a website builder, instead of risking hiring someone
Making a solid budget before you start is essential to success. This means you won't overpay for something you don't need, and it will also help keep your project on track.
Always be realistic when setting your budget. Don't start with all the fancy features you want and try to raise funds. Calculate how much you have to spend, then consider what you can get for your money to plan your project.
How do I want to manage my website?
You can choose to manage your site yourself or entrust a developer to free up your time.
The advantage of self-managing a website is that you don't have to wait for the developers to make changes – you can make changes to your site at any time. However, this also means that you need to be careful about the actions you take on your website.
For example, if you have a custom website, you may find that installing certain plugins can affect your custom code and break parts of your site, then you need to hire a developer.
In terms of website costs, it can be more expensive to let a developer manage your site, as you will have to pay an ongoing fee to have them running your website.
What features do I need now?
It is natural to want everything when planning your website. But getting to a complex site for the first time can be more trouble than it should be. You don't need a website full of singing and dancing to get work done or make money.
Rather than attempting to make a site excessively confounded, be straightforward. What elements do you truly require at the present time? What are the elements your site can't work without?
Separate your thoughts into three areas:
What credits do you want now to get your site fully operational?
what features do you need later?
What does it require an update to keep it acquiring changes?
Scrutinizing each element will assist you with making a lean, functional site that spotlights taking care of business, rather than with nothing to do and only attempting to dress it up to something over the top and neglecting to focus on your ultimate objectives.
Your business will not come up short if you don't have the most wonderful, great, and complex site. Trust us – center around making a site that marks the fundamental boxes for your guests and you'll be looking to do wonders
Expensive website design & development mistakes to avoid
Whether you're using DIY, freelance designer, web design agency, or other methods of creating your website, you must avoid these mistakes that can be hugely expensive for your business:
1. Faulty technology
When you're just starting, it's important to have realistic expectations and not get carried away with dreams of what your website might be like in the future. Though there is nothing wrong with big plans for websites – they are always welcome! But if this will become an issue down the road when looking back on them or reflecting upon how much work went into creating these things. Choose the technologies for your website carefully so you can enhance them in the future and save the cost. Faulty technology can cause bad accessibility and user experience.
2. Incompetent idiots
Hiring the right person is crucial to your success. If you don't take time and energy into finding out who will be best for this project, then it could cost more than just money because wasted resources are also precious opportunities lost – so make sure before giving any job offer that there's no way they can mess up or let someone else do their work better by being overqualified.
3. Bad advice and information
While the idea of making money quickly is tempting, it doesn't happen in a day. It's easy for people who have little or no experience with industry to fall victim to their own enthusiasm and buy into these schemes just because they sound too good to be true – but there are always side effects associated with any type of investment that doesn't show up until later down the road when you try harder than ever before only see minimal results from your hard work instead.
Frequently Asked Questions (FAQs) – Average Cost of Website Design for Small Businesses in 2023
A. What are some cost-saving alternatives to professional website design?
There are a few cost-saving alternatives to professional website design that small businesses can consider. One such option is utilizing website templates or themes. These pre-designed templates offer a range of styles and layouts that can be customized to suit the business's needs.
Platforms like WordPress, Squarespace, and Wix provide access to a variety of templates, some of which are free or available at a lower cost compared to hiring a professional designer. Additionally, businesses can explore open-source content management systems (CMS) like Joomla or Drupal, which provide flexibility and customization options without the expense of hiring a designer.
Example:
A small boutique clothing store, looking to establish an online presence, chose to use a WordPress template to create their website. They selected a template that matched their brand aesthetics and made minor customizations to reflect their unique offerings. By utilizing the template and making the modifications themselves, they were able to save significantly on design costs.
B. Can I update and maintain my website myself to reduce costs?
Yes, it is possible to update and maintain your website yourself to reduce costs. Content management systems like WordPress, Joomla, and Squarespace offer user-friendly interfaces that allow business owners to easily make updates and add new content without any technical expertise.
These platforms provide intuitive editors where you can modify text, and images, and even add new pages or blog posts. By taking on the responsibility of website maintenance and updates, businesses can avoid ongoing costs associated with hiring a web developer or designer.
Example:
A small coffee shop owner wanted to keep their website up-to-date with daily specials and promotions. They used a website builder that allowed them to log in and easily modify the content whenever needed. By taking a few minutes each day to update the website themselves, they saved both time and money.
C. Are there any ongoing expenses after the initial website design?
Yes, there are ongoing expenses to consider after the initial website design. Some common ongoing expenses include:
Domain and hosting fees: Businesses need to pay for the domain name (e.g., www.example.com) and hosting services to keep their website accessible on the internet. These costs usually occur on an annual or monthly basis, depending on the service provider.
Maintenance and security: Websites require regular maintenance, including updates to plugins, themes, and the CMS itself. Additionally, investing in security measures, such as SSL certificates or website security services, helps protect the website from potential threats.
Content updates: Keeping the website content fresh and engaging may involve expenses related to content creation, such as hiring a copywriter or graphic designer.
Example:
A small consulting firm had an initial website design project that included the creation of their website and hosting setup. However, they also opted for ongoing website maintenance services offered by their web design agency. This monthly retainer covered regular updates, security monitoring, and technical support to ensure their website ran smoothly and remained secure.
D. How can I ensure my website design aligns with my brand identity?
To ensure your website design aligns with your brand identity, consider the following steps:
Define your brand: Clearly articulate your brand's values, personality, and target audience. This understanding will serve as a foundation for your website design.
Consistent visual elements: Use consistent branding elements such as logos, colors, typography, and imagery throughout your website. This consistency reinforces brand recognition and creates a cohesive user experience.
Reflect on your brand's tone and voice: The language and tone used on your website should reflect your brand's personality and communication style. Whether it's formal, friendly, or casual, it should resonate with your target audience.
How VOCSO can help you?
We're a leading digital agency that creates one-stop solutions for all your end-to-end business demands. We have passionate creatives who look at their work as an opportunity for expression and creativity combined with professionalism to build the perfect solution tailored uniquely according to your needs which we know is important because it often leads us into successful conversations about our services or products offered by clients alike. We've designed affordable web design packages for all sizes of businesses. We can help your business with our different types of services listed below:
We also provide dedicated resources for hire:
How much does an average website design cost? Conclusion
Your time is valuable, so when you're making the decision on how to spend it best between designing your own site or hiring a professional designer with years of experience in web development just know that this isn't always an easy choice. If finances are tight then going through all these steps yourself may seem like too much work but if money isn't really something holding you back from pursuing what could potentially be one-of-a-kind opportunities for creativity and personal expression then spending more might end up being worth every penny spent!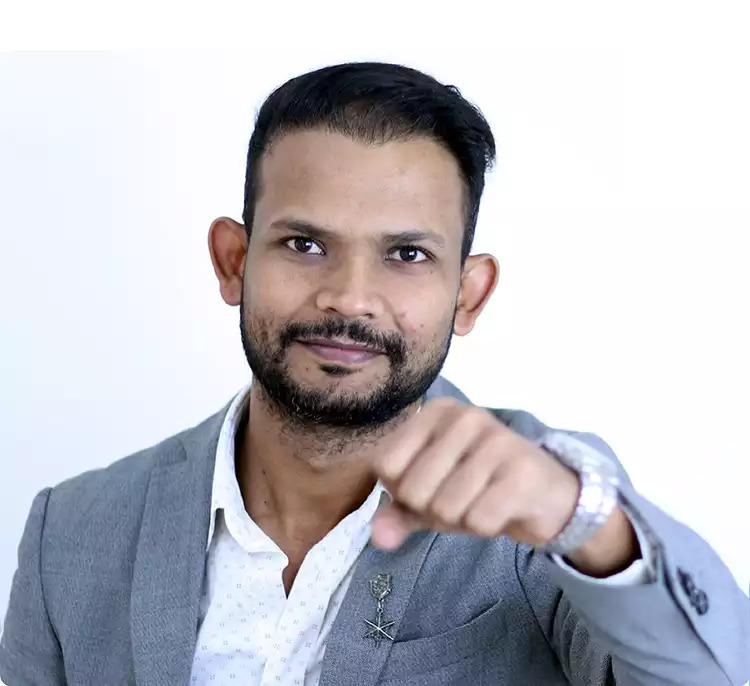 About Deepak Chauhan Hi, I am Deepak Chauhan, a Digital Marketing Strategist. I'm the CEO & Co-Founder of VOCSO Digital Agency, a creative web design, development, and marketing agency based in India & USA.