Every course creator desires that their brand is up on the list during an online search. In order to achieve this, effective Search Engine Optimisation (SEO) is required. The aim is to be autonomous with your strategy, without having to commit to ad purchases or continuously monitor social media. Using crawler based intelligence will drive further traffic to your website. This is especially important and useful for course creators so that your educational content gets found easily with increased visibility. The marketing strategy here will enable you to harness the full potential of your audience by driving traffic. Focusing on keyword intent will also speed up your page load times, making your site even more appealing to people. Plan and create your course without any hassle of paid ads, save money and satisfy Google. Their algorithms will help to rank your searches higher. This means greater footfall and potentially more students enrolling in your course. Online course creators, here comes a dose of guidance to up your game!
What is SEO, and why should you care?
Search engine optimization (better known as SEO) hones a site's volume and fidelity of traffic (visitors) from a search engine's results page. Upon ideal execution, SEO draws gratis, inherent traffic directly from Google daily: without the requirement of paid ads. Essentially it spruces up your content ensuring that Google approves and subsequently ranks you higher with pertinent criteria/search queries. For instance, you may be offering online communication training and SEO will increase your visibility upon people searching for an 'online communication course'.
Consider search engines as a vast digital library wherein site copies are stored. Google then sends out bots termed 'crawlers' which investigate all sites. These analyze the site material and index it in their database. When someone searches "online communication course", Google's algorithm scans its index and returns the ideal answer. Search engines scan your site using multiple metrics which include content, user activity, authority, social media, and links.
Google also gauges your page's speed, so upon yielding user results, if these load slowly, you'll be penalized. This advanced algorithm coding needs to be satisfied to establish that you're the best option for a search term.
Why is SEO so essential for course creators?
The aim is to draw engagement without wasting time on social media or paid ads. Certain course keywords are searched multiple times every month. You'll draw more search traffic to your site if your Google ranking is high.
When considering on a monthly, weekly, or daily basis, even if there are just a few conversions without much effort, that's still quite potentially lucrative. The potency of merely a key term ranking reaping a regular search volume is unparalleled, needless to say. Especially when tallying this against alternative digital marketing strategies, it's obvious.
As far as Google or Facebook ads are concerned, they're getting dearer by the day, whilst their ROI is plummeting. They also command much capital for initiation. These two undesirable characteristics are shifting the trend and shifting people away from ads and rather towards SEO. After all, the latter only needs time and patience to be invested (as well as acumen of its implementation).
Regarding social media, Facebook needs continuous tracking and customer support. This may be coveted, however, saps much time, which could be better spent elsewhere. Contrarily in SEO, apart from your initial forthcoming labour, the rest is virtually automated.
Affiliate programs are ideal to yield sales initially, however, incur sharing the profits with the respective 'partner', often to the tune of half or sometimes even more. Nevertheless, with SEO, you retain the entire proceeds of the sale.
The advantages of SEO are undisputed, as it's the sole marketing technique that can quickly reap complimentary stable traffic. Upon your initial work investment, it runs daily almost autonomously – it's merely a matter of the apt application of all metrics.
Performing SEO for courses the right way
Although SEO is considered straightforward in terms of engaging visitors, there are a few aspects to be mindful of:
Designing course/product literature
Establishing a dynamic social media presence
Collaborating with others within your market domain
Formulating stellar user journeys on your site
Ensure that your site is crawlable by Google and is secure for visitors
The complexity arises that all these things need to be deployed correctly, otherwise you risk losing focus to reaching your desired target audience. There are a few essential elements of SEO that are often overlooked, so let's review them (along with keyword research).
01. Don't forget basic SEO for your course pages (First, let's tackle the SEO fundamentals)
Setup The Google Search Console
This is a potent SEO tool, assists with monitoring your site's performance in Google searches.
Hence it offers salient features, such as:
Determine what type of keywords result in greater traffic
Publish a sitemap
Resolve website errors
Receive correspondence from the Google search team and even more!
This is a preliminary stage to begin your dedicated SEO campaign to reinforce ranking.
Install Bing Webmaster Tools
While Bing may not be as favored as Google, however surprisingly it's used for around a third of all searches, hence worthwhile optimizing for. What's more, they offer some great features, including an integrated keyword research tool.
Setup Google Analytics
This is the optimal method to observe how people find and their activity on your site. Helpful features include:
Track traffic volumes obtained from Google
Identify your site pages that draw the greatest traffic
Monitor if or when your traffic rises and gaue this
Discover other sites and search engines that provide you with traffic
Mean bounce rate, page views, and site visit duration
Furthermore, by linking Google Analytics with their Search Console, you'll find useful SEO details within your account. SEO tools are essential for website owners who want to rank higher in search engine results pages. There are many SEO tools that can help your online course website at different optimization stages.
Include Your Keyword In Your URL
This informs Google about your page's topic and multiple keywords can substantiate your organic CTR. Therefore, it's important to include to do this – for instance, the target keyword for this page is 'SEO' and I can make a dedicated URL for just that.
Use Short URLs
Restrict URLs to a short length, as the latest research demonstrates that these are Google's top rankers with an inverse correlation between length and position. What a trend!
Embed Title Tag Modifiers
These are simply words and phrases to supplement your title tag. Upon implementation, your page will rank according to multiple long-tail keywords.
Use Your Keyword Once In The First 150 Words
The initial 100-150 words of your page carry greater weightage according to Google. Ensure to deploy your keyword once here – e.g, for this post, the term 'SEO' is evidently used right away.
Optimise Images
Imagery and graphics applied to convey much about your content. As Google is unable to view images as we can, we need to help them to interpret your images. You can do so by optimizing your image alt tags and filenames. Moreover, optimized images augment your ranking during image-based searches.
How to do this? Well firstly upon saving the image, select a filename that concisely describes what the image is all about. For instance, let's suppose that you click a photo of a Ferrari car, then your nomenclature would be: Ferrari_car.png. Now when you add this image to your page, furnish it with a descriptive alt tag – that's it: simple!
Use Synonyms and LSI Keywords
Conventionally, using keywords on pages was trendy, however, there's been a shift since. Hence, rather than repeating the same keyword multiple times, substitute them with synonyms and LSI keywords. Let's take an example.
You wish to be ranked for 'How to improve SEO', so you can implement this keyword a couple of times but also supplement this with synonyms such as: 'SEO success/How to boost SEO/Drive SEO'. Then add some LSI Keywords which are supportive terms, which can be found on LSIGraph.com. Simply include some of these on your page and you're ready.
02. Improve Your Technical SEO to get easy accessible your course pages
Identify Crawl Errors
This is where Google is unable to view a site page, meaning that it cannot be ranked at all. These can be found in their Search Console's 'Coverage' report. If you see that they're experiencing problems with viewing fundamental pages (e.g. robots.txt is blocking search engine spiders), this needs to be urgently resolved.
Find Out How Google Views Your Page
Visitors may be able to view your entire content – however Google cannot. Once again, if Google can't fully access your page, it won't get ranked. Hence it's advisable to deploy Google Search Console's 'Inspect URL' feature. Simply input a page from your site at the top of the GSC.
Upon doing so, you'll be able to visualize your own page according to Google's perspective. This is a useful insight to guide you accordingly.
Make Sure Your Site is Mobile-Friendly
Lately, Google released a new 'Mobile-First Index', meaning that if your site isn't mobile optimized, it won't rank well at all. Makes sense when you consider how commonplace it is for sites to be accessed using mobile devices nowadays. The good news is that you can always gauge how mobile ergonomic your site is with Google's discrete Mobile-Friendly Test.
Secure Your Site With HTTPS
HTTPS is a definite Google ranking signal. In case you haven't done so already, you should migrate your site to HTTPS (without affecting your SEO). Always endeavor to configure any new site this way, right from the outset.
Check Your Site's Loading Speed
Fast speeds with low latency are imperative, as, without this, a sluggish performing site will rank poorly. Why not try PageSpeed Insights? This complimentary tool informs you of the time taken to load your site on both mobile as well as desktop settings. It even guides you with tips and offers advice on how you can boost your website speeds.
03. Target Long-Tail Keywords to get found your course pages in Google and other search engines in less time without facing tough competition and have a higher conversion value
Why are Long Tail Keywords Important For SEO?
Reason #1: Long tail keywords aren't that competitive
These are not as competitive as shorter 'head terms' and so they're more convenient in the ranking. To exemplify, a short tail keyword such as "SEO boosting" has many results on Google. In order to surpass all other sites according to criteria, competing against all the others is required.
Identify long-tail keywords that apply to your niche or industry. You can use this information to help you find new customers for your business. There are many keywords research tools out there that you can use to find long-tail keywords.
Reason #2: Long tail keywords have high conversion rates
They're also not just longer but more specific too (as aforementioned). Long-tail term searches reach maturer stages in the purchase cycle than people searching for head terms. A keyword such as 'search traffic' is used to learn more about it (or how it operates) – meaning that this is for informative purposes only (rather than an intention to purchase something). However, search criteria for a lengthier version of the term (e.g. "search traffic optimization") carry a greater inclination toward buying something. Essentially this traffic procured from long-tail terms often has better conversion rates.
How to find long tail keywords for online course business
Google "Searches Related to…"
You may have observed that upon scrolling towards the end of Google's search results, a section termed, "Searches related to…"? appears. This area is a haven for great long-tail keyword research. This is the way to capitalize on it:
Firstly, enter a keyword that you wish to rank for and then scroll to the end of the page to review the 'searches related to…' for that desired keyword. You'll then find multiple long-tail terms that can be exploited. Subsequently, you can perform a Google search by inputting an elected keyword from there. Now view the "Searches related to…" results for the same keyword. Persist by repeating this process until you hone in on a list of ideal and perfected keywords.
Answer The Public
Answer The Public' is a useful keyword research tool that formulates question-based keywords.
Simply input a generic keyword into the field and click 'Get Questions'. You'll then be presented with common queries about your subject. As question keywords are often lengthy, they're essentially automated long-tail terms (ready for use). This data may be categorized alphabetically and then downloaded in a CSV file format for future reference.
Google Autocomplete
This is a common protocol that you've probably already experienced without realizing and is a great method to discover long tails, as these prompts are directly sourced from Google. Just type a keyword with(out) a letter (although this can be cumbersome). To combat this, long-tail keyword generators such as Ubersuggest and keywordtool.io both scrub Google Autocomplete data on your behalf. Both of these methods are otherwise quite similar, if not identical (apart from the manual work required). These aforementioned dedicated tools will compile many recommendations for you to choose from.
Use of Keyword tools
Google Keyword Planner: Discover and then research the keywords that are really impactful to help connect to your business. Become more discoverable with increased visibility. Bid estimates help you to plan your advertising campaign budgets, while planning creates a blueprint for reference purposes. With a convenient multi-account and YouTube integration, there's much scope to really reach an audience with various affiliated platforms.
Rank Tracker: Hosted by Link Assistant – this a specialized SEO and keyword ranking tool offering infinite checking even for precise SERP placement. Monitor snippets, competitors, and live trends to remain abreast with everything. Demographic geolocation specifics help to know who/where is searching for what – and more importantly how. Be it, domain checkers, autocomplete, analytics, search volume data metrics, AI automation with intelligent algorithmic coded reasoning, and customized reports with white-labeled scheduling. What's more, is that this is optimized to function in both the mobile device and desktop settings.
Keyword Sheeter: A gratis, article subtopic specialized, content-driven, and Google recommendation based platform. Gauge organic complexity, responsive result yielders, and term explorer keyword analysis for the targeted understanding of what really works for you. The search volume and CPC data, as well as domain availability plus rank checker with SERP checking also augments this process.
Answer the Public: Instant raw search insights direct from visitors, content ideas, and phrases for developing your site to become more visible. Improve your discoverability, tap customers via various search methods, including downloads, monitor driving trends, streamline relevant workflows and deploy proven strategies. Automate and drive further traffic efficiently to your site, along with SERP plus organic searches.
Keywords Everywhere: Search volume, CPC, and rival data on various platforms, especially useful for marketing purposes. Multi-site keyword research, volume, trends, archived/historical overviews, leveling metrics, and various exportable data formats as well. Their live analytic integrations also make for a versatile solution.
Keywordtool.io: A dedicated long-tail suggestion portal, offering a reliable and absolutely free service. Integrating with Google's autocompleting and supporting multilingual domain settings makes this an ideal if not a universally compatible tool. Extract data from yielded results, create content and Keyplanner enabled interface. This also augments ads for ultimate marketing.
Ubersuggest: Offering keyword suggestions (obtained directly from Google), expanding to the long tail versions as well. This is complete with CPC, PPC, search volume, SERP analytics, and SEO rival data. Multiscan types, suggestions, prepositions, suggestions, comparisons, overview of backlinks, domain score, and content ideas are just some of the other salient features furnished here. Organic traffic CTRs, scores, top pages, audits, speed, error/deduplication checks, and filters are all unified into their brilliant as well as helpful dashboard.
Soovle: This is a free tool that compiles keyword suggestions from Amazon, Wikipedia, Ask.com, and YouTube. This enables you to reveal hidden terms that are difficult to discover using other keyword tools (giving you an edge with better ideas over rivals). By simply searching using a broad keyword, Soovle will automatically present suggested results from various site sources. These can also be downloaded in a CSV file format.
People Also Ask Boxes: Offering a simple Google keyword search, observe and be vigilant for their mention in a box within the SERPs. Such queries cover the query/criteria subject and upon exploring this further, you'll find your answer. Furthermore, Google will share even further questions.
Google Search Console Performance Report: Conveniently discover long-tail keywords that can benefit from SEO (typically in 2nd or 3rd-page ranking) simply access your account and then 'queries' from the Performance Report (by scrolling down). These keywords correspond to your ranking on Google's first page. For others, simply sort and apply a filter to the list with 'Position'. The rows should be scaled to '500' results. Continue scrolling till you reach 10-15 and review the keywords ranked here. Select useful keywords and enter them into the Google Keyword Planner to verify their search volume. Click on these and the 'pages' tab, which then displays the site page as per the current keyword ranking.
Google Trends: Want to gauge your keyword popularity in preparation for an SEO campaign? Simply perform a query on the keyword you wish to rank and an 'interest over time-based on search volume plus a news headline will appear. That'll help to analyze the stability of associated trends. An ideal response is when the search returns with an upward trend. Proceed to 'Related Queries' where lesser-known keywords appear (which don't in most other keyword research tools.)
Quora: This is a popular crowdsourced QandA site, likened to Yahoo! Answers, however with better responses. Firstly, an account needs to be created by registering. Upon logging in, input a broad keyword and yield the respective common forum questions. From these, the high-volume keywords can be implemented into your list of potential criteria, while the rest can be useful for further content ideas. Shortened queries entered into Google Keyword Planner yields fidelity results. Their high search volume helps with affiliated keywords and subjects which otherwise may not be evident.
How to use or implement long tail keywords on your course pages?
Option #1: Create a Piece of Content Optimized Around That Term
Optimize for a blog or post by applying the same word and if not overly competitive, it'll manage to appear on Google's first search results page. The problem is that this warrants much content input, so even if theoretically you have full CTR (which isn't feasible), it'd still be limited to those who are actually interested in it. Realistically, figures will always be lower, hence this needs multiple optimizations (which is time-consuming).
Option #2: Sprinkle Long Tail Keywords Into Your Content
Alternatively, optimize your page with short or 'Medium' tail keywords. Subsequently, implement long-tail keywords into your content. By deploying on-page SEO to optimize a page according to the main keyword and then mixing longer ones, this varied criteria yields higher rankings.
04. Plan and structure your content to write good content for your course pages to make stability your SEO ranking
1. Organise your content into clusters
We do this to make it more convenient for Google to analyze your site's purpose and to add greater value for users. For instance, an amateur is seeking to learn a new skill, such as singing. It's more efficient to access a site that not only fulfills this requirement but also explores affiliated topics in further detail (such as vocal techniques). This then equips the person with everything they'll ever need regarding the subject – in this case, singing. Now if you rate this against a site that just has arbitrary material on singing, it becomes clearer why Google advocates and follows this structure.
2. Short, readable sentences
Google needs digestible material that can easily be scanned. This comprises short and simple sentences plus paragraphs with basic punctuation as well as grammar. Failing this, your visitors are likely to look elsewhere, being lured with a vast array of choices, accessible within easy reach. Complicating things will cause them to return to Google and find an alternative. Easy reading means better assimilation of information.
3. A quick and highly targeted introduction
Avoid lengthy intros that are factually skeletal, sore on the eyes, and SEO unfriendly. This merely expends valuable time. Let's take an example: when searching for 'ways to increase page load speed'. This doesn't require 'page load speed is how fast your pages load' as a definition to help understand (or any other dependent variables/factors – they're aware of this). An opening page title such as Welcome to the best online guide available on how to quickly boost your page loading speed effortlessly. Here I'll demonstrate…'
4. Value. Value. Value (Readers want value)
This is highly desirable and a demanded trait – solutions to issues. People wish to find out exactly how learning new material will indeed help them: why should they learn this? They seek practical, implementable guidance that uplifts them in some way. During this process, they should be engaged and enlightened by the content being delivered to them.
Your material needs to fulfill their criteria, however must also project authentic and vivid advantages to readers. Otherwise, people will cease reading what you've written – it's that simple. You need to publicize the value of your information and how or what they'll gain from reading this, whilst supplementing with details to improve understanding. They should never feel devoid of anything.
Revisiting the boosting of page load speed example, simply inform them that deploying SEO helps with visibility. Subsequently, finding direct links to specific pages during a search (as you're more discoverable) means less loading of data or redirects. Now explore the methodology in simple and understandable terms. Apply this in all of your articles with all the most important information.
5. Create (and successfully maintain) a Blog to cover your course related topics and drive relevant traffic to your website
Doing this will help you to reach larger audiences by increasing your visibility and becoming more discoverable. Increase the traffic routed (diverted) to your site, as well as lead conversions for optimal ROI. Create new revenue streams and channelize your earnings with innovative monetization methods via marketing strategies. Of course, SEO and keyword research with both short and long-tail terms also contributes to this. These factors impact your ranking, as does the fidelity of your content. Implementing imagery, graphics, and videos for that added interactive element always helps to promote your brand too!
05. Get quality and relevant links to boost your website authority score
1. Social media
In case these aren't already established as part of your campaign, then create profiles on Facebook, LinkedIn, Twitter, and other such platforms. By adding an accessible URL in your intro or FB page, you can easily direct visitors to your course page. What's great about this is that Google recognizes such efforts and appreciates suchlike. You may wish to also consider setting up a 'Google My Business' for your course. A physical address is solely required. By doing so, a quick and potent banner for your program is published, ready for people to view.
2. Forums
Search for pertinent domain forums online and deploy these to increase SEO plus traffic. Reddit and Quora are prime examples, however, there are many alternatives available too. For example, source a corresponding subreddit and contribute to the conversation. Then distribute your link or material (when acceptable) – without spamming anyone. You may even leave links to your course page on suitable questions in Quora. Ensure, however, that you have full proprietary rights and ownership over anything you claim to indeed be yours!
3. Your industry
It's likely that you'd have already networked with others or discussed with affiliates regarding your course promotion. You may have even attended or participated in live events as well. In such cases, approach people you've previously worked with or who are inclined towards doing so. Observe whether they'll collaborate with you and your course. Requesting for a link exchange wherein you link to a site in exchange for the same in return.
4. Manual outreach
Seek people who review courses in your industry and monitor if they'll rank you. Browse through the multitude of sites that review various types of courses. Payment may be required by a few but there are ones that will incorporate your course on a gratis basis. Who knows – such reviews may just also draw in some sales as well? SEO is definitely a very efficient method to generate specific traffic to your course. Upon ranking, you'll begin reaping such attention on a weekly basis at no extra cost.
5. Host a Podcast
Want to share your ideas, establish authority and build a library of fidelity material? Well, why not set up your own podcast? This enables you to conquer just as much as you would with using a blog, except using a different approach. Nowadays visitors are more commutable when digesting your content, as active perusal is just not a common agenda anymore (but listening is now). Podcasts also command reproducibility akin to blogs where this is desired. This doesn't mean that you need to release a regular weekly installment. However, people often adopt an approach by creating 'seasons' with new episodes, similar to TV networks publishing their shows. The frequency is your prerogative, although as aforesaid – it's imperative to always remain consistent!
6. Launch a Video Channel
As aforementioned, this also empowers you to engage many people to achieve a large audience. This is a popular format and as your courses would offer or include many videos, it's an ideal medium. Blogging, podcasts and videos when combined together promote your brand effectively, so everyone knows about it. This distributes ideas and offers free value for people to appreciate, creating a faster pace. Luckily, one can usually design unified material and translate it into a podcast episode, blog post, or fresh video on your channel. Stable and neo content is the pinnacle of any course creator, as it boosts your Google rankings and taps many people for free!
7. Get Interviewed on Popular Podcasts
It can be cumbersome to promote your online course and garner mass attention by yourself. Usually collaborating with other fellow people or brands within your domain is required as well as useful (unless you have a massive budget set aside to utilize or already possess a huge following). Of the various methods to do so, partnering and appearing on other's YouTube channels is definitely a promising start – sounds familiar, right? It's straightforward: the main host literally interviews you about what you have to offer. You simply answer their questions and well, become popular! In exchange for promoting brand value for their viewers, you get introduced to the world. This works irrespective of the application – be it selling a book, product, service, or just about anything. Furthermore, there's always the added benefit of establishing connections with industry experts which can forge a powerful symbiotic relationship in the future…
8. Find Partners in Your Niche
Regardless of your domain, you're never by yourself – but rather have rivals and also synergistic companions. For example, your course may correspond with a publication, group, or even academic conference material. Bloggers who hold big mailing distribution lists, video channels and even other course creators on a similar path as yours all exist. There can be ways to work with such people, as in a shared presentation, partnered launch, or otherwise to augment growth for both of you. This way you gain exposure, whilst they manage to reap part of the profits or publicity (as the case may be). It's a wonderful way to build an audience and promote whatever you're doing. Just don't forget that as this concept has now been perhaps (over)used as well as abused, be mindful that you procure the right type of partners and appropriate causes to really drive your business!
Conclusion
SEO may seem overwhelming and perhaps even overrated, however, it doesn't need to be so. If anything, applying the correct tacts in terms of social media integration, keyword implementation, and short as well as long-tail word terms can all boost your effectiveness in applying SEO. By doing so, you can boost your Google ranking to increase visibility and be discovered more easily by aspiring students. Transform your online course content into something worthwhile and to look forward to!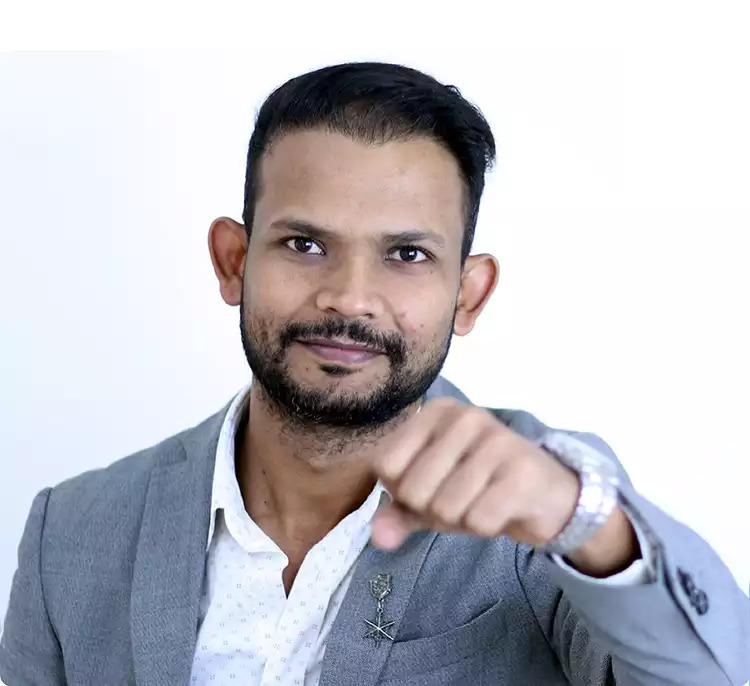 About Deepak Chauhan Hi, I am Deepak Chauhan, a Digital Marketing Strategist. I'm the CEO & Co-Founder of VOCSO Digital Agency, a creative web design, development, and marketing agency based in India & USA.