Have you ever wondered or even considered how the user feels when they visit your website? Be it the layout, general design, functionality & ergonomics, every aspect matters. Let's explore these elements in further detail:
What are you trying to achieve or portray with your site
Who is your target audience
When do you expect any CTA or conversion such as a subscription to take place
Why is your product or service competitive & the reason cum purpose of using this
How you can make the site more engaging to evoke interest & drive traffic
'What can you do to retain visitors on your webpage & how to achieve this?' are the main questions here. We need to understand what can be done to involve the audience with the use of rhetorical questions, for instance (to name but a few). Creating an interactive interface with visual aesthetics, functionality, buttons & the general layout are just some of the ways to do just that.


1. Users Don't Read the Articles, They Scan the Page
Nowadays, in this digital world that we're literally swamped within, there's no escape from massive volumes of content as well as data online. However, what to make of this & how to digest it all. Often, most readers want to find the gist of a text prose within moments. If they cannot, well the material is often disregarded in favour of a rival webpage that does. In this ruthless pursuit & selection of concise as well as informative writing, many lose the race. Don't be one of them!
This is known as scanning or skimming, filtering & seeking key 'trigger' words to find the desired & relevant information. Stylise your outlay according to user habits, often yielding logos on the upper left, whilst the search bar or button is towards the right side. Effective headings direct the visitor to each section & assists them in identifying where they'll obtain what they need.
Convince people to invest their valuable resources & time to invest in reading your content. Draw them to the site with visual & written cues & CTAs by using approachable language to create a voluntary willingness to keep reading on!
2. As Long as It Is Useful, You Can Make As Many Creative Designs As You Want
A meaningful design serves a purpose: i.e. to deliver information & inform your audience. What better way to achieve this than with some innovation, by pioneering new concepts. Confused? Let me explain. Introducing a new concept so long as it's intuitive & accepted by the masses will always be a winner. Be it typography, images, animations, coloured themes or even scrolling icon sets, why not experiment by trying something new? Run it through a few test trials first for good measure to ensure its functionality is productive, adding value to the overall customer experience. Immerse your viewers in a seamless manner with such intelligent workflows.
So the next time you wish to draw attention, think of distinctive yet helpful features to see you along. Never shy away from anything – as long as it's appropriate! The aim is to add to what should be a wonderful, enjoyable yet informative journey for the viewer or reader.


3. There Is No Such Thing As "User Likes This'. Do a Usability Test
The point here is to NEVER assume what another person may prefer until you've tried experiencing it for yourself. Try to apply different conditions to elicit challenges & see how these could affect the user experience. If you then encounter an issue, the chances are that an aspect is omitted which needs addressing. Alternatively, some sort of refinement in your existing protocol is required. Right from the outset of software development, design & through to the implementation, always perform regular checks to ensure that it operates in an ergonomic manner. After all, no one likes or wants to have their preferences imposed upon them, so it's better to use an adaptive platform to cater for all types of users!


4. Users Must Understand What the Site Is For
Sometimes simplicity can be difficult to achieve! It's all well & good that your site follows the trendy inspirationally worded preface…but what does it do? This is the main thing here: simply inform your audience explicitly what type of product or service you provide. Sharing & expressing important information plus details such as pricing or categories is a good idea. Don't make the common mistake of writing superfluous matter until you've come to the point. Whatever you add or mention should only serve to improve the readability of your written piece & understanding of what your brand does. Cut straight to the chase – simple…No more long winded wasteful & inefficient phrasing. The last question that you want to enter your reader's mind is, 'hang on – what is this all about again?' That's just embarrassing for everyone!


5. Pay Attention to Every Page, Not Just the Homepage
Let's be practical here & just imagine that many visitors have been directed via links to specific sections to your site. What if they want to see other parts of the site – will you allow them to find themselves lost, questioning themselves? Absolutely not. Hence, always ensure that you design a consistent & convenient layout as aforementioned. This promotes easy navigation throughout the entire site, thereby encouraging further time spent browsing your services. You can also increase your customer retention & lead generation cum conversion rates this way. It's a win-win situation for all!
Unify all pages to keep them connected, akin to the principle of good teamwork. Every page should serve a meaningful purpose, right? Only then can the entire customer experience & journey be a pleasant, balanced & coherent one…


6. Don't Leave User Wondering "How It Works"
More often than not, sites delve into the unnecessary details of the intricacies surrounding functionality. For instance, when performing a live comparison between various products, there's little point in explaining how the feature works. Simply implement the function, let it work & serve the customer's needs & then be out of their way. Keep things lightweight & just allow the anatomical elements of your site remain embedded within your site (instead of distracting your visitors from the main topic).
You can always add a hoverable 'how to?' mini help guide which complements the navigation process in real time. It saves time, boosts efficiency & promotes further interest by customers or readers. Bid a final farewell to 'what's going on here?!' dilemmas in reader's minds.


7. Provide In-Depth Information
Customers crave for information which is both accessible and easy to understand. Make it accessible to easily find (as aforesaid about navigation in the earlier section, remember?). This empowers the customer to make an informed decision with the confidence that it's entirely autonomous. The main aim is to acquire the reader's trust & build the confidence required to invest in either your product or service that you're offering. Makes sense, right? You may wish to include a Q&A section, how to do guides or supporting evidence to back your claims, such as accreditation, certifications & so on.
Simplicity should never compromise your effectiveness or being comprehensive. Surprisingly, many consumers want more information…they crave for detail. One runs into trouble when this goes overboard, swamping readers with indigestible data. Not only do you risk boring & confusing readers this way but also can lose their attention, subsequently leading to abandonment of your site. Not good!


8. Provide Feedback to Every User Action (No Matter How Trivial That May Sound)
This is another term for saying 'listen to your users' – seek feedback & ask for their inputs regularly. So whenever someone visits your site, request & incentivise sharing feedback to improve your site characteristics, performance & ultimately progress! Allow people to comment on & notice things which can be improved upon for a better platform. Deploy newer strategies to draw further custom by creating channels to funnel more revenue. The result? Well, boosted ROI & a more personalised outlook of course!
Be responsive! Everyone wants to be noticed & acknowledged. Hence, a simple yet effective response to a user request can yield reader cooperation, encouraging them to stick to your site. It's essentially a win-win situation!


9. Don't Reinvent the UI Elements if Not Necessary (Use Already Familiar Elements)
There's no point in complicating matters any further by adding redundant content. Instead, why not keep things visual & punchy. Value quality over quantity & set an inviting tone to draw visitors to your site. Maintain uniformity throughout all pages & sections of your site to remind people that they all fall under the same brand! This avoids confusing customers…so just stick to the basics.
As the going says, original is best…or at least most of the time. The only & main reason warranting any modification would be to improve upon a deficiency, rather than just changing something for the sake of doing so. It's not a formality!


10. Information Architecture
This is revisiting & reiterating the concept of accessibility as well as easy navigation. Find content easily & map out your information by directly linking objects to the headed intuitive themes. A good UI does just that to make the entire customer journey seamless. Following this logic, persuasive language can be applied to include a sales or marketing potential too.
Simplify to educate & retain your readership. Sounds difficult? Well, perhaps not as much as you originally thought. You see, the key to making things easy for others is to focus on the core topic or central concept. Then begin expanding upon or branching out ideas surrounding this. The result? An easy to follow & understand interface which keeps readers happy & returning too!


11. Limit the Content. Refine the Words
As previously mentioned, focus on the qualitative aspect, rather than the volume of material. Aim for sharp words, short phrases & interconnected sentences. The meaning should be understandable within a few glances, as people judge & form their opinion fast. Target your audience by using responsive visuals for added measure. Create a strong brand voice & apply text hierarchy to prioritise plus organise your sections accordingly. This easens query & criteria based searches.
Once again…as aforementioned: it's the quality that matters & not the quantity. Excessive volumes of information can shadow the mainstay of your material, which is distracting to say the least. Focus on what you need to convey – and leave it at that! Simple…


12. The On-Boarding / Landing Page Experience
First impressions (un)fortunately count, so make a good one! Bring customers on board by welcoming them to a simple yet effective landing page. Avoid cluttering this: keep it relevant yet expansive. For instance, use a plain background but with interactive animations to engage your audience. This also boosts your SEO rankings & overall review ratings as well.
Make the initial setup a stellar, welcoming experience. Empower your audience to seek help & guidance if needed. Ensure that all aspects of your site are accessible to avoid scaring off any wary readers. Don't be afraid to set a friendly tone – not a repulsive one!


13. Delicate Things That Matter — Micro Animations
Harness the hidden but potent power of micro animations wherein visual feedback which adapts to change is presented in an aesthetically pleasing way. Explain complex concepts easily & stand out from the crowd with this subtle yet bespoke feature. Bring the inner child out of everyone by animating functions with quick sequences: put a smile on people's faces. It makes a world of a difference – trust yourself!


Conclusion
Consumers want information fast, especially in the mobile device optimised era. With the advent of smartphones, increasing use of AI powered logical pathways & data driven design, it's only natural to give customers what they want. Just remember that whilst doing so, be sure to deliver the content in a meaningful way with organised layouts. Furthermore, engagement strategies such as interactive animations reinforce the user experience as well as understanding – which is imperative! This can really transform your scope of business, especially with well placed CTAs & even features such as live chat. High speed loading with less lag, integrated CRM & great colours attract your customers. Lastly, process tools deliver stellar results in terms of user experience. Your ultimate goal is to invite, inform, retain & promote your site. By implementing all of the above, you can do just that!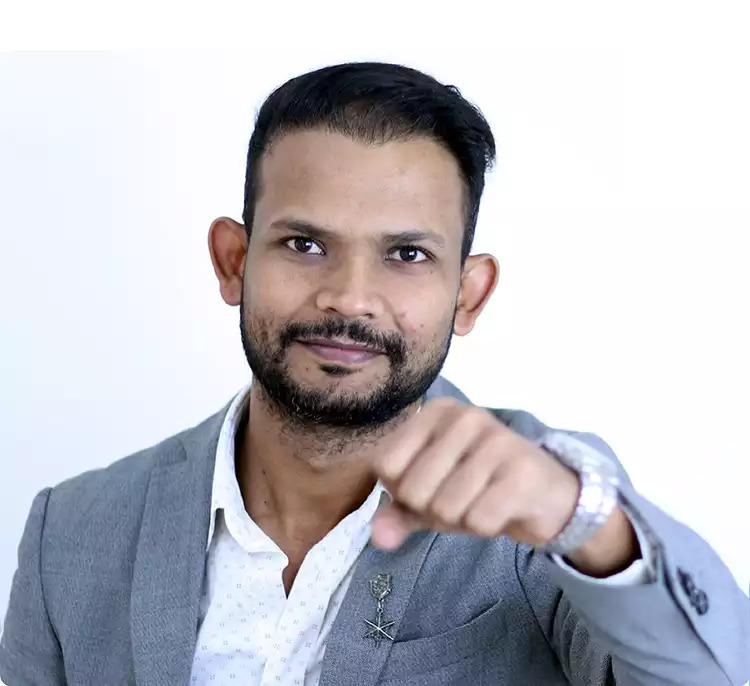 About Deepak Chauhan Hi, I am Deepak Chauhan, a Digital Marketing Strategist. I'm the CEO & Co-Founder of VOCSO Digital Agency, a creative web design, development, and marketing agency based in India & USA.