At the beginning of any design process, it is important that you have noted down your requirements on paper so that when you speak to website designers, you know exactly what you need. Although you will make changes to those points as you will sit down for discussions but it acts as a perfect place to start and lets you save your early ideas.
Website design needs to provide a solution to various needs and desires of a company and when more stakeholders are added, the process becomes more complex and you will have to ensure that all parties get to share their views and you will have clear goals in mind which will help you long term.
There is no standard structure of writing a website brief; few will focus on business values and philosophy, whilst rest of them will ensure that minute details of what each button on each and every page is expected to do. It's important to note that whatever will be written in brief will affect the outcome of the whole project directly.


Part 1: How to Get Started
Website brief is surely a crucial starting point which will determine the entire creative process from then.
Web Design Company needs to know more about your company just to get a feel of how their website needs to be designed.


Here are few points which you may add:-
About your company
About the services or product your business provides
Company size or rough turnover and number of employees
Is your company an international, if yes then which countries?
How long since you started?
Company description in 5-10 words
Explain Your Business
Company description is often missed in website briefs, but a website design company needs to have a clear idea about your business. You should provide Company information is often overlooked in website briefs – but we need to know all about your business! You need to share information about what you are all about, the summary of products and services provided. Describe company mission, values, and DNA. You should even include future growth plans which may be important.


All About Your Old Website
If there is an existing website then you will have to share the website URL and then include these points:-
What do you like on this website?
What you don't like in this design? (out-dated design or colour scheme)
When was it built and by whom?
How much traffic does it receive currently?
How much percentage of this traffic belongs to tablet and smartphone users?
Visitors are from which country?
Which are the 5 top web platforms and browsers visiting your site (PC/Mac/iOS)?
How many times have you received an actual sales lead through your website?
Who updates the site?
To fulfill your requirements, a design agency needs to know why the old site needs to be changed. Add any other relevant point that you may think the website designer needs to know.


Why Are You Building Your Website?
You have to have a clear picture of what all is expected in the new website. Here are a few points that would be good to start with:-
Give a brief summary of the aims of the website ( for example, increasing awareness about the product, generating more sale, increasing traffic, provide e-commerce, generate increased sales advertise a new service or product)
Has the target audience changed now from the old site? Demographic details (e.g. social class, location, adults, children, income levels, etc.)
How is your target audience going to access your site- through their tablet, desktop or
phones?
Is this new website part of a new product launch or re-branding?
Is there any other form of advertising being done which website needs to be connected with?
Unique selling points of your products, company or services?
What is your target industry for the website?
Is the market full of competitors?
Give the names of competitors?
If you have an e-commerce website, you should provide details of the associated bank as this will be crucial in deciding which payment gateway is to be used.
Explain How Your Website Will Function
You should include details regarding how the site is to be managed on a daily basis. Here are some other points which you need to decide and share while writing brief:-
What is the frequency of content addition and update?
Do you want that data in any form to be exported from the site?
Apart from usual Google analytics, do you need that any more on-going data be gathered from the site?
Do you have a current web hosting services; if yes then share details about hosting service provider and your current hosting package.
Do you want your website in different languages? If yes, then share the languages?
Would you need admin permission set for your website so that user access is restricted to any particular or the whole site?
Part 2: Identify Your Target Audience and Users
Make a good attempt to explain about the people which website will target. Give a clear picture of what your client looks like and their background. This will help the design to be made in such a way that it will be suitable for those people.


[Tweet ""Knowing your audience is key to content marketing success. – Martin Jones ""]


You can even broaden this after doing market research on your present customers. Your aim is to understand what your customers expect to see? How can a website help in improving their experience?


Here are other points which you should consider:-
Do your customers belong to which place mainly?
Your company is part of which industry sector?
Explain your present customer base?
What is your ideal customer base? Give details?
Give details of your main competitors
What should be the call to action when a customer reaches your website, you want them to make inquiries or buy a service/ product?
What Are Competitors You Like?
Consider your competitor's site as a template design which is to be referred while giving an idea to a designer of what attributes are to removed, added, improved or modified while using them in your website design.




[Tweet ""Concentrate your strengths against your competitor's relative weaknesses. – Paul Gauguin ""]


Describe the competition level and details regarding competitors in your industry and company:-
Describe any type of pressure on your business.
What is being done by your competitors? Mention if you know any special marketing activity done by your competitor and assess the weakness and strength of their tactic.
Give details of any competitive pressure over your business.
What you don't like and like about the website of your competitors?
Is there any specific functionality aspect which you may like to be added to your site?
Find Some References and Inspiration
Search the internet to go through all the web design templates from galleries.
There is a large number of galleries having website design on the internet like siteInspire.com, Dribble.com and BestWebGallery.com, TheBestDesigns.com and many more. You should just Google it and you will get a large number of results to find from.
For web design templates in available galleries, it's crucial that you explain everything clearly about what you don't like and what you like while choosing a design.


You don't need to start from scratch while selecting a design style. There are different templates that are present over the internet. What you need to do is copy the web design which you feel is closest to the idea in your mind and shows it to a web designer as the reference site while writing a web design brief for website development.You don't have to start from scratch when thinking of a design style. There are many templates you can find over the internet. What you can do is simply copy the web design style you find closest to your idea in mind and show it to your web designer as a reference when you write your own web design brief for the web development project. Check out how to produce quality content on a budget.


Part 3: All About Marketing
A website needs to be an extension of advertising, branding or offline media. It will always be helpful if you find a brochure, annual report or marketing literature so that you get the feel of the company so you can add them with a brief. Read 19 expert predictions on digital marketing trends in 2019.


[Tweet ""Marketing is really just about sharing your passion. – Michael Hyatt ""]


To get an idea about the type of site you need, it's worth keeping a list of 2-4 websites whose design you like, they may or may not be your competitors or websites having a business related to your industry. You can have examples of navigation, interactive elements or colour schemes which you like.


What is Your Budget?
Determine what is your budget for the development and design of your site? There are few clients who don't like to discuss their budgets in a brief stage but being honest and open about financial desires signify that you will find better and more reasonable price quotes in reply. Another way to get rid of this situation is to give a budget range instead of a fixed budget number.


You also need to find out whether additional charges are included:-
Do you have the requirement of the budget for continuous maintenance and support? Do you require a marketing budget for driving and promoting traffic towards website?


What is Your Website Content?
Will you give new website content? If yes, then it would really be great if you also provide a rough sitemap in your brief. You also need to provide the total number of pages required.


[Tweet ""High-quality web content that's useful, usable, and enjoyable is one of the greatest competitive advantages you can create for yourself online. – Kristina Halvorson, Content Strategy for the Web ""]


Get a clear idea of who all will be the part of the content team and what approval process is followed.
Content supply is a common point which leads to website launch delays, therefore, create a content plan from day 1 itself.
What illustrations, graphics or photography are available presently?


Digital Marketing & Promotion
Digital marketing is also often overlooked while writing a website brief. Website promotion to increase its visibility on search engine and creating a sense of engagement is crucial for enjoying long term success of the website. Check out the best insights on writing content to rank in Google SERPs by 11 content marketing specialists. that will multiply your growth.


[Tweet ""Marketing is no longer about the stuff that you make, but about the stories you tell." – Seth Godin, Bestselling Author and Blogger ""]


Here are a few digital marketing activities which you may think about:-
Pay-per-click (PPC) & image and media advertisements on good websites are also known as display network advertisement which is part of paid listings which you find on search engines.
Social media campaigns
Email marketing
Search Engine Optimisation (SEO)
Affiliate marketing
Banner advertising on websites related to your website
Content marketing – i.e. videos, blogs, social media posts, newsletters, etc.
Offline Marketing & Promotion
A website may also be given support through offline marketing strategy, some of these activities may be considered:-
Brochures & flyers
Direct mail
PR exercises
Outdoor advertising
Vehicle wraps
Sponsorship
You must be thinking why do we need to understand offline promotion? Well, this is important if communication with the audience is to be made regular with people through different mediums. Decision making is complicated and people view services and products through different channels and devices at different times in a day. You must make sure that you catch their attention and keep it engaged through the right medium at the right time!


[Tweet "The aim of marketing is to make selling superfluous. – Peter Drucker "]


Part 4: Technical Features & Requirements
You need to give details about any specific technical requirements that you may need. Here are few points which can consider:-
Do you need hosting?
Do you own a domain?
Is it an internet or extranet/intranet site?
If it's an intranet site then does it have a windows only environment?
Do you use Linux or Windows server?
As per your current website analytics report, is the proportion of mobile users of your website high?
Do you think your site needs to target people with special requirements and needs like colour blindness, deaf, limited mobility and learning disabilities, etc?
You should be designed specifically for audio web browsers, text-only browser or browser for Braille readers?
Should you be catering specifically for text-only browsers, audio web browsers or Braille readers?
Part 5: All About Maintenance
Maintenance of a website is a continuous and crucial process of website designing and is often overlooked. Here are few points which you need to include in the website brief.
Who will take care of the maintenance of the website in the future?
Do you have resources, time and skills for maintenance of website in your office?
Who will take care if that person leaves the company?
Would you require the help or prefer the services of Website Design Company for handling website maintenance?
Determine Your Goals
How will you determine how successful your new website is? Do you have a visitors or sales target? A professional website design company will provide services and tips to help you in achieving those. Decide goals for the first and second year and then work towards achieving them.


[Tweet "Positive thinking is a valuable tool that can help you overcome obstacles, deal with pain, and reach new goals. – Amy Morin "]


What Is Your Time Frame?
Sometimes time may not be a crucial factor and the project may take time enough to get everything right while in others, vital deadline needs to be followed.
If you tell your website design agency regarding your deadline then it will help them plan ahead and avoid unnecessary speeding up on last day which may result in errors.


Conclusion
Communication is a crucial part of every project – and when it comes to creating a web design, it begins from a design brief with details. Taking out considerable time to document your webpage requirements will make sure that you can even get an accurate quote and once the project starts, it will also prove to be a reference point to ensure desired deliverables and final result.
When you have devoted thought and time in your brief, not only will it aid in you having a clear idea of what your end goal will be but will also provide the same to your web design agency. They will understand that what quotation, design, and deadlines are expected from them to move forward!


Looking to create responsive and flexible web and mobile apps on any platform? We've helped 500+ startups like yours to grow revenues faster. Let's discuss your project to get customized advice that will walk you through how you can grow your business and increase sales online. Start to discuss your web, mobile, and marketing projects with our professionals by scheduling a free 30 minutes consulting call.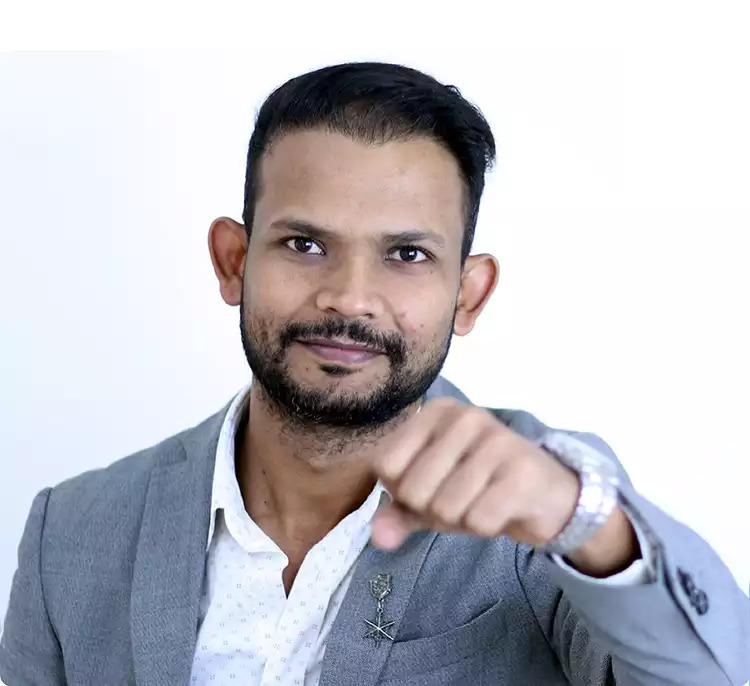 About Deepak Chauhan Hi, I am Deepak Chauhan, a Digital Marketing Strategist. I'm the CEO & Co-Founder of VOCSO Digital Agency, a creative web design, development, and marketing agency based in India & USA.