Today, almost every store has its own website to cater to its client base. Despite them having very rich advertising strategies and campaigns, great products, unmatched discounts, and amazing website designs, they do not convert as much as they have aimed. What's the reason? Why even after putting in so much effort, do they fail to get desired results?
This mostly happens because the site owners do not give much thought to commonly occurring site issues. These are usually technical glitches that are very easy to fix but are often ignored because they are not serious in nature. However, if they are ignored for a long time, they can adversely impact customer satisfaction, which can eventually lead to a drop in sales.
Designing an eCommerce website is no easy task. There are many things to consider, from the user experience to the overall look and feel of the site. However, there are some common eCommerce website design mistakes that can make users feel frustrated, confused, and even angry.
So, let us explore some common problems with eCommerce websites and different ways to address them the right way.
1. Bugs and errors
It is very common for bugs and errors to be hidden across the corners of the website. Customers might forgive you for bugs and breakdowns on some of the product pages, they might also ignore Error 404 or broken links but they will certainly not forgive such occurrences in the checkout, payment or product ordering pages.
There can be instances where the promised discounts and promos failed to get applied or free shipping wasn't available as promised. There might also be certain unexplainable errors occurring while you go about ordering a product or when submitting a particular form. All of these are sufficient enough to turn the user experience into a nightmare. It can be a difficult experience for the most persistent customers as well. This is where web accessibility consultants advise marking the users' steps and making a comprehensive report on their overall experience while surfing the website.
2. Poor images and no zoom
In order to be a successful eCommerce website, there are certain eCommerce website features that are essential. Many people consider the eCommerce platform experience too risky and complicated as they cannot see the products clearly. They don't want to bet on things they can't see properly. However, these risks can be minimized by improving the image quality and zoom functionality. But not many businesses take this seriously.
As per the accessibility guideline, the images that are put on the website must be clear and must be taken from multiple angles. If you are offering your own products, you should invest in professional photography and videos. Having the 3D rendered versions can also prove beneficial. In addition to these, the pictures must also have a functional zoom feature. Good quality images would never break down on zooming in. This is an important factor to keep in mind in order to earn the confidence of the customers.
3. The compulsory or difficult registration process
Customers appreciate online platforms because of the convenience they have to offer. Users definitely would not want to make any added moves while they purchase the products. This convenience gets tampered with by the presence of an extremely annoying registration process for new customers visiting the platform. To ease out the entire process, the online stores must have a mandatory guest checkout feature. This will save them from the hassles of the registration process. There are also users who like more convenience in the form of signing in through their social media accounts. Make sure when they do so, there aren't multiple steps involved in it. Keep things as simple as they can be.
4. Lack of mobile optimization
As per research, about one in four dollars spent on the eCommerce business is done using a phone. And, this is just the beginning of the revolution. Users turn their backs on online platforms that aren't well-optimized for their phones. They don't want excessive scrolling or zooming to check out the products. To avoid these issues, it is imperative to create mobile responsive website designs where all the website's elements are easily accessible on different devices. This will make every step, right from browsing to ordering the product extremely easier and more convenient. Hiring website accessibility services can be highly beneficial in this regard as they know how to keep things running as per global standards.
5. Poor filtering
The best websites are the ones that offer detailed filtering on different aspects. For example, if one is browsing through the clothing section, the filters will help you segregate the products based on their size, color, occasion, season, and many more. This will help the users to avoid unnecessary products and check out only those in which they are interested. But some stores simply seem to ignore this fact. They don't even keep an elementary filtering criterion, which usually disappoints the customers. Without this option, customers won't feel welcome on the website, leading to an overall poor customer experience, which can adversely impact your reputation and brand image.
6. Payment processing issues
For an eCommerce website to succeed, one must bring in sales to develop the business. To complete a sale, the customer makes payments that come in as the profit for the eCommerce business. To streamline this process, you need to provide multiple modes of payment for the customers' convenience and discretion. While some prefer to pay through debit or credit cards, some opt for online payment platforms like PayPal. A business should make sure the process of payment is as easy as it can be. Hindrances while making the payment from the customers' end can hamper sales and also customer experience. Therefore, these issues shouldn't be left unaddressed.
Payment makes up a grave issue while maintaining an eCommerce website and should not be ignored under any condition. Ignoring this can hamper the process and the sales in the longer run.
7. Outdated inventory information
Updating the inventory information manually on your website every time a purchase is made is nearly impossible, and it can creep up many inaccuracies. On the flip side, if you automate this procedure, maintaining the inventory or stock information would be much easier and highly accurate even if you sell thousands of products daily.
Avoiding automation can cause various problems like the customer finding out that a particular product is out of stock immediately after they have confirmed their order. While this scenario can be managed, there are worse things that can happen. It goes unnoticed for weeks that the product is out of stock which can create havoc and dip sales sharply. To avoid such mishaps, always opt for a high-end inventory management software whereby every stock information is automated, and regular notifications are received about the same.
8. Complex shipping terms
Shipping is an aspect that every eCommerce platform should look into thoroughly to maintain a good relationship with the customer. Since the customer takes their time to fill in all the delivery details and purchase the product, this sector should not be left behind. However, most eCommerce platforms lag behind when it comes to shipping. The main reason behind discrepancies in shipping is due to the partnership with one or more third-party shipping organizations. When dealing with multiple third parties, errors and discrepancies are common, and they can be fatal to sales.
Also, linking the information on shipping and delivery on your website is yet another crucial step. This should be done to inform the customer about the status of their product delivery. Your ultimate goal should be to minimize the cost and time taken for shipping alongside providing accurate and timely information to the customer without charging a pocketful for shipping.
9. No Customer reviews
Customer reviews on different products are an important way for customer retention. But many eCommerce platforms avoid displaying customer reviews, fearing that negative comments on particular products will hinder sales, which can be quite intimidating. However, giving a customer the option to express their views and the true experience of a product is itself a great business strategy. But here are some alternatives to directly putting customer reviews:
Displaying a star rating format for every product denoting the experience.
Displaying the total number of reviews a product received instead of showing individual reviews.
Replying to negative or unsatisfied reviews with a method to replace or exchange them for a better experience.
Customer reviews are one of the most important tools that businesses use to manage their online reputation. Customer reviews can help businesses track how well they are doing and identify areas where they need to improve. Additionally, customer reviews can give businesses an idea of what their customers think about their products and services.
However, managing customer reviews can be a challenge. Businesses need to be proactive in soliciting customer reviews and responding to negative reviews in a positive way. Additionally, businesses need to ensure that their customer review policy is fair and transparent.
Many businesses are now turning to online reputation management services to help them manage their online reputation. There are many benefits of reputation management services for you and your customer. These services can help businesses monitor and respond to online reviews, track their social media presence, and more.
With the help of these services, businesses can stay on top of their online reputation and make sure that they are presenting themselves in the best light possible.
10. Difficult Navigation around the website
Navigation around the website is important for user experience and ease of purchase. Avoid adding layers and layers of pages to reduce the load and effort on the customers. Apart from certain pages, a user must be able to reach their required page in not more than two clicks. To allow this, an eCommerce website must be well-optimized even though it contains links to thousands of products. Filtering and organizing these under required categories should be the first step for ease of use.
Ultimately, your aim should be to provide customers convenience by helping them access their required product in just one or two clicks.
11. Poor shopping cart experience
If your customer has added some products to the shopping cart, you have successfully covered one of the major sales steps. However, many eCommerce sites make mistakes in this step. They create complicated and difficult-to-navigate shopping carts that put customers off. Thus, minimize the loopholes in your shopping carts for maximum customer retention.
How can VOCSO help?
We're a professional website design company specializing in creating beautiful, user-friendly online stores. Our team of designers and developers have years of experience in the eCommerce industry, and we know what it takes to create a successful online store.
We understand that every business is unique, and we take the time to get to know our clients and their businesses before starting work on their projects. This way, we can ensure that we create a custom eCommerce website that meets all of their needs and expectations.
Having an eCommerce website is a great way to reach a larger audience and boost sales, but it can be costly to set up and maintain. Luckily, we're offering affordable eCommerce website packages to get started. If you're looking for a partner to help you create a successful online store, then please contact us today. We'll be happy to discuss your project with you and provide you with a free quote.
Final Words
When you want to maximize your sales through an eCommerce website, you need to keep in mind that customer experience counts the most. In that case, you need to build a website that is appropriately optimized for web presence and customer usage.
So do not test the patience of your users and design a website that's easily accessible on multiple platforms and has great features, which will make your customer base happy. It's time to test your website for all such issues and get them fixed at the earliest. This will not only make your store shine but will also draw in more sales.
Revamp your eCommerce website today!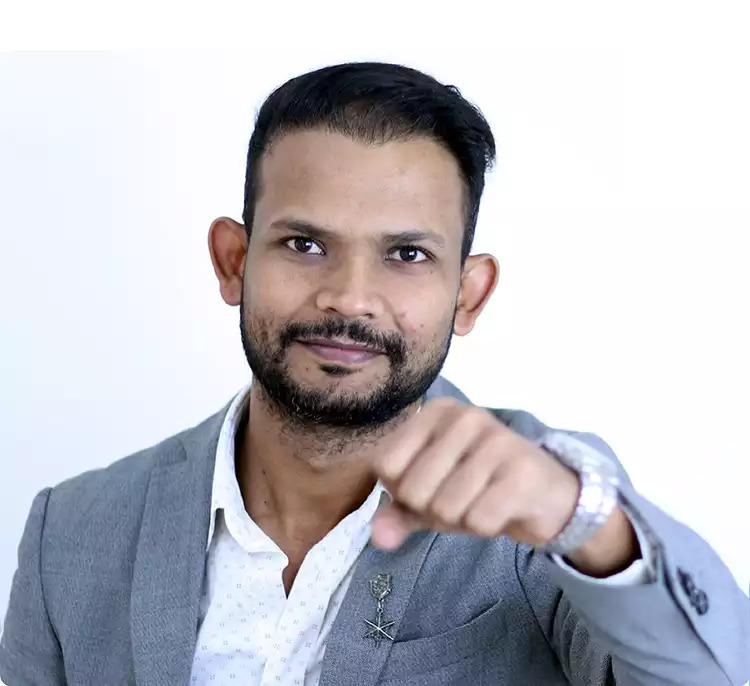 About Deepak Chauhan Hi, I am Deepak Chauhan, a Digital Marketing Strategist. I'm the CEO & Co-Founder of VOCSO Digital Agency, a creative web design, development, and marketing agency based in India & USA.