Some of the top eCommerce website features include an easy-to-use checkout process, a variety of shipping options, and a user-friendly design and interface. Overall, these features make online shopping both easier and more enjoyable for customers. But in this article, we're going to explore color blindness in eCommerce and how to design a color-blind friendly eCommerce website.
Colors can make your site a lot more dynamic and appealing to users. But using colors the wrong in functional aspects of your site (such as buttons, links, and calls to action) can make it difficult for users with color blindness.
Therefore, designing your site for color vision deficiency makes it easy for visitors to get the best possible experience.
Building your site to be color blindness accessible doesn't mean that you avoid incorporating colors together. The important thing is to be more mindful of how you use colors to present various site elements.
Knowing what color blindness is
Unlike the term suggests, most people with color deficiency or blindness can still see pigmentation. But instead of seeing no color, they find it challenging to decipher specific colors.
Here are the three primary types of color blindness and its subcategories:
1. Red-green color blindness
This is the most common type, wherein the person confuses red with green. It has different subtypes:
Deuteranomaly: Green that looks red
Protanomaly: Red that looks green
Protanopia or Deuteranopia: Couldn't distinguish between red and green
2. Blue-yellow color blindness
This type is the least common. The person often confuses the color blue with yellow:
Subtypes include:
Tritanomaly: Couldn't distinguish yellow and red, blue and green
Tritanopia: Couldn't distinguish between yellow and pink, purple and red, blue and green
3. Monochromacy
This is the rarest type wherein the person couldn't see any colors.
Design considerations for people that are color blind
There isn't much assistive technology for color blind people, such as those who are legally blind or have low vision. That means you must be mindful of the color combinations from the start of the design process.
There are two main considerations to make your site ideal for color-blind individuals- color contrast and just relying on color alone to convey meanings.
Web design for color blindness
To make an e-commerce website designed for people with color blindness usually takes some thought and intention. Here are a few helpful tips for designing your site with this in mind
1. Use clear labels and symbols
Clear labeling is one of the best practices to direct any user through the customer journey. This is especially helpful to people with color deficiency.
Labels help you distinguish information usually conveyed with color. This goes for data visualization such as graphs or simply guiding users on a webpage. You should also ask yourself whether or not the user can find their way to your site without the color hints.
From an eCommerce standpoint, it's also vital that you label products using clear, descriptive information.
2. Consider a minimalist design
Minimalism is in web design right now, and there's no sign it's slowing down. While it can be tempting to fill every page with eye-catching elements, using too many of these can confuse users.
In the same way, it also decreases the overall user experience. Using minimalist design continues to trend because they're already tried and tested.
Plus, in color accessibility, minimalism reduces the chance that users will find it challenging to navigate through your site.
While minimalism is often not a requirement for accessibility, it's still an essential option for many users. Moreover, because there are only a few colors in a minimalist web design, users with color deficiencies will understand the purpose of every web page quickly.
If you have a limited color palette, then make sure that the colors you're using contrast well. One of the classic choices is using black and white. However, you don't have to feel boxed in using just these two colors.
Because colorblind people find distinguishing red, blue, and green shares difficult, it's better to avoid working with these colors and use alternatives instead.
3. Implement patterns and textures to show contrast
Another great way to update your visual design without relying too much on a color palette is to use patterns and textures.
These work relatively well in instances wherein colors allow users to distinguish certain information, such as in the form of a graph or chart. Placing patterns or texture elements will help these elements stand out.
4. Avoid color-specific instructions
If you're designing forms, stay clear of labeling required fields with only colored text, as these fields may look identical to a person with color blindness.
A better alternative is to write the text reference right on the form's label. A bonus is that this also makes it highly readable by a screen reader for people with severe vision impairments.
5. Underline links
Many times, we use font color or font weight to denote links. While a person with a color deficiency can distinguish the anchor text from a regular text, it's not ideal because of its low contrast ratio.
For instance, a person with monochromacy wouldn't be unable to differentiate a text from an anchor text. Thus, they need to hover around the text to check if their cursor changes to a pointer.
Thus, adding an underline to text links is a good idea. Doing so makes it easy to distinguish regular text from anchor text.
6. Avoid certain color combinations
Because color blindness could affect individuals differently, avoiding certain color hues isn't enough.
You must know that certain color combinations aren't ideal for colorblind users. That's because they usually have low contrast ratios or are difficult to differentiate altogether.
So here's a list of the different color combinations that you should avoid using as much as you can:
Green and red
Green and blue
Green and black
Green and brown
Green and grey
Blue and grey
Light green and yellow
Blue and purple
7. Reconsider your CTA buttons
If your site visitors are color blind, then you have to know that the contrast between colors is as important as the colors themselves.
So, if users can't find your call-to-actions, they'll find it challenging to move with their customer journey. Thus, your conversion rates will suffer as well.
Fortunately, you can utilize more than one color to ensure your CTA stands out from the rest of the texts and images.
8. Avoid using low-contrast designs
A highly effective contrast is important. This is to ensure that your content and links are legible to readers.
A low contrast design means that customers may have difficulty reading your site information. If you're an e-commerce store, then colorblind people may not find product details or even where the link is to push through with the purchase. This, over time, could translate to lost conversions and, eventually, sales.
The minimum color contrast ratio at the double-A level for images and texts should be 4.5 to 1.
9. Changing the brightness, saturation, hue
Similar to changing contrast, changing brightness, saturation, and color hues lets designers show definition. It also allows end-users to differentiate between different elements without having to use a plethora of colors.
Even by just using a single color, changing your hue, brightness and saturation allow you to create a distinguishing contrast between samples of the same color.
This allows you to incorporate colors in your designs as if you're adding something new to the mix every time without compromising the aesthetics. Colorblind users can perceive every color as a different part of your design.
10. Use thicker lines
People with mild color blindness can see color if "mass" exists. Thus, less than a good thin line of color won't appear as the right color for them. So, you'd instead go with texture.
Especially in infographics or maps, texture can be used to help you distinguish between numerous objects.
11. Utilize colors and symbols
Color shouldn't be just your primary medium to convey information to colorblind users. In fact, according to Section 508, a web page should be designed in a way that all information that's conveyed in color should also be available without color.
Colors shouldn't be the sole medium to use if you want to convey a message. For example, color blindness could affect a person's ability to distinguish common red error messages such as "warning" or "watch out."
Thus, you might want to add symbolic elements to color-coded text to help you get your point across a wide range of audiences or to catch their attention. Error messages attached to the form fields on Facebook are excellent examples of this technique.
12. Test it out!
Plenty of tools out there stimulate various types of color blindness. So, it's worth checking your design to see any potential problems in front. You also need to run a final check before you go live. Doing so will ensure everything will go smoothly.
How VOCSO can help?
Are you looking for website design and development services that provide an excellent user experience for color blind people? We're an eCommerce website design company that builds colorblind-friendly websites that work best for colorblind users. There are a number of tools and techniques available that take into account the way people with color blindness easily access your website. A few simple adjustments to your website design can make all the difference for someone who relies on color to communicate information. We always keep these considerations in mind when designing your websites. We use colorblind-friendly visualizations on website pages that work fine for people with color blindness.
VOCSO is a web development company offering custom CMS development, custom website design and development, custom web application development, and custom mobile app design and development services in and out of India.
We also provide dedicated resources for hire:
Over to you
In this day and age, you should design your site for accessibility. That's because people from all walks of life use the internet to do even the simplest tasks.
Integrating these elements in your site and creating a highly accessible web design is key to connecting with your current customer base and creating a sense of trust with them.
Thus, use these practical, inclusive techniques to enhance the overall user experience to help your business scale over time. Good luck!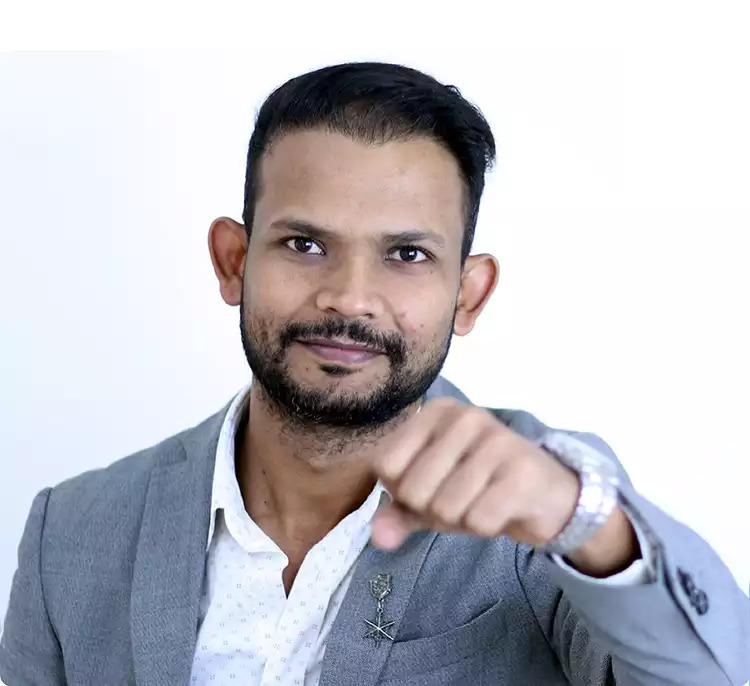 About Deepak Chauhan Hi, I am Deepak Chauhan, a Digital Marketing Strategist. I'm the CEO & Co-Founder of VOCSO Digital Agency, a creative web design, development, and marketing agency based in India & USA.