Equipped with varied and extensive knowledge of cutting-edge technologies to provide world-class mobile app solutions would soon endow VOCSO Technologies as one of the leading web development service providers in India at GoodFirms.


About VOCSO
Incorporated in 2009 and based in Faridabad, India, VOCSO Technologies is an ISO 27001 certified web and mobile solutions company. It has its service centers based in India, the USA, and UAE.
VOCSO is a one-stop solutions firm offering website design and development, mobile application design & development, and digital marketing services. The professionals understand clients' online business to provide them with engaging website design, responsive website development, and results-driven digital marketing services that engage more clients and drive sales at a cost-effective price.
The experts focus on developing a functional website with a clear interface to make clients' businesses succeed. The team at VOCSO holds varied and extensive knowledge of cutting-edge technologies, which help them, suggest clients for alternative solutions and pick the best. The take-home result is a quality and effective solution without costing a fortune to its clients, i.e., peace of mind!
Each professional at VOCSO is an expert in their respective fields, along with years of experience developing different web solutions for clients of varied verticals. The team understands how vital clients' business is; hence they closely work with the clients to understand their business thoroughly and ensure that they have apprehended the unsaid bits as well in order to prevent unexpected overages in their respective projects.
Having seven years of experience, VOCSO has designed and coded 1000 web pages and has satisfied 600+ customers along with a 95% client-retention rate and 100% positive reviews.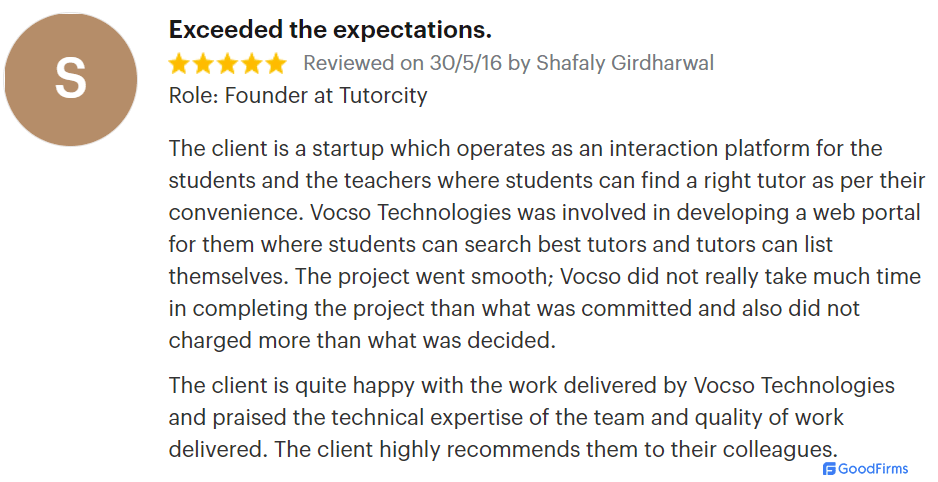 GoodFirms' Research Process
GoodFirms is an online portal that fills the gap between IT service seekers and service provider companies with its unique research based on Quality, Reliability, and Ability. Many of the leading IT firms get enlisted with GoodFirms as service providers.
Moreover, these organizations are also assessed based on their market perception & user satisfaction, and the number of years spent in the industry. The firms which excel in these parameters are then added to the GoodFirms list of service providers.
Similarly, GoodFirms analyzed VOCSO and found that providing outstanding web development and mobile app development services would soon enable the firm to grab GoodFirms' user attention in India and globally, respectively, at GoodFirms.
The researchers also found that VOCSO is one of the leading software service providers in Orange County at GoodFirms.


Websites that Educate, Inspire, Attract, & Convert:
At VOCSO, the expert web developers strive to understand the clients' business, target audience, the nature of their products, their competitors, and their business challenges. Understanding these aspects enables the group to lay out a strategic plan for developing bespoke and feature-rich web solutions.
The in-house web developers craft the websites intending to compel and inspire the clients' users to convert into regular customers. The experts' group ensures that the clients' custom web page remains as simple as possible by organizing information accurately on the website, keeping navigation bar links to a minimum, and similar grouping data on the same page. The developers employ understandable labels and avoid using company jargon on the website.
Besides this, the expert engineers make sure that websites built are SEO-friendly and mobile-friendly, enabling clients to climb upwards in search engine rankings. Thus, developing sites representing the unique brand of clients' business has enabled VOCSO to soon tap into the list of top website development companies in India at GoodFirms.
The review obtained at GoodFirms confirms the quality of websites developed at VOCSO.


Emerging & Scalable Software Solutions
VOCSO Technologies is the leading software development provider in Orange County and is expertise in helping small companies build state-of-the-art mobile solutions, cloud migration solutions, and emerging next-generation applications. The group helps small and mid-sized companies, including startups, solve their most pressing challenges by maximizing their ROI.
With a decade of experience in being the software solutions leader, VOCSO has helped many companies with limited resources reduce their costs by rendering intelligent solutions and software services to run their business.
Besides this, the team builds software that exhibits flexibility and makes it a popular choice for clients from corporates & eCommerce sectors and blog sites. The software provides the facility for editing that can be undertaken by an amateur and is also cost-effective.
Thus, building the software solutions by keeping the growing needs and scalability of the current market in mind endows VOCSO Technologies as one of the top software development companies in Orange County at GoodFirms.


Transforming Unique Ideas into Successful Apps
Whether the idea complements the existing clients' business or is for a brand new business, VOCSO's expert app developers hold the expertise to turn clients' vision into a mobile app-based business.
The app developers provide Android, iOS, and Hybrid app services to clients at national & international levels. The organization works synergistically with highly dextrous app developers to build advanced, feature-rich, and secure mobile apps.
Thus, developing apps by incorporating future-proof technology & trends covering all aspects has set the ball rolling for VOCSO Technologies to tap into the list of top mobile app developers enlisted at GoodFirms.


About GoodFirms
Washington, D.C.-based GoodFirms is an innovative B2B Research and Reviews Company that extensively combs the market to find the web development, software development, and mobile app development services agencies amongst many other technology firms that offer the best services to their customers. GoodFirms' extensive research process ranks the companies, boosts their online reputation and helps service seekers pick the right technology partner that meets their business needs.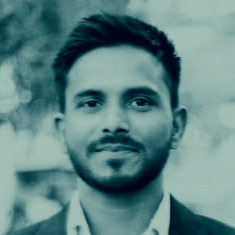 About Raj Kishore A digital marketing consultant at VOCSO. I've been working in digital marketing since 2010 and I am an expert at generating leads online via SEO, Paid Marketing, Social Media Marketing, Email Marketing, Site/Landing Page Testing and Optimization, and Display and Remarketing.