Last year in May 2018 General Data Protection Regulation (GDPR) came into full effect and since then several online businesses and service providers have been rushing to get in agreement with the new standards. Many businesses have successfully adjusted their website policies to that they can get in compliance with GDPR protocols however many businesses are still languishing.
The other important question that is popping up here is whether GDPR affects SEO. If it does then does it affect positively or negatively? Such questions are bothering small to big businesses as well as marketers worldwide. In this article, such boiling questions will be discussed in detail so that you can get a clear understanding of GDPR and its effects on SEO.
But let's first understand what GDPR is.
What is GDPR?
GDPR (General Data Protection Regulation) is a set of rules or a directive in EU (European Union) law for data safety and privacy for all persons that are living within the European Union and the European Economic Area.
In simple terms, GDPR allows EU citizens to provide more control over how their personal data is collected online by websites and used further. Although, GDPR was launched back in April 2016 the full implementation was launched in May 2018.
Every website that gathers and stores information of EU citizens on their website falls into the GDPR regulation process and they must follow it. If a company doesn't follow data protection laws i.e. GDPR laws then the company can be fined up to €20 million or 4% of annual global turnover.
A report published by Osterman Research tells that different data prevention technologies are taken into consideration by companies to specifically address GDPR. It shows that businesses are getting ready for GDPR with a full force.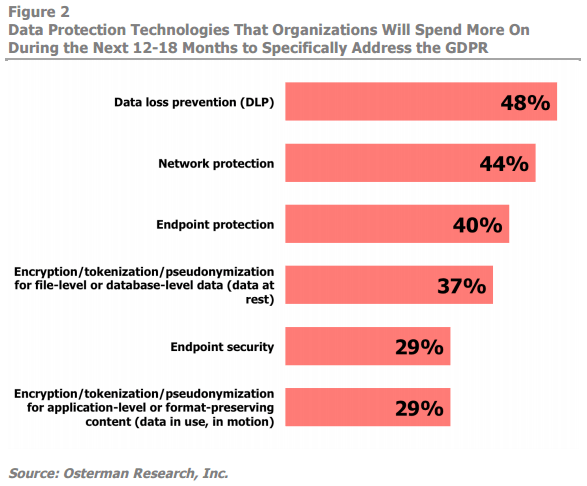 Let's see how GDPR can affect SERP rankings and SEO
Since GDPR has come into full light marketers have been talking about how GDPR has increased the budget & workload for their marketing campaigns. A survey conducted by PwC survey stated that 68% of companies in the United States of America are expecting to spend $1 million to $10 million to meet GDPR requirements. That is indeed a hefty amount that companies are expecting to spend and that will naturally affect other channels of business such as marketing.
Image Source: trustarc.com
However, there are some good things as well that GDPR is bringing for businesses such as SEO benefits. Yes, you heard it right. General Data Protection Regulation has already started providing benefits to many of the businesses worldwide.
Here, I am going to talk about 5 SEO benefits of GDPR.
1. Increased User Trust and Reliability
Just like the HTTPS protocol GDPR implementation also shows that your business is trustworthy. When you get an SSL certificate and applies HTTPS, it clearly shows your audience that the connection between your browser and the website is completely secure and encrypted.
[Tweet ""Fifty-nine percent of brand respondents and 40% of agency respondents said that their organizations have either appointed or are planning to appoint a data protection officer. – (Source: econsultancy.com) ""]
The same happens when GDPR is applied correctly. To gain user's information when you show pop-ups and clearly states why, when and how you will use their data as well as personal information the trust for your brand build up.
There are several websites that stores information without user's consent and approval and many users know that. When they know that you are following the rules and complying with GDPR protocol then they will trust your company more than before.
Read Also:
UX Design and GDPR: Everything You Need to Know
It will show to users that you care about data protection policies and customer's information and that is why you are following the rules. It will definitely increase customer loyalty and trustworthiness for your brand.
When users trust your business or brand they like to revisit repeatedly. If they revisit frequently via search engines then it shows Google that your website is more engaging than other websites and so it will start providing a ranking boost to your website.
If users re-visit your website frequently via referral sources or other sources then the percentage of returning visitors will increase and the chance for converting them into a loyal customer will increase too.
You can clearly see, increased loyalty with GDPR implementation brings great SEO benefits doesn't matter whether the user is organic or referral.
2. Increased ROI (Return on Investment)
GDPR compliance can boost your ROI too, you must be wondering how? I will explain.
When you get in compliance with GDPR, you gain the approval of the user to collect and store his personal information like email, credit card information, etc by showing them a notification or pop-up. If they click yes, then only the system stores the information or you gain the information otherwise not.
So clicking on Yes button on the popup, in other words allowing your website to collect his information itself shows that he is interested in your services or he likes your website's informative articles and furthermore he wants to hear from you.
[Tweet ""Sixty percent of respondents said GDPR has significantly changed their organizations' workflows for collecting, using, and protecting personal information. (Source: McDermott, Will & Emery) – (Source: McDermott, Will & Emery) ""]
Now compare two situations, one person who just by chance gave his email on your website, one other person acknowledges your GDPR policy and then gives his email for further use. Who do you think is more interested in your services or information? Definitely the second one. He made the effort to acknowledge and then provided his email, it means he wants to hear from your website.
Now imagine you get thousands of emails of such interested persons, wouldn't it be a goldmine of an extremely relevant database? Indeed it would be. This useful email data will provide a far better ROI than non-relevant email data.
3. Dependency on SEO and Content Marketing Increases
There are several digital marketing techniques that depend on data collection such as PPC, remarketing, email newsletter, personalized ads and more. When you have GDPR regulation on board, it becomes very difficult to gather the data especially actionable data from users because that extra step of data consent is required.
However, techniques like SEO and content marketing don't rely on data collection. In such a case of data scarcity, you can take great advantage of SEO and content marketing to make your marketing campaigns successful.
[Tweet ""Thirty-five percent of organizations said they have a data breach reporting process that is aligned to GDPR readiness. – (Source: Deloitte) ""]
One simple way to take advantage of content marketing is having a blog on your website that provides valuable information to your audience; it can dramatically increase the number of leads. By providing other resources like case studies, reports, researches, templates you can also keep your users engaged on your website.
GDPR affects data collection and that affects targeting audience for marketing campaigns. Even though you get in compliance with GDPR you are not going to get user information instantly. The process is new and it will take time for both businesses and users to adjust. Until then, you can put more efforts into content and SEO because as we discussed both strategies don't necessarily need data collection.
4. Impact on SERP Rankings
Will those websites that are observing GDPR protocol rank higher on Google? We don't have a certain answer to this question as of now. There is no clarification on this question from Google as well.
But you can get the answer to this question from this example. Initially, implementing HTTPS was not mandatory for businesses, later Google made HTTPS a ranking factor and so businesses started switching their websites to HTTPS from HTTP. After sometime in July 2018, Google made it mandatory for websites to install an SSL certificate for secured connection.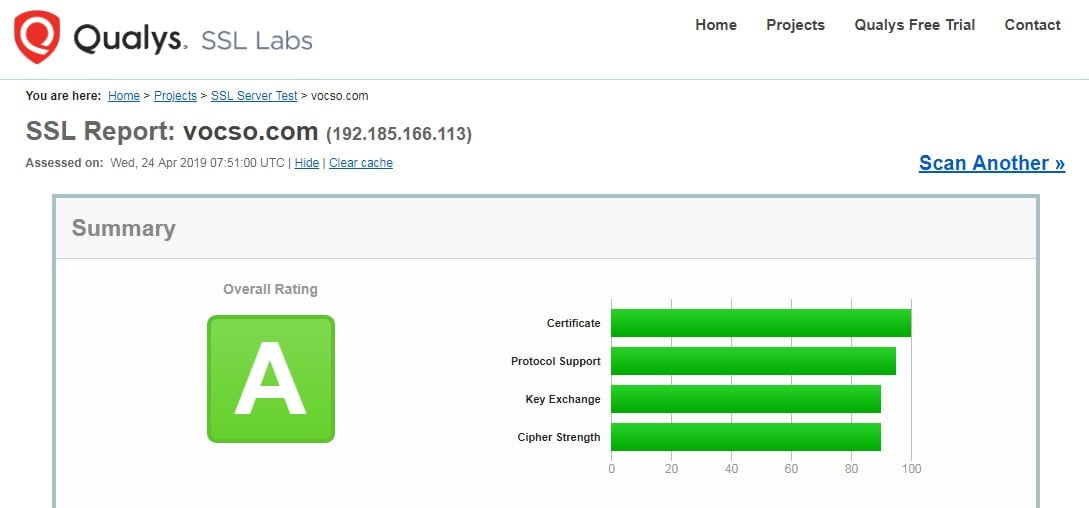 SSL Test Report: Vocso.Com
This incident shows us that the same may happen to GDPR policy implantation as well. Right now it is only mandatory to follow GDPR for those websites that deal with EU citizens. Websites that don't deal with EU citizens are not bound to follow GDPR and it is not declared a ranking signal yet by Google.
[Tweet ""Seventy-one percent of marketers said they believe that lack of compliance could have a detrimental impact on their companies' ability to conduct business globally. (Source: McDermott, Will & Emery) ""]
However, in future Google might declare it as a major or minor ranking signal. At that time, when you would have already been observing GDPR will get the instant ranking boost.
5. Targeting those Who Don't Share their Personal Data
There are many people who don't like to share their personal information on websites and there are some valid reasons for that including GDPR. In that case, your website will never get their personal data through which you can personalize your marketing campaigns and improve the targeting.
How would you sell to these people? You can't do it with PPC, paid ads, sponsored listing, and personalized placements because you don't have the necessary data. Without the necessary data, you wouldn't accurately know which demographic area is best, which kind of individuals like to buy from your site.
[Tweet ""Nearly half (48%) of U.K. adults expressed plans to activate new rights over their personal data as a result of GDPR. (Source: Information Age) ""]
In such a situation, targeting audience organically is the best way because to search for something on Google a person doesn't have to provide any personal information. A person can simply use incognito window and search on Google without worrying about personal data stealing. Thus, creating a great SEO plan and personalized content delivery to such users increases the chances of generating more leads.
Final Word
So far, marketers have been struggling with GDPR implementation and that is natural because it's a new thing. After some time, everyone will get used to it. GDPR compliance has its pros and cons that affect your business but a smart marketer is always ready for such situations when he is ready to make adjustments and deliver the great results.
Because digital marketing is ever-changing and those who don't keep up with the changes are left behind.
---
Looking for a GDPR compliant website? We've helped 500+ startups like yours to grow revenues faster. Let's discuss your project to get customized advice that will walk you through how you can grow your business and increase sales online. Start to discuss your web, mobile, and marketing projects with our professionals by scheduling a free 30 minutes consulting call.
---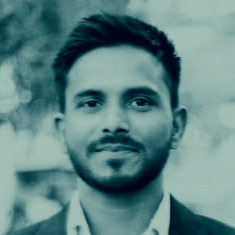 About Raj Kishore A digital marketing consultant at VOCSO. I've been working in digital marketing since 2010 and I am an expert at generating leads online via SEO, Paid Marketing, Social Media Marketing, Email Marketing, Site/Landing Page Testing and Optimization, and Display and Remarketing.