The internet technology provides an important platform for people to work, study and communicate with friends and peers. In this regard, people use a lot of time on the internet than any other place. The challenge is created by security issues concerning its usage. Normally, physical life is characterized by obvious laws and regulations that control privacy and individual life, but this is different from the internet. Currently, several user privacy scandals have created a need for web regulation. In particular, engrossment of local governments into these matters have clearly demonstrated that the "General Data Protection Regulation" (GDPR) has become a necessity in this era of privacy scandals. The need for data protection has been an area of concern for several years and GDPR is a fundamental component for this framework.


What is GDPR?
This is a basic foundation of novel EU regulations regarding data protection and management of privacy. It became operational from 25th May this year. The function of the regulation is control mechanism of obtaining and handling user data so that it can offer EU residents better control of their individual privacy in using the Web. It is expected that new regulations will revolutionalize online business operations. Also, it will streamline the regulatory atmosphere within EU member states so that it facilitates compliance with important requirements.


DPR was not created as a directive, but rather as a regulation that eases the process of making legislation without involving local governments. The regulations have a legal and binding power that allows companies to process individual data for EU people. Non-cooperation with this regulation provided in the GDPR attract a penalty exceeding 4% of global turnover and an equally fine of 20 million Euro depending on which one is higher.


The business organization is required to strictly follow their privacy policies to the latter as they appear on the web. Consequently, this creates another major concern for the traditional user experience. Traditionally, activities involving data gathering and processing were controlled by the terms and conditions. Many people were not interested in the terms and conditions because reading was not a must. This limited knowledge of understanding applicable ways of processing data and individuals tasked with that responsibility. This problem is resolved by the GDPR because it offers transparency and provides an opportunity to acknowledge and permit the regulations.


The implication of GDPR to UX Design
The GDPR provides an elaborate raft of regulations that directly alter the user experience. Two important aspects are fundamental concerning the UX designs, which include user consent and rights of the user that manage or allow deletion of their personal data.


i. Consent
GDPR defines user consent willingly agreeing to allow processing of individual data through the way of a definitive affirmative action. This means the user has permitted a particular company to collect and process individual data. Several ways can be used to modify forms collecting data to ensure that they are consistent with the regulations.
Firstly, there is need to understand present consent practices.
Secondly, ensure that their lack any pre-checked and default agreements that are not clearly presented in the email newsletters.
Thirdly, ensure that as a user there is a provision for withdrawing the consent easily.
Fourthly, separate precise consent concerns from overall terms and conditions.
Maintain the consent as granular and be exact on issues you sought permission for it.
Lastly, state the identity of controllers that have been permitted to process the data.
Therefore, this creates a fair and imperative situation for the user, but it should necessarily complicate the user experience to create a bigger challenge.


Examples of consent
1. H&M
It is a renowned UK company that has extensively adopted novel GDPR regulations for their web users. This aspect easily catches the eye of the user and provides important information regarding the privacy policy. In the case of H&M, they have changed provided the legal terms in a simple and easy language. In addition, they have designed a separate page that has information concerning the privacy policy that can be processed in a very easy arrangement.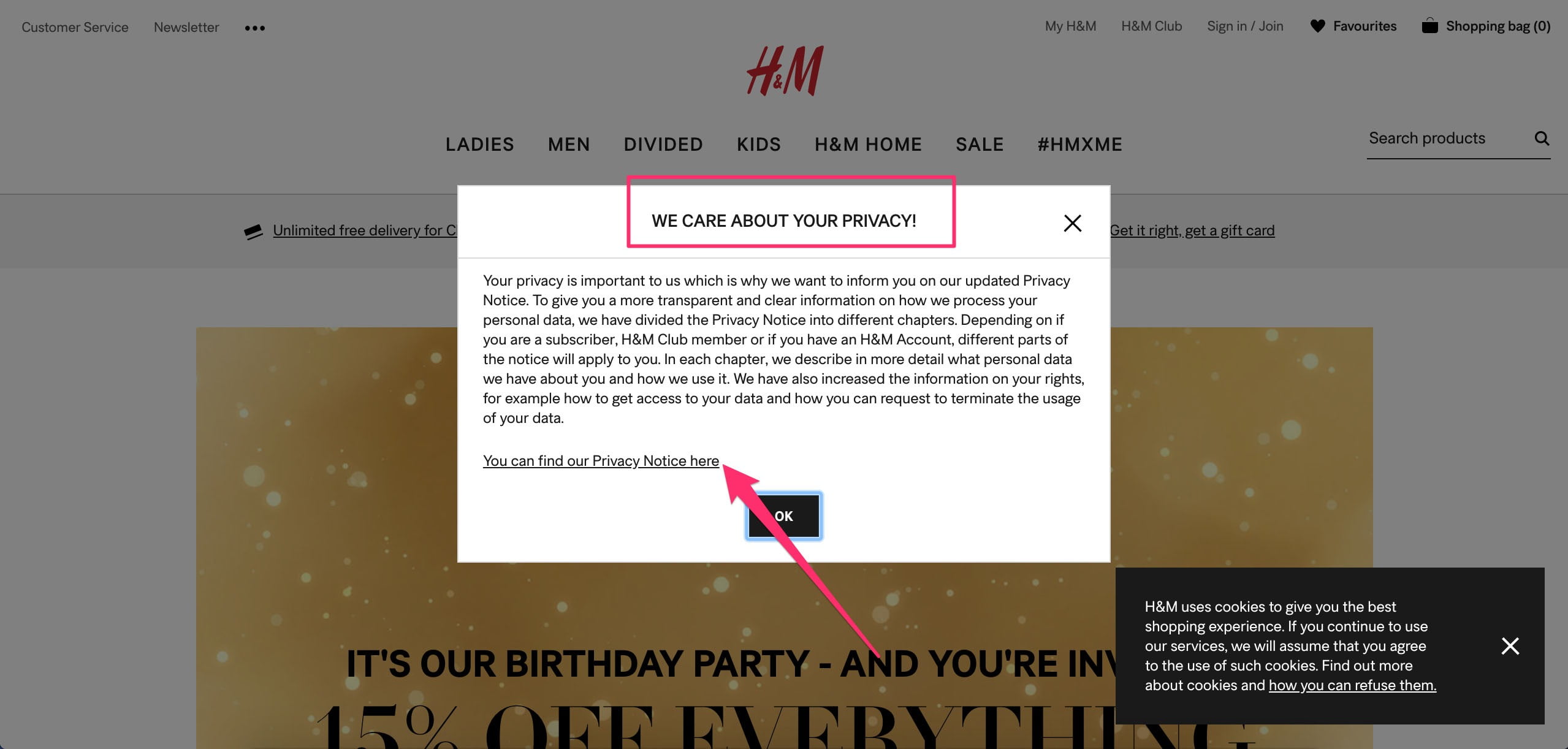 2. IKEA
They are business organizations that properly illustrate how user content can be obtained through a simple and granular approach. Here, checkboxes allow users to select their preferred communication type. This is strategic in improving email marketing because customers are concerned with exact information that they have requested to receive. In fact, IKEA has extended a notch higher because they have separated the privacy policy with overall terms and conditions.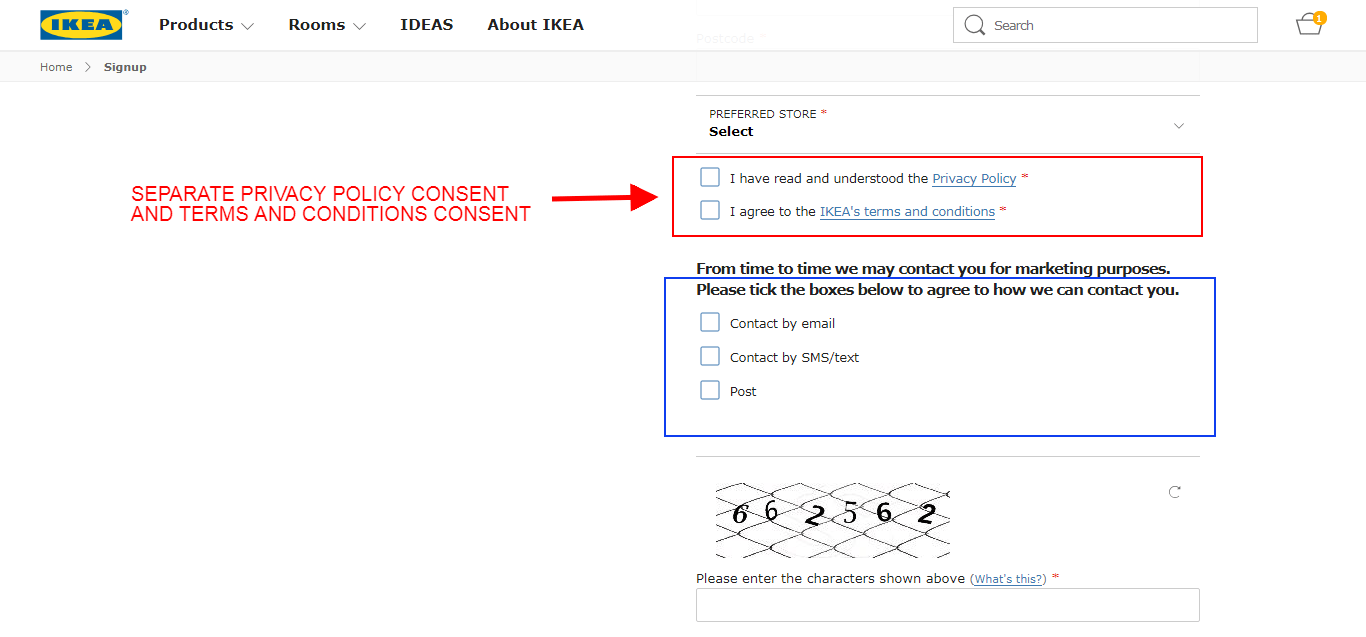 Further, they request users to select their preferred means of communication while using the band. It has not been demonstrated how new approaches are likely to affect conversations of a registration form. Thus, it is imperative that a test and reiterate the microcopy alongside UI as elaborated in the GDPR so that a better option can be identified.


3. ASOS
In the case of ASOS, users are provided with an easy way for users to opt out or decline a consent through use of a friendly and elusive microcopy. Adapting the user experience to the regulations provided by GDPR, it is important to understand that everything requires user consent. As such, there is no need for interrupting the UX design through the provision of additional consent request. For example, in a case relating to an abandoned hotel booking, there is no need for user consent. Therefore, business organizations should consult their legal experts to provide a GDPR UX optimization.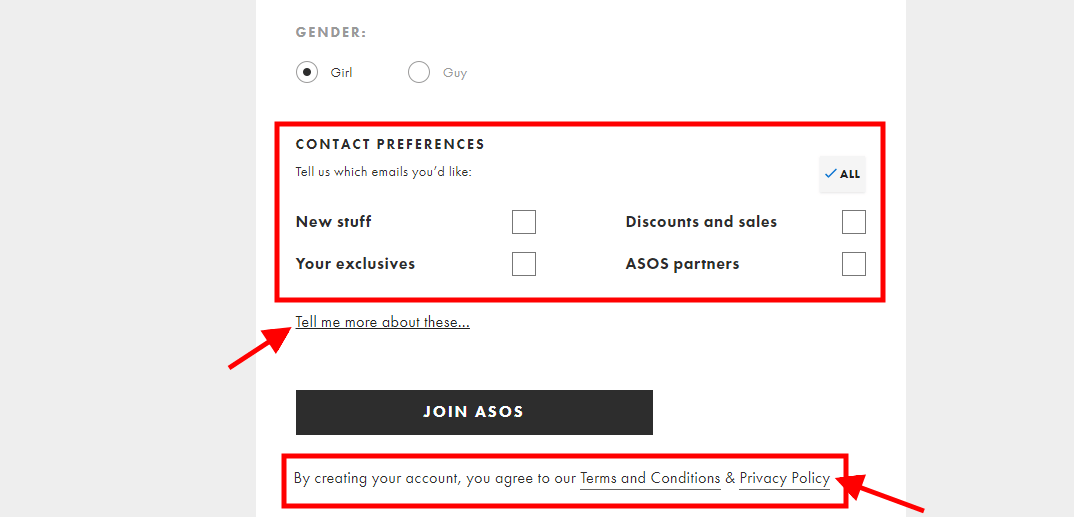 ii. Rights of the user that manage or allow deletion of their personal data
GDPR offers an opportunity for users to enjoy management of their personal data. It allows users to modify their preferences including deleting their accounts. However, this right is not expressly provided, but it has some situations where it is restricted. Overall, it allows all users to request permission for data erasure and be provided by a response within thirty days.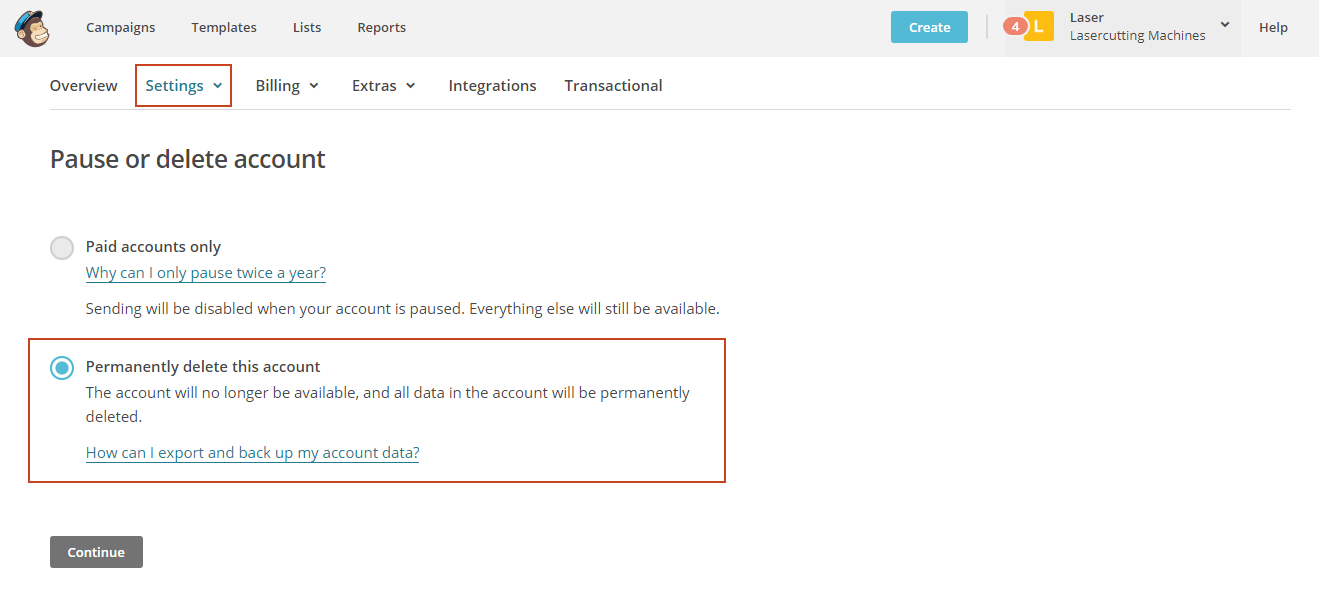 UX design sorts to solve this challenge by using a simple and honest assistance for users to manage their data and ensure business goals are achieved. MailChimp and Canva have allowed their users an easy and simple way to delete or obtain personal information.
How can VOCSO help here?
VOCSO is a web development company offering custom CMS development, custom website design and development, custom web application development, and custom mobile app design and development services in and out of India.
We also provide dedicated resources for hire:
Conclusion
GDPR is a novel set of regulations that serve to promote data protection and management while using the internet. As such, web UX designs should be reviewed to be consistent with the new regulations. As such, this will guarantee a safe and open user experience provided on all websites and internet platforms. The main advantage is that it allows users more control over their data and an opportunity to act whenever they feel insecure.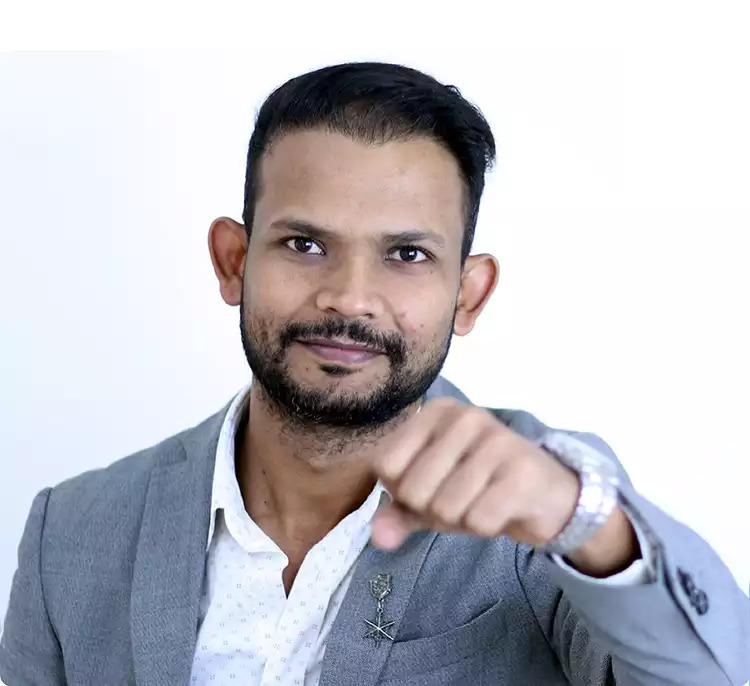 About Deepak Chauhan Hi, I am Deepak Chauhan, a Digital Marketing Strategist. I'm the CEO & Co-Founder of VOCSO Digital Agency, a creative web design, development, and marketing agency based in India & USA.