Did you know that 50% of internet users believe that a website's design determines if a brand has a strong image? Visitors perceptions of your brand may be impacted if it is outdated, unresponsive, or otherwise problematic on various devices. So much so that they begin to doubt whether they should believe your company.
Sometimes your troubles might be resolved with a few quick and easy tweaks. But in all other cases, it's beneficial to put time and effort into more complicated solutions. like a total website redesign.
We recently redesigned the website of an electric scooter manufacturing company and identified five key findings that would be helpful to any business considering website redesign services.
If you're considering a redesign, this case study will give you some insight into the process and what to expect. We'll take a look at key findings from our recent redesign project so that you can see how we approached the process and what worked well for us. Hopefully, this will give you some ideas of things to consider for your own website redesign.
Identifying the need for a website redesign
What are the key benefits of redesigning your website? Redesigning a website can be a daunting task, but the benefits can be tremendous. A well-designed website can help a business to attract new customers, improve customer retention and boost sales.
Why is the website redesign needed? Such questions typically come up when a company changes its branding or experiences issues with Google rankings, but there are numerous other situations in which a website redesign or revamp may be necessary.
The severity of the issues listed below will determine whether your website has to be redesigned.
1. Has your brand changed?
If your website no longer reflects the image of your business, it may be time for a redesign. In today's digital age, first impressions are essential, and your website is often the first interaction potential customers have with your brand. It's critical to ensure your website is up-to-date and accurately reflects your company's values and mission.
If your website is outdated or doesn't reflect your brand well, users will likely negatively judge your business and move on to a competitor. A well-designed website that accurately reflects your brand can help you win over customers and Build Trust.
2. Does your competitor's website look better than yours?
You don't have to rebuild your website each time one of your competitors does. However, it's crucial to remember that your company does not operate in a vacuum. If your competitors are constantly innovating and improving their online presence, it's only a matter of time before your website starts to look dated in comparison.
Of course, you don't want to constantly play catch-up with your competitors. But it's important to keep an eye on their activities and be prepared to make changes to your website when necessary. By staying ahead of the curve, you can ensure that your website remains a valuable asset for your business
3. Is your site old and outdated?
Building relationships with potential clients begin on your website. However, if your website's design is outmoded, it can have a detrimental effect on both their initial impression and their user experience as a whole.
A business website often has to be updated every two to three years. It might be time to assess whether your site still meets the demands of your visitors if it has been some time since your previous overhaul. A website's design and functionality should be updated to reflect new features and best practices as they become available.
4. Does your site take a while to load?
Your website must load almost instantly because today's website visitors absolutely anticipate a quick user experience. A recent study found that the average website visitor expects a page to load in two seconds or less. If your website takes longer than that to load, you're likely to lose visitors. And if those visitors are potential customers, you could be losing out on valuable business.
There are a number of ways to improve your website's loading speed, including optimizing your images and using a content delivery network (CDN). But whatever steps you take, it's important to keep your website's loading time in mind when designing and developing your site. Because in today's fast-paced world, visitors won't wait around for a slow website.
5. Is the website experience lacking on desktop and mobile?
Giving visitors a fantastic overall experience from the moment they first visit your website through conversion is what is meant by "excellent user experience." Two broad techniques that can be used to improve user experience are improving the website's design and making sure the website's content is well-written and relevant.
A well-designed website will be easy to navigate and will look good on all devices. The website's content should be well-written and relevant to the products or services offered. If the website's content is dull or irrelevant, visitors will quickly lose interest and move on to another site.
Improving user experience can be a challenge, but it's well worth the effort. By making sure your website is designed well and has high-quality content, you'll give visitors a reason to stick around, and you'll be more likely to convert them into customers or clients.
6. Is your website still not responsive?
In today's world, people are using a variety of devices to access the internet – from desktop computers to laptops, tablets, and smartphones. This so-called "multi-screen culture" means that your website needs to be optimized for all types of devices if you want to stay ahead of the competition.
Simply put, if your website isn't optimized for mobile, you may lose out on potential customers and sales. Make sure your website is responsive and easy to use on all devices, and you'll be sure to keep your visitors happy.
7. Is it a headache to add new functionalities or make simple changes?
If you're finding it difficult to add or change functionality on your website, it may be time to consider a redesign. Well-thought-out functionality should be a focus for your business, and if your website isn't up to par, it could be costing you customers and sales.
A website redesign can be a big undertaking, but if done right, it can be a major boon for your business. Take the time to consider your website's functionality and make sure that it's up to snuff. Otherwise, you may be missing out on valuable opportunities.
8. Are sales or conversions declining?
To ensure that your website is visible to potential customers, you need to optimize it for search engines. This means making sure that your website appears as high up as possible in search engine results pages (SERPs), for relevant keywords and phrases. The higher your website appears in SERPs, the more likely people are to click through to it. And the more traffic you can drive to your website, the better chance you have of generating leads and sales
But what if your website doesn't perform the way you thought it would and leads to declining sales or conversion? You might want to redesign your website.
9. Is it a struggle to find information on your site?

Your website is one of your most important marketing tools. It's how you connect with customers and prospects, and it's a reflection of your brand. If your website is outdated or not functioning properly, it could be hurting your business.
That's where our Website Redesign services come in. You need to create a modern, responsive website that meets the needs of your business and your customers. Make sure your site is easy to use, informative, and engaging, so you can focus on running your business.
Website Redesign Case Study
Learn a few of our clients who have used our website redesign services to create amazing web experiences for their users and increase conversion rates.
#1. Okinawa Scooters – Electric Scooter Brand Case Study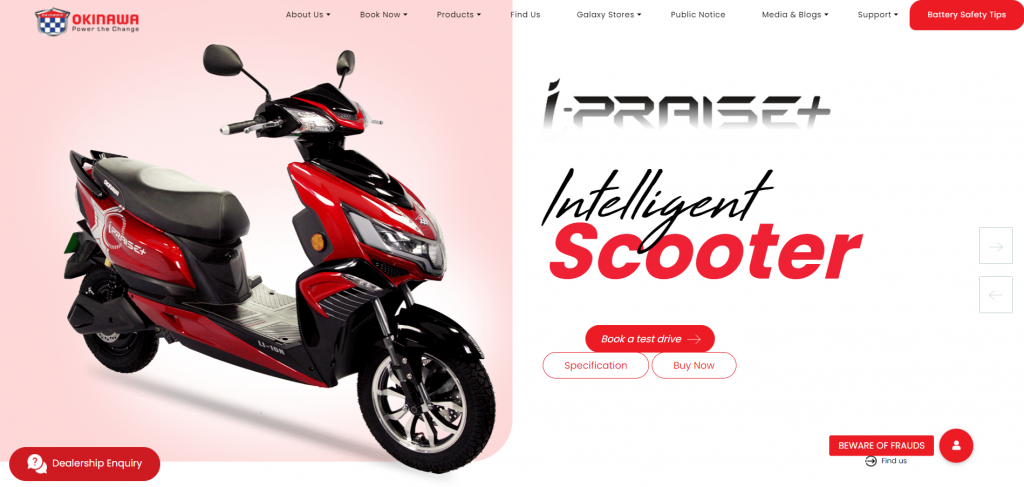 Some background here.
With the goal of building two-wheelers that can propel our present into a sustainable future, Okinawa is a 100% Indian electric two-wheeler manufacturing firm that was founded in 2015.
The mission of Okinawa's electric bicycle manufacturer is to become the most well-known EV brand in the world. They do this by producing clever, inventive, elegant, comfortable, and energy-efficient vehicles that Okinawans can be proud of.
By building these bikes with an eye for quality and social responsibility, they hope to make Okinawa the leading electric two-wheeler manufacturer and set the standard for accessible eco-friendly technology for future generations.
For having an online presence and carrying out their sales they have created a website that doesn't happen to be giving them the desired results and wanted to redesign it. We suggested to them some corrections to be made on their website. The Following are some challenges we faced while redesigning the website.
Problems/Challenges: Okinawa Scooters Case Study
1. Designing for the buyer persona
Creating a successful website requires a deep understanding of your target audience, their goals, and the environment in which they will use your site. Too often, website designers create sites that they think look cool, without considering the needs of the people who will actually be using them. This can lead to frustration and a feeling of being lost for visitors, which is the last thing we want.
The site when approached had no relevant information that a Buyer Persona might be looking for. This is why while redesigning it we took time to really understand who the users were, what they were looking for, and what kind of information would be most relevant to them.
We also looked at other sites in the same industry to see what kinds of information they were offering and how they were presenting it. Based on real demographic data, we were able to come up with a new design that was much more user-friendly and informative.
2. Balancing aesthetics with functionality
A captivating, eye-catching design can keep visitors on your site longer. However, if you put the demands of your customers before the needs of your users, they will become frustrated when attempting to understand or navigate your website and are more likely to leave.
Designing an appealing website that adheres to your brand and values while avoiding overly flashy design decisions that impair website readability and usability can be challenging.
The site earlier had some good aesthetics in some places but with low functionality and vice versa. However, with the help of our skilled designers and developers, we have been able to create a site that is both aesthetically pleasing and highly functional.
In order to do so we took the following steps
We believe that usability is the most important aspect of any website or product. Therefore, we took the time to find the right page style that goes in line with the product as well as the company's values. We think that this will help to create a better user experience and ultimately lead to more success for the company.
Further, We chose images that showcase their expertise and display them as a logical narrative.
To allow for an aesthetically pleasing and easy-to-read design, we used legible typefaces and leave adequate white space between paragraphs, text, and images. This gave the design a "breathed" look and feel, making it more inviting and professional. Keeping in mind that too much white space can make a design look cold and uninviting while striking a balance that works for your particular project.
3. Balancing functionality and aesthetics with speed
Every stage of the process, from design to development, is a challenge to strike a balance between speed and functionality/content.
While working on this project:
In the design phase, the challenge was to create a user interface that is both fast and easy to use.
In the development phase, the challenge was to create a code that was both efficient and easy to understand. In both cases, the goal was to achieve the perfect balance between design and functionality.
But there's still an important factor that's important which is speed
User attention is captured and maintained on your page with appealing graphics, videos, and animations. However, having too many media components might slow down your website's loading time, which irritates visitors and degrades your search engine rankings.
In solution to that, we took some steps while redesigning the website
Before creating the user interface, we made sure the fundamental information architecture and hierarchy were logical and intuitive.
The design was kept as basic as possible, with only the most important components present.
Only those videos were added that were important enough to show
Choose the best third-party tools and make sure to use them correctly and early in the design process.
Kept the content on each page to a minimum
Consolidated huge files
4. Preparing it for heavy traffic ( as they occasionally run national-level campaigns on TV, in newspapers, and online)
The team at VOCSO worked tirelessly for days, preparing the website for heavy traffic. The reason behind this was website traffic generated through paid media campaigns. We knew that when the company ran national-level campaigns on TV, in newspapers, and online, the website would be hit with a lot of traffic. We recommended the company upgrade the server, optimized the code, and tested everything to make sure it could handle the load.
5. Managing stakeholder expectations
You'll need suggestions from multiple stakeholders as you develop your site, whether you're a design firm, an internal team in a big company, or a small business owner. This is because each stakeholder will have their own perspective on what the site should look like and how it should function. As such, it's important to get input from as many stakeholders as possible in order to create a site that meets everyone's needs and expectations.
If you don't get buy-in from key stakeholders and align your business objectives with the vision for your website, you run the risk of having your design compromised or altered. This can jeopardize the success of your website and lead to frustration on the part of users, which is why it's so important to get everyone on board from the outset. By clearly articulating the goals of the website and getting input from all stakeholders, you can ensure that the final product meets everyone's needs and expectations.
Managing Stakeholder's expectations was Indeed a Challenge. However, we managed to do so while keeping all this in mind. We started with a clear plan and stuck to it throughout and asked about the precise, measurable business objectives they must attain.
6. Keeping in mind the future scalability
When it comes to designing a website, you want something that is both elegant and functional. You want your website to be adaptable enough for the future should your company's needs or audience change.
But designing a site that can handle any future expansion is difficult because you won't know what those changes are until they happen.
That's why we included flexibility in the design phase so that any additional content or features can be easily added later on as needed. But before doing so there were some considerations to be made
Before planning the website, and redesign we asked them about their long-term goals
Made sure servers can handle several queries at once to minimize performance issues.
Dispersed the burden during busy times across other servers by distributing site traffic.
Strategies: Okinawa Scooters Case Study
1. Become Familiar with the Content/Structure
Designers must carefully consider which content is best suited for a specific post type and which content is best suited for a static site. There are a variety of factors to consider when making this decision, such as the purpose of the site, the target audience, the type of content, and the overall tone and style of the site.
There's no denying that the amount of content on the average website can be overwhelming. Just think about all of the different pages, posts, images, and videos that are out there. And, of course, all of that content has to be created by someone.
In most cases, there isn't just one person responsible for all of the content on a website. Instead, there's a team of people who work together to create and curate all of the content that you see.
The best way to manage all of that content is to Clarify it from the beginning
2: Create Focus. Simplify. Organize
It's time to create the blueprint for a new structure that will best display the content once it has been arranged into labeled boxes. But first, we must establish focus.
What is the most important aspect of the material we are trying to display? What do we want viewers to see first, and what can be secondary? Once we have a clear vision for the overall display, we can begin to sketch out a plan for the new structure.
With a focus identified, we can simplify and organize. Having a focus also allows us to stay on track and avoid getting sidetracked by less important tasks.
3: Get the Client Involved
It's important to create the sitemap of your website, but you should also map out where each page will go. This way, when you begin adding content to your site, clients are able to see how it looks and what order it goes in.
Page types are included in the sitemap, but the mapping of content is not. Experienced web designers are aware that the majority of problems arise when a client begins adding content to their website. Keep the client looped in from the beginning to prevent this issue.
4. Competitor Analysis
Looking at your competitor's websites can be a helpful way to learn what you can do to improve your own website. You may notice things that you like and feel could be improved upon. For example, if you see a competitor's website that has a lot of helpful and relevant information, you may want to consider adding more content to your own website.
On the other hand, if you see a competitor's website that is difficult to navigate or doesn't provide much useful information, you may want to make your website more user-friendly and informative. By taking note of what you like and don't like about your competitor's websites, you can learn how to improve your own website to make it more appealing and effective.
4. Create Visual Structure Through Wireframing
As a professional web company, we worked on the wireframe for the new design and kept the important information above the fold. This way, users would be able to see it right away without having to scroll down. We created the website with an easy navigation structure so visitors could use the website easily and navigate. We also included plenty of links and CTAs. The finished product was a clean and modern website that was easy to use and looked great.
5. Improving the mobile experience
Making your website a mobile-first machine doesn't require much work, but the benefits are great. You can't afford to neglect smaller devices when more people are now searching for content on mobile devices than on laptops and desktops.
Your website should ideally appear stunning on all types of devices. You risk alienating visitors who use smartphones if your graphics and fonts are larger than the screen size of those devices.
Both responsive design and Accelerated Mobile Pages (AMP) can enhance your visitors' mobile experience.
6. Provide the Homepage with a Clear Goal
When designing a homepage, it's crucial to set the aim early on. This is because the homepage is often the first point of contact between a website and its visitors. According to a recent study, many visitors arrive at a website without fully understanding what it is or what it does.
As such, it's important to design the homepage in a way that clearly communicates the website's purpose. This might involve using strong visuals and clear, concise text. It's also important to ensure that the homepage is easy to navigate so that visitors can quickly find what they're looking for.
7. Incorporate the brand style guide
The wireframes for a product are the foundation upon which the product is built. They provide the basic structure and layout for the product and are typically created by designers. Once the wireframes are complete, it's time to turn them into a usable and engaging product. This is where brand colors and fonts come into play. By using brand colors and fonts, the written content is made simple to understand. In addition, these elements can help to add personality and flair to the product. Ultimately, by taking the time to turn wireframes into a finished product, you'll create a better user experience and a more successful product.
8. Experiment with typography combinations
Good web design relies heavily on typography. Typography is the art and technique of arranging type to make written language legible, readable and appealing when displayed. The arrangement of type involves selecting typefaces, point size, line length, and letter spacing. The term typography is also applied to the style, arrangement, and appearance of the letters, numbers, and symbols created by the process. Good web design must take into account the different ways in which people read.
Different fonts can be used to create different moods and different purposes. The size, weight, and style of the typeface are some of the most important factors in making the right look and feel for a website.
9. Polish the Look and Feel of the Website
Designers frequently hear the words "Look and Feel" from both clients and their peers. Although it sounds very broad, this phrase holds a specific meaning
The "look" of a graphical user interface in software design refers to elements like colors, shapes, layouts, and typefaces. It also refers to the behavior of dynamic elements like buttons, boxes, and menus.
Your website's design and layout should give visitors a clear idea of what your business stands for and what they can anticipate in terms of its culture, level of customer service, and ethos.
10. Add social proof
Using social proof in marketing is a common strategy to boost the confidence of potential buyers in a good, service, or brand. In essence, it aids in reducing buyer hesitation by providing reassurance that others have made the same purchase and been satisfied with the results. This technique can be used in a variety of marketing materials, from website testimonials to product reviews on social media.
When executed well, social proof can be an effective way to increase conversion rates and encourage potential customers to take the plunge. However, it's important to use this strategy sparingly and only when it feels genuine and authentic. Overuse of social proof can backfire, making your brand seem inauthentic or even untrustworthy.
11. Implementing strong content management capabilities
A CMS, or content management system, is a web-based application that enables you to create and manage your website's content. The quickness of a CMS is one of its key benefits.
With it, you can quickly develop and launch your website because it comes with ready-made templates and built-in features that allow you to create a professional-looking website with little to no programming or design experience.
Hence implementing strong cms capabilities can work wonders for you
12. Best SEO practices
Search engine optimization (SEO) is a process of improving the visibility and ranking of a website or web page in search engine results pages (SERPs). It is a means of increasing the quantity and quality of traffic to a site from search engines, ideally resulting in increased revenue.
SEO is essential if you want to grow your target audiences, build long-term brand exposure, and generate more income. However, it is important to note that SEO is not a quick or easy fix – it is an ongoing process that requires time, effort, and dedication. In order to see results, you need to be patient and consistent with your SEO efforts.
There are a number of things you can do to improve your SEO, including optimizing your website content, building backlinks, and using social media to promote your site. If you are serious about growing your business, then you need to make SEO a priority. Investing in a good SEO campaign will pay off in the long run, so don't hesitate to put in the work now.
If you're planning a website redesign, there are some important SEO strategies to keep in mind. Read the top SEO strategies for a website redesign.
13. Mapping old URLs with new respective URLs
If you're launching a new website, it's important to map your old site's URLs to the URLs for the new site. This will ensure that any incoming links to your old site are redirected to the new site and that your users don't end up seeing 404 errors when they try to access your content.
To do this, you'll need to set up redirects on your old site. A redirect is a server-side operation that tells the server to send any visitors who request a specific URL to a different URL. You can set up redirects for individual pages or for entire sections of your site.
If you're not sure how to set up redirects, you can find plenty of tutorials online, or you can hire a web developer to help you. Once your redirects are in place, be sure to test them to make sure they're working as intended.
14. Improving the loading speed
Reducing the time it takes for people to load your website is a terrific way to make them happier customers. Not only will they be able to find what they're looking for faster, but they'll also be more likely to make a purchase.
There are a few key things you can do to reduce loading times. First, make sure you're using a good hosting provider. Second, optimize your images so that they load quickly. Finally, don't use too many heavy plugins or scripts that will slow down your site.
By following these tips, you can ensure that your website loads quickly and efficiently, making for happier customers and more sales.
15. Using CDN for Video content
A CDN or content delivery network is a system of distributed servers that deliver web content to users based on their geographic location. By utilizing a CDN for streaming video, you can increase a stream's ability to reach viewers around the world while reducing latency and buffering time.
This is because a CDN can provide a high level of bandwidth and reliability by distributing the load among multiple servers. Additionally, a CDN can help to ensure that the source content is always available by replicating it across multiple servers in different locations.
16. Cloud hosting for ease of scalability
Cloud hosting is a type of web hosting that uses a network of remote servers to store your website data. One benefit of this type of hosting is that the multi-server setup allows for automatic backups of your data. This means that if your website goes down, your data will still be safe and you can quickly get your site back up and running.
It allows you to scale easily as a cloud solution enables businesses to adjust appropriately and affordably to enhance storage and performance as traffic or workload demands increase abruptly or over time.
17. Finishing Strong: Mind the Details
Users visit the details page for one of two reasons: either they want to learn more about a landmark or they are already familiar with a location and are looking for specific information. If users are looking to learn more about a landmark, they will want to see photos and read about the history and significance of the location.
If users are already familiar with a location, they may be looking for specific information such as an address, hours of operation, or contact information. Regardless of the reason for visiting the details page, users should be able to easily find the information they are looking for.
Results: Okinawa Scooters Case Study
1. Performance Improvement,
The overall performance of the website earlier was not what the client expected it to be but soon after we gave it a makeover and fixed things It started performing well and is constantly growing
Key Stats:
1. Bounce Rate
The percentage of all sessions on your site where users only viewed a single page and sent a single request to the analytics server is known as the bounce rate, which is calculated as single-page sessions divided by all sessions.
The bounce rate earlier was very high as compared to now after redesigning it the Bounce rate went lower.
2. On-page time
The length of time a visitor spends on a web page before leaving for another is known as time on the page. Keep in mind that no time on the page is calculated or added to the average if the visitor doesn't turn to a second page. It's as if they had never even been there.
3. Engagement rate
Online engagement rates are an important metric for marketers to monitor and analyze. To generate this statistic, marketers measure the number of "likes," "comments," and social shares related to the content. The engagement rate is used as a vital statistic for brand initiatives and is a key indicator of the effectiveness of any marketing campaign.
4. Conversion rate
Simply dividing the number of conversions by the total number of ad interactions that can be linked to a conversion within the same time period yields the conversion rate. Your conversion rate would be 5%, for instance, if you had 50 conversions out of 1,000 interactions, as 50 divided by 1,000 equals 5%.
5. SEO impressions & clicks
When the target of a marketing message takes the desired action, we refer to it as a conversion. Although conversion is a crucial statistic in the marketing funnel, it does not always indicate a sale. Conversions can also take place before a sale and show how far a prospect has advanced in the sales process.
Ad Clicks, sometimes known as just Clicks, is a marketing metric that tracks how frequently visitors click on digital advertisements to access internet properties.
Key findings: Website redesign case study
A website redesign can be a daunting task, but it can also be a great opportunity to improve your online presence. Our case study found that there are five key areas you should focus on when redesigning your website: user experience, mobile optimization, search engine optimization, content, and design.
By keeping these five areas in mind during your redesign process, you can create a website that is not only visually appealing but also easy to use and navigate. Additionally, by ensuring your website is optimized for mobile devices and search engines, you can reach a wider audience and attract more visitors.
1. Social proof increases engagement and conversion
Social proof is a psychological phenomenon that occurs when people copy what others do to feel safe, and is used by marketers to help increase conversion rates. Social proof is primarily achieved through testimonials from other consumers, but can also be achieved by leveraging reviews or social media influencers. The more people who have purchased and interacted with your product or service, the more likely it will convince prospects to buy.
With the help of a fantastic social proof tool, adding social proof to your site, such as recent customer behaviour, takes less than five minutes to set up and implement. It can also increase conversions by up to 15%.
2. A good brand style guide is key to building a website with a consistent theme
The purpose, vision, and values of your brand are translated into design via your brand style guide. A brand style guide is a manual that specifies how an organisation should represent itself to the public, including through the use of its logo, font and colour choices, photography, and other elements. In other words, it serves as a guide that promotes consistency in the way a brand appears, feels, and sounds. Don't be intimidated by the term "brand bible"; it's used by some because the document is so potent. Those are simply other labels for the same thing.
When you use a brand book, you can be sure that your brand will always look and feel the same, regardless of who handles customer service, marketing, design, and sales.
3. Use of CDN drastically improves website performance
Load times can be slashed by up to 50% by using a CDN. Reduced file sizes, shorter paths between content storage and destination locations, and a host of other performance-enhancing features make CDNs an attractive option for anyone looking to improve their website's loading times. While there are a number of different CDN providers to choose from, each with its own unique set of features, all of them offer the potential to significantly improve your website's performance.
4. Having a blog and insights section on the homepage increases Google's crawl frequency
Adding new content to your website on a regular basis can help it rank higher in search engine results. This is because search engines like Google tend to favour websites that are constantly adding new content. By adding new content, you're also increasing the chances that your website will be found by potential visitors.
By adding a blog and insight section to your website you'll not only gain better insight into your target audience but increase Google's crawl frequency as well, know that everyone on your page genuinely wants to read what you've got to say, and be able to effectively improve your strategy by paying attention to how well different posts perform. Write content in the best interest of your readers, and the metrics will follow.
5. Sharing updates frequently with different stakeholders increases efficiency
There are many ways to keep stakeholders up to date on your progress. One good way is with regular updates that detail the choices you have made, and the course of action you will take and motivate them to invest in your project. Updates like these also help stakeholders understand your decisions better as well as build trust in your project/business.
How can VOCSO help here?
VOCSO is a web development company offering custom CMS development, custom website design and development, custom web application development, and custom mobile app design and development services in and out of India.
We also provide dedicated resources for hire:
Conclusion
If you aren't obtaining the desired outcomes despite your website being stunning, useful, and pixel-perfect, it isn't serving its intended purpose. Your website serves to market your company, establish your brand, and eventually boost revenue. Consider a redesign if you are dissatisfied with your results. Please get in touch if you need assistance with designing a professional website, redesigning it, or performing a complete redesign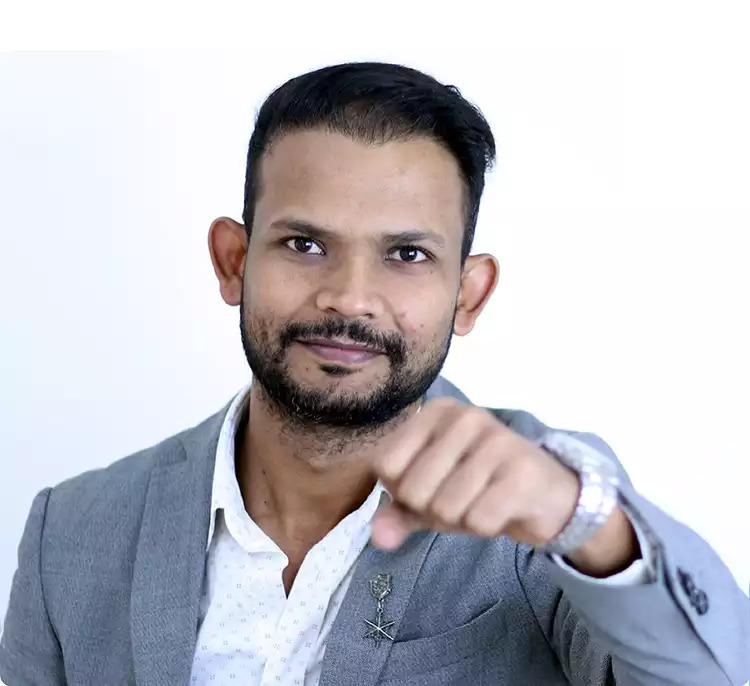 About Deepak Chauhan Hi, I am Deepak Chauhan, a Digital Marketing Strategist. I'm the CEO & Co-Founder of VOCSO Digital Agency, a creative web design, development, and marketing agency based in India & USA.