In today's startup age, many merchant aggregators are shaking-up the digital payment process and changing the world of online eCommerce technology. Because of this influence, the aggregator model is spreading in popularity and usage at breakneck speed across the globe.
In India, its usage is most prominent, but as of recently, it's been falling victim to the service tax net, affecting the many components and aspects of India's growing eCommerce landscape, both positively and negatively.
What is eCommerce?
The word "eCommerce" is defined as the trading of goods, services, or information over the internet between two entities, with the "e" standing for electronic. It's how you're able to shop and purchase items entirely online. The advantages of using eCommerce include the ability to globalize your business, increases and expands the amount of purchasing opportunities for consumers, low staffing costs, higher customer retention, more customer loyalty, and, above all else, convenience.
What's the Aggregator Model?
An aggregator model is a form of eCommerce in which a website does not store or warehouse its own goods, but rather collects, or aggregates, information on several goods and services and conglomerates them into a single platform. Prices and specifications are then easily matched-up to each customer based on what they're searching for, how much they can spend, what they filter-out, and what they've been recently searching for.
The aggregator model allows consumers the most convenience possible throughout their shopping experience. It allows said experience to be customized, tailored, and fit to the needs and wants of the consumers, putting them first and adding value to their feedback and services. In the world of online business, since direct contact is not possible, everything and anything possible that can be done to increase customer loyalty and retention must be implemented for maximum success.
The goal of the aggregator model is to create an appetizing eCommerce environment that will draw-in a large consumer base. This is the core marketing and finance technique that merchant aggregators are using to revolutionize the way we do eCommerce and online shopping.
How these aggregators are transforming the entire e-commerce industry in India
E-commerce has been around in India for almost 2 decades now, but the emergence of a new disruptive force is starting to revolutionize this industry. This disruption arrived with aggregators like Uber, Oyo rooms, Ola, etc. that have gone on to establish multi-million dollar businesses. The concept of an e-aggregator has started being rapidly adopted by retailers who are making online shopping hassle free through these options full of choices.
Ecommerce aggregators in India serve as a tool for consumers to make their purchase decisions. They aggregate data from all of the available e-stores and compare prices so that they can find what is best suited for them, thus saving time and making it more convenient.
Ecommerce aggregators are an essential part of Indian culture because shopping has become such a prominent activity today. Ecommerce aggregators provide Indians with another way to choose products while also reducing unnecessary expenditure by showing comparisons on price among different stores nearby where you live or work at any given moment; this was not possible before these new apps were created!
The ecommerce industry in India is booming, and this has been a boon to the Indian economy. The middle-class segment of the population in particular has benefitted from shopping online. However, with so many aggregators like Flipkart and Amazon entering the market. Let's examine how these ecommerce aggregators are transforming the industry:
1. Bringing the customers and the sellers together made it easy with eCommerce aggregators
Bringing the customers and sellers together is a simple task with eCommerce aggregators. These platforms allow for transparency in pricing, payment methods, shipping information, and guarantees that are often times better than what you can find at physical stores.
Aggregators have become an integral part of the digital age. The internet has changed how we live and do business, but it still remains a task to find what you're looking for online with so many options available. Aggregators provide an easy way to browse different products from sellers all over the country on one website. They take care of setting up your store by providing their technology as well as advertising opportunities which cut down time and money that would otherwise be spent doing these tasks yourself or hiring someone else who may not work out in the long run anyway since they don't know any more about your product than you do!
2. Shopping is hassle-free with eCommerce aggregators
The ease of finding any item you can think of while sitting at home has made eCommerce a convenient option for many shoppers. Shopping aggregators like Amazon offer more than just one site to buy products, they provide an easy way for buyers to find what they need without having to visit several different websites or make additional trips into stores looking around aimlessly inside each store hoping that someone who works there might be able-help them out with their purchase decisions.
Aggregators offer consumers many choices, but not so many that they overwhelm the user. They provide filters to narrow down your search and show you what's best for you based on previous searches or preferences. Some aggregator websites also allow comparisons between products from different brands!
3. eCommerce aggregators removed the limitations of time and place
Aggregator websites are the best way to shop because you can do it whenever and wherever. These mobile-friendly sites allow consumers who use their phone for browsing to buy items while they're at restaurants, walking in parks, or even late at night inside of their homes! It's a win-win situation all around – if your favorite website isn't listed on one of these aggregators then maybe it's time that site joins the party.
4. eCommerce aggregators provide options for recommendations and reviews
Aggregators have become an integral part of the eCommerce experience. They not only provide information about products but also help customers make informed purchase decisions by providing reviews and ratings on various aspects such as delivery, product quality, etc. The aggregator websites encourage consumers to review their purchases while also showcasing customer feedback for merchants-both good and bad!
5. eCommerce aggregators have the ability to work for new ideas and innovation
eCommerce aggregators are a great way to innovate and bring new ideas forth into the market. Their ability to work for creativity is unparalleled, as they reach out across all industries in order to find hidden gems that may not be seen otherwise.
The role of aggregators is to improve the shopping experience for people. This includes making it easy and seamless by using AI technology, as well as promoting products that are on display or at least ensuring they get noticed.
Aggregators do not own the products that are showcased on their platforms. Instead, they invest in improving technology and innovation to provide consumers with a fulfilling shopping experience. For example, aggregators may use AI for customizing recommendations based on shoppers' usage patterns or inputs; this leads to an easy and seamless browsing process.
Types of Aggregators
1. Search aggregators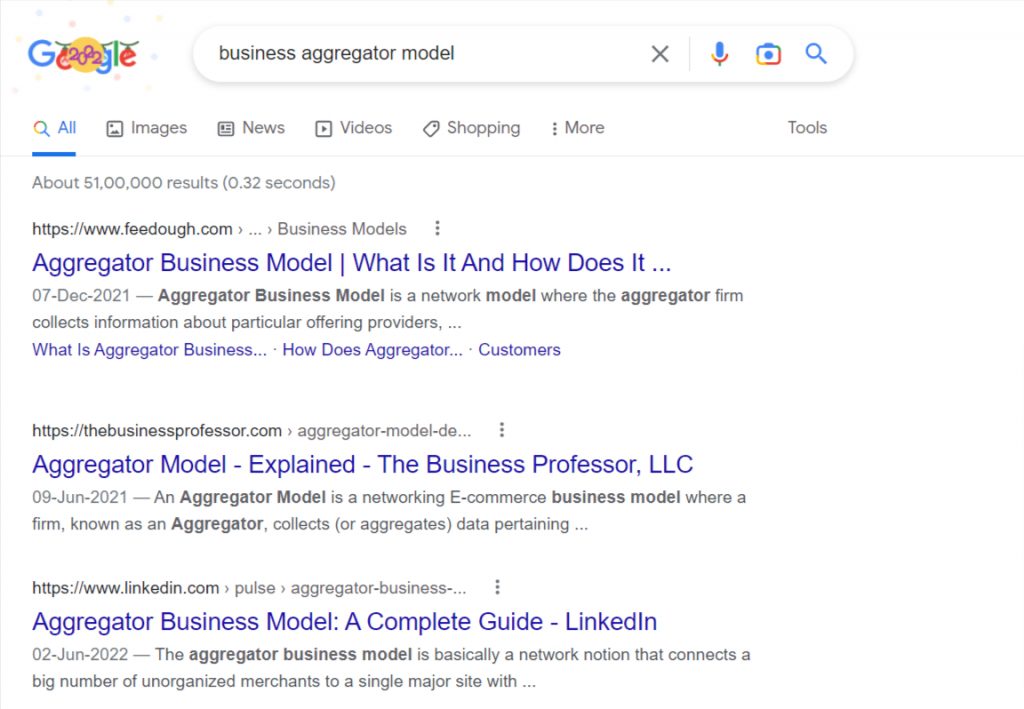 If you have ever used a search engine like Google, then you might be familiar with the term Search Aggregator. As their name suggests, they aggregate all of your internet searches into one place for easy access and browsing. Just some of the reasons why aggregators are popular include: saving time by eliminating having to visit multiple websites in order to find desired information; not being bombarded with advertising or unsolicited pop-ups when searching on an aggregated site vs individual sites; storing user preferences so as long as someone has logged onto that website within a certain timeframe inputted it will show up at the top where users can quickly get back on track.
Search aggregators are a great resource when you have an opinion on what to wear today. They simultaneously aggregate the results from several sites, so if one doesn't offer the right article for your needs, there's always another site that will provide more options!
Here are a the top search aggregators:
Google
Bing
Yandex
Yahoo
Baidu
Altavista
Yippy
AOL
Ask
Everyclick
DuckDuckGO
Exactseek
2. News or content aggregators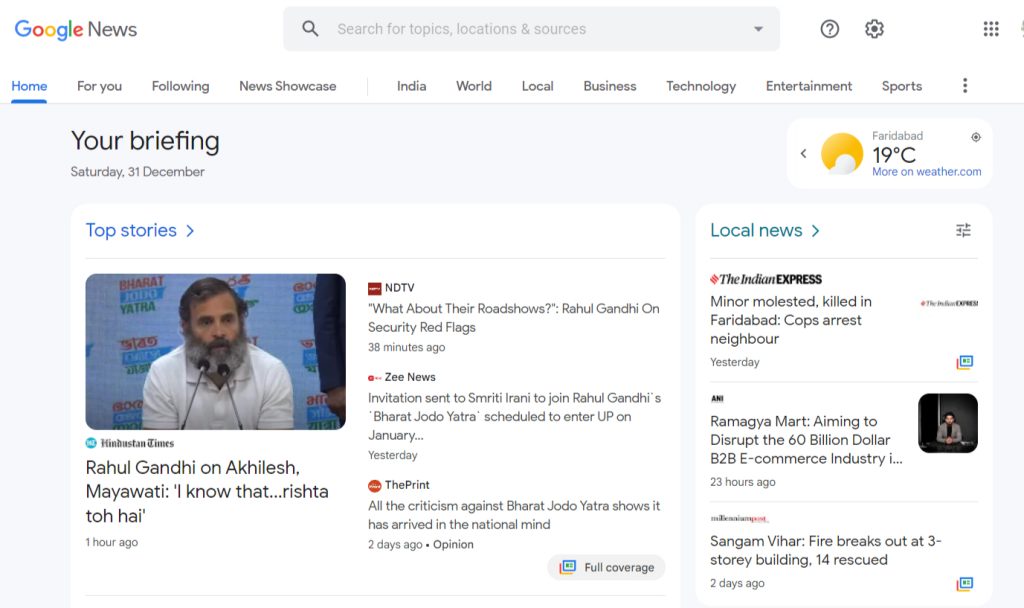 Content aggregators are sites that collect and categorize content from other websites. They typically operate on the basis of a user-generated submission model, the most popular example is Reddit – it has over 5 billion monthly visitors who all contribute what they find interesting online into one cohesive collection, bringing together all kinds of different media types such as articles written about breaking news stories, funny memes, etc.
These news or content aggregators organize the information presented in online articles and other similar media into groups. They work to connect users with different interests by providing them with curated, topic-based feeds of their favorite topics like travel or tech gadgets.
It's an excellent way for people who love browsing through new news stories all day long but don't have time to check out each individual article from every site they visit on their own!
Example of some top news or content aggregators:
Reddit
Google News
Techmeme
Mix.com
Bing News
Feedly
Alltop
News360
Panda
Flipboard
Pocket
3. Review aggregators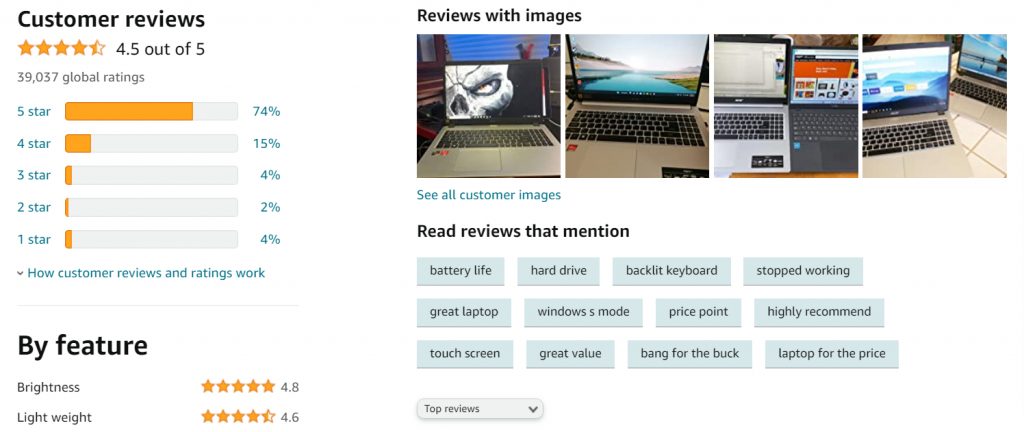 Review aggregators are websites that aggregate and organize reviews of products, restaurants, movies, etc. Examples include Yelp, Amazon, and TripAdvisor. All these websites allow a user to rate their experience with anything from restaurants to hotels as well as provide feedback about the quality of what they received in services or products for sale. Nowadays it is very rare that someone will go out without checking reviews first before visiting any establishment!
Online reviews are a ubiquitous part of the internet, but they can be time consuming to sift through. Review aggregators use data from sources such as Amazon and IMDB to create lists for you sorted by genre, date released, or user rating. They're similar in function to news aggregators like Google News-except that instead of coverage about what's going on all over the world today, review aggregation is focused on only one thing: telling you if something sucks or not!
Examples of some top review aggregators:
Google My Business
Amazon
Facebook
Yelp
Trip Advisor
BBB (Better Business Bureau)
Yellowpages
Manta
Angies List
Foursquare
4. Poll aggregators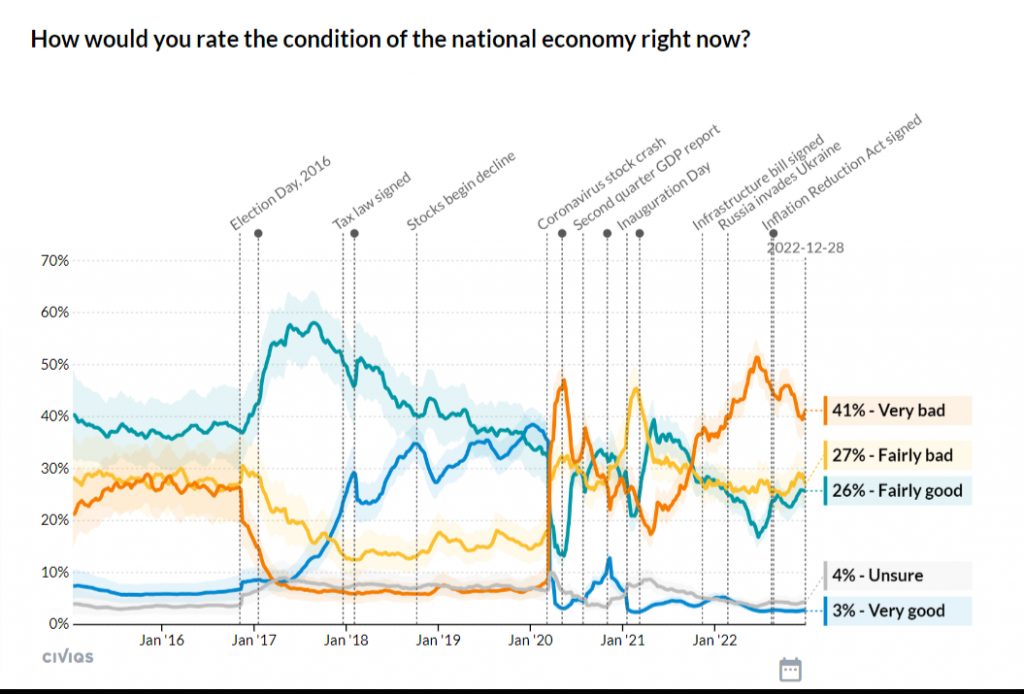 Poll aggregators are internet-based tools that compile and summarize information about polls. They allow you to see the polling data for a certain candidate or issue in one place, instead of having to visit each individual site's poll tracker page separately. Poll aggregator sites like Real Clear Politics show all major national polls along with their margins of error and time span from when they were conducted – so you can compare how much more accurate some might be than others without visiting every single site individually!
Votamatic and Frontloading HQ are other examples of poll aggregation sites.
5. Social media aggregators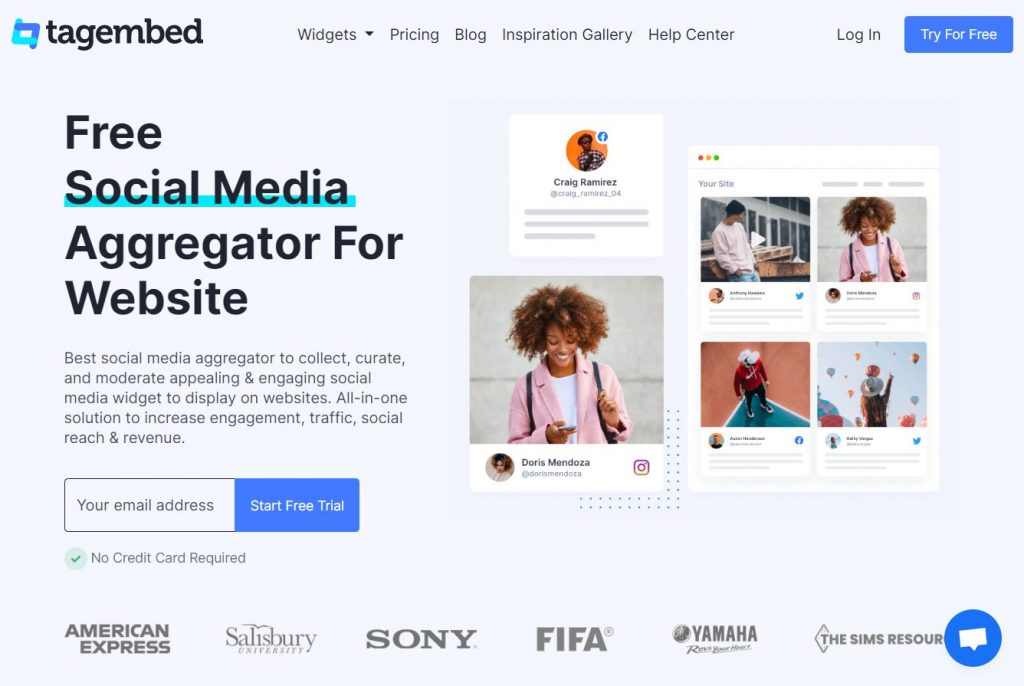 Social media aggregators are apps that collect and organize all of your different social accounts in one place. They help you monitor what's happening with these networks without having to log in to each site individually, as well as keep track of who is posting on them so it doesn't take up too much time scrolling through the feed looking for a post from someone specific or trying to remember if they commented yesterday.
Social media aggregators are a hot commodity and can be found all over the web. These sites combine content from dozens of different social media networks, such as Twitter, Facebook, or Instagram into one easy-to-use site so that users don't have to log in individually for every platform they use. Some examples include Hootsuite and FriendFeed (defunct).
A few more examples of Social media aggregators:
1. Tagembed – Social Media Aggregator Tool
Tagembed is a prime example of a well-known and high-performing social media aggregator. The tool helps you collect social media feeds from 20+ social platforms and curate and customize the collected content. Then assists you in displaying them on your website. It eventually makes your website more appealing and functional.
Alongside easing the whole embedding process and making it more manageable, the tool also provides ample features that add tremendous value to this tool and helps you in extracting great benefits. Some of the major features include a customization option. With the customization feature, you can personalize your widget per your requirement. You can change the font size, style, widget background, and more here. Moreover, you can even choose the desired layout from the provided option to make your website more organized.
Also, it provides you full authority over the content. That means you can remove the content from the website feed that you think is inappropriate or unnecessary with the help of the moderation feature. You can remove them manually or choose the auto-moderation option, where the tool eliminates the content with provided keywords. Analytics, custom CSS, responsive widget, and CTA are some of the other major features of many. A few more names are listed below:
socialmediawall.io
spotlyte
netvibes
taggbox
buffer
socialbee
6. Video aggregators
Video aggregators are online services that compile videos from all over the web and organize them by category. This makes it easier to find content than if you were looking through individual sites one at a time, trying to figure out what they have in common or how related their topics are.
Video Aggregators are the perfect tool for those who want to quickly find videos from a wide variety of sites. They organize them in easy-to-find categories and eliminate the need to click on different links just to get content.
7. Shopping aggregators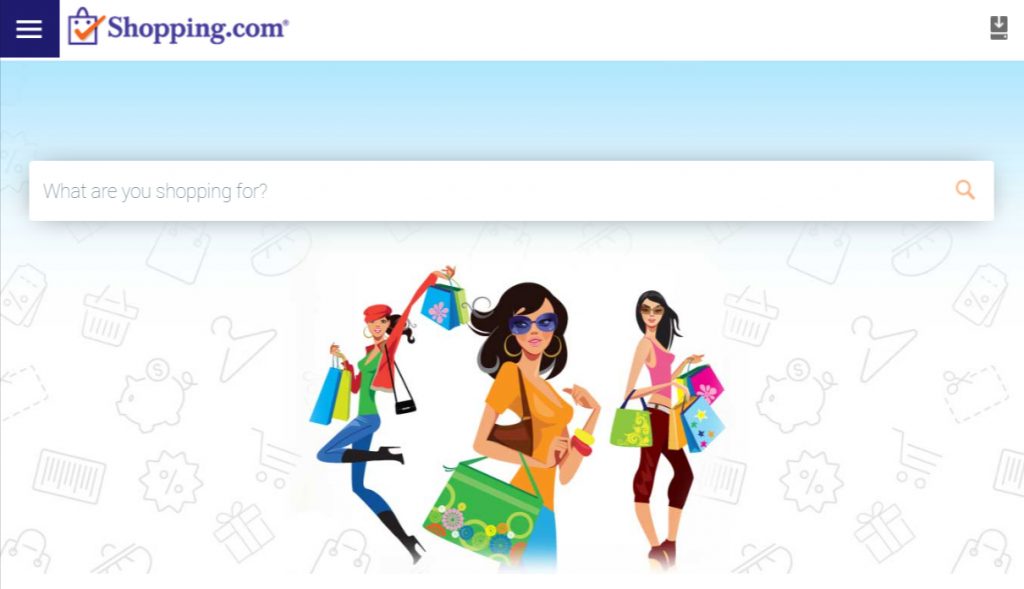 Shopping aggregators are sites that aggregate many different retailers in a single place, allowing consumers to browse and buy everything they need from one site. There is no longer the hassle of navigating through multiple websites or going out into town for your errands – you can do it all online!
Shopping aggregators are a fantastic way to get the best deals on anything from clothes, electronics, and furniture. Some of these platforms also offer helpful advice for shipping costs and return policies that can save you money in the long run! Shopping aggregators collate results of several shopping engines which is why they always have your back when it comes time to make an important purchase decision because not only do they provide price comparisons but reviews as well since there's nothing worse than ordering something online with high hopes just to find out after delivery that it doesn't meet expectations – luckily this will never happen if you decide upon one of these great sites instead!
A few examples of top Shopping Aggregators:
Google Shopping
PriceGrabber
Shopping.com
Shopzilla
Become
Bing Shopping Campaigns
Pronto
Bizrate
8. Real Estate aggregators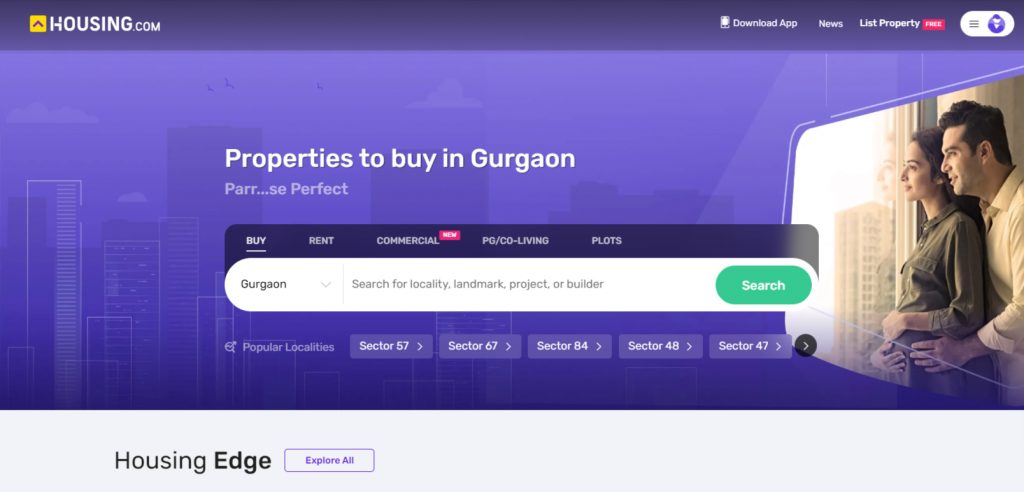 A new development in real estate is the use of aggregators. These agents are able to aggregate listings from various sites with properties for sale nationally and then display them on their site that looks more official than a typical listing website like Craigslist or Zillow, making it easier for consumers to find good deals.
Aggregating sources from popular property websites such as Zillow or Realtor is extremely beneficial for first-time home buyers because it simplifies their hunt by providing key stats about homes they were interested in at one glance. This saves them both time and money since more than likely they would be getting this info anyways if making inquiries on an individual basis with each website.
As the real estate market has become more competitive, it is difficult for home buyers to find listings. It can take hours of searching through online sites before finally finding what they've been looking for and even then there are so many ads that you don't know which ones are legitimate or not. The best way around this issue is with a Realtor who will have access to information on every property listed in their area as well as being able to answer questions about each one without hesitation but unfortunately, these professionals charge high fees; making them unavailable unless you're wealthy enough or willing to spend your life savings just trying out different homes until something sticks. That's where RealEstate Aggregators come into play.
A few examples of top RealEstate Aggregators
99 Acres
MagicBricks
Commonfloor
PropTiger
Makaan
Housing
Square Yards
Quickr Homes
Sulekha Properties
Zricks
9. Job aggregators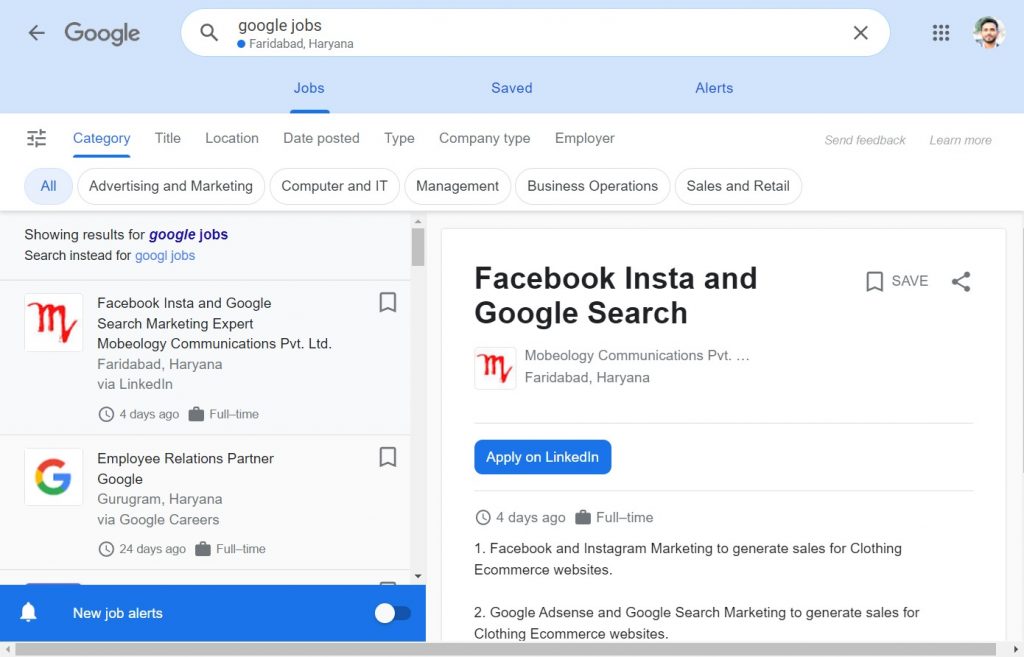 Job aggregators are search engines of sorts for jobs. They collect job postings from all the different websites and consolidate them into one easily searchable site based on keywords, location, or company name. Job seekers can then find your ad without having to go through a ton of listings they're not interested in because it's been narrowed down by these filters!
A few examples of top Job aggregators
Google jobs
Indeed
SimplyHired
CareerJet
JobRobot
10. Wedding aggregators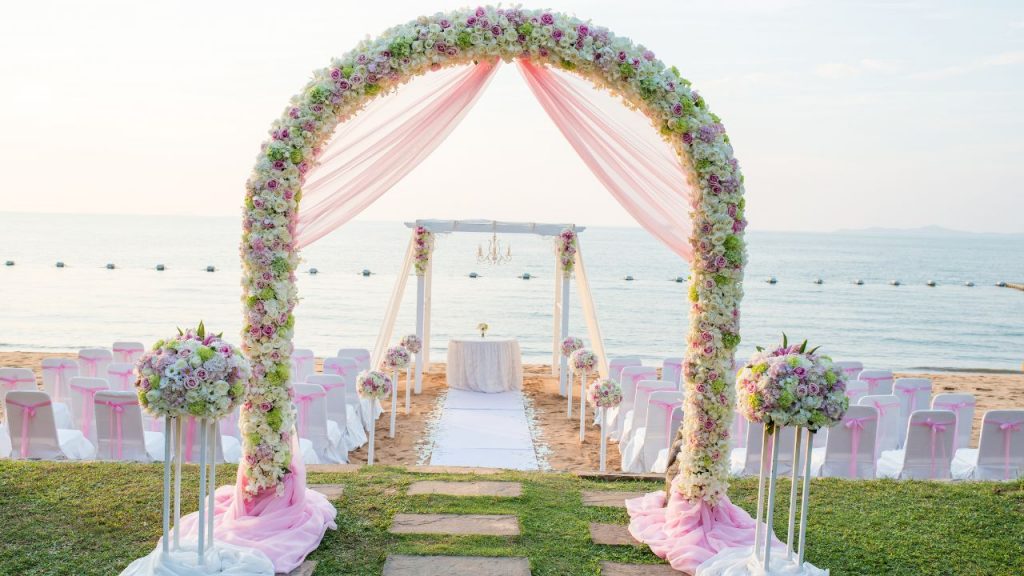 Wedding Aggregators are sites that can help you plan every detail of your wedding. They include everything from the dress to flowers and catering, all in one place for easy browsing!
Aggregator sites give couples a way to organize their search for the perfect vendor in one place while learning about different locations or venues where they may want to have their weddings take place. Rather than reading through endless lists of potential suppliers on Google searches or clicking from site to site trying to make sense of what each has available, Aggregation allows users an easy go-to spot with all pertinent information at their fingertips!
Here are some of the top wedding aggregation sites
WeddingZ.in
Wedding Rose – A Wedding Planner
ZoWed
WedMeGood
ShaadiSaga
Aggregator revenue model
The aggregator revenue model depends primarily on the type of business offerings you provide for your customers. Generally speaking, there are two types of revenue generation models:
1. Fixed Commission Model
The fixed commission aggregator revenue model is an innovative and promising way to generate more income without the need for a large upfront investment. This business model has proven successful with companies like Uber, which are only successful because of their fixed 15% commissions on all transactions generated through its platform. Partner providers rely less on traditional marketing methods such as TV commercials or billboards to get new customers when they realize that partnerships with these types of platforms can increase customer acquisition costs by 1000%.
2. Added Take-up Rate Model
The aggregator system is similar to the Airbnb model, where providers set their minimum price and then after inputting your desired rate of take-up (the percentage) by the aggregators, a final price will be finalized. This dynamic pricing varies according to seasonality or business stage. There are also discounts that play an important role in how much revenue can be generated by this unique form of aggregation.
How do aggregators attract buyers?
Aggregators allow customers to see all available products at once with no searching or sorting required; this saves time for buyers who are not sure which category of product is most interesting to them but know what specific item they want (such customers might be looking for electronics). Customers can also filter by price range or location and compare multiple options side-by-side without having another browser window open taking up space on the screen – again saving valuable browsing time!
Uber, a successful and popular aggregator business, has created an on-demand service platform. It lists individual taxi services under its own brand name (Uber). The company offers people the convenience of requesting car rides with just one tap from their phones. Uber also solved another problem by organizing this unorganized and populated sector into a prosperous flourishing business model which attracted consumers all over the world as well as drivers who provide these commingled transportation solutions for them plus receive payment electronically through PayPal or other platforms like Apple Pay, GPay, PhonePe, Paytm, etc. without having to wait around for customers at designated locations where taxis usually pick up fares – making it more efficient than ever!
Benefits of aggregator business model
Faster and more efficient data analysis
The aggregation model allows you to collect and analyze data faster by combining the efforts of a large number of contributors. This ensures that your company can more quickly make decisions based on relevant information when it matters most, rather than wasting time analyzing irrelevant or outdated data.
Detecting global trends
One of the best ways to stay in tune with what's going on around you is through aggregators. These sites scour numerous sources and then organize them into one, easy-to-read page that includes both news articles as well as social media posts about a story or event.
Data security
The use of aggregators' business models has many benefits, the most important being data safety. With all your information stored in one location, it is easier to protect and keep safe from leaks or cyber attacks. Additionally, providers always offer a private network for clients which keeps them safer than other solutions on the market today.
Lower costs
Lower costs are just one thing that contributes to the many advantages of using aggregators' business models.
Consumers no longer have to spend hours searching for deals on their own, or having a thousand different accounts with all these retailers and online stores they don't use anymore. They can simply log into an aggregator's site whenever they want new items delivered right at home!
User experience
Aggregators are also a great way to improve your user experience.
Aggregating content from different sources can provide you with access to more information and allow for better, easier organization of the material that is found online.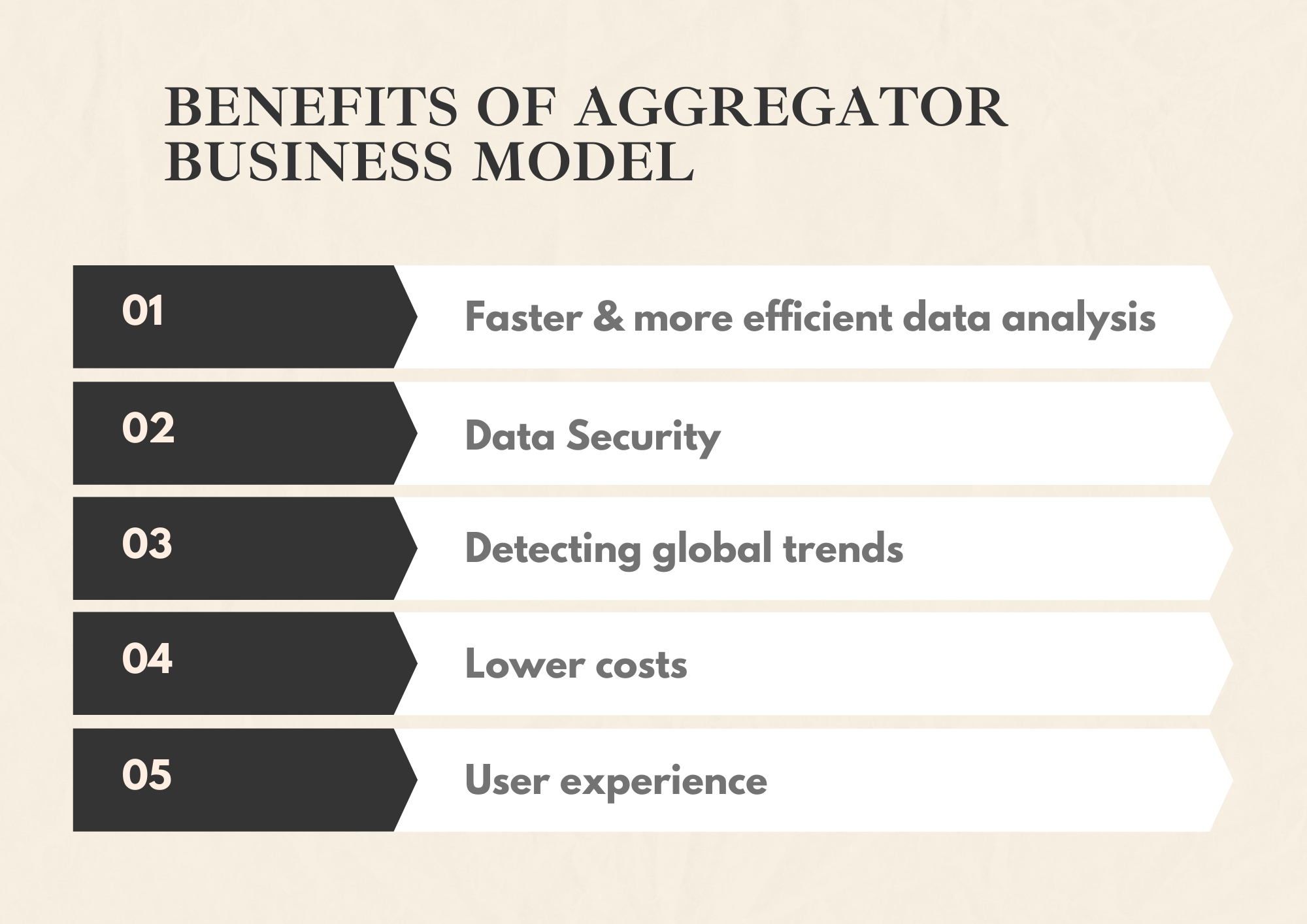 Aggregator website design and development process
Understand the business goals are willing to achieve
Understand the SaaS application requirements of business
Do in-depth industry research to understand the whereabouts of your competitors
Identify your target customers and try to understand their preferences and web app trends
Based on the requirements gathered, begin with planning your design process. Make sure you are aware of the principles of good website design.
Get feedback from your known for the initial draft of your website
Make all the necessary changes recommended by them
Test the website on various devices and platforms
Things to consider before launching an aggregator platform
In the information age, businesses need to keep up with trends and adapt their strategies for success. The e-commerce industry is booming right now so it only makes sense that you would want a piece of the action too! When launching an aggregator platform, you have to be aware of the following factors:
Judicious selection of products and target audience
Focusing on selling, investing and identifying competitors
Unique designing and programming approaches
Hunt for a talented marketing team and devising strategies
FAQ: Aggregator Model
Q. What is the aggregator model in eCommerce?
A. The aggregator model is a widely used e-commerce platform that connects sellers with buyers. It's an efficient and effective way for both sides of the business to sell. An aggregator model is a type of e-commerce business where the company acts as an intermediary between websites or application software and customers. This allows it to aggregate data from several competing sites onto its own platform, which makes things easier for both sides in terms of accessibility since they only have one source with all relevant information at their fingertips rather than accessing multiple sources independently.
Q. What is an aggregate business model?
A. Aggregate Business Model (ABS), which involves many different contractors who work together as one entity but maintain their own brands or identities within that organization's umbrella.

The business model behind this phenomenon is known as "aggregate" or aggregator models where firms take on responsibility for different aspects of buying behavior. A business model where providers are not given individual accounts but rather belong to one big pool via their contract of service with an aggregator firm (or multiple). This allows them to access all products offered under this brand while providing additional services like technical support when needed – at no extra cost if you have purchased directly from us before!
How can VOCSO help?
It's difficult to launch a successful e-commerce aggregator platform without the help of a professional eCommerce development agency like VOCSO. You'll need to create an attractive, modern interface for your customers along with intuitive navigation that will allow them to find their desired product quickly – all while maintaining ease of use on mobile devices. We can build you up from scratch or get started by transforming any existing website into one tailored specifically for this purpose!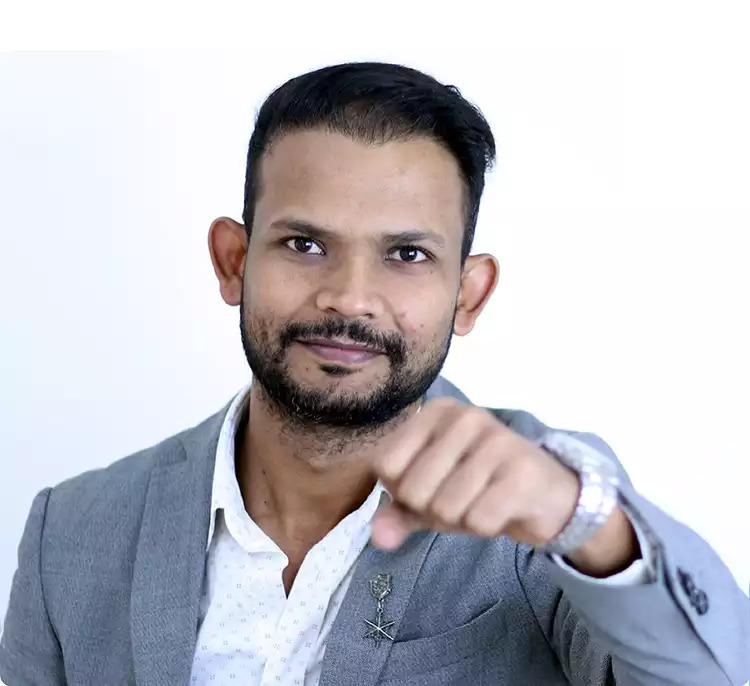 About Deepak Chauhan Hi, I am Deepak Chauhan, a Digital Marketing Strategist. I'm the CEO & Co-Founder of VOCSO Digital Agency, a creative web design, development, and marketing agency based in India & USA.