Do you plan dreamy and romantic wedding days for oh-so-in-love couples? Let us ask you, is there a joy greater than realizing their dream wedding plans? Watching a couple unite in the company of their loved ones with all their wishes of a dream wedding fulfilled gives a sense of satisfaction unlike anything else, especially if you are the one to realize this dream.
The methods of planning and organizing a wedding have evolved rapidly in the past decade. Digitalization and linkage to the internet have left nothing untouched, including the wedding and event industry. This industry, too, is in its clutches, and that is in the right way. It has proved to be a boon for all wedding and event planners since more people can now access the same services from remote parts of the country.
Wouldn't it be great if various services and vendors were easily accessible to all potential customers where they could find and compare them based on their need? This is where the Wedding Services Aggregator Websites are winning. If you are not convinced about the need for one, let us take a look at the evolution of the wedding and event industry in India.
Growth of the Wedding Industry in Previous Decades
If we were to look at the growth of the wedding industry through the ages, the first thing we would notice is the estimated value of the industry. Earlier, due to the fact that families preferred small events with basic hospitality, the wedding industry wasn't a major focus point in our country. Now, this same wedding industry is estimated to be the second-largest in the entire world, right after the US. It has been estimated at $50 billion, whereas the US wedding industry leads by an extra $20 billion.
Many analysts who have spent a great deal of time studying the Indian wedding industry have claimed that it is recession-proof. Simply because people are always getting married, a whopping figure of 10 million weddings per year to be precise. That would make it approximately 19 weddings per minute. Now, we all know that is just not possible. Of course, the number will be much higher for some days because we happen to have our very own "shaadi season". Cue the laughter!
The projected growth rate for this sector is now 30%, which indicates the scope of this industry in the near and distant future. The amount of money people are willing to spend on their weddings has increased drastically, and an over-the-top, ultimate heart-eyes wedding can easily reach Rs. 5 crore if no expenses are spared.
The increased expenditure can be attributed to the wedding venue choices, destination weddings, designer clothing, and of course, the jewelry. Gone are the days when a simple, traditional outfit with traditional jewelry was the fixed attire for the D-day. Now, it is all about comfort over style, but of course, designer labels are not at all ignored. Even the jewelry is more modern but equally extravagant.
Even if the couple decides to avoid the expense of jewelry that will most likely not be worn again, the budget spared here is utilized in organizing the honeymoon or a trip for the whole family. Even the choices for honeymoon are becoming more and more spread across the globe and may even include an entire tour of a continent.
This brings us to the next point. Currently, an average individual spends about 20% of his or her entire monetary value on the wedding or anything related to it. This means a lot since it implies the importance of the wedding days in an individual's life.
Now, more and more couples are relying on themselves (and their hard-earned money) to achieve the dream wedding that they have planned, whether it includes a dramatic and unforgettable entry or the perfect designer lehenga that will dazzle everyone.
Impact of Wedding & Event Services Aggragators
Undoubtedly, the introduction of the internet to the world has changed many of its aspects in the past decade and this, of course, is extensible to our Indian wedding industry. The establishment of the link between the internet and this industry led to the birth of various wedding services aggregator portals.
Beginning with simple matrimonial websites, the face of wedding rishtas changed entirely. No longer were there any hassles of involving a matchmaker or a pandit as the profile of the prospective life partner was available with just a few clicks.
Fast forward a few years, and the different vendors needed for the wedding had their own blogs and websites. Earlier, we would call the same company that did the decorations in "Sharmaji ke bete ki shaadi," but now, it is more based on past customer reviews and what not.
Moving on, present-day brides (since brides are USUALLY fussier) can micromanage every detail related to the wedding, courtesy of the numerous apps that keep track of their choices and provide reminders as well. You don't need to lug around that massive catalog anymore!
Even the invitations have evolved as more couples are now opting for virtual invites rather than the traditional way of sending out patrikas. Not only does this save money, but this move also saves paper. You can now shift the focus from elaborate patrikas to digitally aesthetic e-patrikas.
This, of course, involves more work from your digital design department.
Everything is online now, so why should your photos and videos miss out on this? Certain apps allow instant sharing of the images and videos taken by the photographer at the wedding. No longer do you have to wait for the extravagant albums of photographs of every family member when you can access it through a series of clicks. Of course, you don't need to wait for an extended processing time before you get to upload your favorite pictures of the wedding. The trend of uploading your wedding photographs on social media platforms is all the hype, but it has been upgraded to live streaming of the whole ceremony on these same platforms.
Maybe we said the upgrade point too soon because wedding ceremonies are now taking place through the internet also. Obviously, through the multiple video calling apps available. That is on a whole new level. Moreover, isn't it just fascinating?
Digitalization of these services and to further improve the process of wedding planning generated the need for trusted platforms that brought all of these services together in a transparent manner. Wedding planning aggregator portals do exactly that by allowing people to plan their weddings, right from searching various vendors, comparing their services via their price points, reviews and their availability.


Best Wedding Planning Aggregator Portals in India
Wouldn't you want to know which are the top ranking wedding planning aggregator portals in India? These wedding portals cropped up as startups in India and are really overtaking the traditional methods of wedding planning quite quickly. We have listed and discussed the most promising wedding portals in India below.
1. WeddingZ.in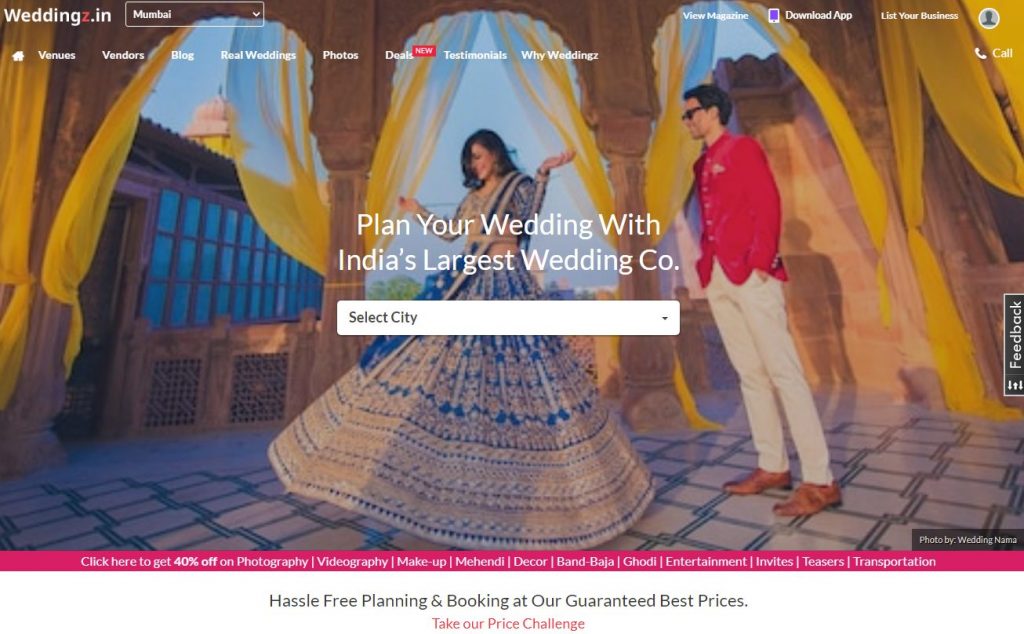 Driving down the road and looking at a billboard with the advertisement for this company just serves to remind us how far this startup has come. It began in January 2015 and is now under Oyo Rooms since its acquisition in 2018. Initially, it was limited to Mumbai, but now it is spread across 25 cities. It has over 20,000 wedding venues and vendors with over 10,000 successful events in its list of achievements. This is definitely a long road that this startup has traveled.
2. Wedding Rose – A Wedding Planner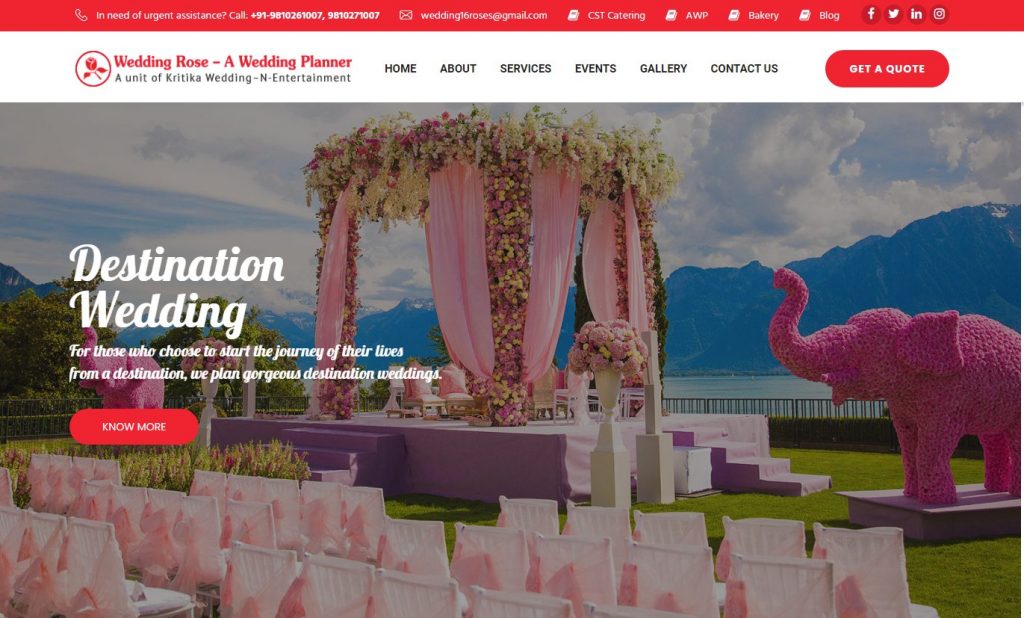 Considered as one of the best destination wedding planners in India, this initiative of Kritika Wedding-n-Entertainment is an absolute hit among couples who are ready to tie the knot. It offers all possible details pertaining to a wedding on one portal with clear segregation between the categories. This is very helpful as trying to sort through a messy website is the last thing on a bride's mind. This startup offers some refreshing takes on wedding decorations and minor details that add charm to the whole set up.
3. ZoWed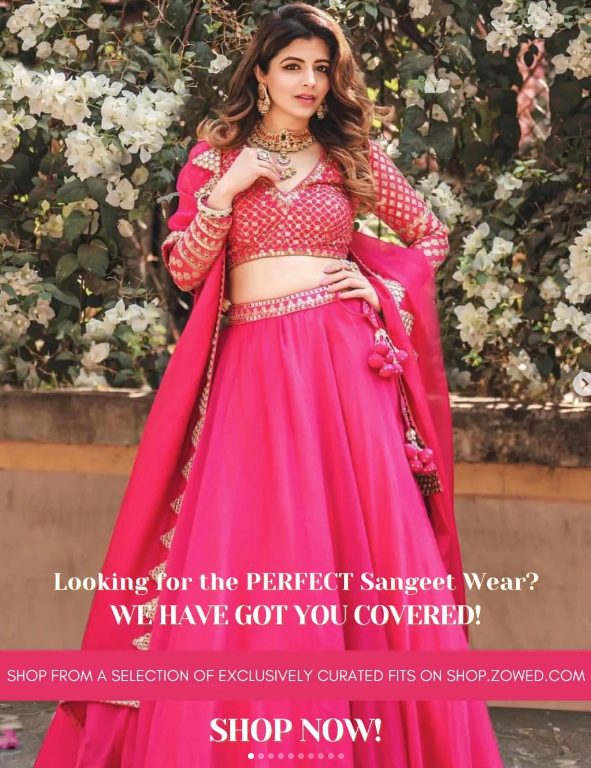 ZoWed is the fastest growing wedding planning portal that is your personal assistant during this beautiful yet stressful time. It aims to reduce your stress by helping you plan everything related to your wedding without any additional incessant advice. You know what we are talking about here. You can sort out all your requirements timely through the portal. Apart from this, you can also go through their photo and video gallery for some inspiration and ideas that you can incorporate into your wedding effortlessly.
4. WedMeGood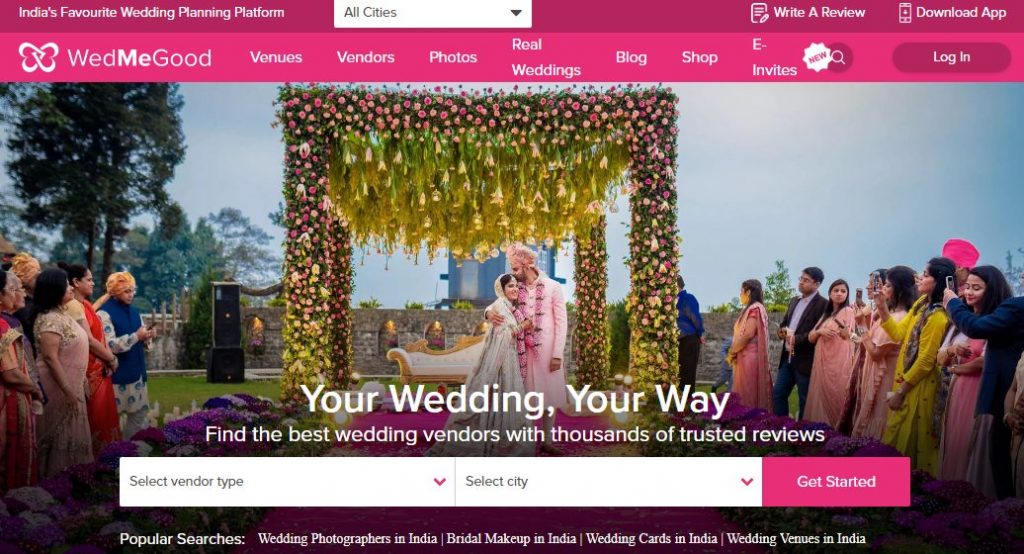 This wedding portal puts up fierce competition for the other wedding portals because of its vast array of vendors in most of the cities. You can easily search for any vendor in your city through their search box. They also provide all the results with their relevant ratings and reviews. You can also check the charges if mentioned by the vendor. This gives you a fair idea of what you will be facing, and you can work from there to shortlist the final vendor.
5. ShaadiSaga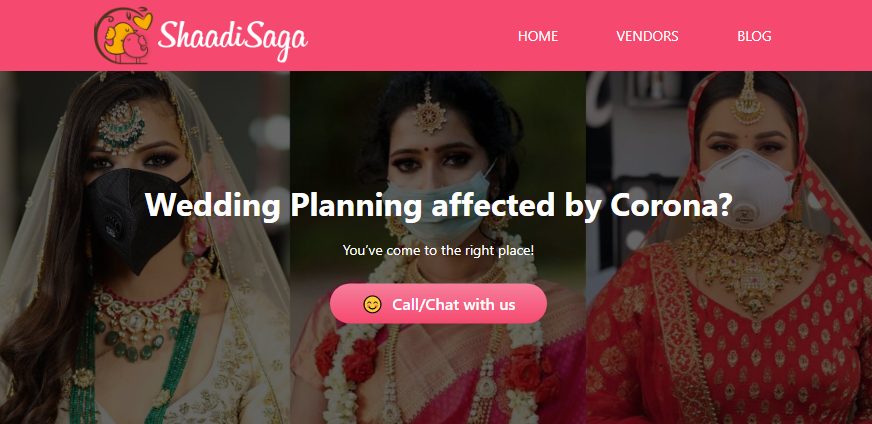 Booking a vendor is made infinitely easy by ShaadiSaga. It allows you to send your requirements to multiple vendors. Once you have compared and reviewed their quotes, you can book your vendor quite quickly through the portal. This way, you get the best possible deal and, of course, value for money. The portal also has innumerable options for all your wedding-related needs. So, you can jump on board this platform without second thoughts.
6. WeddingSutra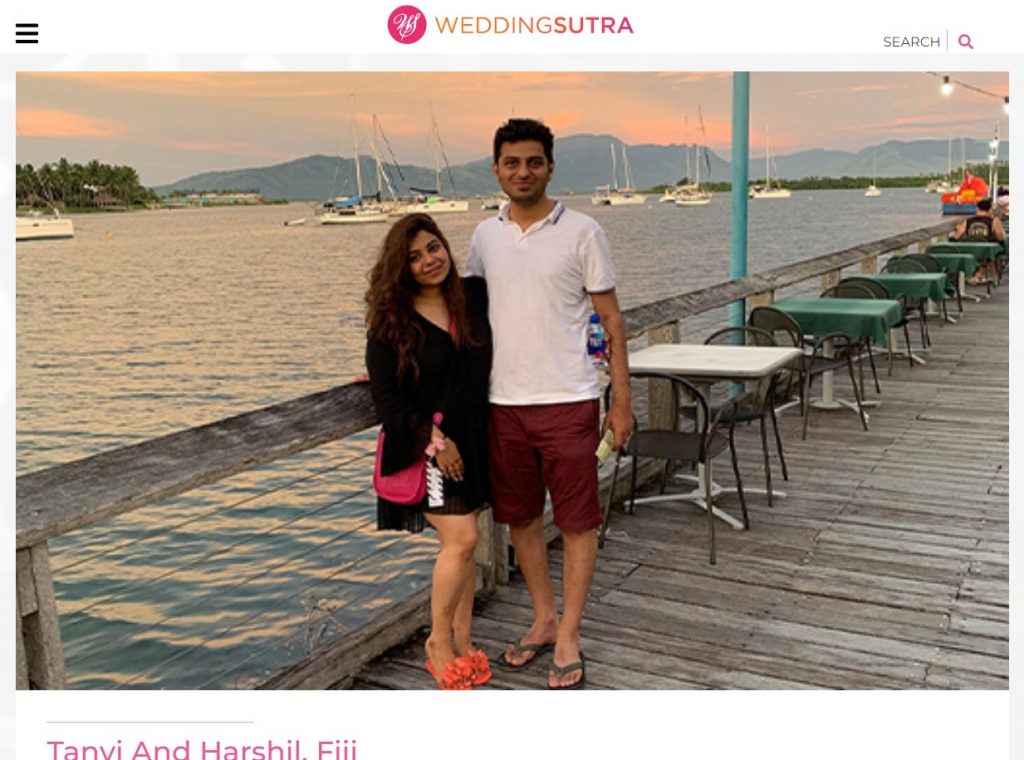 WeddingSutra is a comprehensive Indian wedding planning website that provides a wealth of information and inspiration to help make your wedding day special. From the latest trends in Indian weddings to the most stylish Bollywood weddings, WeddingSutra has it all. The website features a collection of beautiful and inspiring wedding stories, showcasing the latest wedding fashion and styles. It also provides a platform for users to connect with vendors and suppliers, making it easier to plan and execute the wedding of your dreams. The website offers detailed information and guidance on everything from choosing the right venue and wedding outfits to selecting the perfect jewelry, flowers, and decorations.
WeddingSutra also provides in-depth coverage of the latest trends in Indian wedding fashion, including the latest styles in bridal wear, groom's attire, and bridesmaids' dresses. Whether you're planning a traditional Indian wedding or a more modern and stylish celebration, WeddingSutra has the resources and information you need to make your special day unforgettable. With its comprehensive and inspiring content, WeddingSutra is the ultimate online destination for all things weddings in India.
Features of a successful Wedding Planning Portal
Esthetic gallery
Easy-to-navigate Search Option
Customer review section
Portal for vendors
Booking system
Secure payment
Strong search/filter options (distance/radius search)
Comparison
AI based matching of leads with vendors
Custom Form Management for different categories
Creating and managing a wedding planning portal is no easy feat. You can, however, make it more manageable by splitting the job and giving the task of creating the wedding website design to an experienced professional. You must guide the designer to include certain quintessential features to your website as a successful wedding planning portal should fulfill some basic requirements.
1. Aesthetic Gallery
The first thing any prospective customer will notice on your portal is the collection of photographs and videos. You can display some of the best shots on your homepage to capture the attention of the couple as soon as they step into your territory. Once this is done, the couple would obviously want to go through the photographs of past events that have been organized by you. Hence, it is necessary to have Instagram-worthy shots of every event.
2. Easy-to-navigate Search Option
If any couple can not navigate through the basic search system of your portal, then the purpose of your website is lost. You must have a simple, easy-to-use search box that can show relevant results according to the needs and the city in question.
3. Customer Review Section
Any potential customer assesses the reviews left by previous customers to gauge the ability of the portal to handle their wedding. As such, you should have a separate section where past customers can leave their reviews and ratings for the services they availed.
4. Portal for Vendors
Since most of the vendors in the market will be using the platform to boost their business, they will need a portal to manage any queries that may come their way and send quotations for the same. Hence, a separate section for the vendors is also essential.
5. Booking System
Once a vendor or venue has been decided, the booking process must be commenced at the earliest to avoid losing the pre-decided date. This system should also be straightforward to use and with all relevant details attached to the booking. Relevant information may include preferences, decorations, setup details, and more.
6. Secure Payment
Last but not least, the most crucial step for ensuring that you get what you want is to pay in advance. You can pay a small advance or whatever the vendor requires as minimum booking through the portal. This is the primary and only reason why any portal needs a secure payment gateway, at all costs. Pun intended!
7. Strong search/filter options (distance/radius search)
Nowadays, consumers desire to find specific information & fast! Wedding details are no exception to this. Improving your product findability over integrated ecommerce platforms is therefore imperative. Searching or browsing which yields product listings. Now it's your responsibility to ensure that by either filtering, sorting (or both), customers can easily find your offering. Being competitive with pricing, whilst catering for services based on particular criteria is paramount. Now find your dream venue easily!
Tailoring your sort by options with simple easy to understand headings is a good way to be noticed. The presentation of this is key. Hence, if you have three or less options, try using radio buttons. These are always visible in their entirety. However, if there are more choices, opting for the conventional dropdown menu box is advisable. This allows customers to scan & understand the variables available which can be tweaked. Horizontal or sidebars also operate using similar principles. Truncating options, using a 'view more' CTA button can always visually declutter your site. No more overwhelming volumes of vendors!
Category filters according to your product metrics will also boost your findability. Ingenuitive filters to cater for & match user needs will also make you stand out from your competitors. Why not try applying batch or interactive filtering, allowing control over the page refresh rates. This enables visitors to actually think & reflect upon their choices. Multiple simultaneous selections allows live comparisons to be made, augmenting the decision making process. Keeping it simple, predictable, visible & encouraging is the way to go! Select your ideal photographer quickly.
Apply NLP & data processing skills to create intelligible algorithmic coded protocols to predict, correct & suggest search keywords. Compound phrases, mobile optimised interfaces, AI virtual assistants & voice cum image/video searches can all entice searches on your site. By applying just some of these hacks, you can transform your site into a popular destination for their wedding needs.
8. Comparison
Product comparisons can be tough to say the least – 'oh which caterer should I choose?!' Well, why not assist your customers with a few easy implementations…This way you can improve your customer experience & conversion rate with better engagement. Help visitors match features, compare prices & tabulate this visually for convenient sharing with other decision makers. Empower the customer to be in total control over their decisions.
There are many elements of a product, especially when searching online which determine its purchasability. For instance, affiliated services including shipping costs & time, colour choices, optional extras, promotions, pricing & even reviews can make all the difference. Availability & social media links also influence buyer mindset. Buy that dream costume with customisations…
Adding features such as direct view ratings, retailer stockists & further welcome info such as popularity entices customers. This assures them with confidence that certain products which stand out are more desirable & perhaps a safer option than others. This is what to aim for, with the flexibility to add, remove & collate further products together. Know which wedding agency really means business.
In conclusion then, the significance & power of comparison is often overlooked. Always ensure that customers are equipped with all the ergonomic tools to compare products using various permutations. Only then will they be enlightened to formulate informed decisions! No more wedding jitters…
9. AI based matching of leads with vendors
Selecting the ideal vendor solution can be challenging, as there are a few factors to consider. This is paramount, as the correct decisions can help your business to prosper, whilst the inappropriate ones can waste resources. Time invested in marketing should be well invested to ensure that you remain competitive within the market. Serve your matrimonial clients well…
AI interfaces & concepts have first impressions too! They need to be able to draw & win the confidence of their users. Your AI powered virtual assistant & tools are your data infrastructure colleagues after all. If phased by them, it's unlikely that your team will succeed. Synchrony & harmonised workflows with such solutions will boost your campaigns, conversions plus engagements to potentially unprecedented levels. Prepare your team for wedding event management.
Organisational & talent concerns also ensue with higher data infrastructural processing costs. Testing, integration & iterative experimental protocols are required to understand the AI product better. Algorithmic sequencing requires time & as aforesaid, this should be well spent. Training staff about data science methodology & principles can be a time consuming exercise. Ironically, these practices are performed solely to decide upon which AI package to opt for! Exercise automation to curate a dream wedding.
Hence, categorising the following areas may help to decide on which is best:
Vendor coverage assessment: An outline of their open-source solutions, tools and APIs available
Track record: some vendors lack accountable client success. Published case-study data &press releases are usually misleading. Try & test for yourself to know what's what.
Feasibility and accessibility: AI apps warrant data, time, and specialisation. Assessing & comparing the requirements with resources required of others can be a useful approach
Hence, opting for the correct AI is an important aspect of growing your business with automated tech. Satisfy all guests!
10. Custom form management for different categories
Creating understandable forms which can be easily comprehended by already excited yet apprehensive couples ready to tie the knot can be cumbersome. By applying a few categorisation criteria, alleviate any perplexities instantly. Curate order forms which are also more aesthetically pleasing. After all, the wedding theme should ensue from the outset, right?
Improve the navigation experience for your clients with broad subheadings, such as 'attire, catering or food, music/entertainment' (hopefully, you get the gist). Add payment integrations to simplify the process of opting for various services or optional extras. Together with payment gateways, unify the selection & expense channels. This also up or cross – sells your products to improve lead conversions or at least engagements. Add labels to clearly outline preformatted areas & order them accordingly.
Now you'll have enough to offer your wedding lurkers who don't just desire a wonderful experience but also a methodical approach. Pave the way for memorable emotional moments, just with a few selection criteria. Furthermore, don't worry about the interface, as this is adaptive as per the visitor's activity. No more disgruntled customers! Encourage users to make informed choices based on the information presented to them in a coherent manner…
Development Cost of a Wedding Planning Portal
Now that we have seen the need for a wedding planning portal and the features it must contain, we can move on to the approximate cost of developing one. Whether you are aiming to develop an app or just a plain old website, we will be discussing both for your benefit. The cost depends entirely on what you want to incorporate into this digital venture.
Let us first have a look at the development cost of a wedding planning website. Most website developers offer a basic plan that includes basic features pertaining to the site and include domain name, hosting, designing, and more. Additional features that you add will cost extra. The overall cost of developing a website is variable and depends highly on the developer whose services you choose to avail. Some additional features that may cost you extra include renewal fees, domain charges, certifications, and more.
Looking at the current scenario, developing an app is a better option. This age of smartphones utilizes apps more than websites. For an app, you first need to determine the primary function that your app will serve to fulfill. Since we are focusing on wedding planning portals, there are some specific features that you must include in the app, as we have discussed already. You can easily divide your app requirements into three sections: what a customer needs, what a vendor needs, and what you, as an admin, need. Talking about the cost, it depends on the total hours invested in developing the app. This depends on the basic features, advanced features, the platform you will launch it on, debugging, and improvements based on feedback, complexity, and more.
Ultimately, whether you go for a website or for an app (or both), you can streamline the flowchart of information beforehand to ensure that unnecessary extra hours are not spent on this trivial matter. You can save significant time and money if you are clear on what should and should not be included in your website portal or app. You can also make a list of basic features that have to be included and a list of advanced features that can be included in your portal.
How to Plan for a Wedding Service Portal Development
After you have decided what platform you want to establish your wedding portal on, you can move on to the actual planning process related to it. When we go to any developer, whether it is for a website or for an app, we need to have a clear picture of what we want as the finished product. These ideas include but are not limited to the design, facilities provided to the client, facilities provided to the vendor, a link between the two, and more.
Framework and Design
Any website or app should have an appealing design with a color scheme that complements the idea presented by it. It should have a user-friendly interface that can be navigated without any hassle by the prospective client. You must determine what you want to include in the basic framework of the site or app and its appropriate location. Whether you want to pick up an existing layout and color scheme or you want to create your own, it is entirely dependent on you, but you must have a clear idea about it. This, however, does not mean that you are rigid with your design. Let it evolve according to the process so that it suits the best interests of the portal.
Front End
The front end of any app or website is responsible for handling the interactions between the client and the portal. This includes being able to search for appropriate vendors, being able to view their contact details, being able to see user ratings and reviews, being able to request quotations, and being able to book specific vendors. This is managed by a dedicated team of developers.
Some popular frontend frameworks include AngularJS, ReactJS, Vue.JS, Ember.JS, Backbone.JS, Node.JS, and Next.JS. Each framework has its own pros and cons, so be sure to do your research before choosing one.
Back End
The back end of the app includes being able to finalize the deal, being able to pay the vendor securely, being able to arrange the wedding events according to plan, being able to process refunds in case of any cancellations, and being able to incorporate messages into the wedding planning process. This, too, is managed by a dedicated team of developers.
Trial Run
After the app or website has been developed, it must be tested to determine if any bugs or glitches are present. The team of developers will definitely work on debugging the app or website. You must plan for this phase as well, so you can determine the time when you can launch your wedding planning portal.
Insights (Questions & Answers) from the Top Wedding Portals in India
#1. Kritika Wedding
1. What inspired you to start?
Ans: Since I worked in hospitality department for more than 10 years and had been part of different wedding and wedding planning is the trending business anyone can go for hence my 10 yr experience helped me,inspired me to open my own venture as it is the best way to get close to our culture, rituals, religion and so I opened Kritika wedding-n-entertainment in 2005.
2. What are the challenges faced by you?
Ans: As we know key for business success is good planning which include determination, discipline,passion and most important is to be patience, biggest challenge for any business is to be known & recognize in market that is enrollment strategy- enrolling in business and lastly sustain in business for a long period.

3. What has been the most important acquisition strategy in your platform?
Ans-It's all about contacts having friendly relationship with client as well as vendors. Hence maintaining long term goodwill and reputation in Wedding market plays a key role .
4. Where are you in journey and what are the future plans?
Ans: Right now we very successful and in future we are planning to open boutiques which will include different services under one roof like*Photographer, Bride & Groom Designer, Makeup Artist, Decor, Cards & trousseau etc.
#2. ZoWed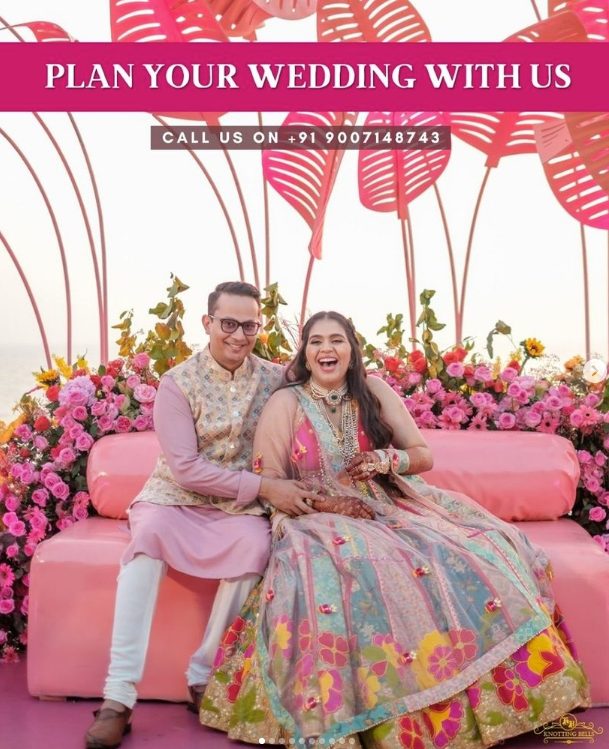 1. What inspired you to start?
Ans: Founder Siddhartha Daga has been in the wedding fashion space since the last fifteen years and he observed how the market had transformed over the years. From a time when parents were the biggest spenders and decision makers to when brides and grooms themselves got involved in planning their wedding to the finest detail. We realized the potential of catering to this smartphone wielding new generation who is looking for wedding ideas, inspirations and vendors online. A generation that is ready and able to spend on things that matter at their wedding, if they find the right vendor.
On the other hand, there were good wedding vendors and professionals sitting idle, with low business volumes, relying solely on word of mouth, unable to reach their target audience effectively through traditional marketing channels.
And that's how we got inspired to start a platform that brought together the two, and ZoWed was born!
2. What are the challenges faced by you?
Ans: Challenges are many! Today there are so many wedding platforms and information aggregators in this space, that standing out among the crowd is what matters.
The wedding market itself is saturated with thousands of photographers and wedding planners in every city. Not everyone provides quality work for the prices they charge. It is important that online wedding portals like us find a perfect match for clients based on their needs and budgets. It is also important to conduct proper quality and background checks before recommending vendors and services to end clients.
3. What has been the most important acquisition strategy in your platform?
Ans: For us, Social Media has been the biggest source of customer acquisition. Not just acquisition, it has also helped us stay connected with our past users and retain them, and generate word of mouth and referral business via them.
4. Where are you in journey and what are the future plans?
Our aim is to provide end-to-end wedding related services and products online. We're moving in this direction steadily, but let's keep everything else under wraps for now!
5. How big is the wedding industry in India?
Ans: The Indian wedding industry is estimated to be the second biggest in the world, at $50 Mn, as compared to the $70 Mn market in the US. Further, there's a huge NRI market based in USA and UK, which adds to the market size. Also, the market is growing rapidly at 25-30% annually.
Overall, more than 10 million weddings take place in India each year, making it almost a recession-proof industry.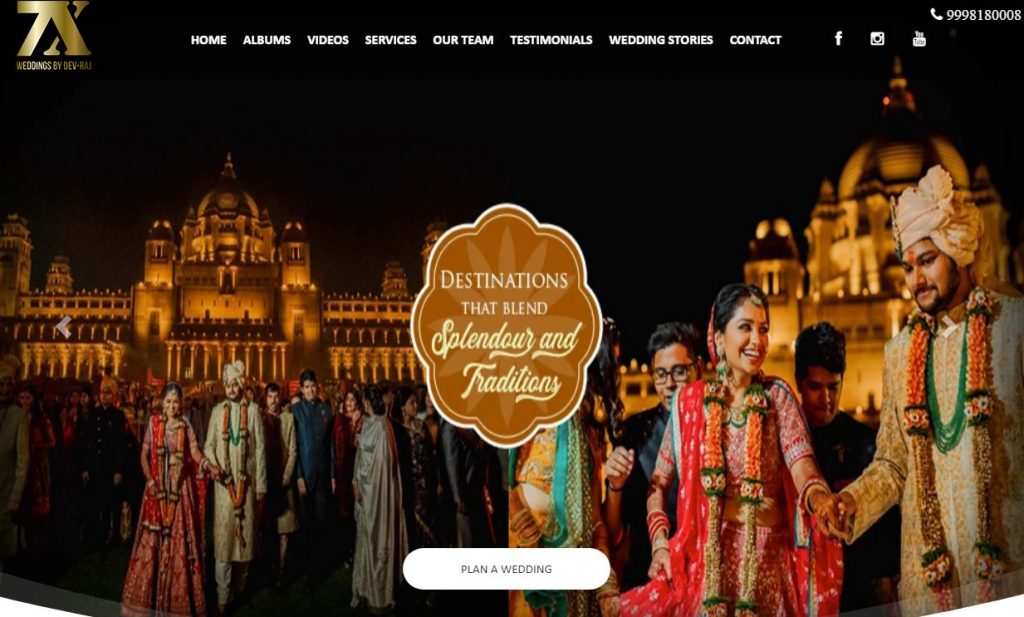 1. What inspired you to start?
Ans:The inspiration behind this business was the fact that Rajat, always wanted to change the way people thought about events and weddings. He wanted them to know that the scope of creativity here is endless. "We don't believe in monotony but in bringing smiles to the faces of our clients with the difference we make. The possibility of creativity and innovation in our industry is huge. There is no second time or a way to correct if things go wrong. So high levels of efficiency and backup are what we play with, says Rajat.
The journey started in 2004,when Rajat started off as an executive handling a lot of median marketing and international business.. He dedicated 8 years to the organisation and was chosen as the director later. During this time he consulted a lot of brands on marketing and business solutions. He left it at the peak of his career to achieve something bigger and walked on the path of his own dreams. In 2013 he started off with Seven inks Business Solutions PVT Ltd, which is one of the biggest business solutions and consulting companies.
That year itself Rajat also started 7X Weddings with his friend Devang Shah who is equally passionate about events. They both set on the journey to change the thinking of wedding planning and make it an essential part by taking up both big and small scale weddings, both high and low budget weddings and thereby making it a necessity.
2. What are the challenges faced by you?
Ans:The only struggle was to make a mark and reach the top of the industry. Weddings planned and managed by Rajat and Devang and the team have been awarded and appreciated. But the journey was not so smooth as it seems today. Rajat has been very good with any last minute problems that arise in an event. He is a real management hero. He says," In a wedding in Jodhpur in 2018, we were all set with a grand dome around 25000 sq feet and a large artificial water body at Umaid Bhawan. After three days of hard work we were told that Rajmata is seriously unwell and we might be asked to move out any minute. this came to us like a blow because we were just 72 hours away from the grand wedding. There was no plan B. However, we moved out and recreated everything at another venue within the limited time and that too successfully."
Another problem that usually arises is changing the way people think about wedding planners. Today, wedding planners are a need and not a luxury. They are the ones who can reduce the overall expenses, make a wedding unique and bring in the best for any wedding.
3. What has been the most important acquisition strategy in your platform?
Ans:We are mostly known for our quality work and business comes in through word of mouth. We have a 100 pc success ratio and every client till now has given us a positive feedback. We try to make their wedding dreams real by leaving no stone unturned. This very fact helps us be the real players of the industry. No promotions can go a long way if work quality in our industry in not as per client requirement. We keep our online platforms updated with all the latest happenings and keep our audience updated at all times. Our weddings at Jodhpur, Jaipur, Jaisalmer, Udaipur, Goa, Kerela have been the most loved ones.
4. Where are you in journey and what are the future plans?
Ans:We are the top players of Gujarat and also taking up weddings across top destinations of India and Asia. In the last 7 years we have been able to successfully achieve this level with our dedication and hard work.

Capturing the European and American wedding market is the next in pour plan. We have also done NRI weddings for a few clients from USA.
5. How big is the wedding industry in India?
Ans: The wedding industry in India is huge. It's the second largest in the world after the USA. A Business Insider report says, India caters to at least more than 10 million weddings every year. SO there is a lot of potential for new players also. But generally new players are in a hurry of success and thereby lose their grip over the work quality. If played with patience, creativity and passion this industry has huge potential in India. People really take weddings as an important milestone of life, spend huge chunks of their savings on the same and if they end up with disappointment the whole thing becomes pointless and futile.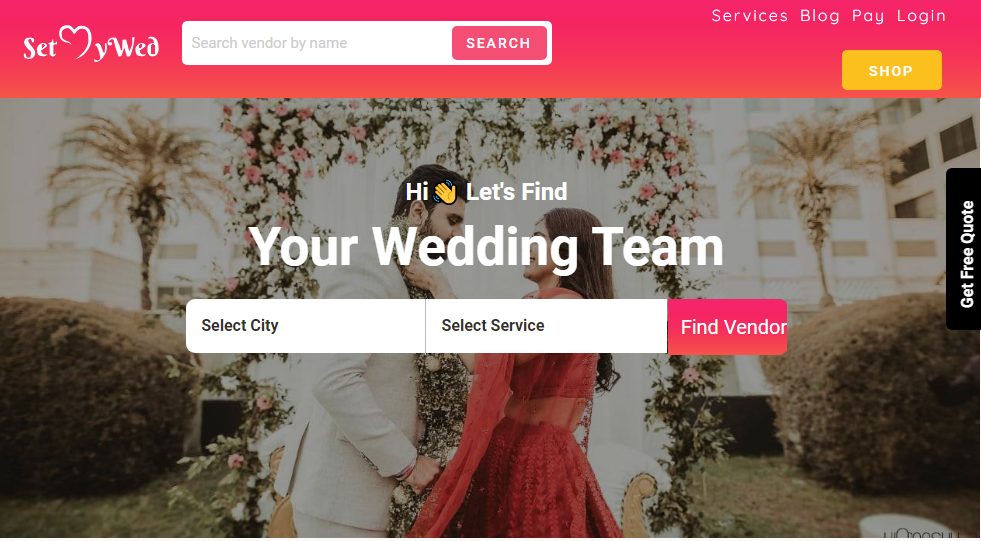 1. What inspired you?
Ans: As a young entrepreneur we came to know about the problems people facing in the wedding planning, which is considered as the most important day in a person's life.
Then we came up with SetMyWed idea to help the vendors and clients to solve the issues in the best possible way.
We might be the newbies but we have the best and the most experienced people associated with us to make it memorable. We aim to provide all wedding problems solutions under one roof.
2. Challenges faced by you?
Ans: In starting brand awareness, obviously is the main challenge we faced. We were unable to get the right vendor onboard.
At the start of our company faced was trust issues of various vendors because of several portals who are committing them false promises.
3. Most important strategy in your platform?
We aims to provide one to one leads to the vendors and try to eliminate their competition from our ends because the customer always search on 3-4 other portals as well. To clients we provide all services free of cost, without charging any commission.
We're the India's most sincere wedding planning portal and inspiration of lacs of brides in India.
We understand the needs of the clients and we know that a Dad faces many problems in planning his daughter's wedding which is the most important day in a father's life. So, we connect our emotions with them and help them to plan everything hassle-free.
4. Where are you in your journey and future plans?
Ans: Currently we are serving in 3 cities which are: Delhi-NCR, Mumbai, Jaipur. We have launched our own shop to help all brides-to-be to find the best products and fulfill all their needs in the best way.
Further we are planning in the future to expand our business in 3 more metropolitan cities including : Chandigarh, Bangalore, Indore.
● We are a team of 20+ young and enthusiastic individuals.
● Helping 400+ vendors
● Covered 2000+ wedding till Jan 2020
5. How big is the wedding Industry in India?
Ans: The wedding industry market in India is near about Rs. 40,000 crore in 2020.
#5. Dreamz Wedding Planner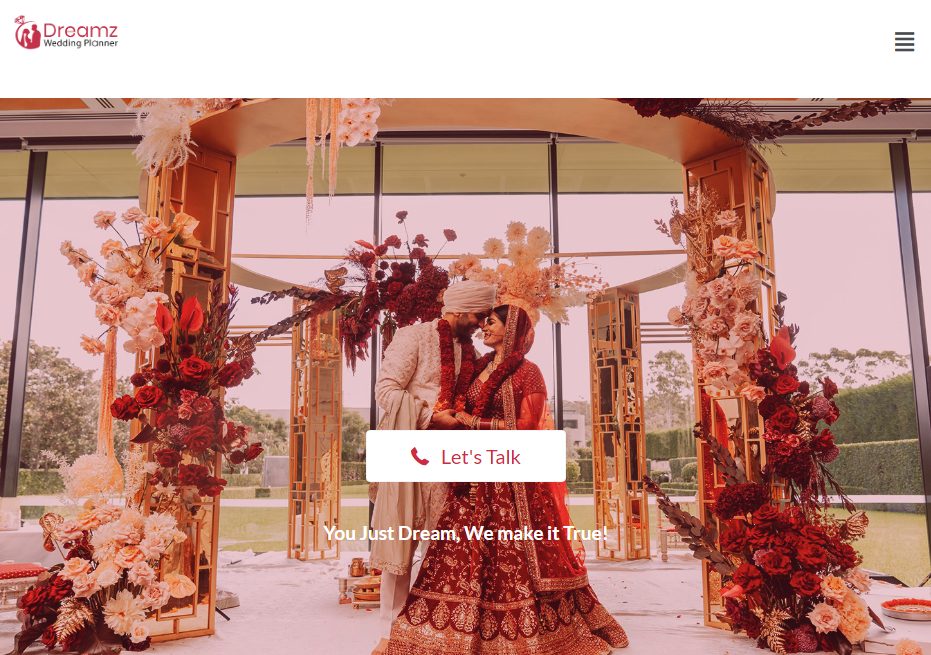 1. What inspired you to start?
Ans: "Back in the time, once I was attending a wedding, everything was so beautiful there! But when I sat on a chair, noticing the details of the event, I realized there is so much a wedding needs. I noticed the tension in the face of the bride's Father and how he didn't even sit for once, in hours. I went home and researched Event Planners in Agra, its scope and Industry at whole. At that point I decided to start an Event company to let all the guests, including the father, enjoy the big day for their princess."
Dreamz Wedding Planner started with a team of 5 employees in 2013 and currently we are 20.
2. What are the challenges faced by you?
Ans: In the initial phase, we researched for the potential markets and targeted them. We faced many difficulties and stress while planning the events. There are very minute elements we need to take care of, as planners which can create big hassles on-site. We tried our best to tackle them. Slowly and steadily, we started to understand this Industry, with constant meetings; we developed the skills to handle the clients. With god's grace, we recently executed an International wedding in Phuket in November 2019. Currently, we also serve to plan corporate events, under the name of Event Diary and have 3 registered offices in India and Abroad.
3. What has been the most important acquisition strategy in your platform?
Ans: As soon as we started Dreamz Wedding Planner, one thing was very clear in our minds that even the most qualified planner will struggle to land new clients without live exposure. We knew that doing our work just in office is not enough; we have to face the world because Face-to-Face interactions provide greater impact, especially in the Event Industry. It is very important to build trust and confidence. Preliminarily, we generally had a few meetings on a weekly basis which gradually rose with the passage of time. We think engagement is the key, and this is where those who try to "do it alone" often fail.
4. Where are you on your journey and what are the future plans?
Ans: Initially, it was difficult because of 2 major factors. First is fighting with competitors and second is making the citizens of Agra aware about the Event Industry and how it is beneficial for them. The concept was very new for people here and even today, many of them are still not aware. In the first year, we had to struggle and got less business, like a very few weddings in a year but today we are growing at a rate of 20% each year, we already have a lot of wedding confirmation for 2020 till now. For future, we majorly focus on Destination Weddings and adopt this strategy of delivering the best to our valuable customers through our innovative ideas and the delivery of excellent service.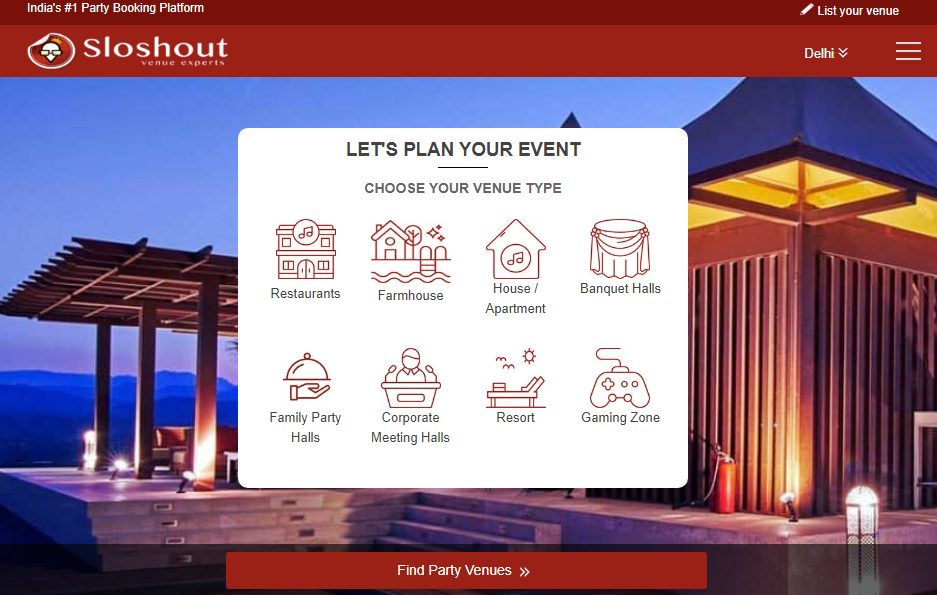 1.What inspired you to start?
Ans: The difficulties I (Kunal Makhija) and my partner, Parth Chandok, faced while given the responsibility to plan the office party at our previous workplace, EY. We were surprised by how something like finding and booking a party venue online, that too in a country like India, was so complicated. There were no trusted websites or platforms and who has the time to knock door-to-door anyway looking for party venues that fit the bill and that which you can book from the ease of your phone. We wanted to change that. That's when the idea of Sloshout was seeded in our brain. The rest is now history.
2. What are the challenges faced by you?
Ans: Earlier, we faced so many challenges. We started working from the outside mediums. We don't have an office at the initial stage. When we started getting profit from this venture we planned to take the office and other facilities that a startup needs.
3. What has been the most important acquisition strategy in your platform?
Ans: We acquire the data of the customer and then we send them automated emails related to their requirements. We also send SMS and whats app to acquire the customer.
4. Where are you on your journey and what are your future plans?
Ans: We have only just started. We launched in 2015 and have now expanded to x cities in the last year and have more in mind. But we don't want to do it in a rush. Our future plans include xyz and xyz.
5. How big is the wedding industry in India?
Ans: Well, statistically speaking, it is the second largest in the world after the US and stands at a value of a whopping $50 billion. That speaks for itself, doesn't it? It isn't without reason that the phrase 'big-fat Indian wedding' has become so popular throughout the world. It has largely stayed unaffected by economic downfalls as well so you can imagine how solid and cemented the industry is. And it is only getting bigger. At Sloshout, banquet halls for various wedding ceremonies are heavily popular and it goes without saying that we are trying our best to deliver to that rising demand. You will find banquet halls and outdoor party places categorized by purpose, budget, and location in all the cities we are operational in.
How can VOCSO help with wedding and event planner app and website design and development?
VOCSO is a leading web application development company that offers complete wedding planner website design and development services, from the initial consultation to the final product. VOCSO's team of experienced professionals will work closely with you to understand your specific needs and create a custom wedding planner website that meets all of your expectations. VOCSO's wedding planner website design and development services are perfect for couples who are looking for a unique and personalized way to plan their wedding.
Conclusion
We have expressed the evolution and digitalization of the Indian wedding industry in the past decade, as well as the present-day scenario here. You can observe and witness these changes for yourself. Since the introduction of the internet, every industry has evolved rapidly, and so has this one. The value and growth of the wedding industry have increased over time, although future trends are unclear ever since the COVID-19 pandemic hit us. However, this spells great news for online wedding platforms as more couples are opting for pandemic weddings that follow all the precautions while being a special occasion with your closed ones. Some couples are using this time to plan their weddings well ahead of time with attention to all minor details. Love truly knows no bounds; love is still reigning in the time of Coronavirus.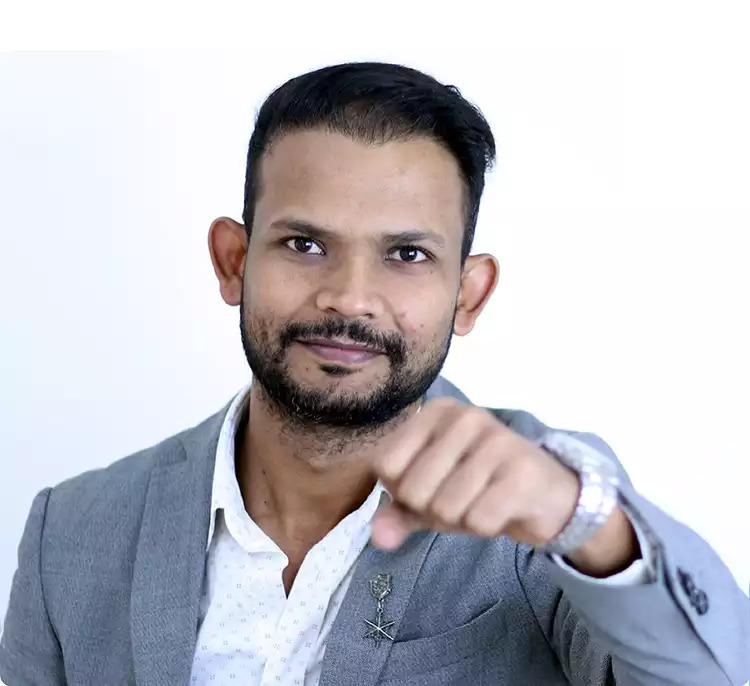 About Deepak Chauhan Hi, I am Deepak Chauhan, a Digital Marketing Strategist. I'm the CEO & Co-Founder of VOCSO Digital Agency, a creative web design, development, and marketing agency based in India & USA.