The audience accessible via mobile phones is expanding fast. Statista projects that there will be an about 5.07 billion mobile phone users in the world by 2019.You may be wondering what mobile phone presence strategy will work for your business. In this internet and smartphones era, the two popular strategies adopted by most businesses are Mobile websites and Mobile Apps. We all interact daily with mobile websites and apps. You are probably interacting with one reading this.
In this piece, I will give more insight into the difference between the two (mobile first website and mobile native apps) and what works best for the different objectives your business wants to achieve. Before we can evaluate the two it is better to understand the key differences between them:
Mobile websites are simply linked HTML pages that can be accessed from your phone over the internet via a browser. These HTML pages contain information about various organizations. The only difference from the websites we see on our desktops is that mobile websites are designed to fit on smaller screens. However, with innovation, responsive websites that can work on all devices, mobile phones, tablets, and desktops have been developed.
On the other hand, mobile native apps, unlike mobile websites, can be accessed directly on your smartphone once downloaded and installed. One can then find information on or interact with your business via the app. Example, Alibaba Express a mobile app for purchasing goods online.


Mobile Websites / Mobile Responsive Websites
Nowadays, most businesses own mobile responsive websites which work fine across devices, in desktops as well as mobile phones. Mobile first websites are especially useful when you want to reach a wider audience. It's good for making your presence known, giving information and acquiring new customers. Assume you just moved to England and are looking for an apartment. Your first instinct would probably be to Google 'cheap apartments in London' rather than look for mobile apps in your phones app store to do the same. When most people are looking for information they search through their browsers. So if you want to nail such people then you should invest in a quality mobile website.


Why you Need a Mobile Website
1. Available to a wider audience
One of the best advantages of the mobile website is the broad accessible. You can access a mobile website on different platforms and easy sharing possibility among your friends, relatives and online communities and they can easily know about the services and products your business offers. Because of a wider audience reach capability, it's the better over a native app.


2. Maintaining and updating information is easier
All you have to do is load in more information and when your audience next logs into the website they will be able to access the new information. Also, in case of bugs you only need to fix it on your end. This is unlike mobile apps which require users to download and reinstall updates when alterations are made.


3. It is less expensive to set
Mobile apps require designing of many apps for the different operating systems (Android, iOS, and Window) which can become expensive. While for a mobile website, one will work on all devices.


Disadvantages of Mobile Websites
Mobile responsive or just mobile websites are quite helpful but they have shortcomings (why you may require to put up a mobile native app);


1. They cannot be accessed offline
Mobile websites are accessed through browsers via the internet and hence can't work offline. This may be a limitation in places with poor network coverage or when one's Internet subscription runs out.


2. Lacks personal touch
Unlike mobile apps which come with personalization settings such as themes, night modes and notifications to improve the user experience. Mobile first personalization is limited as most things are controlled by the Administrator.


3. Limited integration with mobile phone features
Mobile websites cannot take advantage of many phone features such as dialers and GPS locations compared to mobile applications.


Why You May Need a Mobile App
As mentioned above while mobile websites can do much for the larger audience. It is limited in completely satisfying your audience because of the limited user experience. Mobile Applications offer a better chance of engaging with your target audience (especially already acquired customers) and enabling them to perform basic regular functions easily. For example, while I knew about PayPal while browsing online. I make payments easily through their mobile application on my phone. While you may have found an apartment in London by asking Google. It would be easier than other engagements be done via a mobile application such as paying rents, receiving memos, uploading complaints and even sending emergency signals in case of fire via the app.


Want to Grow 10x ROI with Digital Marketing? Book a call with one of our digital strategists to see how to get the 10X return on investment goal!
SEO – Unlock massive amounts of SEO traffic and see real results.
Content Marketing – Our team is expertise in creating epic, authoritative, and trustworthy content that attracts traffic.
Paid Media – We offer effective paid strategies with clear ROI.
Book a Call
Apps allow your audience to personalize their activities with your company such as setting their preferred themes, setting reminders, seamlessly connecting to the dialer, Gmail, GPS location and other apps on their phones within your app. This makes performing complex tasks easier and shorter making the satisfied. Which is exactly what you want your customers to experience.


The difference mobile apps offer:
1. Better user experience
Through personalization features, such as unique ringtones for specific apps, reminders, night modes and different themes.


2. Offers convenience
Mobile apps have a lot of hacks that make tasks more convenient for both your business and your audience. For instance, automatic verification when you send verification codes to your business App users.


3. Seamless integration
Apps can complement each other to make tasks convenient for your customers. Features such as GPS locations, dialers, email apps, and even external devices like fire alarms and other computers can be connected to work together.


4. Can function both online and offline
Some apps function exclusively offline while others have limited offline access and more information can be accessed online from within the mobile application.


Advantages of Native Mobile App
1. Compatibility
You may have to design more than one apps for the different operating systems available in various phones; android and iOS. Furthermore, they have different versions.This can easily become expensive for your business if you have limited resources.


2. Downloading Updates
Your audience will have to download updates every time you change something in the mobile application. This can become annoying to your mobile app users especially if they become too frequent. While the Mobile website, Mobile Application, pick a side war goes on, I won't be drawn in. The mobile presence strategy you choose, may depend on other things such as resources available, type of business you engage in, demographic of your target audience among other factors.
I believe the two exist to complement each other if you have the resources then why not do both? You can pick the most used functions from your website and get them designed into your business's app. But it's up to you to consider and decide what works for your business. Whatever you decide, ensure you always get professional mobile websites and applications development agencies like VOCSO. They will analyze your brief and help you develop something of quality that your target audience will fall in love with. As reputed Web and mobile applications development services provider, VOCSO develops 100% secure, fast, and reliable mobile websites and mobile apps for all size businesses.
Always, I repeat always make sure your business's information, services, and products are easily accessible, mobile website, mobile apps or both.
I hope you'll find the article worthy. In case you feel it needs revision, feel free to send it back. I will work on your recommendations promptly. Always available for special requests.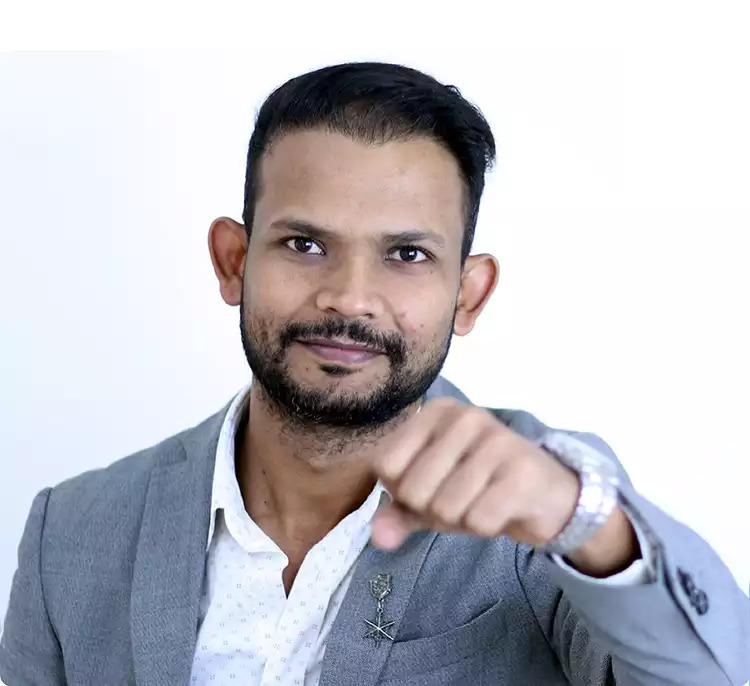 About Deepak Chauhan Hi, I am Deepak Chauhan, a Digital Marketing Strategist. I'm the CEO & Co-Founder of VOCSO Digital Agency, a creative web design, development, and marketing agency based in India & USA.