Social media is an interactive platform for creating and sharing information, interests, ideas, and other forms of expression through virtual communities and networks. Decades ago, social media started as a technological medium to stay in touch with friends & family and to interact with various communities of like-minded people.
In the present scenario, Facebook, Instagram, LinkedIn, and Twitter are the top 4 social media used by people across the globe. Nowadays, Social Media has become an inevitable part of our life. What started as a simple medium of informal interactions has become a crucial aspect of content-sharing and collaboration with the masses.
Social Media at present plays a significant role in marketing products, promoting brands, expanding target consumers, and fostering new businesses. Both big and small entrepreneurs are equally using social media applications to market their products and simultaneously rebuild or maintain consumer confidence.
Big corporates are using social media as a means of crowdsourcing. Crowdsourcing uses social networks to collect ideas from employees, consumers, and ordinary people to improve the quality of existing products and services or develop future products.
What Are Social Media Automation Tools?
Social Media Automation Tools are the innovative technical medium used by online entrepreneurs and digital marketers to optimize social media interactions using various automated tools.
Social Media Managers, Social Media Influencers, Online entrepreneurs, Digital Marketers, etc., are the standard people who use Social Media Automation Tools.
Social media automation tools have gained popularity because they benefit the target audience and marketers alike. Social Media Automation Tools help reduce time spent on repetitive tasks and provide ease in implementing strategic goals. Following are some of the additional benefits of using Social Media Automation Tools.
Enhances brand awareness and engagement
Gives a boost to your career as a social media manager/ Digital marketer
Better decision-making in content strategies and other social media strategies
Reduces customer service response time
Helps you with data collection and analytical reporting
Makes your social media posts and other content more impactful.
Types of Social Media Automation Tools To Boost Engagement
Social Media Automation Tools save you time and help you to concentrate on creating more engaging content and other essential tasks. However, you need to build up social media marketing skills first to establish the online presence of your products & services.
Social Media Marketing skills like strategic thinking and SEO Skills are the must-have skills for Digital Marketer or Social Media Manager. They also need to be aware of the following Social Media Automation Tools to boost engagement with the audience.
Hootsuite
Zapier
Buzzsumo
Brandwatch
Brand24
Napoleon Cat
SocialPilot
CoSchedule
Missinglttr
Buffer
Sprout Social
Social Bee
Agora Pulse
Sendible
Zoho Social
MeetEdgar
Iconosquare
Scoop. it
Pocket
Promo Republic
Below I have mentioned a detailed explanation of these Best Social Media Automation Tools that boost engagement.
1. Hootsuite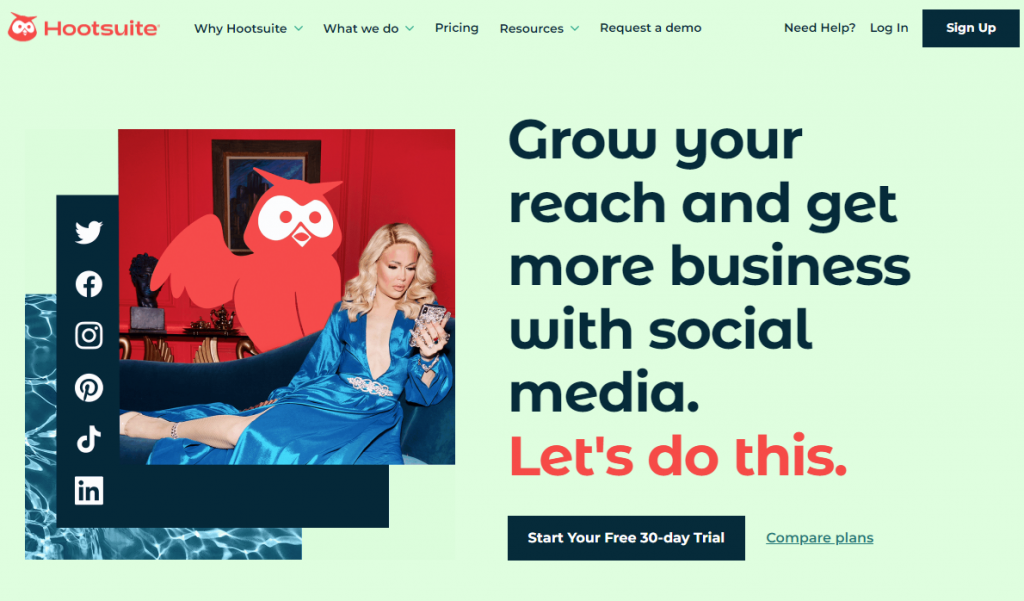 Hootsuite is one of the most popular automation software tools among Digital Marketers. It is compatible to use for various social media platforms. Hootsuite allows you to monitor multiple social media platforms with real-time updates.
There are various tools available at present under Hootsuite, and they are,
Hootsuite Analyze: This provides you with customized automated social media reporting and helps you measure your content performance.
Hootsuite Publisher: Hootsuite Publisher suggests the best time to post content on social media based on the basis of the target audience. It also helps in posting more content in less time.
Hootsuite Inbox: Hootsuite allows you to manage brand mentions and brand-related conversations across all social media platforms from a single dashboard. It also helps to address common interactions.
Hootsuite Insights: This tool provides alerts on the recent spike in particular social conversation and provides insights into potential crises and viral hits even before they occur.
Hootsuite Social Advertising: Hootsuite Social Advertising ensures you are targeting the right audience with the correct metrics for maximum Return On Investment. This helps you reallocate your budget for high-performing ads on Social Media.
2. Zapier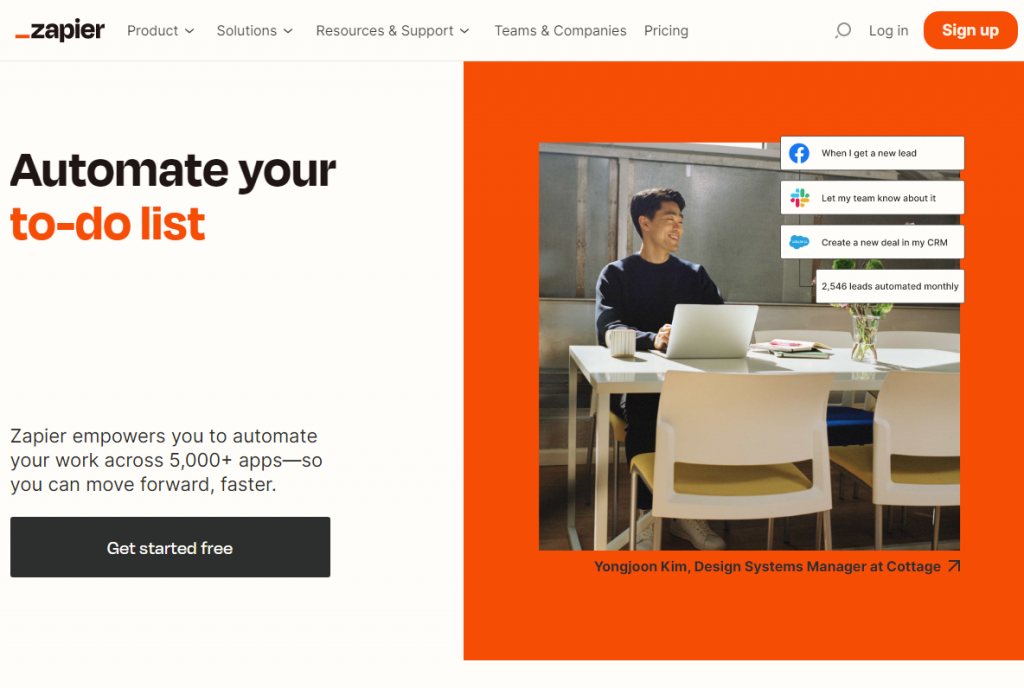 Zappier uses the Zap feature, which can be triggered by a predefined set of rules. Zapier automates repetitive tasks, such as posting updates to multiple social media accounts or sending messages to new followers. Zapier ensures that tasks are completed consistently and on schedule.
3. Buffer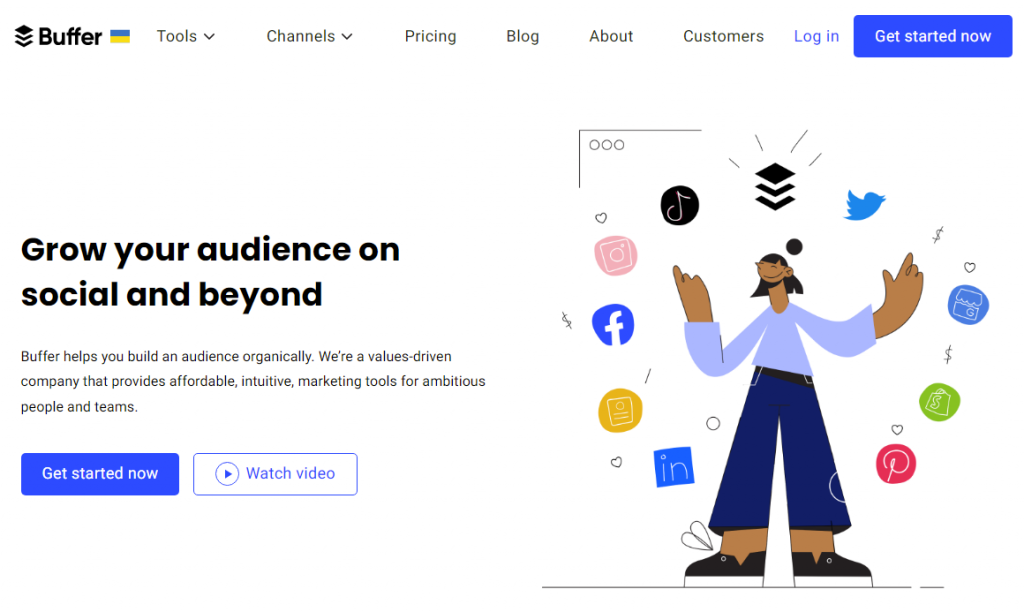 Buffer is a famous automation tool for social media marketing. Buffer helps you to plan, coordinate, and publish your social media posts seamlessly. This particular tool is extremely beneficial for social media platforms like LinkedIn, Twitter, Facebook, and Instagram.
Buffer gives users the ability to customize every post depending on the type of social media platform and it also offers default scheduling functionality which helps you to manage social media campaigns. This tool also gives suggestions on the best posting frequency which helps you optimize your social media content strategy.
4. BuzzSumo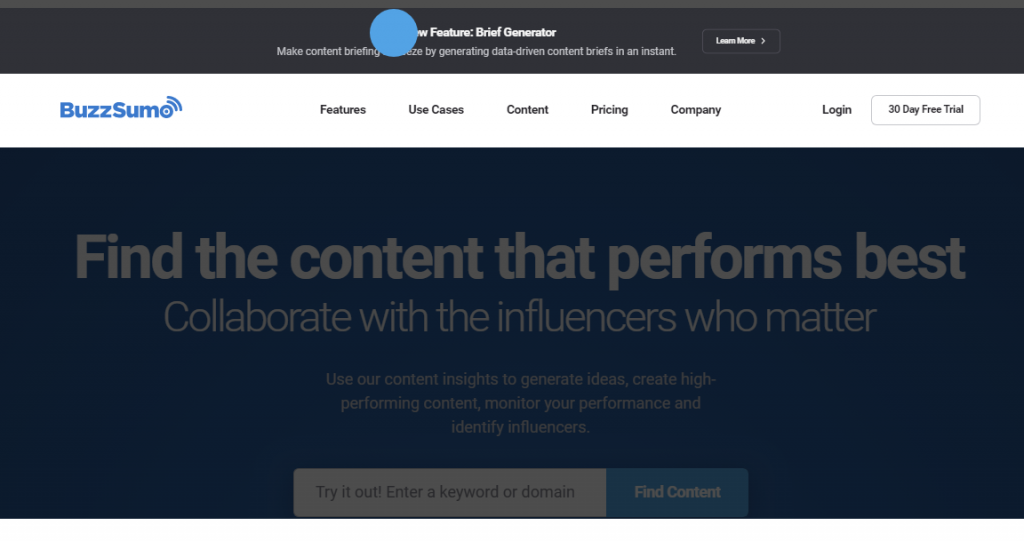 Buzzsumo is an effective tool for generating content ideas for social media. The main purposes of Buzzsumo are mentioned below:
Helps you to generate popular keywords people are searching
Helps you to follow general trends and analyze topics to share with your target audience.
Helps you to find influencers and competitors for your brand
Helps you to keep track of your brand mentions
Helps you with link-building strategies
Helps you to collect analytics from popular social media platforms
Helps you to find popular or most widely shared content on social media using filters.
5. Brandwatch
Brandwatch is a popular consumer intelligence provider that helps you immediately address the brand concerns of consumers immediately. Brandwatch allows you to analyze and utilize conversations surrounding the brand through social media mentions and across the internet. Thus Brandwatch helps you to take actionable steps required for the brand. Some of the attractive features of this tool are mentioned below:
Engage Feature: This helps you to keep track of every incoming brand-related comments and direct messages on Social Media.
Social Listening Feature: This helps you to track brand-related keywords and phrases to address customer needs.
Ad Moderation: This provides streamlining capabilities for small and big businesses.
Brand24 is an online reputation management tool. This tool gives you automated alerts for negative mentions. The automated sentiment analysis feature in it detects whether a specific has positive, negative, or neutral sentiment attached to it.
6. Brand24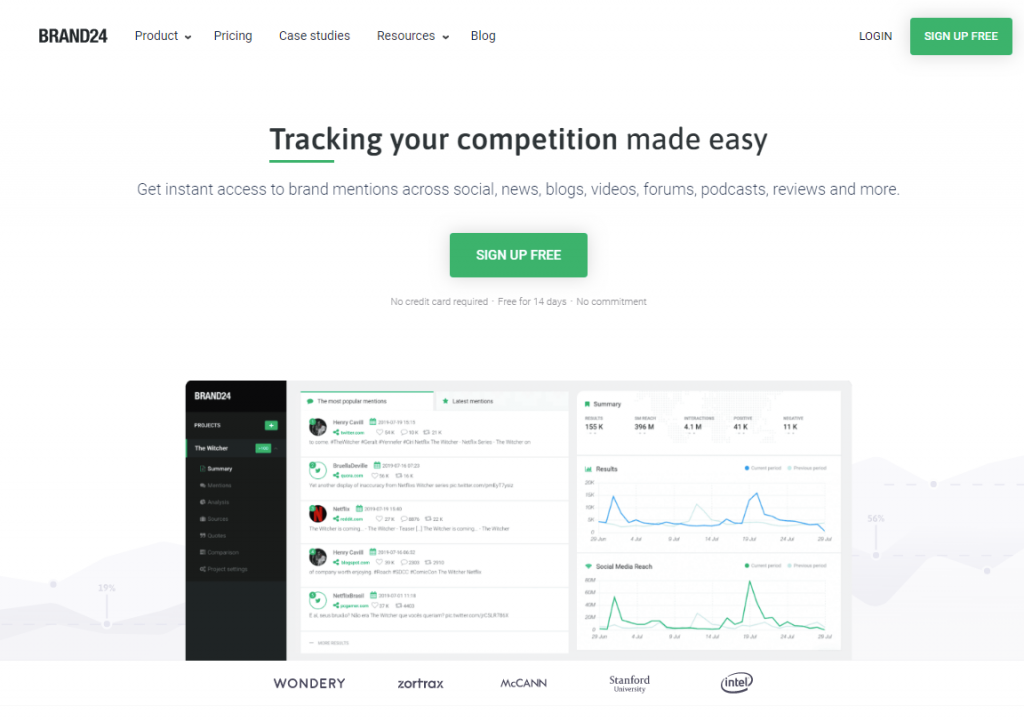 So this tool helps you manage the online reputation of your brand more seamlessly and also helps you take your brand reputation to another level by building strategic influence partnerships with the right people.
7. Napoleon Cat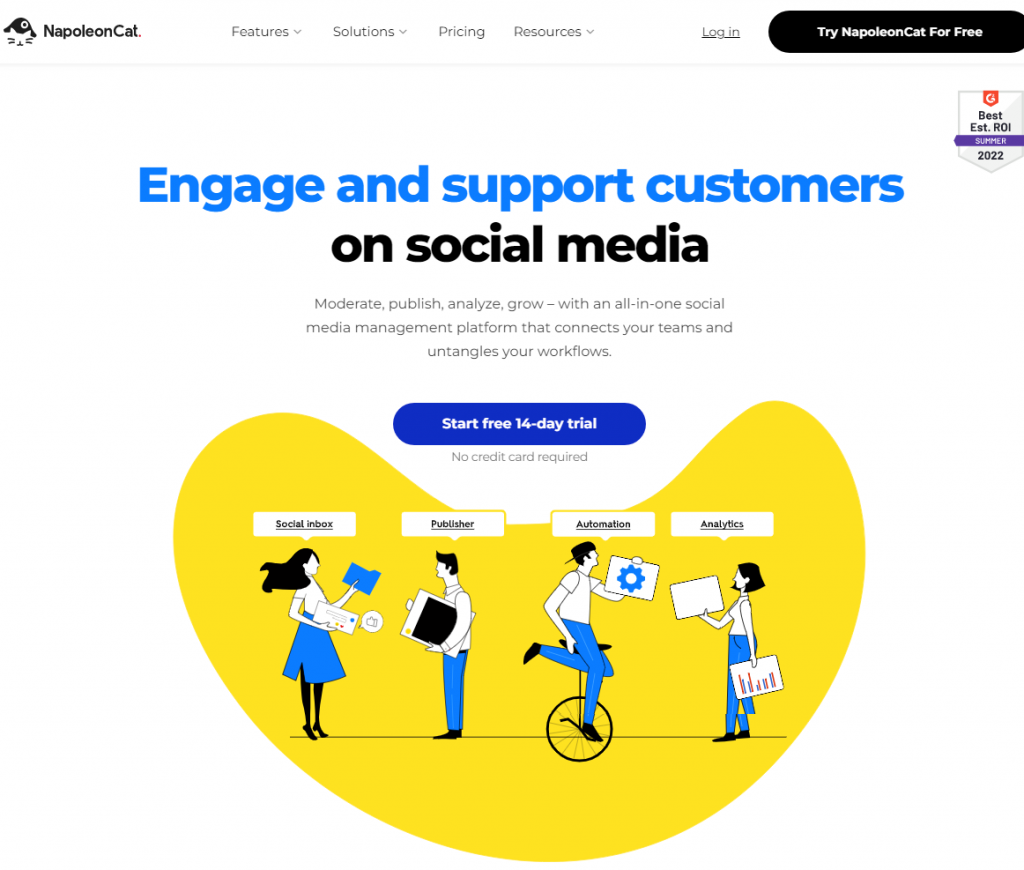 Napoleon Cat is a cost-effective tool for social media engagement that comes with robust features. Following are some of the features of this tool.
Social Inbox: This feature helps you handle your social media interaction with the customer across all platforms (Twitter, Facebook, LinkedIn, Instagram) via a single dashboard.
Social Media Publisher: It is a shared content calendar that helps you schedule your content on all social media platforms and also helps you automate content approval for your team.
Social Media Analytics: This feature helps you keep track of your content engagement in the online channel and also helps you generate a statistical report based on the same.
Auto-Moderation: This helps you automatically respond to comments and messages based on selected keywords.
8. SocialPilot
SocialPilot is a social media management tool for many businesses, irrespective of size. This tool is a great help for automating publishing strategy. This helps you set up announcements for social media events or any other events at varying intervals for optimal visibility. Other than Social Media Scheduling, it is also useful for robust analytics and content curation.
9. CoSchedule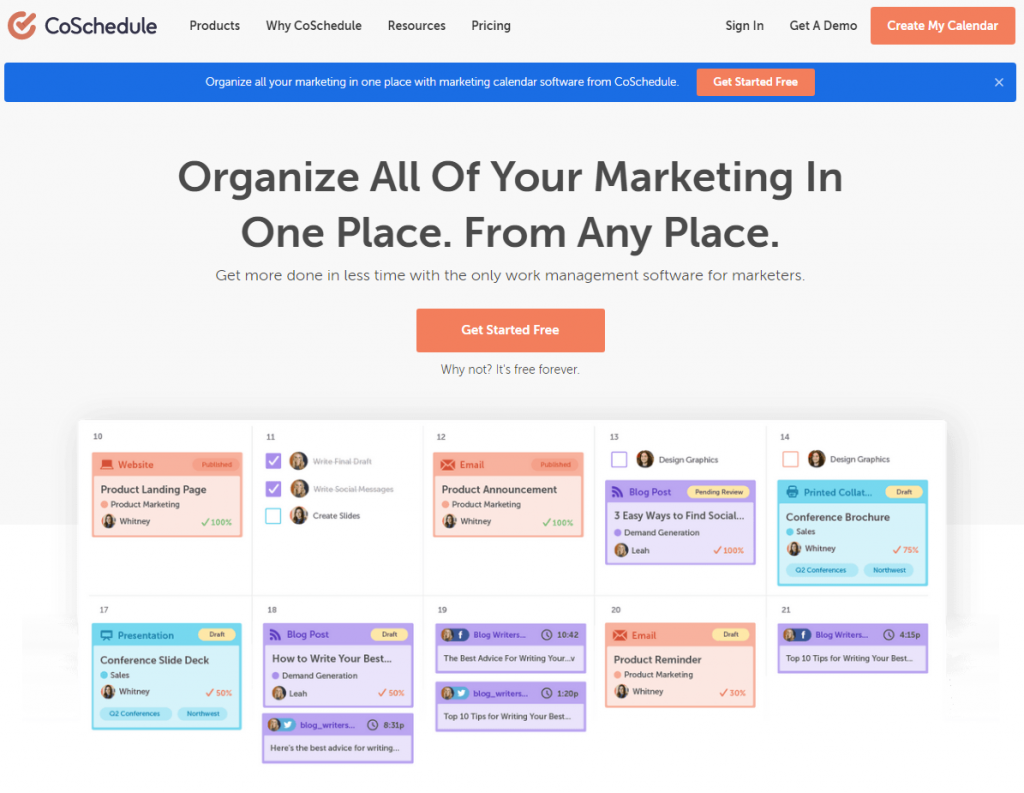 CoSchedule is a marketing calendar that allows you to organize marketing tasks and other vital projects. The ReQueue feature continuously publishes your top-performing content and creates social media content drip campaigns. It also consists of advanced project management tools for marketing purposes.
10. Missinglttr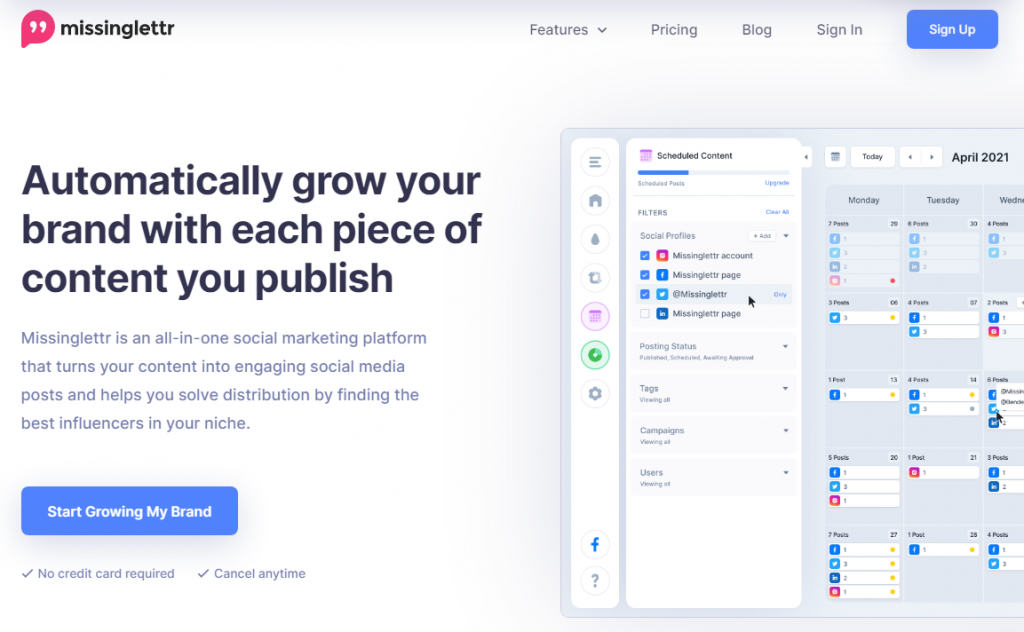 Missinglttr is one of the best tools for social media marketing. This tool ensures that you engage with your audience consistently on social media.
Missinglttr gives you automated suggestions on the best channel to promote your brand. This tool ensures a consistent stream of posts for your audience, even when you run out of content ideas.
11. Sprout Social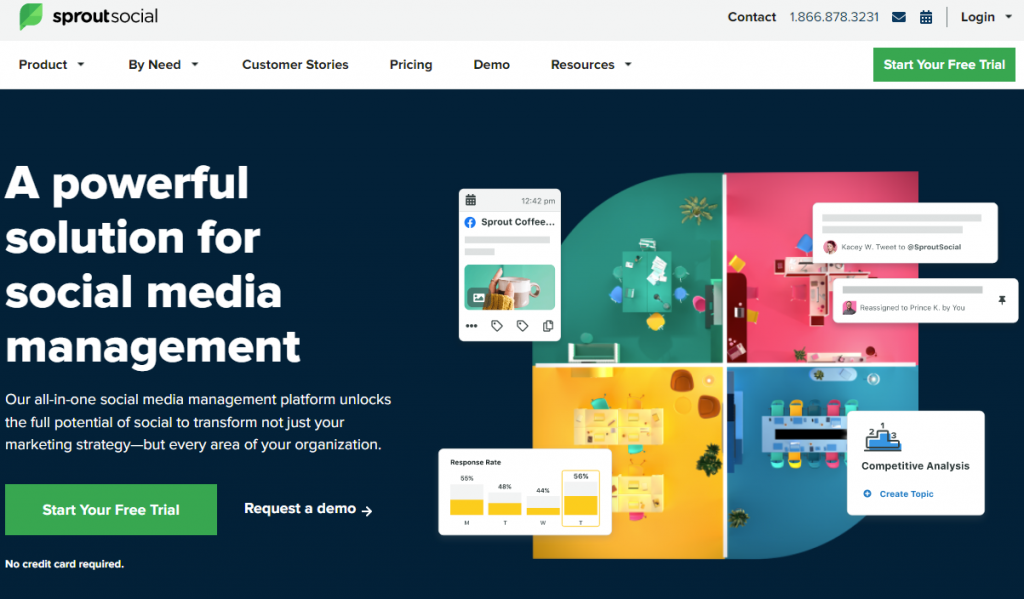 Sprout Social is a comprehensive social media management tool that can scale your engagement. This tool enhances the reach of small-scale businesses. Sprout Social identifies your engagement pattern with the audience over time and helps you strengthen your customer care effort. Given below are the features of sprout social.
Bot Builder: Design and deploy Chatbots to automate interactions on social media platforms like Twitter and Facebook
Automated Scheduling: Schedule your content to be posted when engagement rates are high.
Message Prioritization: Helps you stay on top of social media communication.
12. Social Bee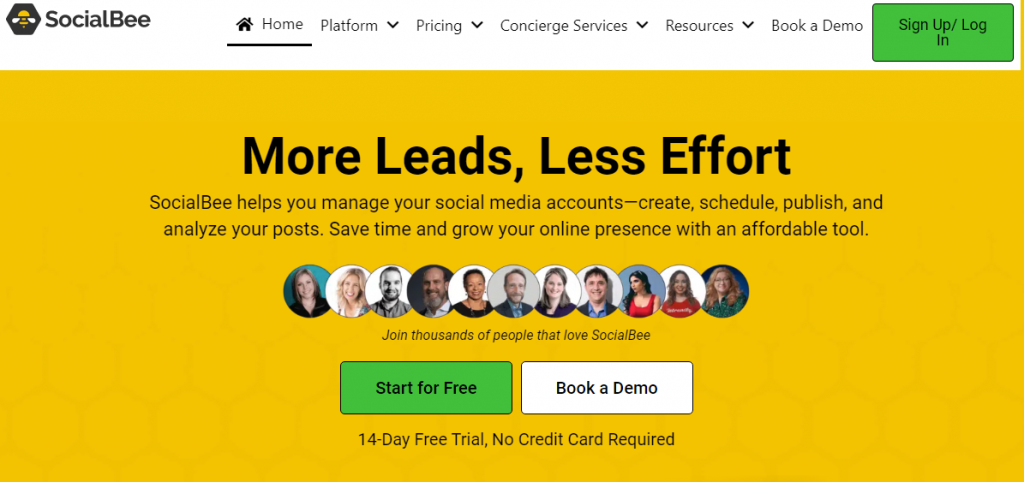 Social Bee helps you optimize your content strategy based on its performance level. Social bee is highly beneficial for large enterprises as it has various collaboration features. It can help you set up different workspaces if you manage more than one brand.
Social Bee helps you plan your hashtags and create hashtag collections. This tool generates tracking codes so you can automatically measure interactions with your social media link. In addition, you can make bulk edits, pause, and re-queue your posts with the help of this tool.
13. Agora Pulse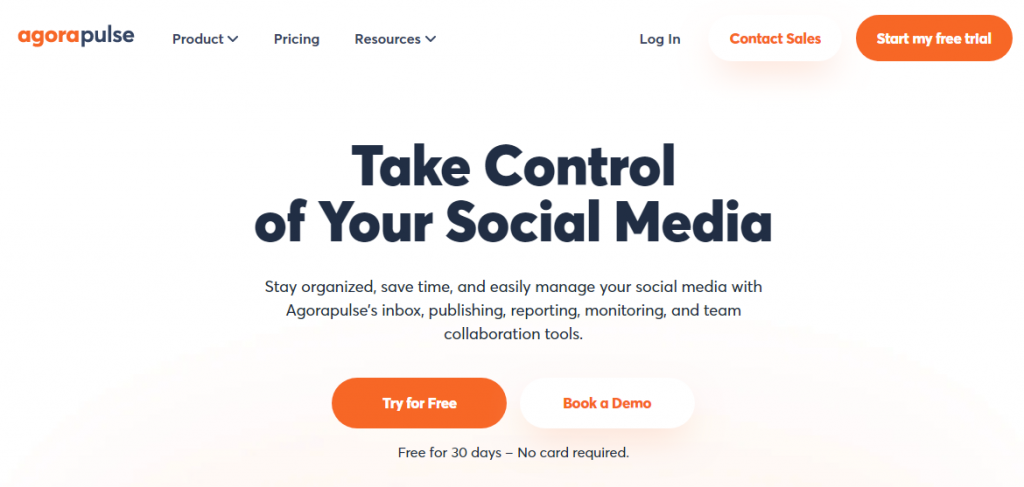 Agora Pulse is a tool that helps with content management from post scheduling phase to the final report. Following are some of the features of the Agora Pulse tool.
Social Media Inbox: Easy-to-use inbox that manages comments and messages from different social media platforms.
Social Media Publishing Tool: Automate publishing all your social content from a single organized dashboard.
Social Media Monitoring Tool: Helps you measure brand sentiment among netizens.
Social Media Reporting Tool: Helps you to analyze metrics and optimize campaigns accordingly.
14. Sendible
Sendible is an automation tool used for online marketing that helps with seamless delegation. This tool helps you immediately resolve issues before it escalates into bigger problems associated with the online reputation. The Sendible includes a bulk scheduling feature making it easy to plan batches of content for social media managers. Moreover, you can modify your content based on the type of social media platform.
15. Zoho Social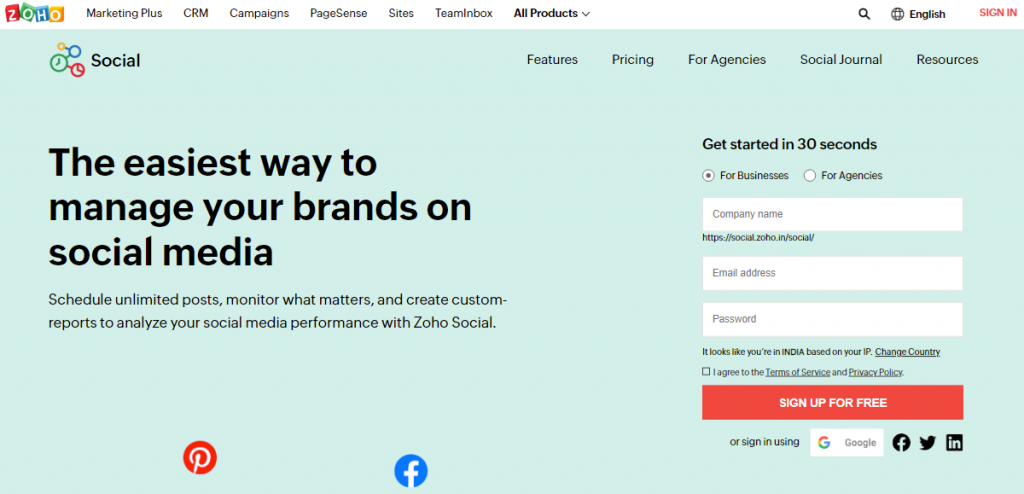 Zoho Social is a social media automation tool built to meet the growing needs of businesses. This tool helps you create collaboration workflows and seamlessly create content drafts. However, one of the reasons this tool is used by fewer organizations is that it is an expensive social media automation tool. Following are the 3 main features of the Zoho Social tool.
The SmartQ feature of this tool suggests the best time slot for enhancing engagement with the audience
With its CRM integrations, it enables you to generate potential leads from social media
Automated Report Creation in this tool helps you to share reports with your client at any point in time.
16. MeetEdgar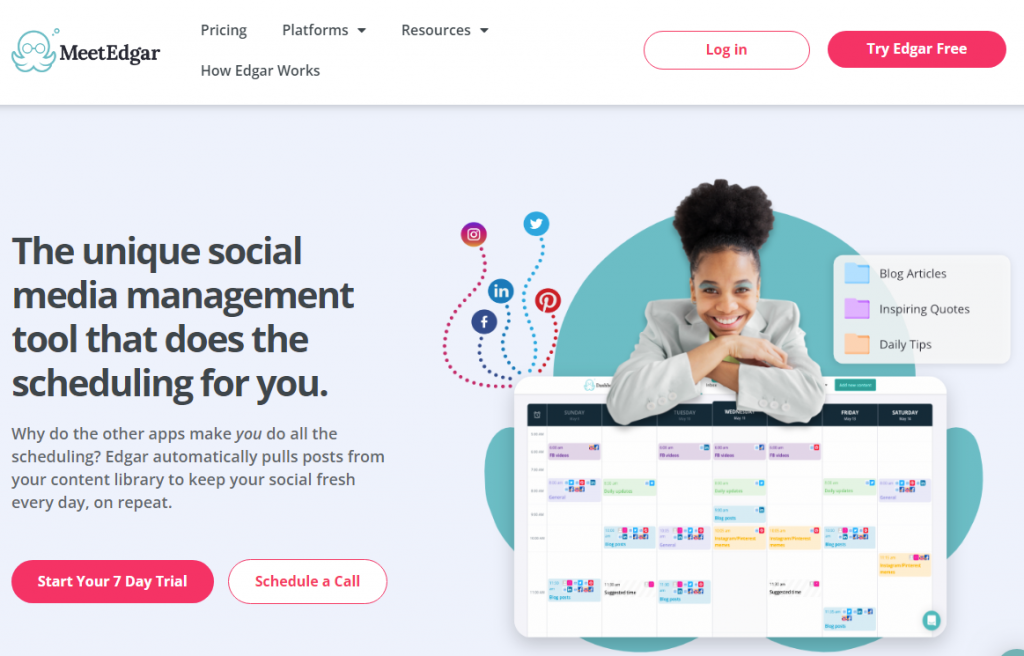 MeetEdgar is a social media automation tool that automatically curates fresh content for your feed every day. Following are some of the features of MeetEdgar.
The posting queue feature in this tool gives your evergreen post a second life by automatically republishing them based on your chosen time slot.
The category-based detail scheduling feature enables you to categorize your content and schedule them differently.
Pre curated Content library keeps your audience engaged with a consistent publishing schedule.
17. Iconosquare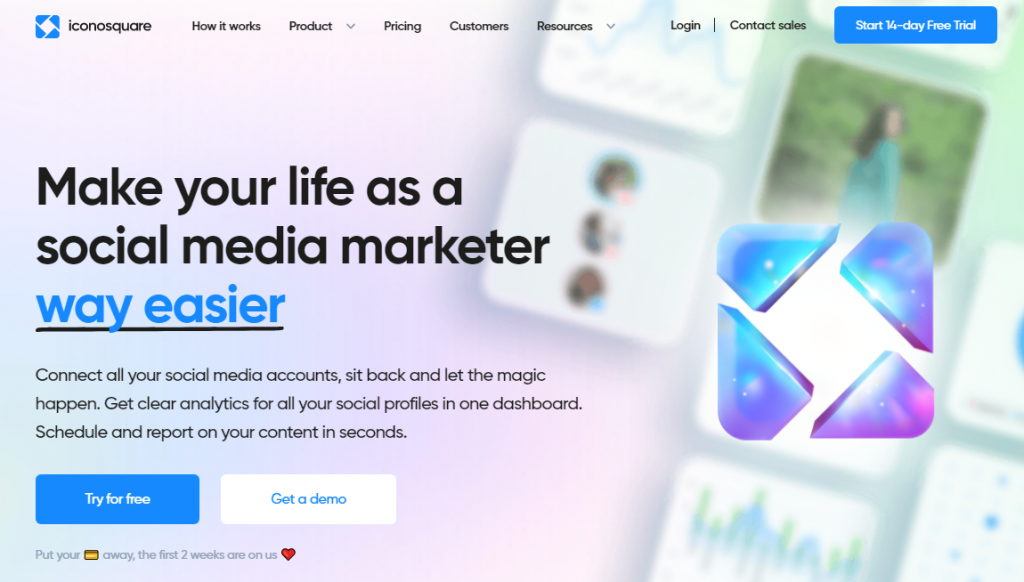 This tool enables you to plan the best social media campaign. Have a look at the distinguishing features of Iconosquare.
Rich Analytics Capacity: This allows the brands to track follower engagement per post and follower evolution.
Community Analytics Option: This feature enables you to collect data on the geographic location, age group, gender, etc of the audience.
Industry Benchmark feature: This feature enables you to set your own benchmark metrics.
Easy to navigate UI & Analytics: This tool provides you with easy-to-navigate UI & Analytics that give you in-depth data on your content in social media. This helps you to conduct competitor analysis and shape your content strategy accordingly.
18. Scoop.it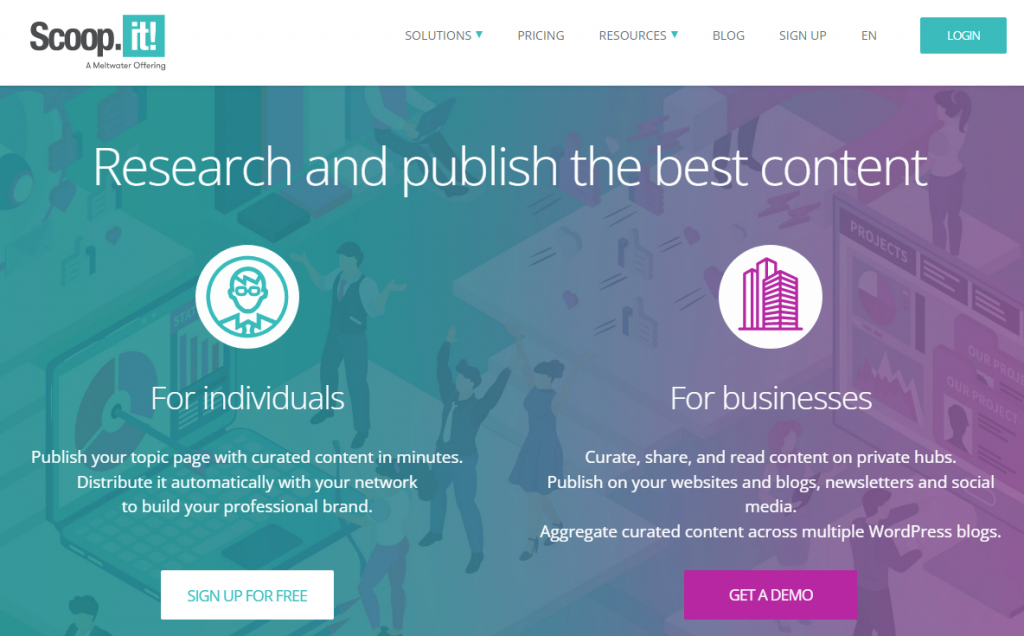 Scoop.it is one of the best free content curation tools, mainly beneficial for content markets. This tool helps you to connect with like-minded individuals and curate content from any source.
Scoop.it enables you to generate ideas using keywords. This tool helps you stay updated with trending topics, which gives you an idea about what to share with your audience.
19. Pocket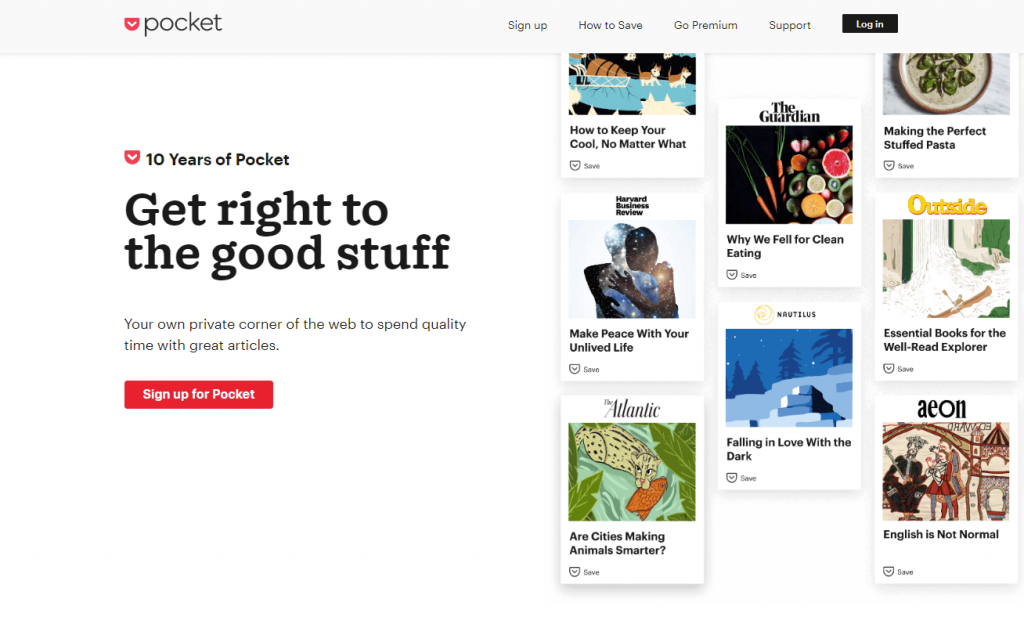 This tool will help you collect information around the web. Pocket also enables you to save content in your browser for later, organize it into collections, and curate it on your social media profiles. This is an effective tool to keep you from time-lapse while searching for your content's inspiration. In addition, it provides you with an accessible library to save links and tags to help you organize your content.
20. Promo Republic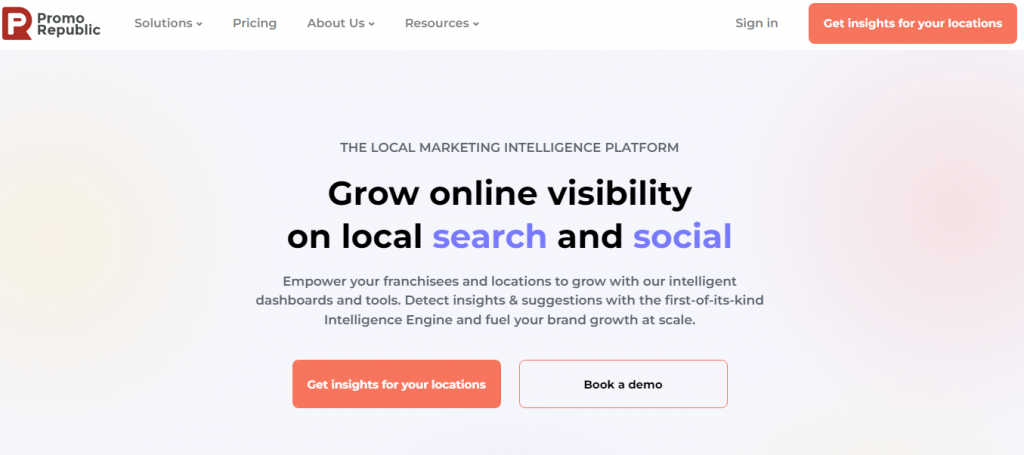 The Promo Republic is a social media automation tool designed to simultaneously support thousands of social media pages. The Promo Republic is an effective tool for your team to organize auditing each post for your social and to make the content more cohesive and meaningful.
This tool also offers customized solutions based on the size of the business. The following are the features of this tool,
Auto-reposting: This feature automatically reposts the high-performing content at a later date to increase engagement
Content approval workflows: You can set up automated workflows to ensure your client is satisfied with the content before it is published.
Smart Automated Posting: This feature schedule post from a curated database to be posted at the right time for the audience.
Premium art and design templates: This tool also provides you with rich design assets and visual template that fits different social media platforms.
How to choose the right social media automation tool?
The following steps should be taken into account while choosing the right social media automation tool
Avoid automation tactics that will make your brand look spammy
Choose the social media automation tools in such a way that it does not have a negative impact on the existing online relationship with your audience
Choose social media automation tools based on the social media platform you are using
The tool should be selected based on the nature of target audience
The existing brand sentiment should be taken into consideration
The size and nature of your business also matter while selecting the social media automation tool
You also need to be aware of the potential challenges that you may face for large sized social media campaigns
Cost-effectiveness of the social media automation tools should be taken into consideration. You can also seek the help of a comparison chart of social media automation tools while deciding which tool should be used.
A healthy competitive spirit should be there before switching to social media automation tools.
Be well aware of the ecosystem of social media management tools.
Make sure the social media goals do not clash with the organizational goals.
Conclusion:
Social media automation allows you to bypass direct interaction on any social media. Make sure you have a well-equipped and skillful social media management team before turning into social media automation tools. You can go for a free trial for one or two tools before actually implementing any social media automation tool.
A recent survey indicates that nearly 65% of Digital marketers and Social Media Managers have automated their marketing measurement tasks. However, you should note that all social media tasks are not meant to be automated, as all social media strategies will not be successful solely through automation.
Are you looking for the best social media automation tools to streamline your marketing? In this article, we're going to introduce some social media automation tools that Marketing Gurus are using in 2021. By using these tools you can automate your social media marketing like the pros. These tools provide you a lot of features like content curation, scheduling social media posts, Engage with your audience, and much more.


Top listed social media marketing automation tools that marketing gurus recommend
John Rampton
The top three social media monitoring automaton tools I recommend include Google Alerts, BuzzSumo, and Hootsuite. We use these within my company and across our team for marketing campaigns, content planning, and strategy development.


#1. Google Alerts
Google Alerts is free to Google account holders and works for individuals and companies. The cloud-based automation solution for social media monitoring is also easy to use that anyone on my time immediately figured out how it worked. The real-time monitoring is effective and covers everything from blogs and news sites to discussion groups and videos.
You can schedule alerts and also distribute those feeds to your team. Since we use so many other Google tools for search marketing, social media, content development, and ad campaigns just to name a few, Google Alerts seamlessly fits into our existing efforts.


#2. BuzzSumo
BuzzSumo is a go-to source to see what's being said about the company a well as me as a thought leader. In addition to monitoring what's being said about you and your company, the automation tool helps shape our content creation by delivering the trending topics, influencers, and competition's activity.
We can compare what's being said about us with what's being said about our competitors. BuzzSumo also helps us measure the effectiveness of their content campaigns. The site is easy to use and provides a dashboard with user-friendly search tools.


#3. Hootsuite
Hootsuite is a good tool for listening to your audience on your behalf when you can't be checking each social media channel constantly. If you have a small team, Hootsuite gives you free access. However, even when your team grows, their pricing remains fair for the value of the information received about your company, social media efforts, the competition, and more.
It's one of the largest social media monitoring automation tools available with millions of users and access to interactions from 35 social media networks. Hootsuite provides us with the most comprehensive findings plus it can connect with our WordPress blog and website.
There is a single dashboard view to see all the information from across these 35 networks. Another standout feature for our company is that Hootsuite measures our social ROI to direct our marketing decisions for more effective results. It gives us real-time analytics about how we are performing on these social networks and how specific demographics engage with the content we publish on these social networks.


Jordan Leschinsky
Many brands forget how important social media is to their content and communication strategy. Sure, social media offers an easy platform to share content en masse, but it's also a space for engaging directly with real people, in real time.
Social automation and monitoring might, then, feel very unengaged, unreal and not at all in real time. But it serves a very important purpose. Social Media monitoring and automation tools free up time and resources. Resources that can then be spent engaging with audiences directly.
To help free up valuable time, here are three social media monitoring automation tools I think will help with your social media strategy:


#1. Hootsuite for scheduling and monitoring
Hootsuite offers an array of services to help with your social media automation. Most people use Hootsuite for scheduling posts on Facebook, Twitter, LinkedIn and even Instagram. The scheduling tool also offers a handy calendar visualization – perfect for a birds-eye view of your social presence. But people often overlook Hootsuite's social monitoring tool. With this tool, users can filter conversations by phrases, words, hashtags and locations, perfect for keeping an eye on what people are saying about your brand, as well as competitors.
Pricing ranges from $29-$599 per month, but there is still a way to get free Hootsuite features if you know where to look.


#2. Buzzsumo for content curation
Anyone who's been a social media manager knows the pain and suffering involved with finding relevant content to share on social. And even once you've found appropriate content, are you sure it will resonate with your followers? Buzzsumo is a great tool for fixing that problem. By identifying content that's relevant to the platform, high performing and topical for your audience, Buzzsumo is a great tool for automating your research.
Pricing starts at $99 per month, with discounts offered for annual packages.


#3. TeamWork for content creation
While TeamWork is not a social-specific automation tool, it's hugely beneficial for creating content for social. Social media isn't a single-player game. Engaging, valuable social content requires copywriters, strategists, coordinators, project managers, designers and more. For social to be done properly, you need a team that works well together. TeamWork is a project management tool that works to align your team, plan your deliverables and manage content assets and approvals. Automating project management is often overlooked when it comes to social, but it can be a huge asset to your overall social media performance. Pricing starts from 9$ per month but is free for small teams up to 5 users.

Larry Kim
#1. Facebook Messenger
In a Facebook survey, 70% of consumers said that they feel more confident about brands they can message, whereas 90% of users who optin to receive text messages from brands say it's very useful.
Messenger and sms marketing present the biggest growth opportunity of the next few years.
On Facebook messenger, more than 8 billion messages are sent around every day.
And what could be better than that?
The potential reach of Facebook messenger marketing with chatbots could be huge.
It has sky-high open rates. Engagement rate on Facebook messenger is 80% and the click through rate could be around 20%.
With Facebook messenger chatbots, you could streamline appointments, bookings, and even customer service.
Right now, there are only about 400,000 messenger chatbots in the world, so it's best to to be an early adopter!
MobilleMonkey is a free Facebook Messenger marketing platform — it acts as an integrated Facebook messenger, webchat, and SMS marketing platform for your business.
MobileMonkey's drip campaign feature allows users to set up sequence of messages delivered at specified intervals, just like on email marketing, it's an automated, reliable method of sending mass content at once.
You don't have to worry about coding because MobileMonkey offers marketing templates for every industry.
Want to grow your contact list? No problem! MobileMonkey can turn your commenters into leads.
MobileMonkey has integrated a Facebook Comment Guard feature that allows users to automatically add contacts to your Messenger contact list each time someone comments on your post. All you need to do is to install the comment guard on your Facebook post!
It easily turns every post into a valuable lead magnet!
Almost everyone uses their mobile devices every day and now is the perfect time to embrace and utilize a chatbot to optimize your customer service and product or service newsletter to nurture your leads 24/7.

Chris Makara
I use a number of tools to help with various social media initiatives…so it is tough to pick just a few. So the tools listed below are what I would consider my "must-have" tools.


This is a tool I created to help eliminate the redundancy of scheduling the same social media updates again and again. I've been using Buffer for years as it is a great tool. However, I was finding myself spending way too much time scheduling the same updates into Buffer. So I created Bulkly to automate this process. It's a great way to save time by automating your evergreen social media updates.


#2. Texau
Speaking of automation, I recently started using this tool. There are so many things you can do on the different social media networks. From scraping prospects and automatically adding them to a Google Sheet for additional uses to automatically following profiles on social media – there is a lot you can do on this platform.


I've used a variety of platforms to create Facebook Messenger bots and I have to say that Botstar is my favorite. Not only can you use it to create Facebook Messenger bots, but it can also serve as a stand alone bot on your website. Botstar has a pretty intuitive interface that makes building out the bot relatively easy compared to other platforms. It's my go-to tool for creating FB bots.
Like I mentioned earlier, I use a lot of tools and picking three is not the easiest thing to do. In fact many of the tools I use connect to each other to carry out somewhat complex automations that help get the most out of social media. But for those looking to get started with automating certain tasks, the three tools I mentioned can definitely help you out.

Ben Sailer
#1. CoSchedule
The only social media monitoring (or social media marketing tool in general) that we use at CoSchedule is our own Social Organizer. It allows us to create, schedule, and measure social media content and manage marketing projects within the same software, in addition to tracking incoming engagement, comments, and messages from our followers.
In the past, we've used Mention strictly for social media monitoring (which is a fantastic tool for this purpose), but when we added the ability to monitor social conversations to CoSchedule, it became redundant for our needs. However, if a marketer were looking for a tool that can handle social media monitoring (and social media monitoring alone, if that's your required use case), I would recommend giving Mention a look.


Surya Pandit
#1. SocialPilot
SocialPilot is a Simple & Cost-Effective Social Media Management Tool for Small Teams and Agencies that help them to strengthen their brand presence across all major social media platforms. It assists you in creating, plan, schedule quickly, and publish posts.
With SocialPilot, you can publish content on LinkedIn, Twitter, Instagram, TikTok, Facebook, Pinterest, Google My Business, Vk, and Tumblr. It is popular among small businesses because of its cost-effectiveness, intuitive UI, and exceptional customer support.
SocialPilot can help you get started with Social Media Management in a jiffy and give you access to the following:
Social Media Calendar
Content Curation
Bulk Scheduling (with Image)
Social Media Analytics
RSS Feeds Automation
Client Management (Best For Agencies)
Reviews about SocialPilot
Tal T.
What can you NOT DO with SocialPilot? In all honesty I don't have any clue. The ultimate friendly all in one marketing platform, with great value. I highly recommend any marketer out there to check it out and give it a chance to prove its massive powers.
Luis Ignacio C.
After using SocialPilot, I can say with confidence that it is the best option for Agencies and SMBs and for consolidated work teams that seek to offer a better service. Similar tools offer similar services for very high costs, but do not offer more than five accounts to manage, which I have left in the past since using SocialPilot, is truly amazing.
Marcus Ho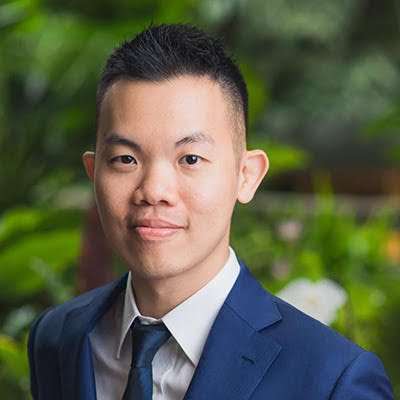 Marcus Ho
Author of the National Bestseller Social Payoff.
#1. AgoraPulse
As a leading social media automation tool, AgoraPulse not only allows you to schedule social media posts in advance but also lets you queue your evergreen content, bulk upload posts in one CSV, and track whether or not social content is driving traffic to your website.


#2. SproutSocial
SproutSocial, another social media automation tool, boasts some of the same features. For example, both AgoraPulse and SproutSocial have a social media inbox, which captures all private messages on all social platforms.
However, SproutSocial is more expensive than AgoraPulse, especially when you take into account the features that you get. The cheapest SproutSocial plan, which is still more expensive than the cheapest AgoraPulse package, lets you manage just five social media accounts. With AgoraPulse, you can manage up to 10 social profiles.

Shane Barker
While there are many different social media monitoring and automation tools available, here are some of my favorites:


#1. Hootsuite
This has a comprehensive suite of social media tools including a social media monitoring tool. You can use it to find and respond to social media conversations about your brand or niche.
You can set up alerts and find conversations about a keyword, topic, location, etc. One of its best features is that it allows you to create custom content streams that you can customize and organize the way you like.
Other notable features include automatic content posting, content curation, analytics, etc.


If you're looking for an all-in-one social media marketing tool that lets you do everything from a single interface, then look no further.
HubSpot is the answer to all your prayers and meets almost all of your social media needs. From scouring social media to find relevant conversations to automatic content posting, it can help you do it all.
You can set up custom streams to monitor conversations and can quickly respond from the same dashboard.


This is one of the most comprehensive and powerful social media monitoring tools. It does not just monitor social media, but can track all of your online brand mentions.
You can also use it to spy on your competitors or do a customer sentiment analysis about your brand or a marketing campaign. The mentions analytics and sentiment analysis features are extremely insightful and are unmatched by most other monitoring tools.
The best part is that it provides automated analytics reports and visualizations that make it easier to understand the data and act on it.
This is not an all-in-one social media marketing tool, but definitely one of the best monitoring tools today.
Go ahead and check these tools and share youe experience. If used well, you're sure to see good results 🙂
These social media automation tools list is specially curated with recommendations from the experts, to help you manage your social media marketing. I hope you have enjoyed reading this! If you're a digital marketer and using any social media automation tool and would like to add to this list, share your feedback and valuable insights. We will be happy to review and include.


Infographic: Top Social Media Marketing and Automation Tools Recommended by Experts
Get a quick look at this simple infographic to navigate the top rated social media automation tools that most of the social media experts mentioned above recommend: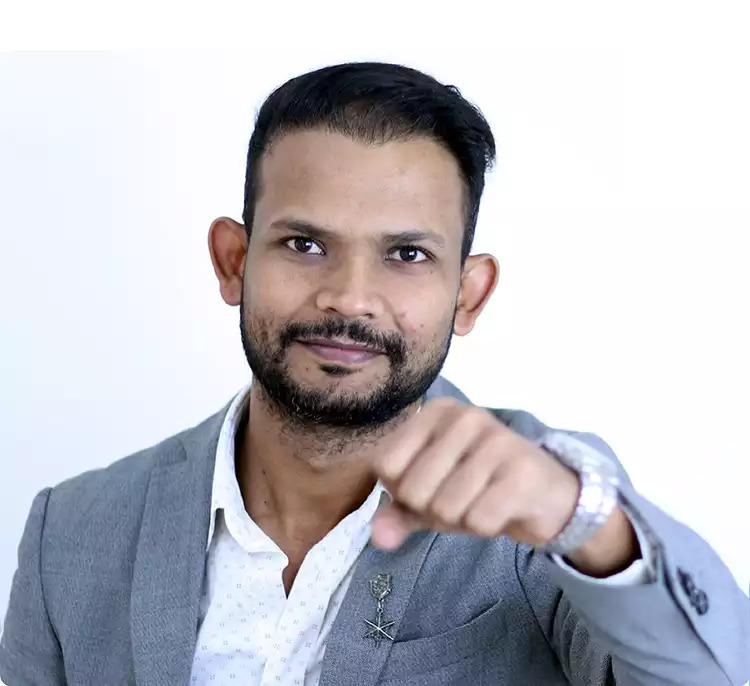 About Deepak Chauhan Hi, I am Deepak Chauhan, a Digital Marketing Strategist. I'm the CEO & Co-Founder of VOCSO Digital Agency, a creative web design, development, and marketing agency based in India & USA.