Do you ever want to create a color scheme for your website or design, but don't know what colors work best? Your design is going to need color and we know how hard it can be to come up with that perfect combination. Lucky for you there are plenty of great tools out there to help get the creative juices flowing!
If you're looking for a new color palette for your website? Look no further than these best random color palette generator tools. They all offer different features and creative outputs to help suit any project's needs! With the web being so saturated with color, it's hard to break through and end up getting noticed. But don't worry! There are some simple ways you can achieve this goal: creating a beautiful website using Random Color Palette Generators.
These generators will help your brand stand out from others in an elegant way that improves usability as well! Try adding some new life to your designs today by picking up one of these top color palette generators now-you won't regret it 🙂


List of the Top Color Palette Generators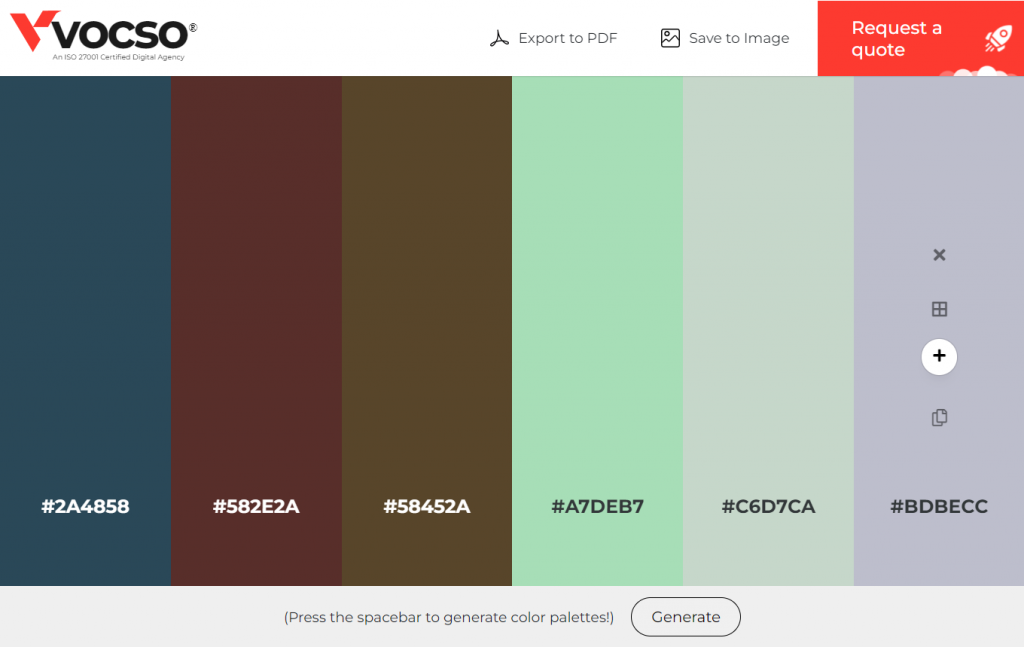 The VOCSO random color scheme generator tool helps in delivering the brands' message through appropriate colors. This free color scheme generator is designed to help online businesses that can use this for websites, mobile apps, and other creative designs. This palette generator provides a range of suitable and relevant colors that can be used for various designing purposes. You can generate an unlimited number of color palettes with up to 10 color cards in each palette.
Use the spacebar or click generate to keep generating the color palettes. You can lock the colors if you like on the palette so it won't change the ones you like when you generate more colors. Changing the shade of a color to darker or lighter is also easy while keeping every other color card the same.
This online color palette generator tool helps in delivering a group of hex color codes that you can easily share with your design team in PDF or Image format.
Want to generate your color schemes by using an image? VOCSO has also designed an image color palette generator that you can use for stunning color schemes from your favorite images.


This color generator is perfect for coming up with new colors to work with. Simply click "generate color" and a whole range of each hue will pop out at you! Not only that, but the hex code corresponding to every shade can be seen in order on the right-hand side of your screen so it's easy peasy lemon squeezy when it comes time to find which one matches best.
The colors are generated with true randomness originating from atmospheric noise. Hexadecimal color codes, which consist of three values in the [0,255] range for red, green, and blue light intensity; these hex numbers can be used to describe web page colors numerically as well.


If you've ever wanted to work with random colors but have some control over the specific shade, Coolors is your perfect tool. It's a CSS color picker that lets you select from different shades and tints of various temperatures. Unlike other tools on the market, it'll actually generate an entire color palette for you!
You can use this program as an Adobe add-on or Chrome extension if you're working in Photoshop or Illustrator respectively; alternatively, download their iOS app while taking your artwork anywhere with ease. Create gorgeous color schemes in seconds with the super-fast Color Schemes Generator. With Coolors you can Choose from thousands of beautiful palettes and start designing!


This site will guide you through the process of picking a new color, one at a time. Pressing the spacebar allows more colors to pop up on your screen and correspond with their respective hex codes. Who doesn't love to make their own colors? This website is a great and easy tool for creating your own custom color palettes in the simplest way.
Have you always been interested in color pairing and designing? This generator creates HEX code for those who want a punch of color on their website.


This generator is perfect for people who like to have their color schemes planned out. You can choose from a variety of palettes by simply clicking on the colors you want, and it will generate a new palette every time you refresh! It also has an option where you can get two or more different types of palettes at once which saves up some precious time that could be used elsewhere.
This website will generate a random color for you. You can input one or more colors to be generated at once, and it'll give the hexadecimal code of that particular shade so you can use it in your design projects! You can generate a maximum of 12 colors randomly at one time.


Unleash your inner artist with this user-friendly resource. With a large and legible font, the color palette generator by Shodor is perfect for anyone who has grown tired of squinting at tiny hex codes in an unappealing typeface. This interactive website is a must-try for anyone who has ever struggled to see the tiny numbers on an online color code generator. With just one press of your mouse, you can generate any hue imaginably!


If you're looking for some color inspiration or information on how to properly use a certain hue, look no further than Color Hex! The site can give you the basics of colors like their HSL and RGB values as well as more complex models. It's also got an interactive tool that lets you type in any hex code (like #A03851) and it'll pull up all your different shades so there are plenty of options when designing anything from text blocks to backgrounds with ease.
Another awesome feature is its simple but effective CSS generator which will generate basic HTML codes along with images if needed- perfect for anyone who wants quick access without having to do much work themselves!


8. Crispedge Random Color Generator
Now you can generate random colors with hex color codes and color names! The best part is that the program uses true randomness to give you a unique set of attractive, creative new hues. You'll find colorful options in all different shades from reds like a fire engine or scarlet to blues as deep as rainforest green or purple so rich it looks royal.
Plus there are other great choices for monochromatic schemes: light grays, dark plums, lime greens–you name it! For those looking for multiple bright colors at once (or darker ones) then click on "Multiple Colors," which will present an array of randomly mixed-and-matched sets ready just waiting to be chosen; the same goes if what you want.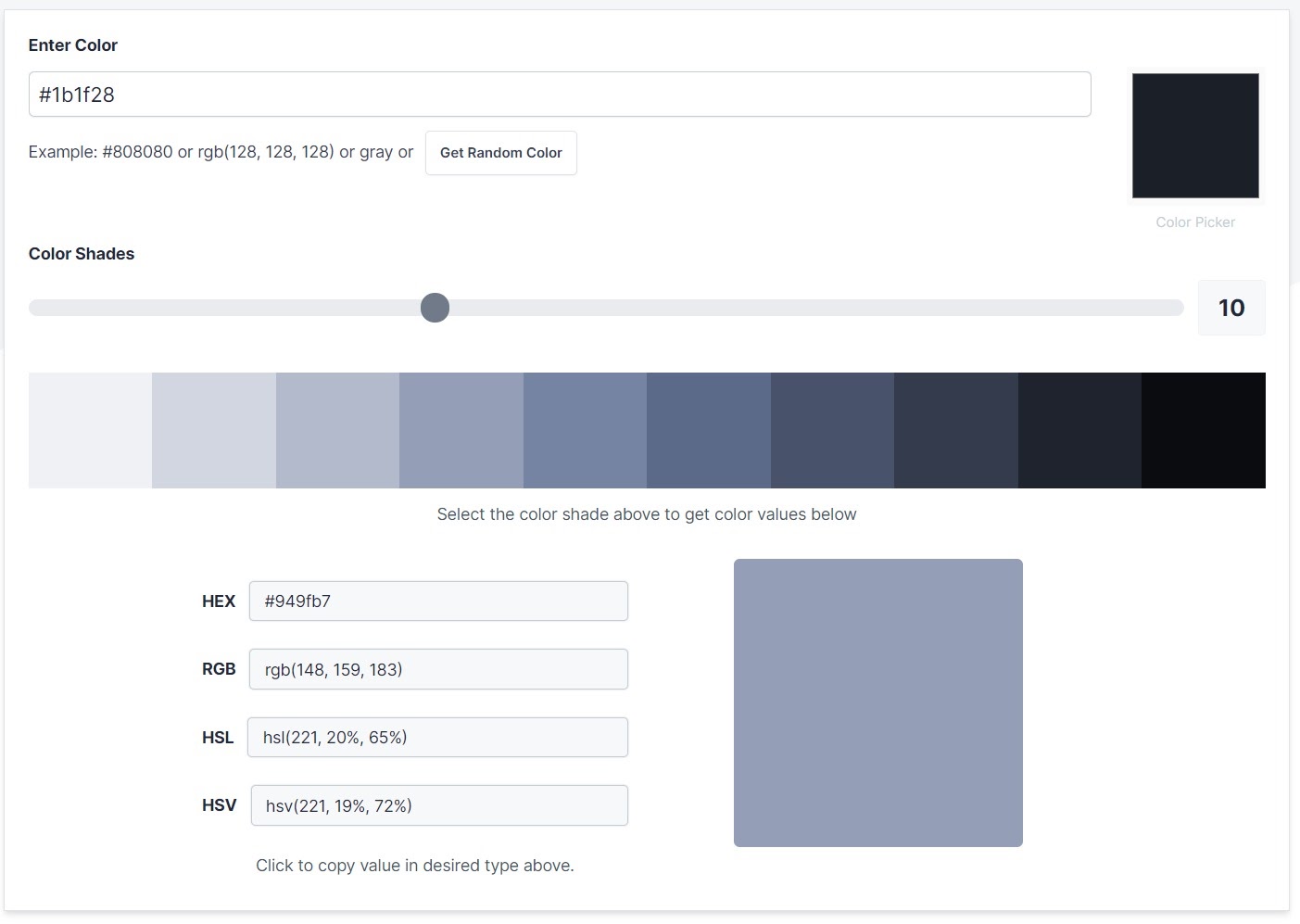 One of the most versatile and useful tools for graphic designers is a color shades generator. This tool allows you to create custom colors by adjusting different shade sliders, or enter in RGB values manually if desired. You can also generate multiple variations on one given color just by entering that individual's hex code into this program! In addition to making your own original creations, these generators will allow you to change the hue or tone of an existing design without having to recreate it from scratch.


Comment Picker Random Color Generator is an online tool where you can generate one or a list of random colors in different color code formats: HEX, RGB(A), and HSL. Pick the type then press "generate" to get your desired color! This generator could be useful for designers looking for inspiration or developers who want to test out their product's design with some new shades.


Generate perfect color combinations for your designs with hexcolor.co! Here you can find the perfect matching color scheme for your next project! Generating nice colors, gradients and more has never been this easy with just one click of a button. Creating natural palettes from images is now possible thanks to our deep neural net that automatically generates cohesive schemes in seconds using artificial intelligence technology as well as human input based on trends over time – all 100% free!
Web designers are always looking for new tools to make their jobs easier. There are different types of free tools available for web designers in the market and a color palette generator is one of them that can help you create a color palette for your next design project.
Did you ever feel bored or tired of writing long random colors for different divs or spans just to test something simple. or find some unique color for your next project? So here is a simple solution. using this color generator tool you can generate multiple random colors. This color generator tool creates so many color values, for example, Hex, RGB, HSL, and HSV. To randomly generate a color simply load this page. you can also add some customization like how many random colors you want, or change the Hue, and Luminosity of the color.
Conclusion
When it comes to choosing the right colors for a new website, one of the most important factors is how easy they are on the eyes. The best free random color palette generators will give you an array of beautiful and unique shades that work well together when combined in different ways. If you are in need of a new website design, it is important to find one that matches your brand. As a professional web design company, we can provide you with the best advice on what colors work best with your company's logo and overall aesthetic. Contact us today for custom website design solutions tailored just for your business needs.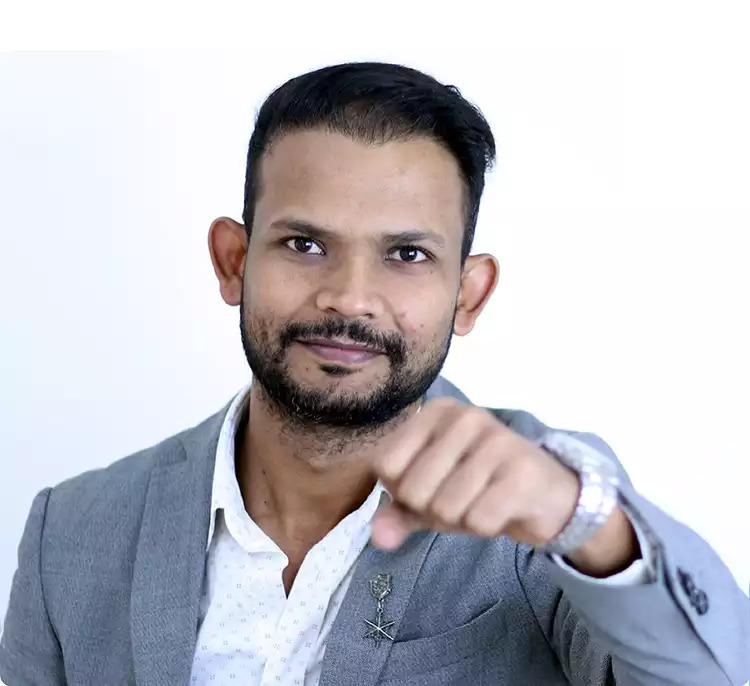 About Deepak Chauhan Hi, I am Deepak Chauhan, a Digital Marketing Strategist. I'm the CEO & Co-Founder of VOCSO Digital Agency, a creative web design, development, and marketing agency based in India & USA.