Marketing campaigns help to create brand awareness and make businesses memorable long after an impression or purchase.
Remember "Just do it" by Nike, "Gillette, the best a man can get," or "Most Interesting Man in the World" by Dos Equis?
Now, planning, organizing, and running marketing project management campaigns is far from being an easy, straightforward task. Think of managing creative assets, addressing client feedback, task allocation, tracking projects, staying on top of deadlines, and maintaining swift communication.
And that's just the tip of the iceberg!
For marketing campaign project managers, handling multiple tasks simultaneously can be overwhelming and exhausting.
Is there an effective way to make the entire complex process simpler and more efficient?
The good news for all you marketing geeks is that there are some reliable project management and team collaboration tools designed to tackle various aspects of marketing campaigns.
21 Top Project Management Tools For Marketing Campaigns
1. HubSpot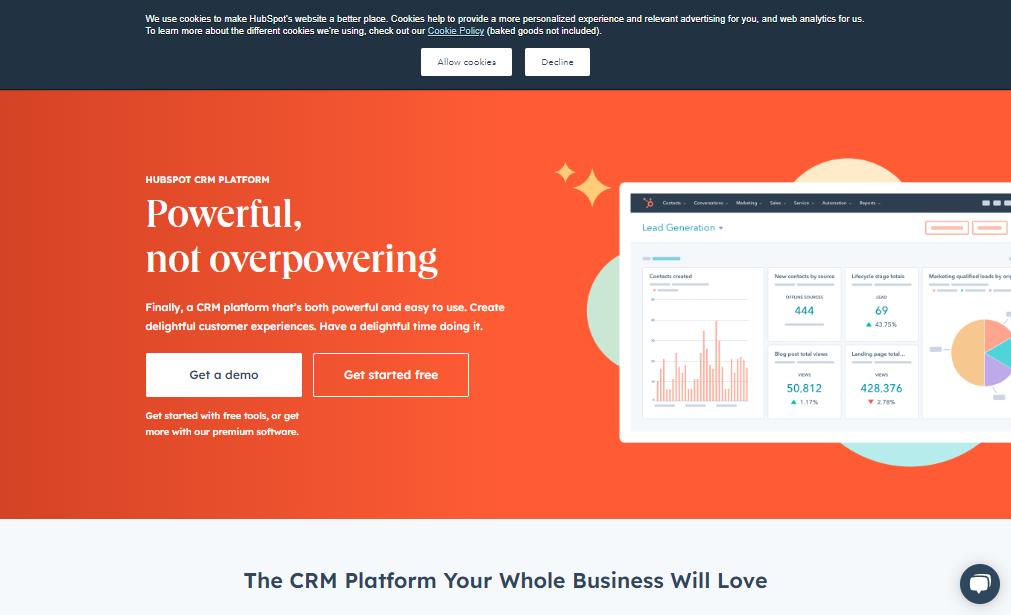 When it comes to marketing campaign project management, HubSpot serves as a huge CRM platform with a host of inbuilt tools and integrations to align sales & marketing teams, promote sales enablement, boost ROI, and optimize inbound marketing strategies to produce more qualified leads.
HubSpot's marketing software – Marketing Hub – helps marketing teams attract the right audience, convert visitors into qualified leads, and run all inbound marketing campaigns at scale.
Its email marketing feature remains the most preferred and used feature. The feature allows marketers to send customized emails and send them to contacts with simple drag-and-drop functionality.
Marketing teams can use a HubSpot integration to connect with other work tools they use and share information automatically.
Popular marketing features include:
Lead generation
Marketing automation
Analytics
A/B testing
Revenue analysis
Pricing: The Paid plan starts at $45 per month, billed at $540 per year.
2. ProofHub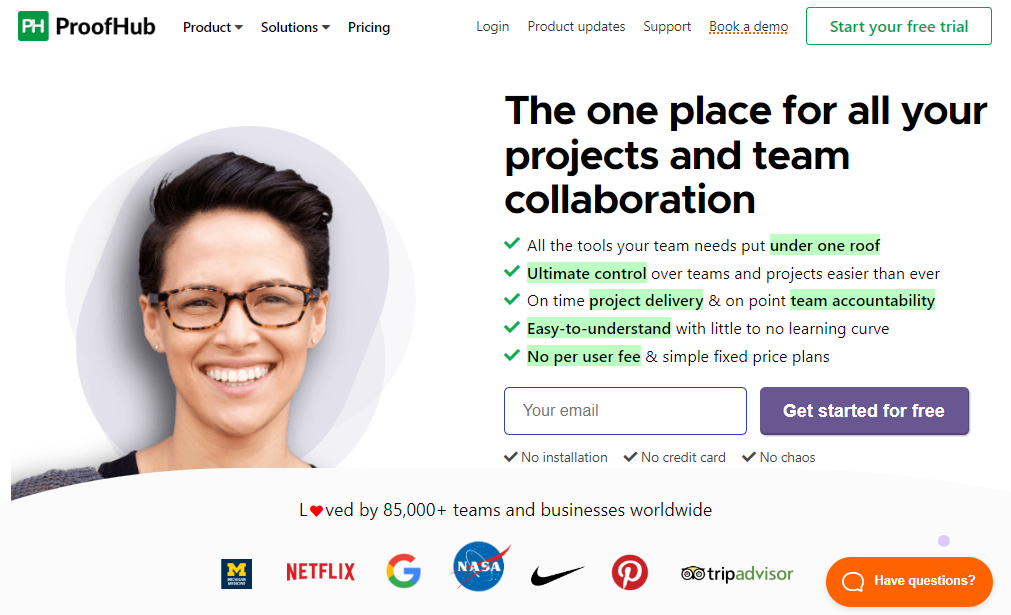 ProofHub is your one-stop marketing campaign project management solution as the tool allows you to organize all your tasks, events, and milestones in one place while keeping all team members, clients, and stakeholders on the same page throughout.
The project management tool offers a wide range of advanced features (Note-making, Instant chat, Task management, Table view, Gantt chart, Kanban boards, etc,) to allow marketers to brainstorm ideas, plan campaigns & assign roles, execute marketing strategies and everything else you need to generate deliverables on time.
Forget endless, unchecked emails and collaborate in real-time with your team and clients to coordinate work and deliver projects delivered on time and on budget. ProofHub makes it easy for everyone to see what they're working on, whom they're working with, and what they are supposed to work on next.
Popular marketing features include:
Work request forms
Custom workflows
Online proofing
Timesheets
Instant chat
Gantt charts
Table view
Pricing: The Ultimate Control plan is priced at $89 per month (unlimited number of users) when billed annually.
3. SocialBee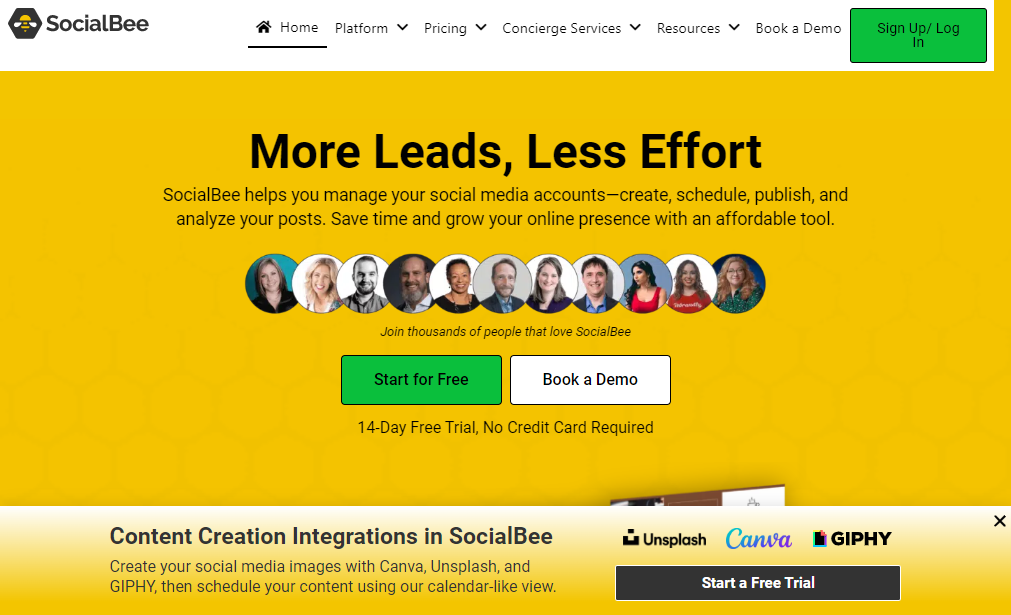 SocialBee is a social media management platform that helps marketing teams to manage their social media accounts. Using SocialBee, you can create, schedule, publish, and analyze your posts across various channels, like Facebook, Pinterest, YouTube, Instagram, TikTok, etc. 
Marketers can automate their social media posts, which helps to save valuable time. You can organize all your posts in a content calendar, import different content types and ideas, add them to your posting schedule, and SocialBee will share them automatically for you.
Canva integration is one of the best features of SocialBee. Also, the tool offers analytics to help you analyze the performance of your accounts and real-time preview of your upcoming posts.
Popular marketing features include:
Social media scheduling
Content creation
Content recycling
Social media analytics
Easy importing & editing
Custom URLs and tracking features
Pricing: The Paid plan starts from $19 per user per month.
4. Monday.com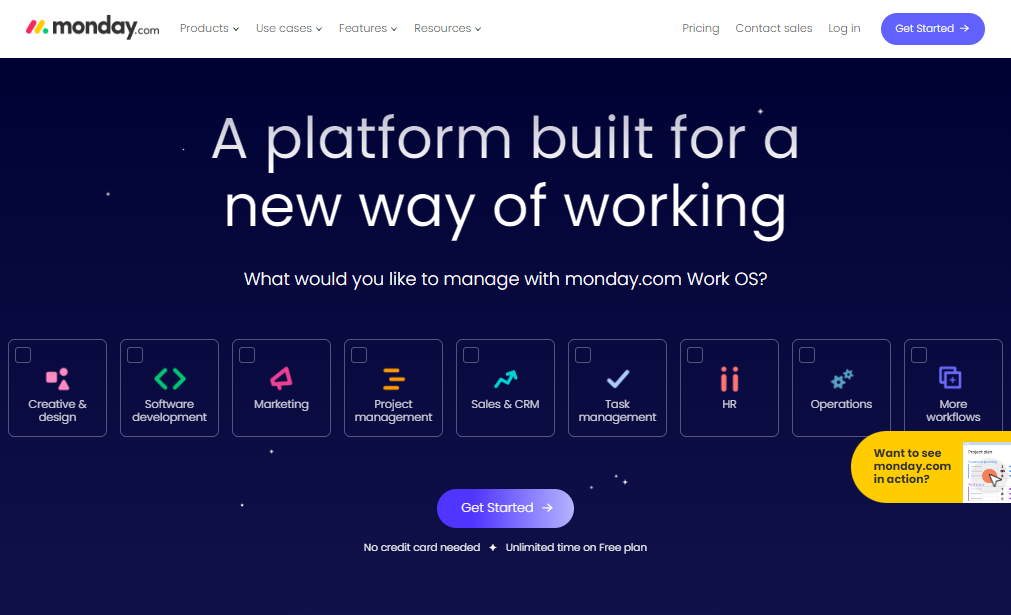 Monday.com markets itself as the #1 collaborative platform that marketing and creative teams love to use. This cloud-based Work OS is quite handy for marketing teams as they can create workflow apps in minutes to run their processes, projects, and daily work. The tool offers all the visibility you need to monitor all ongoing marketing campaigns.
Monday.com makes campaign planning easier. You can run workflows efficiently by updating the team on campaign deadlines, top-performing keywords, and final approvals. Marketing teams can create different boards for different marketing projects.
You can choose from Kanban, Gantt, Timeline charts, and Standard task lists. Marketing teams can launch Google Ad search campaigns directly from monday.com to seamlessly manage, monitor, and optimize their marketing efforts in real-time.
Popular marketing features include:
Customizable templates, boards, and workflows
Project data visualizations and Dashboards
Real-time collaboration features
Project scheduling
Multiple project views
Time tracking
Pricing: The Paid plan starts from $8 per seat per month.
5. Basecamp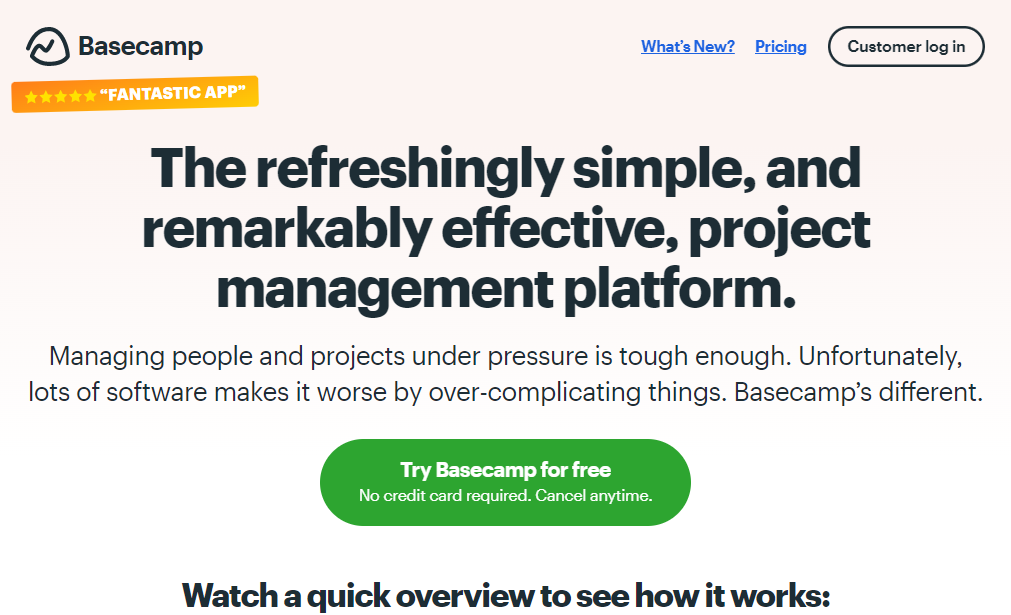 The refreshingly simple project management platform, Basecamp, is designed to help marketing teams manage projects and teams in the simplest way possible. The tool offers a simplified, refined, organized, and easy-to-use platform for marketers who are overwhelmed with the complexity of so-called powerful tools.
Some useful features for marketing teams include to-do lists for tasks, which can be assigned to different team members. The tool also has message boards where project conversations can be created and organized separately.
Sharing files and images are enabled, and communication can be personalized too. Basecamp can be integrated with other products for reporting, time-tracking, analysis, and other features.

Popular marketing features include:
One-page dashboard
Message board
To-do lists
Centralized file management
Real-time group chat
Project schedule
Reporting
Pricing: A single pricing plan is priced at $11 per month per user.
6. MailChimp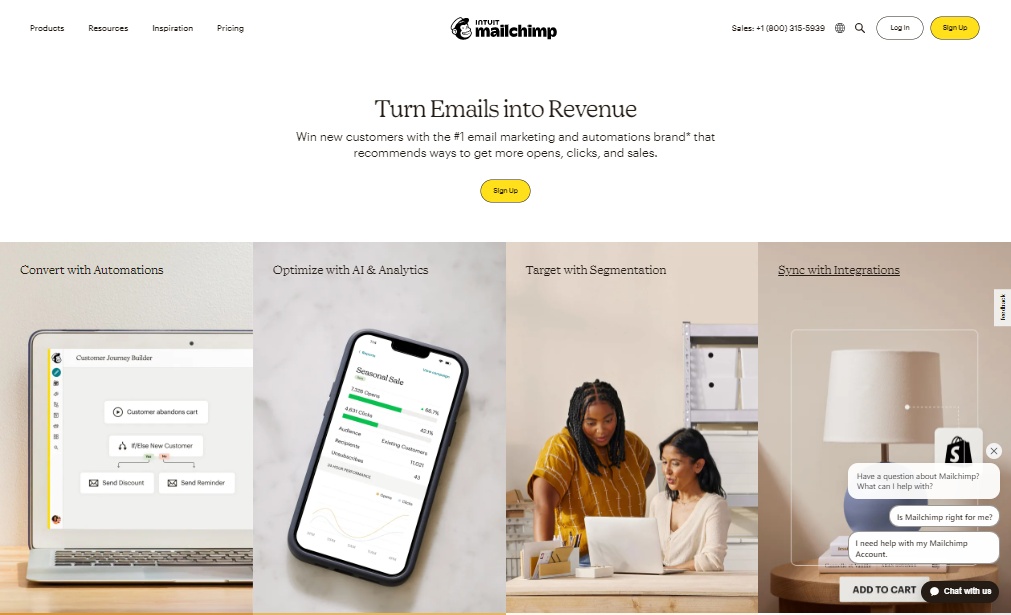 MailChimp is a comprehensive email marketing platform that enables marketing teams to use emails to reach out to their target customer segment. Its drag-and-drop editor is easy to use for marketing teams and they can manage mailing lists, create custom email templates, and nurture and automate their entire marketing campaigns.
MailChimp offers a wide range of inbuilt templates that marketing teams can choose from and customize to suit their needs. You also get email personalization, A/BN testing, CRM tools, and many other functionalities. The best thing about MailChimp is that you don't have to be an expert in HTML, CSS, or JavaScript.
MailChimp offers a WYSIWYG web builder that allows marketers to develop their campaigns without any coding knowledge.
Popular marketing features include:
Hassle-free campaign designing and launching
Custom templates with unique coding
Email automation
Customer journey builder
Preview and Test email before launch
Pricing: The Paid plan starts at $9.28 per month for three users.
7. Google Analytics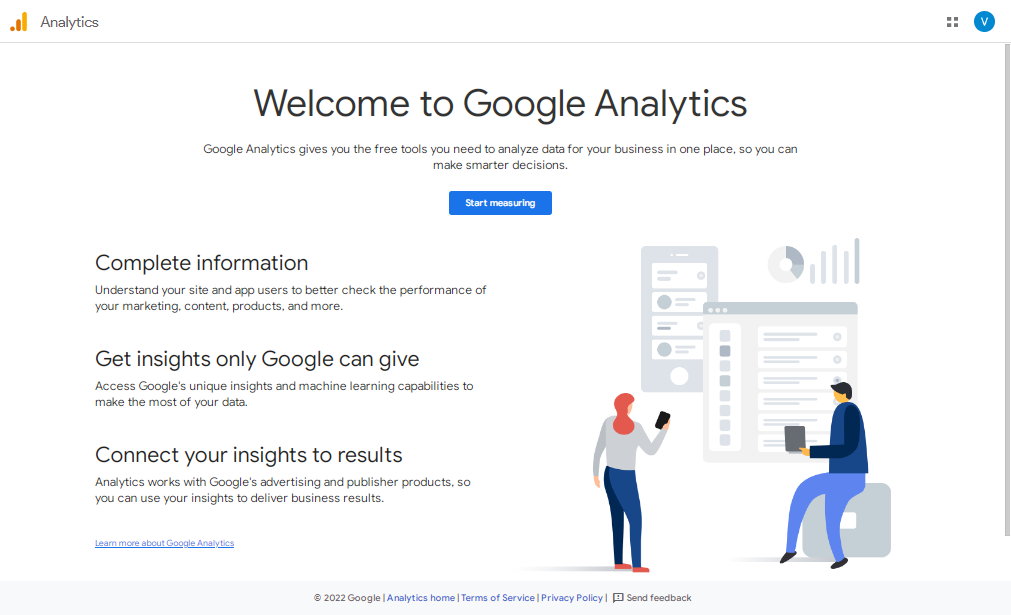 Analytics are essential to every marketing campaign and few tools can match Google Analytics – a vital marketing and analysis software that every business (targeting online audience) must use. Marketers can create custom dashboards for different marketing campaigns, collect visitor insights, and view reports of website traffic.
Google Analytics is a powerful marketing campaign project management tool for marketers as it helps marketers determine top sources of user traffic, measure the success of their marketing campaigns, track goal completions, and discover trending user engagement ideas.
There are many popular metrics on Google Analytics that marketers can track such as users, bounce rate, sessions, pages per session, goal completions, page views, percentage of new sessions, etc. You can filter those metrics that are most important to your marketing campaign goals.
Popular marketing features include:
Reporting and Visualization
Funnel analysis
Tag management
Campaign measurement
Website conversion and user tracking
Audience reports
Monetization reports
Pricing: Free version is commonly used. The Paid plan is priced at $150,000 per year.
8. Paymo
Paymo is counted among the most robust marketing project management tools available today. The tool has some crucial features for marketing teams that few other solutions offer, like time tracking, invoicing, and billing. Paymo is very useful in terms of facilitating team collaboration. Marketing teams can manage work in a single workspace through dedicated comment sections and discussion tabs.
You can shorten the feedback loop by uploading files from JotForm, Slack, or Google Drive, and adding as many file versions as needed. There are various views to view your tasks – Tables, Lists, Kanban boards, Gantt charts, and Calendar. You can filter tasks as per priorities, status, assignees, etc.
Main marketing features include:
Task management
Time tracking
Invoicing and online payments
Client and team collaboration
Financial management
Profitability tracking
Pricing: The Paid plan starts at $4.95 per user per month.
9. Asana
Asana is a simple marketing project management solution that enables marketing teams to manage multiple projects simultaneously without having to shuffle between spreadsheets, email, and other tools. Asana offers features to manage project portfolios, organizational goals, and projects – from start to finish.
Marketing campaign planning in Asana begins with the Gantt timeline that supports task dependencies. You can analyze team workload and rebalance work to increase productivity and avoid burnout. From routing requests to tracking approvals, marketing teams can reduce the time and resources it takes to deliver better campaigns.
Main marketing features include:
Work request forms
Timeline
Workload
Automation
Proofing
Approvals
Pricing: The Paid plan starts at $13.49 per user per month.
10. Dropbox/Dropbox Paper
Marketing teams work with various teams inside and outside the company, which can complicate feedback on creative reviews as there are different file types – Google Docs, Word docs, PSDs, JPGs, MP4s. With Dropbox, you can organize all your file types and visualize them in the same doc. Consolidating all your files into a single document helps streamline marketing projects.
You can use features like team folder management, admins dashboard, file and version recovery, and third-party integration with over 300,000 tools. Dropbox Paper is another useful component of Dropbox that serves as a collaborative document where you can jot down notes, assign tasks, add comments, and upload files into one document.
Main marketing features include:
Collaborative workspace
Video projects sharing
eSignatures
Screenshot sharing
Selective sync
Backups
Access files from anywhere
Pricing: The Paid plan is priced at $9.99 per user per month.
11. Canto
Canto is a leading digital asset management solution that helps marketers share and organize brand assets, which is an essential part of marketing project management. Canto is specifically useful for marketing collateral and advertising campaigns.
Marketing teams can use this tool to define sharing rules for external and internal stakeholders to streamline collaboration. The tool's workflow management functionality allows businesses to manage notifications, documents, approvals, and comments. Marketers can easily organize and locate images and assets by keyword.
Main marketing features include:
Keyword search
Image and video publishing
File transfer and sharing
Version Histories
Workflow automation
Roles and permissions
Analysis and reporting
Pricing: Contact the sales team for a pricing quote.
12. Hive
Hive is a comprehensive solution for all marketing teams as the tool serves as a combination of both project and campaign management software. Hive offers a list of useful features like Calendar, Gantt charts, Portfolio, Native chat, and many more to help marketing teams to manage campaigns effortlessly.
Hive simplifies task planning and assignment to help marketers schedule resourcing and plan for long-term project success and strategy. Marketers can easily communicate through comments, file uploads, proofing creative documents, and work over email within Hive.
Main marketing features include:
Project layouts
Project management
Team collaboration
Time management
Reporting and Analytics
Customizations
Automation
Pricing: The Paid plan starts at $12 per user per month.
13. Hootsuite
Marketing campaigns and social media have become synonymous with each other in recent years. Hootsuite is one of the most popular marketing campaign project management tools to manage your social media marketing. Marketing teams can plan and schedule social media posts across various platforms, which saves a lot of valuable time.
Hootsuite helps marketing teams to analyze performance reports of every marketing campaign they run across various platforms. They can find out which posts drew high engagement and which ones didn't. Learning from this performance, marketers can create better campaigns for future use.
Main marketing features include:
Post scheduling
Streams
Social media Analytics
Assignments
Content Library
Campaign optimization
Competitor analysis
Pricing: The Paid plan starts at $49 per user per month.
14. Planview AdaptiveWork (formerly Clarizen)
Planview is an enterprise-grade work management and PM solution with a wide range of services for marketing teams of any size. The tool has an intuitive, customizable interface and marketers can create custom templates for projects. Also, users can view which tasks are on track and which tasks are slow in progress.
The tool's project dashboard unifies all tasks and communications in one place, allowing for quick access to reports, finished and pending tasks, documents, and generated reports. Planview also facilitates collaboration between different teams with easy visualization of tasks between the different layers of the organization.
Main marketing features include:
Client project planning
Portfolio management
Analytics and Reporting
Project and work management
Workflow automation and processes
Project templates
In-context discussions
Time and Expense tracking
Pricing: Contact the sales team for a pricing quote.
15. Usersnap
Usersnap is a top-rated customer feedback platform that enables marketing teams across various industries to collect suggestions, bugs, and general feedback. Developed specifically for customer success teams, developers, product managers, and web project owners to collect feedback from customers about their product through ratings and short answers.
You can easily track marketing campaigns with useful Usersnap features such as screen recordings, voice recordings, and annotated screenshots. The tool allows marketing teams to measure satisfaction after implementing feedback received, thus offering insights on how campaigns should adapt over time.
Main marketing features include:
Pricing: The Paid plan starts at $29 per month for 2 users.
Task management
Backlog management
Reports
Filtering
Workflow management
Dashboard
Role management
16. Zoho Marketing Plus
Zoho Marketing Plus is a unified marketing platform for marketing teams of all sizes. The tool unifies all your marketing activities on a single platform. Marketing teams can engage audiences across multiple channels, increase the ROI of their marketing investment, and optimize team productivity. It sends your message across every channel that your customers are active on, and you can plan and execute any type of marketing campaign from a single powerful marketing campaign project management platform.
Marketing Plus helps you create activities, assign tasks, track progress, and have real-time collaboration with the team. You can store and organize all your marketing assets such as presentations, documents, whitepapers, pricing sheets, PDFs, etc, in one place so your team members have instant access to assets they require to plan future marketing campaigns.
Main marketing features include:
Omnichannel engagement
Brand asset management
Marketing automation
Campaign management
Unified marketing analytics
Website performance tracking
Brand management
Pricing: The Paid plan is priced at $25 per month.
17. Adobe Workfront
Adobe Workfront is a digital work management platform for B2B marketing teams looking forward to strategically prioritizing, assigning, and completing projects on time. This highly customizable work management tool helps B2B marketing teams quickly launch products by checking available resources and using automation and templates to assign tasks.
Adobe Workfront allows B2B marketers to prioritize work and set expectations by eliminating roadblocks. The tool automates the entire workflow, and its AI-powered predictive content and A/B testing help B2B marketers deliver consistent and relevant customer experiences every time.
Main marketing features include:
Personalized account-based marketing
Sales and marketing alignment
B2B Analytics and Attribution
Data insights and audiences
Pricing: Contact the sales team for a pricing quote.
18. Teamwork
Teamwork is a cloud-based project and team management software built specifically for client work. For marketing teams, Teamwork offers a fine balance of functionality and ease of use, which means everyone can use it without having to go through a steep learning curve.
Marketing teams can track and manage their projects through a range of integrated solutions, like helpdesk, knowledge sharing, collaboration, customer relationship management, and much more. This marketing campaign project management software also offers native messaging platforms and time tracking to enable marketing teams to quickly exchange information and log the time spent on completing different tasks.
Main marketing features include:
Resource management
Kanban boards
Unlimited client users
Time tracking
Automation
Task list templates
Pricing: The Paid plan is priced at $13.99 per user per month.
19. FunctionFox
Often, marketing teams have to manage resources across the organization. FunctionFox helps marketing teams to optimize, streamline, and optimally allocate resources while also offering essential features like task management and marketing project management.
Using the tool, marketers can keep multiple projects on track, on time, and on budget. The platform is useful for timeline planning that helps marketing teams plan campaign status over time, with functionalities like centralized team communications, powerful project planning, and integrated time tracking tools.
Main marketing features include:
Powerful project planning
Centralized team communications
Superior reporting capabilities
Time-tracking tools
File sharing
Pricing: The Paid plan is priced at $5 per user per month.
20. WorkOtter
WorkOtter projects itself as a simple, sensible, and supportable project portfolio and marketing project management tool to other complex alternatives. Marketing teams can use the tool's ability to connect with other platforms to efficiently manage their team and properly allocate resources.
WorkOtter is simple to set up and easy to use. Marketing teams can coordinate on tasks from one platform and manage their analytical and creative resources across different teams
Main marketing features include:
Built-in messaging
Gantt/Timeline view
Workflow management
Risk management
Share and upload unlimited project documents
Email notifications
Pricing: The Paid plan is priced at $10 per user per month.
21. Mopinion
For marketing teams, a great customer experience starts with feedback. Mopinion is an all-in-one user feedback platform for digital channels that enables marketing teams to organize and follow up on feedback. You can choose a carefully crafted survey template or customize your feedback surveys and gather contextual insights.
Mopinion helps marketing teams to identify and understand bugs, exit intent, broken images, and more. Analytics gives you complete control of your feedback data with the best action management and data visualization at your fingertips. The tool notifies you through proactive, live email alerts, webhooks, and notifications.
Main marketing features include:
Enterprise-grade security
Reports and Dashboards
Survey templates
Site intercept survey
Question branching
Feedback collection
Pricing: The Paid plan starts at $229 per month for up to 20 users.
Conclusion
Given the plethora of marketing campaign project management tools available in the market today, marketing teams have their task cut out when choosing the ideal solution. The list features some of the best solutions for marketing teams across diverse industries today.
It's possible that a single tool in the list can cater to all your marketing campaign project management needs or you might need to apply a combination of tools that best suit your campaign requirements.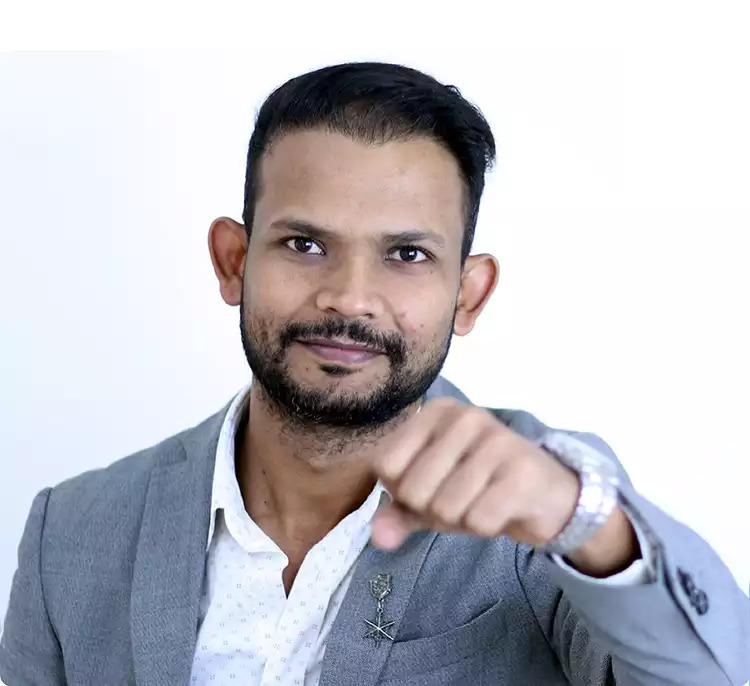 About Deepak Chauhan Hi, I am Deepak Chauhan, a Digital Marketing Strategist. I'm the CEO & Co-Founder of VOCSO Digital Agency, a creative web design, development, and marketing agency based in India & USA.