There are many factors to consider when putting together a color palette for a visual design. First, you need to decide what overall tone or mood you want to convey with your colors. Do you want something calm and soothing, or bright and energetic? Once you have a general idea of the feeling you want to create, you can start to narrow down your color choices.
Next, you need to consider what colors will work well together. There are certain color combinations that are known to be pleasing to the eye, and others that can be quite jarring. You can use a color wheel to help you find harmonious color combinations.
Finally, you need to think about how different colors will work with the other elements in your design. For example, you need to make sure that your text is easy to read against your background color. If you're using a lot of different colors in your design, you also need to make sure that they all work well together and don't clash.
Putting together a color palette for a visual design can be a bit of a challenge, but it's definitely doable with a little planning and forethought.
But what constitutes a great color palette, and how do you create one? Where do the colors in your brand come from? A great way to start building a color palette is by taking photos of various products and then turning them into a color wheel. Keep in mind that when you're creating your palette, you're making room to experiment with shades of colors, so select "shade" as a category when turning your photos into color wheels. Generating color palettes using images is a great way to find new shades of your favorite colors. There are a lot of tools that combine the image and desired colors together, making it easy to use a generator and try out new looks in your project.
What are some best color palette generators from images?
1. VOCSO
There are so many different types of colors, that it can be hard to find the perfect one for your website or mobile app. The right color scheme can make a big difference in how your brand is perceived. Big brands such as Google, Microsoft, Uber, and Dropbox have stuck with a consistent color scheme over time because it helps them to create a recognizable and cohesive brand identity.
If you're willing to do the same, VOCSO's color palette generator from images can be a helpful tool in finding the right colors for your website or mobile app design. The generator provides a range of suitable and relevant colors that can be used for various designing purposes, delivering your brand's message through appropriate colors. You can also try a random color palette generator from VOCSO to create color combinations in seconds! VOCSO also provides other free web based tools that are specially developed for designers, developers, marketers, and business owners.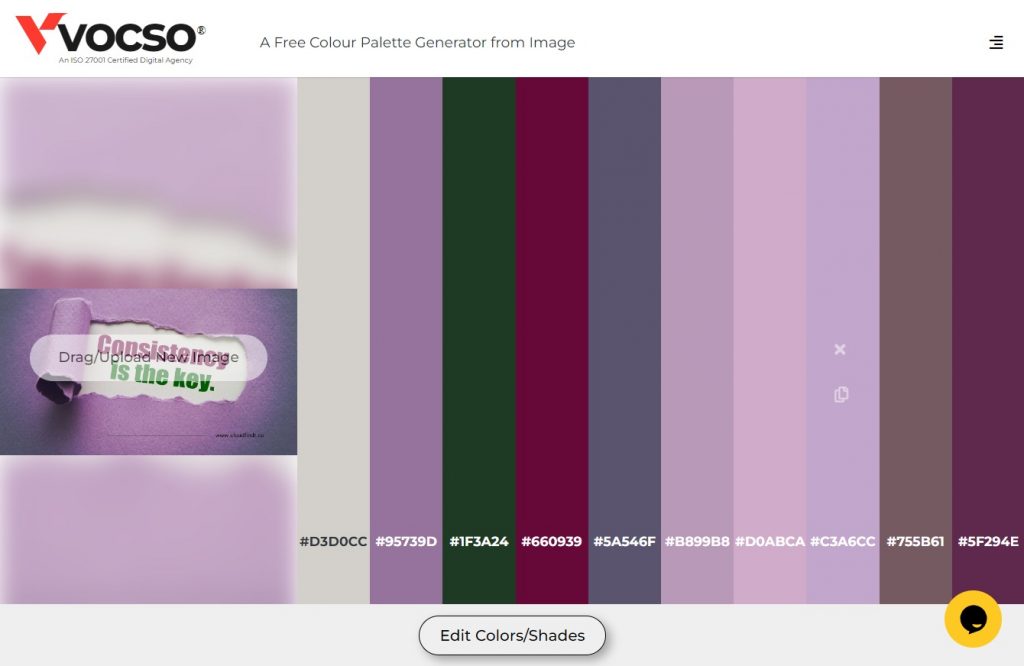 Features:
Generate Color Palette with a Single Click
When you need to design a new website, logo, or digital art with color schemes, you can generate perfect color combinations for your designs with a single click.,
Generate/View Color Shades
You can use this tool to create multiple shades of a single color. You can select different color shades based on your design requirements. You will also be given the HEX value of the selected color shade.
Copy HEX
It displays a series of HEX colors and the code value so that you can simply copy the HEX codes with a single click!
Export to PDF
You can save them as a PDF. Exporting your color palette as a PDF allows you to easily see the colors you're using on any given project.
Save to Image
Before beginning any creative project, save your co//lor palette as an image and share it with your team.
2. Coolors
Coolors is a lightning-fast color palette generator that allows users to create their palettes or be inspired by thousands of beautiful color schemes. It is simple to integrate with mobile devices, the Figma plugin, Instagram, and the Chrome extension. It has a palette generator, millions of color schemes, an image picker, a contrast checker, as well as an image recolorer among its tools.
The software's palette generator tool assists users in creating a perfect color scheme. They can combine the built-in color schemes to create a single palette. Coolors' image picker tool also allows users to extract a color palette of their choice from photos. People can also use Coolor's contrast checker to calculate the contrast ratio of text and background colors. Users can change the colors of their SVG images to match the color palette.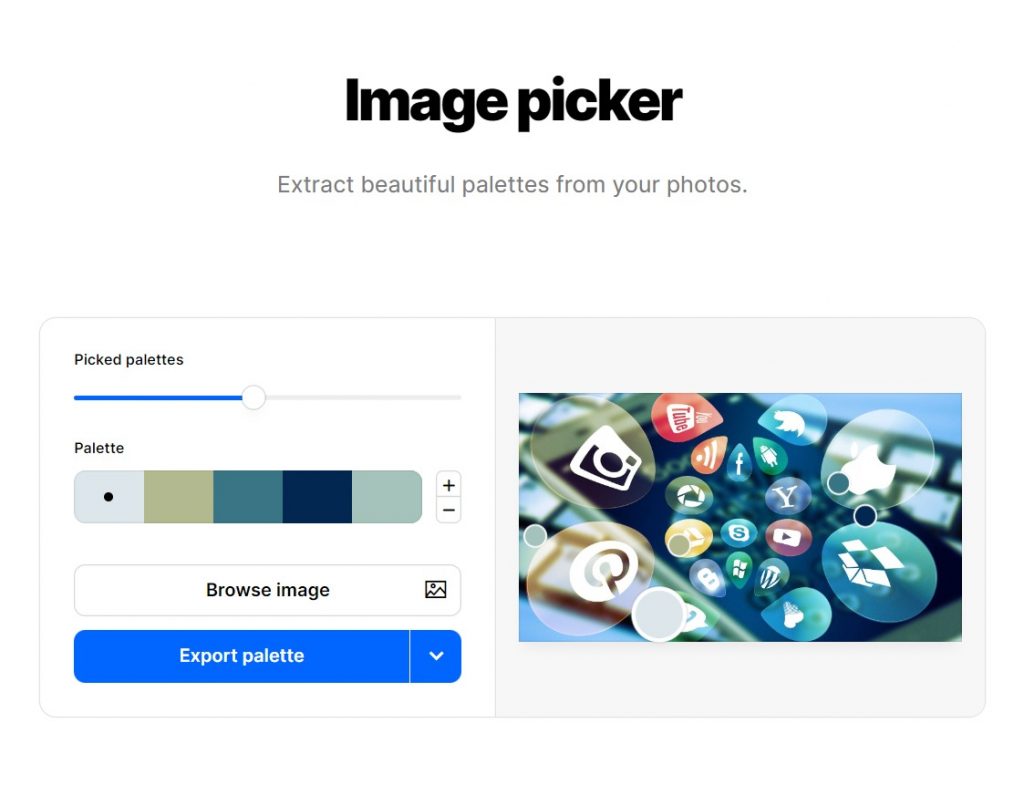 Features:
Simple and intuitive Interface
You can use the generator to create a new palette or browse trending palettes to get ideas for what you might want in your brand easily
Generate infinite color schemes
Create an infinite number of color palettes for your designs and share, export, or save them in your profile.
Advanced Features
Users can view the HEX codes as well as the RGB and CYMK color values for each of their selected shades to ensure they're using the correct color.
3. Adobe
Adobe Color is an excellent tool for extracting themes from images, generating color palettes, or creating gradients from uploaded images. The free tool enables all users, whether they have Adobe product subscriptions or not, to access these features.
In addition, users can ensure that their color choices are accessible to colourblind people, as well as that their shades can be used as a background for text. Just because two colors look good together doesn't always mean they'll work well for text. With Adobe Color, users can be confident that their color choices will be accessible and effective.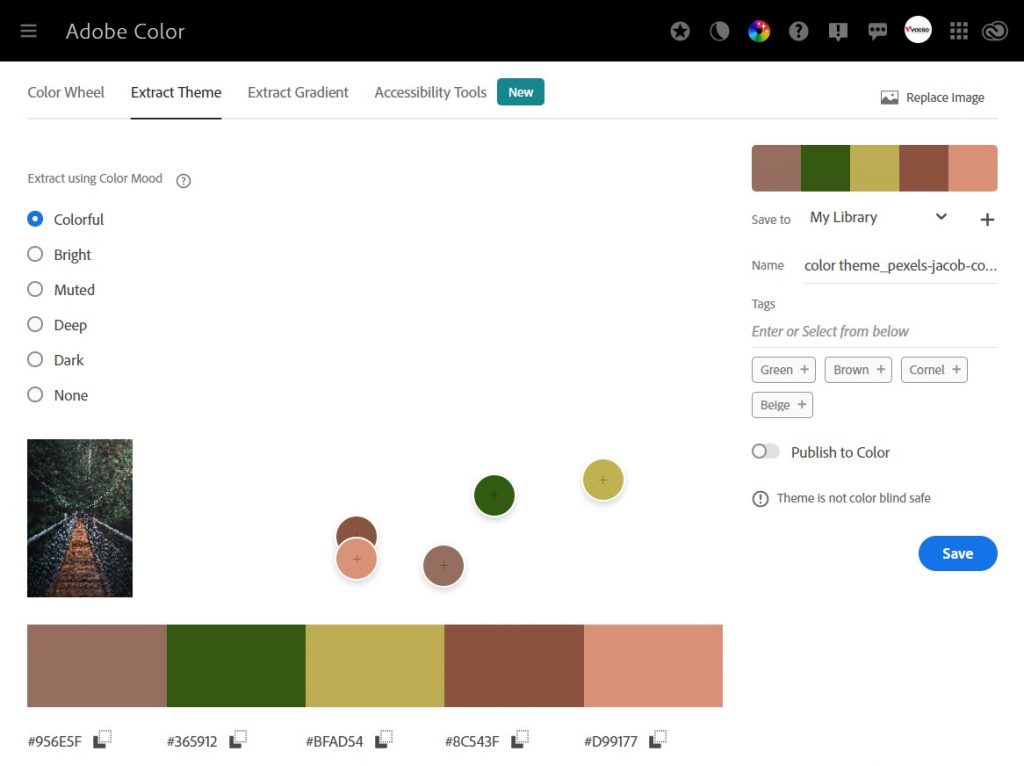 Features:
Allows Integration
The tool allows you to integrate with Adobe Stock & Behance.
Can upload images
Users can also upload an image that Adobe Color will analyze and create a theme or gradient based on the colors used.
Analogous color Scheme
Users can Create palettes/themes based on a color harmony rule.
4. Picmonkey
Looking to add a pop of color to your designs? PicMonkey's color palette tool makes it easy to find the perfect hue for your next project. Simply upload an image and let PicMonkey do the rest. Within seconds, you'll have a beautiful color palette to work with, complete with HEX codes for easy implementation. So go ahead and get creative – your perfect color scheme is just a few clicks away!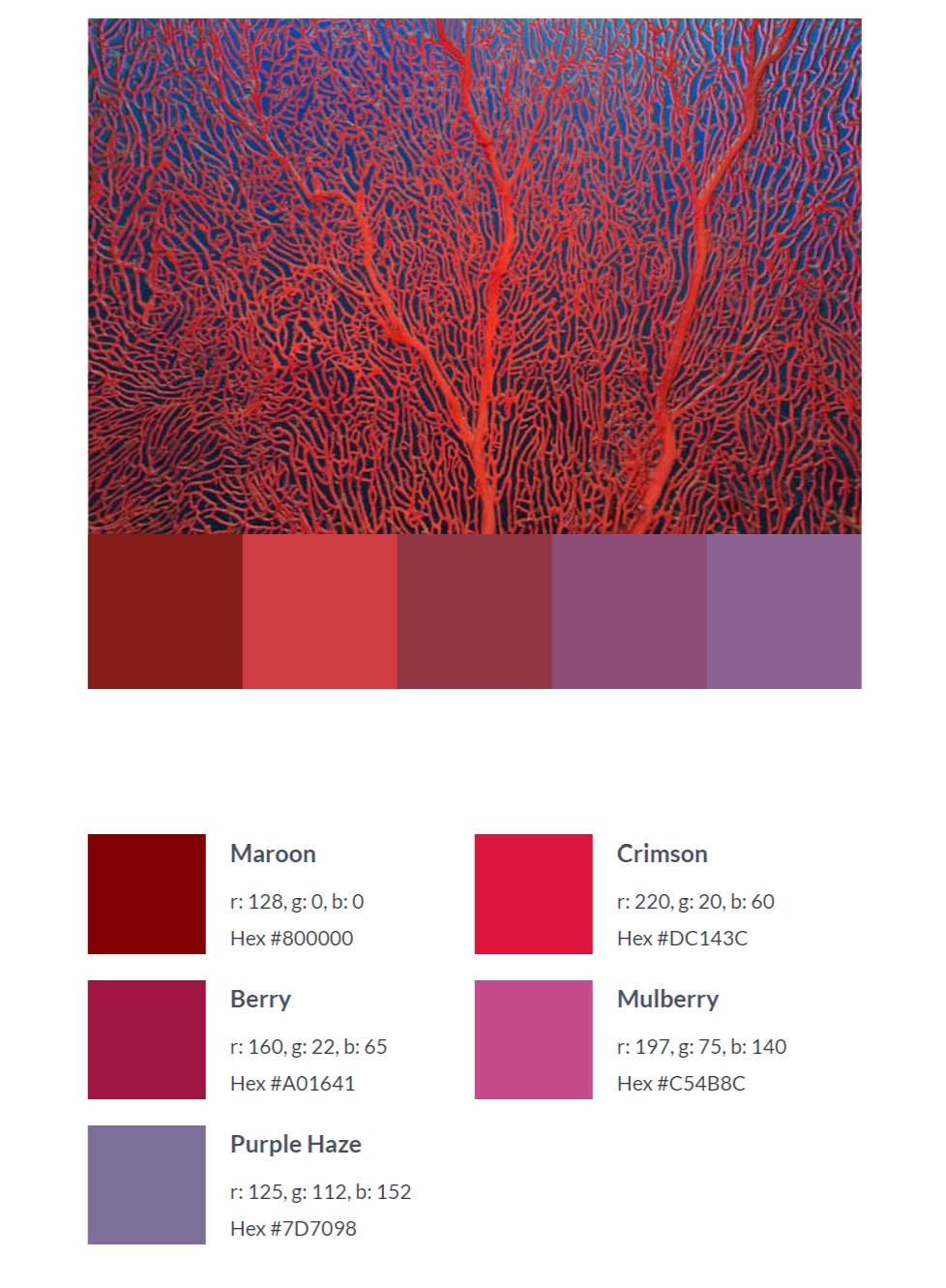 5. Brand Folder
This color palette generator is part of Workbench, a toolkit available through Brand Folder. It's just a palette from an image generator, but it gets the job done.
You can also use this tool to create palettes based on the specific colors you choose. Just click on one of the color swatches at the bottom of the page and drag it into the box below. Then click "Create Palette" at the bottom of that box and you'll see your new palette appear below.
You can also upload an image from your computer or clipboard by clicking "File." You can then drag and drop it into your browser window to generate a palette from it directly or upload it directly from there as well.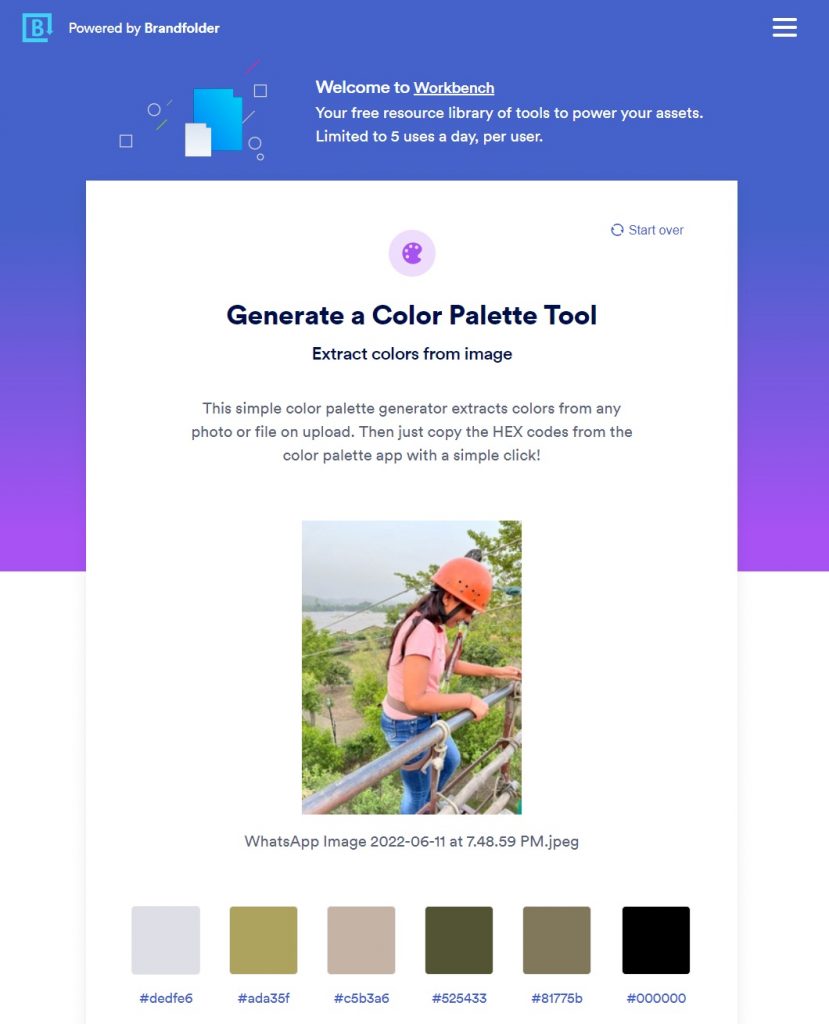 Features:
It's simple to add an image to the generator; choose from your devices, Dropbox, Drive, or import from a URL.
The result is a well-balanced palette that you can copy one at a time by clicking on the HEX code.
6. Colour Designer
As a designer, we know how important it is to have the perfect color palette for your project. Whether you're working on a website, a logo, or a piece of artwork, the colors you choose can make or break your design. That's why we love Color designers. It's more than just a palette generator – it's a complete suite of color tools.
With the gradient generator, color mixer, and color conversion tools, you can create any color palette you can imagine. And if you need some inspiration, the image color tools are perfect for finding colors that complement each other. Color Designer is the perfect tool for any designer looking to perfect their color palette. Color Designer is also available as an add-on or plugin within Adobe.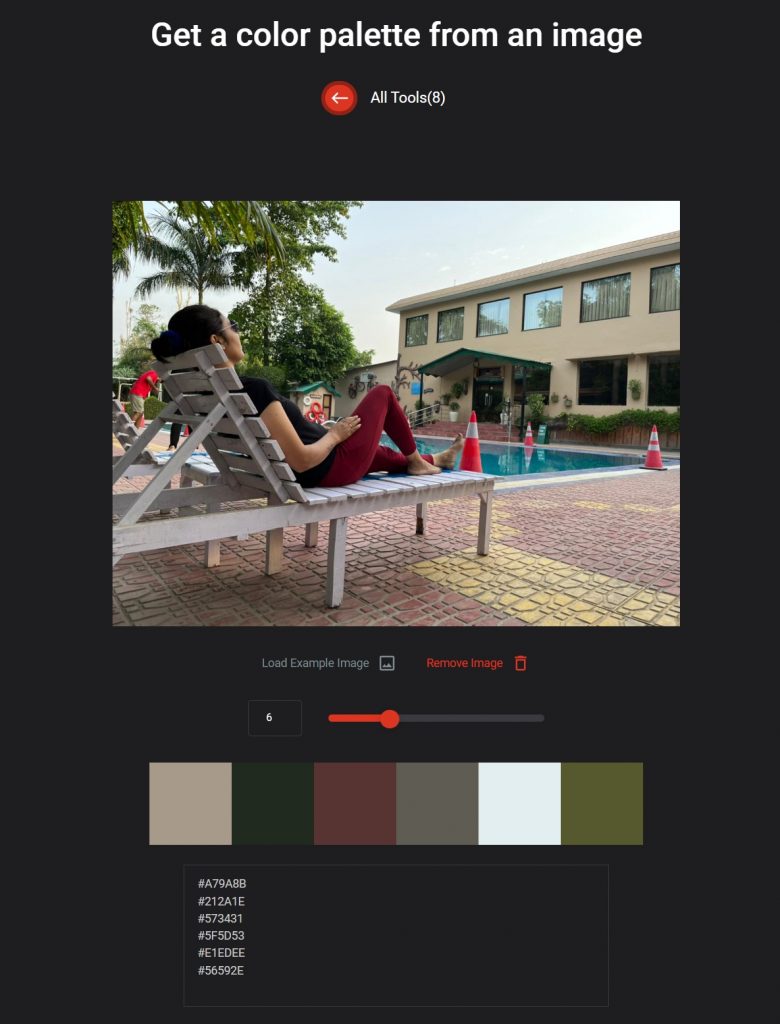 Features:
Color Designer allows you to create color palettes from images or base colors. You can also make gradients between two colors and access up to 40 hues from one color to another.
Color Designer has a unique color tool called Color Mixer, which displays color outputs when you mix different colors. It's a novel approach to discovering unusual colors you might not have considered before.
The image search function is another tool in this suite. The AI displays images that contain the color you selected in the palette. The images are from Adobe Stock and are organized into categories.
7. Aspose
When it comes to creating a cohesive and visually appealing design, choosing the right colors is essential. However, for those who are new to the world of design, picking the right colors can be a daunting task. Fortunately, there's a helpful tool that can take the guesswork out of color selection: the Aspose Color Palette Generator.
This free online tool employs a color space quantization algorithm to obtain dominant colors from an image. This means that you can create a color palette that perfectly matches the theme of your image simply by uploading it and selecting the best color combination.
In addition to making color selection easier, the Aspose Color Palette Generator can also help you learn which ones go well together. By finding a nice picture and picking colors from it using the tool, you can get a feel for which colors work well together. This is a valuable skill to have as it can help you create more visually appealing designs.
So if you're struggling to choose the right colors for your next project, be sure to give the Aspose Color Palette Generator a try. It just might be the helpful tool you need to take your designs to the next level.
Features:
Aspose color pallet is a high-performance and high-quality color management system.
It is simple to set up and use and does not require any registration or installation of additional software.
Aspose color pallet works from your favourite device, and there are no limits on the number of colors that can be managed.
8. Image Online
Many online tools can be used to create a color palette from an image. One such tool is the image generator tool, which can extract the image's most dominant color with a tolerance level of 2% for neighboring colors. Once extracted, the tool will list the dominant colors in the palette until it reaches the user-specified maximum number of colors. This is a great way to create a color palette that is representative of an image.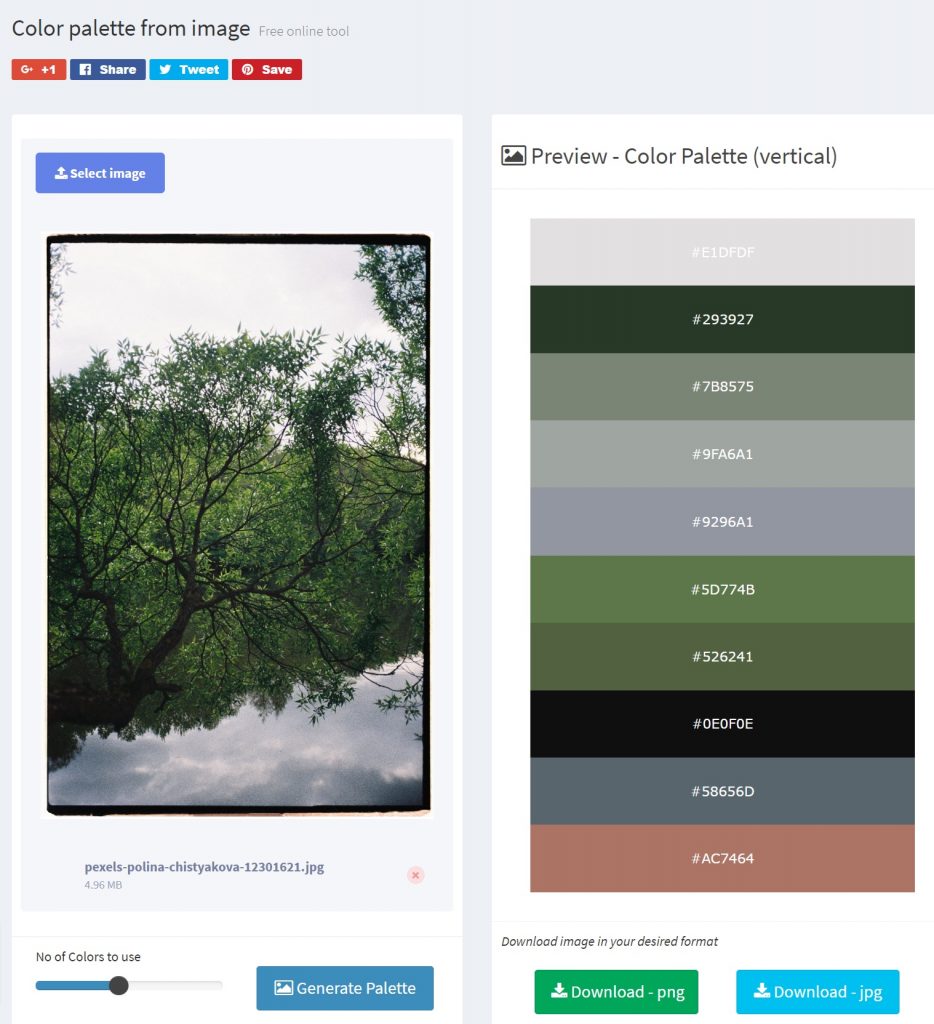 Features:
Fast and Easy Color Generator
To create a palette with dominant colors, upload an image and then click the "Pick colors" button. With a single click, copy the HEX codes from the color palette
Pick Colors from any device
It is compatible with all platforms, including Windows, Linux, Mac OS, Android, and iOS. On our servers, all files are processed. You do not need to install any plugins or software.
Color Palette Generator Quality
All data is processed with Aspose APIs, which are well-known in the software industry and are used by many Fortune 100 companies in 114 countries.
Conclusion
It's now your turn! It's time to design the ideal colour scheme for your project. We shared a few colour palette generators in this guide to help you with your colour research.
The art of putting together colour combinations is both subtle and daring. We tell stories that inspire, impact, and convert by adding emotional value to colours. The right colour palette can make or break the outcome of your project, so give it some thought and do it right!
Remember that when you create with VOCSO, you have access to a complete set of pre-designed colour themes and many more features.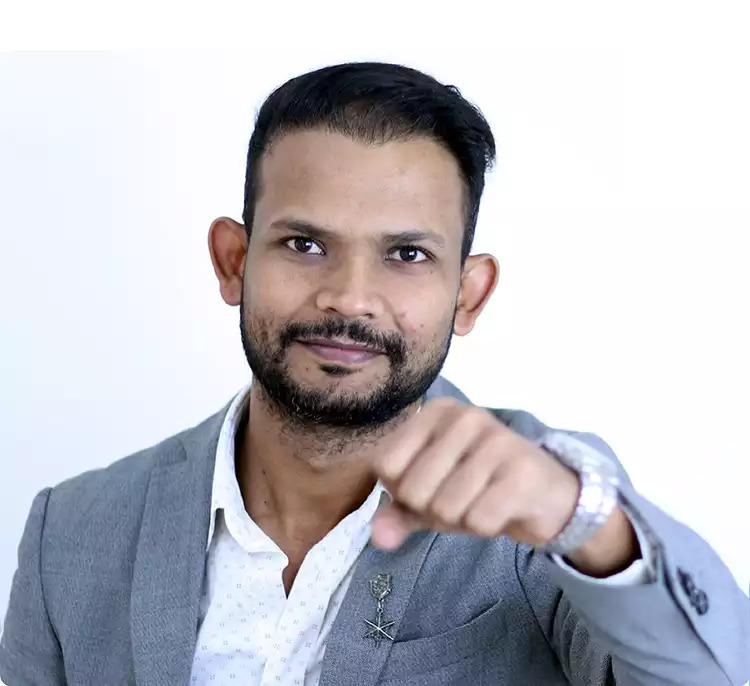 About Deepak Chauhan Hi, I am Deepak Chauhan, a Digital Marketing Strategist. I'm the CEO & Co-Founder of VOCSO Digital Agency, a creative web design, development, and marketing agency based in India & USA.