Search engine optimization, which is commonly known as SEO, is quite important in the digital world. SEO isn't just a technique; rather, it is a complete field that has constantly been evolving for the last many decades.
Google and other search engines regularly change their ranking algorithms, and so to stay relevant, websites have to update their features and focus on new factors established by the search engine. It is quite important to keep your site up to date and adapt the best content optimization strategy. Doing so would help you stay on top of the niche you are targeting, and it would also help you appear higher in the search results.
The paraphrasing technique has become quite important in the last few years in the field of digital marketing and website content creation.
Paraphrased content refers to the type of content which is an improved and revised unique version of an already published post. Unique content is one of the core requirements of Google. Your SEO strategies would be incomplete without the creation of unique content, which is why you need to focus on it.
It is humanly not possible to create 100% unique content based on unique ideas and thoughts, which is why you need to consider the rephrasing/paraphrasing technique. If you don't know much about paraphrasing techniques and how Google takes paraphrased content, then you need to read this post.
We have covered this query in this post in detail. You can clear out all kinds of misconceptions regarding paraphrased content after reading this post.
Is paraphrased content acceptable in the eyes of Google?
This is a commonly asked question by many webmasters and bloggers across the globe. Well, there is no direct answer to this question. Whether paraphrasing is good for SEO or not depends on how the content has been paraphrased.
Paraphrasing has tons of benefits, but you must also know about its drawbacks that can have a bad impact on the SEO score of your website. First, you should know that paraphrased content generated by a digital AI-powered paraphrasing tool helps you reduce the risk of duplication, and it also explains the content in a better way. This kind of content is ranked higher by the algorithms of the search engine.
But in case the rewriter is not of good quality or the content is manually rephrased by an unskilled person, then it can create copyright issues for the site and its owners. Below we have discussed the pros and cons of paraphrasing in detail in terms of SEO.
Pros of paraphrasing on a search engine optimization strategy
Here we have discussed some of the major advantages of paraphrased content for search engine optimization:
1. Paraphrased content improves brevity
Content that has difficult vocabulary and technical jargon is not understandable by a common reader. If you have to explain difficult topics and ideas to beginner readers, then you need to try out a paraphrasing tool. You can easily rephrase wordy and confusing posts into easy-to-understand articles with the help of an online paraphrase tool.
The more reader-friendly your site's content is, the better would be its user experience. Having a positive user experience is very important for a good SEO score. If you want to get to the higher SERPs, then you need to create understandable and informative content for your readers.
2. Paraphrasing helps you remove plagiarism
Plagiarism is one of the biggest problems that a webmaster can face every now and then. New websites would always copy and paste content published on other sites just to disturb the ranking algorithms of the search engine. Well, you should know that if your website content is copied or if some other site is stealing your content, then it is going to ruin your SEO score and search rankings.
With the help of the paraphrasing technique, you can easily rewrite and remove any type of plagiarism from your content. Using a paraphrasing tool can substantially reduce any risks and consequences related to plagiarism.
3. Paraphrasing helps you refine writing style & tone
Paraphrasing isn't just rewriting content to remove plagiarism. This technique, if used in its right spirit, can help you improve the flow and tone of your content. As a writer, you would have a specific tone that can bore readers after some time. Reading content in the same tone and voice can decrease the engagement rate of users, which is not good for SEO.
By using the paraphrasing technique or the online rewriter tools, you can easily create the same content in a unique style and tone. Paraphrasing helps you improve the fluidity of your content which is why it is considered to be beneficial for search engine optimization. Instead of training yourself to write in different styles, you can take help from the online rewriter tool.
4. Paraphrasing helps you repurpose old content
As we have told you before, it is not possible to create new articles based on brand-new ideas. There is nothing much left to write about as there is already a lot of content published on the same ideas and topics on the internet. There is always a possibility that even a new draft can have similarities in it with another one on the same topic/niche.
Paraphrasing techniques and tools help you repurpose and rewrite your old posts. You can find out the posts that performed well in the past in terms of user engagement and conversions. You can rewrite them in a better way using the paraphrasing technique. This way, you can increase content capital on your site without committing plagiarism.
Adversities of paraphrasing on a search engine optimization strategy
Now let us discuss some of the possible drawbacks of paraphrasing on a site's SEO strategy:
1. Quality of paraphrased content is not always up to the mark
Paraphrased content can only add value to your site and engage users if it is well-written. If the content quality is not up to the mark, then it is going to increase the bounce rate of the site. Paraphrased content generated by a poor-quality tool or a lesser experienced person is going to be treated in the same way as duplicate content.
Content having broken sentences, wrongful spellings, grammatical mistakes, and duplication in it would always be rejected by the search engine, even if it's an honest mistake. It is always important to rephrase content with a credible tool or take help from a professional.
2. Badly paraphrased content is penalized by Google
Rephrased content that has quality issues and similarities with the original draft is considered to be a duplicate in the eyes of the search engine. Plagiarism is a big NO and a red flag that you need to avoid if you want to see your sites appear on the top search results.
Duplicate content is penalized by the search engine, and your site would sulk in the lower index if you are posting poor-quality paraphrased posts on it. Paraphrasing doesn't mean that you can compromise on quality or have duplication. Rather, it means that you have to rewrite the same idea in better quality.
3. Poor quality paraphrasing can result in legal trouble
If you don't know how to paraphrase, then you should never publish your fizzy creations on your sites. Having similarities in paraphrased content is quite common; like you, the new content is also being written on the same idea. Now, if there is direct plagiarism in your paraphrased work, then it is going to get you into legal trouble.
Today companies and mature websites used automatic systems and powerful plagiarism checker tools to find if someone is duplicating their work. In case you are found duplicating content, then it is going to result in cases of copyright infringement.
How to create paraphrased content which is accepted by Google?
Paraphrasing is not an easy job, especially if you don't have much experience and skills in content writing, then it is best that you leave this job to an expert. An expert writer can rephrase already written content or repurpose your old posts in a unique way. However, know that hiring a writer just for rephrasing text can be really expensive.
An alternative and easy solution for this problem is a paraphrasing tool. A good paraphrasing tool can rewrite all kinds of content without any human interference and huge cost.
What is a paraphrasing tool?
A paraphrasing tool, as the name tells us, is a tool that is responsible for restating already written content. The paraphraser can analyze already written content, understand its context, and rewrite it without compromising the main idea. The words would be changed with the best-fitted synonyms, the sentence structure would be revised, and any possible similarity would be removed in the new draft.
The paraphrasing tool is quite commonly being used today by webmasters, bloggers, and even content writers as they can easily create search engine-friendly content with the help of the rewriter. Creating unique content is the most important step toward a successful SEO strategy, so you should surely try a credible paraphraser.
What is the importance of paraphrasing tools in SEO?
There are over two hundred ranking factors and variables considered by Google when it comes to ranking a website. For some people, SEO is daunting and an impossible task. Well, this was true to some extent in the past, as there were no helpful resources available. But today, you have online tools like paraphrasers which can assist in both short and long-term SEO strategies.
Content creation and optimization are the essences of search engine optimization because the content is King in the eyes of the search engine. The reason why paraphraser tools are so important for SEO is that they can create unique and reader-friendly content.
You can find many know-it-all people creating content capital stuffed with irrelevant keywords just because they think they can rank their sites by fooling the ranking algorithms of Google. Well, one should know google and its bots have today become intelligent and, at the same time, ruthless. There is no fooling google today, and the search engine requires informative and reader-friendly content instead of a keyword trifle.
The online paraphrase tool can help you create an easy-to-read post that would win the interest of Google and your site's target audience. Below we have discussed one of the most credible paraphrasing tools, which can create unique content in a single click.
1. QuillBot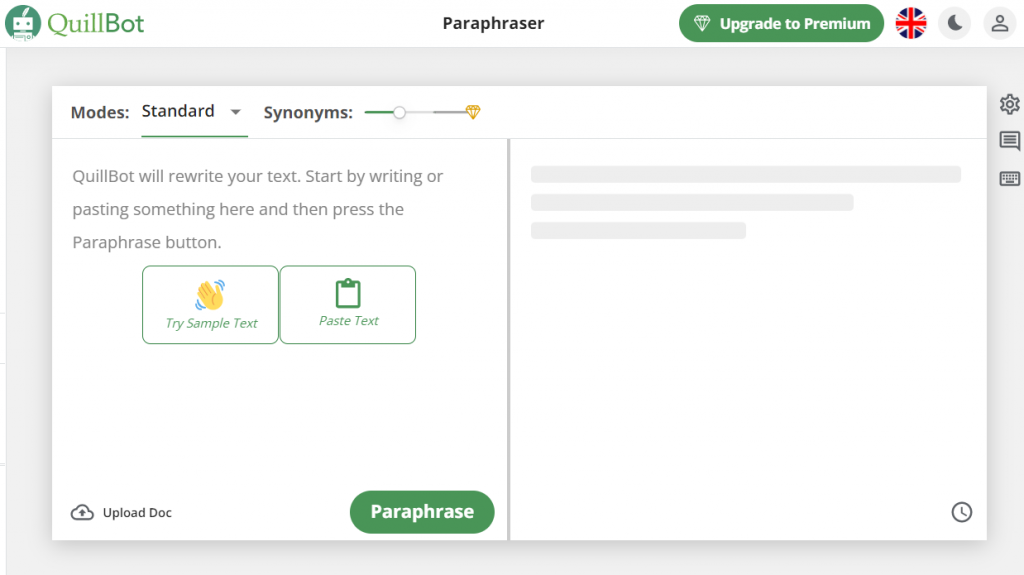 QuillBot is one of the most popular tools available for paraphrasing content. This paraphrasing tool has a free version but it has some limitations which are why experts recommend going pro. Quillbolt is a top-rated platform and this is because it is home to not only a paraphraser but also a plagiarism checker, grammar checker, summarizer, and citation generator.
Users can use the plagiarism checker of QuillBot to check out duplication in their drafts. In case they find duplicate content, they can use the paraphrasing tool to make it unique. Users can also create citations for the references which are used in the paraphrased version. This makes the final draft more credible for the readers as well as for the search engine.
To use this tool you have to:
Open it on your browser
Enter text in the input box
Select the paraphrasing mode (Eight Available)
Click on 'Paraphrase'
Get the paraphrased output
This is how easy it is to use this tool. The only drawback of QuillBot is that it is quite expensive.
2. Parafrasear Online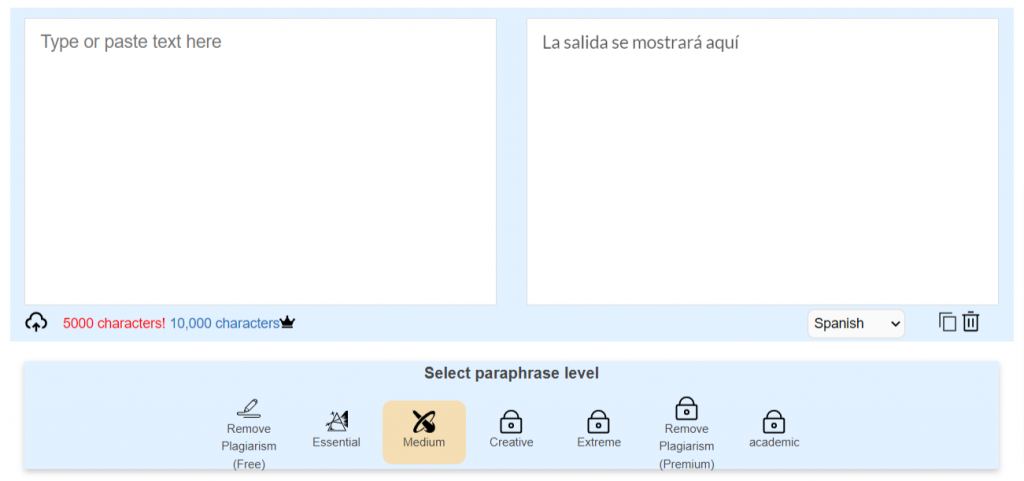 This is another credible paraphrase tool that you can find online. This paraphrase has gained popularity because it uses AI and ENL technology to rewrite content. The outputs created by this tool are very close to a human-written draft. A common reader cannot differentiate whether the rephrased content is created by a tool or by a professional writer.
This paraphrasing tool is free and very easy to use. Even a lay person with no prior experience can utilize it like an expert. The best thing about this free paraphrasing tool is that you can rephraser up to 800 words with it in one go.
This paraphraser can be used to rewrite duplicate content highlighted by a plagiarism checker or it can also help you repurpose old drafts. It can literally restate a draft in five to six seconds. This adds to its credibility in this league.
Users can create content with this tool in four simple steps. The rephrased output can be imported in the desired format.
3. Rephraser.co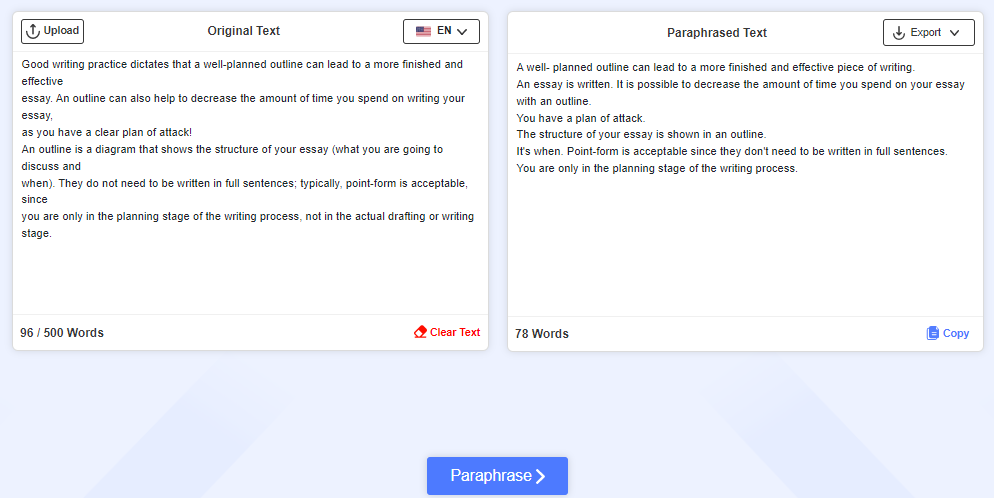 A very reliable paraphrasing tool that you can try out for free is rephraser.co! This paraphrase tool is popularly being used by webmasters and digital marketers who want to create unique content for their sites. The reason why this tool is famous is that it doesn't change words with synonyms; rather, it recomposes the complete structure, style, and tone of input content without altering its context.
This paraphraser uses modern algorithms and AI-powered bots that are trained to create SEO-friendly content for readers. There is no chance of plagiarism in text created by this online tool. If you are wondering how to use this tool, then you should probably read the working steps we have discussed here:
First of all, navigate to the website on your browser. You can use it on any device as it is an online-based utility.
You would see an input box on the site in which you have to add text that you want to rephrase. You can borrow content from a relevant source/topic, or you can also repurpose your own written drafts.
After entering the input data, you simply have to click on the 'rephrase' button and wait for the results.
In less than five to ten seconds, the tool will revise your post and present a new version of it in the output box. You can check the content quality by using the in-built Grammar checker tool.
Why should you use Rephraser.co?
If you are wondering why you should use this specific tool for rephrasing content, then you need to read its salient features:
1. Free version available
Rephraser.co is one of the few utilities that you can find online which provide free professional services. This tool is famous because it can create human-like content without any errors or duplication. You can restate up to three queries with this online tool. Don't worry; the paid packages of this rephraser are the most affordable.
2. Easily accessible & friendly
A very vibrant reason why we suggest readers use this tool is that it has a very simple interface, and even a new user can learn how to use it in seconds. Moreover, this tool is based on the cloud and works on all sorts of browsers. You can use it on any device you want as long as it has a stable connection.
3. Ai-Powered bots
This rephraser uses artificial intelligence and other advanced algorithms, which allows it to write output content in a reader-friendly way. A common reader cannot differentiate between an article written by a professional writer and one created by this tool.
4. 100% unique outputs
This rephraser is best for SEO because it creates unique content. Seo experts would certainly know what value unique content can bring to their site. By using this tool, unique and easy-to-read posts can be generated, and that too in no time at all.
5. Safe & secure
Another reason to use this tool is that it is private in its work. Usually, people don't trust online tools because of privacy concerns. Well, know that the rephraser deletes your input as well as output content as soon you export it and close the site. You don't have to worry about any data loss.
There are many more reasons why you might like this tool. You can check out the free version and see for yourself how good quality and SEO-friendly content is created by this tool.
Does using paraphrasing tools refer to cheating – Are they legal to use?
Some of your friends or fellow webmasters might argue with you that using a paraphrasing tool is not ethical and is considered to be an act of cheating. Well, you must know that although the information or ideas restated by the tool are not original, still, it is not unethical to paraphrase with a tool if you do it in the right way. The right way is by giving credits and in-text citations to the original author or source of information.
As for the legality question, you must understand that the purpose for which the tool is being used would determine its legitimacy. If you use paraphrasing tools correctly, then they are legal, but if they are misused and the resultant content has plagiarism in it, then you can face copyright cases. This is why experts always suggest that you must use these tools with patience rather than merely copy-pasting content. The final draft should be checked for plagiarism and other errors before it is used on a commercial platform.
Can a plagiarism checker or Google Bots detect paraphrased content?
Paraphrasing is a technique that is used to avoid getting blamed for plagiarism. It is actually writing of the same information or idea in a different style. Now plagiarism checkers and Google bots are not capable of finding whether the content is rephrased from another source, so you don't have to worry about getting caught. But know that if the paraphrased draft and the original one have similar sentences or even smaller parts, then they can be highlighted by a powerful plagiarism scanner.
Best way to avoid plagiarism in paraphrased content (Expert Suggestion)
Finding plagiarism is common in paraphrased content. Even the content created by a paraphrasing tool can have some similarities in it. But not to worry about this problem anymore. If you want to create unique content, then you have to follow expert advice.
Experts suggest that you should never rewrite a complete post if you want to avoid plagiarism. Copying and rewriting a complete article is going to have chances of duplication in it. So it is best that you pick content from more than one source. Picking passages from different sources and combining them into one new article is a more reliable way of getting unique content.
So before you rephrase or use a paraphrasing tool, it is best that you collect data from different links into one document and then rephrase it in parts.
Extra tip
It doesn't matter who advanced rephrasing tool you are using or how much you trust the originality of your work. It is always important to run it against a powerful plagiarism checker tool in order to authenticate its originality. This would take a few minutes, but it would surely save you from all the troubles and penalties that would occur because of duplication in the longer run.
FAQs: Paraphrasing and SEO
Q. How does Google handle paraphrased content in terms of SEO?
A. Google treats paraphrased content similarly to other types of content when it comes to SEO. The search engine aims to provide users with the most relevant and valuable information, regardless of whether it is paraphrased or original. However, it's important to note that if the paraphrased content is too similar to existing content or appears to be duplicative, it may not rank as well in search results. So, I will recommend keeping your content easy to read and must results-oriented. If your paraphrased content is fulfill the reader's requirement and it's original then it will rank definitely.
Q. Does paraphrasing content affect its search engine ranking on Google?
A. Paraphrasing content alone does not directly impact search engine rankings on Google. The search engine primarily focuses on factors such as relevance, quality, and user experience when determining rankings. However, if the paraphrased content lacks uniqueness or adds no additional value compared to existing content, it may not perform as well in search results. If Google sees no additional value in your content then there is no reason to rank your pages in search results. Before publishing your paraphrased content make sure you visit similar topic pages that are ranking already and try to add more information or value to compete for these pages and rank at the top.
Q. Can paraphrased content be penalized by Google's algorithms?
A. Paraphrased content itself is not penalized by Google's algorithms. However, if paraphrasing involves unethical practices such as content scraping or spinning, it may violate Google's guidelines and lead to penalties. It's essential to ensure that paraphrased content adds value, is properly attributed, and does not infringe upon copyright or intellectual property rights. Make sure you read carefully the paraphrased content before publishing to make sure it defines the topic clearly.
Q. What are the best practices for paraphrasing content while maintaining good SEO?
A. When paraphrasing content, it's crucial to follow these best practices to maintain good SEO:
Add value: Ensure that the paraphrased content provides unique insights, perspectives, or additional information compared to the original source.
Use proper attribution: Clearly attribute the original source of the content, giving credit to the original author or website.
Maintain readability and quality: Focus on creating high-quality paraphrased content that is well-written, coherent, and valuable to readers.
Avoid excessive duplication: Strive to paraphrase the content in a way that significantly differs from the original, avoiding verbatim duplication or close similarity.
Stay within legal boundaries: Respect copyright laws and intellectual property rights when paraphrasing content, obtaining necessary permissions when required.
Q. Are there any specific guidelines provided by Google regarding the use of paraphrased content for SEO purposes?
A. Google does not provide specific guidelines solely dedicated to paraphrased content for SEO purposes. Instead, Google's general guidelines for high-quality content, user experience, and avoiding duplicative or low-value content apply to paraphrased content as well. It's advisable to focus on producing original, valuable, and unique content that meets user intent and aligns with Google's overall quality guidelines.
Conclusion
When it comes to paraphrasing, is no doubt a popular and commonly used technique. But manually paraphrasing content often results in plagiarism and can be caught by online plagiarism checkers. It is best that you use an online paraphrasing tool to recreate an old post.
It is important that you understand that paraphrasing, despite all its pros, is not a substitute for original content. It is surely a good way of repurposing old posts or creating blogs on a short deadline, but you should not use this technique or the tools as a habit. Constantly posting paraphrased content is going to dilute the authority of your site, which is why it is best that you post a mix of original and rephrased posts.
At the end of the day, the fact of the matter is that good content would drive traffic to your site, and this is what would take you to the top search ranks. It is up to you to give quality via original posts or by repurposing old posts.
To achieve real-time results, always make sure that you edit and customize the final draft, even if you have rephrased it with a tool. Giving human touch would boost its quality and would make it more organic!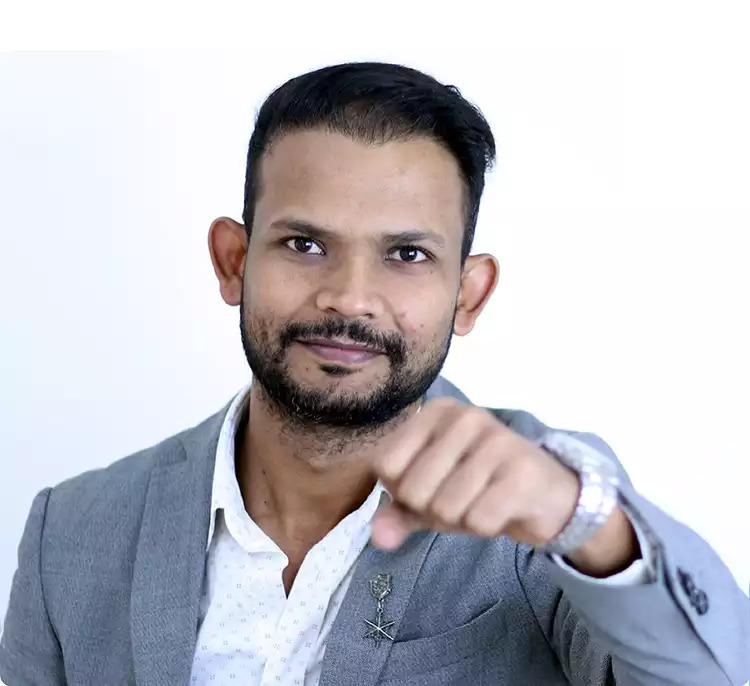 About Deepak Chauhan Hi, I am Deepak Chauhan, a Digital Marketing Strategist. I'm the CEO & Co-Founder of VOCSO Digital Agency, a creative web design, development, and marketing agency based in India & USA.