Introducing a new feature or implementing a new idea for a product without proper research can be a bit risky, especially when working on important projects. A design sprint gives you the room to quickly test your idea and enables you to come up with an inexpensive prototype. A UI UX design agency may help you run one, however, choosing a web design agency you can trust is a challenge in itself. Read further to simplify the process.
Design sprints are extremely useful as they allow startups as well as established organizations to decide quickly whether or not they want to roll out a new feature to their users. However, running a design sprint requires a different approach than the conventional ways.
Let us try to understand the process better, but before that, it is important to know what is a design sprint.
Everything you should know about a design sprint
A design sprint can be best defined as time-based activity that is carried out to enable faster designing (or redesigning) and testing of a product idea/future. This process was devised by Jake Knapp, a former Google Ventures design partner, in 2010 for Google. This process is based on Agile methodology and is typically carried out over a period of 3-5 days. Several organizations choose to run a design sprint when they are looking for a quick solution, facing a big and complex challenge, or when the team is stuck.
Even though a design sprint is often a team effort, the team doesn't consist of more than 5-8 members. It is important to assign the task to people who can collaborate well, and are on the same page when it comes to the level of expertise, skills, and personality. Since a design sprint is a demanding endeavor, it is expected that you choose people who are fully dedicated to the cause. These people work together to produce short-term deliverables while improving quality and keeping the current user needs in mind at the same time. Throughout the process, it is important to keep distractions at bay.
A design sprint team typically consists of a sprint master, sprint designers, sprint engineers, product managers, and experts.
How to approach a design sprint?
You can start off by working with experts in your organization to map out all the problem areas and determine the ultimate goal of running the design sprint. This also includes listing out all the problems your users might be facing.
The next step is to look for potential solutions. The process of exploring potential solutions is called ideation. The team will come together to discuss these solutions and pick out the ones that are most likely to succeed.
Next, construct a working prototype, and conduct its user testing on a small set of users.
The five phases of a design sprint are as follows:
Understand
Sketch
Decide
Prototype
Validate
Outcomes of a design sprint:
The best thing about running a design sprint is that no effort ever goes to waste.
Even if the result fails to meet your expectations, you would still end up with valuable information and save your organization from making a potential mistake. You could probably run a follow-up sprint to approach the problem in a new light.
If you close in on something that almost solves the problem, you can always reiterate to get better results by fine-tuning, and testing again.
You know you have hit the jackpot when this prototype manages to meet the expectations of your users. This is exactly what you needed to do.
So, irrespective of the outcome, a design sprint is a win.
Pros of a design sprint:
Here is a list of pros you must keep in mind when contemplating whether or not to run a design sprint:
Bypass drawn-out discussions and conventional decision-making processes
Make the best out of engaging, productive collaboration
Get a better chance of understanding your potential users
Get clarity about the end results
Explore a larger range of concepts, be inventive, and try new things
Eliminate the need to write intricate specifications
Lower the risk of final deliverables failing during user testing
Enjoy better ownership through active collaboration
Directly interact with the real users as they validate your ideas
Some cons of running a design sprint:
Getting so many senior executives together for a period of five days could be a tough nut to crack
It becomes extremely important to choose the right scope and expectations to ensure these problems are not too complex. Combining ambition with manageability is not everyone's cup of tea.
Success is not guaranteed when running a design sprint.
One needs to be mentally strong for how intense these sessions may get.
Finding the best, potentially successful ideas fast and avoiding pricey errors for your organization requires collaboration, understanding, and ownership. Some sprints can be completed in less than five days, depending on the scope. Use design sprints' time-boxed, the condensed framework to explore as many potential solutions as you can, then iterate to identify the ones that best reflect your consumers' needs.
Design Sprint – Running In-house Vs Hiring A UI UX Design Agency
Every business has roles and responsibilities that can either be handled by the organization or outsourced to an agency, and UX design is no exception. If you are a business looking forward to running a design sprint, you have the option of hiring a UX designer and integrating them into your team, or you can find an expert outside and rely on their expertise. While both of these solutions come with their own set of pros and cons, hiring a UI UX agency usually steals the limelight. Here is why.
Agency brings relevant experience and skills
First and foremost, an agency that has been in the business for a while would have a vast portfolio along with a proven track record of working on many projects with various clients across different industries. The collective experience of an agency team will always be much broader than that of a single UX designer. When you outsource your design sprint to an agency, you can stay assured that each member of the team will bring their own specialty to the table and focus on improving a specific part of the design.
If you're hiring a UX designer for the first time, you should prioritize creating your own collaboration procedures and rules. Working with a UX agency saves you the time it takes to create the entire design process from scratch as they must have already developed one, and probably be working with it every day.
The agency helps save time and money
UX designers also save a lot of time and money on the tools they need for their daily work by working with an agency. They do not need to purchase licenses for professional apps like InVision or Sketch as the agency itself takes care of buying and renewing the tools their designers may need to get a job done.
An agency is capable of getting a job done faster than a lone UX designer working in-house. Outsourcing the design sprint to someone who specializes in the domain ensures that quality projects are delivered as quickly as possible, benefiting your business. Also, agency onboarding is usually more convenient than new employee onboarding.
In addition to that, outsourcing the design sprint to a UX agency helps keep project costs under control. When you outsource it, you will have an accurate estimation of the project costs, how long the implementation may take, and the results you can expect even before you start a project with an agency.
How to choose a UI UX design agency?
Selecting the most suitable UI UX design agency to start a design sprint is of utmost importance if you wish to get the best out of the process. Here are certain things that you must keep in mind when looking for a UI UX design agency in order to ensure you make the right decision.
1. Reviews & Ratings
Find a UI UX design agency near you to start your agency search. Generally, agencies with reasonable marketing budgets appear at the top of search engines, followed by company ratings and reviews. You might want to search Google reviews as well as examine their website to get a better idea of the company processes and capabilities.
All worthy UX agencies have business profiles on portals such as Awwwards, Clutch, and GoodFirms. LinkedIn can also be a great resource, but it's easier to fake information on this site. You could also ask past and current employees or clients if they would work with the design agency again to better understand the company you are going to invest your trust in.
These three portals can become quite handy when searching for the most appropriate UI UX agency.
2. Awwwards:
Awwwards features links to the best designers, portfolios of work, and social media accounts.
3. Clutch:
Clutch is a top-rated research agency that compiles a list of top companies and analyzes their ratings. In addition to the full profile of a UI UX agency, you can also find work experience and reviews here.
4. GoodFirms:
GoodFirms is an excellent source for searching reviews for software companies. You can even research distributors, and read customer testimonials on this website.
5. Portfolio and experience research
If you have found a UI UX agency that seems to have passed the letters of recommendation and evaluation tests, it is time to research the company's portfolio and past experience. Pay special attention to all the features you are looking for in a firm before you go ahead with the collaboration.
As you go through the design firm's portfolio, you might want to ask them the following questions for a better understanding.
6. Are your past projects reflected in your website or concept?
Ideally, the design portfolio of a UI UX agency should include a live website that you can explore and interact with. Any reliable design agency would shine in the UX department. However, if their portfolio consists of concept images, you might want to rethink your decision.
7. Does your agency have a theme or niche?
Some UI UX agencies target a specific audience and only show examples in their portfolio that appeal to their niche. Agencies can also design with a specific theme or art style. If you ask a UI UX agency to design something beyond their expertise, they probably won't be able to give you the best results.
8. Are your designs of high quality?
Agencies can hide the quality of their work by showing who they worked for instead of what they created. Not only is this a massive red flag, but also you can never really be sure about the quality they offer. If an agency offers an interactive and transparent portfolio, that's a good sign.
9. Please tell us about your research methods.
A UI UX designer cannot provide the best user experience without researching the client's user base. Make sure you go ahead with an agency that is certain about the path they are going to follow to ensure the best design interfaces and experiences.
10. Can we find your profile on Dribble or Behance?
Dribble and Behance are portfolio sites that appeal to designers. If an agency has enough followers and the design community likes what they do, it's probably the right company for your startup.
Even if you don't find them on the platform, you could still find other distributors offering the kind of services you are looking for.
11. Examine the UI UX agency website
A UI UX design firm should have a user-friendly website that articulates its approach to work, the company's culture and values, along with its software tools. Take your time navigating the site because everything you see can be applied to the finished product. Do you want a website that works as well as they do and is functional and attractive? Ask yourself these questions when finalizing the agency.
12. Check out their social media presence
Social media can tell you a lot about how a company markets. Agencies understand the importance of social platforms and want to actively promote themselves on these platforms. You're not hiring a UI UX agency to revamp your social profiles, but you should pay attention to how they use color and size to engage your audience. UI UX design can easily migrate to social media.
Don't just look at the image of the company. Read through their posts and see how they communicate with their followers. See how quickly you respond to feedback. Agencies that don't take criticism on social media won't listen to you when you're frustrated or want change.
13. Contact agencies and ask questions
Don't finalize the first option you come across. Instead, contact multiple agencies on the shortlist and discuss your project. Listen to the types of questions they have for you. It's not necessarily a bad sign if they forget to ask you about an important aspect of your project. However, if they refuse to answer one or more of the following questions, they may not be honest about the process.
14. How often do you communicate with your customers?
Where do my projects appear on your calendar? How many times a week do you work on my projects? Do you accept new clients while working on my projects? Do you have a clear idea of the project?
Have you hired a project manager? Are they experienced?
How often can you update me on this project?
Do you need anything from my end for faster completion of the project?
Do you have a quality assurance department? Do you have experience with user research, user testing, UX audits, usability studies, mockup design, prototype design, persona reports, sitemaps, experience maps, user flowers, user journeys, and final visual design?
You might want to spend enough time understanding how satisfied you are with the communication quality of the call. You want to work with a company that is as passionate about your project as you are, or at least a little mirror of your enthusiasm.
Familiarizing yourself with the workflow and design process also goes a long way. The user design has the sequence and logic explained by the distributor upon request. A UI UX agency should tell you what to expect, but some dive straight into the solution phase and hide the process. Agencies that do this provide an inferior service because they don't have enough information to find a proper solution to the problem.
Don't hire a UI UX agency that cuts corners no matter how inexpensive and convincing they may sound.
15. Inquire about the scope of services
You may have noticed during this during your research that some design firms omit UI design. User interface designers focus on look and style, while user experience designers focus on usability and functionality. Choose a design agency that offers both, as they can help you with your branding and growth strategy, content creation, and business development.
16. Pricing models
UX Agencies typically offer two pricing models. Fixed price per project or price based on time and materials. Let's look at the pros and cons of each of these.
Fixed Price:
With the fixed price model, you know exactly how much your project will cost when you sign the contract. Set technical requirements and deadlines in advance. The fixed price model works well for most test projects and most professionals.
Hours and Tools:
The hours and tools pricing model provide the flexibility to monitor the entire process. You can't set a deadline for your project, but using this model increases your chances of getting the best version of your product. Always ask about the average time frame for projects with hour and tools pricing models. Reliable agencies will select the best designers with tight deadlines, but it can be a rather challenging design for inexperienced or open projects. If you want to get your project sooner, ask for their most experienced designers before signing the contract.
17. Prepare a test task
The best way to determine if a UI UX agency is right for you is to offer a test task. Ask an agency to modify a small part of your website to see how quickly and professionally they do their job. Once you see the final results of your testing tasks, make a decision based on those results.
Final thoughts
Design sprints are helpful because even though they do not result in a finished product, they contribute immensely to helping validate ideas quickly and affordably, providing a wealth of insights in a relatively short space of time.
After the design sprint, you will have to decide whether you would like to improve the prototype with a follow-up design sprint or start a different design sprint altogether.
Outsourcing the design sprint to a UI UX agency, all things considered, is a wise decision as it helps you focus on other important aspects of your business while the agency takes care of the complexities of running a design sprint.
Do you want to run a design sprint before introducing a new feature? You already know the next steps!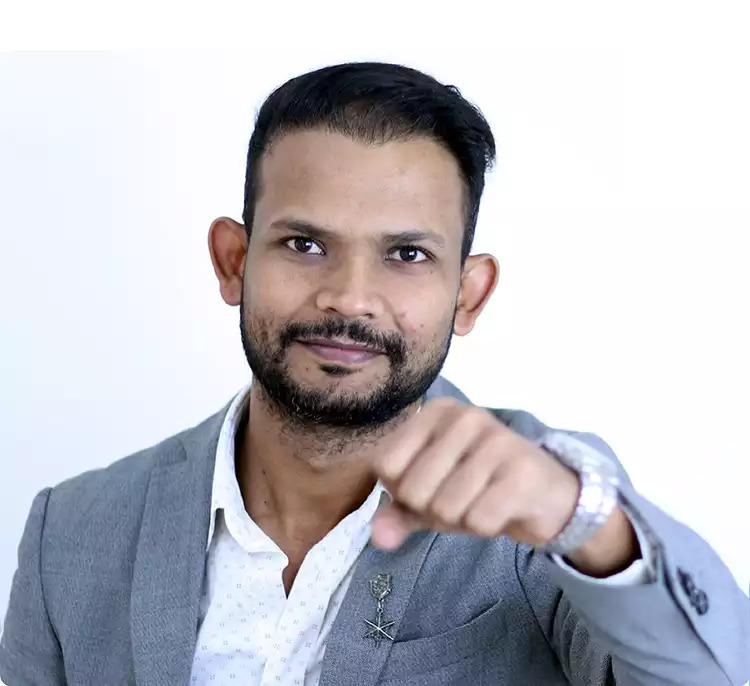 About Deepak Chauhan Hi, I am Deepak Chauhan, a Digital Marketing Strategist. I'm the CEO & Co-Founder of VOCSO Digital Agency, a creative web design, development, and marketing agency based in India & USA.