Attracting and retaining customers on a digital platform is a tricky business. Correct market strategies can lead to the long-term success of a business. Content strategists work tirelessly to create modified content marketing funnels to achieve such goals.
A content funnel is a customer-centered system that can strategically attract an audience and keep them engaged in making a purchase. It opens leads and unlocks potential customers in the system.
A content marketing funnel is a tool to cater to respective customers with educational and well-informed data. This helps the user decide if the product will help add value to their life or solve their problems. Executing a content marketing strategy is a tough task because of excessively growing competition.
This marketing funnel aids the business in figuring out the content needs along the customer's journey and strategizing to improve their online presence. It carefully curates content to maximize customer engagement and sales. Is your SEO content marketing strategy not working effectively? Don't worry, you need to build an effective content marketing funnel to reach the target audience.
Significance of Content Marketing Funnel
Marketers and developers can gauge the audience by evaluating their interest throughout the exposure to the purchase journey of a digital product. A well-designed and well-researched content funnel can reveal the weak areas of your retail model.
Companies can drastically enhance their marketing strategy by choosing customer-oriented content marketing services. Customer-oriented content marketing services providers like contentmarketing.io can help you create relevant and engaging content for your target audience. Always keep your customers' needs and wants in mind when creating content, and make sure the content you're putting out is valuable and relevant to them. An effective content marketing provider helps you determine the key metrics of each phase of the funnel and help develop retention-focused content. Here are a few benefits of creating a content marketing funnel:
A content marketing funnel increases conversion rates on your digital platform.
It builds loyal client relationships.
It improves consumer retention.
It fills any gaps in the content.
It significantly improves direct sales from any phase of the funnel.
Basic Types of Content Funnels
To understand how a content funnel works, you must know many funnels you can use to generate different results. Different types of content funnels are described as follows.
Marketing funnels
Sales funnels
Email funnels
Webinar funnels
Lead magnet funnels
Homepage funnels
4 Phases of a Content Marketing Funnel
A Content funnel is a careful mapping of a customer journey, transforming the business to fit their needs. A funnel indicates a broader flow of traffic from the start and ending on a narrow index of appropriate purchase-focused clients.
Several marketing funnels are created with frameworks to focus on customer needs at each phase, but the core is identical. There are 4 primary phases of a content marketing funnel described below.
1. Awareness
The first phase of the content funnel indicates exposure and content awareness. This is the problem-inquiring stage, where you can answer client questions and promote your brand. The viewers are mainly looking for things that can improve their lifestyle or ease their issues. In this phase, you can make use of the following to state your point.
Social updates
Tips
how-to guides
Info-graphs
Idea portrayals
2. Interest
After exposure, this phase develops audience interest. The customer wants to know more about your company's services or products. They want to gather information for future interaction. In this phase of the content funnel, use the below tools to help the customer understand what you do or offer.
Informative videos
Webinars
Interactive contests
3. Evaluation
The third stage is customer evaluation. After gathering all the information, the client evaluates whether the product can solve their problem or not. Or If the product is worth the buy. In this phase, the below will help you gain customer trust. You need to make your solution relatable to the customer with:
Case studies
Benchmark reports
Comparison services
Buying guide
4. Purchase
The fourth stage is the fruitful one. In this phase, the client is ready to buy the product. They just need a little nudge of reassurance that the service will benefit them in the expected ways. This stage also helps in customer retention and building long-term relationships. The below will provide that extra reassurance for the customer:
Spec sheets
Product performance reports
How-to-use product guide
Further promotional notifications
Ways to Use a Content Funnel to Reach Target Audience
Most marketers and investors are involved in making content for all the stages of a funnel to make their content marketing strategy fully functional. A marketer can use a content funnel to reach the target audience to drive profitable customer action in the following ways.
1. Variable Content for Each Stage
Reach the content funnel model's full potential by focusing on a single-stage content approach. To transform your audience into potential customers, focus on generating separate, valued, and SEO-optimized content at each stage.
The content should be informative.
It should be attractive to view or read.
It should be unique.
It should add value to the life of the consumer.
2. Informative Guides to Build Leads
Informative guides at respective stages are great traffic-pullers. How-to guides are vital as they serve the purpose of digital ushers to lead the way for a customer. These also attract attention to the brand and develop trust in offering information.
These guides should be easy-to-read.
They should be effective in resolving complications.
They should be pro-brand in general.
3. Emails and Interlinks to Move Audience Through the Funnel
Exposure and awareness come easy as people are constantly scraping the web. So, keeping the target person occupied to move through the content funnel is challenging. Encourage the users by sending email follow-ups and providing interlinks of related content to ensure the audience descends to the next stage of the funnel.
Make sure the emails enhance the user experience.
Avoid overexposure to avoid losing customer interest.
4. Reach target customers directly
Another way to use a content marketing funnel to reach the target customer is by reaching out to the client directly. Offering them free subscriptions is an easy way to build loyal customer relationships. Using information from these subscriptions, you can provide nonchalant data regarding the products.
Send personalized newsletters to the customer.
Make use of customized messages to promote your brand.
5. Conversion rate analysis
Conversion rates are a metric to observe your content marketing strategy's effectiveness. In-depth stats reveal which content at which stage proved beneficial to persuade the customer to buy the product.
Conversion rates determine the purchaser ratio to the total exposed traffic. Gauge how each stage requires modification to attract more people to your brand. If users can relate to the content, they will likely become customers.
6. Content customization to suit demand
After analyzing your results, shape your content according to the client's demand. No changes in the content stages will lead to declining results.
A content marketing funnel works only if you assess content needs and plan accordingly. Revisiting the strategy in regular intervals and taking a holistic approach will lead to improved revenue and overall sales by a margin.
Why Do You Need a Content Funnel?
Content funnels are basic frameworks to encase the growth graph of a digital firm. They are needed because of the clarity of content requirements they bring. They work by collecting data as a report and building a ranked client-driven model to enhance your business promotion.
Businesses use these funnels to visualize how a web scraper makes its way through a network of overflowing online data. Content funnels determine:
If the consumer used your product,
If customers used the trial period of your service, or
Upgraded their service plan to payment mode.
These enhance meaningful user interaction. Without a proper content funnel, a digital business cannot survive the ever-changing virtual space. These funnels improve your content step-by-step. They promote and set a standard for your brand in the direction of the right crowd.
Measuring the Success Rate of a Content Marketing Funnel
After strategists have conditioned and formulated an efficient framework for your funnel, it's time to implement it. To ensure your model works, you must ensure your success graph. You can do this in the following ways:
1. User Engagement
Use tools to measure how many users actively interact with your content. This involves likes, comments, and the number of shares on different social media platforms. Engaged sessions help determine how much time your website visitor spent on it.
B2C strategy also helps to increase user engagement. It is the direct method to analyze the intent of the customer.
2. Cost Per Lead
You need to know your content funnel's direct cost per lead to succeed. It determines the cost-effectiveness and functionality of your framework. It should not surpass the provided amount.
If the lead-generation cost exceeds your product value, you need to rebuild the strategy so that it costs you less. For this purpose, you can follow various minimum-cost lead-producing ways.
3. Client Bounce Rate
Client bounce rate directly affects the efficiency of the content marketing funnel. Bounce rate is determined by measuring the stay time of the client on the website and whether they left after viewing only one page.
A high client bounce rate means reduced viewer retention. It means that you need to review and reshape your marketing strategy. A low bounce rate indicates that the user had more stay time on the website and can be persuaded to move through the content funnel.
Benefits of a Content Funnel
A content funnel fuels the masses to engage with your offers. It is beneficial for the business in the following ways.
1. Crowd-pulling
The real benefit of well-thought-out content planning is to pull a crowd through attractive advertising campaigns. These campaigns promote the brand so that it inevitably attracts leads. Gather primary data to involve maximum users in your funnel. Direct these users with your carefully planned content to the ultimate purchase action.
2. Assembling Your Marketing Strategy
With so much distracting online content, users get overwhelmed by the overflow of information. A content funnel helps them filter out online noise. It helps drive undivided focus on your product.
The key is to make your content compelling. Redundant information will cause distraction and not prove beneficial. Useful and relatable content will eliminate the risk of losing a customer.
3. Focusing on the Right Leads
While the audience descends, a content funnel will prove that not all viewers can be customers. You need to identify which lead to follow.
A content marketing funnel helps you define how to use your resources to your benefit. It saves you time that you might waste on non-buyers.
4. Ranking Potential Clients
This helps indicate which consumer requires immediate attention to make a sale and which consumer requires long-term persuasion to be fruitful.
Ranking customers will help you strategize according to the needs of the respective user. You can evaluate their type and requirement and follow up with the right approach. This data can be extremely beneficial to your sales team to direct their efforts toward the right leads.
5. Generate Revenue
The most significant benefit of a content funnel is that it performs its ultimate function: generate revenue and help the company get excellent ROI.
The model should be efficient enough to filter unnecessary protocols and maximize sales volume. It should be able to give off more profit than your investment.
Conclusion
A precise and well-researched content marketing funnel can easily reach and engage the target audience without hassle. There are various funnels, but a content marketing funnel is one of the most used models in the digital space.
This funnel has four primary phases: awareness, interest, evaluation, and purchase. Marketers can drive these phases to gain clientele.
There are various potential ways for a content funnel to reach a target audience. You can improve the content on each stage of the funnel and let out informative guidelines that can lead the way to purchase. A content funnel can reach the audience by directly contacting the user and analyzing conversion rates. You can also modify your strategy to manage this funnel more effectively.
Broader benefits lead most online businesses to use content funnels to reach users. Some of these benefits involve basic crowd pulling and streamlined strategizing. It also includes greater ROI, saving time, resource efficiency, and the ability to focus on the right leads. Overall, by using content marketing services, businesses can use a content marketing funnel to improve their sales and reach more heights.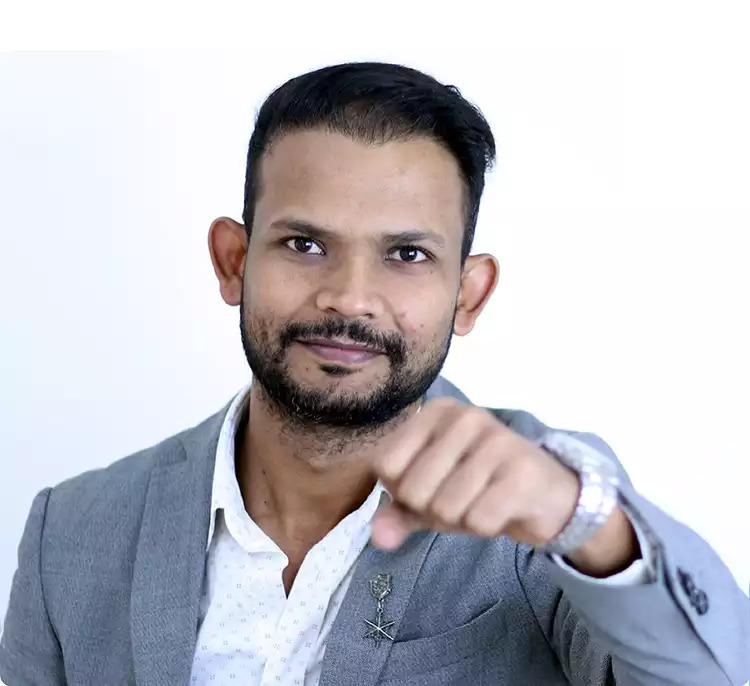 About Deepak Chauhan Hi, I am Deepak Chauhan, a Digital Marketing Strategist. I'm the CEO & Co-Founder of VOCSO Digital Agency, a creative web design, development, and marketing agency based in India & USA.