Efficient scheduling is a critical component of success for businesses, professionals, and service providers of all kinds. Whether you're a healthcare practitioner striving to manage patient appointments, a consultant looking to streamline client meetings, or a small business owner seeking to offer hassle-free booking options, the right tools can make a difference. Enter WordPress appointment booking plugins, versatile solutions that have revolutionized the way appointments are managed on websites.
Consider a scenario where you run a thriving yoga studio. As your client base grows, managing class schedules and appointments can become an intricate task. You need a solution that not only ensures a seamless booking process for your clients but also simplifies your administrative workload. This is where WordPress appointment booking plugins come into play. By integrating the right plugin into your website, you can empower clients to book classes or sessions online, select convenient time slots, and even make payments effortlessly. Moreover, you gain the ability to manage and monitor bookings, view availability at a glance, and send automated reminders, all from a user-friendly dashboard. In this comprehensive guide, we'll delve into the world of WordPress appointment booking plugins, exploring the top options that can help you optimize scheduling and take your online presence to the next level. Whether you're a business owner, consultant, or service provider, the insights and recommendations within will pave the way to a more organized and productive appointment management system.
Essential features of a good appointment booking plugin?
Selecting the right WordPress appointment setting or booking plugin is a pivotal decision for those seeking to optimize schedules on their websites. With a plethora of options available, it's essential to identify the features that matter most for your specific needs. To help you make an informed choice, here are some key features to look for when evaluating these plugins:
User-Friendly Interface: A well-designed, user-friendly interface ensures that both you and your clients can navigate the booking process effortlessly. Look for plugins that offer an intuitive and responsive interface.

Customization Options: Your website's branding and style should be reflected in the booking process. A good plugin should allow for customization in terms of colors, fonts, and layouts.

Flexible Booking Options: The ideal plugin should accommodate a variety of booking scenarios, including one-on-one appointments, group sessions, recurring bookings, and more.

Calendar Integration: Integration with popular calendar applications like Google Calendar can help you avoid scheduling conflicts and provide real-time availability updates.

Payment Integration: For businesses that require payment for appointments, a plugin with seamless payment gateway integration is crucial. Look for support for popular payment methods like PayPal, Stripe, or Square.

Email Notifications and Reminders: Automating email notifications and reminders can help reduce no-shows and enhance the client experience. Ensure the plugin offers this feature.

Client Management: Robust client management features allow you to maintain a database of clients, track their booking history, and access their contact information for communication and marketing purposes.

Booking Confirmation: A clear and immediate booking confirmation process provides peace of mind to clients. Look for plugins that offer instant confirmation and the option to send booking details via email.

Availability Management: Efficient management of your availability is crucial. The plugin should allow you to set specific working hours, define breaks, and update availability in real time.

Booking Analytics: Analytical tools can help you track the performance of your booking system, understand customer behavior, and make data-driven improvements.

Support and Documentation: Opt for plugins backed by responsive customer support and comprehensive documentation. This ensures that you can get assistance when needed and troubleshoot issues effectively.

Mobile Responsiveness: In an increasingly mobile-centric world, a plugin that's mobile-responsive is essential to cater to clients booking on smartphones and tablets.

Security and Data Privacy: Security is paramount, especially when handling client information and payments. Ensure the plugin complies with industry standards and data protection regulations.

Third-Party Integrations: If you rely on other software or tools for your business operations, consider a plugin that easily integrates with these tools, such as email marketing platforms or CRM systems.
By evaluating WordPress appointment booking plugins based on these features, you can make an informed decision that aligns with your unique scheduling and business requirements.
Selecting the Perfect Plugin: WordPress Appointment Bookings by Business Use Case
| | |
| --- | --- |
| Business or Niche | Plugins |
| Healthcare and Wellness | AmeliaSimply Schedule AppointmentsSugar CalendarWP Simple Booking CalendarBirchPressBooking Calendar – Appointment Booking SystemAppointments |
| Consulting and Professional Services | BooklyAmeliaSimply Schedule AppointmentsBirchPress SchedulerSugar CalendarWP Simple Booking CalendarAppointmentsBookingWP |
| Hospitality & Accomodation | WooCommerce BookingsBookneticPinpoint Booking SystemWP Hotel BookingMotoPress Hotel BookingStart BookingHotel Booking Plugin by MotoPressEDD Bookings |
| Education & Tutoring | AmeliaSimply Schedule AppointmentsSugar CalendarWP Simple Booking CalendarAppointmentsStart Booking |
| Fitness & Personal Training | BooklyFitness ClassBookmeAppointmentsStart BookingJetAppointment |
| Salon and Beauty Services | Salon Booking SystemAmeliaWP Simple Booking CalendarAppointmentsStart Booking |
Best Appointment Booking Plugins for WordPress
1. WooCommerce Bookings
In the WordPress eCommerce space, the WooCommerce plugin reigns supreme. Its popularity can be attributed to its core version being freely available, coupled with the multitude of extensions that facilitate diverse payment acceptance methods. Take, for example, the WooCommerce Bookings extension, which empowers you to vend reservations based on specific times or dates. While the option to offer bookings for free remains, the primary incentive for opting for a WooCommerce extension like this is the activation of payment processing capabilities.
I would contend that WooCommerce Bookings is particularly well-suited for businesses already familiar with the WooCommerce plugin. However, it also serves as a user-friendly and elegant choice for newcomers. It permits WordPress users to stick with the straightforward, contemporary layout or tailor it to their preferences through CSS customization.
Outstanding Features of WooCommerce Bookings
WooCommerce Bookings offers an array of remarkable features that make it an excellent choice:
Flexible Time Slot Management
Dashboard Management
Booking Customization
Booking Approval Control
Seamless Integration with WooCommerce
30-Day Free Trial
Enhanced Functionality with WooCommerce Extensions
Price: $249 per year
2. Amelia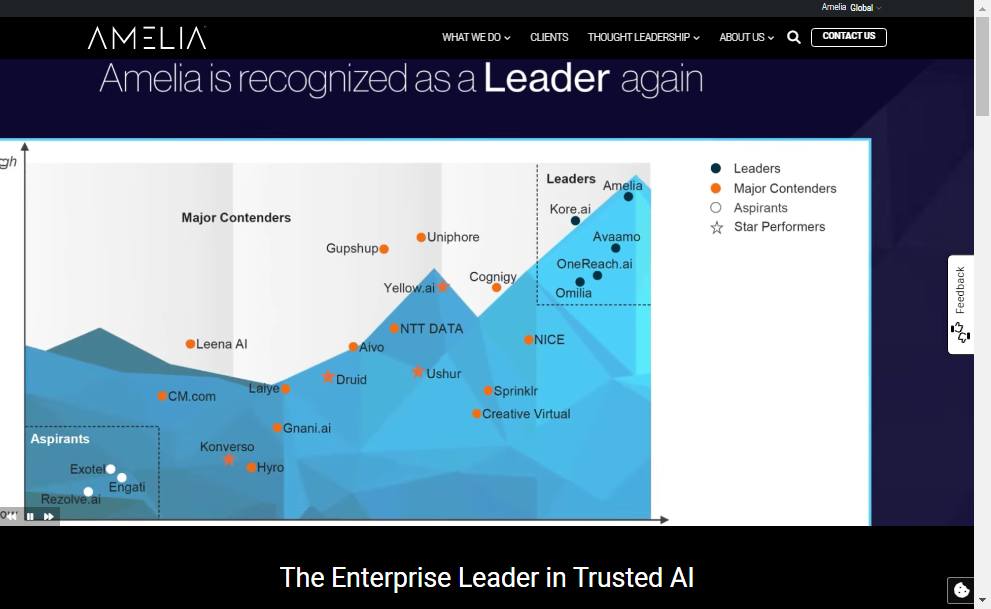 The Amelia plugin is a user-friendly yet robust booking tool that operates around the clock, ensuring your booking process runs smoothly. With Amelia, you gain access to a comprehensive set of features designed to simplify appointment scheduling for your customers, offering online and offline payment options.
The free version of this plugin suits small businesses admirably, while larger enterprises may prefer the paid version to meet their specific requirements. You also have the option to acquire lifetime licenses, starting at just $199 for a single domain.
One of Amelia's standout features is its built-in functionality. Real-time SMS notifications keep both your customers and employees informed, and Google Calendar synchronization guarantees that no appointments are missed. Furthermore, Amelia seamlessly integrates into your website with an elegant and contemporary design, made simple with a straightforward shortcode.
Outstanding Features of Amelia
Real-time SMS Notifications
Customizable Employee Schedules
Special Days Support
Google Calendar Integration
WooCommerce Integration
Multiple Services and Service Categories
Multiple Business Locations
Graphs and Diagrams for Business Performance KPIs
Coupon Support
Service Packages (Pro & Dev Licenses)
Resource Sharing (Pro & Dev Licenses)
Lifetime License
Price: The developer's lifetime license is priced at ₹67,719.
3. BookingPress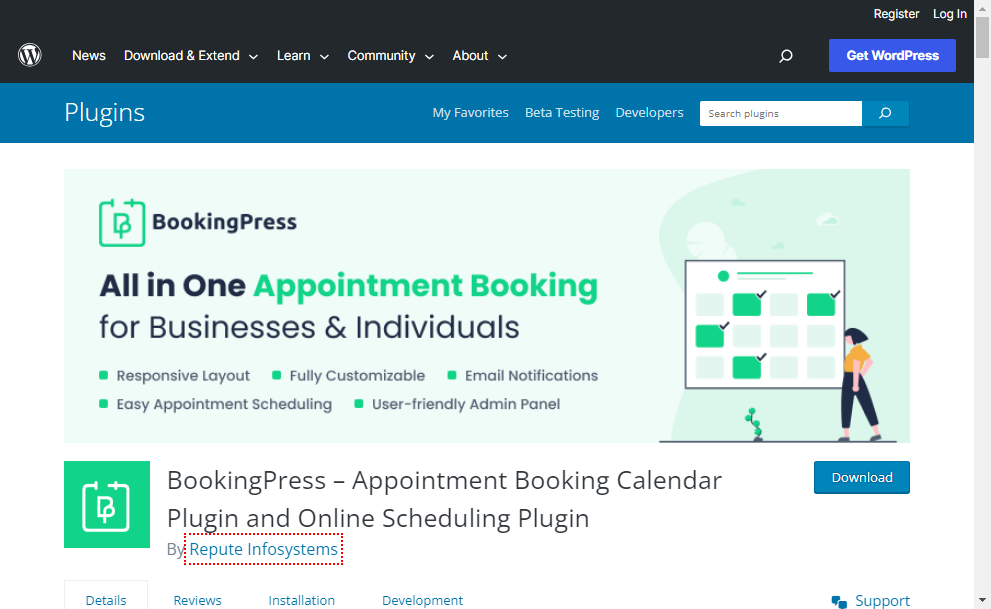 The BookingPress Plugin is a crucial WordPress tool created to simplify the process of booking appointments online. This WordPress booking plugin empowers you to effortlessly establish and oversee appointments while facilitating online payment acceptance. Additionally, it offers flexibility in configuring various services, pricing choices, and staff management.
It comes highly recommended for service-oriented businesses, including Fitness and Gyms, Beauty Salons, Health and Wellness centers, Tutors and Coaches, Spas, Dental Clinics, Yoga studios, and Legal practices, among others.
Outstanding Features of BookingPress
Award-Winning Responsive Design
35+ Premium Add-ons Included
Free Integration Support for 17+ Worldwide Payment Gateways
Unlimited Business Location Management
Individual Staff Panels
Dynamic Pricing Options
Comprehensive Notification System
Customizable Service Durations
Invoicing with PDF Support
Coupon Functionality
Cart for Multiple Service Bookings
Multi-Language Support
Advanced Reporting and Analysis
Calendar Integration
Virtual Meeting Support
Custom Booking Fields
Flexible Booking Forms
24/7 Customer Support
4. Bookly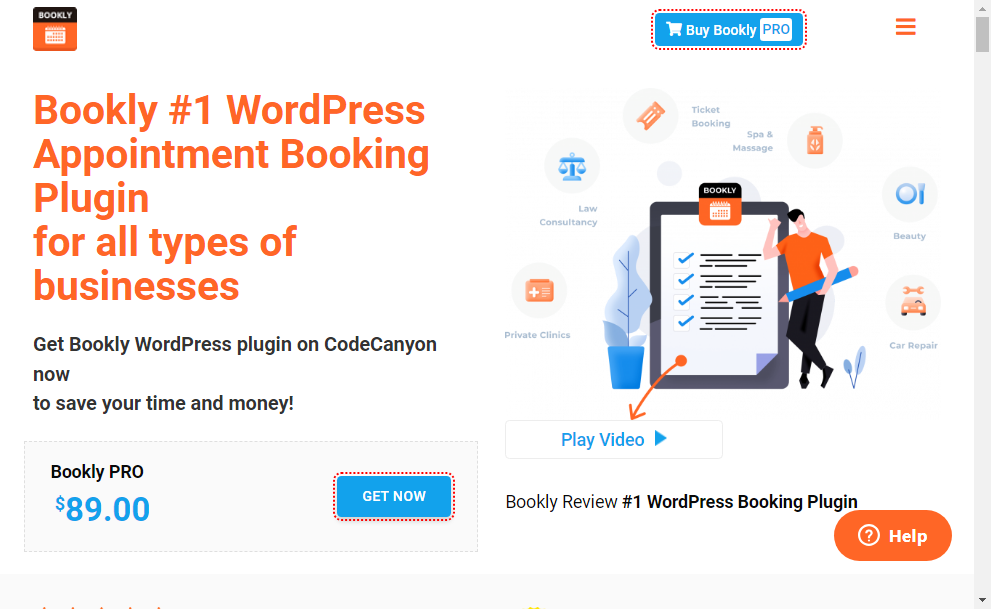 The Bookly plugin offers both free and paid versions. If you opt for the premium version, you'll need to make a one-time payment of $89, unless you prefer to continue with ongoing customer support. The free plugin serves as a fundamental booking tool but lacks support for online payments and the ability to accommodate an unlimited number of staff users. Thus, if your intention is to handle more than just free bookings, the Bookly premium version is the more suitable choice.
In terms of its attributes, Bookly stands out as the most contemporary plugin in this collection. It boasts a polished design on both the backend and frontend, allowing you to customize various aspects of the booking form without the need for coding expertise. While I wouldn't recommend it for those planning to implement custom code, I believe that most beginners and advanced users will find the plugin's capabilities and style user-friendly and accommodating.
Outstanding Features of Bookly
Comprehensive Booking Solution
Flexible Service Provider Inclusion
Automated Communication
Effortless Google Calendar Integration
Versatile Add-Ons
Unlimited Service Inclusion
Payment and Booking Flexibility
Price: $ 89.00
5. Booknetic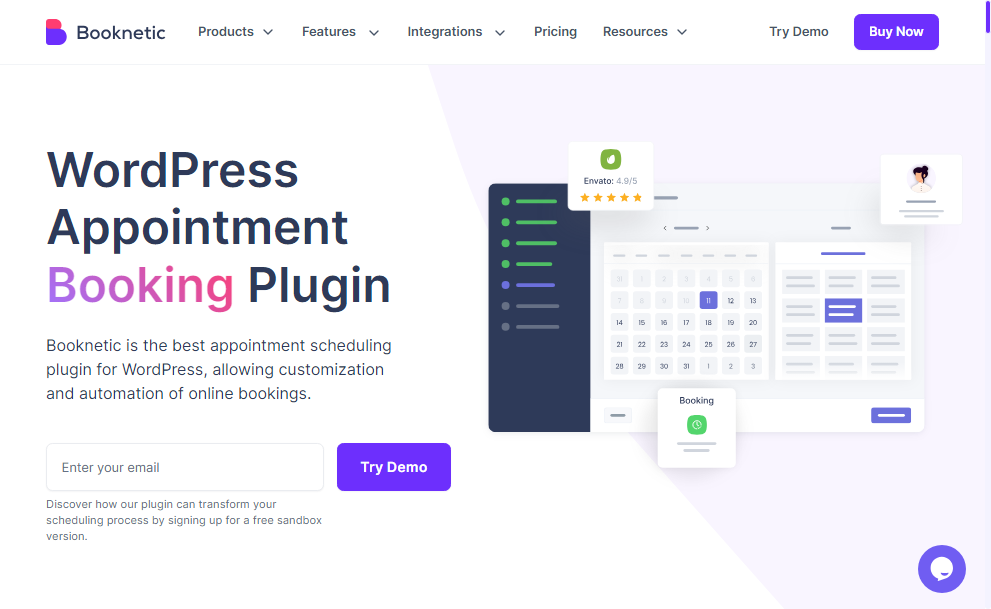 Booknetic is a robust appointment booking plugin designed to cater to a wide range of businesses, including those in beauty, medical, fitness, law, education, and more. This versatile tool offers effortless setup and management, making it a valuable asset for businesses seeking an affordable alternative to high-end software solutions. With its user-friendly back-end and front-end interfaces, along with its modern features, Booknetic proves to be a lifesaver for organizations of all sizes.
Booknetic boasts a plethora of integration channels, allowing you to fully automate your appointment scheduling process and maintain a seamless workflow. The ability to customize its features empowers you to take charge of your appointments, tailoring them to your specific needs. Plus, its multi-device compatibility ensures that appointments can be created or modified on the go.
Thanks to the intuitive drag-and-drop builder, you can personalize the booking panel, restructure the steps as needed, and add or remove extra steps to craft your ideal booking system. Managing your workflow is a breeze with the back-end panel, which offers separate sections for staff, customers, appointments, and locations. The reporting panel provides valuable insights into real-time statistics for your business, enabling you to track your most profitable employees and services and make informed comparisons.
Booknetic's Outstanding Features That Set It Apart
Seamless Calendar Sync
Versatile Booking Widget
Total Schedule Control
Social Sign-In
Unlimited Customization
Personalized Booking Flow
Brand-Focused Design
Secure Online Payments
WooCommerce Integration
Effortless Billing and Invoicing
Price: $79 one time payment
6. Booking Calendar – Appointment Booking System
It's not uncommon to find booking plugins with similar names, and as with the previous plugin mentioned in #7, this one is also named Booking Calendar. Thankfully, they've included an "Appointment Booking System" tag to help distinguish it. The core plugin is free and offers a variety of features to kickstart your booking system. You'll have access to unlimited booking forms and widgets for reservation calendars. Additionally, it's highly customizable, allowing you to modify date formatting, adjust reservation fields, and more.
For those seeking more advanced features, the Pro Version is worth considering. It's available for just $60 and introduces a comprehensive payment system for one website. You can also opt for an enhanced booking system without payment functionality at a cost of $30. With the Pro Version, you'll also gain access to the following:
Editable reservations.
Discount tools.
Options to set minimum and maximum reservation days.
ReCaptcha integration to prevent spam.
The potential for multiple site licenses, depending on your selected plan.
Noteworthy Features of Booking Calendar – Appointment Booking System
Effortless Implementation
Varied Price Points
Unlimited Booking Calendars
Seamless Upgrades
Cost-Effective Feature Enhancement
Customization Galore
Price: $39 basic
7. Team Booking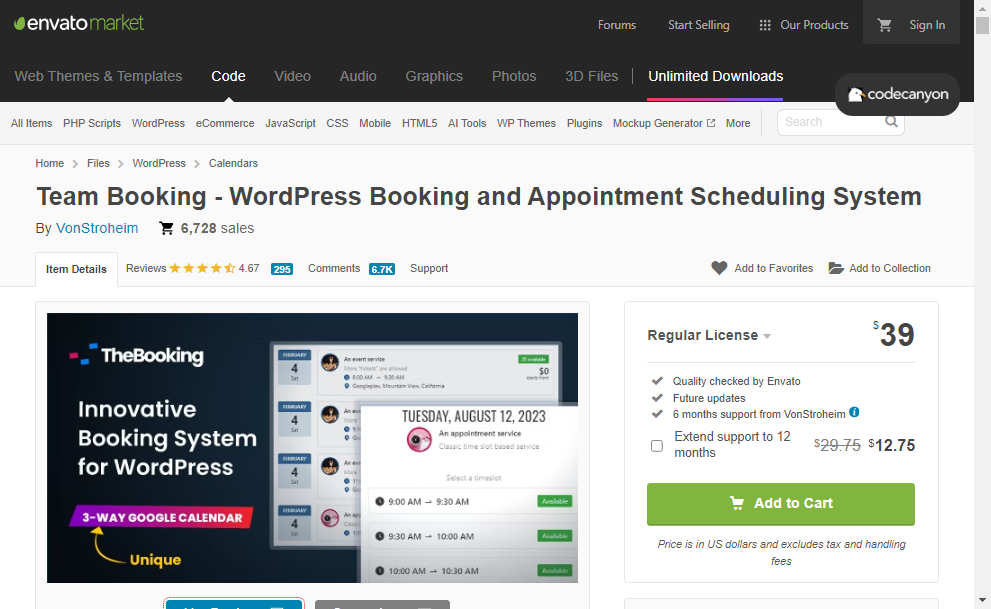 As you may have observed, most WordPress booking plugins offer reasonable pricing, even for their premium versions. While having everything for free would be ideal, in reality, many companies reserve premium features for their paid versions. This is why we appreciate the Team Booking plugin, priced affordably at just $28, with the added convenience of connecting to PayPal or Stripe for payment processing.
The Team Booking plugin boasts a robust feature set that rivals the best alternatives in the market. It offers three built-in formats, including a regular frontend booking calendar, one for handling unscheduled services (such as support tickets), and a third for managing upcoming events that sync with your Google Calendar. These calendars feature a modern and sleek design, and the flexible form builder allows you to easily add multiple fields and collect customer data with ease.
Outstanding Features of Team Booking That Set It Apart
Integrated Maps
Modern and Elegant Forms
Versatile Form Selection
Competitive Pricing
Google Calendar Integration
Customized Scheduling
Payment Flexibility
Price: $39
8. MotoPress Hotel Booking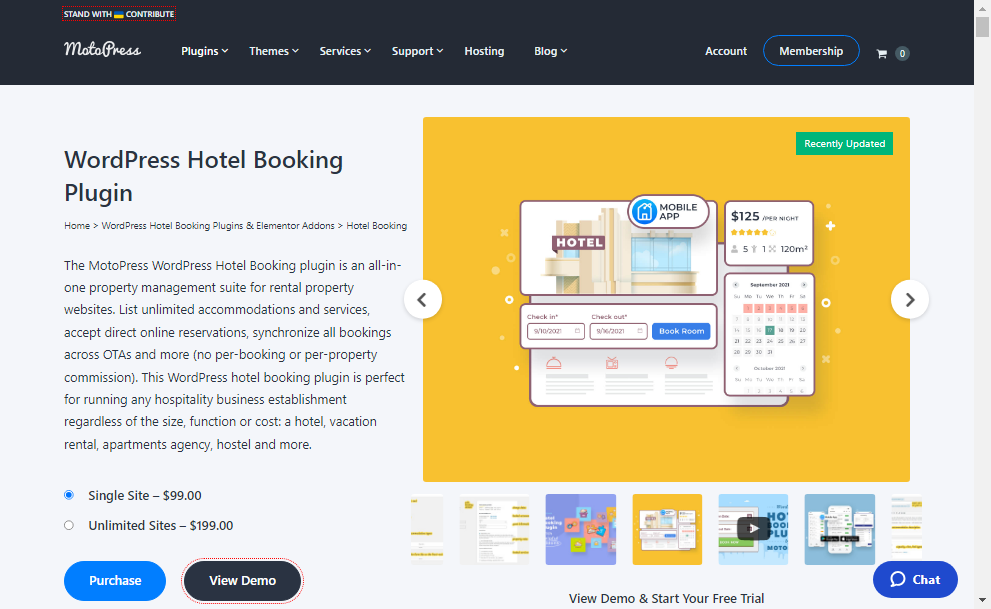 MotoPress Hotel Booking is a robust reservation system designed for the creation and management of hotel and property rental websites. This plugin enables you to seamlessly accept online reservations, establish real-time availability calendars for each accommodation, facilitate online payments, and automatically synchronize booking calendars with popular Online Travel Agencies (OTAs).
You have the flexibility to list and describe your accommodations or rooms and even have the option to include extra service packages or facilities available for reservation. The plugin offers the ability to set dynamic price rates, including seasonal pricing, refundable/non-refundable rates, weekly or monthly rates, and variable pricing that adjusts based on the length of stay or the number of guests.
With MotoPress Hotel Booking, site administrators can efficiently handle incoming reservations from the backend. They can select their preferred confirmation mode, either manually confirming bookings or requiring guests to confirm reservations via email or payment. Multiple payment gateways are available, including PayPal, 2Checkout, Stripe, Braintree, Beanstream, and Pay on Arrival.
Key Features That Distinguish MotoPress Hotel Booking
Seamless iCal Synchronization
Comprehensive Email Notifications
Multiple Accommodation Reservations
Enhanced Payment Options
Accommodation Categorization
Flexible Discount Coupons
Demo Availability
Rich Knowledge Base
Price: $99 for single site
9. Salon Booking System
The Salon Booking System plugin is a purpose-built tool tailored to meet the daily requirements of salon owners, barbershops, hairdressers, beauty centers, nail styling parlors, and similar businesses. This plugin is particularly ideal for professionals who provide services through scheduled appointments.
It comes fully equipped with a comprehensive array of notification and reminder options, utilizing both email and SMS. An integration with WhatsApp is currently in the beta testing phase. Notably, it seamlessly integrates with Google Calendar, automatically publishing website-received reservations to the business owner's calendar. Even the salon's staff members can receive notifications about upcoming reservations through various channels, including email, SMS, and integration with their Google Calendar.
Salon owners have the flexibility to add reservations through the plugin's backend calendar or directly via their Google Calendar accounts. The Salon Booking System boasts a range of other features, including an advanced discount system that allows for the creation of coupon codes or automatic discounts applied when specific conditions are met during the reservation process.
Compelling Features That Elevate Salon Booking System
Effortless Setup and Management
Unlimited Booking Rules
Seamless Google Calendar Sync
Online Payment Capabilities
Customizable Booking Form
Multilingual Support
Robust API Integration
Customer Feedback Collection
Personal Customer Account Page
Detailed Reports Section
Price: $69/ year basic plan
10. CM Booking Calendar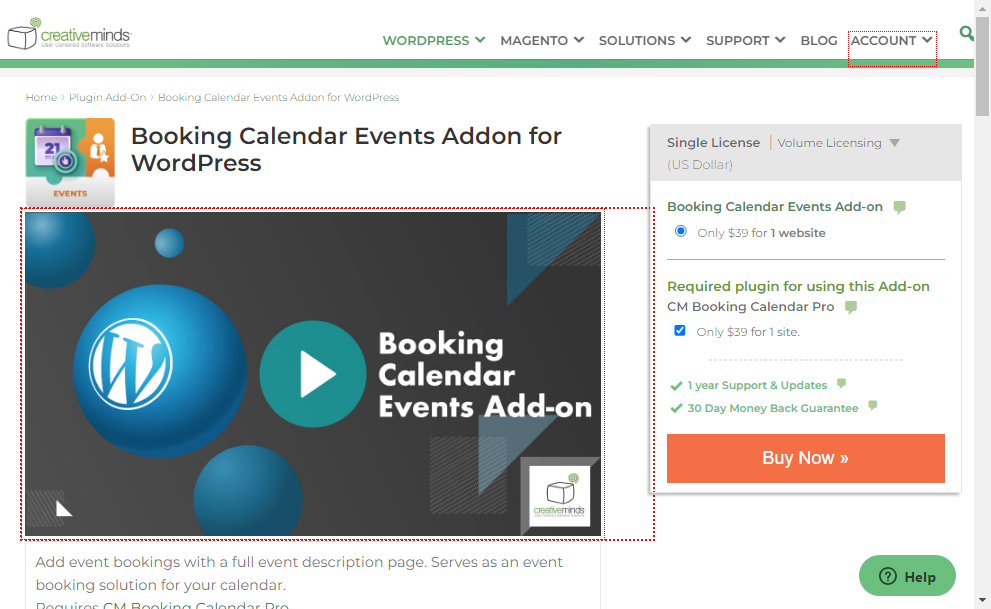 The CreativeMinds Booking Calendar plugin empowers users to effortlessly schedule appointments directly through their website. Administrators can efficiently generate multiple calendars with unique time slots, specify the available seats for each event, personalize booking forms, and oversee each request.
A valuable feature offered by the CM Booking Calendar plugin is the ability to create responsive front-end calendars. These can be seamlessly integrated into blog posts, pages, and anywhere you choose, using a simple shortcode.
The plugin is available at an attractive price point of $39, which includes lifetime access and one year of support and upgrades.
Standout Features That Set CM Booking Calendar Apart
Customizable Multiple Calendars
Responsive Design
Flexible Language and Label Editing
Expandable Functionality
11. Simply Schedule Appointments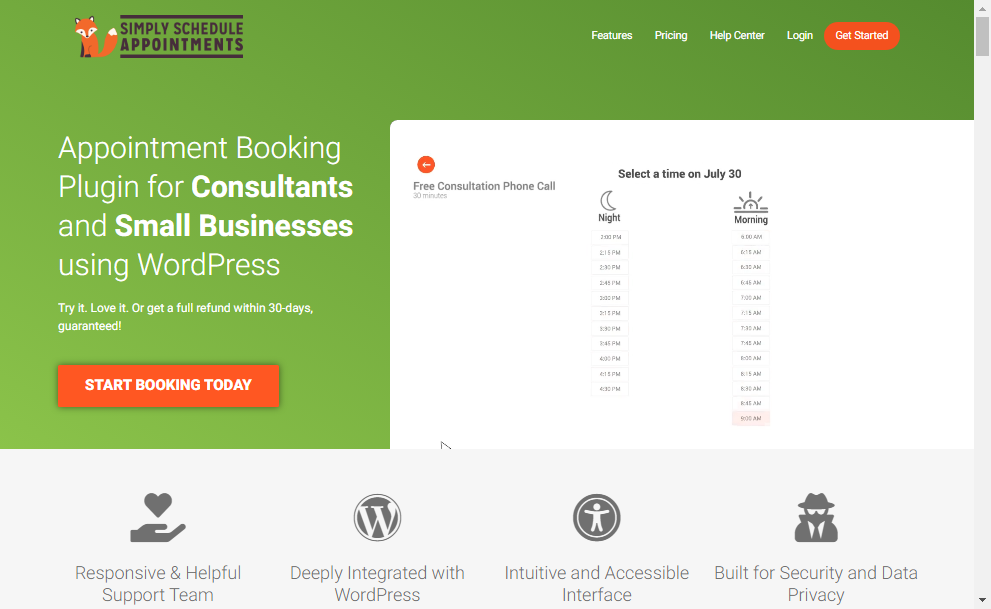 Simply Schedule Appointments is a sleek and user-friendly scheduling plugin tailored for WordPress-driven businesses. They offer both a free version and three premium editions of their plugin, each unlocking a range of advanced features and unique integrations. The premium options commence at $99 (Plus Edition) and encompass capabilities such as Google Calendar synchronization, customizable booking form fields, Mailchimp integration, and the ability to schedule classes and group events.
Designed to seamlessly integrate with WordPress websites, Simply Schedule Appointments simplifies the process of adding and managing online appointment scheduling. Their interactive setup wizard streamlines the setup of your booking form and its placement on your website, allowing you to complete the process in under five minutes. Furthermore, all versions, including the free edition, seamlessly integrate with popular page builders like Elementor, Divi, and Beaver Builder. This feature empowers WordPress users to effortlessly drag and drop elements, style, and customize their booking form to harmonize with their site's design.
One of the standout attributes of Simply Schedule Appointments is their commitment to continuous updates and exceptional customer support. Their development team consistently works on introducing new features and enhancements, such as team scheduling and Zoom integration. Notably, their customer support team stands out for its same-day response time, reflected in their 5-star review rating on the WordPress repository.
Outstanding Qualities That Define Simply Schedule Appointments
Versatile Free Version
Seamless Payment Handling
Extensive Integration Network
Continuous Development
Exceptional Customer Support
Price: starting from $99
12. Sugar Calendar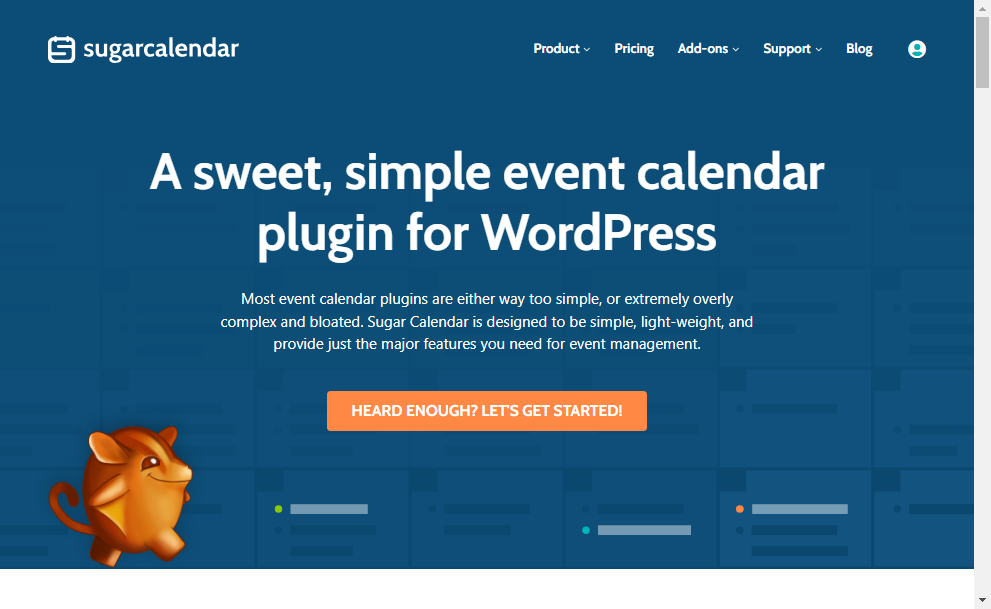 Sugar Calendar stands as a robust event management and calendar plugin crafted for WordPress. It proves invaluable for creating event schedules, managing appointments, facilitating payment collection, and more.
What sets Sugar Calendar apart is its remarkable speed and user-friendliness. In contrast to other plugins, it remains lean and harmoniously integrates with various plugins. Moreover, its beginner-friendly user interface offers extensive customization options.
With Sugar Calendar, you have the flexibility to configure date formatting, time zones, and establish recurring events effortlessly. The plugin also simplifies the process of displaying the calendar on your website's front end, enabling users to easily book appointments.
Sugar Calendar seamlessly syncs with your Google Calendar, streamlining your workflow. You can further enhance its capabilities by integrating Sugar Calendar with other WordPress form builder plugins like WPForms or Ninja Forms.
Whether you're organizing one-off or recurring events, Sugar Calendar is the plugin of choice. It empowers you to create a user-friendly event calendar without the need for code editing, featuring robust timezone support, cross-device compatibility, and a comprehensive set of calendar widgets to meet all your requirements.
Outstanding Qualities That Define Sugar Calendar
User-Friendly Admin Interface
Tailored Date Formatting with Translation Support
Time Zone Flexibility
Seamless Management of Repeating/Recurring Events
Effortless Front-End Display Choices
Inclusion of Event Calendar Widgets
Price: Sugar Calendar offers to price beginning at $49 per year, granting access to all free addons. If you wish to utilize pro addons, a Professional license is required.
13. BirchPress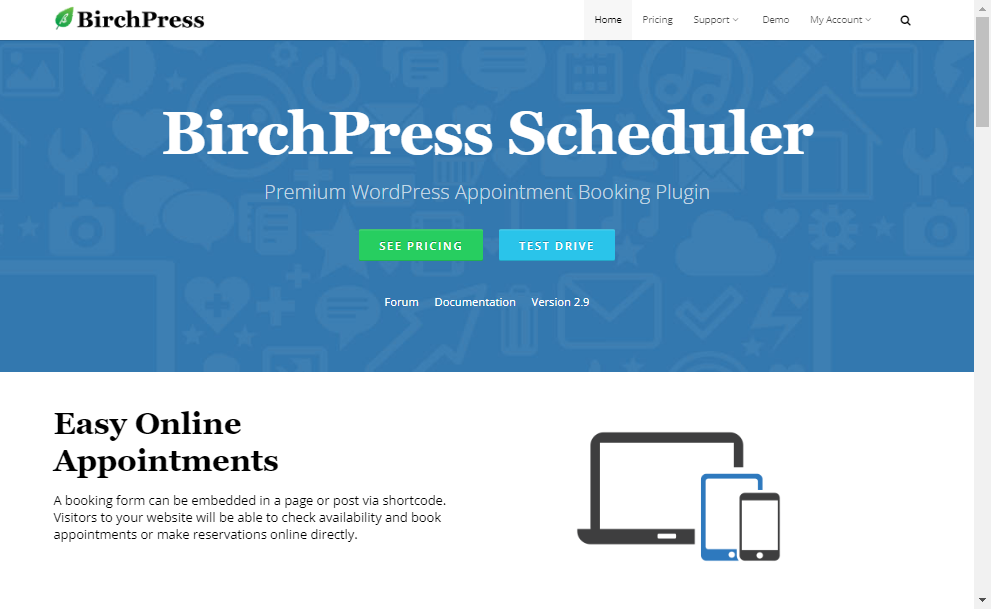 BirchPress is a comprehensive WordPress booking plugin designed to seamlessly integrate a professional online booking management system into your WordPress site. With this plugin, you can effortlessly create booking forms and select from various fields to include.
Your website visitors can conveniently schedule appointments and complete payments using their PayPal account or credit card. Additionally, it extends support to alternative payment gateways through WooCommerce integrations.
BirchPress harmonizes your booking calendar with other platforms, including Google Calendar, iCal, Android, Outlook, and more. It features a customizable email notification and reminder system, ensuring both you and your clients remain well-informed about the booking process.
Highlighted Features:
Intuitive and user-friendly booking interface.
Seamless support for shortcodes, enabling easy embedding within pages and posts.
Abundance of customization choices for complete control over the booking form's appearance, complemented by a dedicated form editor for adding custom fields.
Effortless synchronization with widely used third-party calendars such as Google Calendar, iCal, and Outlook Calendar.
Convenient import and export functionality for appointments between third-party calendars and the plugin's booking calendar.
Automated confirmation and reminder emails dispatched to customers.
Integration with PayPal and WooCommerce to facilitate online payment processing.
Price: BirchPress provides three pricing options, commencing at $99 per year.
14. WP Simple Booking Calendar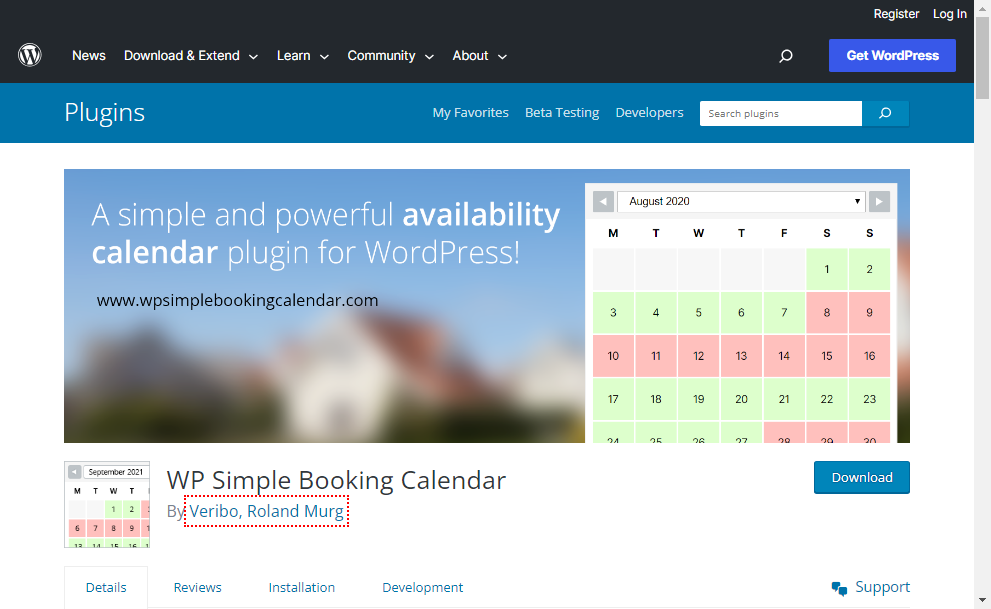 WP Simple Booking Calendar is another user-friendly WordPress booking plugin. It enables the creation of a single calendar with an intuitive interface.
Once the calendar is generated, it can be effortlessly added to a post or page through a shortcode. Notably, this plugin exclusively permits users to book entire days, without the option for hourly time slots.
If your needs align with straightforward and fundamental booking for rooms, accommodations, or per-day offerings, this plugin serves the purpose admirably. Additionally, there is a premium version available, offering an array of enhanced features.
The premium version allows for the creation of unlimited booking calendars, with the added capability of synchronization with platforms like Airbnb, Booking.com, HomeAway, and others. Furthermore, it offers additional options such as the flexibility to adjust the first day of the week or customize the start month and year to suit your requirements.
Key Features in the WP Simple Booking Calendar:
User-friendly interface for easy navigation.
Capability to showcase a legend calendar.
Mobile-responsive layout for accessibility across devices.
Multilingual support to cater to a diverse audience.
Convenient backup of visitor's booking details
Price: WP Simple Booking Calendar is available as a complimentary WordPress plugin. Additionally, there is a premium version priced at $39 per year.
15. Easy Appointments
Easy Appointments is a versatile, no-cost appointment booking plugin for WordPress. It provides the convenience of adding multiple locations, services, and workers effortlessly.
Following this, you can establish adaptable connections with precise calendar management. The plugin also offers the flexibility to tailor the booking form by incorporating custom form fields.
Incorporating an appointment booking form into any page or post is simple using the shortcode. Furthermore, you have the option to personalize the notification emails sent by the plugin to clients, workers, and website administrators.
Key Features in the Easy Appointments
Mobile-responsive
Enables the creation of personalized calendars with detailed access control
Permits the addition of custom booking form fields
Offers compatibility with Google reCAPTCHA
Ready for translation
Capability to incorporate custom currency values based on locations
Supports CSV files
Price: Easy Appointments is a complimentary WordPress plugin that enables you to manage appointments and bookings on your website.
16. Adoric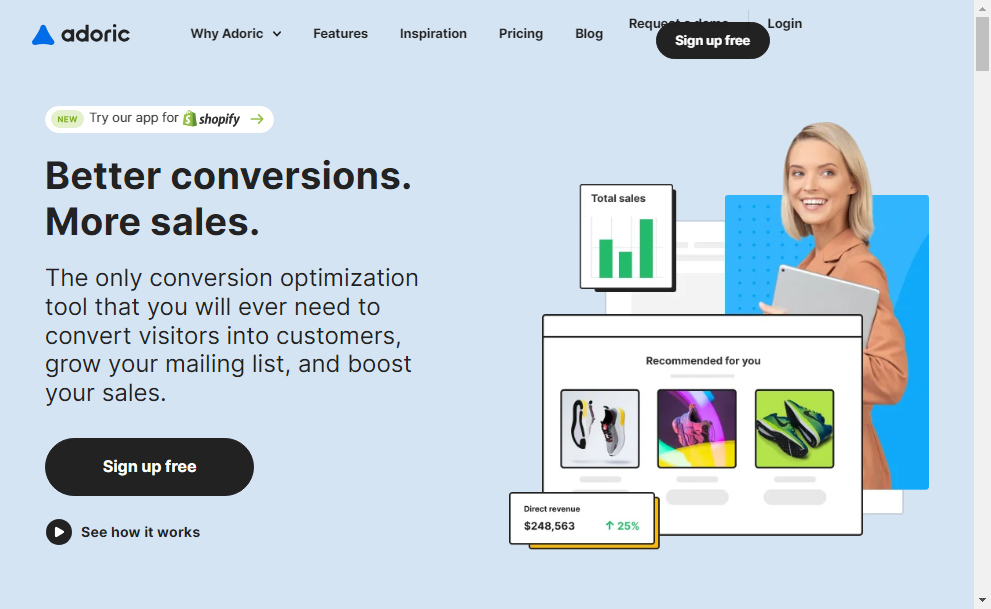 Inevitably, you require forms for gathering reservations, appointments, or bookings, correct? Adoric offers precisely what you need. It furnishes a range of solutions designed to optimize your website and enhance your conversion rate.
With Adoric, you can effortlessly implement appointment booking forms in the form of popups, floating bars, or sliders on your website.
All you have to do is select from the plethora of form templates at your disposal and customize them using our user-friendly drag-and-drop editor. This straightforward process equips you to initiate your booking collection seamlessly.
Are you ready to give it a try? Sign up for free today.
Price: $5/month
17. WooCommerce Bookings And Appointments
If you're in search of the finest tool to manage bookings and appointments for your online business, look no further than the WooCommerce Bookings & Appointments plugin. It is the ideal solution to efficiently handle your bookings and rentals without any hassle.
This plugin seamlessly integrates with WooCommerce and offers the flexibility of single and multiple-day bookings, bookings with both start and end dates, as well as recurring, adjacent, and non-adjacent bookings, among other options. You can configure bookings based on time, date, days, and hours.
For a convenient and feature-rich booking tool, consider giving the WooCommerce Bookings & Appointments plugin a try. It's available in both free and paid versions to cater to your specific needs.
Key Features of WooCommerce Bookings And Appointments
Provide Booking Options in Minutes, Hours, Days, or Months
Enable Users to Make Multiple-Day or Multiple-Appointment Bookings Simultaneously
Facilitate Multiple Bookings for the Same Time Slot
Establish Minimum and Maximum Booking Durations, Allowing Users to Book from 2 to 8 days, for instance
Permit Booking Cancellations with a Specified Time Limit before the Booking Commences
Activate Booking Approvals/Confirmations Admin Oversight
Transform Your Booking Calendar into an Accommodation Reservation System, Offering Per-Night Bookings and Displaying Check-In and Check-Out Dates
Send Email Notifications to Users and Admin for New Bookings, Confirmations, and Cancellations
Deliver Email Reminders to Users for Upcoming Bookings
Dynamically Calculate Total Booking Costs Based on the Number of Days or Time Slots Selected
Capture Additional User Information by Enabling the Booking Notes Field
Allow Buffer or Padding Time Between Bookings, Both After and Before Each Booking
Customize Calendar Colors to Complement Your Website Design and Theme
Integrate Google Calendar Sync
Manage Staff Efficiently, Adding as Many Staff Members as Needed, and Monitoring Staff Availability, Pricing, and Leaves
Price: The plugin's pricing begins at $99 for a single-site license and extends to $259 for a license covering 25 sites.
18. BirchPress Scheduler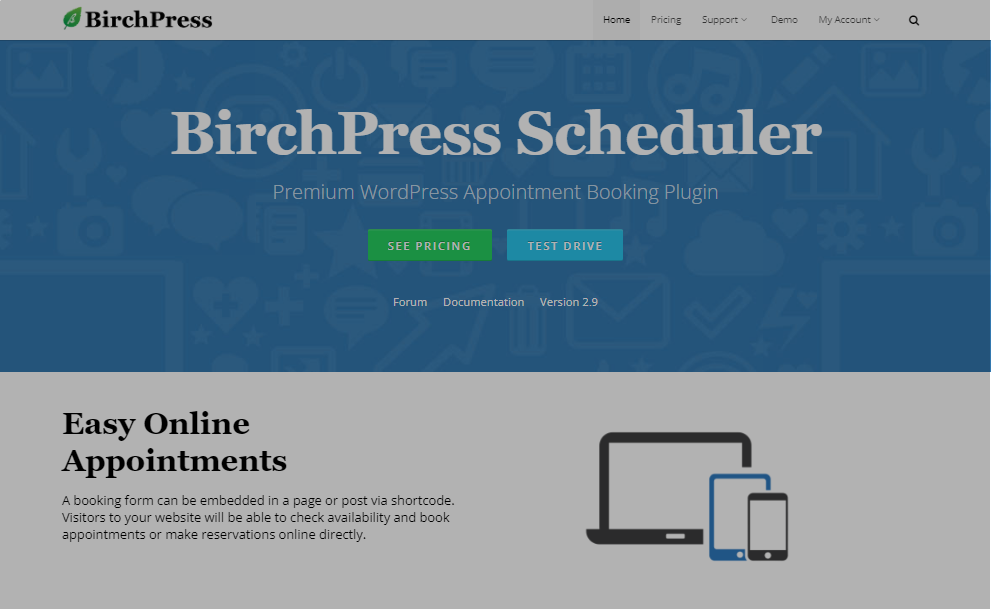 BirchPress Scheduler stands as another excellent WordPress booking and appointment plugin. It empowers you to effortlessly create and integrate your scheduling calendar into various sections of your website. Primarily designed with small businesses in mind, it proves to be an ideal choice for businesses such as salons, studios, and spas, among others.
While this plugin is not available for free, the array of features it provides justifies the investment. It offers online payment options, a tool for efficient staff assignments, and a user-friendly interface.
With this plugin, you can precisely schedule bookings at specific times throughout the day. It further allows you to configure pricing details and provides various pricing tiers to select from, enhancing its overall versatility.
Key Features BirchPress Scheduler
Incorporates All Features of the Free Edition
1-Year Support and Updates
Automated Email Notifications to Both Staff and Clients
Capability to Dispatch Reminder Emails
Personalize Email Messages with an Attached .ics File
Block Out Holiday Periods
Configure Minimum Time Requirements Before Booking
Define the Advanced Booking Window
Price: The pricing for BirchPress Scheduler commences at $99.
19. Baluu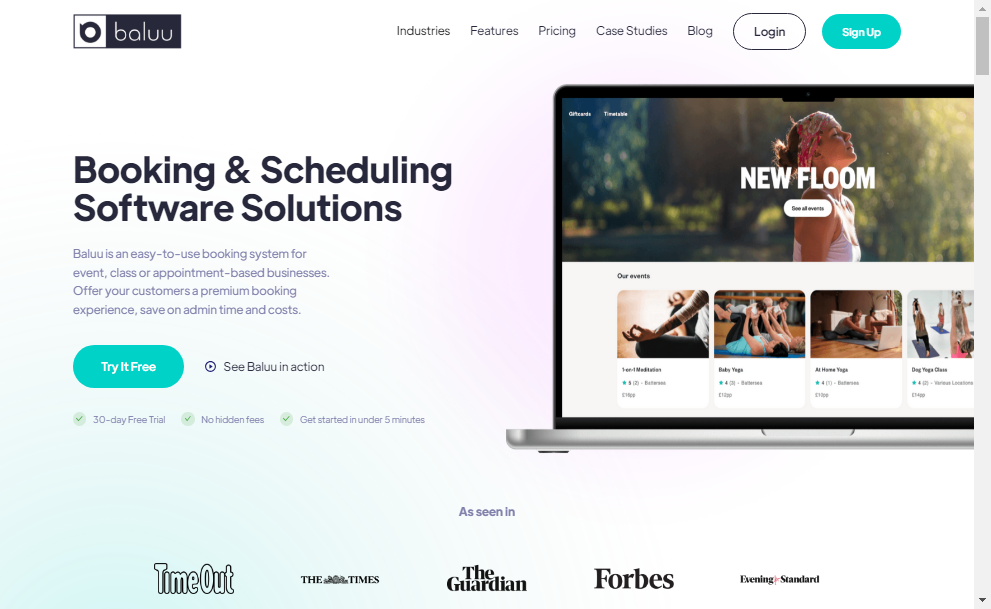 Baluu is an all-encompassing booking software offering a comprehensive solution for online appointment and reservation management. It is meticulously crafted to enhance customer acquisition, boost sales, and elevate customer service standards. With its user-friendly interface, this booking system streamlines customer management, resulting in time, cost, and effort savings.
Initially, Baluu offers a free version with a monthly booking limit of 50. However, once this threshold is met, upgrading to their advanced plan becomes necessary.
Key Features of Baluu
Control and Permission Access
Booking of Activities
Dashboard for Activities
Tracking of Activities
Alerts and Notifications
Management of Appointments
Scheduling of Appointments
Attendance Oversight
Automated Scheduling
Management of Availability
Price: Baluu offers a no-cost option with a monthly booking limit of 50. However, when you reach this limit, upgrading to their advanced plan becomes necessary.
20. Appointments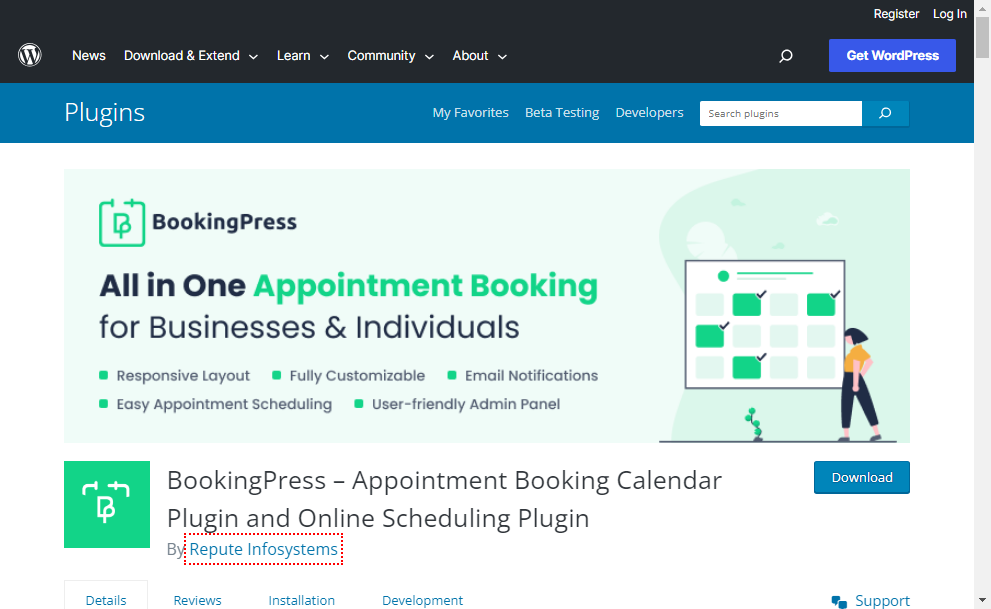 This plugin boasts several attractive features, including seamless integration with Google Calendar, enabling synchronization with your personal Google Calendar.
Moreover, it provides integrations with WooCommerce, facilitating customer payments.
The Appointments plugin is incredibly user-friendly and can be set up within minutes. Its interface is designed with beginners in mind.
Furthermore, it supports integration with extensions like Gravity Forms, Extra Product Options, and WooCommerce Print Invoices.
Key Features of Appointments
Great UI And UX for appointment booking system
Seamless Integration With Your Website
Interactive booking wizard to schedule appointments quickly
Online Payment with PayPal
Offline Payment Available
Easy And Quick Configuration Options
Manage Appointments with Calendar View
Super handy dashboard to track your business
Customisable email notifications
Translation Ready
Captcha Free In-built Anti-spam Facility
Support of Gutenberg
Support of Elementor
Price: The pricing for this plugin ranges from $89 per site to $200 for up to 25 websites.
21. WPForms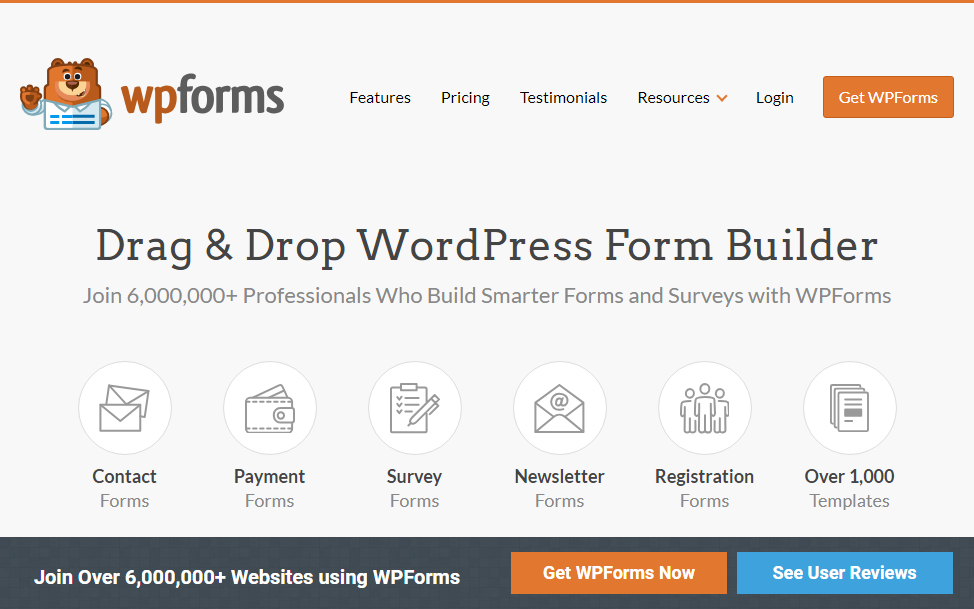 WPForms stands out as the premier WordPress contact form plugin, trusted by over 5 million websites for crafting intelligent online forms.
It features an intuitive drag-and-drop form builder, tailored for beginners, enabling the swift creation of diverse forms within minutes. With an extensive selection of over 400 form templates at your disposal, WPForms offers an excellent starting point.
Incorporating a booking form into your WordPress website is a breeze with WPForms, allowing you to streamline appointment scheduling. You have the flexibility to utilize various form fields for customization, simply drag and drop them onto the template, and further refine as needed.
An exceptional feature is WPForms' seamless integration with Google Calendar via Zapier. This integration ensures that all appointments booked through the form are synchronized with your Google Calendar. Additionally, WPForms readily integrates with Sugar Calendar, enhancing its functionality.
Key Features of WPForms:
Instant Notifications
Entry Management
Multi-Page Forms
File Uploads
User Registration
Spam Protection
Stripe Pro Addon
Square Addon
Coupons Addon
Price: WPForms provides various pricing options, commencing at $39.60 per year. WPBeginner users have the opportunity to utilize an exclusive coupon for a 50% discount. Additionally, a free version, WPForms Lite, is also available.
22. Booked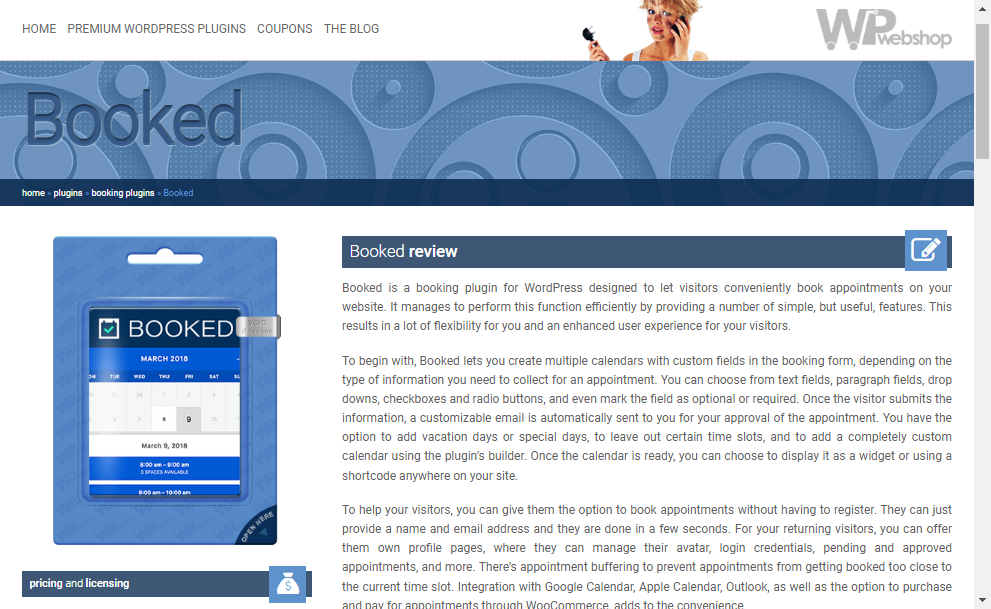 Booked is a premium WordPress appointment booking plugin, available exclusively on CodeCanyon. It's designed for quick setup and user-friendliness, making it an excellent choice for enabling both registered users and guests to schedule appointments on your website. You can utilize the plugin's front-end calendar shortcode and widgets to showcase multiple appointment slots per date. Furthermore, it offers seamless integration with WooCommerce, simplifying the online checkout process for your visitors when making bookings.
Key Features of Booked:
Calendar for managing appointments
Unlimited calendars and booking agents
Booking options for registered users and guests
Customizable time slots and fields
In-built calendar color customization
Customer profiles
Tailored login/registration form
Integration with WooCommerce for payments
Price: $49
23. Appointment Hour Booking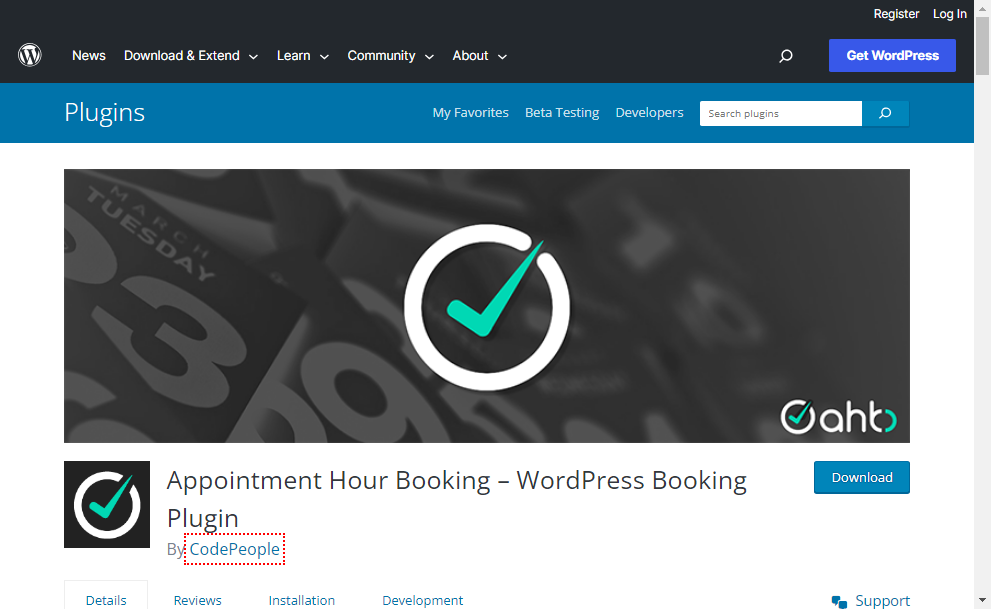 Appointment Hour Booking is a WordPress booking plugin with both free and premium options. It empowers you to create appointment forms with precise availability times. Your customers can easily choose their preferred start times for the services displayed on your website and proceed with payments.
The plugin's user-friendly visual setup simplifies the process of creating calendars and forms, while its extensive customization and configuration capabilities cater to the needs of businesses of all sizes.
Key Features of Appointment Hour Booking:
Appointments with designated start and end times
Multiple services offering varied prices and durations
Configurable business hours
Prevents double bookings
Automated price calculation
Customizable email notifications
Price: Available at no cost, with premium plans commencing at $5.99 per month.
24. Hotel Booking Plugin by MotoPress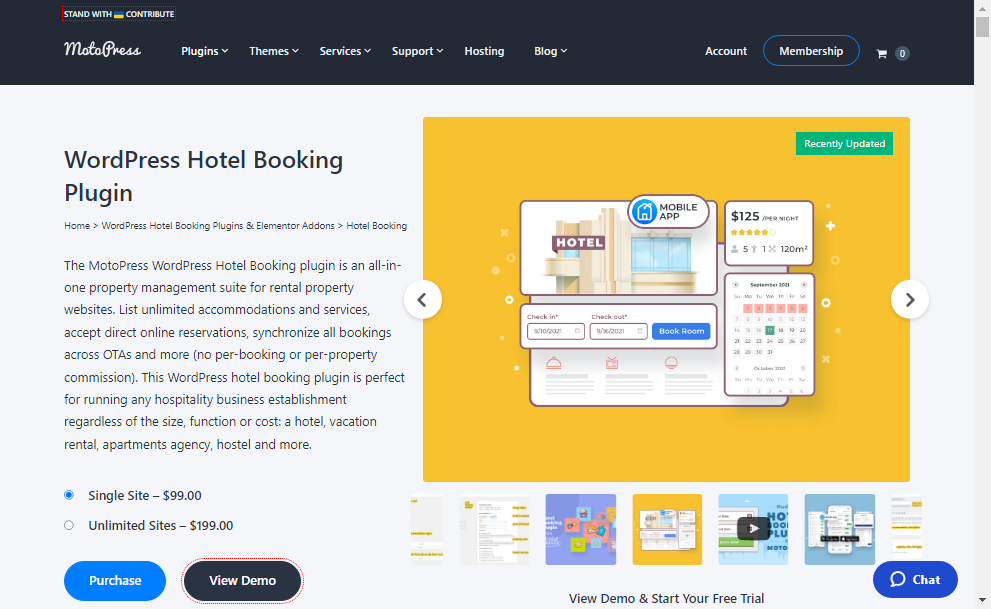 The MotoPress Hotel Booking Plugin is an excellent option for individuals seeking to construct a hotel booking or rental property website. It offers a user-friendly solution for booking, listing, and managing properties or rooms within the framework of any WordPress theme.
The plugin seamlessly integrates with various WordPress themes, enabling you to effortlessly establish a booking website. Some noteworthy features include:
Key Features of the WordPress Hotel Booking Plugin:
Reservation acceptance
Compatibility with Divi and other page builders
Mobile-responsive custom forms
Tailored search fields
Real-time availability calendars
Tax collection, coupon provision, and support for multiple reservations
Integration with various payment gateways
Price: $99/year
25. Events Calendar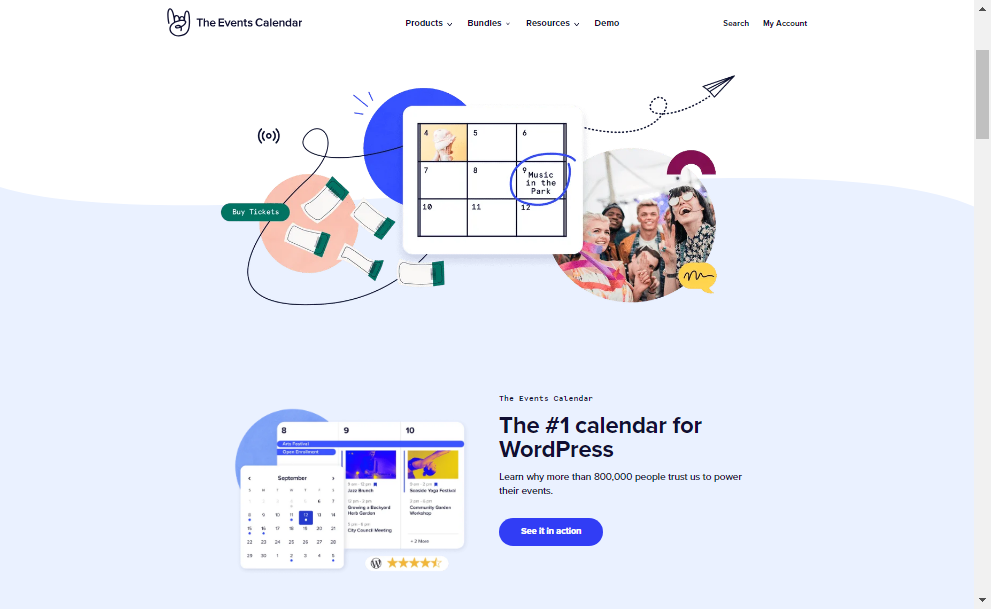 The Events Calendar is a top-tier WordPress events calendar plugin that offers an all-in-one event ticketing solution. It simplifies the process of creating and incorporating an events calendar on your website. With the free Event Tickets add-on, you can enable users to reserve event tickets, whether online or in person. This eliminates the need for a separate RSVP plugin, streamlining the management of ticketing and RSVPs for all types of event websites.
This feature-packed plugin is highly adaptable and extensible, providing user-friendly operation and comprehensive support. Upgrading to Events Calendar Pro enhances these capabilities even further. For a robust event booking combination, Events Calendar seamlessly integrates with Simply Schedule Events, offering the best of both worlds.
Key Features of The Events Calendar:
Event ticketing and scheduling
Efficient RSVP management
Multiple views: Month, list, and day
Robust categorization with categories and tags
Seamless integration with Google Calendar and Google Maps
Price: No cost for the basic version, with premium plans commencing at $99.
26. Start Booking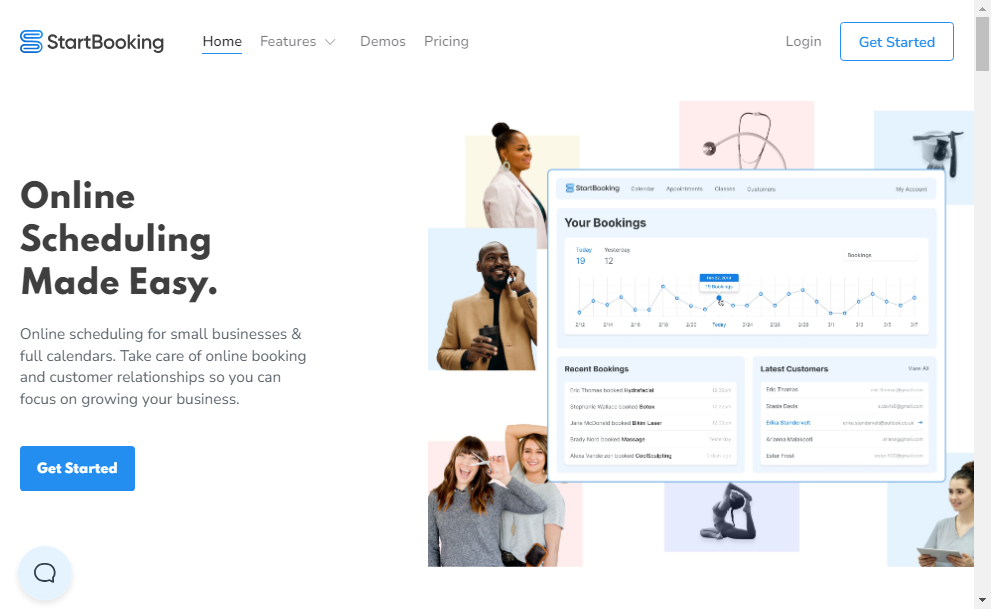 Next on our list of WordPress booking plugins is StartBooking. This plugin stands out as a comprehensive all-in-one solution. StartBooking offers premium online scheduling software that enables you to integrate a calendar into your WordPress site. Your site's visitors can conveniently schedule appointments, access appointment details, and cancel appointments directly from the front end.
StartBooking leverages advanced cloud technology to support its managed scheduling system, offering a range of convenient features to enhance your booking process. With this powerful tool, you can effortlessly schedule an unlimited number of appointments and assign specific staff members to various services.
Key Features of StartBooking:
Comprehensive managed scheduling system software
Customizable integrations
Support for classes and group bookings
Reminder notifications and customizable email notifications
Online payment capabilities
Integration with Google Calendar
Advanced booking locations and analytics
Efficient services and staff management
Price: Plans begin at $25 per month
27. BookingWP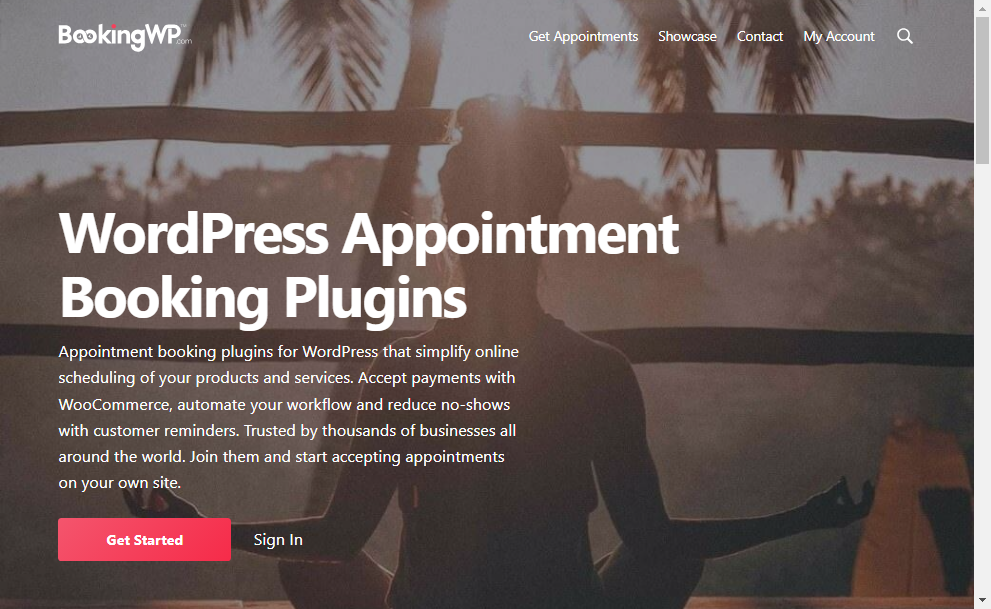 BookingWP offers a plethora of options to enhance your control over the appointment process and provide flexible booking choices for your clients. These features encompass the creation of custom form fields, dedicated calendars for each staff member, and numerous availability rules for setting off days and breaks.
The plugin is meticulously optimized to seamlessly integrate with all major WordPress themes, ensuring compatibility and preserving your site's design integrity. Additionally, it is built to seamlessly support popular WooCommerce plugins, eliminating any concerns when using it with your WooCommerce-based website.
Among the notable features of the plugin are support for online payments, email-based booking confirmations and reminders, customer-driven booking cancellations, multi-day scheduling, shortcode compatibility, and much more.
Key Features of BookingWP:
Custom Form Fields
Staff Calendars
Holiday and Break Time
Online Payments
Timezone Conversion
Multi-Day Scheduling
User Cancellations
Email Notifications
Shortcode Support
Google Calendar Sync
WooCommerce Integration
Price: For a single website, the yearly subscription is $89, $129 for up to 5 websites, and $299 for a 25-website license with a 50% renewal discount.
28. JetAppointment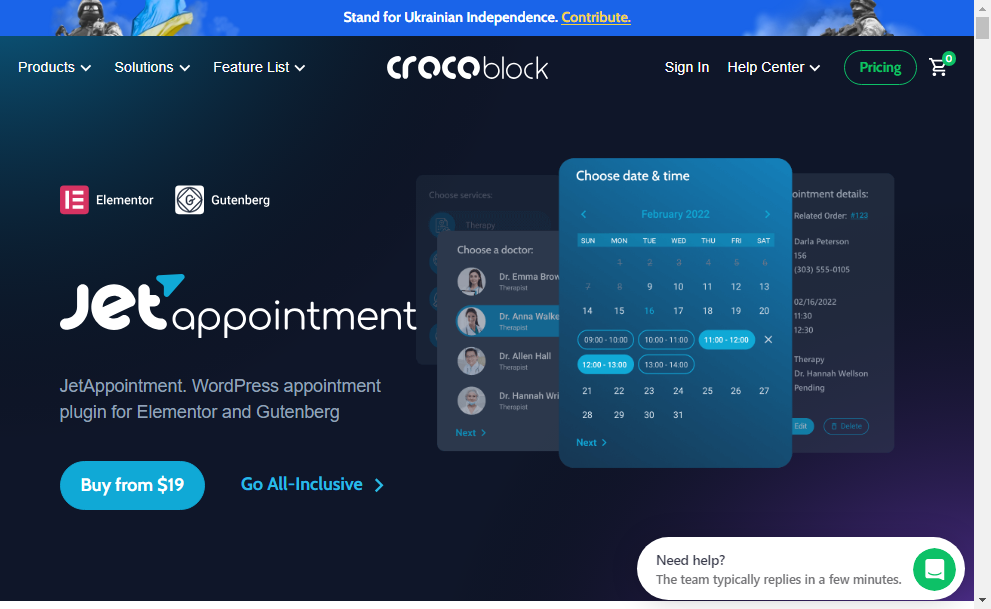 JetAppointment is a powerful WordPress plugin designed for effortless appointment booking. It simplifies the process of creating an appointment-based website and efficiently managing your scheduling needs. You have the flexibility to tailor everything to your specific requirements, including colors, layout, and functionality, ensuring seamless integration with your web pages.
In addition, clients can easily browse available services, and hours, and swiftly complete appointment details, promoting a user-friendly experience. On the administrative side, you have the ability to effortlessly edit, filter, or add new appointments through an intuitive and clean dashboard.
The JetAppointment WordPress plugin offers a wide range of features, including the extension of booking forms to accommodate various appointment layouts, the implementation of intelligent notifications, the incorporation of custom elements, support for 12 field types, the utilization of custom templates, and much more.
Key Features of JetAppointment:
Seamless integration with both the Gutenberg editor and the Elementor page builder.
Effortlessly configure payment integrations, including PayPal, Stripe, or cash, through WooCommerce payments.
A user-friendly and uncluttered dashboard for streamlined management.
Set up your appointment website with a step-by-step installation wizard for a hassle-free start.
Offer multiple booking options to cater to a diverse range of scheduling needs.
Create and personalize booking forms using a simple drag-and-drop interface.
Define your working hours and designate custom days off with ease.
Utilize capacity management tools to efficiently handle class bookings.
Enable the booking of multiple appointments simultaneously for added convenience.
Price: The JetAppointment plugin is available for an annual fee of $19.
29. MotoPress Appointment Booking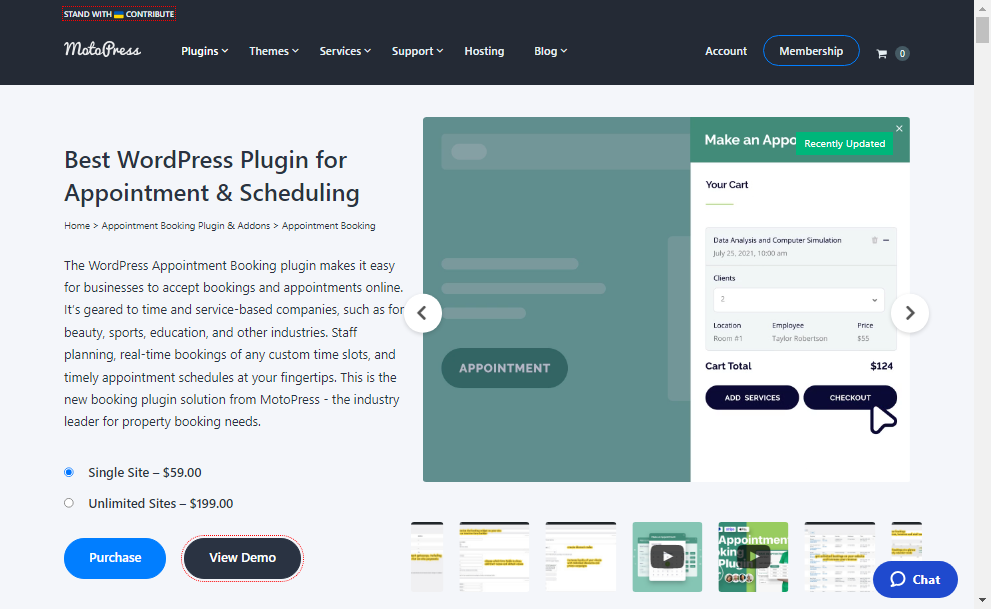 The MotoPress Appointment Booking plugin simplifies the process of organizing appointments on your website. This versatile plugin is an ideal solution for a variety of businesses, including beauty and spa salons, hairdressers, tutors, tutoring centers, personal coaches, and others that rely on appointment scheduling.
With this plugin, you can effortlessly add and tailor appointments, regardless of their duration. It offers features to establish buffer times and automatically adjust service capacity to prevent double bookings. Moreover, it supports group scheduling, multiple employees, and flexible scheduling options.
Each staff member can have their own profile and individual timetables, adding a personal touch to their services while enhancing overall productivity. The MotoPress scheduler plugin allows you to incorporate breaks, mark days off, and note holidays, ensuring a professional and dependable service.
Booking appointments is a straightforward process for customers. They can make reservations on a single page where they select a service or a staff member, choose a date, and submit the booking. Once completed, the plugin automatically sends a confirmation email, keeping everyone informed.
Key Features of MotoPress Appointment Booking:
Compatible with Gutenberg, Elementor, and Divi page builders for seamless integration.
Multiple payment method support, including PayPal, Stripe, direct bank transfer, or in-person payments.
Clients can reserve multiple services within a single time slot for added convenience.
Centralized admin booking calendar with a color-coded view, individual booking previews, and chronological timetables.
Customizable appointment manager and user roles to control access to plugin settings and menus.
Synchronization with Google Calendar to keep your bookings organized.
Effortless booking management and editing directly from the dashboard.
Available in multiple languages, including English, Italian, French, German, and Spanish.
Price: A free version of this plugin, known as Appointment Booking Lite, is accessible. It offers fundamental features to fulfill basic requirements.
30. EDD Bookings
EDD Bookings is an appointment booking plugin specifically designed as an extension for Easy Digital Downloads.
For those who may not be familiar, Easy Digital Downloads is a WordPress plugin tailored to assist users in creating a comprehensive eCommerce platform for the sale of digital products on WordPress. It bears similarities to WooCommerce but is finely tuned for the optimal selling of digital goods.
EDD Booking empowers you to establish appointment booking functionality seamlessly within your Easy Digital Downloads-powered website. This is particularly beneficial if your business revolves around online services such as consultations.
In terms of its capabilities, this plugin allows you to configure a user-friendly booking calendar, enabling your clients to book appointments with just a few clicks. On the website's backend, you'll have access to a calendar interface that simplifies the viewing and management of your bookings.
Key Features EDD Bookings:
Streamlined three-step booking process
Comprehensive calendar view within the website's backend, offering day, week, and month views, with the ability to filter services using color-coded categories.
Unlimited flexibility
Seamlessly integrated payment gateways for convenient transactions.
Access to detailed analytical data for in-depth insights into your bookings and scheduling.
Price: As of the current moment, the plugin is labeled as "coming soon," and there is no confirmation regarding its pricing, whether it will be offered for free or as a paid plugin.
Conclusion
In your quest to optimize scheduling with WordPress appointment booking plugins, it's essential to make a well-informed choice. With a wide array of features and options available, selecting the plugin that best suits your specific needs is crucial. To determine which plugin is right for you, start by assessing the required features. Consider the type of appointments you offer, your customization needs, and any specific integrations you require. Additionally, factor in your budget and the level of support that's essential for your peace of mind. As you narrow down your choices, look for plugins that align with your unique needs.
When you're ready to implement and fine-tune your chosen WordPress appointment booking plugin, VOCSO is here to provide expert guidance and support. Our team of professionals has a wealth of experience in setting up and optimizing such systems. From initial consultation to integration and ongoing support, we're committed to ensuring that your scheduling process runs efficiently and enhances the client experience. Don't hesitate to reach out to us when you're ready to take the next step toward optimizing your scheduling system. Let VOCSO be your partner in harnessing the power of WordPress appointment booking plugins for your success.
About Varsha Gupta I am an SEO professional and writer at VOCSO Digital Agency. I love to learn and write about digital marketing terms like SEO, social media, and SEM.