Working as a graphic designer you'll agree that there always comes a time when you realize: as a human you can deliver a limited amount of projects per time unit. You are booming with ideas but the day consists of only 24 hours instead of the desired 40 or 50 to fulfill your plans. For a professional, it means that the amount of income will also be limited. Does it sound like you've reached the top of your earnings?
We have the optimistic news: since graphic design marketplaces have appeared online, each digital art creator has access to unlimited passive income! In this article, we're going to figure out how it works from the inside for the designers.
3 Main Benefits of Cooperation with Marketplaces
Your personal success is multiplying when you direct your efforts in the right place. In the huge community of people interested in various graphic elements and illustrations, your works are at the epicenter of demand.
Benefit # 1: Scaling Your Profit
Large quantities of the target audience give imposing chances on fast income scaling. All you need is to upload your work once and then gather profit every time it's uploaded by the marketplace's users.
Benefit # 2: Your Own Community of Loyal Customers
You've worked for years to gain the trust of your clients. And on the marketplace, this process is accelerated to the maximum. Thousands of people are going to view your pieces of digital art every day.
Benefit # 3: Convenient Hassle-Free Money Transfers
The procedure of obtaining the money earned on a marketplace is important. Nobody wants to see the abstract money amounts in personal online accounts, you need to get the money right on your card, right? The transfers are fast and safe. Usually, it takes no more than 24 hours for your earnings to be visible in your bank account.
If you are now deciding on what graphic design platform to choose for cooperation, we've gathered the TOP 5 of the industry below.
1. MasterBundles
A project by true graphic design enthusiasts, MasterBundles has a distinctive feature: here people can buy various thematic products combined in sets (bundles). That makes the price of each product in a bundle even more affordable than a cup of coffee.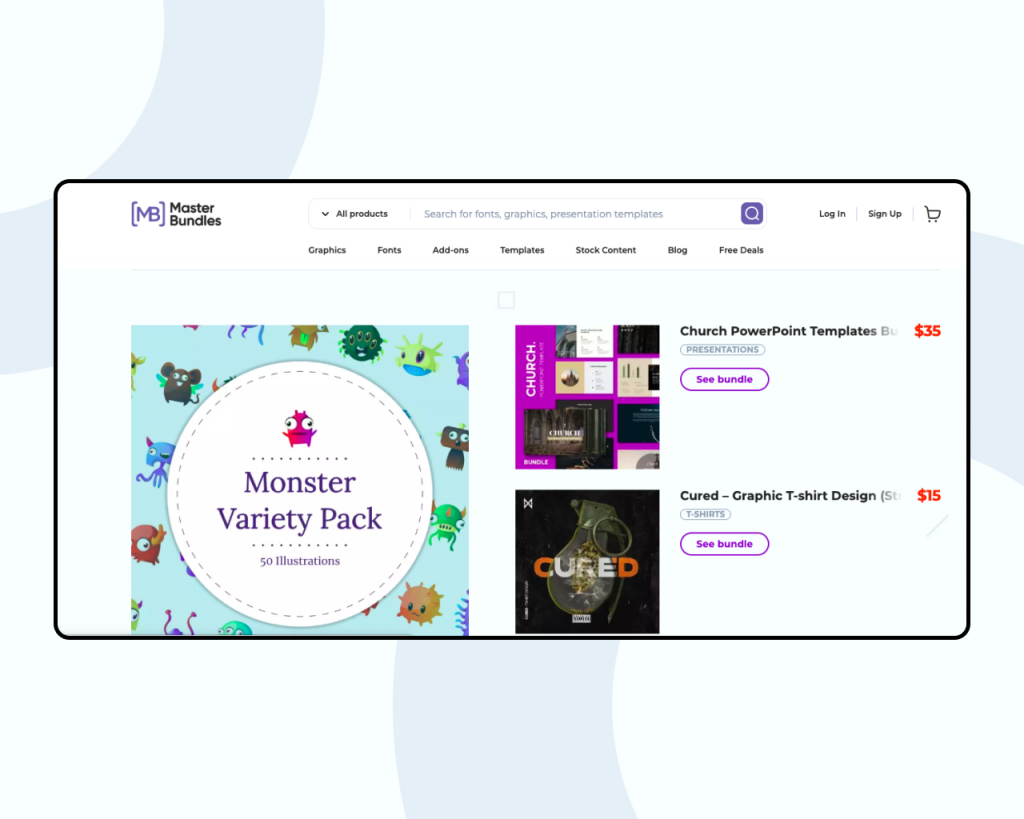 Creative people, designers, entrepreneurs, content makers, and bloggers – MasterBundles has offers for totally everybody. Icons, backgrounds, textures, logos, patterns, infographics, variety of fonts. Templates for social media, WordPress, and PowerPoint slides for those who want to save time. And the best thing is the freebie section!
Multiply your passive income by not only being a vendor on this resource but also becoming an affiliate partner, who gets 15% of each purchase made through your referral link.
2. Design Crowd
This marketplace offers plenty of graphic opportunities to businesses. Here you'll find great templates for logos, business cards, Facebook covers, email signatures, flyers, menus, etc.
The main feature of the resource is the possibility to post a brief for creating a unique piece of content, and designers from all over the world can take part in fulfilling the project. Be the one who sells or be the one who delegates the tasks online. You can expect to receive around 50 designs from multiple professionals for your task or compete yourself for the projects online.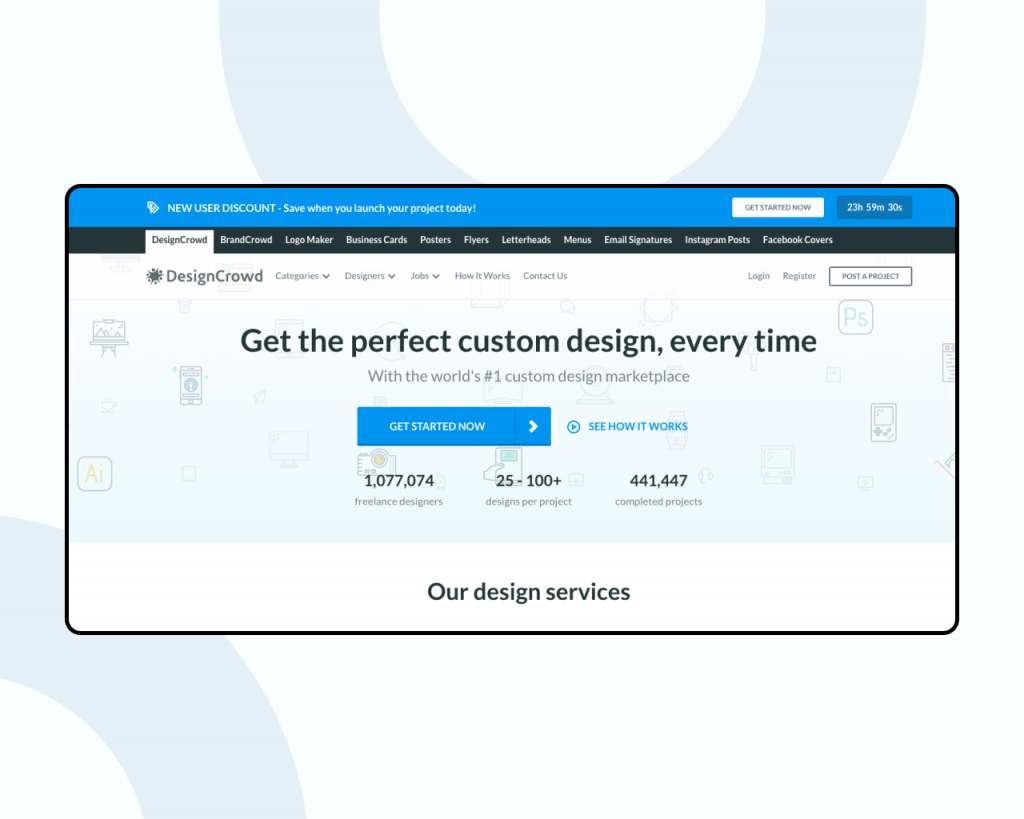 3. GraphicRiver
A marketplace with a huge number of useful elements: vectors, infographics, icons, web elements, fonts, presentation slide templates, logos, and game assets. Here you'll find everything to make your design project faster or be the one who sells creatives to the platform.

Becoming an author on this resource means to start selling your works to a 2 million audience which is huge. The content represented on the platform is moderated by hand, the process is not automatic. So, only the items of extreme quality are selected to be seen and bought by the customers.

GraphicRiver also offers a partner program: spreading the word about the resource using a referral link on your website or blog brings you passive earnings as an affiliate.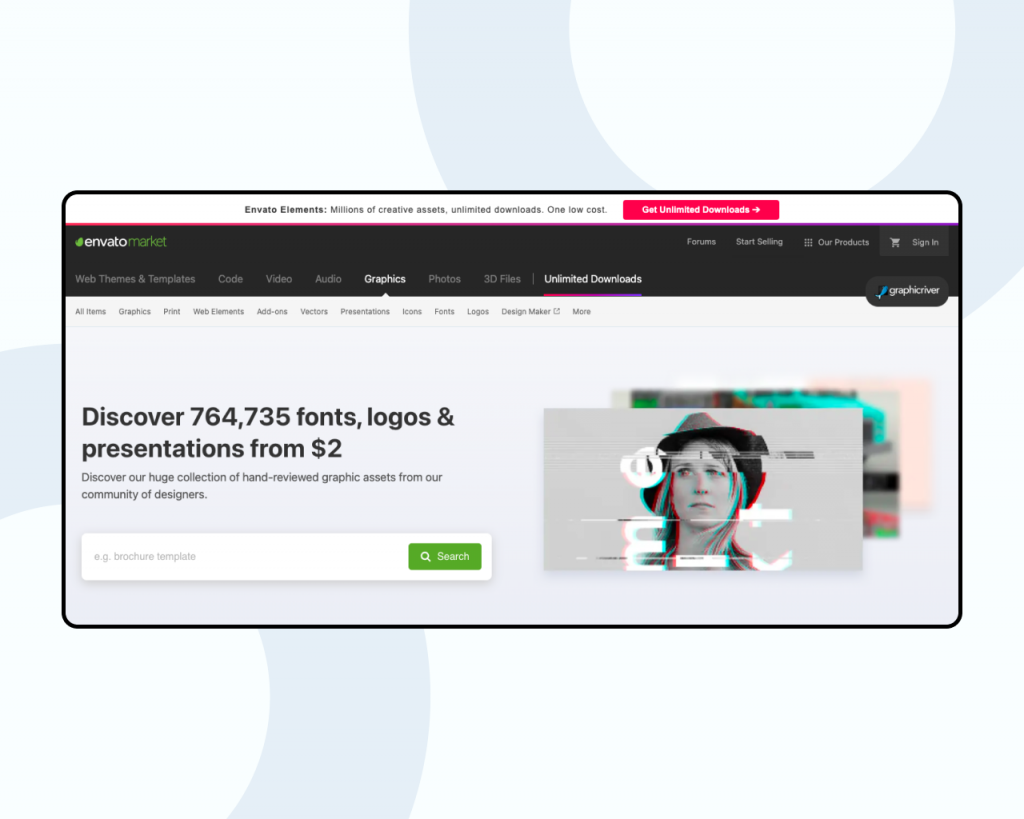 4. 99designs
This platform is huge, so be ready to meet the strong and numerous competitors here, but it is really worth trying your skills. You can try working in different styles and categories, and the more you interact with the platform, the more precisely it offers you appropriate projects and clients. Pay attention to filling out your designer profile on the marketplace because that's the page where potential clients get acquainted with your professionalism.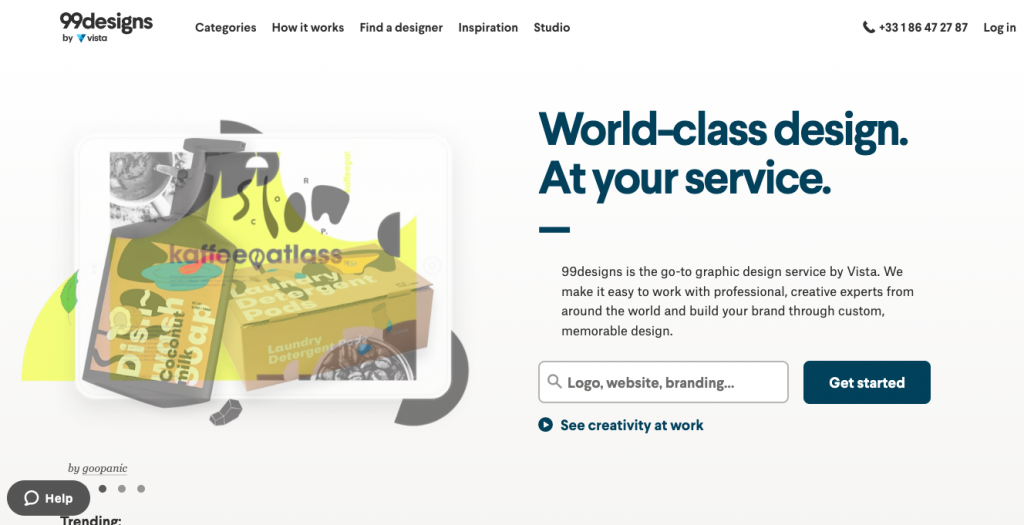 5. Designhill
This platform is best characterized as a crowdsourcing marketplace, where graphic designers from all over the world showcase their talents. There are a lot of forms of cooperation:
you can do what you love in design the most for a certain sum of money (it's called "to create your gig". For example, offer to make 5 variants of logos according to individual request. Or suggest the clients buy your TOP 5 creative or classic fonts in one lot);
you may participate in designer contests on the marketplace;
you can be involved in a "one-to-one" project with a client searching for a perfect executor for a task.
So, there are plenty of options to diversify your professional life and so many new ways to earn money online!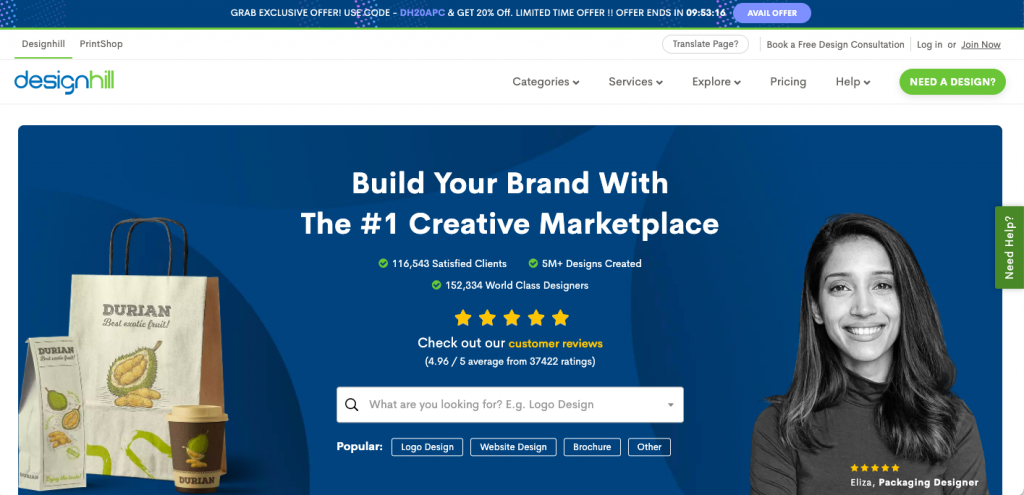 3 Best-Selling Graphic Design Categories
Creating what types of graphics are you strong in? On the example of the MasterBundles platform let's look through the most viewed sections of digital art: think of what you can contribute to them to gain stable monthly passive income.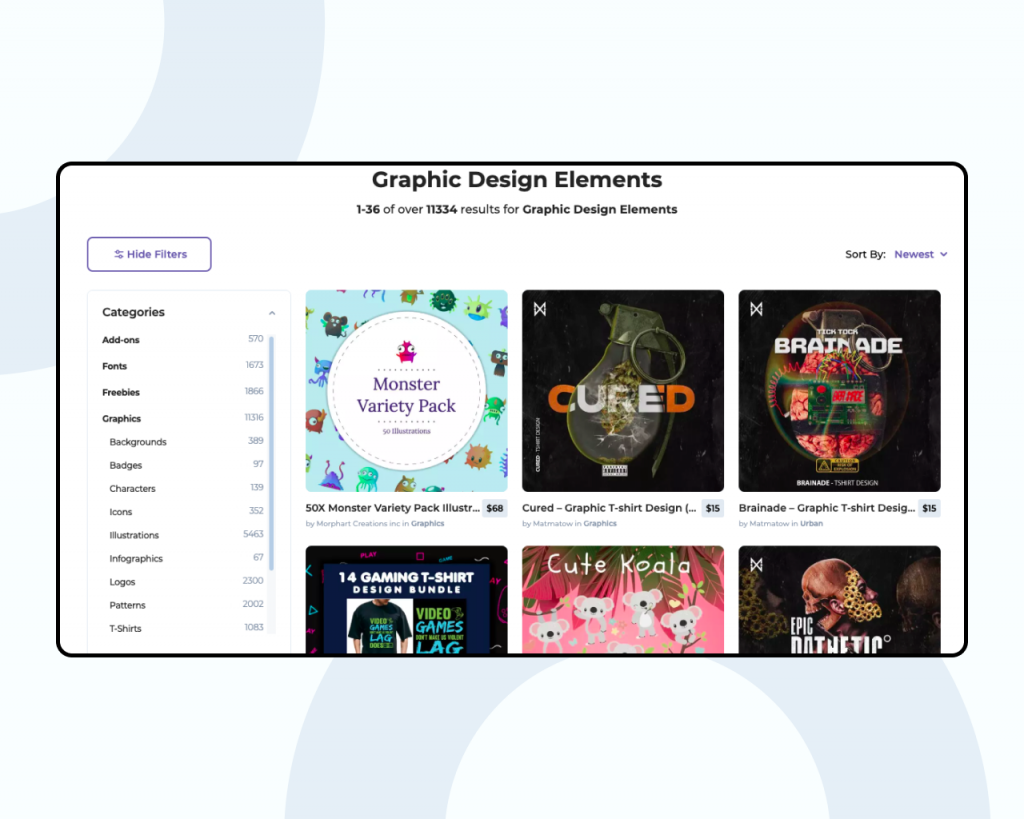 This category is usually the largest one and consists of numerous elements. The most popular ones are illustrations, logos, patterns, and T-shirt designs. The hottest search results in the category concern icons, thematic illustrations (abstract, animal, art deco, botanical), holiday illustrations (for Halloween, and Christmas), and abstract and geometric patterns.
Having several works from these subcategories in your portfolio you always have a source of passive income since you upload them to the marketplace.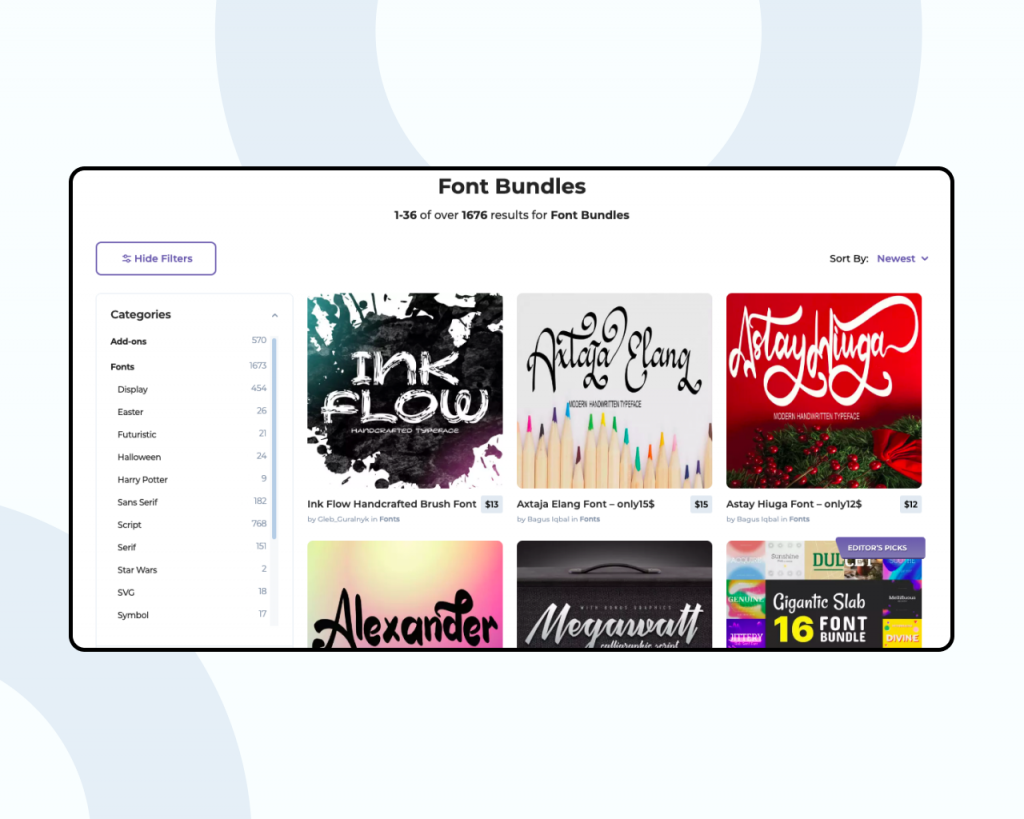 Script and display fonts are the two largest and most popular categories to sell your works in. And you can also push from the opposite and upload your works to the least filled subcategory – there you'll stick with minimum competition and can gain the most uploads from the users. For example, create a font in the style of Harry Potter world or Star Wars saga.
Presentation slides are numerous in this category, but social media templates are still a growing market for graphic designers to sell them. Templates for WordPress are also an unfilled niche to fill. Mockups and resume themes are selling well. Business cards and printable materials are timeless classic items – uploading your works to these categories you'll always be in demand.
3 Tips to Attract Clients Online & Sell More
Working as a graphic designer online it's vitally necessary to be competitive and to differ somehow from the other vendors in the marketplace. So, standing out from the crowd of other digital art specialists is the essential key to multiplying your earnings. Now we'll list a few ways to reach this effect when one professional is chosen by clients more often than another.
1. Bonuses for Clients Who Bought from You Once
Long-term relationship with clients is the major criteria leading to success in working online. Building such contacts is your priority. Think of what bonuses for your categories of services you can offer for people who come back to you after the first experience of cooperation. By giving a bonus or a discount you show the clients how you appreciate their trust, and people feel that they are always welcome here. Your level of professional service rises when you think first of what to give rather than of what to receive back.
A lot of marketplaces have the function of creating coupons. Use this opportunity to make several variants of discounts (5%, 10%, and 15%, for example), and present them to the customers when you think it will work for your future relationship.
2. Use Your Social Media to Promote Your Services
Never underestimate the power of social media! Channels on Facebook, Twitter, or Instagram give you an opportunity to tell the whole world about your work. You may dedicate a profile to your professional skills and then show it to the target audience with the help of internal advertising.
If you are not ready to spend some money on adverts, then pay attention to the textual filling and the design of your social accounts. People should instantly recognize that you are a professional graphic designer through a glance at your profile.
The must-have elements on your social media account are:
the list of products (or categories of products) you are able to create for clients,
the images/examples of your best works,
keywords that relate to your niche or hashtags which are going to match clients' requests in the social media search,
a link to your products that are being sold on a marketplace, so that you can convert your social profile visitors into buyers at once.
Being present in online communication channels broadens your audience and increases your chances to sell. Also, social media is great to receive feedback from clients and share them with the audience to build strong trust according to you as a professional.
3. Implement a Strategy of Freebies to Attract New Clients
When speaking of methods of earning money not many people understand the importance of having some free products to offer as well. Everybody wants to get paid with a straightforward approach.
And digging deeper you'll see that free products are the main triggers that attract new people to you. This method of promotion of your work does not require any additional expenses and makes you really visible on the resource full of visual content creators.
How does it work? Seeing the category of free products on the marketplace most people will be interested and will visit it. For you being represented in this category means a fast way to meet your client and the future buyer of your products. After users have downloaded your freebie and have been impressed with its quality, people always have the desire to come back to such a professional. So, such a mechanism works perfectly for the quick gaining of trust.
Let's Sum It Up
So, now you have at least 3 great options for starting your passive earnings by selling your graphics online. And you don't have to choose – become an author on three platforms at the same time and increase your amount of passive and active income.
Graphic marketplaces are not just online stores. They create communities attracted by modern digital art. Choose the platforms that reflect your vision and share your individuality with the world.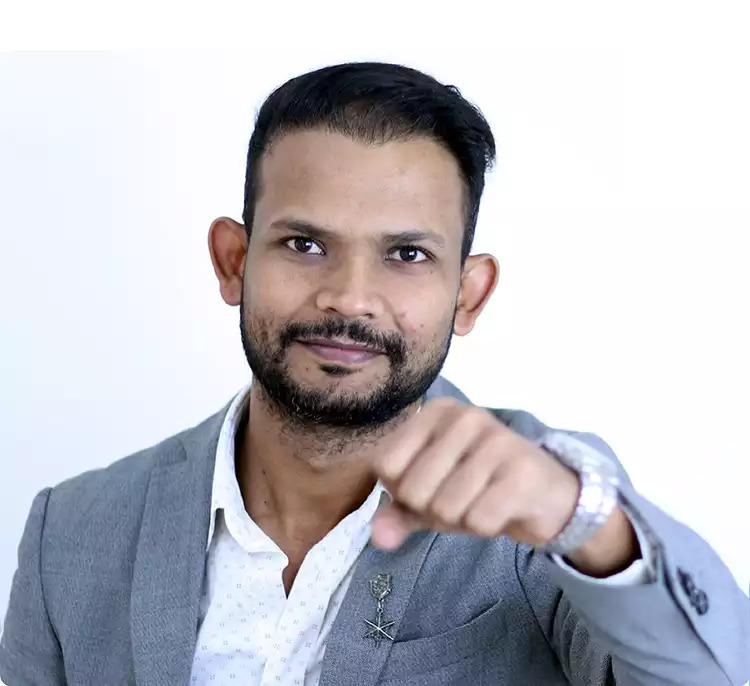 About Deepak Chauhan Hi, I am Deepak Chauhan, a Digital Marketing Strategist. I'm the CEO & Co-Founder of VOCSO Digital Agency, a creative web design, development, and marketing agency based in India & USA.