As an entrepreneur, we usually get overly excited when we learn about some new startup getting coverage in the media because of the huge funding they have garnered suddenly. It's interesting to note that every 9 out 10 startups are using the internet and web technologies in the one way or the other to reach out their customer base. Another interesting fact is that, majority of these funded startups flourishing online are either IITians or IIMs. Wait what???… IITians and IIMs only?
According to an article on yourstory, more than 60% of the Series A funded startups in India have founders from IITs & IIMs ( and to keep the madness within the acceptable limits, we will ignore the facts that they all are males ). And few exceptions who made to the list are seasoned entrepreneurs who have been there, done that.
Why is it that only these fellows are doing so great? Why the traditional business owners and entrepreneurs from different academic background majorly fail at this? What is it that they are doing that others can't figure out?
Now the question arises, is it necessary that you need an IIM or IIT degree to have a successful web business in this age? Well this is a little disheartening. The bad news is you can't afford to burn some more years to get such a degree from a pedigree university. But the good news is, there are ways you can still build a successful online business with huge bottom line. Every funded startup does not necessarily mean they are going to be successful and profitable. Here is a an article on techinasia with a list of some startups who failed despite crazy funding they received. While there are several reasons, what I want you to know is, it's okay if you're not from a pedigree university and you don't have VCs queued up for you with the cheque books in their hands.
Let's step back a little and recall the core mission of your startup. Possibly you're trying to do one of the following…
Solving some real world problems by your innovating product

Providing a technology service that improves productivity.

Building a niche aggregator platform
… or something else that offers some value, productivity enhancement, cost saving or may be something that entertains the target group.
The most important aspect of any successful business will be to provide value to the target customer in the smoothest possible way and make them smile and not leave them scratching their heads. Attracting growth and generating money in the process will be a no brainer.
Let's try and decode the steps to building the base for successful online businesses. Let's face it, no matter how good your product, service or idea is, you need to translate this accurately into your website. In a business that heavily depends online, you need to see your website as your biggest sales person. Someone who is constantly talking to your prospects and trying to convert. If you knew and did a few things right in beginning, no matter what the fate of your business will be, I would like to assure you, you won't blame your website for the failure.
1. Discuss, Brainstorm and set the expectations right
–
Having a clear specification is important. You may have excellent clarity into your head, but communicating it to your tech team is essential. Discuss and brainstorm your plan with your Web design consultant and let them offer their suggestion. Keep yourself flexible and willing to learn and enhance, because you understand your business but not the website world. It is an altogether different aspect and most of the things will be alien to you.That's the reason you need a web developer having good exposure with start up companies because website is not just a hoarding to show your products, it is your complete web shop and in true sense a sales force. Find out how confident the consultant feels about certain approach listed in your plan. Give examples wherever necessary.
2. Revenue Stream
–
How your business is going to make money? Whether you want to offer them a monthly membership or sell them one time product a balanced alignment with your value proposition is the key.There are so many tools to aid you in selling online, payment and revenue generation. The right web development consultant will be able to advise you on the best approaches to sync your revenue stream.
3. Cost of website vs ROI
–
This is where most people do it wrong. The cost of doing the website is not the real factor that you should use to make a decision on which web design firm you're going to engage with. "How much will this website cost?" If this is one of the very first question you through to your web design agency fellows, trust me you're exposing your web and business illiteracy. If you're clear in your mind about how your website is going to aid you into generating revenue, pay some attention to figuring out if the web agency is capable enough to design and build the website platform which can handle that. Choose the web developers who demonstrate huge experience and expertise in building successful web businesses. If you can find web agency with confident team, go with them. The cheque you write for them will in the long run pay for itself. This decision is also critical in determining how good your web platform will be.
4. The Landing Page – Value Proposition
–
In smaller websites, landing page will usually be the homepage. Websites with multiple product or services will have their own designated landing pages. A landing page should pitch that one product or service. Work with your designers to identify the required landing pages. The goal here is to glue the customer to this page until it communicates the true value proposition. How effectively and fast it's done is going to decide the fate of this soon to be transaction.
5. The Action Pages – Leads & Sales Pages –

Decide on what is going to be the end goal of the website? E.g. what are the pages that will drive leads or sale. The pages where the actual transaction will happen? The pages where the visitor converts into a lead or a paying customer.
6. Magical CTA – The Call to Action
–
Well yes, we're talking about that little button that may read, "Buy Now", "Order Now", "Request A Quote" or "Enquiry Now". Everything from how it looks to how strategically it's positioned plays a critical role in determining how effectively it will convert. It may not always be easy to figure out. There are tools and approaches like A/B testing & heat map that can help you fine tune this over the time.

You will find some crazy but real case studies here on Kissmetrics blog on how they increased their conversion by as little as 30% to as much as 590%.

You will find some good content here on hubspot article on how to create your magical CTA.


7. Smooth Customer Journey
–
Every page and step of your website( starting from click of Magical CTA button on the Landing or home page to the final Action page) should be well crafted to lead to that final Action page. According to the statistics published on statisticbrain.com (updated till 2015) the average attention span has reduced to less than 8.25 seconds.

Make it possible to lead the user to the action page in minimum possible steps. If you have forms in the process, trim it down to only essential details. Do not provide anything that may distract. Make it super fast to load. Make this little journey the most pleasant. I love how amazon has the smoothest checkout process. Every step should be self explanatory. Keep it clean, simple and distraction free.

8. "SEO Comes later" misconception

–
Give yourself a crash course about google organic ranking system. I am usually surprised when I see business owners having this misconception that, we will build the website now and worry about SEO later. It's like opening a shop and advertising about this after months. ( Let's ignore the fact that my comment here sounds a little sarcastic 😉 ) Having the right SEO strategy from the beginning is something that's going to give you an added advantage. It's acceptable that you may want to depend on PPC ( Pay per click) advertising in the initial days because that will bring instant results. But why would you want to leave the untapped traffic for which you do not have to pay anything for clicks.


Here is a nice example. Tutorcity.in a tutor matching and search portal, gets in excess of 20K organic traffic per month, without any real SEO campaigns. Isn't that amazing? And this is possible because of the strategic SEO considerations and approach developed even before developing the website.
9. Quality Content – the lifeline of organic traffic
–
Writing content may be one of the tedious and time consuming tasks, but researches have shown that businesses who continuously invest in creating quality content facing its customers, tend to generate more organic traffic and better conversion compared to those who don't.
According to a research data published on Hubspot blog reveals that businesses who blog 5 or more times every month have more share of organic traffic. Although the web design agency may help you with the content sometimes, it's in your best interest that you get yourself involved into this. Because no one can write about your ideas and business better than you.




It may be hard at first to spare time for this, but if you can think about the goals, you may be able to prepare yourself to commit to this habit.
Now that you've taught yourself about these 9 lessons, you've graduated your thoughts and brain and are all set to start your journey in the web startup world. This does not require any pedigree connection or a VC fund to start with. Now that you understand what all goes behind a successful website ( the reality is you've only touched the tip of the iceberg ), you've a way to figure out the digits you will be writing on the cheque for your website design company.
The well planned and executed website will work like an automated cash generating machine and eliminate your overheads. This will allow you to free yourself from the tech side and focus on the other important things like, new strategies to grow your business, improve customer satisfaction and may be figure out where to plan your next trip 🙂
I would love to hear your comments. Comment even if you disagree or have a different opinion.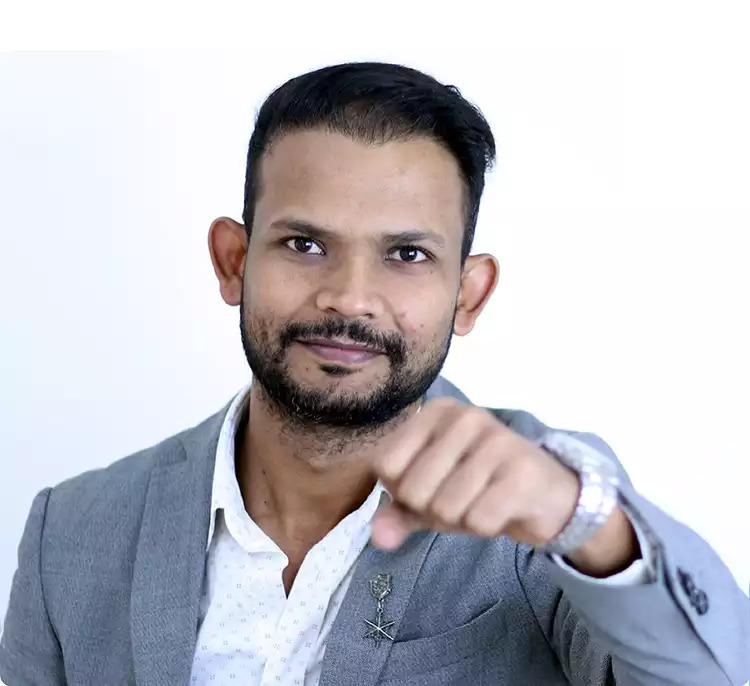 About Deepak Chauhan Hi, I am Deepak Chauhan, a Digital Marketing Strategist. I'm the CEO & Co-Founder of VOCSO Digital Agency, a creative web design, development, and marketing agency based in India & USA.